Thought-Provoking Black Mirror Quotes
August 11, 2022 5:00 AM EST
Listen to article
4 minutes
Looking for quotes from the Netflix series Black Mirror?
The Black Mirror quotes below showcase the thought-provoking, striking, and often hilarious writing from the long-running series.
Is there a Black Mirror episode that you connect with?
Black Mirror is a British sci-fi anthology series that explores the dangers behind our society's ever heightening obsession with technology.
The series has run for five seasons with multiple movie-length specials including Black Mirror: Bandersnatch and White Christmas.
The series has since won nine Emmy awards and currently manages a high 81% audience approval rating on Rotten Tomatoes.
Although Black Mirror is set in an alternate universe, many lines uttered by its cast members can be directly correlated to the issues of the present day.
Check out the quotes listed below for some examples.
And don't forget to also read out our selection Stranger Things quotes.
Check out our most popular quote article, a list of short inspirational quotes for daily inspiration.
If you enjoy this collection, check out our inspirational quotes category page.
Black Mirror quotes about society
1. "Humans. You know we give ourselves rep, but we're genuinely empathetic as a species. I mean, we don't actually really want to kill each other, which is a good thing. Until your future depends on wiping out the enemy." – Arquette (Michael Kelly)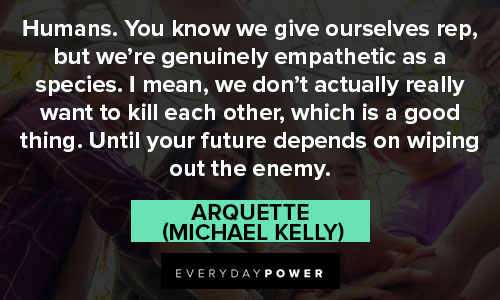 2. "I know people. We love humiliation. We can't not laugh." – Jane (Anna Wilson-Jones)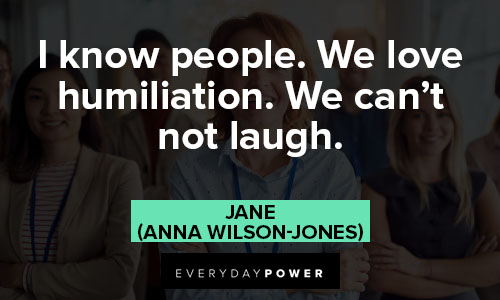 3. "People don't even look up anymore. The sky could turn…purple and you…wouldn't notice for a month." – Chris (Andrew Scott)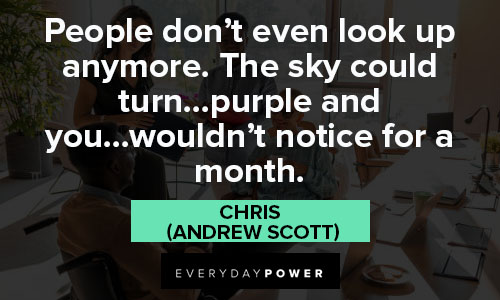 You will also enjoy our article on mirror quotes.
4. "People want to be noticed. They don't like to be shut out. It makes them feel invisible." – Matt (Jon Hamm)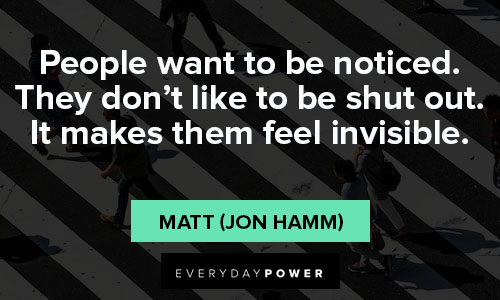 You will also enjoy our article on internet quotes.
5. "People think it's a happy game. It's not a happy game. It's a fucking nightmare world. And the worst thing is? It's real and we live in it." – Colin (Will Poulter)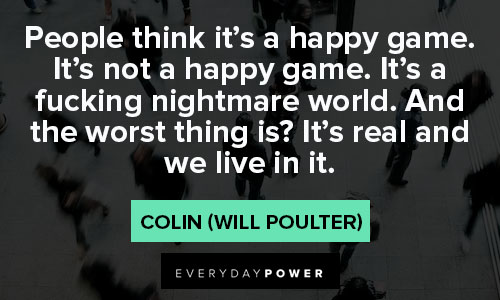 6. "Authenticity is in woefully short supply." – Charity (Julie Davis)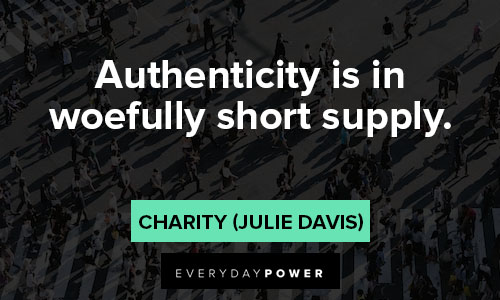 7. "There's messages in every game. Like Pac-Man. You know what PAC stands for? Program and control." – Colin (Will Poulter)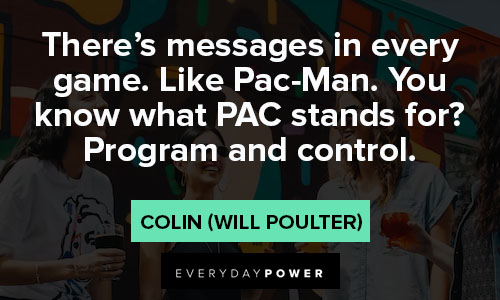 8. "People try so hard to look how they think they should look." – Kelly (Gugu Mbatha-Raw)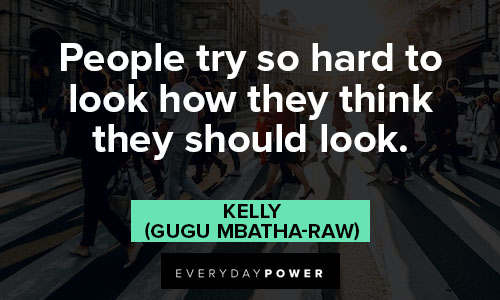 9. "Show us something real and free and beautiful. You couldn't. It'll break us. We're too numb for it." – Bing (Daniel Kaluuya)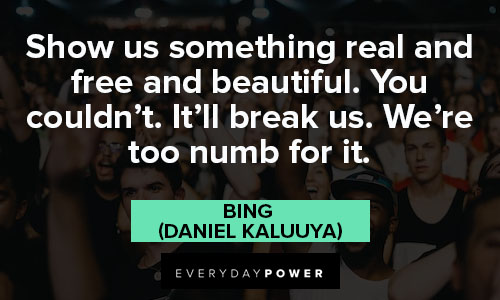 10. "It's a lot easier to pull the trigger when you're aiming at the boogeyman." – Dr. Arquette (Michael Kelly)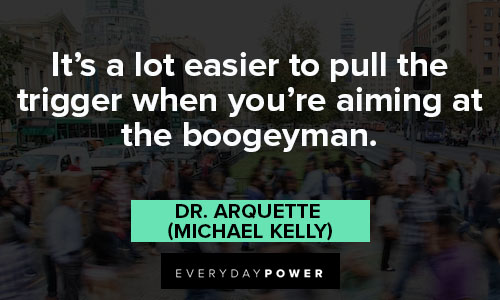 11. "He thinks he's got free will, but really, he's trapped in a maze. In a system. All he can do is consume, he's pursued by demons that are probably in his own head." – Colin (Will Poulter)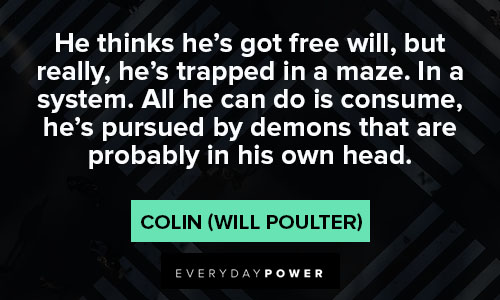 12. "I guess they were always like that underneath. Just needed the rules to change, for no-one to intervene." – Jem (Tuppence Middleton)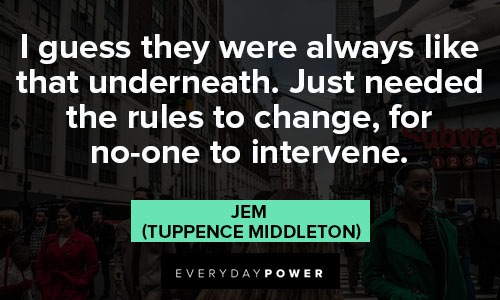 13. "I mean, they say you go crazy if you have too much. Never leave your seat, dissociate your body from your mind." – Greg (Raymond McAnally)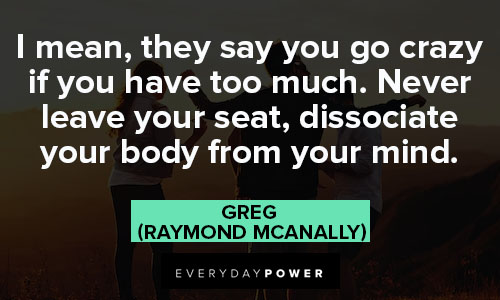 If you're enjoying these quotes, make sure to read our collection of 13 Reasons Why quotes from the hit Netflix show.
Black Mirror quotes about technology
14. "Thanks to the technological revolution, we have the power to rage and accuse, spout bile without consequence." – Garrett (Duncan Pow)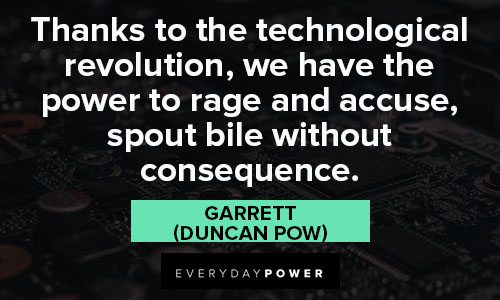 15. "You're just a few ripples of you. There's no history to you. You're just a performance of stuff that he performed without thinking, and it's not enough." – Martha (Hayley Atwell)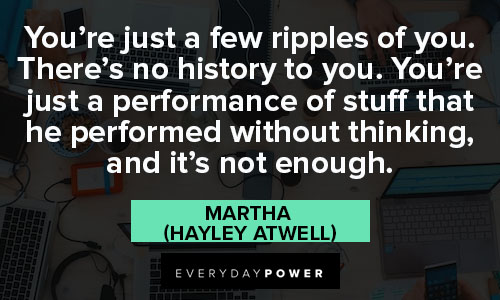 16. "We don't need politicians, we've all got iPhones and computers, right? So any decision that has to be made, any policy, we just put it online. Let the people vote–thumbs up, thumbs down, the majority wins. That's a democracy. That's a–that's an actual democracy. – Jack (Jason Flemyng)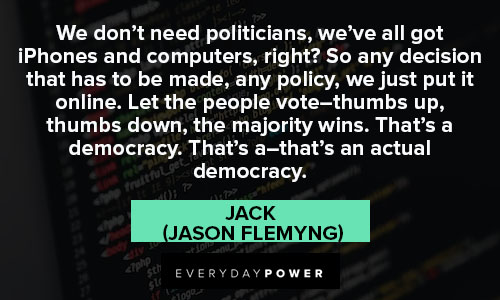 17. "Pictures hang about on Google like a Gypsy curse. There's no cure for the Internet, you would never go away." – Hector (Jerome Flynn)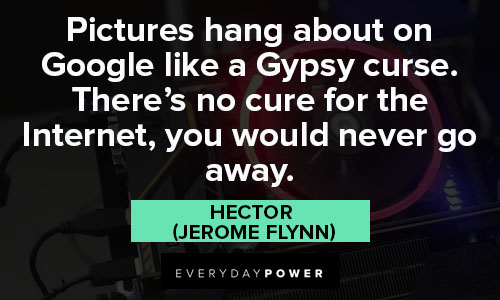 18. "It was like having a whole weather system turn against me. Just hate message after hate message, around the clock, all piling on. It's hard to describe what that does to your head. Suddenly there's a million invisible people, all talking about how they despise you. It's like a mental illness." – Tess (Georgina Rich)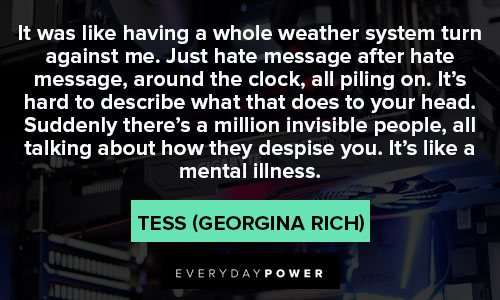 19. "I wasn't prepared for you, for wanting something." – Kelly (Gugu Mbatha-Raw)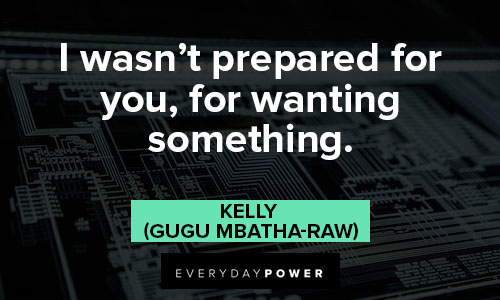 20. "You know when you meet someone and you just know?" – Frank (Joe Cole)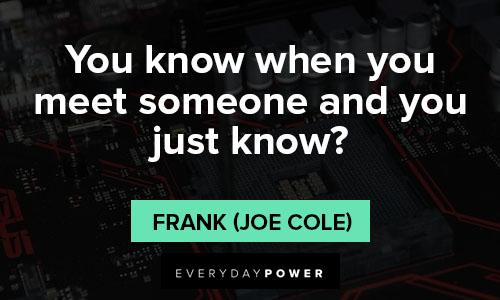 21. "That Internet stuff drifts off like weather. It's half hate. They don't mean it. The hate in a marriage, that's in 3D." – Karin (Kelly Macdonald)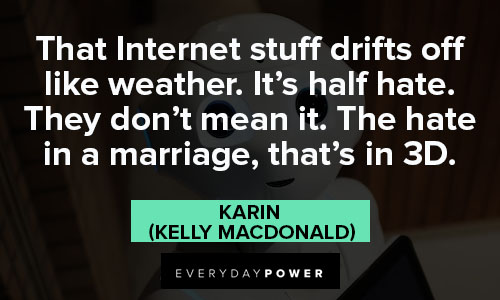 Also check out these hilarious Fleabag quotes.
Funny Black Mirror quotes
22. "You are a top bird. I don't know what that means, but I heard someone say it once and you're it." – Cooper (Wyatt Russell)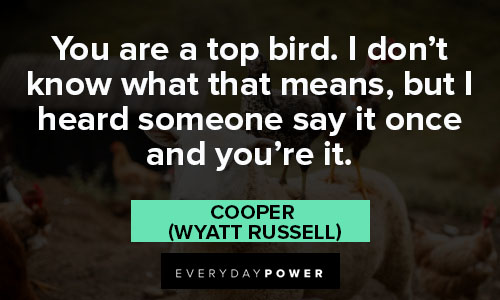 23. "His aim's so bad he's the only guy on earth who can shit his own pants and miss." – Raiman (Madeline Brewer)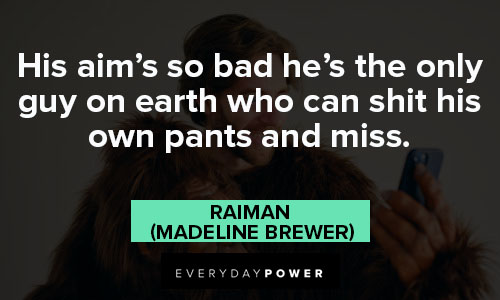 24. "What the f*ck is Netflix?" – Stefan (Fionn Whitehead)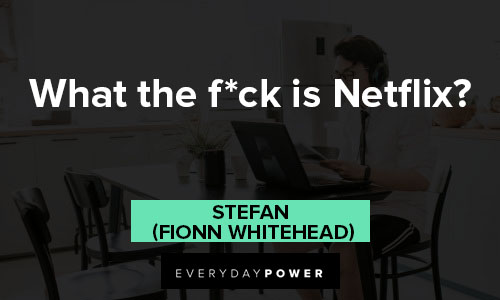 25. "Face it, if they were staring it's because I am bodacious." – Kelly (Gugu Mbatha-Raw)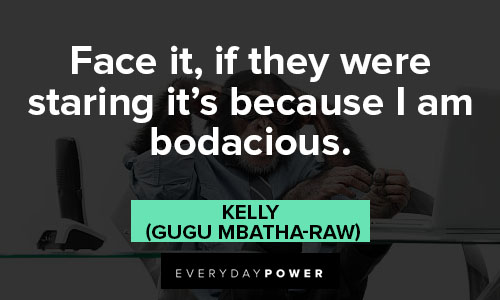 You might also like these Star Trek quotes to help you go where no man has before.
Is technology taking over our society?
What ties the Black Mirror series together is the dark side of technology.
We all enjoy our smartphones and tablets.
But, it's very easy to get carried away with them and prolong our technology use to a dangerous degree.
Remember to schedule time away from your devices.
Instead, do something that doesn't involve screen time.
Practice a hobby that you may have forgotten about since you picked up a smartphone, like painting or jewelry making.
Take a walk outside.
Time away from our devices is healthy and helps us become more in tune with our true selves, away from the internet.
Is there a Black Mirror quote or line that we missed?
What's a TV show that you'd love to see featured on Everyday Power?
Let us know in the comments section below.