Mirror Quotes That Will Change Your Perception
Today, we have brought you a collection of mirror quotes from insightful minds to change the way you see its reflective surface.
The mirror is the muse of many, be it authors, poets, artists, or musicians.
Tell us your favorite mirror quote in the comment section below.
You may also enjoy our article on:
According to a study by Harvard Business Review, reflecting on our progress and learning from it can increase job performance by 23%.
To be successful, it's essential to evaluate our progress constantly, and mirror quotes can be a helpful tool to remind us of the importance of reflecting and learning from our experiences.
What are the benefits of reading these mirror quotes?
The mirror has an early history, dating back to 6000 BC in Anatolia, otherwise known as modern-day Turkey.
Mirrors have been constructed from many materials, including:
Metal-coated glass mirrors, which are most commonly used today, were first produced in the first-century A.D. in Sidon, modern-day Lebanon.
Since its initial production thousands of years ago, many have been inspired by mirrors, whether conceptually or literally.
Below is our collection of mirror quotes to highlight how great minds around us view mirrors.
Reading these mirror quotes will:
Cause you to evaluate your perception of the things around you
Give you a new perspective on self-love, self-worth, and the opinions of others
Leave you with some wise and inspiring thoughts to keep you motivated
Check out our most popular quote article, a list of short inspirational quotes for daily inspiration.
Check out our entire collection of motivational quotes here.
Mirror quotes about perception
According to a study by the University of Pennsylvania, regularly reflecting on our progress can increase motivation and self-awareness, leading to higher levels of achievement.
Reflecting on our progress can help us stay motivated and on track toward our goals, and mirror quotes can provide a helpful prompt to engage in this reflection regularly.
1. "My job has always been to hold a mirror up to nature." – Tom Hanks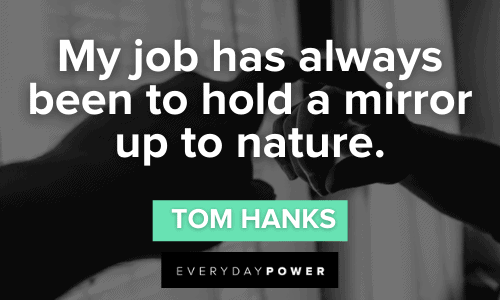 You will also enjoy our article on fear quotes.
2. "Let us be grateful to the mirror for revealing to us our appearance only." – Samuel Butler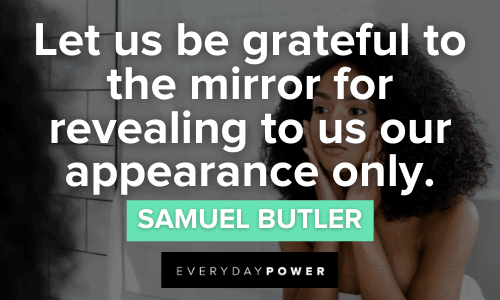 You will also enjoy our article on beautiful smile quotes.
3. "I think it's important to hold a mirror up to society and yourself." – Ricky Gervais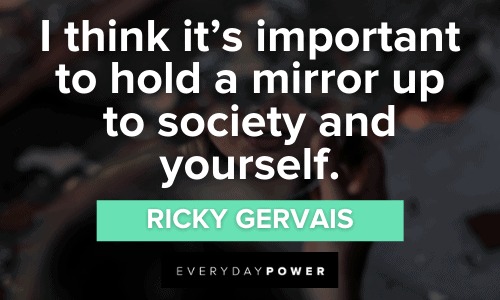 You will also enjoy our article on rumi quotes.
4. "If art reflects life, it does so with special mirrors." – Bertolt Brecht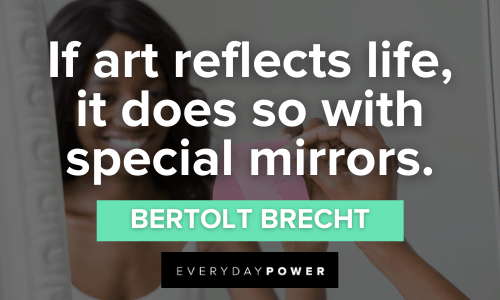 You will also enjoy our article on self esteem quotes on confidence.
5. "Look in a mirror and one thing's sure; what we see is not who we are." – Richard Bach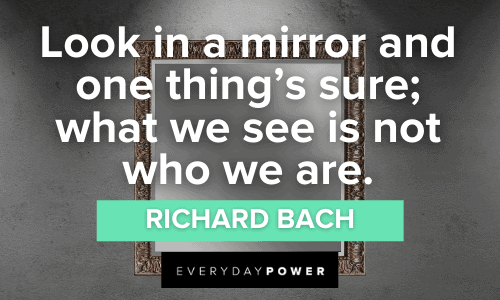 You will also enjoy our article on optimistic quotes.
6. "Every man carries with him through life a mirror, as unique and impossible to get rid of as his shadow." – W.H. Auden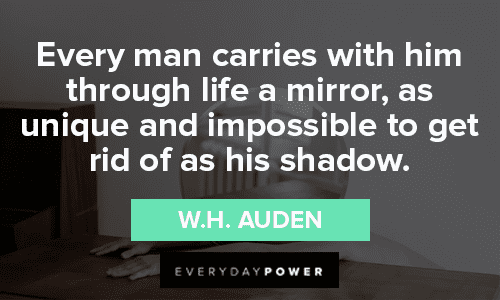 You will also enjoy our article on lil wayne quotes.
7. "We look into mirrors but we only see the effects of our times on us – not our effects on others." – Pearl Bailey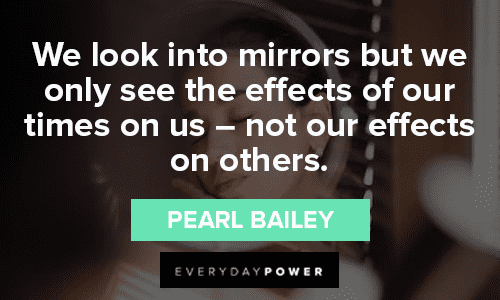 You will also enjoy our article on love yourself quotes.
8. "Who sees the human face correctly: the photographer, the mirror, or the painter?" – Pablo Picasso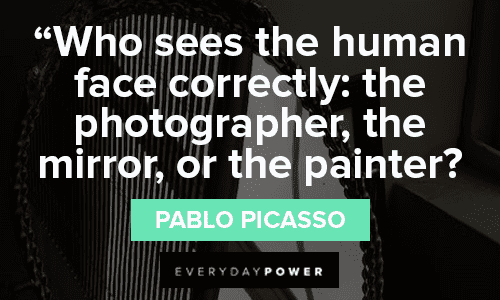 You will also enjoy our article on transformation quotes.
9. "The world is a great mirror. It reflects back to you what you are." – Thomas Dreier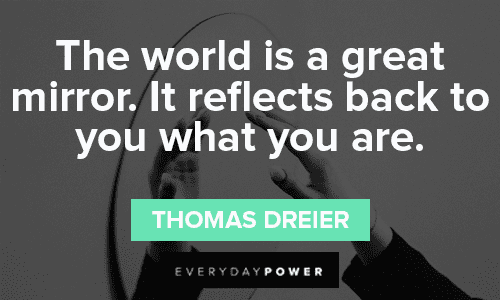 You will also enjoy our article on ricky gervais quotes.
Mirror quotes that will change the way you think
A research paper published in the Journal of Applied Psychology found that individuals who reflected on their work had a greater sense of personal learning and job satisfaction.
Mirror quotes can inspire us to engage in this reflection.
10. "A man's manners are a mirror in which he shows his portrait." – Johann Wolfgang von Goethe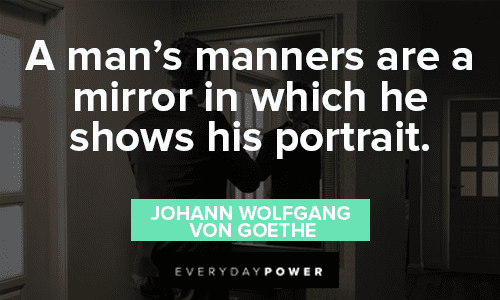 You will also enjoy our article on beauty quotes life.
11. "Our environment, the world in which we live and work, is a mirror of our attitudes and expectations." – Earl Nightingale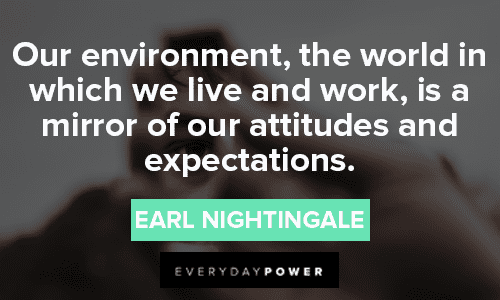 You will also enjoy our article on moon quotes.
12. "I know that mirrors give us a false sense of confidence. I continued. The reflection that we see every day has nothing to do with how others see us. The glass lies." – Rasmenia Massoud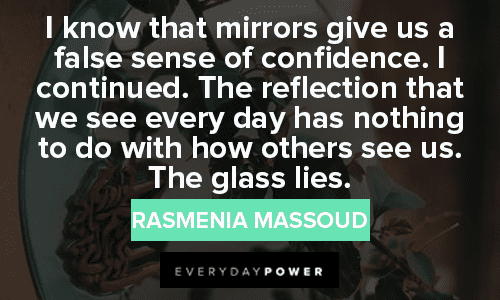 You will also enjoy our article on sisterhood quotes.
13. "I'm a mirror. If you're cool with me, I'm cool with you, and the exchange starts. What you see is what you reflect. If you don't like what you see, then you've done something." – Jay-Z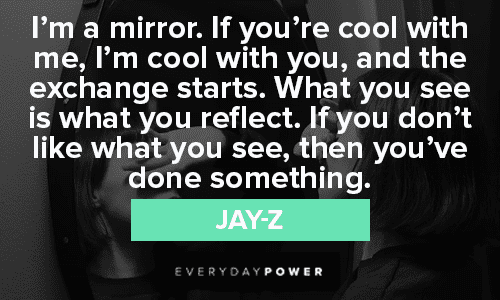 You will also enjoy our article on shadow quotes.
14. "I learned, when I look in the mirror and tell my story, that I should be myself and not peep whatever everybody is doing." – Kendrick Lamar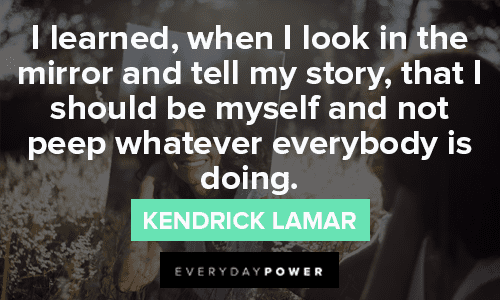 You will also enjoy our article on The Karate Kid quotes.
15. "I used to live in a room full of mirrors; all I could see was me. I take my spirit and I crash my mirrors, now the whole world is here for me to see." – Jimi Hendrix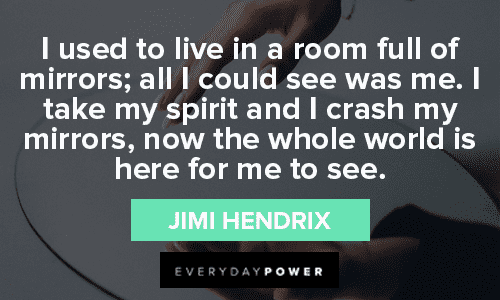 You will also enjoy our article on smart quotes.
16. "We only see what we want to see; we only hear what we want to hear. Our belief system is just like a mirror that only shows us what we believe." – Don Miguel Ruiz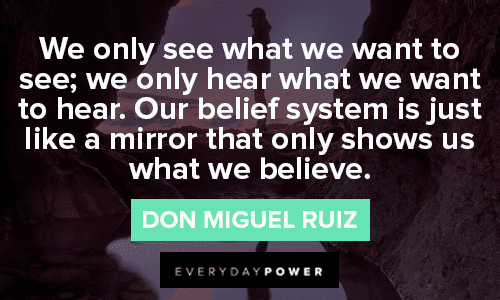 You will also enjoy our article on criticism quotes.
17. "The mirror can lie. Doesn't show you what's inside. And it, it can tell you you're full of life. It's amazing what you can hide just by putting on a smile." – Demi Lovato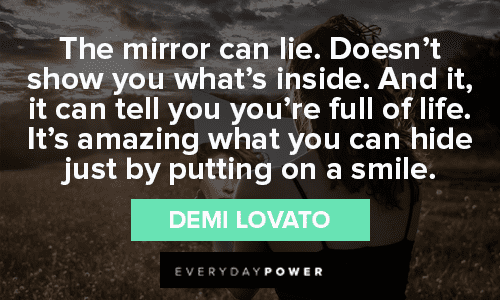 You might also like these perception quotes about truth and reality.
Mirror quotes about self-love
18. "Never look down on yourself when the whole world turn against you, just look in the mirror then you'll find out that you're not alone. That person you see in the mirror is your reflection, it shows that even if everybody ignore you it will always stick around with you." – Usman Ismaheel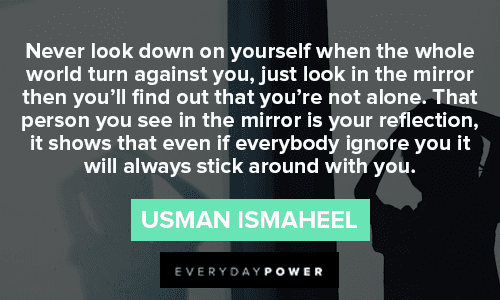 You will also enjoy our article on self acceptance quotes.
19. "Smile in the mirror. Do that every morning and you'll start to see a big difference in your life." – Yoko Ono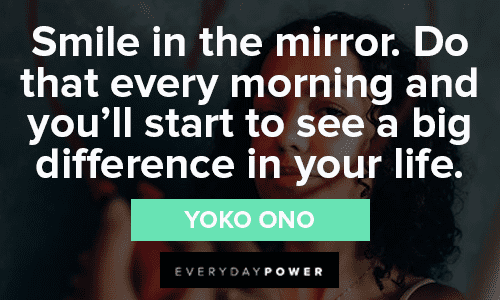 20. "I had to fight, a lot of years, to be really proud of the person I see in the mirror and really love this person." – Jonathan Van Ness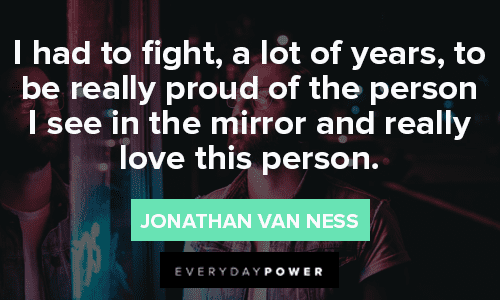 21. "Stop saying these negative things about yourself. Look in the mirror and find something about yourself that's positive and celebrate that!" – Tyra Banks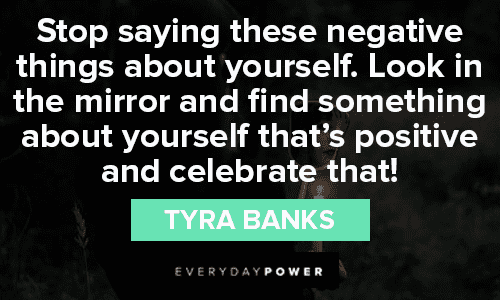 22. "I used to look in the mirror and feel shame, I look in the mirror now and I absolutely love myself." – Drew Barrymore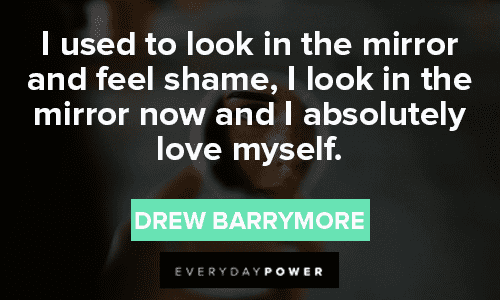 23. "It's really important to talk to yourself and look at yourself in the mirror and love who you are." – Lilly Singh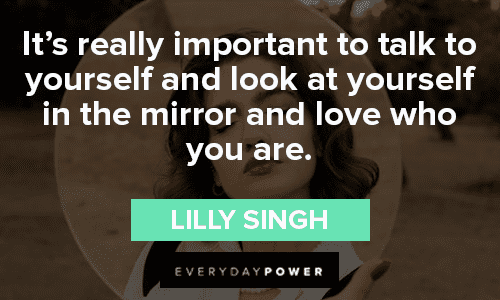 24. "You decide how to show up, and you'd better come correct: the way you look, what you say, how you act and react. No excuses! Get in front of the mirror and own what you see. You may have to drag your fabulousness out of hiding, but it's there." – Alyssa Edwards
Be sure to take a minute and check out these hiding quotes!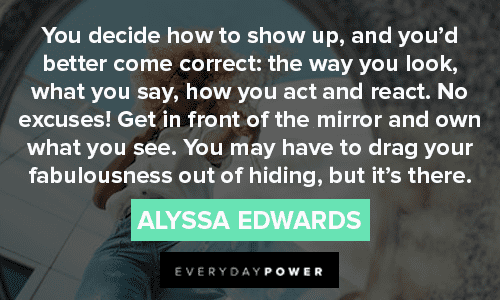 25. "When I was around 18, I looked in the mirror and said, 'You're either going to love yourself or hate yourself.' And I decided to love myself. That changed a lot of things." – Queen Latifah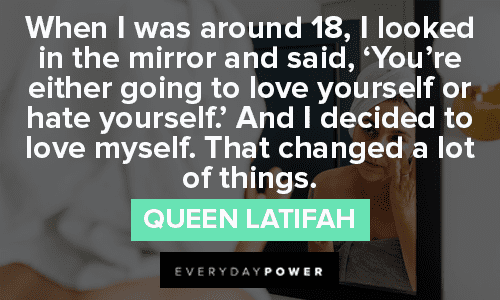 26. "There's nothing more, nothing better in life to wake up in the morning, look at yourself in the mirror, and feel comfortable with yourself and who you are." – Caitlyn Jenner
27. "Do you want to meet the love of your life? Look in the mirror." – Byron Katie
28. "Nobody needs to prove to anybody what they're worthy of, just the person that they look at in the mirror. That's the only person you need to answer to." – Picabo Street
You might also like these self-worth quotes and sayings to boost your confidence.
Mirror quotes about life
29. "Mirror should think longer before they reflect." – Jean Cocteau
30. "Mirrors don't lie. They only show a part of truth. A broken mirror can enlarge a face up to a dimension of a small planet. A problem of reflection? A point of view." – Lara Biyuts
31. "Everybody else needs mirrors to remind themselves who they are. You're no different." – Jonathan Nolan
32. "Whatever may be their use in civilized societies, mirrors are essential to all violent and heroic action." – Virginia Woolf (see more quotes from Virginia Woolf)
33. "Mirrors are ice which do not melt: what melts are those who admire themselves in them." – Paul Morand
34. "The mirror is a powerful tool because it forces you to deal with yourself on a deeper level." – Mickalene Thomas
35. "The mirror is my best friend, because when I cry it never laughs." – Charlie Chaplin (see more Charlie Chaplin quotes)
36. "No matter what's behind us in the rearview mirror, it's always about what's next." – Dabo Swinney
37. "Life is a mirror and will reflect back to the thinker what he thinks into it." – Ernest Holmes
38. "The whole purpose of education is to turn mirrors into windows." – Sydney J. Harris
39. "The face is the mirror of the mind, and eyes without speaking confess the secrets of the heart." – St. Jerome
40. "A true soul mate is a mirror, the person who shows you everything that is holding you back, the person who brings you to your own attention so you can change your life." – Elizabeth Gilbert
41. "Everything in your life, every experience, every relationship is a mirror of the mental pattern that is going on inside of you." – Louise Hay
42. "I love mirrors. They let one pass through the surface of things." – Claude Chabrol
43. "The best mirror is an old friend." – George Herbert
Also check out these motivational RuPaul quotes that will help boost your self confidence.
Inspirational mirror quotes
44. "There are two ways of spreading light: to be the candle or the mirror that reflects it." – Edith Wharton
45. "Beauty is eternity gazing at itself in a mirror." – Khalil Gibran
46. "When I look at myself in the mirror, I don't see the bad guy." ― Patrick Heusinger
47. "Don't stare into a mirror when you are trying to solve a problem." – Mason Cooley
48. "Hold up a mirror and ask yourself what you are capable of doing, and what you really care about. Then take the initiative – don't wait for someone else to ask you to act." – Sylvia Earle
49. "Go look in the mirror and have a talk with your real boss." ― Bryant McGill
50. "To live in prison is to live without mirrors. To live without mirrors is to live without the self." – Margaret Atwood (see more Margaret Atwood quotes)
More mirror quotes and sayings
51. "Never pass a mirror without looking at it." ― Cheryl Blossom, Riverdale
52. "The world is the mirror of myself dying." – Henry Miller
53. "All sorts of things in this world behave like mirrors." – Acques Lacan
54. "The world is a mirror representing the divine life." – William A. Dembski
55. "Everyone is a mirror image of yourself-your own thinking coming back to you." – Byron Katie
56. "We drive into the future using only our rearview mirror." – Marshall McLuhan
57. "Good actors I've worked with all started out making faces in a mirror, and you keep making faces all your life." – Bette Davis
58. "It's like your my mirror, my mirror staring back at me." – Justin Timberlake, "Mirrors"
59. "I find it painful and angering to look in a mirror." – Jack Abbott
60. "Family faces are magic mirrors. Looking at people who belong to us, we see the past, present and future." – Gail Buckley
Mirror quotes to reflect on
61. "The mirror is the worst judge of true beauty" – Sophia Nam
62. "What does a mirror look at?" – Frank Herbert
63. "A beautiful woman should break her mirror early." – Balthasar Gracian
64. "Mirrors show us what we look like, not who we are." – Unknown
65. "Look in the mirror, and laugh at yourself." ― Bernie Glassman
66. "Only see the truth when I'm staring in the mirror." – Drake, "Used To"
67. "If you're searching for the one person who can change your life, take a look in the mirror." – Unknown
68. "Before you criticize, look at the mirror first!" ― Prathit Mahapatra
69. "The only two words you should ever say to a mirror are 'Hello, Beautiful.'" ― Richelle E. Goodrich
70. "The person in the mirror is your only competition." – Unknown
Thought-provoking mirror quotes
71. "And if you can't see anything beautiful about yourself, get a better mirror." – Shane L. Koyczan
72. "Mirror becomes a razor when it's broken." – Yoko Ono
73. "Looking at yourself in a mirror isn't exactly a study of life." – Lauren Bacall
74. "You can't see the world through a mirror." – Avril Lavinge
75. "Nobody really knows what they look like. The mirror shows you only what you want to see." – Terry Wogan
76. "Broken bones can heal, but a broken mirror must be replaced." – Luke Taylor
77. "I leaned over the sink, closer to my reflection, and stare at myself hard. I don't know what I see I don't even know what I want to see." – Nina LaCour
78. "I don't care what people think about me. When I look in the mirror, I wanna like what I see." – Kat Von D
79. "Film is a mirror. I want to see more filmmakers. We all want to see ourselves." – Ava DuVernay
80. "When I look in the mirror, I also see a mother and a wife and someone I am proud to be. I see an advocate. I see a survivor." – Elizabeth Smart
Mirror Quotes To Clear Your Mind
81. "I stare at the mirror as I try to remember who I am and who I am not." — Suzanne Collins
82. "The pure heart is a spotless mirror in which images of infinite beauty are reflected." — Rumi
83. "Maturity is when all of your mirrors turn into windows." — Henry David Thoreau
84. "Before you leave the house, look in the mirror and remove one accessory." — Coco Chanel
85. "Life is for each man a solitary cell whose walls are mirrors." — Eugene O'Neill
86. "A game is like a mirror that allows you to look at yourself." — Robert Kiyosaki
87. "Shadows cannot see themselves in the mirror of the sun." — Evita Peron
88. "Books are mirrors: you only see in them what you already have inside you." — Carlos Ruiz Zafon
89. "It's the spectator and not life, that art really mirrors." — Oscar Wilde
90. "Water is the mirror of nature." — Francis of Assisi
Mirror Quotes To Give You Confidence
91. "Art is sometimes likened to a mirror… an expression of universal human truth, executed with a degree of skill." — Sara Genn
92. "I also dance to music that makes me feel sexy in front of a mirror." — Alannah Myles
93. "When I started working with mirrors, it seemed to be the perfect material to stand in for that waiting." — Jim Hodges
94. "And I usually use myself as a model, posing in front of a mirror as I dab the strokes on the canvas." — Cleo Moore
95. "Sometimes, when I'm alone, I put on six inch heels and wear nothing else and dance around in front of the mirror and do my little stripper dance." — Tori Spelling
96. "Lovers are mirrors to each other. Love makes you aware of your original face." — Rajneesh
97. "I never felt so close to a guitar as that silver one with mirrors that I used on stage all the time." — Syd Barrett
98. "Lord knows, I never want to waste any more of my time in mirrors." — Lauren Hutton
99. "One day I took the list into the bathroom, and I put it up against my face and looked in the mirror, and I realized I had one of two choices, change the list or change myself." — Star Jones
100. "When I draw a character, very often as I'm doing a face, my face mirrors the expression." — Matthew Ashford
Mirror Quotes About Art
101. "Looking at yourself through the media is like looking at one of those rippled mirrors in an amusement park." — Edmund Muskie
102. "Poetry, it is often said and loudly so, is life's true mirror. But a monkey looking into a work of literature looks in vain for Socrates." — Franz Grillparzer
103. "Sure, being a reservist wasn't as glamorous, but I was the one who had to look at myself in the mirror." — Larry David
104. "Look in the mirror. The face that pins you with its double gaze reveals a chastening secret." — Diane Ackerman
105. "I stare at myself in the mirror and I think, 'Wow, I'm really great-looking.'… I think I'm the greatest, anyway." — Iggy Pop
106. "Art is not a mirror held up to reality but a hammer with which to shape it." — Bertolt Brecht
107. "It doesn't upset artists to find out that artists used lenses or mirrors or other aids, but it certainly does upset the art historians." — Chuck Close
108. "The earth we inhabit is an error, an incompetent parody. Mirrors and paternity are abominable because they multiply and affirm it." — Jorge Luis Borges
109. "Inside you're like some kind of mirror, reflecting everything without absorbing it." — Arthur J. Deikman
110. "Were there not these still mirrors to reflect the beauty of the heavens to us, it might be lost to eyes so seldom lifted upwards." — John Sullivan Dwight
Mirror Quotes To Give You Confidence
111. "Instead of pointing out the faults of others, look in the mirror, find your own faults and start to better yourself. That should keep you busy!" — Nishan Panwar
112. "Looking in the mirror, staring back at me isn't so much a face as the expression of a predicament." — Colin Firth
113. "The eye is not open when it is limited to the passive role of a mirror… if it has only the capacity to reflect." — Andre Breton
114. "When I look back on my life, I see pain, mistakes and heart ache. When I look in the mirror, I see strength, learned lessons, and pride in myself." — Ritu Ghatourey
115. "If you begin to think you're something you're not, you're looking in the wrong mirror." — Eugene Cernan
116. "When I look in the mirror and the only one there is me. Every freckle on my face is where its suppose to be." — India Arie
117. "The practice mirror is to be used for the correction of faults, not for a love affair, and the figure you watch should not become your dearest friend." — Agnes De Mille
118. "My fashion advice is to have a flattering mirror & then forget about it." — Vivienne Westwood
119. "Fantasy mirrors desire. Imagination reshapes it." — Mason Cooley
120. "The world is like a mirror; frown at it, and it frowns at you. Smile and it smiles, too." — Herbert Samuel
When's the last time you looked in the mirror?
Depending on where you are in the journey of self-acceptance, looking in the mirror could unearth feelings of anxiety and sadness.
To combat those negative feelings, recognize those negative thoughts and take them as just that, thoughts.
They aren't real and they don't describe the reality of how amazing of a person you are.
Being kind to yourself starts with self-talk.
Treat yourself the same way you would treat a close friend or a family member.
If you feel a negative comment floating around in your head, attack it with a positive one.
Sometimes, the first step of making a positive change is saying it out loud.
Did we forget a mirror quote or saying that you love?
Let us know in the comments section below.