Bridgerton Quotes from the Hit Period Drama
Get a sneak-peek into Regency London with these Bridgerton quotes.
Bridgerton is a television historical drama series set during the world of Regency London high society.
It is based on the best-selling series of novels written by Julia Quinn.
Bridgerton follows the story of Daphne Bridgerton, the eldest daughter of the powerful Bridgerton family, as she makes her debut on Regency London's competitive marriage market and the high society scandal sheet written by the mysterious Lady Whistledown.
Bridgerton offers a unique blend of escapism and drama with its gossip-style narrative, which many can relate to.
So much of the series is light and warm drama sequences that anyone could digest and binge any day.
The Bridgerton quotes below will take you on a witty ride of fantasy, gossip, and drama.
Don't forget to also check out these Virgin River quotes if you already binged seasons 1-3
If you like this article, we suggest you explore our most popular quotes article, a list of short inspirational quotes for daily encouragement.
Check out more inspirational quotes on our motivational quotes category page.
Bridgerton quotes from Lady Whistledown
1. "My name is Lady Whistledown. You do not know me and rest assured, you never shall, but be forewarned dear reader, I certainly know you." ― Lady Whistledown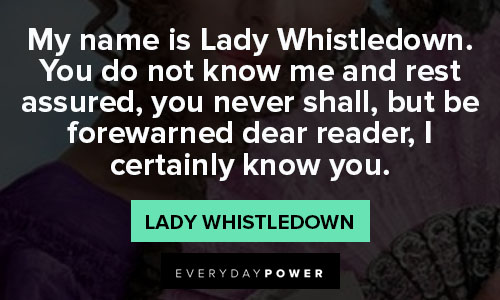 2. "I have always thought that an appreciation of the arts is what lifts us beyond mere animals." ― Lady Whistledown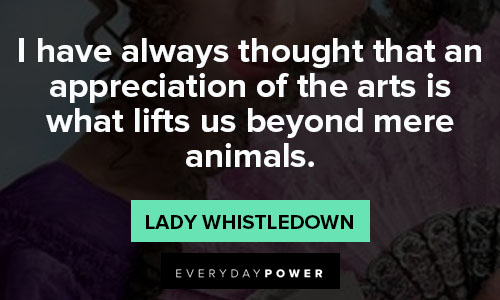 You will also enjoy our article on theatre quotes.
3. "All is fair in love and war, but some battles leave no victory, only a trail of broken hearts that makes us wonder if the price we pay is ever worth the fight." ― Lady Whistledown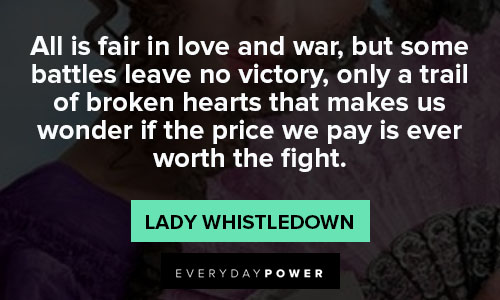 4. "The ones we love have the power to inflict the greatest scars. For what thing is more fragile than the human heart?" ― Lady Whistledown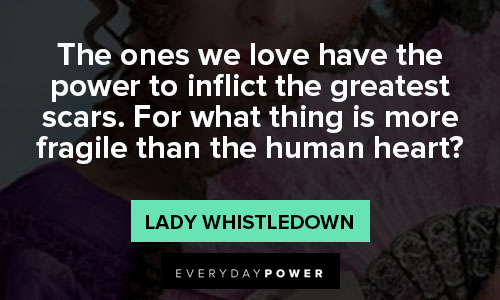 5. "Is anything more exhilarating than taking a gamble? For it is often the highest risk that carries the greatest reward." ― Lady Whistledown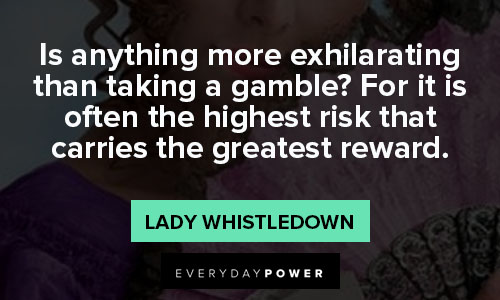 Check out our collection of The Help Movie quotes if you enjoy this article.
Bridgerton quotes from Daphne
6. "We all need to find love one day." ― Daphne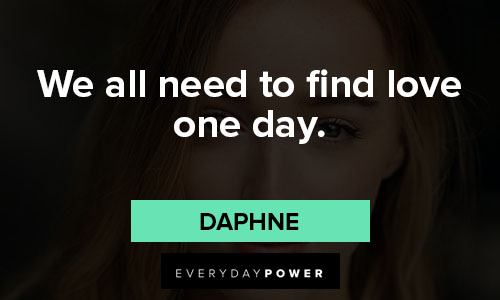 7. "You have no idea what it is to be a woman. What it might feel like to have one"s entire life reduced to a single moment." ― Daphne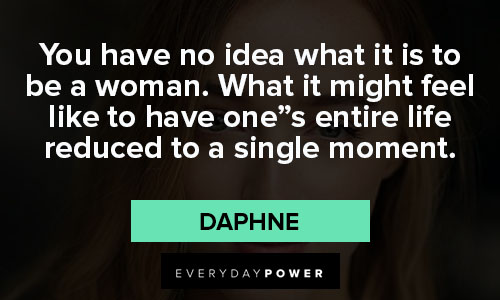 8. "There is light to be found at the end, and I know, one day, we both will find it." ― Daphne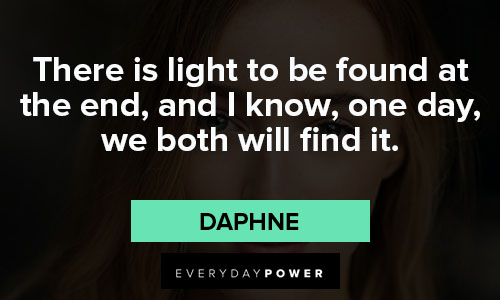 9. "I must admit, I have felt more chemistry when being fitted at the Modiste." ― Daphne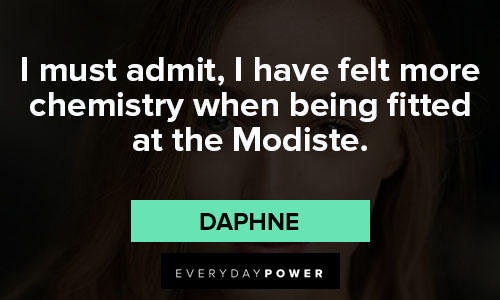 You will also enjoy our article on East of Eden quotes.
10. "It reminds me of waking up in the country, first thing in the morning, when I"m all alone and I"ve not yet spoken to a soul. I look outside the window and it is serene, as if I could be the only person left in the world, and yet, somehow, I am not lonely. I am comforted, at peace." ― Daphne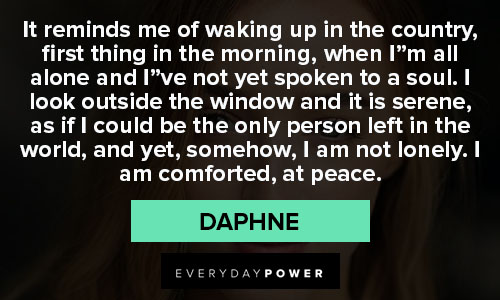 11. You should know that your apology has absolutely no effect on my life." ― Daphne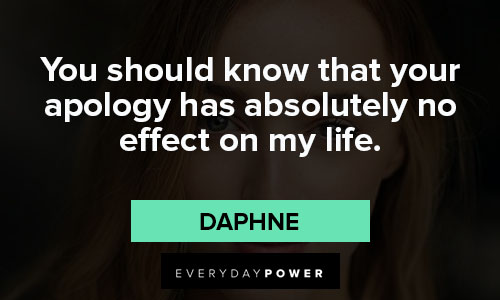 12. You think that, just because I am a woman, I am incapable of making my own choices?" ― Daphne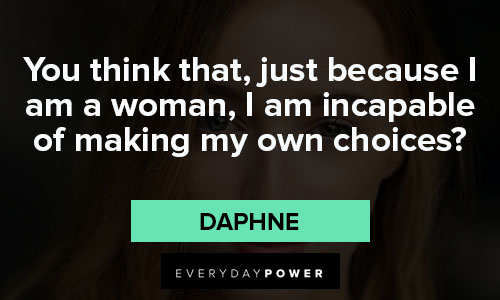 13. "Do you know how many times I have heard that said? To leave the men to their business and to not concern myself with such weighty affairs, whose affairs are my future, my family." ― Daphne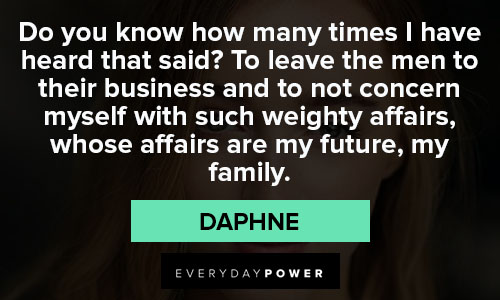 14. "I know we could not be any more different, but there is one thing we do share, the certainty that you will make your own way in this world." ― Daphne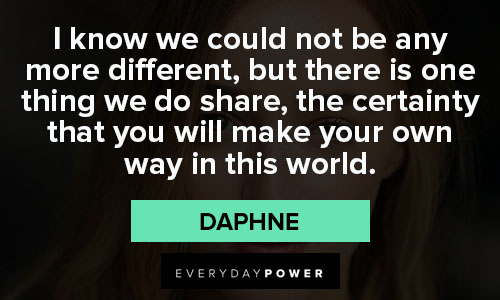 15. "Just because something is not perfect does not make it any less worthy of love." ― Daphne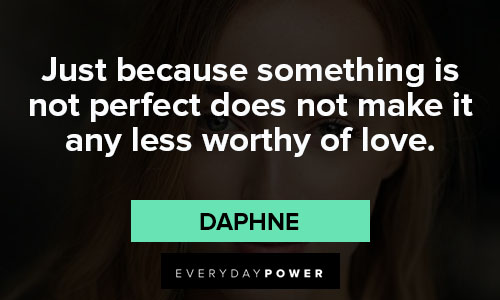 16. "I believe I now know the reason why every mama of the ton keeps their daughter in total darkness about certain diversions. Should they have told us what it was truly like, however would we get anything else done at all?" ― Daphne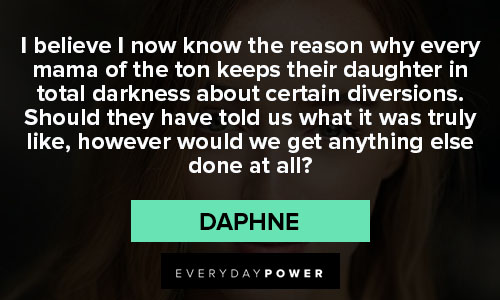 17. "I have all that I want just here." ― Daphne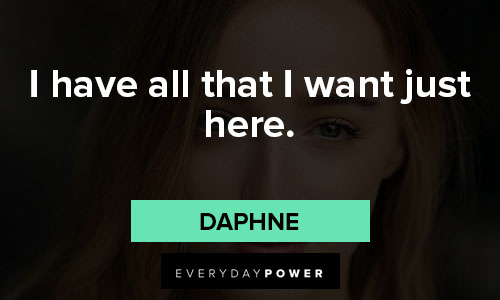 18. "You do not lie to the one you love. You do not trick the one you love. You do not humiliate the one you love. I may not know much, as you have made abundantly clear, but I do know one thing. I know that is not love." ― Daphne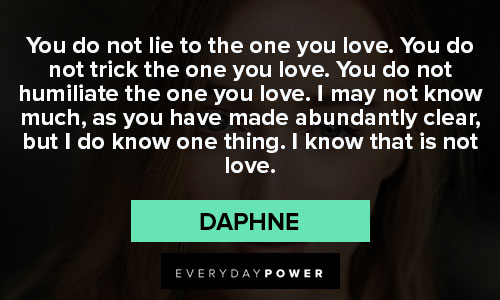 19. Judge not lest we too be judged." ― Daphne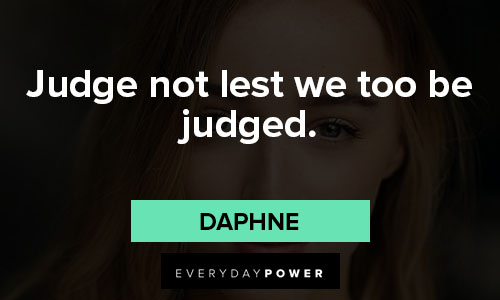 20."I love all of you. Even the parts that you believe are too dark and too shameful. Every scar. Every flaw. Every imperfection. I love you." ― Daphne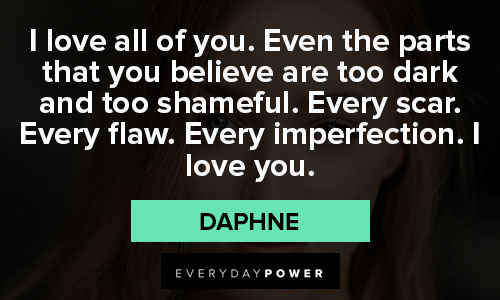 Bridgerton quotes from Simon
21. "If I were truly courting you, I would not need flowers, only five minutes alone with you in a drawing room." ― Simon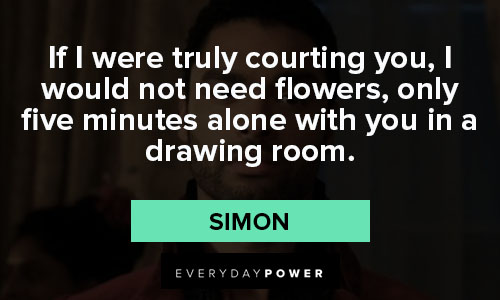 22. "In the grand battle of Season, I am your trusted General, marshalling your troops." ― Simon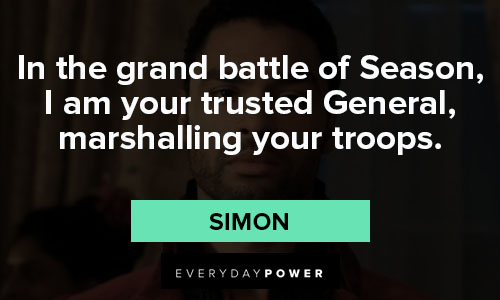 23. "A feigned swoon. Chapter six I believe? We ought to up our game." ― Simon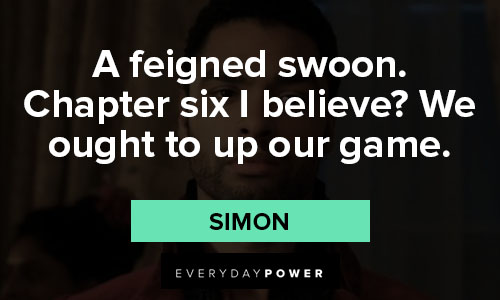 24. "What happens between a husband and wife, well, it is a natural continuation of what happens at night, when you"re alone." ― Simon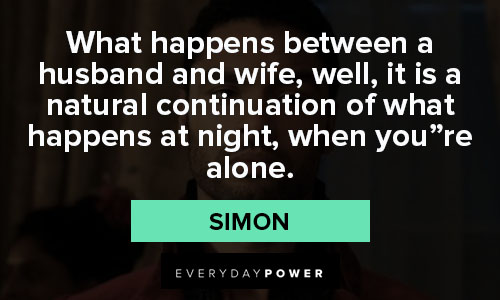 25. "Feelings are irrelevant. Indeed, they are responsible for this mess." ― Simon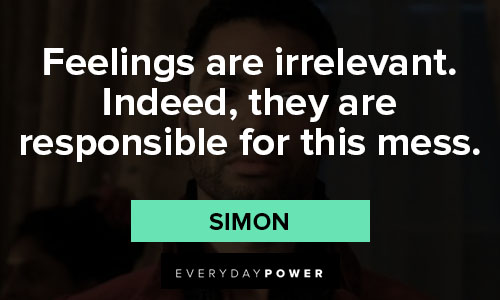 Which of these Bridgerton quotes is your favorite?
The series shows themes scattered throughout the series with brilliant narratives such as gender roles, femininity, social classes, politics, racism, scandals, and sexuality.
One can easily find him, or herself hooked to the wild issues of high society and bitter rivalries in Bridgerton.
The existence of Lady Whistledown keeps all the high nobles at their feet, fearing any smear on their name.
Although much of the story is non-applicable to the modern world, this simply reflects our vulnerability as humans to care too much about our social status and what others may perceive us.
These Bridgerton quotes and sayings are a must-read if you enjoy 18th-century lifestyle and fantasy.