Alex Morgan Quotes From the Soccer Playing Social Warrior
These Alex Morgan quotes and sayings will inspire you to work hard on your dreams.
Alex Morgan is quite the inspiration and a great role model for kids and women.
Truly, she is a great role model for everyone!
Just what makes her so inspirational?
Well, there are actually a few reasons besides the fact that she is an accomplished and talented athlete.
Her work ethic and talent got her noticed at a young age and when she was 17, she was invited to join the US Under-20 Women's National Team.
At the time, the team played against the men's national team.
These Alex Morgan quotes speak to what a challenge that was and how it made her stronger.
She believed that a girl could do anything on the field that a boy could do, and she challenged the system while she proved her theory correct.
She showed other athletes just what they could achieve by working hard and following their dreams.
Not only did she fight to show just how well girls could play the game of soccer, but she highlighted the fact that women were paid much less than their male counterparts on the soccer field.
Keep reading through these Alex Morgan quotes about goals and working hard to see just what else she has accomplished in her young life.
Don't forget to also check out these Megan Rapinoe quotes about equality.
Check out our most popular quote article, a list of short inspirational quotes for daily inspiration.
If you enjoy this collection, check out our inspirational quotes category page.
Alex Morgan quotes on goals and working hard
1. "I think a goal is a goal and not all my goals are pretty." ― Alex Morgan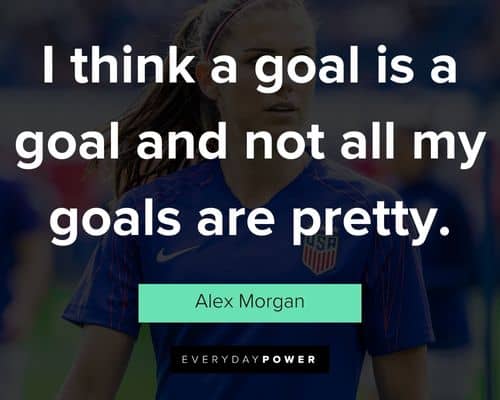 You will also enjoy our article on soccer quotes.
2. "Never stop striving for your goals because one day you can be living that dream you once had as a child." ― Alex Morgan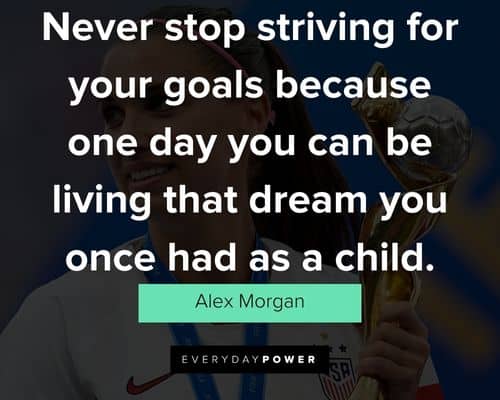 You will also enjoy our article on role model quotes.
3. "No one is going to do the work for you, the only way you are going to be successful in anything in life, is if you put the work in yourself and achieve your goals." ― Alex Morgan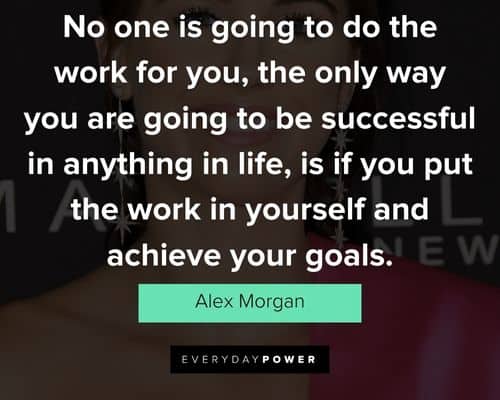 4. "Most importantly, LIVE YOUR GOALS!" ― Alex Morgan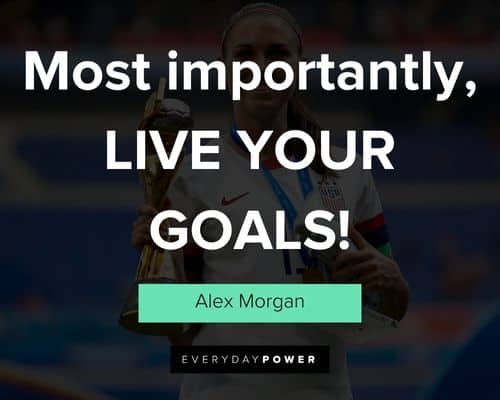 You will also enjoy our article on Abby Wambach quotes.
5. "Every time you step onto the field, you have to set goals. My goals are to either score a goal, to have an assist, or to play well." ― Alex Morgan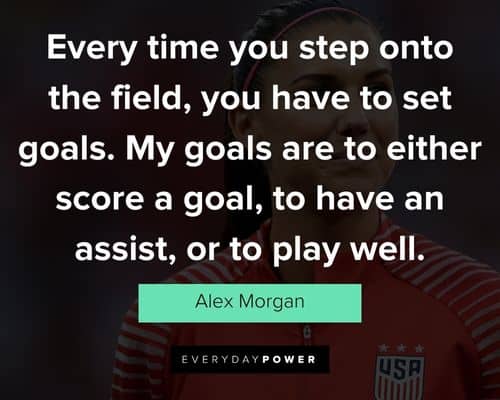 6. "Always work hard, never give up, and fight until the end because it's never really over until the whistle blows." ― Alex Morgan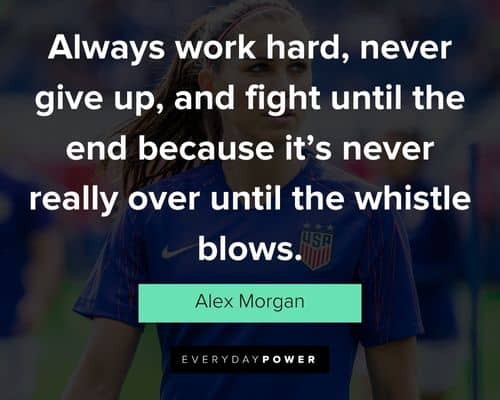 7. "Keep working even when no one is watching." ― Alex Morgan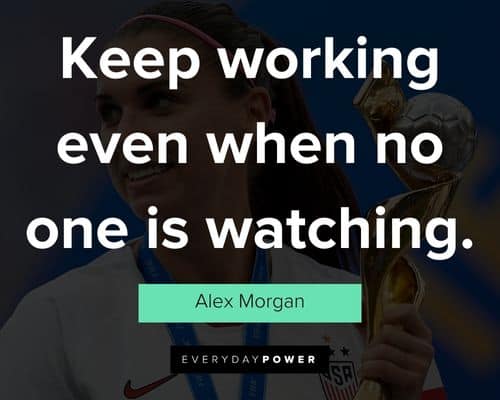 8. "When you're playing a game or practice, it is all about how much effort, and energy you put in and the attitude you have during it. Hard work and effort overrules talent." ― Alex Morgan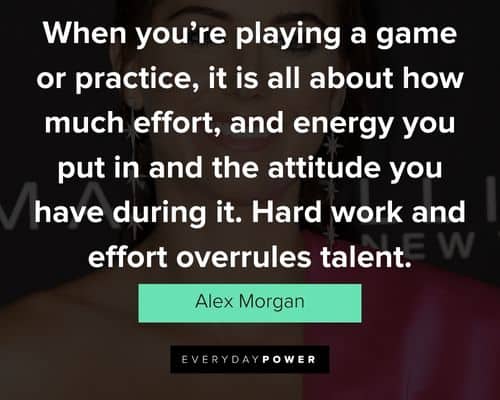 9. "Play, work, and practice every day like someone is watching, or else you are not benefiting yourself in any way." ― Alex Morgan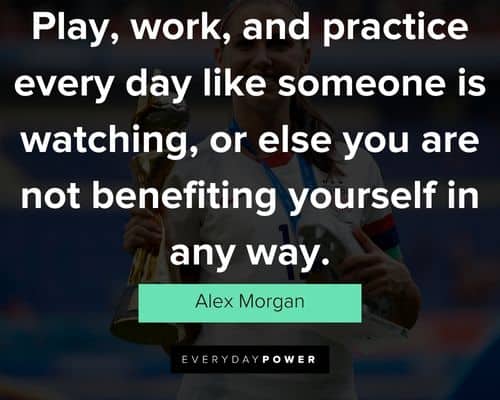 Alex Morgan quotes about soccer and being a teammate
10. "I don't run straight at a constant pace; soccer is always a change of pace and movement." ― Alex Morgan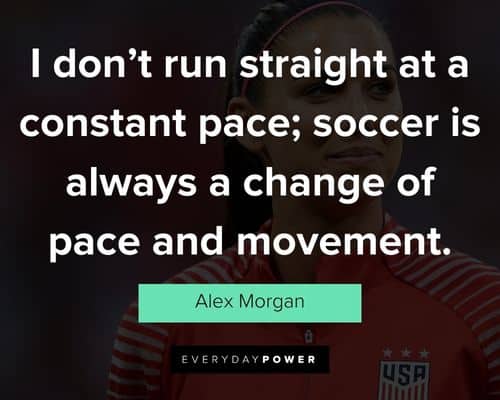 11. "Soccer is what I grew up doing – it's my passion, and I'm way more comfortable on the field in my soccer cleats." ― Alex Morgan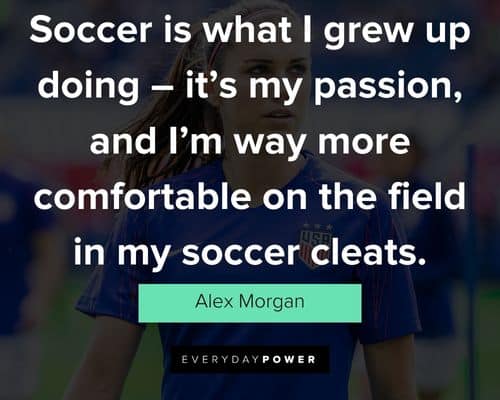 12. "No matter if you're playing or just talking about soccer, it's a game that can sure make you friends. There are always friends you can talk soccer with." ― Alex Morgan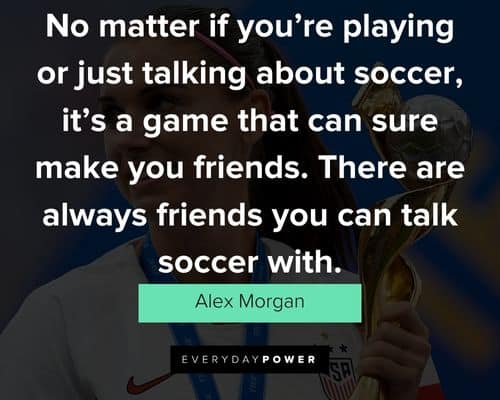 13. "Sportsmanship is definitely an important thing in all sports. In soccer, we all respect each other on such a high level, between Sweden and Brazil and Japan or whatever team it is." ― Alex Morgan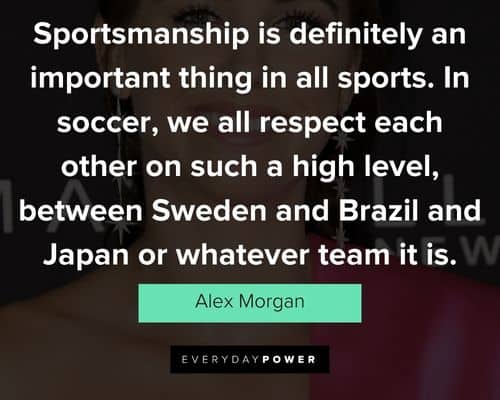 14. "I'm a big advocate of starting soccer young and always having the ball at your foot, but that's because I didn't do that. If I'd focused more on that when I was a kid, it would've been so helpful. It took me, like, halfway through college to feel comfortable with the ball." ― Alex Morgan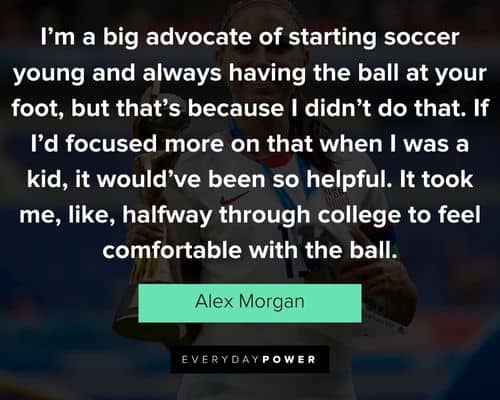 15. "I want to keep improving, continue to help my teammates improve, make my teammates look good. Continue bringing something new to the game, never getting completely content and always trying to get better." ― Alex Morgan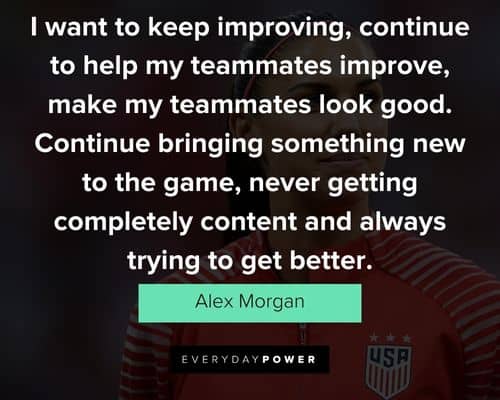 16. "Really get to know and establish relationships with your teammates because they are your new family and they will be the ones there for you when anything goes wrong." ― Alex Morgan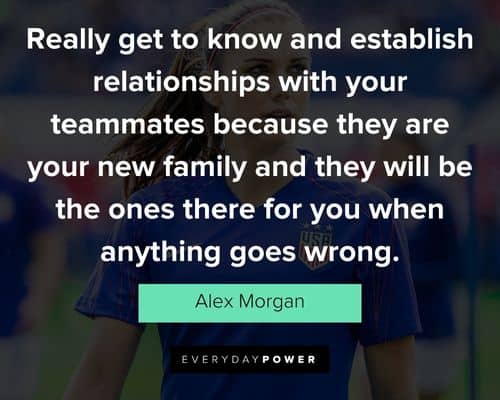 17. "There is no "I" in team when playing a team sport." ― Alex Morgan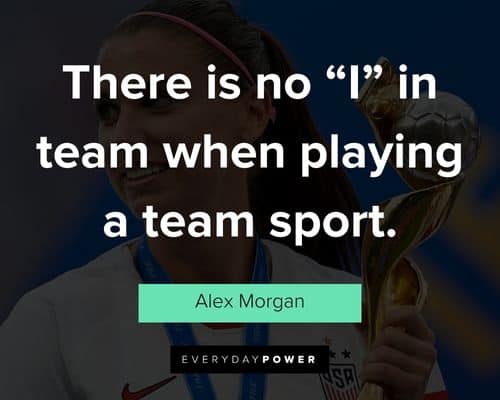 18. "I have learned that by pushing aside those insecurities and rediscovering my inner confidence, I become a better teammate and person." ― Alex Morgan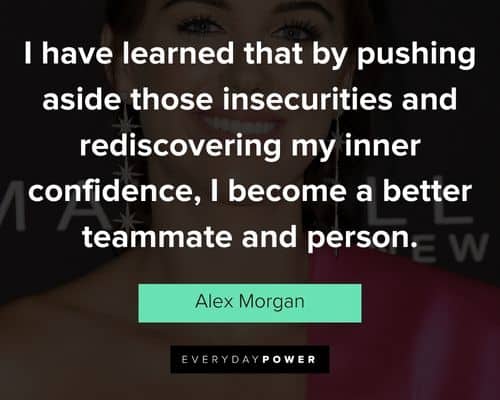 19. "I've really just tried to stay positive throughout the whole experience and any minutes at all, or even being on a roster, is an accomplishment. So I'm taking it one step at a time and just achieving small goals will hopefully one day make me a 90-minute player. For now, I'm happy to contribute in whatever way Pia wants me to, whether that's coming off the bench or supporting my teammates from the sideline." ― Alex Morgan
Inspirational Alex Morgan quotes
20. "Everybody has a talent, but it's what you do with that talent to make it great." ― Alex Morgan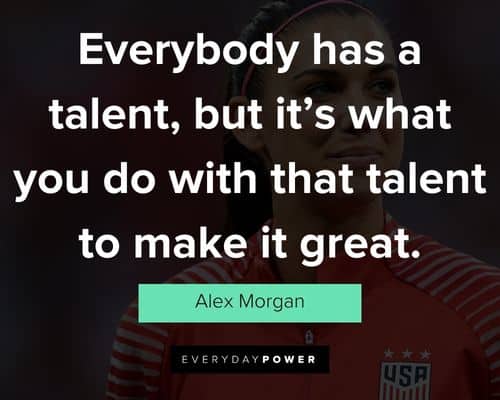 21. "Whatever brings you down, will eventually make you stronger." ― Alex Morgan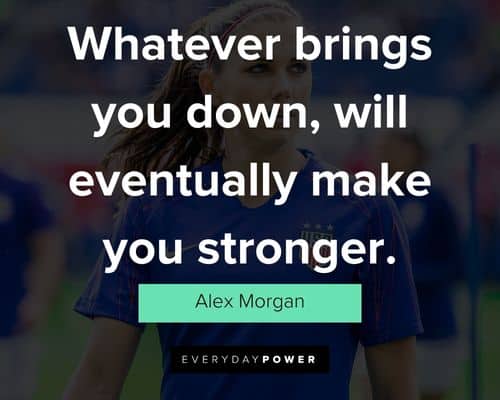 22. "Dream big, because dreams do happen." ― Alex Morgan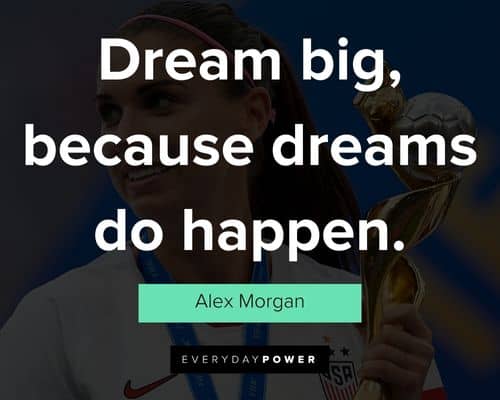 23. "The challenges that we face throughout our lives are only there to make us stronger and ready for the next time we encounter them." ― Alex Morgan
24. "Make sure your worst enemy doesn't live between your ears." ― Alex Morgan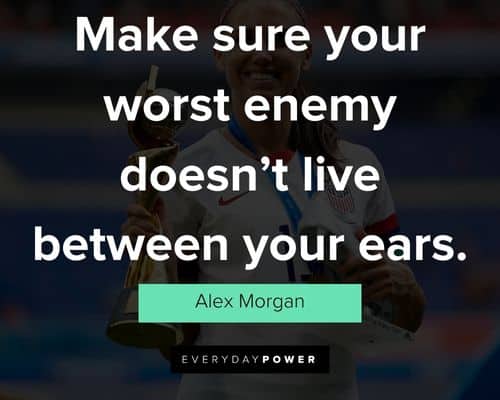 25. "Winning and losing isn't everything; sometimes, the journey is just as important as the outcome." ― Alex Morgan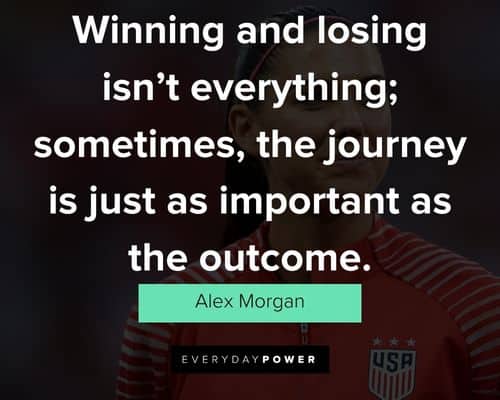 26. "There's really no secret to success. You make your own success." ― Alex Morgan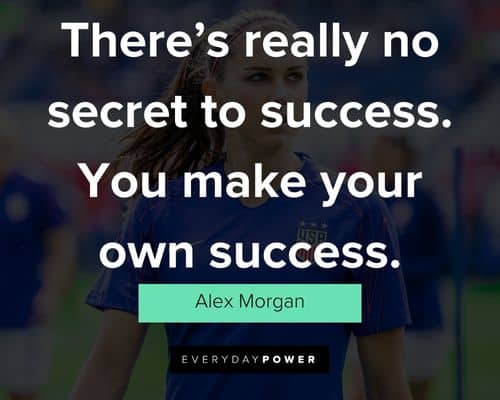 Alex Morgan quotes about herself and her journey
27. "The way I've been brought up to is, take critiques and turn them into positives in my game." ― Alex Morgan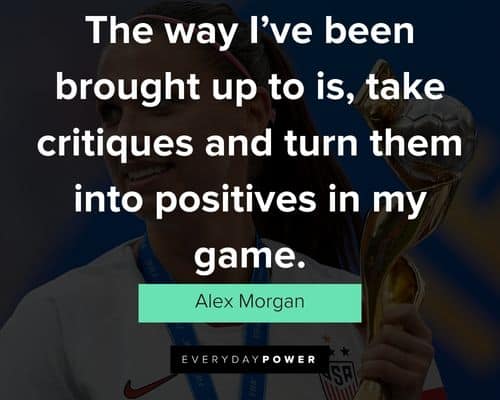 28. "We went to Austria to train and it was so peaceful. And I love coffee and the coffee was great." ― Alex Morgan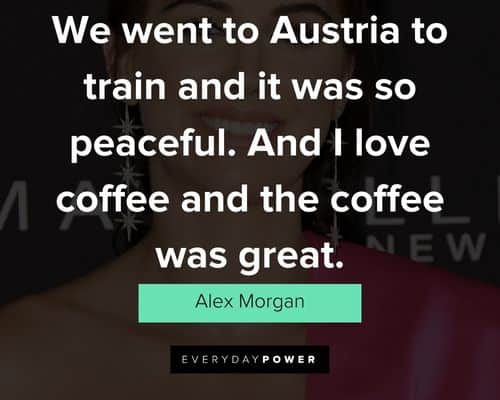 29. "I have had to adjust to new surroundings, meet new people and have been challenged by different situations. All of those experiences, while nerve-wracking at the time, have empowered me to grow stronger." ― Alex Morgan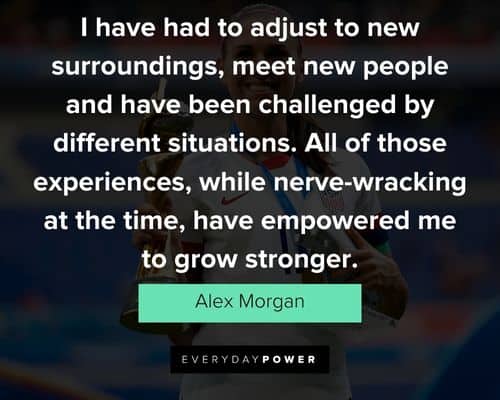 30. "I just hope I'm faster than the defenders I play against." ― Alex Morgan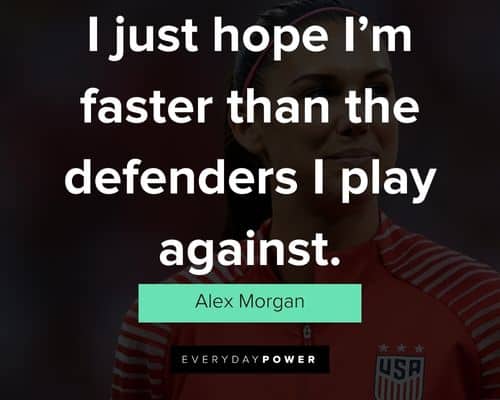 31. "That's how I work best when I'm under pressure." ― Alex Morgan
32. "Confidence is not something that is always easy to find. Often, being the new girl on a team or being in a group breeds insecurities. I have joined countless teams where I was the new girl, and I was never immune to those feelings of self-doubt." ― Alex Morgan
33. "Music is so huge to soccer, to my life, to working out. I usually have headphones when I'm cleaning the house or making dinner." ― Alex Morgan
34. "I was the biggest tomboy growing up. Now I love playing with a full face of makeup." ― Alex Morgan
35. "Pregame, I eat pancakes for a meal. I always do mental visualization before the game to prepare myself. Postgame, I typically take ice baths." ― Alex Morgan
36. "I love yoga. There's a lot of stretching involved, which helps with my flexibility and injury prevention. Vinyasa is my favorite as a recovery tool and for me to continue having my legs feel good." ― Alex Morgan
37. "I have done 'Sports Illustrated,' but I don't regret it because it portrayed me in a positive way – as an athlete." ― Alex Morgan
38. "I've probably improved the most with my vision of the game and my movement off the ball." ― Alex Morgan
39. "I feel the most confident when I'm comfortable in workout clothes with my hair up in a ponytail." ― Alex Morgan
40. "I'm never just on the couch. Being busy is part of who I am. But it's hard juggling my family, my husband, balancing that time." ― Alex Morgan
Empowering Alex Morgan quotes for women
41. "It's important that as women, we stand up for ourselves, stand up for our peers and show the power that confidence can have for women everywhere." ― Alex Morgan
42. "When people say, 'You run like a girl; you play like a girl,' it's not what it used to be. That shouldn't be negative. You should be proud to play like a girl." ― Alex Morgan
43. "My goal is to show girls that I'm fighting so they don't have to, so they don't have to fight the same battles, so they don't have to fight for wage equality or whatever it may be." ― Alex Morgan
44. "I certainly don't feel like I have the perfect body type… It's through your own eyes. And for every female, you're going to see flaws in that; you're going to see flaws regardless. So for me, it's just important to have that confidence and self-esteem no matter what body type you have." ― Alex Morgan
45. "I don't think the entire world respects women in sport. But if FIFA start respecting the women's game more, others will follow." ― Alex Morgan
46. "I want young girls to dream about being professional soccer players instead of just watching the boys go out and play." ― Alex Morgan
47. "Whenever people say 'women's soccer,' I want to correct them to say 'soccer.' Every girl has had their sport diminished because they're girls." ― Alex Morgan
48. "I want to know I made women's soccer better than it was when I came into it." ― Alex Morgan
49. "I find my motivation from everyone who looks up to me and my teammates. From the little girls that look up to me and tell me they want to be like me when they grow up." ― Alex Morgan
50. "It's great to see women standing up in their own line of work and fighting for fair value." ― Alex Morgan
What did you learn from these Alex Morgan quotes?
Alex Morgan was the face of the #EqualPlayEqualPay campaign that blew up on social media.
Alex joined forces with her teammates to bring awareness against the US Soccer Federation's injustice towards female athletes.
This wasn't just about their wages, but also their travel conditions.
She believed it was her duty as a professional athlete to expose the plight of the female athletes while proving that girls in sports deserve the attention and respect that boys do.
However, Alex Morgan, despite all her quotes about being an athlete, is much more than the things that make her famous.
She is also a wife and mother.
In addition to soccer and motherhood, she has also written four books on a variety of topics!
That is quite an impressive feat!
She was determined to still reach her goal of getting her degree, even though she was killing it at soccer.
Overall, Alex Morgan is a person of many talents, believes in reaching goals, and is a justice seeker.
She is not a bad role model to have!
What is your favorite Alex Morgan quote?
Use the comment section below to let us know.