Coretta Scott King Quotes Inspiring You to Fight for Equality
Coretta Scott King was an iconic civil rights leader, activist, and author.
Our Coretta Scott King quotes reveal her views on American society, justice, and more.
What have you learned about Coretta Scott King in the past?
Coretta Scott King attended Antioch College in the 1950s to turn her life-long passion for music into a profession.
After winning a fellowship, she transferred to the New England Conservatory of Music where she first met Martin Luther King, Jr.
After marrying Martin Luther King, Jr. and earning her degree, Scott-King worked within the civil rights movement.
She advocated for the rights of women, the LGBT community, and African-Americans.
After her husband's assassination, Scott-King founded the King Center in 1968 to further implement "Dr. King's nonviolent philosophy and methodology."
Learn more about the amazing life of Coretta Scott King below.
Don't forget to also check out these Martin Luther King, Jr. quotes to inspire courage, peace and equality.
You may also enjoy our collection of Frederick Douglass quotes.
If you love this quote collection, read out our most popular quote article about short inspirational quotes for daily motivation.
If you need more inspirational quotes, check out our motivational quotes category page.
Powerful Coretta Scott King quotes
1. "Hate is too great a burden to bear. It injures the hater more than it injures the hated." – Coretta Scott King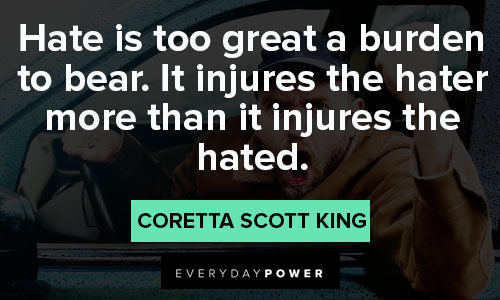 2. "When the heart is right, the mind and the body will follow." – Coretta Scott King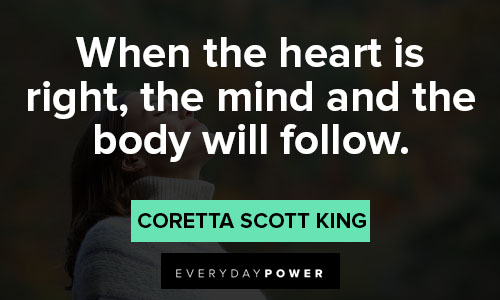 3. "Struggle is a never-ending process. Freedom is never really won, you earn it and win it in every generation." – Coretta Scott King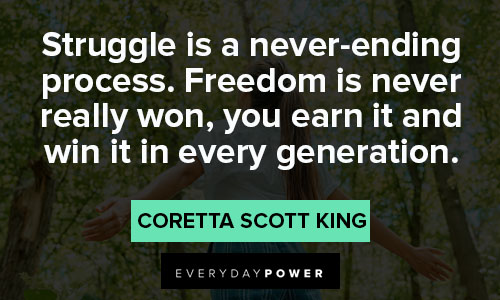 4. "Just be what you are. And I try to be my best self and be what I am and knowing what I am and be satisfied with that. And if people don't know it, maybe they'll eventually know it." – Coretta Scott King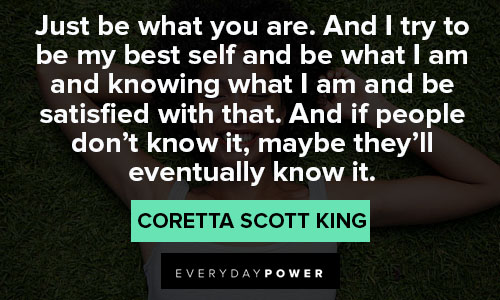 5. "You cannot have peaceful means – peaceful means will have to be used to bring about peaceful ends. If you use destructive means, you're going to bring about destructive ends." – Coretta Scott King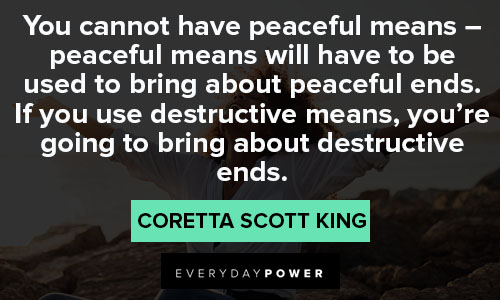 6. "Money is necessary — both to support a family and to advance causes one believes in." – Coretta Scott King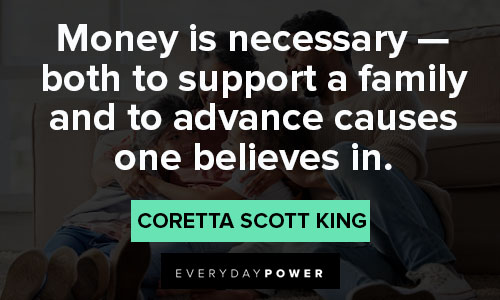 7. "It doesn't matter how strong your opinions are. If you don't use your power for positive change, you are, indeed, part of the problem." – Coretta Scott King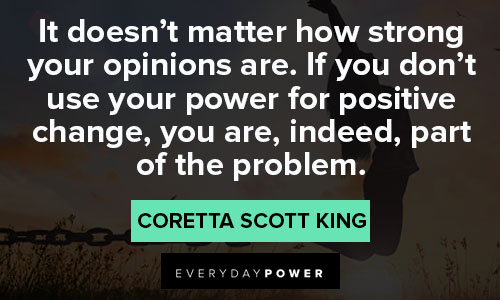 8. "No abundance of material goods can compensate for the death of individuality and personal creativity." – Coretta Scott King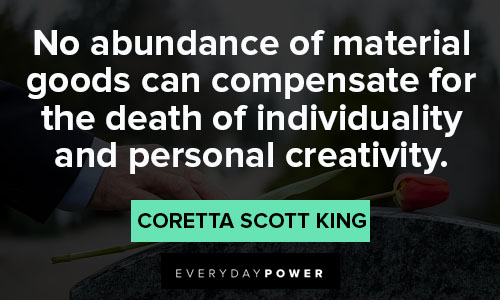 9. "To really know someone is to have loved and hated him in turn." – Coretta Scott King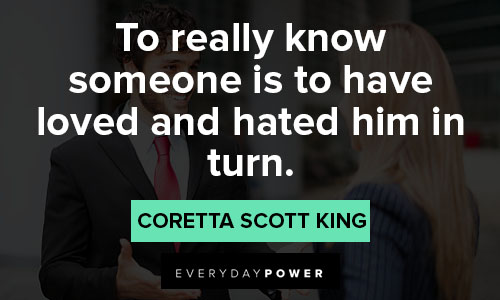 10. "When you are willing to make sacrifices for a great cause, you will never be alone." – Coretta Scott King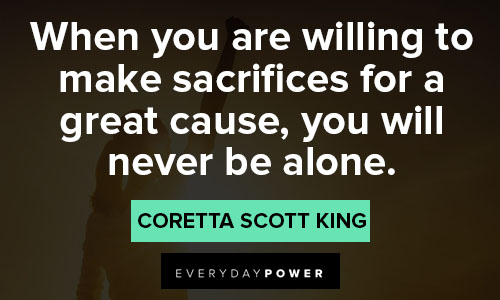 Coretta Scott King quotes about society
11. "The greatness of a community is most accurately measured by the compassionate actions of its members." – Coretta Scott King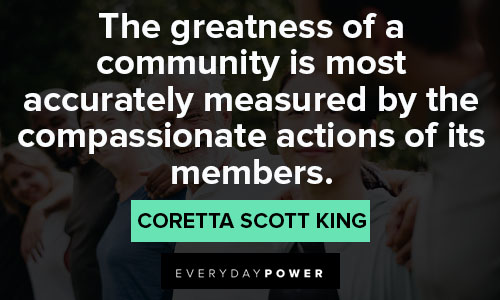 12. "The failure to invest in youth reflects a lack of compassion and a colossal failure of common sense." – Coretta Scott King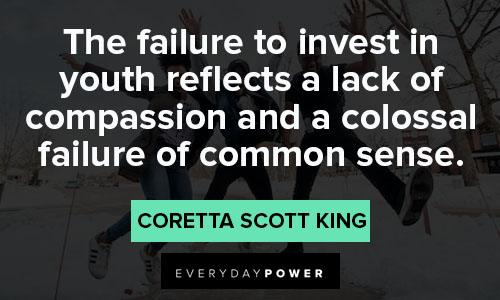 13. "I believe all Americans who believe in freedom, tolerance and human rights have a responsibility to oppose bigotry and prejudice based on sexual orientation." – Coretta Scott King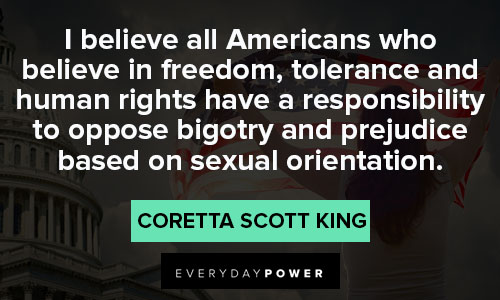 14. "There is no reason why a nation as rich as ours should be blighted by poverty, disease, and illiteracy." – Coretta Scott King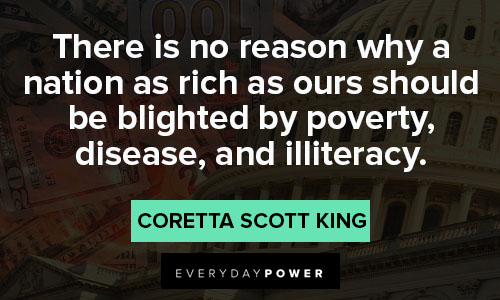 15. "When aroused the American conscience is a powerful force for reform." – Coretta Scott King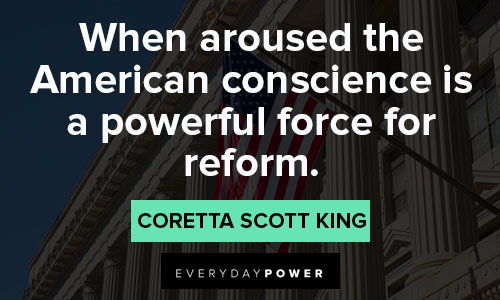 16. "All we seek is an America where every person is given the chance to productively contribute to his country and where he can receive a fair and equitable share of the wealth that production creates." – Coretta Scott King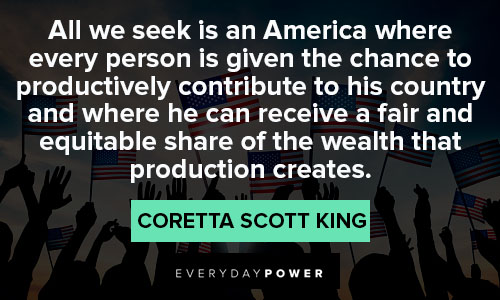 17. "The woman power of this nation can be the power which makes us whole and heals the rotten community, now so shattered by war and poverty and racism. I have great faith in the power of women who will dedicate themselves whole-heartedly to the task of remaking our society." – Coretta Scott King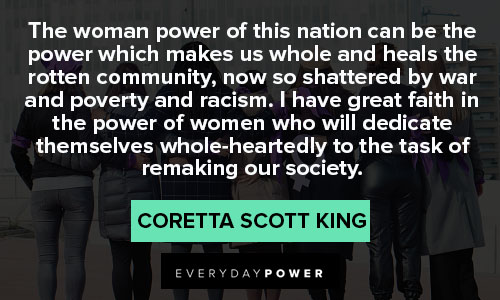 If you're enjoying these quotes, make sure to read our collection of community quotes about the power of connecting with others.
18. "Something is wrong that we have to feed so many. Why should there be poverty with all of our science and technology? There is no deficit in human resources – it is a deficit in human will." – Coretta Scott King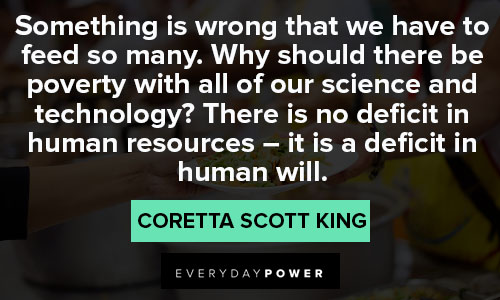 19. "Thank God we have the example of Martin Luther King, Jr. People need role models. They need to see examples of people in peoples' lives, and that's why it's so important not just to commemorate his life, but to study and try to live by the principles of that life." – Coretta Scott King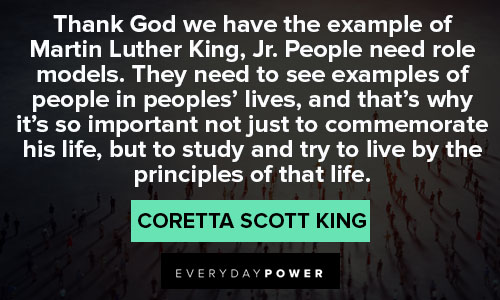 Coretta Scott King quotes about justice and nonviolence
20. "Justice is never advanced in the taking of a human life." – Coretta Scott King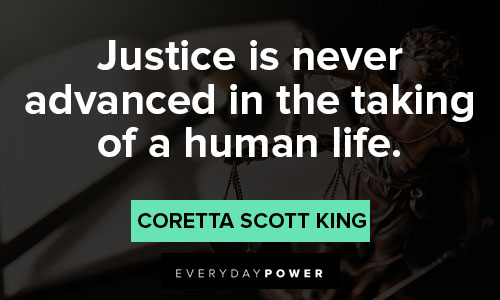 21. "Revenge and retaliation always perpetuate the cycle of anger, fear and violence." – Coretta Scott King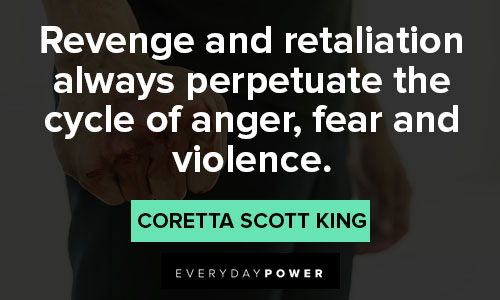 22. "Non-violence is a permanent attitude we bring to the breakfast table and bring to bed at night." – Coretta Scott King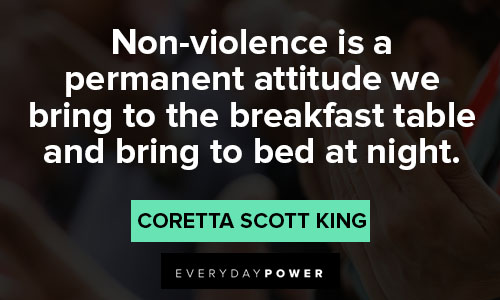 23. "Freedom and justice cannot be parceled out in pieces to suit political convenience. I don't believe you can stand for freedom for one group of people and deny it to others." – Coretta Scott King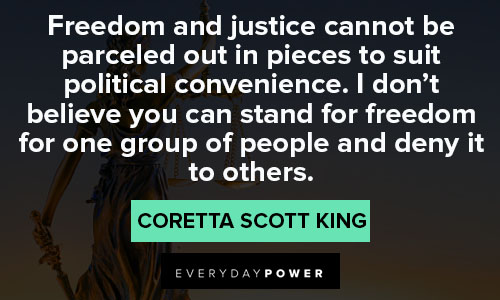 24. "Nonviolence is the only credible response to the violence we're seeing around the world." – Coretta Scott King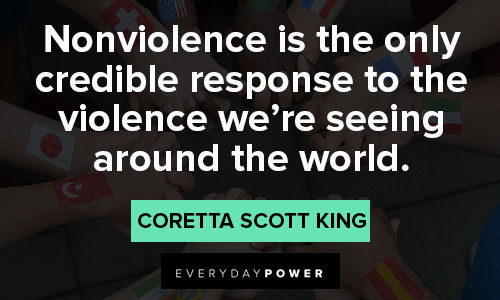 25. "Nonviolence would work today, it would work 2,000 years from now, it would work 5,000 years from now." – Coretta Scott King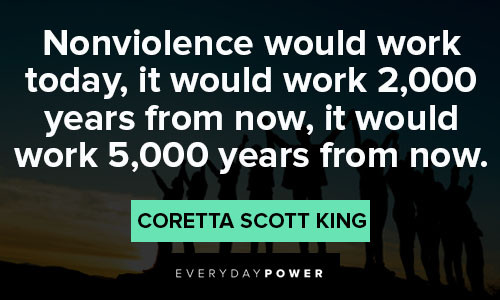 Do you value inclusivity?
One of the things that inspire me the most about Coretta Scott King is that her fight for equality included many different groups of people.
She used her power and status to expand upon Dr. King's fight for equality.
She publicly invited other groups, such as the LGBT community, to join the civil rights movement.
When you're in a position of power, it's important that you give underrepresented groups a "seat at the table."
Ensuring that we all have a voice allows us to make deeper connections with one another and work together to make strides towards equality for all.
Which of these Coretta Scott King quotes and sayings is your favorite?
Let us know below!