25 Edna Mode Quotes From The Incredibles Character
Our latest collection of Edna Mode quotes on practical and useful super-suit features.
Few animated movie characters possess the fire and snark that Edna Mode, also known as "E," exudes.
Her contributions to The Incredibles are a delight felt by many parents.
In the comment section below, tell us what you love most about Edna Mode.
You may also enjoy our article on:
What are the benefits of reading these Edna Mode quotes?
These Edna Mode quotes will help you learn a few things too:
black is timeless (there is no "new" black)
each day is important, and there is no reason to look back
actions matter more than our words
Edna Mode is this cross between a fashionista and a nutty professor.
Her wit is sharp, and her talent is massive.
Creator Brad Bird (who also ended up being the voice of Edna) wanted to delve into the question, "Where do the suits and gadgets of superheroes come from?"
Of course, Edna would need to have a talent for manufacturing clothing and a unique sense of fashion.
However, she would have to be brilliant to create suits that stretch (like Elastigirl's), are flame retardant, and have impressive features.
The result was a short spunky character of Japanese and German descent.
An incredibly talented designer, her costumes are both stylish and functional, taking into account the unique abilities and needs of each superhero she works with.
Edna had only a minor role in both films but worked her way into the heart of the fans.
She's a scene-stealer in both movies, and her impact on pop culture is undeniable.
From her iconic catchphrase to her striking fashion designs, Edna is a true legend.
Enjoy these Edna Mode quotes!
Don't forget to check out these Samuel L. Jackson quotes from the prolific actor.
See the rest of our quote database for even more inspirational ideas and thoughts.
Edna Mode quotes from The Incredibles and other films
1. "No capes!" ― Edna Mode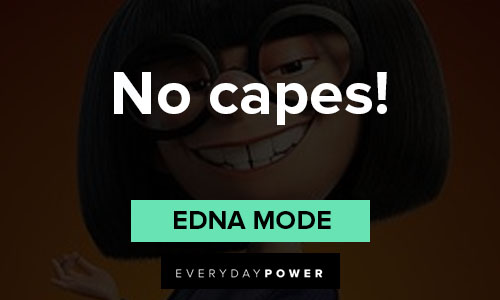 2. "You need a new suit, that much is certain." ― Edna Mode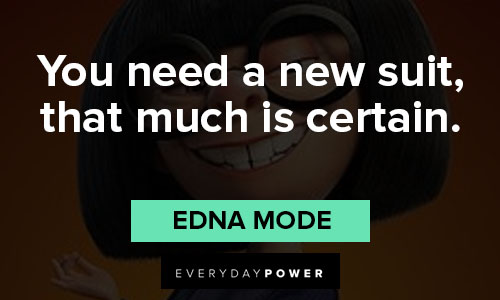 3. "I cut it a little roomy for the free movement, the fabric is comfortable for sensitive skin…" ― Edna Mode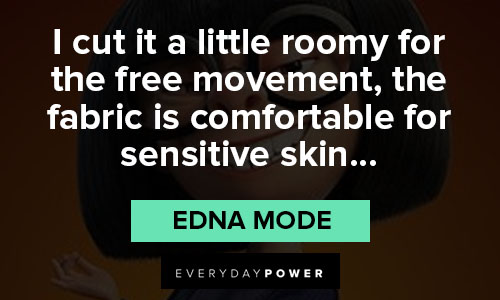 4. "This is a horrible suit, darling. You can't be seen in this. I won't allow it. Fifteen years ago, maybe, but now?" ― Edna Mode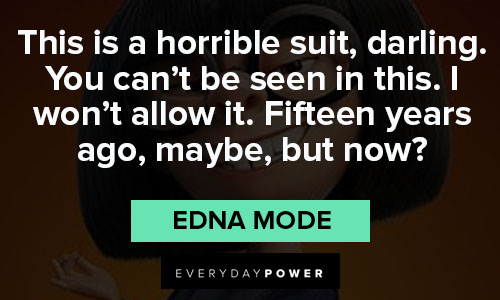 5. "It can also withstand a temperature of over 1000 degrees. Completely bulletproof… And machine washable, darling. That's a new feature." ― Edna Mode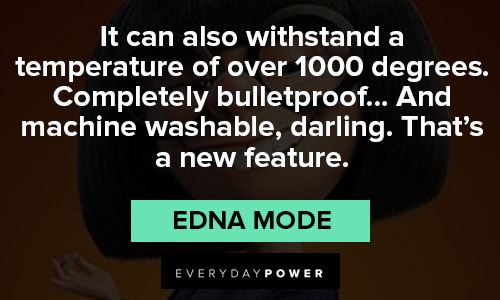 6. "Your boy's suit I designed to withstand enormous friction without heating up or wearing out, a useful feature. Your daughter's suit was tricky, but I finally created a sturdy material that can disappear completely as she does. Your suit can stretch as far as you can without injuring yourself, and still retain its shape. Virtually indestructible, yet it breathes like Egyptian cotton." ― Edna Mode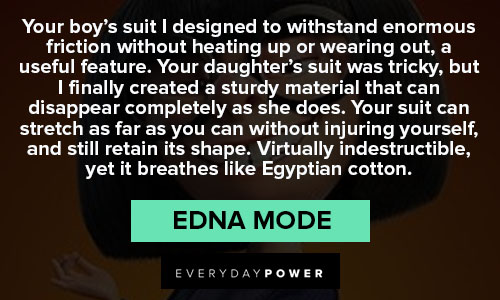 You will also enjoy our article on bird quotes.
Edna Mode quotes and lines full of useful advice
7. "I never look back, darling! It distracts from the now." ― Edna Mode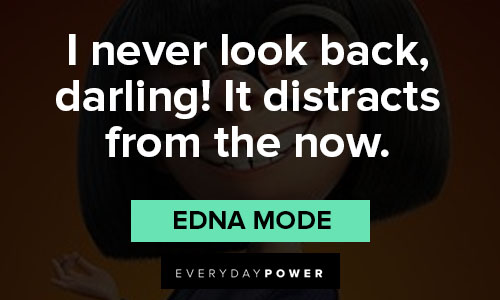 8. "Keep your fingers above the sheets. We only change 'em once a week!" ― Edna Mode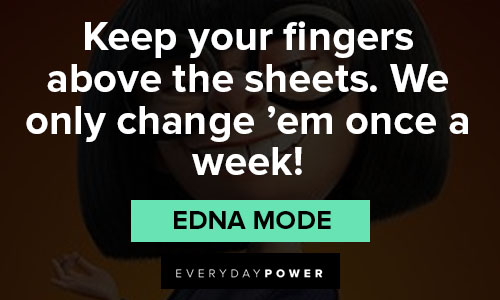 9. "Go confront the problem. Fight! Win! And call me when you get back, darling. I enjoy our visits." ― Edna Mode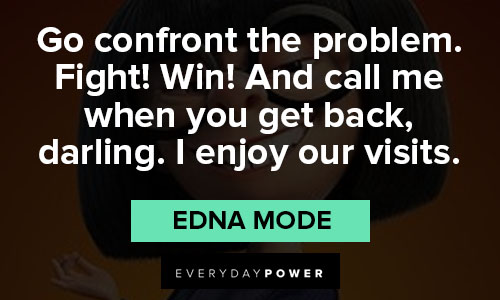 10. "Pull-yourself-together! "What will you do?" Is this a question? You will show him you remember that he is Mr. Incredible, and you will remind him who *you* are. Well, you know where he is." ― Edna Mode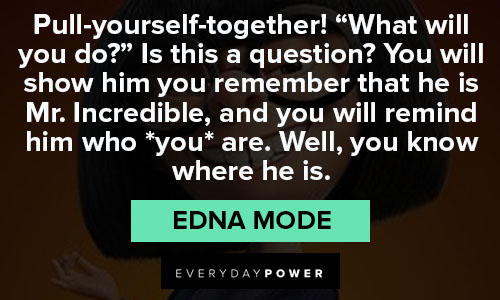 Darling Edna Mode quotes (Luck favors the prepared)
11. "Don't make me beg, darling, I won't do it, you know!" ― Edna Mode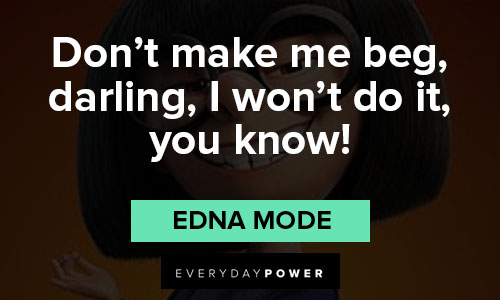 12. "DARLING! How are you, it's been such a long time…" ― Edna Mode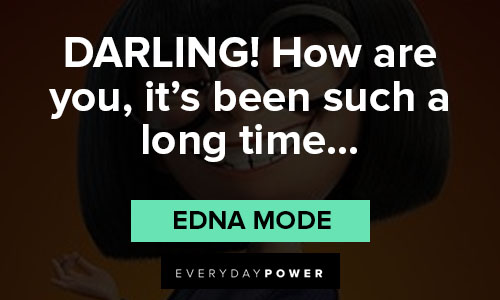 13. "Well, I am sure I don't know, darling. Luck favors the prepared." ― Edna Mode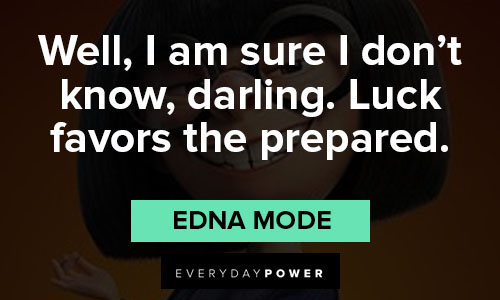 14. "Yes, words are useless! Gobble-gobble-gobble-gobble-gobble! Too much of it, darling, too much! That is why I show you my work! That is why you are here!" ― Edna Mode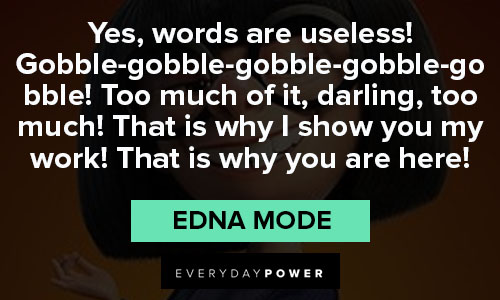 15. "Milan, darling. Milan. Supermodels. Heh! Nothing super about them… spoiled, stupid little stick figures with poofy lips who think only about themselves. Feh! I used to design for *gods*!" ― Edna Mode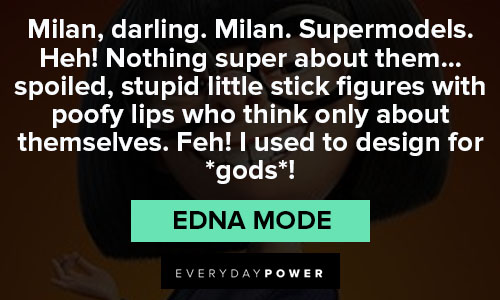 Witty Edna Mode quotes
16. "Do I look like a hussy?" ― Edna Mode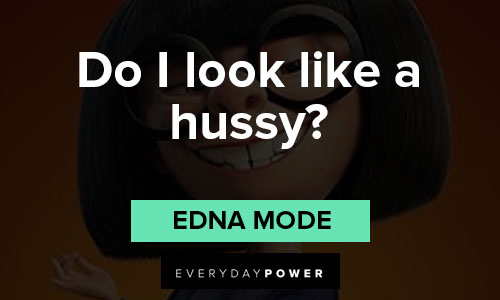 17. "You're just a shit-stain on the panties of life." ― Edna Mode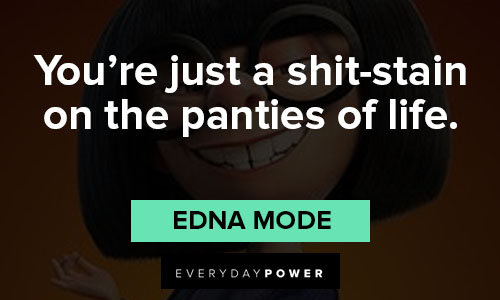 18. "There are no illegitimate children. There are only illegitimate parents!" ― Edna Mode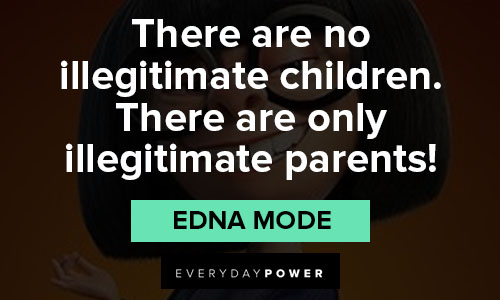 19. "You know the name of the game, girls… control. COMPLETE… control." ― Edna Mode
20. "You can't! It's impossible! I'm far too busy, so ask me now before I can become sane." ― Edna Mode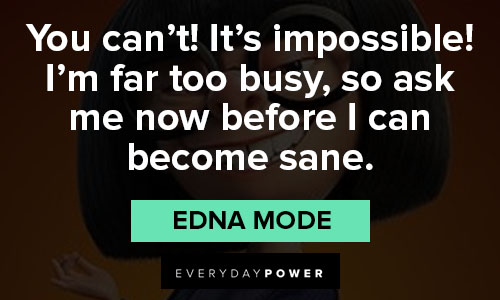 21. "The human race is responsible for the unemployment? I never would've guessed. All this time, I kept thinking it was somebody else." ― Edna Mode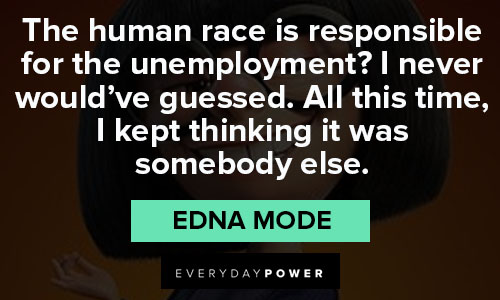 22. "What's that gun doing in your room? Suppose I phone the police, told them there's a bloke in my hotel… who's planning to shoot somebody?" ― Edna Mode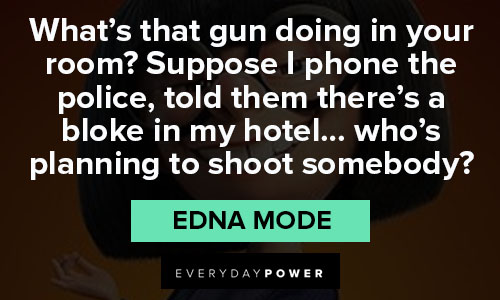 Edna Mode quotes that are unmistakably Edna
23. "It will be bold! Dramatic! Heroic!" ― Edna Mode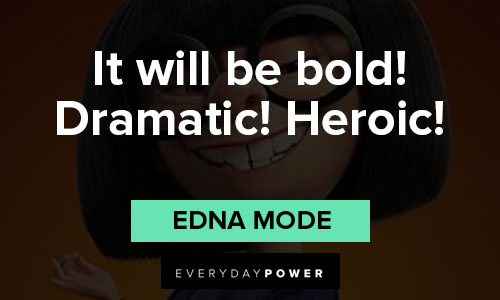 24. "You push too hard, darling! But I accept!" ― Edna Mode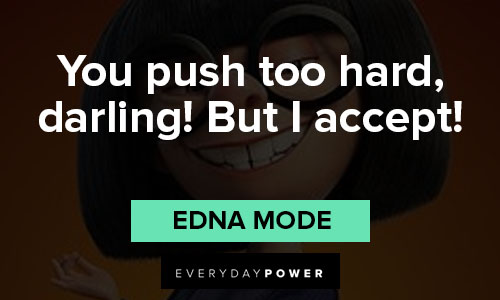 25. "Men at Robert's age are often unstable… prone to weakness." ― Edna Mode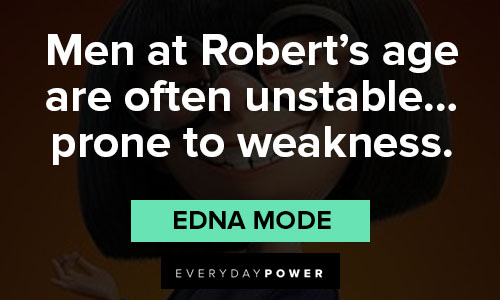 Which of these Edna Mode quotes is your favorite?
Brad Bird's vision created a lovable and hilarious character while earning an award for his voice acting!
Several actresses tried to duplicate Bird's temporary voice for Edna but couldn't quite get it.
Lily Tomlin told Brad Bird he should do it himself, and she was not alone!
Many of the crew agreed and worked to convince him.
The director wanted to debunk the idea that superheroes sewed their costumes, something he frequently wondered about as a fan of the genre.
The Incredibles was the first Pixar film to earn a PG rating, in part to Edna's darker and edgier persona.
Edna got her name from Pixar's program at the time of filming: EMode.
What is your favorite thing about Edna Mode's personality?
Do you have any other Edna Mode quotes and lines you would like to add?
Leave them in the comment section below.
If you are a fan of Edna Mode share this article with all your friends.