Elf Quotes – Hilarious Quotes From The Movie Elf
These Elf quotes will help you spread cheers to everyone who can relate.
Who would have thought a tall man in funny yellow tights, pointy shoes, and a green suit could elicit laughter and inspiration among moviegoers of all ages?
These famous quotes from the classic Christmas movie featuring funnyman Will Ferrell who played the lovable Buddy, are guaranteed to bring back great memories from those who've already seen the film.
Why is the movie Elf so loved?
Elf was released in 2003, roughly a month before Christmas. It was directed by Jon Favreau and written by David Berenbaum.
The movie was centered on the adventures of Buddy, a human raised by Santa's elves, who set out in New York City to look for his biological dad while spreading Christmas cheers to a city full of cynics and unbelievers.
The Christmas comedy film was a major critical and commercial success, grossing $220 million worldwide against a $33 million budget.
Ferrell delivered one of his best performances, and Elf is considered one of the greatest Christmas films of all time.
Below is our collection of funny, inspirational Elf quotes and lines. Enjoy!
If you like this article, we suggest you explore our most popular quotes article, a list of short inspirational quotes for daily encouragement.
Read more related content on our inspirational quotes category page.
The best Elf quotes to get you in the holiday spirit
1. "First, we'll make snow angels for two hours, then we'll go ice skating, then we'll eat a whole roll of Tollhouse cookie-dough as fast as we can, and then we'll snuggle." – Elf movie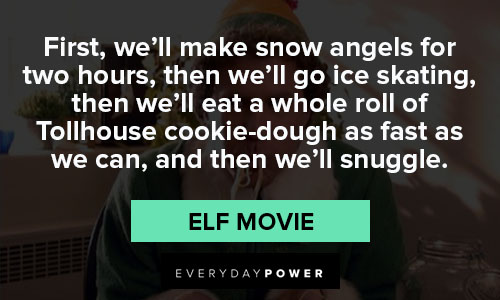 You will also enjoy our article on Grease quotes.
2. "Francisco! That's fun to say! Francisco. Frannncisco. Franciscooo." – Elf movie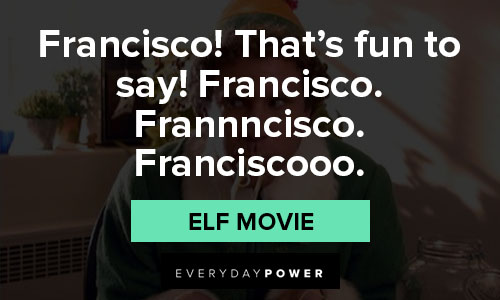 You will also enjoy our article on Christmas quotes.
3. "Good news! I saw a dog today!" – Elf movie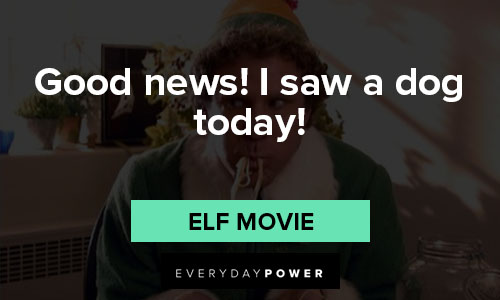 4. "He's an angry elf, he's from the South Pole." – Elf movie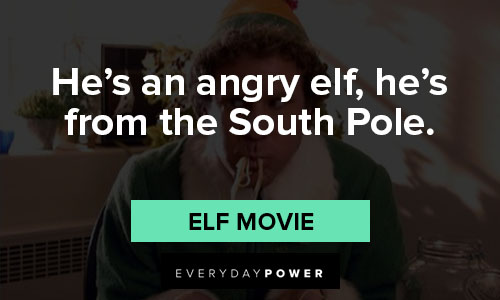 5. "I'm in a store and I'm singing!" – Elf movie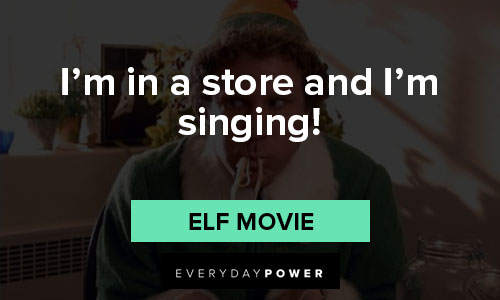 6. "Leave the gum on the street." – Elf movie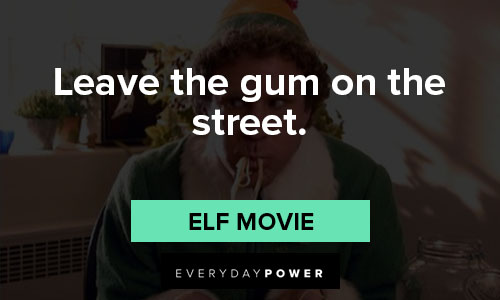 7. "The best way to spread Christmas cheer is singing loud for all to hear." – Elf movie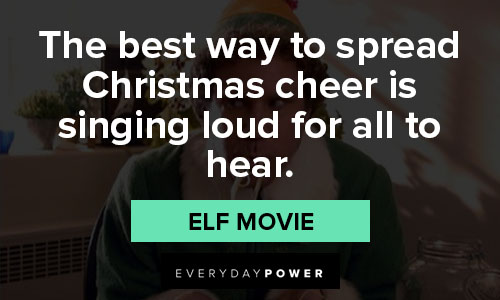 8. "Watch out, the yellow ones don't stop!" – Elf movie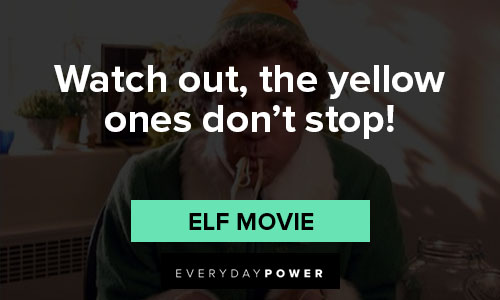 9. "We elves try to stick to the four main food groups: candy, candy canes, candy corns and syrup." – Elf movie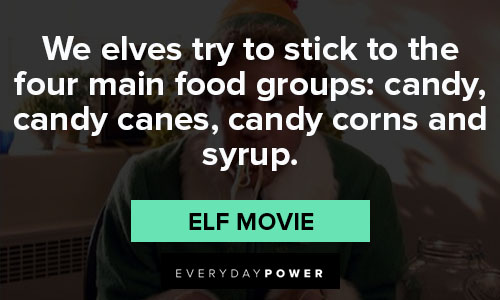 10. "What about Santa's cookies? I suppose parents eat those, too?" – Elf movie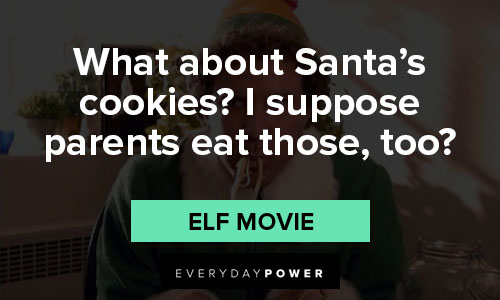 If you're enjoying these quotes, make sure to check out our collection of famous movie quotes from your favorite characters.
Elf quotes to spread Christmas cheer
11. "You sit on a throne of lies." – Elf movie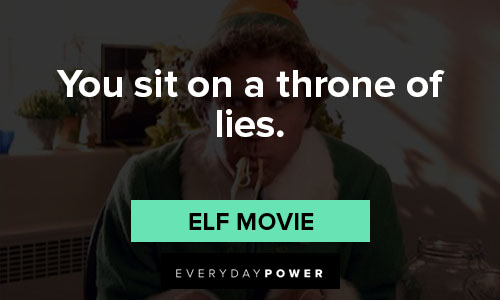 12. "As you can imagine, it's dangerous having an oven in an oak tree during the dry season." – Elf movie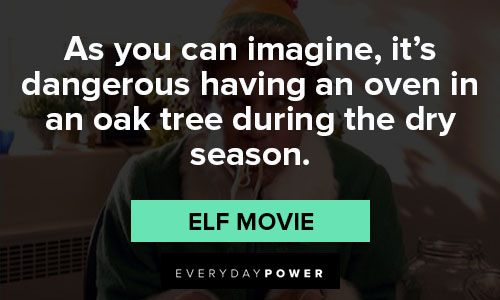 13. "Buddy the Elf, what's your favorite color?" – Elf movie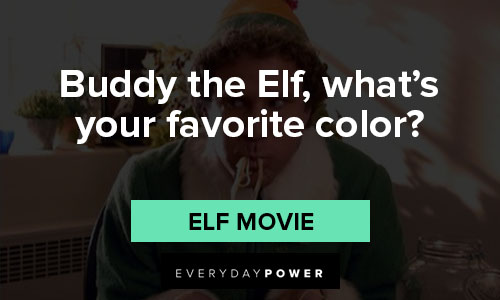 14. "Bye Buddy, hope you find your dad!" – Elf movie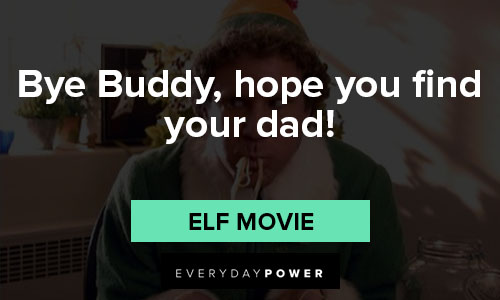 15. "Does somebody need a hug?" – Elf movie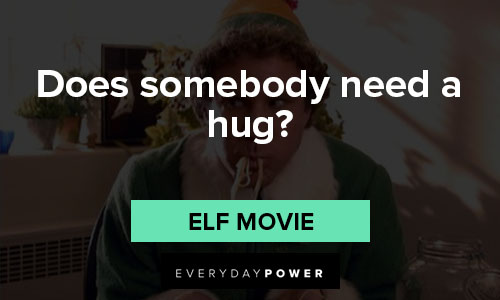 16. "Have you seen these toilets? They're ginormous!" – Elf movie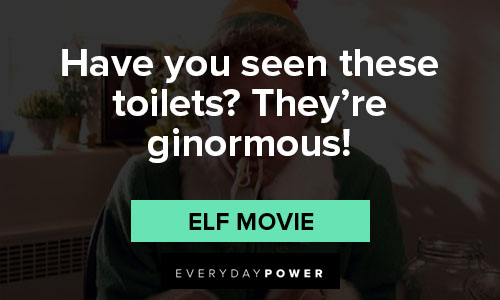 17. "I thought maybe we could make ginger bread houses, and eat cookie dough, and go ice skating, and maybe even hold hands." – Elf movie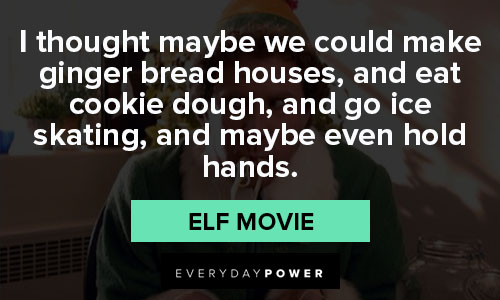 18. "I'm in love, I'm in love and I don't care who knows it." – Elf movie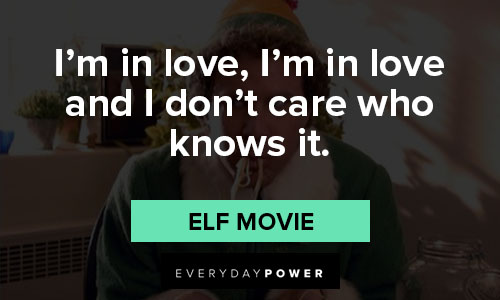 19. "I'm sorry I ruined your lives and crammed 11 cookies into the VCR." – Elf movie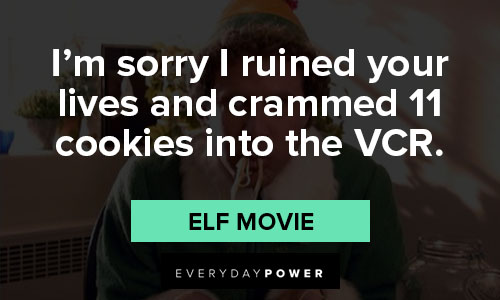 20. "If you see a sign that says 'Peep Show', that doesn't mean they're letting you look at presents before Christmas." – Elf movie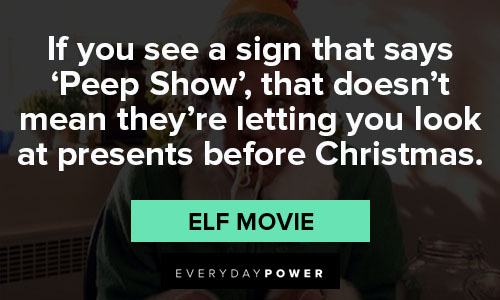 Don't forget to also check out these interesting Ferris Bueller quotes.
Elf quotes that will make you laugh
21. "Nice purple dress. Very purpley." – Elf movie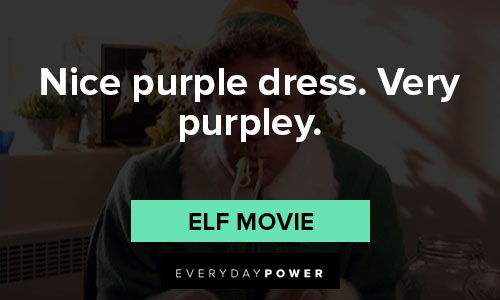 22. "Not now, Arctic Puffin!" – Elf movie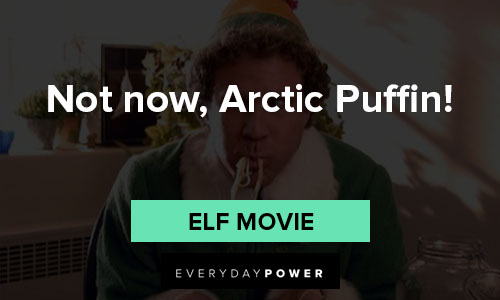 23. "Of course, you're not an elf. You're six-foot-three and had a beard since you were fifteen." – Elf movie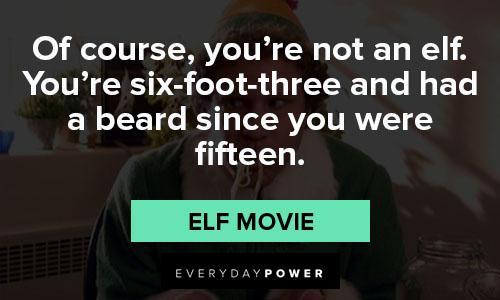 24. "Some call it 'the show' or 'the big dance;' it's the profession that every elf aspires to—and that is to build toys in Santa's workshop." – Elf movie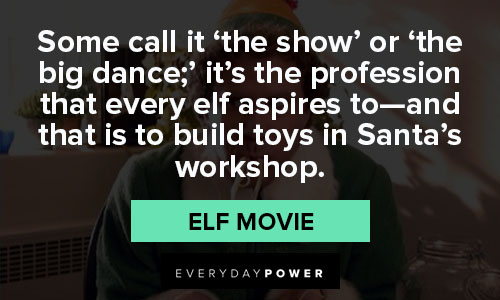 25. "Son of a nutcracker!" – Elf movie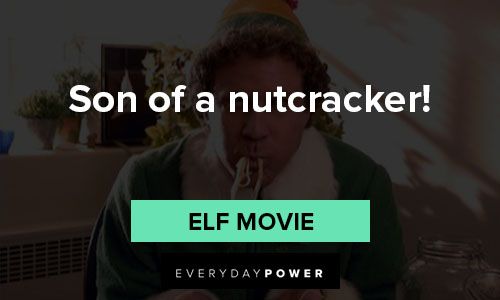 Don't forget to also check out these Letterkenny quotes that will make you want to pack up and move to Canada.
Which of these Elf quotes is your favorite?
In Will Ferrell's own words, "'Elf has become this big holiday movie, and I remember running around the streets of New York in tights saying, 'This could be the last movie I ever make,' and I could never have predicted that it'd become such a popular film."
Elf quotes are now Christmas staples spreading cheers to everyone who can relate.
Elf has already made more than $220 million since its release date.
If you need a feel-good comedy with lots of memorable lines, this film is for you.
Watch it while taking your much-deserved downtime and get ready to meet Buddy, who will teach you a thing or two about the world's much-needed Christmas spirit.
Did you enjoy these Hilarious Elf quotes?
Which of the quotes is your favorite?
Let us know in the comment section below.