Yoga Quotes Celebrating Your Mind, Body & Spirit
An ancient practice still beloved today, these yoga quotes will strengthen your mind and spirit.
Our latest collection of yoga quotes will enrich your mind, body, and spirit.
Are you a lover of yoga?
Whether you're advanced or a beginner, yoga is a wonderful method to destress, center your mind, and get a challenging workout in the process.
Yoga is an ancient practice that originated in India around 3000BC. In its entirety, yoga is actually a deeply spiritual discipline that incorporates philosophical, mental and of course, spiritual elements.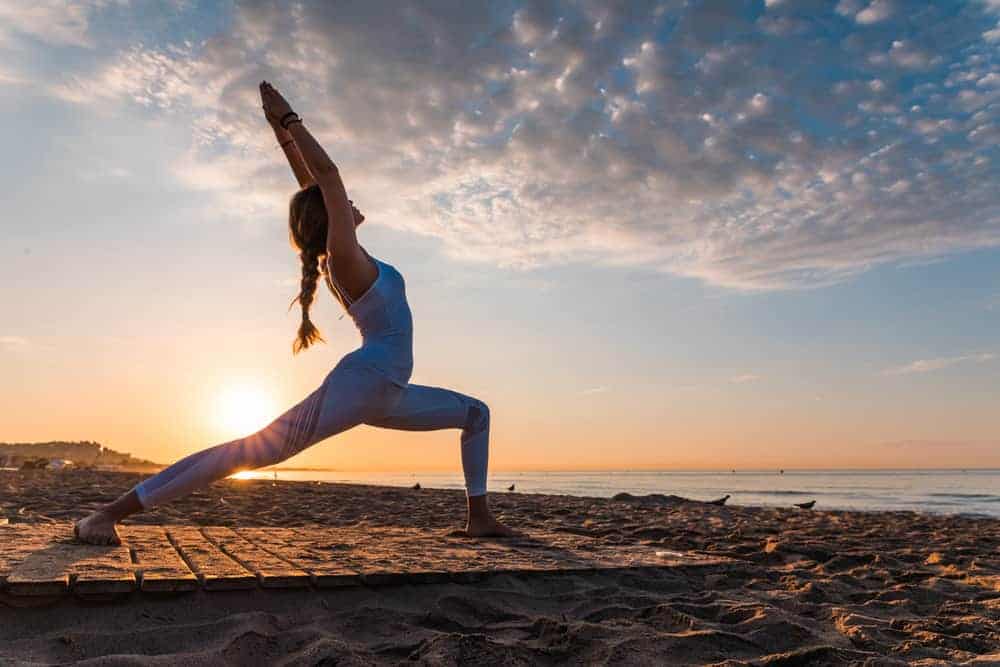 Yoga was developed as a way to gain balance between the heart and the soul with the aim of divine enlightenment. Currently, yoga is highly popular in the west due to the many practical benefits it brings.
If you love yoga, you are going to love the following quotes. And if you haven't started yoga yet, the following yoga quotes will motivate you to start practicing it.
Be sure to also check out our collection of inspirational Sadhguru quotes from the wise Indian yogi.
Yoga Quotes To Inspire Your Mind and Body
1. "If you seek peace, be still. If you seek wisdom, be silent. If you seek love, be yourself."– Becca Lee
2. "Yoga begins with listening. When we listen, we are giving space to what is." — Richard Freeman
3. "Yoga is a light, which once lit will never dim. The better your practice, the brighter your flame." — B.K.S. Iyengar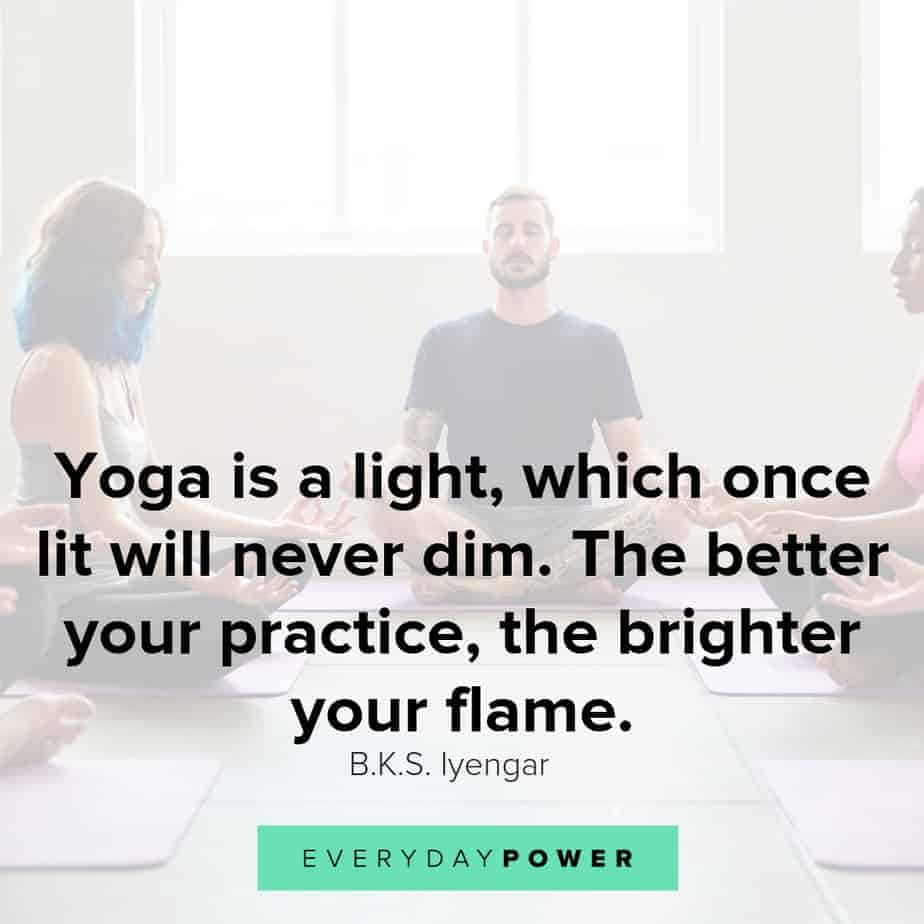 4. "Move your joints every day. You have to find your own tricks. Bury your mind deep in your heart, and watch the body move by itself." — Sri Dharma Mittra
5. "The very heart of yoga practice is 'abyhasa' – steady effort in the direction you want to go."–Sally Kempton
6. "Yoga means addition – addition of energy, strength and beauty to body, mind and soul."–Amit Ray
7. "Most people have no idea how good their body is designed to feel."-Kevin Trudeau
8. "Yoga is the journey of the self, through the self, to the self."– The Bhagavad Gita
9. "Yoga exists in the world because everything is linked." –Desikashar
10. "Yoga is not a work-out, it is a work-in. And this is the point of spiritual practice; to make us teachable; to open up our hearts and focus our awareness so that we can know what we already know and be who we already are." — Rolf Gates
Yoga quotes for inspiration and motivation
11. "True yoga is not about the shape of your body, but the shape of your life. Yoga is not to be performed; yoga is to be lived. Yoga doesn't care about what you have been; yoga cares about the person you are becoming. Yoga is designed for a vast and profound purpose, and for it to be truly called yoga, its essence must be embodied." – Aadil Palkhivala
12. "The body benefits from movement, and the mind benefits from stillness." — Sakyong Mipham
If you're enjoying these quotes, make sure to read our collection of movement quotes for fitness inspiration.
13. "Yoga does not transform the way we see things, it transforms the person who sees." — B.K.S. Iyengar
14. "When you find peace within yourself, you become the kind of person who can live at peace with others." – Peace Pilgrim
15. "Yoga begins right where I am – not where I was yesterday or where I long to be." – Linda Sparrowe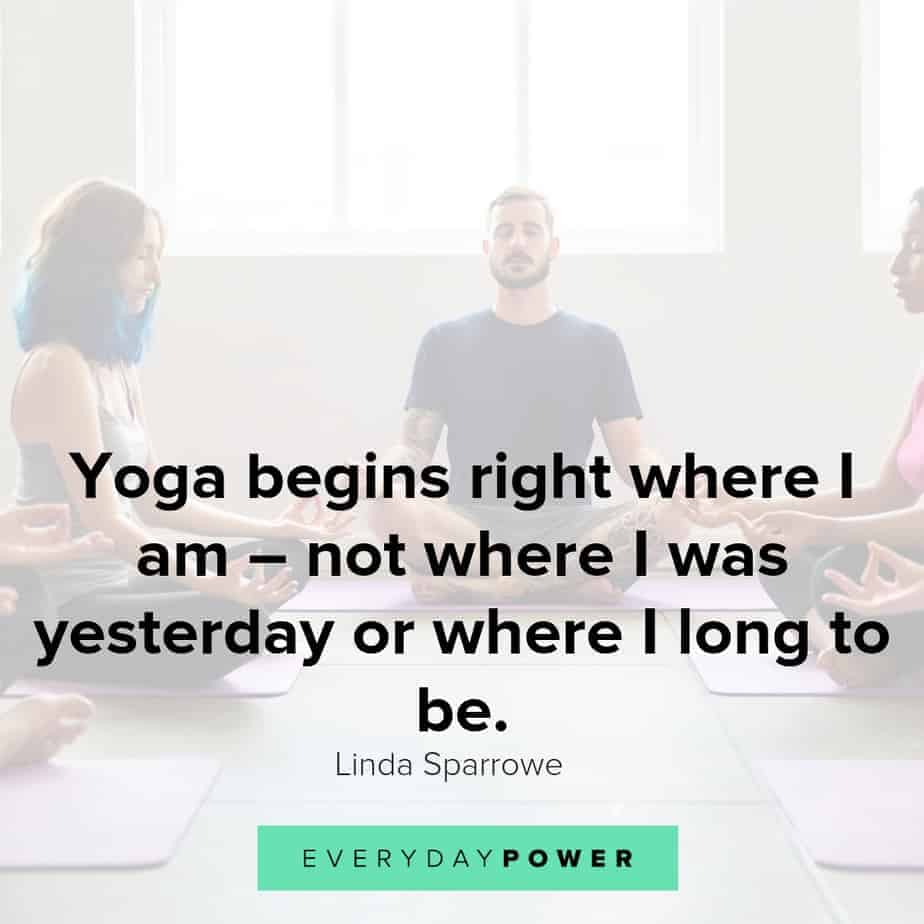 16. "The secret of change is to focus all of your energy, not on fighting the old, but on building the new. ― Socrates
17. "Inner peace begins the moment you choose not to allow another person or event to control your emotions." – Pema Chodron (see more Pema Chödrön quotes)
18. "Once you're in touch with the life force around us, it's natural to want to help keep it around."– Adi Carter
19. "The very heart of yoga practice is 'abyhasa' – steady effort in the direction you want to go." –Sally Kempton
20. "The yoga pose you avoid the most you need the most." — Anonymous
Don't forget to also read these soothing breathe quotes to help you relax.
Yoga quotes to inspire your life
21. "Remember, it doesn't matter how deep into a posture you go – what does matter is who you are when you get there." – Max Strom
22. "Yoga is not for the flexible. It's for the willing." — Anonymous
23. "Yoga is 99% practice and 1% theory." –Sri Krishna Pattabhi Jois
24. "Yoga is the perfect opportunity to be curious about who you are." –Jason Crandell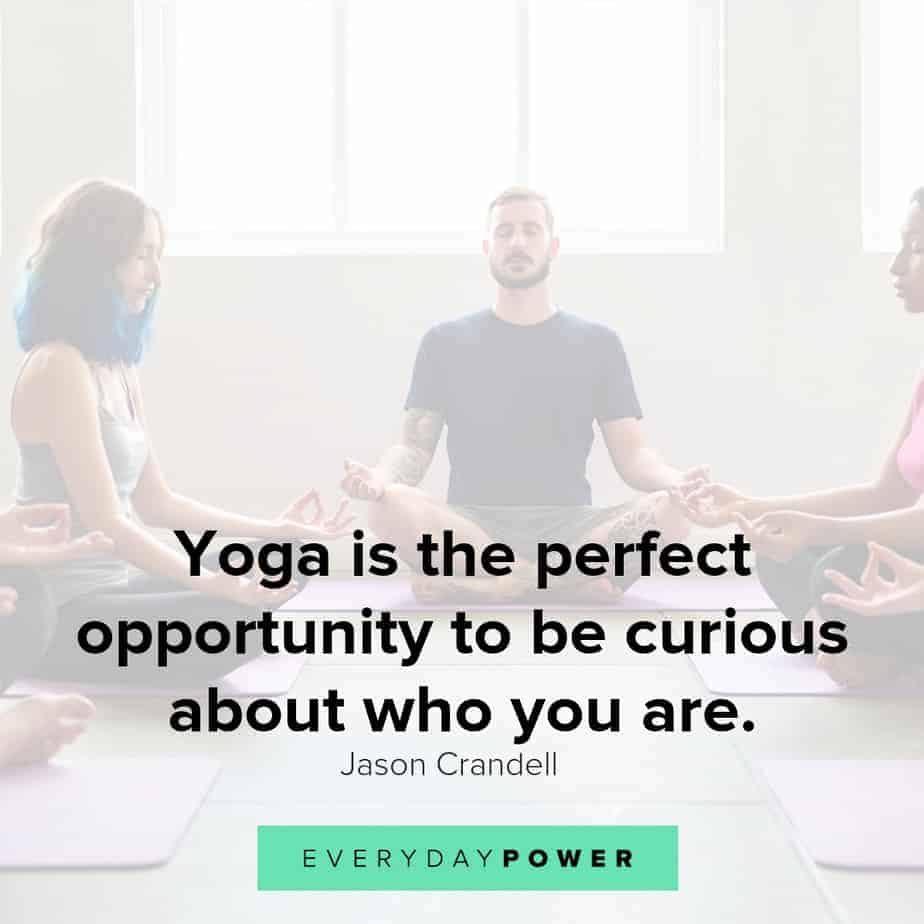 25. "Yoga takes you into the present moment. The only place where life exists." – Anonymous
26. "Let your practice be a celebration of life" – Seido lee deBarros
27. "The most important pieces of equipment you need for doing yoga are your body and your mind." – Rodney Yee
28. "To perform every action artfully is yoga." – Swami Kripalu
29. "The attitude of gratitude is the highest yoga." – Yogi Bhajan
30. "The longest journey of any person is the journey inward."- Anonymous
Yoga quotes to inspire your practice
31. "Through sustained focus and meditation on our patterns, habits, and conditioning, we gain knowledge and understanding of our past and how we can change the patterns that aren't serving us to live more freely and fully." – Yoga Sutra
If you're enjoying these quotes, make sure to read our collection of meditation quotes about the power of daily meditation.
32. "Body is not stiff. Mind is stiff."― Sri Krishna Pattabhi Jois
33. "It is through your body that you realize you are a spark of divinity."― B.K.S. Iyengar
34. "The ultimate goal of yoga is to always observe things accurately, and therefore never act in a way that will make us regret our actions later."― T.K.V. Desikachar
35. "When the breath control is correct, mind control is possible."― Sri Krishna Pattabhi Jois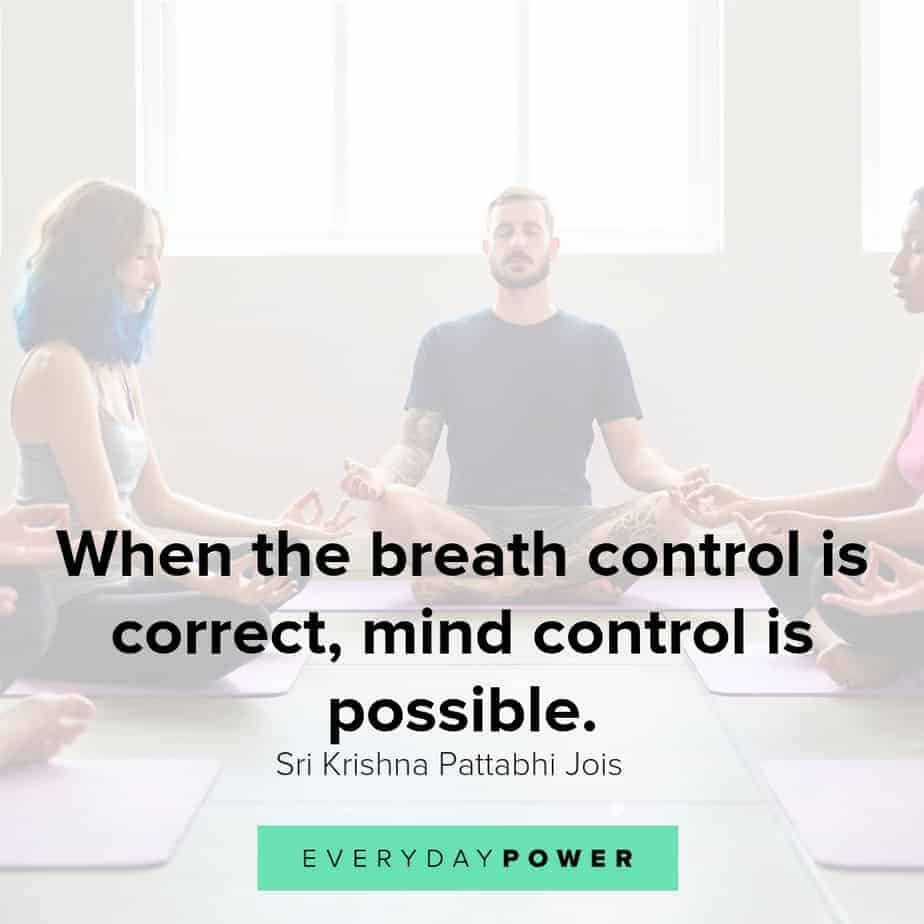 36. "Yoga is the stilling of the changing states of the mind."― Patanjali, The Yoga Sutras
37. "Yoga teaches us to cure what need not be endured and endure what cannot be cured."― B.K.S. Iyengar
38. "It would be a shame to lose the precious jewel of liberation in the mud of ignorant body building."― Sri Krishna Pattabhi Jois
39. "Yoga is not a religion. It is a science, science of well-being, science of youthfulness, science of integrating body, mind, and soul." – Amit Ray
40. "Yoga is the fountain of youth. You're only as young as your spine is flexible."- Bob Harper
Yoga quotes to elevate your mind
41. "Undisturbed calmness of mind is attained by cultivating friendliness toward the happy, compassion for the unhappy, delight in the virtuous, and indifference toward the wicked."- Patañjali
42. "Yoga reveals to you the beauty of mindfulness and takes you into the essence of an endless present moment."- Debasish Mridha
43. "For those wounded by civilization, yoga is the most healing salve."- T. Guillemets
44. "You may not be able to control the whole world, but you may learn to control your inner world through yoga."- Debasish Mridha
45. "Letting go is the hardest asana."- Anonymous
46. "Be where you are, not where you think you should be."- Anonymous
47. "Yoga is invigoration in relaxation, freedom in routine, confidence through self-control, energy within and energy without." – Ymber Delecto
48. "Yoga teaches you how to listen to your body." – Mariel Hemingway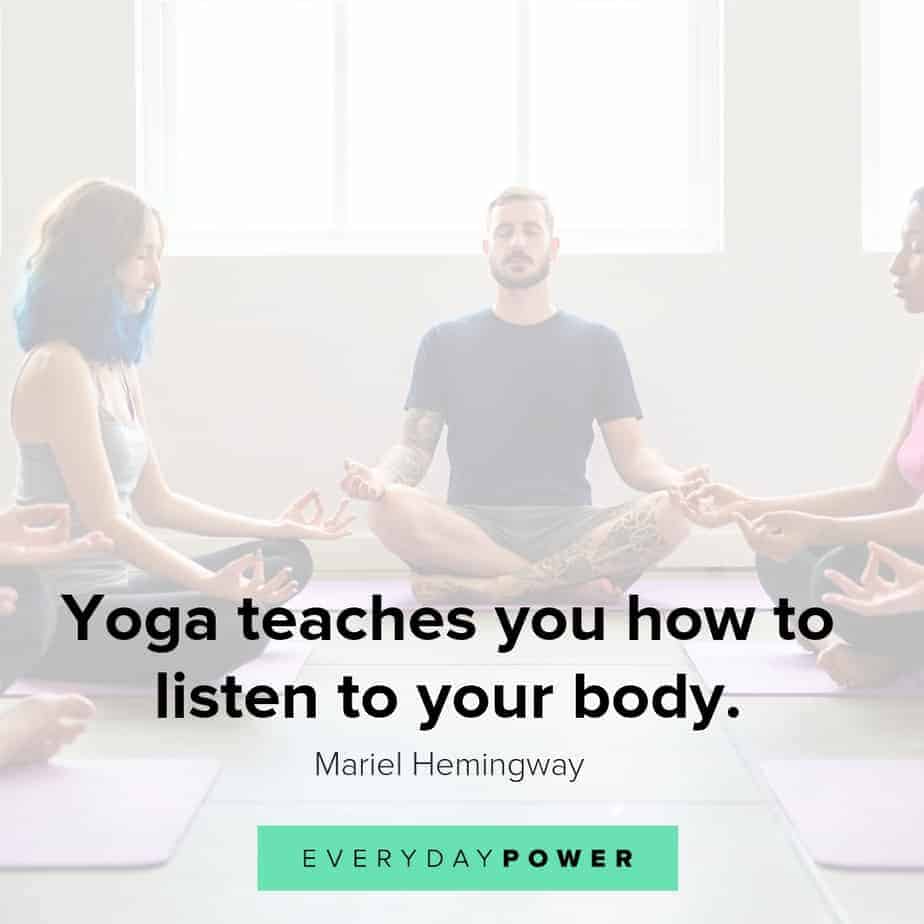 49. "Treat your soul with care. It is your bosom friend. Feed and nurture it with love." – Ashourina Yalda
50. "Yoga is the science of reality."- Sushil Singh
Other inspirational yoga quotes
51. "I have been a seeker and I still am, but I stopped asking the books and the stars. I started listening to the teaching of my Soul." – Rumi
52. "The body is your temple. Keep it pure and clean for the soul to reside in." –B.K.S Iyengar
53. "Yoga is a light which once lit will never dim, the better your practice the brighter your flame." – B.K.S. Iyengar
54. "Inhale the future. Exhale the past." – Unknown
55. "Mindfulness helps you go home to the present. And every time you go there and recognize a condition of happiness that you have, happiness comes." – Thich Nhat Hanh
56. "When you listen to yourself, everything comes naturally. It comes from inside, like a kind of will to do something. Try to be sensitive. That is yoga."
– Petri Räisänen
If you're enjoying these quotes, you'll love our collection of listening quotes that express the importance of listening.
57. "Your soul is your best friend. Treat it with care, nurture it with growth, feed it with love." – Ashourina Yalda
58. "Yoga is not about touching your toes. It is what you learn on the way down." – Jigar Gor
59. "The pose begins when you want to get out of it." – Baron Baptiste
60. "What you think, you become." – Buddha
61. "The nature of yoga is to shine the light of awareness into the darkest corners of the body."–Jason Crandell
You might also like these Chakra quotes about meditation and the body.
More yoga quotes and sayings
62. "Meditation is a way for nourishing and blossoming the divinity within you." – Amit Ray
63. "So what is a good meditator? A good meditator meditates." – Allan Lokos
64. "Spiritual awakening is like unfollowing who you think you are." – Frode Gåsland
65. "When Sun rises Up and you get another beautiful day! Make sure you live it in a beautiful way." – Vivek Kalura
66. "With the everyday practice of Meditation, we learn to create equilibrium and balance within." – Purvi Raniga
67. "Yoga and Meditation have the power to change our physical and mental existence." –Purvi Raniga
68. "Let go of something to gain everything; let go of fraction to gain the whole." – Shunya
69. "Yoga has never been about the stretch; it's always been about the reach." – Seane Corn
70. "Yoga claims limbs to give lives." – Mantaranjot Mangat
71. "The journey of Yoga and Meditation teaches the purpose of human life. Life is enriched with the transformation of body, mind and soul." – Purvi Raniga
Which of these yoga quotes was your favorite?
One of the best attributes of yoga is that it lets you connect with your inner self and makes it possible for you to enjoy amazing peace of mind.
Besides the peace of mind, yoga has great effects on your body. You will not believe how flexible and fit your body is going to be once you start practicing yoga.
We hope these yoga quotes have helped enrich your mind, body and spirit.
Did you enjoy these yoga quotes collection? Which of the quotes was your favorite? Tell us in the comment section below. We would love to hear all about it.
March 24, 2021 5:15 AM EST
Click to view