80 Hawaiian Quotes About the Tropical Island Paradise
If you haven't been to Hawaii, these Hawaiian quotes will have you wanting to book your next vacation.
If you have been blessed to visit the Hawaiian Islands (or ever lived there) then I am sure you can relate to many of these quotes!
My husband grew up on the Big Island of Hawaii, and I got the opportunity to live there for a little while.
There is something magical about the little chain of Islands in the Pacific Ocean, which happens to be the largest and deepest of the Earth's five oceanic divisions.
Many famous people have weighed in with their thoughts of what Hawaii is to them, including Don Ho, Will Rogers, and Bruno Mars.
If you are looking for some Hawaiian quotes to caption your picture on Instagram, or some authentic Hawaiian phrases or proverbs, then you have come to the right place!
Keep reading these Hawaiian quotes if you want to feel like you are sitting on the ocean in a tropical paradise.
Scroll all the way to the end for some interesting Hawaii facts!
Don't forget to also check out these California quotes that will make you want to pack a bag for the coast.
Also, check out our most popular quote article, a list of short inspirational quotes for daily wisdom.
See the rest of our quote database for even more inspirational ideas and thoughts.
Hawaiian quotes about what Hawaii is
1. "I believe Hawaii is the most precious jewel in the world." ― Don Ho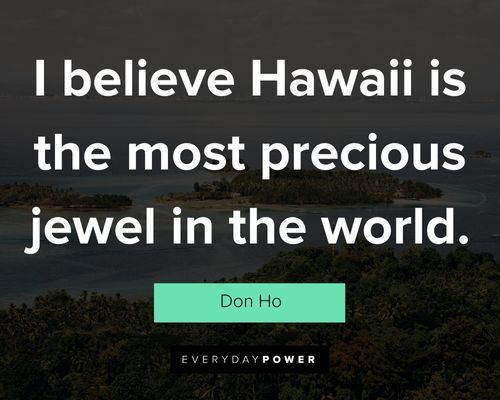 You will also enjoy our article on ocean quotes.
2. "Hawaii is not a state of mind but a state of grace." ― Paul Theroux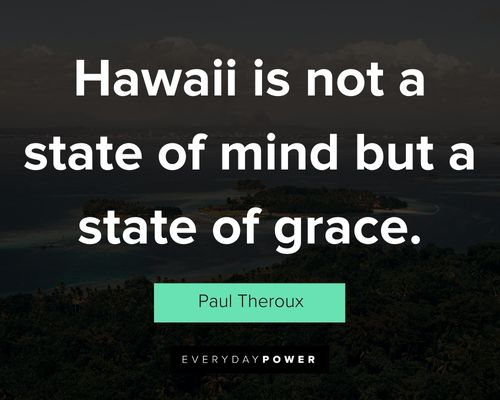 You will also enjoy our article on Moana quotes.
3. "Hawaii is a paradise born of fire." ― Rand McNally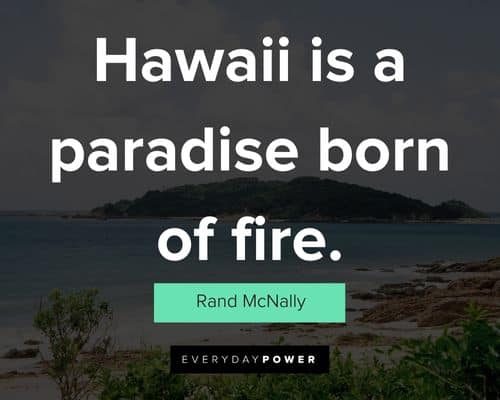 You will also enjoy our article on Sailor Moon quotes.
4. "Hawaii is the only place I know where they lay flowers on you while you are alive." ―Will Rogers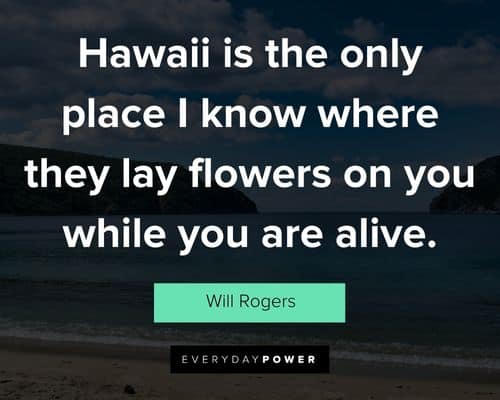 5. "Hawaii is paradise. It sounds cheesy to say it, but there's music in the air there." ―Bruno Mars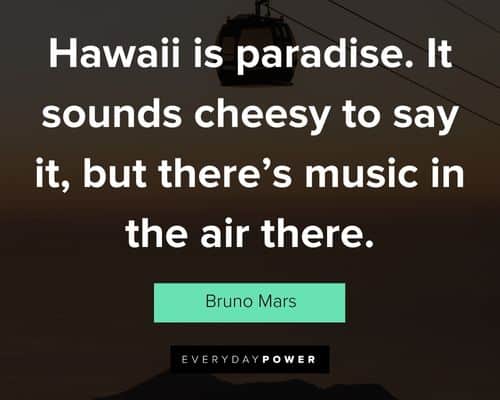 6. "Incredible as it might seem, Hawaii is like a gigantic raft, drifting slowly with the centuries." ―Terence Barrow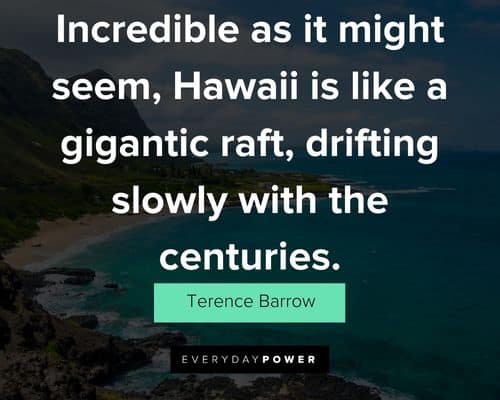 7. "Hawaii is the only place in the 50 states where you can see the stars of the entire northern and southern hemispheres." ― John Richard Stephens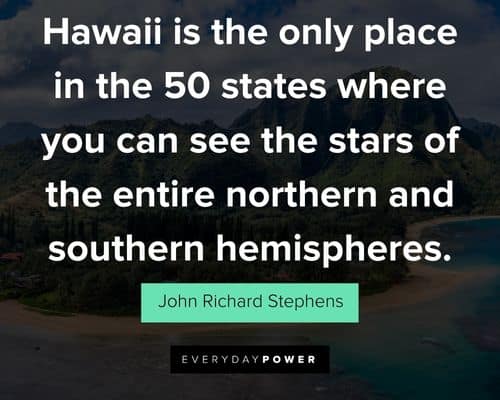 8. "Hawaii is the island of big dreams for both islanders and guests. Those dreams born in paradise can indeed come true." ― Sharon Linnea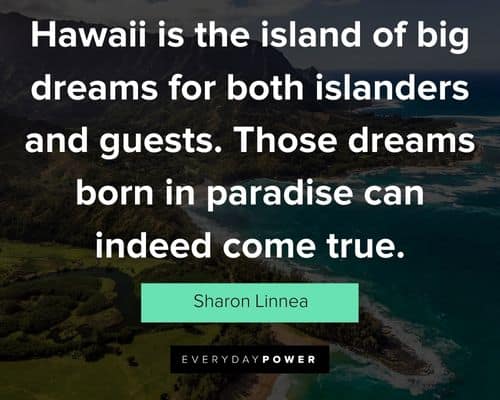 9. "Hawaii is such a wonderful, healing place for me. I feel so at ease with the natives and love the tranquility of the islands. It is a place to find inner peace and be one with nature." ― Camille Grammer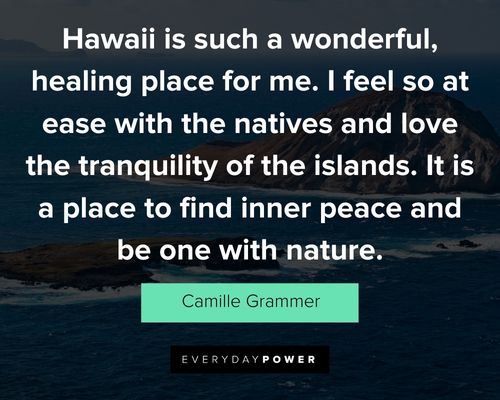 10. "Hawaii is still the single most frequent fantasy destination, not because of political stability or conveniences, but because Hawaii seduces the imagination. It's the perfect postcard – no props, no fillers." ― Robert Wintner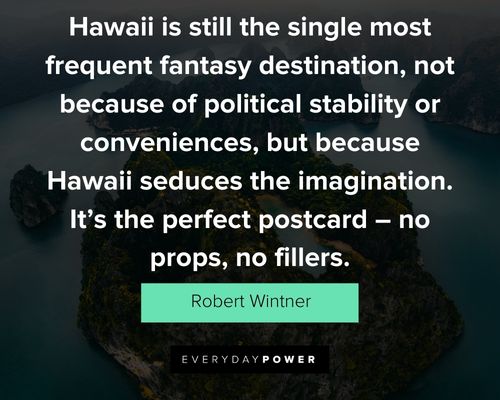 Popular Hawaiian quotes and sayings for Instagram
11. "A good surfer will not get wet." ― Hawaiian saying, Unknown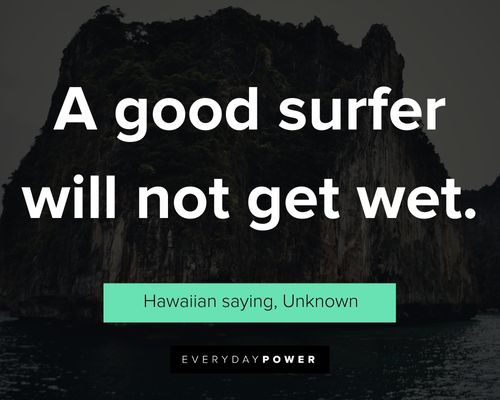 12. "A stranger only for a day." ― Hawaiian saying, Unknown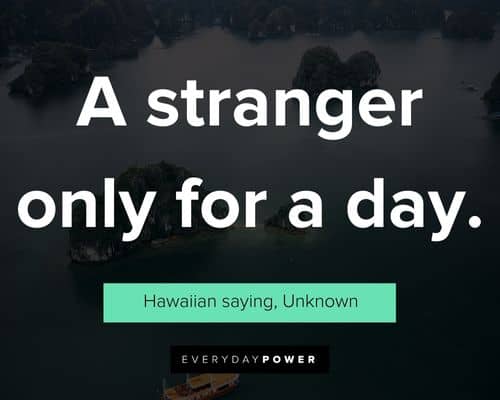 13. "Dare to dance, leave shame at home." ― Hawaiian saying, Unknown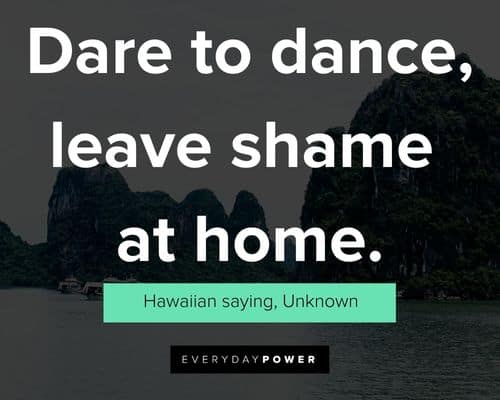 14. "Do not disturb the water that is tranquil." ― Hawaiian saying, Unknown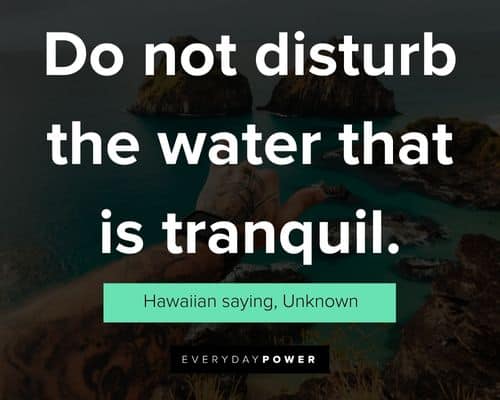 15. "Jealously belongs to the ugly." ― Hawaiian saying, Unknown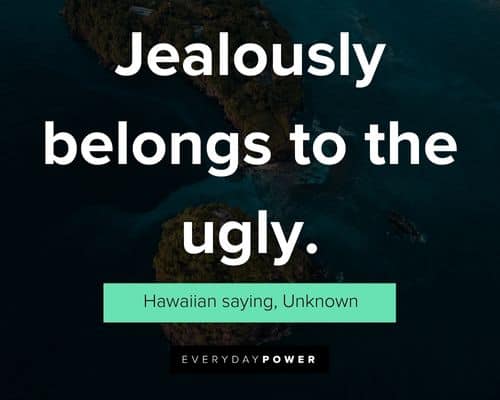 16. "Live your life while the sun is still shining." ― Hawaiian saying, Unknown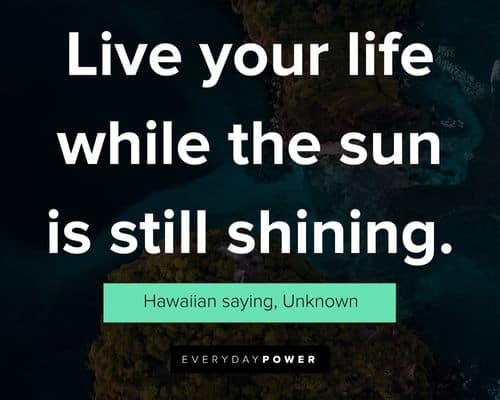 17. "May there always be trade winds behind you, rainbows above you, and Aloha all around you." ― Hawaiian saying, Unknown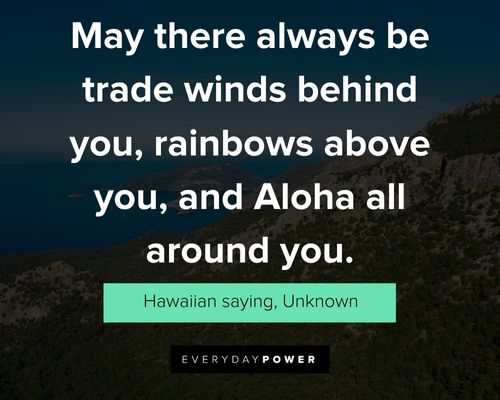 18. "The Lehua blossom unfolds when the rains tread on it." ― Hawaiian saying, Unknown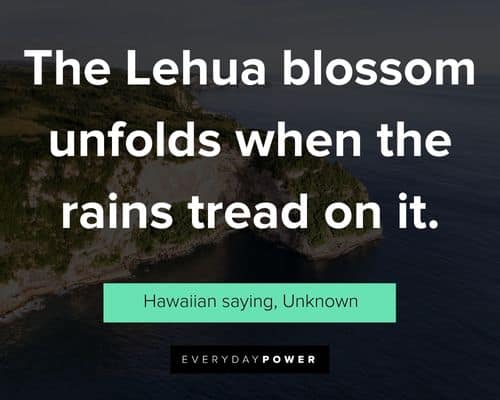 19. "The stars are the eyes of heaven." ― Hawaiian saying, Unknown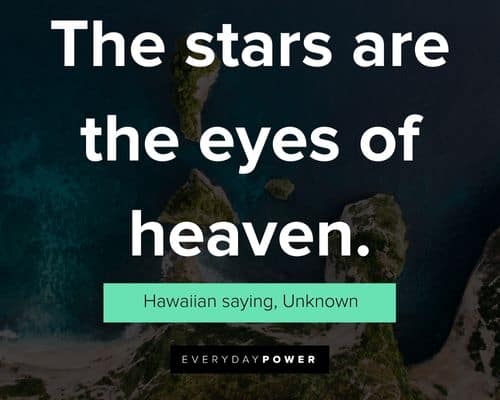 20. "There is life in the water from the clouds." ― Hawaiian saying, Unknown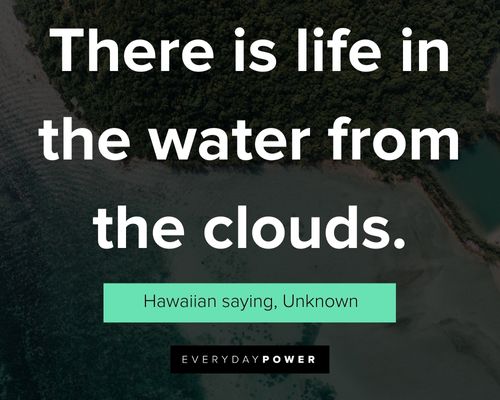 Hawaiian quotes about the ocean and sea
21. "In the beginning, there was only ocean." ― Disney's Moana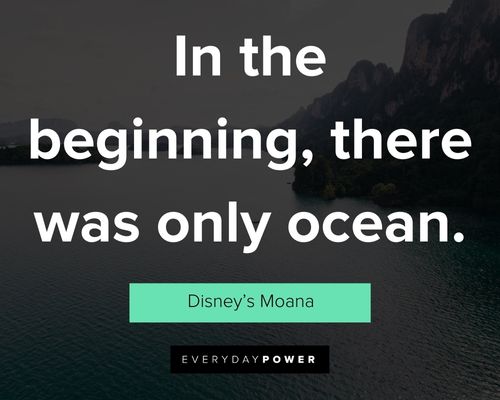 22. "The sea is very calm. All is very peaceful. / La'i lua ke kai." ― Hawaiian Proverb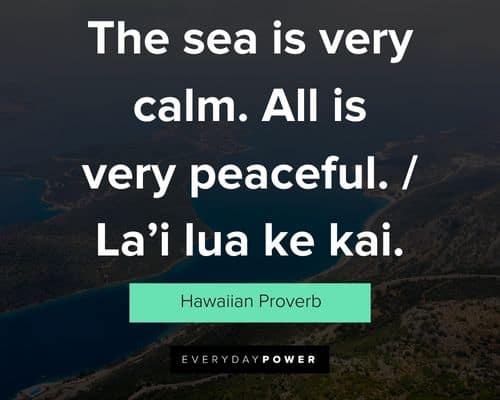 23. "Smell the sea and feel the sky. Let your soul and spirit fly." ― Van Morrison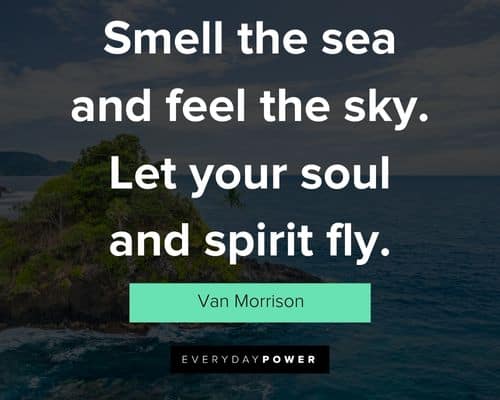 24. "Cross the sea like a bird. / 'Au i ke kai me he manu ala." ― Hawaiian saying, Unknown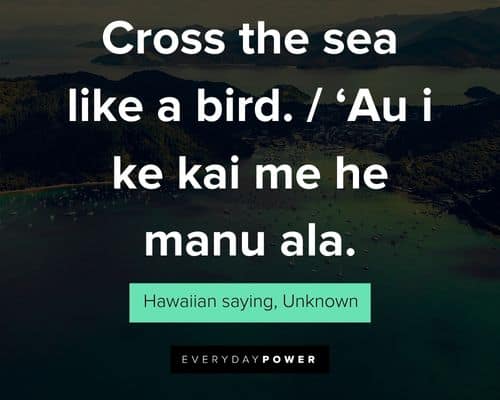 25. "The loveliest fleet of islands that lies anchored in any ocean." ― Mark Twain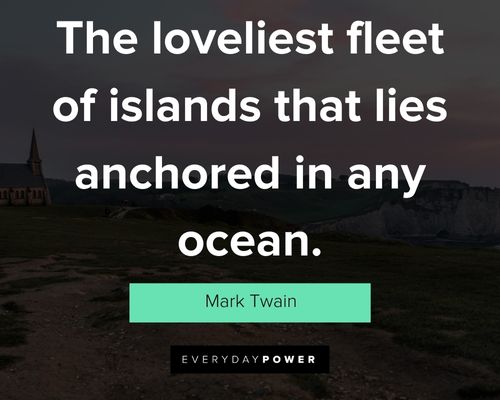 26. "Chasing kids on the beach and sleeping is the closest I come to exercising while in Hawaii."― Adam Scott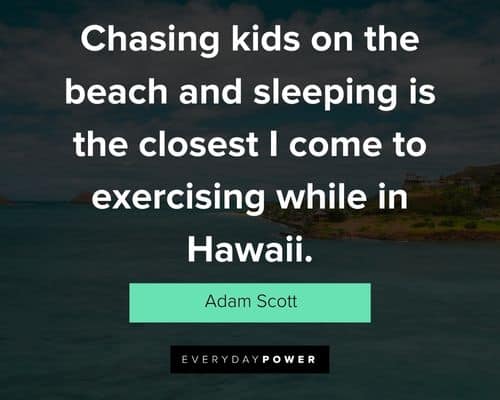 27. "My best vacation memory is getting barreled at the beach in Hawaii." ― Troy Polamalu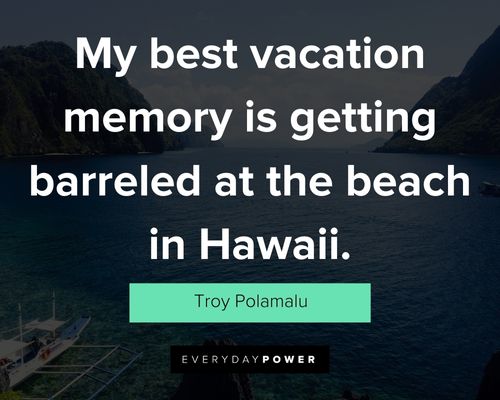 28. "A fisherman of the shallow sea uses only a short line; a fisherman of the deep sea has a long line." ― Hawaiian saying, Unknown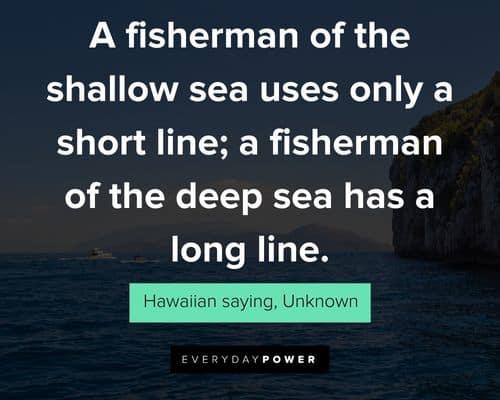 29. "Die in the ocean and his corpse will float ashore on Lanai. / Make auanei i ka moana a pae kupapau i Lanai." ― Hawaiian saying, Unknown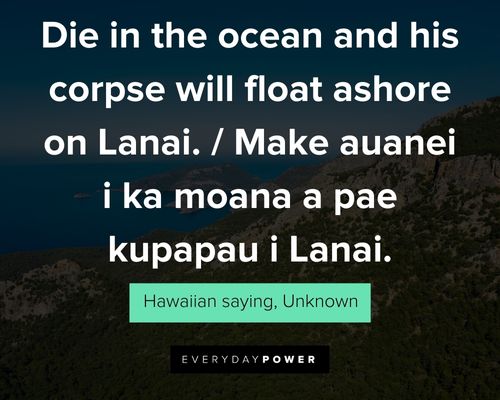 30. "For me, the magic of Hawaii comes from the stillness, the sea, the stars." ― Joanne Harris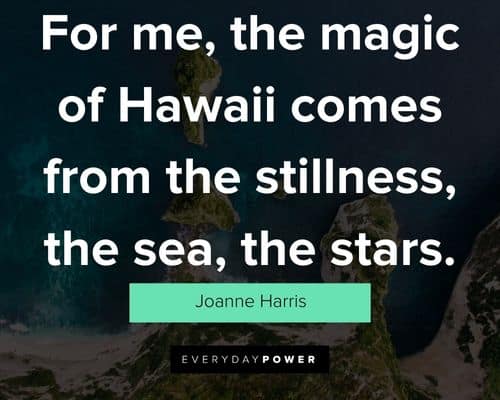 Hawaiian quotes about ohana, family, and the Hawaiian people
31. "Ohana means family, and family means no one gets left behind." ― Disney's Lilo & Stitch
32. "No one has family in Hawaii. Everyone is family in Hawaii." ― Richie Norton
33. "Ohana is a human circle of complete Aloha." ― Hawaiian saying, Unknown
34. "Hawaii is a beautiful place to bring up a family." ― Henry Ian Cusick
35. "A child behaves like those who reared him." ― Hawaiian Proverb
36. "Hula is the language of the heart and, therefore, the heartbeat of the Hawaiian people." ―King David Kalakaua
37. "Aloha is the unconditional desire to promote the true good of other people in a friendly spirit out of a sense of kinship." ― Abraham Akaka
38. "Whether a visitor or kama'aina (resident), the beauty of the Hawaiian Islands inspires the heart and mind." ― Unknown
39. "Nature is where it all begins for the Hawaiians. In fact, they call themselves keiki o ka 'aina, the "children of the land." ― M. J. Harden
40. "Hawaiian music is the roots of the Hawaiian people. It tells the history of where we came from. Not having Hawaiian music in my life would be like losing half of my body – because Hawaiian music helps me be a better person." ― Kevin Brown
Hawaiian quotes about love and Aloha
41. "Aloha au ia 'oe. (I love you.)" ― Hawaiian saying, Unknown
42. "Be the Aloha you wish to see in the world." ― Hawaiian saying, Unknown
43. "`A`ohe loa i ka hana a ke aloha. (Distance is ignored by love.)" ― Hawaiian saying, Unknown
44. "He kehau ho`oma`ema`e ke aloha. (Love is like a cleansing dew.)" ― Hawaiian saying, Unknown
45. "E Hoomau Maua Kealoha. (May our love last forever.)" ― Hawaiian saying, Unknown
46. "May there Always be Warmth in your Hale (House), Fish in your Net, and Aloha in your Heart." ― Hawaiian Blessing
47. "You don't have to live in Hawaii – or even be Hawaiian – to embrace the Aloha Spirit." ―Mark Ellman
48. "In Hawaii, we have something called ho'oponopono, where people come together to resolve crises and restore peace and balance." ― Duane Chapman
49. "The Hawaiian people have been from time immemorial lovers of poetry and music and have been apt in improvising historic poems, songs of love, and chants of worship." ― Lydia Kamekeha Liliuokalani
50. "That greeting is Aloha – love, I love you, my love to you. Good day – what is it more than an impersonal remark about the weather? How do you do―it is personal in a merely casual interrogative sort of way. But Aloha! It is a positive affirmation of the warmth of one's own heart-giving. My love to you! I love you! Aloha!" ― Jack London
The Best Hawaiian Quotes For Vacationers
51. "Even the sweetness of a freshly cut pineapple from Hawaii is a sermon." — J.A. Medders, podcaster
52. "The only good thing about leaving Hawaii is that you really appreciate it when you return." — John Richard Stephens
53. "Most of what Hawaii has to offer is no secret. Pipeline is probably the most famous wave in the world." – Kelly Slater
54. "No place is perfect, but I admire Oahu for its offering of the tropical and the urban, and then its Asian-inflected culture and cuisines." – Chang-Rae Lee
55. "I would rather live one day in Maui than one month in New York." — Charles Lindbergh
56. "Kauai is kind of my place where I go to get centered. It's always my place to come back and feel normal again." — Alana Blanchard
57. "When you come to a place like Kauai, you don't go for a high tech world." –Todd Rundgren
58. "The beauty of Hawaii probably surpasses other places." — Buzz Aldrin
59. "I want to stay in Hawaii a little while. I'm kind of liking it over there." — Josh Holloway
60. "Hawaii is absolutely beautiful." — Rachelle Lefevre
Hawaiian Quotes On The Beauty Of Hawaii
61. "I thought my book was done, then we went to Hawaii and the whole last chapter happened." – Mariel Hemmingway
62. "Eventually, I want to move to Hawaii and chill forever." – Riley Keough
63. "Aloha Hawaii, goodbye snow." – Steven Magee.
64. "Being in Hawaii, it's almost impossible not to be fit, I think." – Henry Ian Cusick.
65. "Hawaiian English is like kahiko – the ancient dance – the kanaka dance of tradition, she says, harsh moves, slaps, and full of pounding force." – Garrett Hongo
66. "Kaohinani is a Hawaiian word meaning gatherer of beautiful things." – Rob Brezsny 67. "In Hawaii, some of the biggest radio stations are reggae. The local bands are heavily influenced by Bob Marley." – Bruno Mars.
68. "Hawaii is a small, close community." – Jake Shimabukuro
69. "The hula is the heartbeat of the Hawaiian people." – King David Kalakaua
70. "I love to surf. Hawaii has some of the best waves in the world, and the most consistent as well. That's always fun." – Brendon Urie.
Hawaiian Quotes That Will Make You Plan To Visit Hawaii
71. "I was born and raised in Honolulu, Hawaii." — Steve Case
72. "Hawaii has always been a very pivotal role in the Pacific. It is in the Pacific. It is a part of the United States that is an island that is right here." — Dan Quayle
73. "I grew up in Hawaii so I was outside a lot playing in the water." — Kelly Preston
74. "I thought my book was done, then we went to Hawaii and the whole last chapter happened." — Mariel Hemingway
75. "I was raised all over. Kansas, Hawaii, Georgia, Texas and Kentucky, by the time I was 11." — Jeri Ryan
76. "I still consider myself a little, fat kid from Hawaii." — Robert Kiyosaki
77. "I truly believe the brightest days lie ahead for the Great State of Hawaii." — Linda Lingle
78. "Hawaii was beautiful of course, we played at Turtle Bay an amazing resort right on the ocean." — Natalie Gulbis
79. "I am privileged to be able to work for the people of Hawaii in whatever capacity." — Tulsi Gabbard
80. "I grew up in Hawaii so I was outside a lot playing in the water." — Kelly Preston
What did you learn from these Hawaiin quotes?
When you look at a map of the United States you will usually see the main islands represented.
However, "Hawaii" actually encompasses the northwestern Hawaiian Islands, a group of islets, seamounts, and shoals that extends 1,350 miles northwest of the "main" islands.
The group is collectively known as Papahanaumokuakea Marine National Monument and is bigger than all of America's national parks combined!
Hawaii's state fish is the humuhumunukunukuapuaa.
Good luck with saying that one!
My husband had to repeat himself about 15 times before I finally came even close.
The state motto is: Ua Mau ke Ea o ka Aina i ka Pono ("The life of the land is perpetuated in righteousness").
These Hawaiian quotes will inspire you whether you are planning a trip, working on a dream board, or writing an essay about Hawaii.
Have you been there before?
Let us know your favorite thing to do in the comment section below.