25 Katherine Johnson Quotes From NASA's Human Computer
Often regarded as a "human computer", Katherine Johnson is an African-American mathematician who spent 35 years working at NASA.
In the Katherine Johnson quotes below, Johnson gives first-hand accounts about her time at NASA, her upbringing, and more.
What have you learned about Katherine Johnson in the past?
Katherine Johnson is the brains behind many of NASA's earliest space missions.
She played an integral role in bringing the first Americans into space with Project Mercury, NASA's first program bringing humans into space.
In 2016, Johnson was played by Taraji P. Henson in the award-winning movie Hidden Figures, elevating her legacy to a worldwide audience.
Johnson was also awarded the Presidential Medal of Freedom in 2015 and the Congressional Gold Medal in 2019.
Learn more about the incredible life and career of mathematician Katherine Johnson below.
Also check out these Mae Jemison quotes on breaking societal limits.
If you like this article, we suggest you explore our most popular quotes article, a list of short inspirational quotes for daily encouragement.
Check out more inspirational quotes on our motivational quotes category page.
Katherine Johnson quotes about working at NASA
1. "Everything was so new – the whole idea of going into space was new and daring. There were no textbooks, so we had to write them." – Katherine Johnson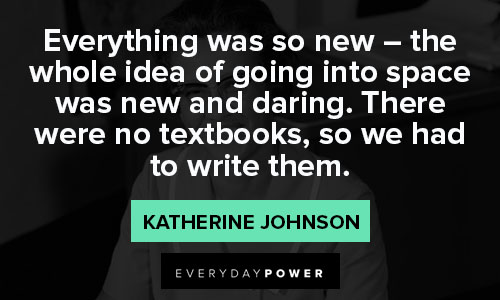 2. "John Glenn's life will long be remembered for his time in space, his courage, and his service to all Americans." – Katherine Johnson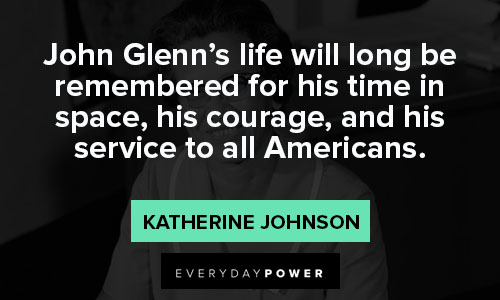 You will also enjoy our article on math quotes.
3. "I felt most proud on the success of the Apollo mission." – Katherine Johnson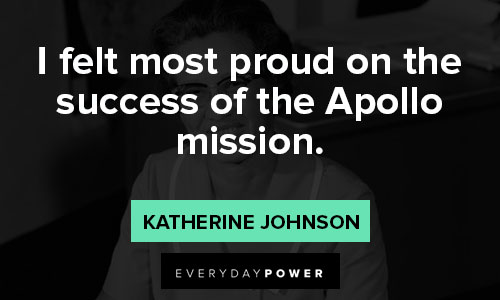 4. "I found what I was looking for at Langley. This was what a research mathematician did. I went to work every day for 33 years happy. Never did I get up and say I don't want to go to work." – Katherine Johnson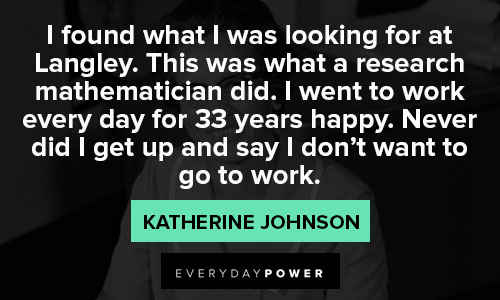 5. "I liked working with smart people." – Katherine Johnson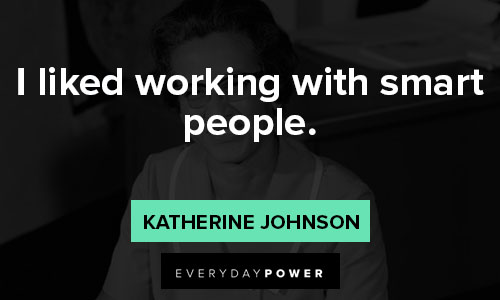 6. "The women did what they were told to do. They didn't ask questions or take the task any further. I asked questions; I wanted to know why. They got used to me asking questions and being the only woman there." – Katherine Johnson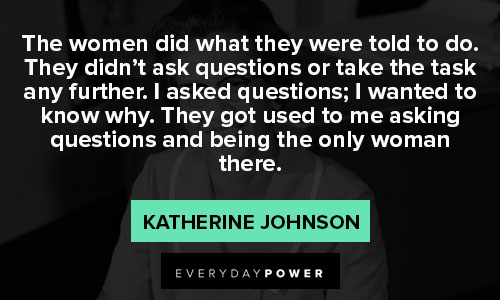 7. "There's nothing to it; I was just doing my job." – Katherine Johnson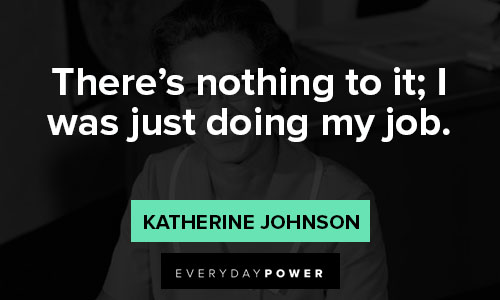 8. "We needed to be assertive as women in those days – assertive and aggressive – and the degree to which we had to be that way depended on where you were. I had to be." – Katherine Johnson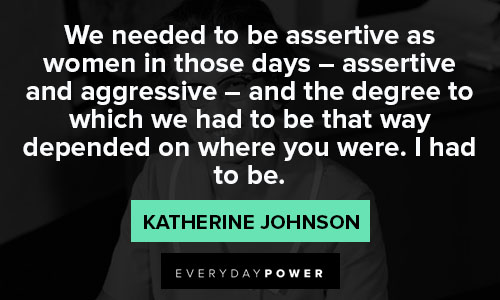 9. "We had to determine so much. Where you were, where the Moon would be and how fast the astronauts were going." – Katherine Johnson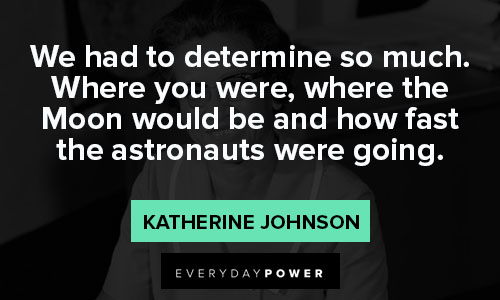 10. "I was just excited to have challenging work to do and smart people to work with." – Katherine Johnson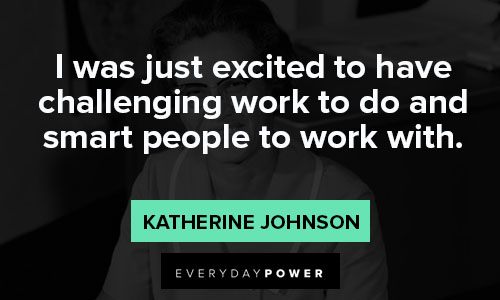 11. "We always worked as a team. It's never just one person." – Katherine Johnson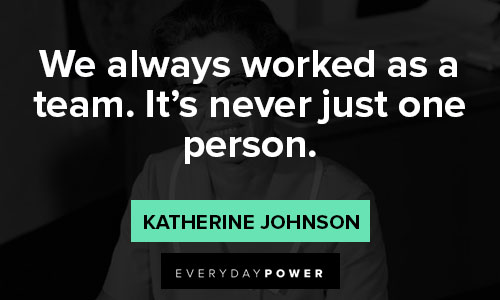 12. "We put in some long hours at times, and I had three children at home. But they were very responsible, and I had family and friends who helped look after them." – Katherine Johnson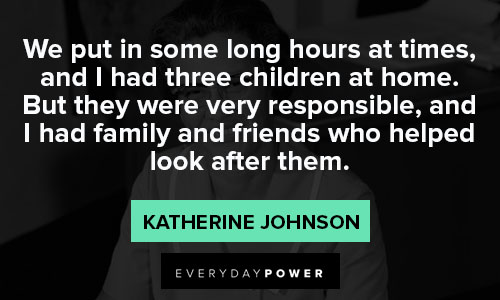 13. "My colleagues and I were committed to the work. We found different ways to deal with the segregation." – Katherine Johnson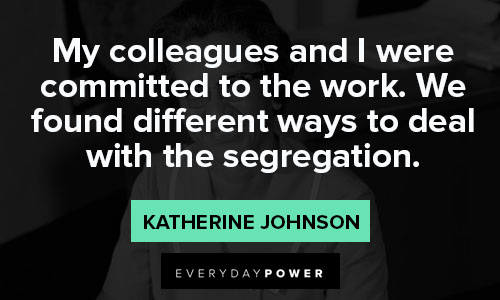 14. "Let me do it. You tell me when you want it and where you want it to land, and I'll do it backwards and tell you when to take off." – Katherine Johnson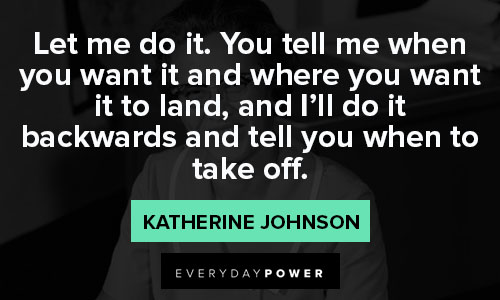 15. "I believed I was where I was supposed to be." – Katherine Johnson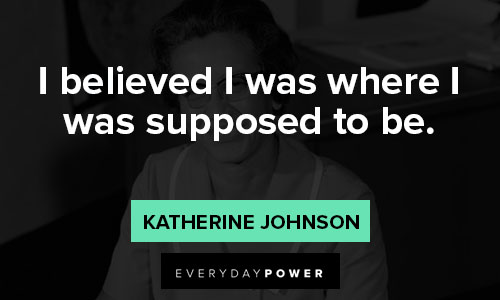 16. "They needed information and I had it, and it didn't matter that I found it. At the time, it was just a question and an answer." – Katherine Johnson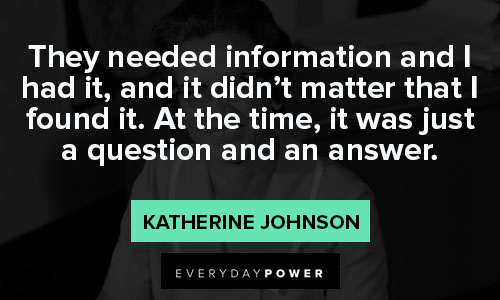 Katherine Johnson quotes about mathematics
17. "I like to work problems. If you do your best, nobody can ask you to do it over again. I never had to repeat what I did." – Katherine Johnson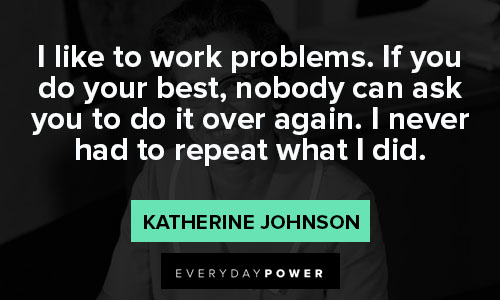 18. "In math, you're either right or you're wrong." – Katherine Johnson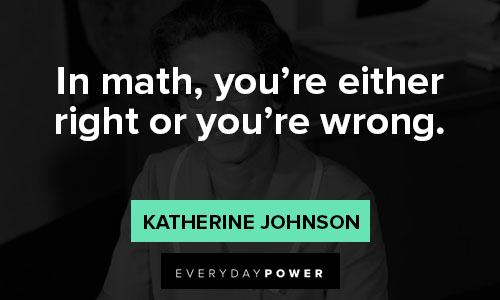 19. "We will always have STEM with us. Some things will drop out of the public eye and will go away, but there will always be science, engineering, and technology. And there will always, always be mathematics." – Katherine Johnson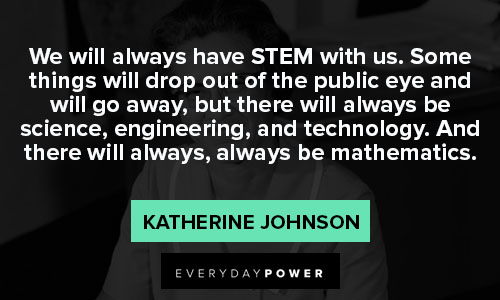 20. "Everything is physics and math." – Katherine Johnson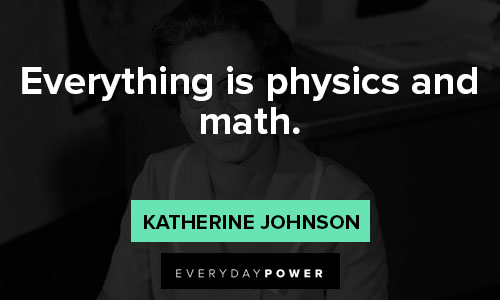 Relatable Katherine Johnson quotes
21. "I see a picture right now that's not parallel, so I'm going to go straighten it. Things must be in order." – Katherine Johnson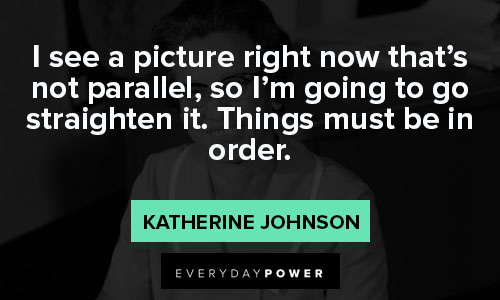 22. "I like to learn. That's an art and a science." – Katherine Johnson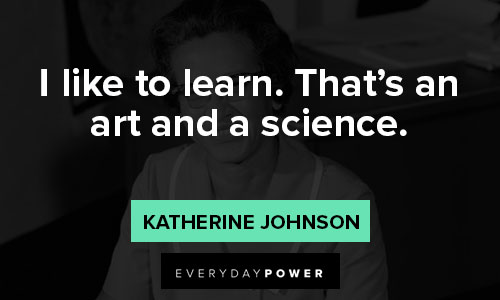 23. "I'm just lucky — the Lord likes me and I like him." – Katherine Johnson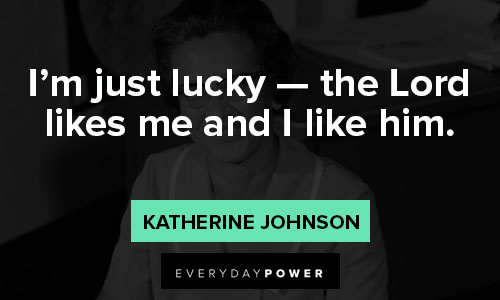 24. "All jobs are important to somebody. They had to be important to somebody. My theory is, do the best you can all the time. No fooling around." – Katherine Johnson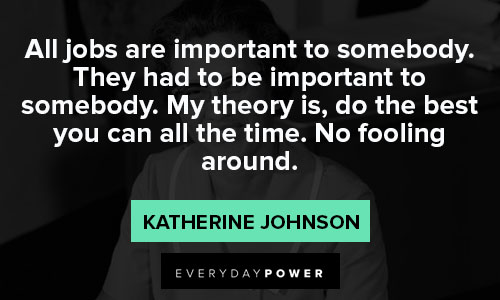 25. "We always worked as a team. It's never just one person." – Katherine Johnson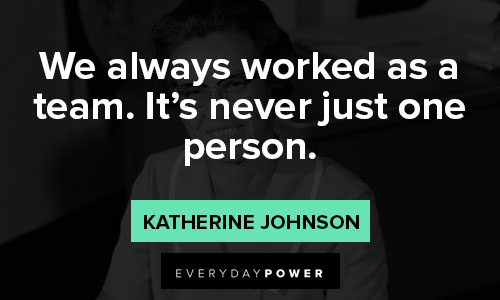 When's the last time you learned something new?
Throughout Katherine Johnson's legacy is an emphasis on education.
Katherine Johnson's parents ensured that there would be no roadblocks between Johnson and the education she strived for.
This is even more inspirational considering the time-period that Johnson was raised in, the early 1900s.
During that period, being African-American could have prevented her from reaching her full educational potential.
For example, the county she grew up in didn't offer public schooling for African-Americans past eighth-grade.
To aid her schooling, her family moved cities to ensure that Johnson's higher education could be pursued.
Their dedication to investing in the future of their children is clear and laid the foundation for Johnson to achieve a long-lasting career and thriving life.
Which of these Katherine Johnson quotes and sayings is your favorite?
Let us know your thoughts down below.