20 Mae Jemison Quotes on Breaking Societal Limits
These Mae Jemison quotes will help you find the courage to fight for your dreams, regardless of circumstances.
Mae Carol Jemison is an American engineer, physician and NASA astronaut who is best known for becoming the first African American woman to travel in space.
Born on October 17, 1956, in Alabama, Jemison loved science and astronomy from an early age, and spent a lot of time reading books on these subjects.
She dreamed of traveling to outer space and believed that she would.
In her early career, Jemison became a doctor and then served in the Peace Corps, before being selected by NASA to join the astronaut corps.
An extraordinary woman who knows no limits, Jemison has been a member of several prominent organizations and has received a number of accolades, including several honorary doctorates.
She inspires each of us to take chances, try new ways of doing things, and follow our dreams.
In recognition of her accomplishments, below is our collection of inspirational, wise, and powerful Mae Jemison quotes, collected from a variety of sources.
And don't forget to also check out our list of Bessie Coleman quotes after you're done reading the quotes below.
Check out our most popular quote article, a list of short inspirational quotes for daily inspiration.
Our inspirational quote category page has even more inspirational and educational quotes.
Mae Jemison quotes on breaking societal limits
1. "Don't let anyone rob you of your imagination, your creativity, or your curiosity. It's your place in the world; it's your life. Go on and do all you can with it, and make it the life you want to live." – Mae Jemison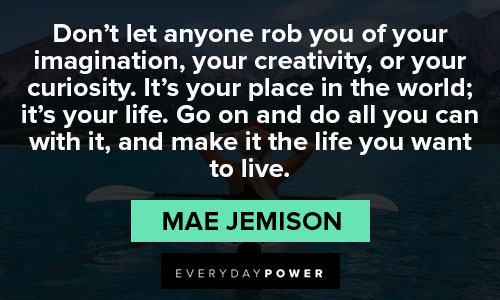 2. "Never be limited by other people's limited imaginations. If you adopt their attitudes, then the possibility won't exist because you'll have already shut it out…You can hear other people's wisdom, but you've got to re-evaluate the world for yourself." – Mae Jemison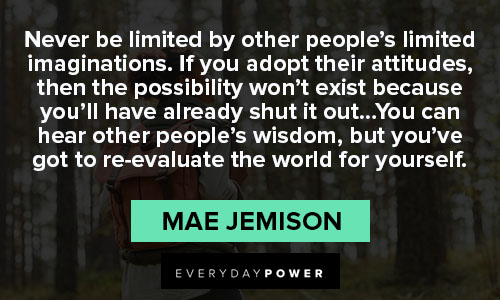 3. "What we find is that if you have a goal that is very, very far out, and you approach it in little steps, you start to get there faster. Your mind opens up to the possibilities." – Mae Jemison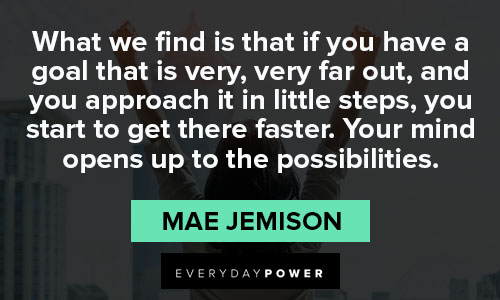 You will also enjoy our article on quotes about breaking your limits.
4. "The thing that I have done throughout my life is to do the best job that I can and to be me." – Mae Jemison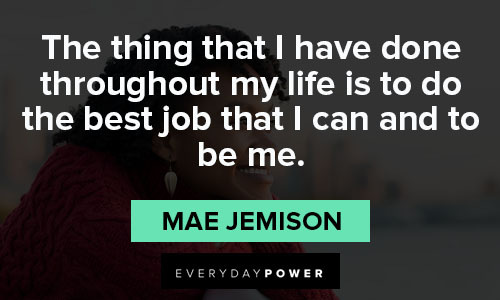 5. "You have the right to be involved. You have something important to contribute, and you have to take the risk to contribute it." – Mae Jemison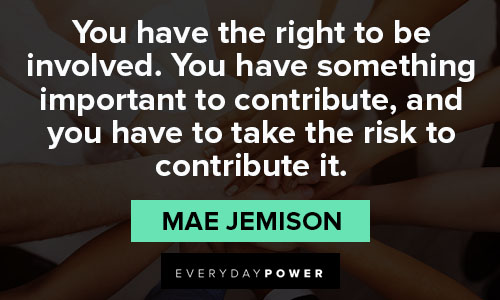 6. "The biggest challenge we all face is to learn about ourselves and to understand our strengths and weaknesses. We need to utilize our strengths, but not so much that we don't work on our weaknesses." – Mae Jemison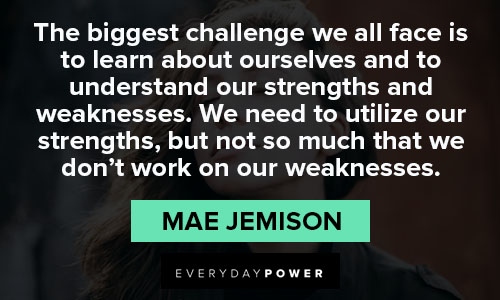 7. "I like to think of ideas as potential energy. They're really wonderful, but nothing will happen until we risk putting them into action." – Mae Jemison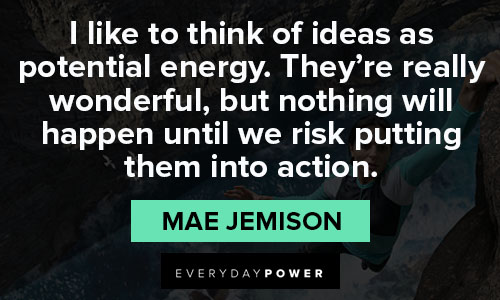 8. "Timidity does not inspire bold acts." – Mae Jemison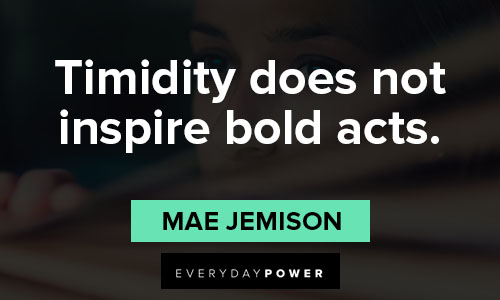 9. "I want to make sure that that future that we're creating is one that is the best it can be for people around the world, and also one that includes the full range of our talent and our skills – and, you know, gender and ethnicity, geography – to solving the world's problems." – Mae Jemison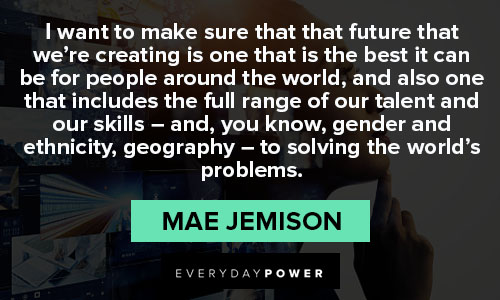 10. "The level of confidence women are able to build in women-only groups is important." – Mae Jemison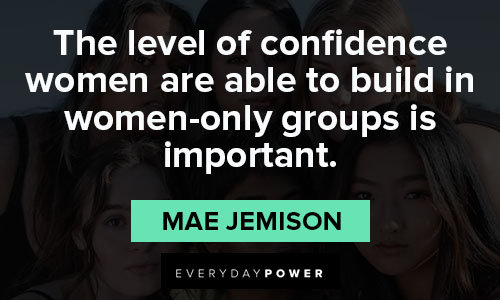 Also check out these Katherine Johnson quotes from NASA's human computer.
Mae Jemison quotes that will inspire to follow your dreams
11. "There are individuals who can support you, but frequently, you have to risk putting yourself out there – and sometimes you just have to push." – Mae Jemison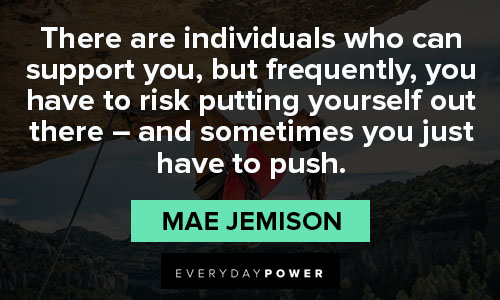 12. "The drills we do, where you're telling kids to memorize things, don't actually work. What works is engaging them and letting them do things and discover things." – Mae Jemison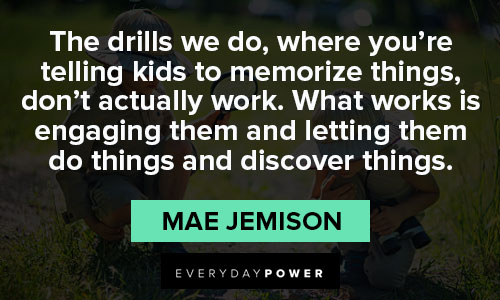 13. "I think that people need an adrenalin rush. Folks need something aspirational; they need to do something that is hard. That's what ignites the imagination." – Mae Jemison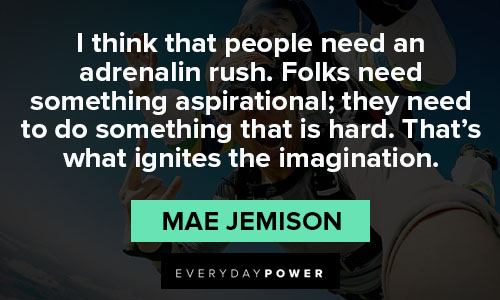 14. "There is a fascination with the idea that one has 'seen someone else do something' before one can achieve it. Maybe that's true in some cases, but clearly it is not a requirement. I knew what I wanted to do." – Mae Jemison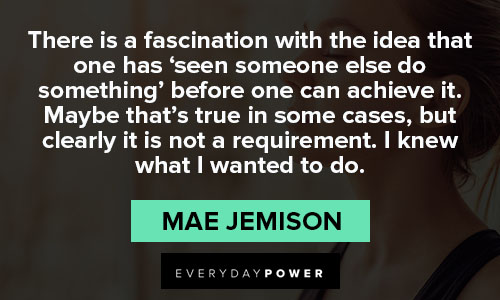 15. "We are all tasked to balance and optimize ourselves." – Mae Jemison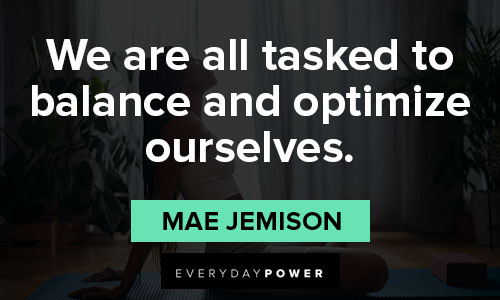 16. "The really wonderful thing that happened to me when I was in space was this feeling of belonging to the entire universe." – Mae Jemison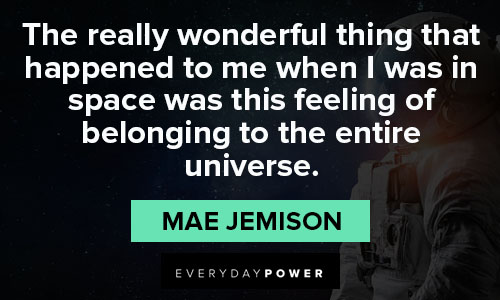 17. "I'm not somebody who gets teared up or anything, but I still look up at the stars, and it gives me hope, and it gives me energy. I think one of the things that we have to think about it is, we are all a part of this universe." – Mae Jemison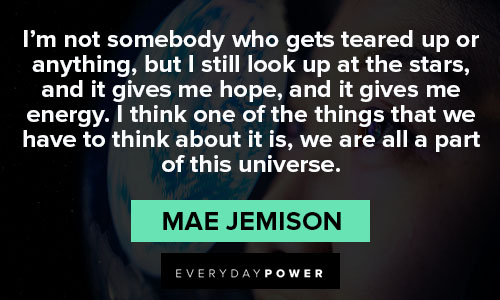 18. "I've gotten this advice at different times, and it distills down to one word: purpose. Why are you here? When you start to get distracted by thoughts such as 'Do I fit in? Does this person like me?' – remember why you're there and what you want to accomplish." – Mae Jemison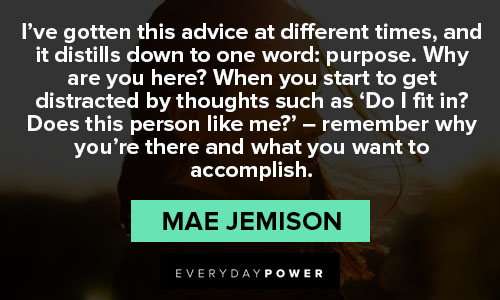 19. "Failure to recognize possibilities is the most dangerous and common mistake one can make." – Mae Jemison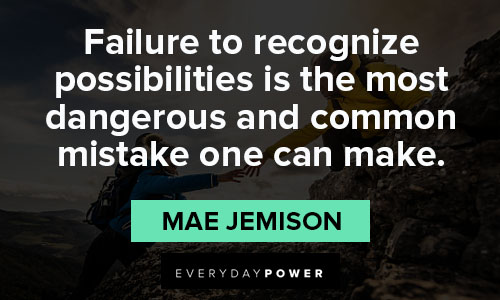 20. "Greatness can be captured in one word: lifestyle. Life is God's gift to you, style is what you make of it." – Mae Jemison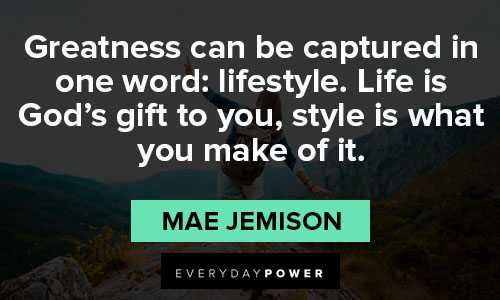 Also check out these beautiful quotes from black women.
Which of these Mae Jemison quotes was your favorite?
In the early years of space travel, becoming an astronaut was almost out of the question for women of color.
However, Mae Jemison wouldn't take no for an answer, so she made it happen.
Besides being the first African American woman in space, there's so much more that makes Jemison extraordinary.
Hopefully, the above quotes will inspire you to seize upon your opportunities and make your dreams a reality.
Did you enjoy these Mae Jemison quotes?
Which of the quotes was your favorite?
Let us know in the comment section below.