Madeleine Albright Quotes from Madame Secretary
To learn more about one of the most successful women check out these Madeleine Albright Quotes.
Madeleine Albright was the first woman to serve as the United States Secretary of State.
She is a member of the Democratic Party.
Albright was born in Czechoslovakia, where her father was an Ambassador to Yugoslavia.
Her family immigrated to the U.S. in 1948 when the communist coup took control.
Albright became a U.S. citizen in 1957.
She attended Wellesley College to earn a political science degree in 1959 and eventually earned her PhD from Columbia University in Public Law and Government.
Albright held many positions in government over the years, including United States ambassador to the United Nations, which she served in from 1993 to 1997 when she was appointed to Secretary of State.
Read the Madeleine Albright Quotes below to learn even more about this amazing woman!
If you like this article, we suggest you explore our most popular quotes article, a list of short inspirational quotes for daily encouragement.
Look through our complete collection of inspirational quotes here.
Madeleine Albright Quotes On Being Yourself And Being Powerful
We truly unlock our own power when we love and understand ourselves and then use our voice. Read the quotes below to learn more about a woman that used her voice!
1. "I love being a woman, and I was not one of these women who rose through professional life by wearing men's clothes or looking masculine. I loved wearing bright colors and being who I am." – Madeleine Albright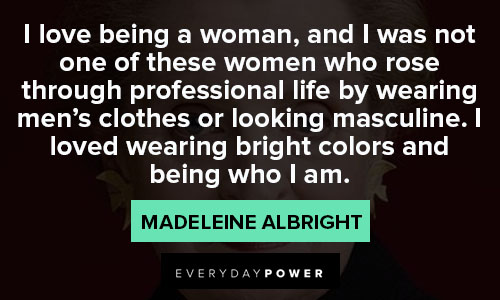 2. "We must be authors of the history of our age." – Madeleine Albright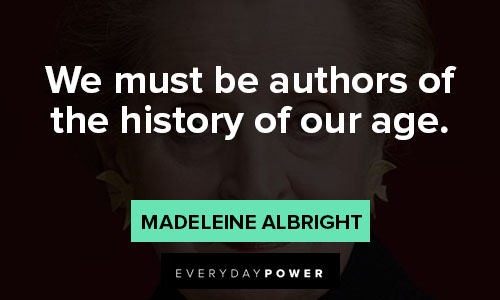 3. "It took me quite a long time to develop a voice, and now that I have it, I am not going to be silent." – Madeleine Albright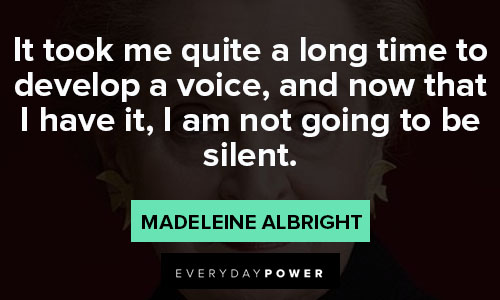 4. "I was taught to strive not because there were any guarantees of success but because the act of striving is in itself the only way to keep faith with life." – Madeleine Albright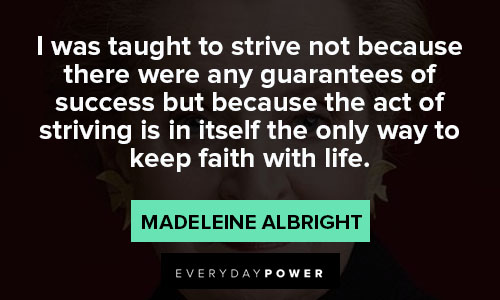 5. "To be safe at the expense of the liberty of other people is a difficult equation." – Madeleine Albright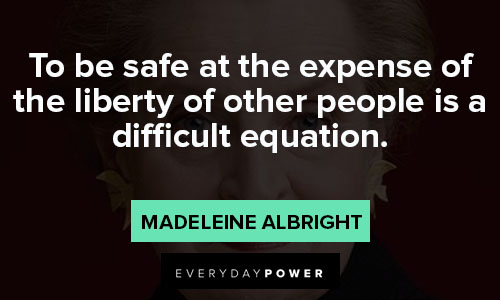 6. "In a world where one-third of all edible food never makes it to the mouths of the hungry, we all have an individual moral responsibility to do our part." – Madeleine Albright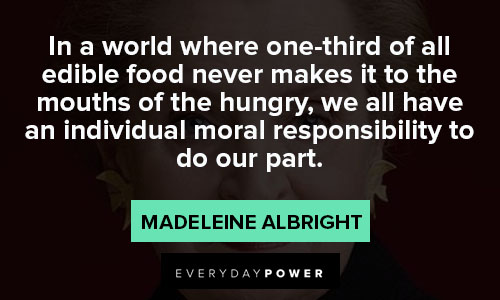 7. "Well, the thing I that I learned as a diplomat is that human relations ultimately make a huge difference." – Madeleine Albright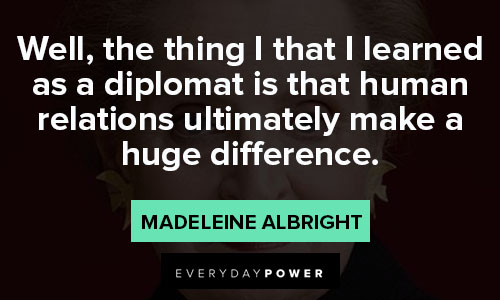 8. "Most of the time I spend when I get up in the morning is trying to figure out what is going to happen." – Madeleine Albright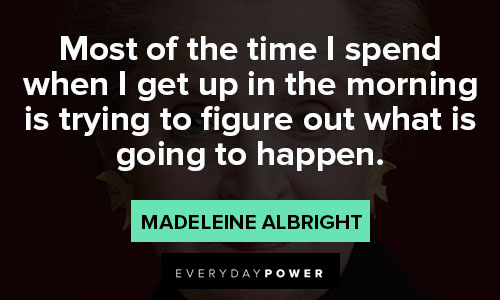 9. "Good guys don't always win, especially when they are divided and less determined than their adversaries." – Madeleine Albright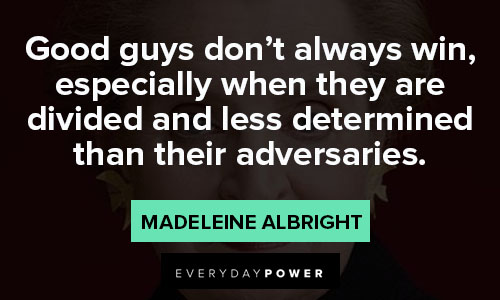 10. "Whatever the job you are asked to do at whatever level, do a good job because your reputation is your resume." – Madeleine Albright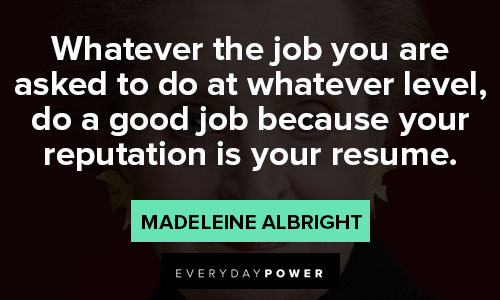 Madeleine Albright Quotes About Standing Up For What Is Right
We all need to be willing to stand up for what is right in order to have a better world. Check out the quotes from Madeleine Albright below.
11. "The real question is: who has the responsibility to uphold human rights? The answer to that is: everyone." – Madeleine Albright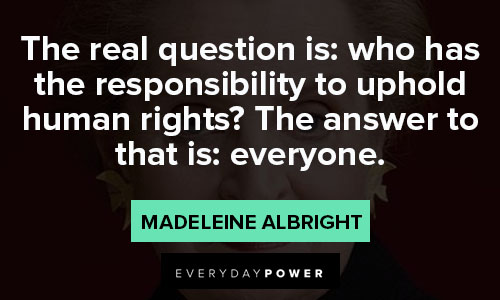 12. "It is easier to remove tyrants and destroy concentration camps than to kill the ideas that gave them birth." – Madeleine Albright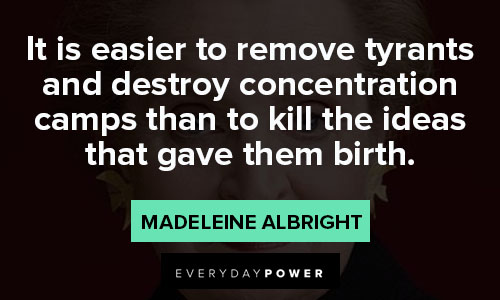 13. "I think we all know what evil is. We have a sense of what's evil, and certainly, killing innocent people is evil. We're less sure about what is good. There's sort of good, good enough, could be better – but absolute good is a little harder to define." – Madeleine Albright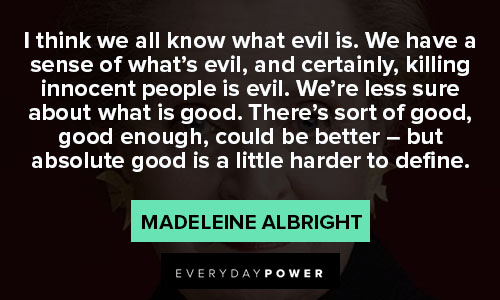 14. "As a leader, you have to have the ability to assimilate new information and understand that there might be a different view." – Madeleine Albright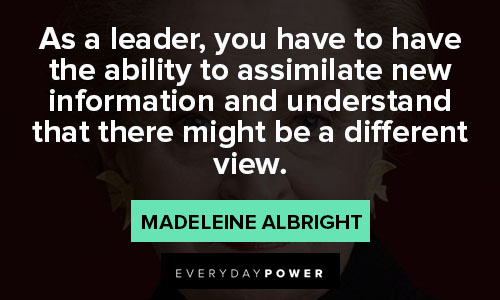 15. "I have said this many times, that there seems to be enough room in the world for mediocre men, but not for mediocre women, and we really have to work very, very hard." – Madeleine Albright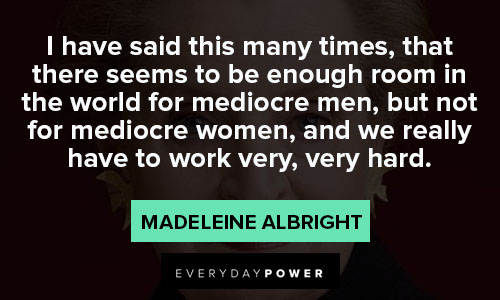 16. "I do not believe that things happen accidentally; I believe you earn them." – Madeleine Albright
17. "I really do think about the fact that every day counts. I believe that every individual counts, and so I believe that every day counts, and I try not to waste it." – Madeleine Albright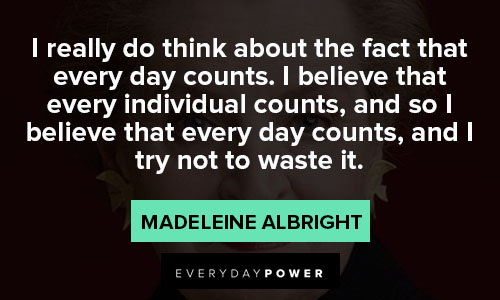 18. "Women can't do everything at the same time; we need to understand milestones in our lives comes in segments." – Madeleine Albright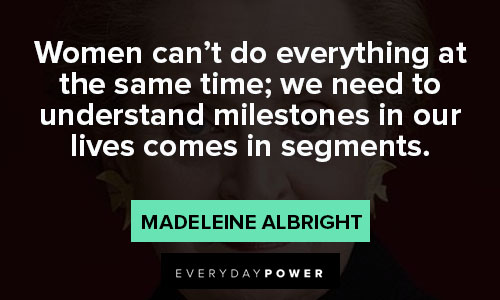 19. "While democracy, in the long run, is the most stable form of government, in the short run, it is among the most fragile." – Madeleine Albright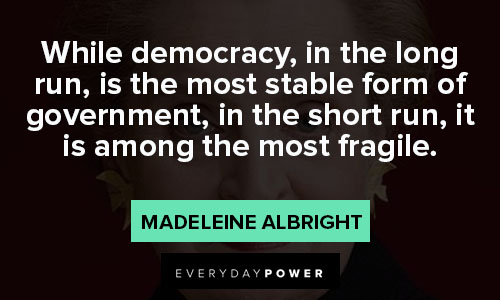 20. "What people have the capacity to choose, they have the ability to change." – Madeleine Albright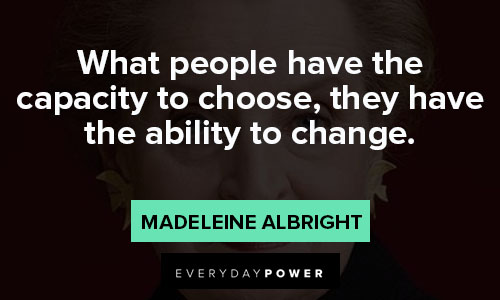 Did The Madeleine Albright Quotes Inspire You To Make A Difference?
Madeleine Albright has also written seven New York Times bestselling books, including Hell and Other Destinations, Fascism: A Warning, Prague Winter: A Personal Story of Remembrance and War, Read My Pins: Stories from a Diplomat's Jewel Box, Memo to the President: How We Can Restore America's Reputation and Leadership, The Might and the Almighty: Reflections on America, God, and World Affairs, and Madam Secretary: A Memoir.
Since completing her term as Secretary of State, she has founded the Albright Group, which later became the Albright Stonebridge Group, which is an international strategy consulting firm.
Albright died on March 23, 2022, from cancer when she was 84 years old.
After reading the Madeleine Albright Quotes, do you agree that every day is precious and that we all can make a difference?
Share to see what your friends say and post comments below.