25 Mamba Mentality Quotes From Kobe Bryant's Book About Life
These Mamba Mentality quotes will inspire you to be the best version of yourself!
You might have heard the term Mamba Mentality before and wondered where it came from.
Well, it is the title of Kobe Bryant's book about his approach to life, personal mindset, and career achievements.
What exactly does "Mamba Mentality" mean, though?
Kobe Bryant answered this question in his own words, saying "To sum up what mamba mentality is, it means to be able to constantly try to be the best version of yourself."
He said that to him, "Mamba Mentality" meant "focusing on the process and trusting in the hard work when it matters most."
It is no wonder that so many of these Mamba Mentality quotes have to do with hard work, greatness, and being the best.
Bryant also described his Mamba Mentality philosophy as "the ultimate mantra for the competitive spirit.
It started just as a hashtag that came to me one day, and it's grown into something athletes — and even non-athletes — embrace as a mindset."
There are five pillars that Bryant writes about when speaking about Mamba Mentality and they are: resilience, fearlessness, obsessiveness, relentlessness, and passion.
Together, these five pillars make up the building blocks of Bryant's Mamba Mentality.
Keep reading through these Mamba Mentality quotes to learn more about the mindset and "The Black Mamba" persona Bryant created for himself!
Don't forget to also check out these Kobe Bryant quotes celebrating his life.
If you like this article, we suggest you explore our most popular quotes article, a list of short inspirational quotes for daily encouragement.
Look through our complete collection of inspirational quotes here.
Mamba Mentality quotes about working hard and making sacrifices
1. "I always focused on the fact that I had to try something to get it, and once I got it, I'd have another tool in my arsenal. If the price was a lot of work and a few missed shots, I was OK with that." ― Kobe Bryant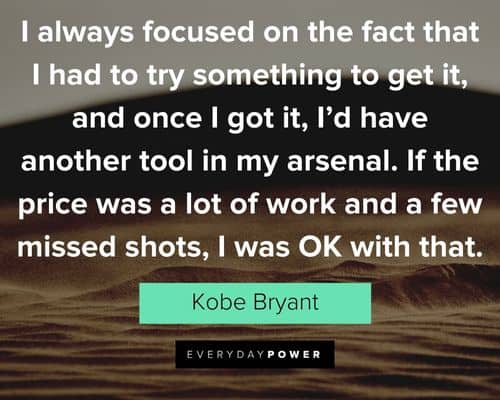 You will also enjoy our article on obsession quotes.
2. "One of the main takeaways was that you have to work hard in the dark to shine in the light. Meaning: It takes a lot of work to be successful, and people will celebrate that success, will celebrate that flash." ― Kobe Bryant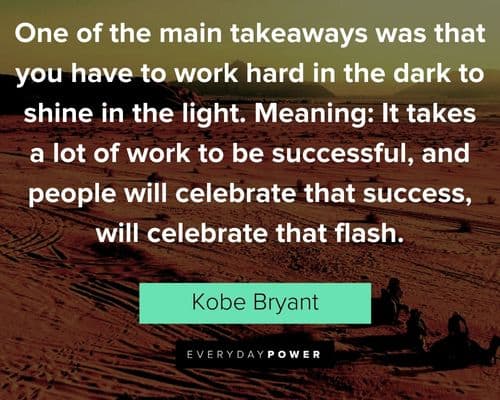 3. "I found that, yes, this work might be strenuous on the day-to-day, but it left me stronger and more prepared during the dog days of the season and the playoffs." ― Kobe Bryant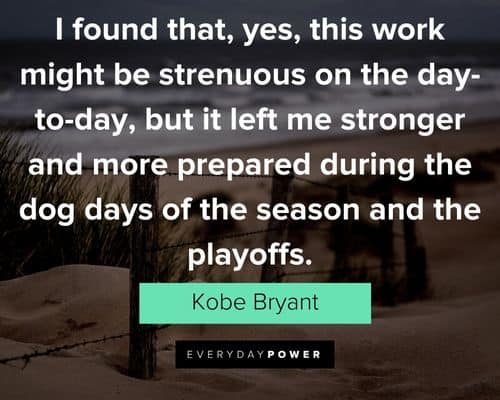 You will also enjoy our article on basketball quotes.
4. "As a kid, I would work tirelessly on adding elements to my game. I would see something I liked in person or on film, go practice it immediately, practice it more the next day, and then go out and use it. By the time I reached the league, I had a short learning curve. I could see something, download it, and have it down pat." ― Kobe Bryant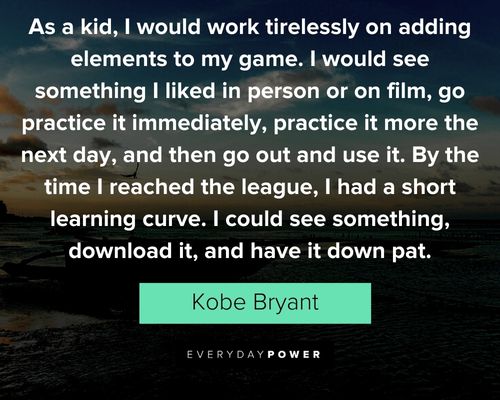 5. "I never felt outside pressure. I knew what I wanted to accomplish, and I knew how much work it took to achieve those goals. I then put in the work and trusted in it. Besides, the expectations I placed on myself were higher than what anyone expected from me." ― Kobe Bryant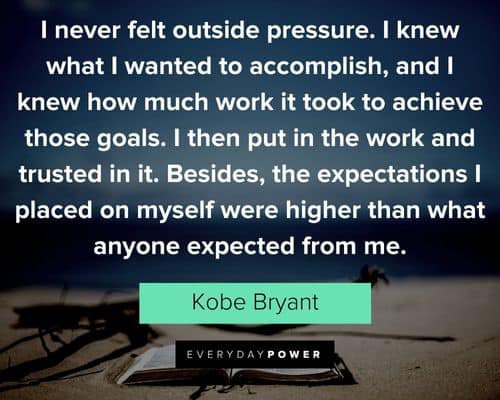 6. "My routine was grueling. It involved early mornings and late nights. It involved stretching, lifting, training, hooping, recovery, and film study. It involved putting in a lot of work and hours. It's—no lie—tiring. For that reason, a lot of players pare down their lifting and training during the season. They try conserving their energy. Not me, though." ― Kobe Bryant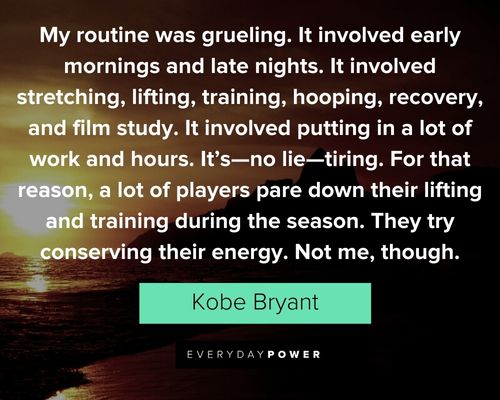 7. "I wasn't willing to sacrifice my game, but I also wasn't willing to sacrifice my family time. So I sacrificed sleep, and that was that." ― Kobe Bryant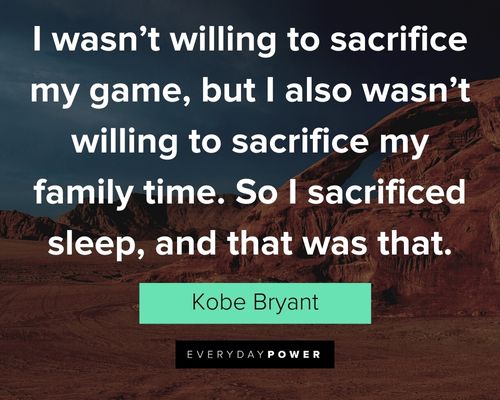 8. "When everyone else was thinking it was time for bed, his mind was telling him it's time to get ahead of the competition." ― Kobe Bryant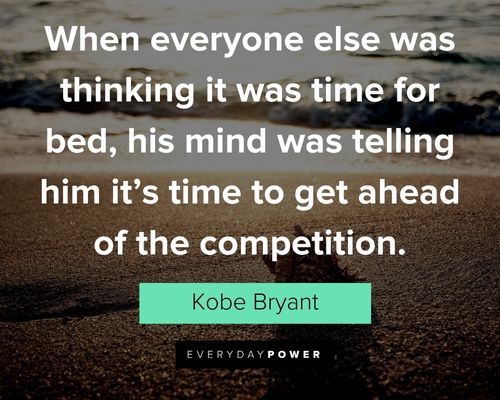 9. "The only way I was able to pick up details on the court, to be aware of the minutiae on the hardwood, was by training my mind to do that off the court and focusing on every detail in my daily life. By reading, by paying attention in class and in practice, by working, I strengthened my focus. By doing all of that, I strengthened my ability to be present and not have a wandering mind." ― Kobe Bryant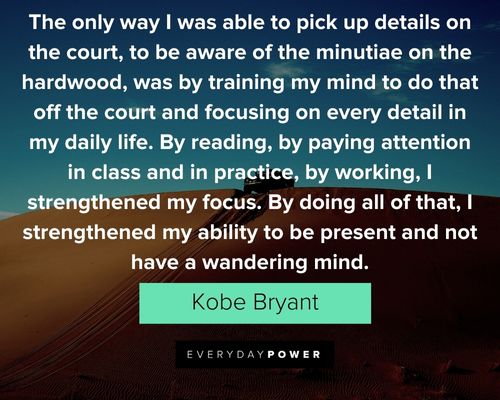 10. "If something has worked for other greats before you, and if something is working for you, why change it up and embrace some new fad? Stick with what works, even if it's unpopular." ― Kobe Bryant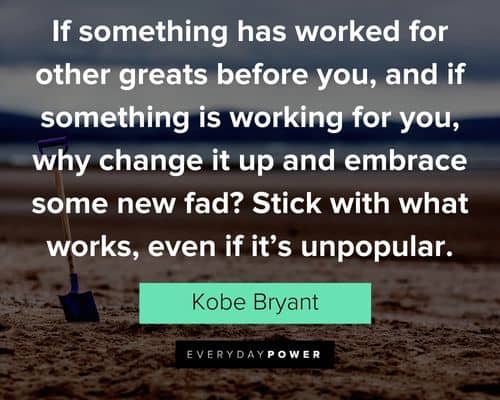 Mamba Mentality quotes about greatness and being the best
11. "A lot of people say they want to be great, but they're not willing to make the sacrifices necessary to achieve greatness. They have other concerns, whether important or not, and they spread themselves out." ― Kobe Bryant
12. "If you really want to be great at something, you have to truly care about it. If you want to be great in a particular area, you have to obsess over it." ― Kobe Bryant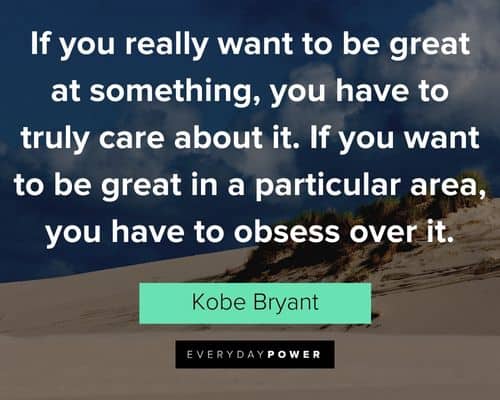 13. "After all, greatness is not for everybody." ― Kobe Bryant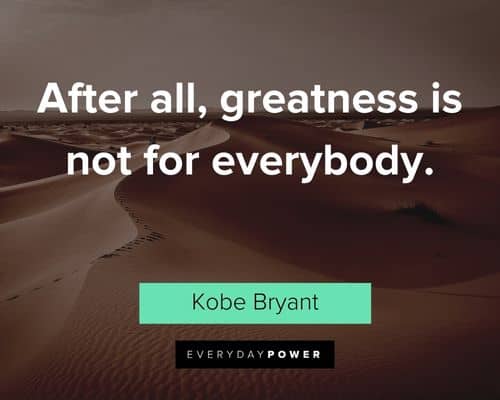 14. "Greatness isn't easy to achieve. It requires a lot of time, a lot of sacrifices. It requires a lot of tough choices. It requires your loved ones to sacrifice, too, so you have to have an understanding circle of family and friends." ― Kobe Bryant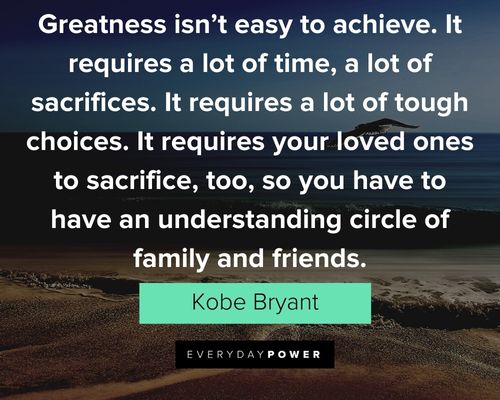 15. "People don't always understand just how much effort, from how many people, goes into one person chasing a dream to be great." ― Kobe Bryant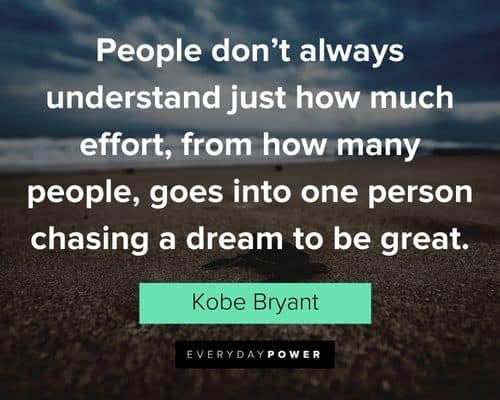 16. "You can't achieve greatness by walking a straight line." ― Kobe Bryant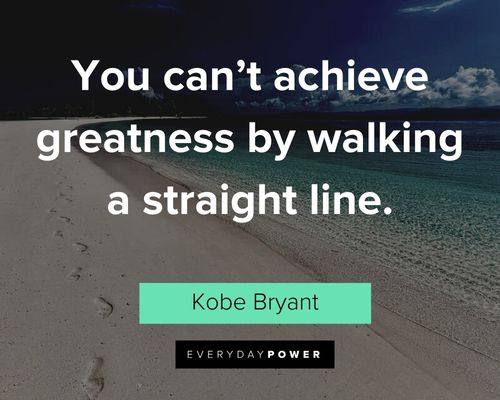 17. "From the beginning, I wanted to be the best. I had a constant craving, a yearning, to improve and be the best. I never needed any external forces to motivate me." ― Kobe Bryant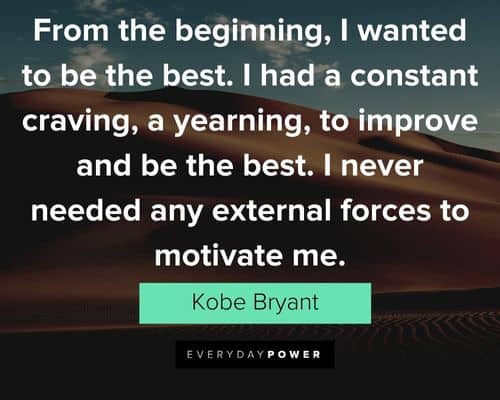 18. "I liked challenging people and making them uncomfortable. That's what leads to introspection, and that's what leads to improvement. You could say I dared people to be their best selves." ― Kobe Bryant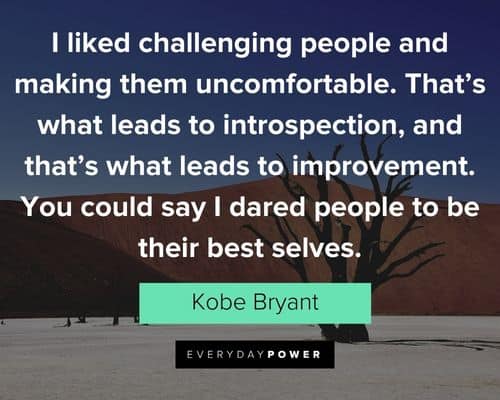 19. "A lot of people appreciated my curiosity and passion. They appreciated that I wasn't just asking to ask, I was genuinely thirsty to hear their answers and glean new info. Some people, meanwhile, were less understanding and gracious. That was fine with me." ― Kobe Bryant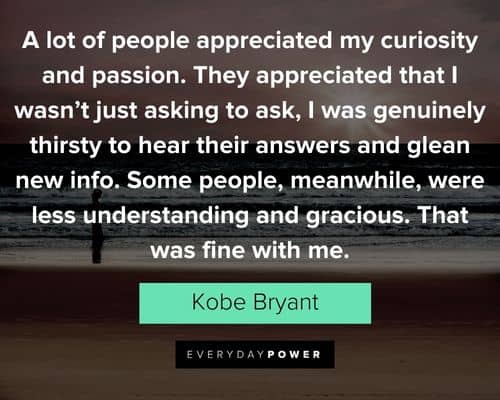 20. "For some people, I guess, it might be hard to stay sharp once you've reached the pinnacle. Not for me, though. It was never enough. I always wanted to be better, wanted more. I can't really explain it, other than that I loved the game but had a very short memory. That fueled me until the day I hung up my sneakers." ― Kobe Bryant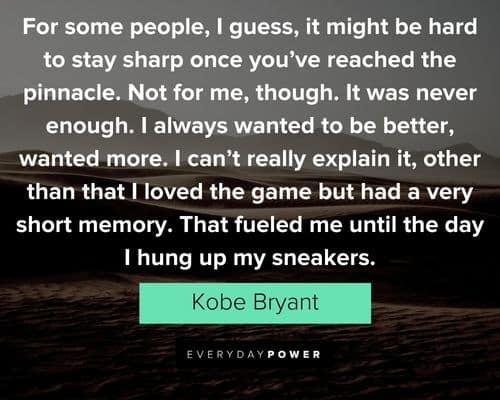 Mamba Mentality quotes about coaches and players
21. "Good coaches tell you where the fish are, great coaches teach you how to find them." ― Kobe Bryant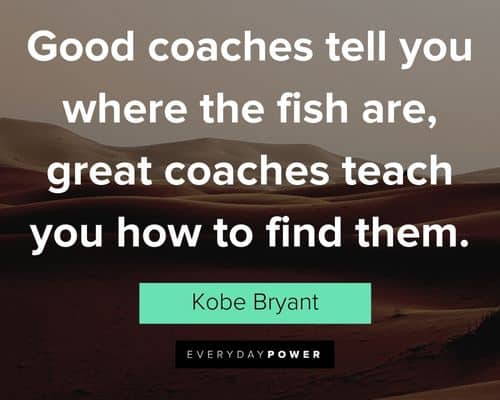 22. "Simply put, good coaches make sure you know how to use both hands, how to make proper reads, how to understand the game." ― Kobe Bryant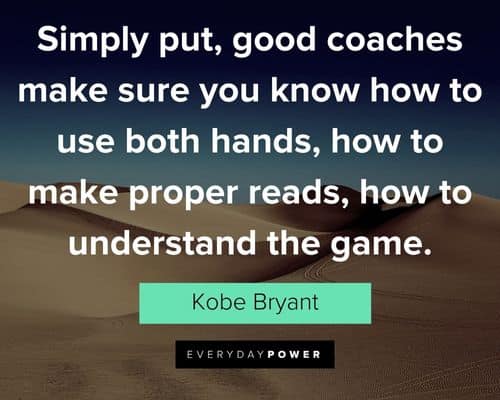 23."Coaches are teachers. Some coaches—lesser coaches—try telling you things. Good coaches, however, teach you how to think and arm you with the fundamental tools necessary to execute properly." ― Kobe Bryant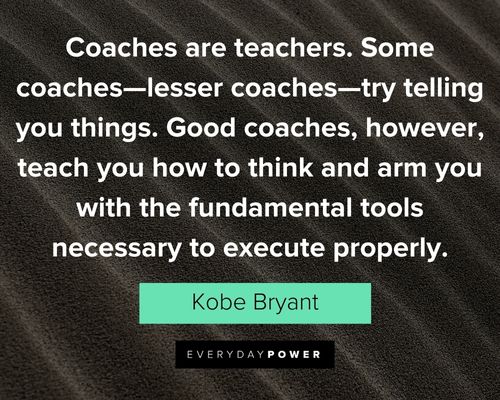 24. "If you want to be a better player, you have to prepare, prepare, and prepare some more." ― Kobe Bryant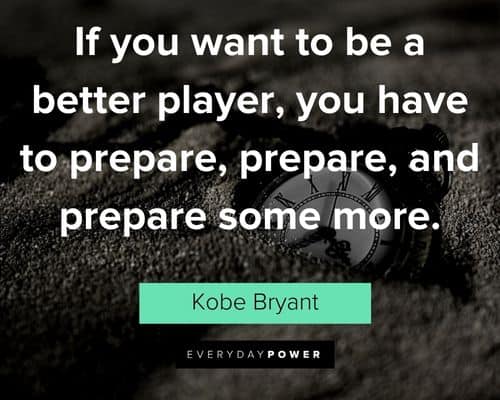 25. "Every team needs either a confrontational star player or coach. In San Antonio, Gregg Popovich was that guy and Tim Duncan was not. In Golden State, Draymond Green is the confrontational one; Steve Kerr is not. For us, Phil was not that type of person, so I provided that force. You always have to have that balance and counterbalance, and Phil and I were perfectly suited for each other in that way." ― Kobe Bryant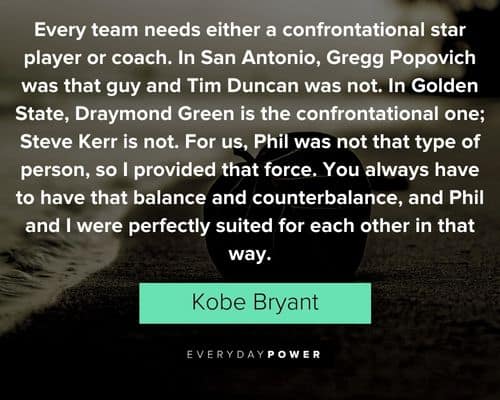 What did you learn from these Mamba Mentality quotes?
The reason for "The Black Mamba" persona started as a way for Kobe to keep himself ready to face obstacles.
Kobe dealt with whatever obstacles would present themselves in his personal life, while "The Black Mamba" was responsible for striking on the court no matter what.
This helped Kobe build his resiliency, including making shots despite injuries!
He was certainly fearless on the court, having the confidence to take some risky shots, and not be afraid of the outcome.
Relentless and obsessive are both words you could use to describe Kobe Bryant.
He took hard work and the game of basketball to extremes.
Which is exactly what the Mamba Mentality teaches.
Keeping up that level of commitment and hard work requires more than just a desire to do something, it requires true passion.
Kobe described that passion as knowing "what is important to you," and for him that was basketball.
What do you think of Kobe's Mamba Mentality?
Do you think it could work for everyone?
And do you have any other favorite Mamba Mentality quotes and sayings to add?
Let us know in the comment section below!