Basketball Quotes for Players and Coaches Celebrating Teamwork
Our latest collection of basketball quotes that will remind you of the importance of teamwork and collaborative effort.
Basketball is one of the most loved sports the world over. Invented more than a hundred years ago, the game has grown to become one of the most successful sports.
Throughout the years, basketball has produced many great players who have entertained and inspired us in different ways. Besides the pleasure we derive from watching the game, there are lots of lessons from basketball that we can apply in our lives.
One of the biggest lessons basketball teaches us is the importance of teamwork and collaboration. Being a team sport, the game requires collaboration and co-operation from teammates in order to win. Every member must focus, work as a unit, and listen to each other for the common good of the team.
Although Michael Jordan was one of the greatest basketball players in history, he couldn't win any championships without involving his teammates. He had to learn to trust and to work together with them.
In that respect, here are inspirational basketball quotes to highlight the importance of teamwork and collaborative effort.
Basketball quotes for players and coaches about teamwork
1. "I think, team first. It allows me to succeed, it allows my team to succeed."- Lebron James
2. "A basketball team is like the five fingers on your hand. If you can get them all together, you have a fist. That's how I want you to play." – Mike Krzyzewski
3. "Ask not what your teammates can do for you. Ask what you can do for your teammates."— Magic Johnson
4. "Michael Jordan may have been the best basketball player in history, but he couldn't have won six NBA titles without a team." –  Mark E. Hyman
5. "Create unselfishness as the most important team attribute."– Bill Russell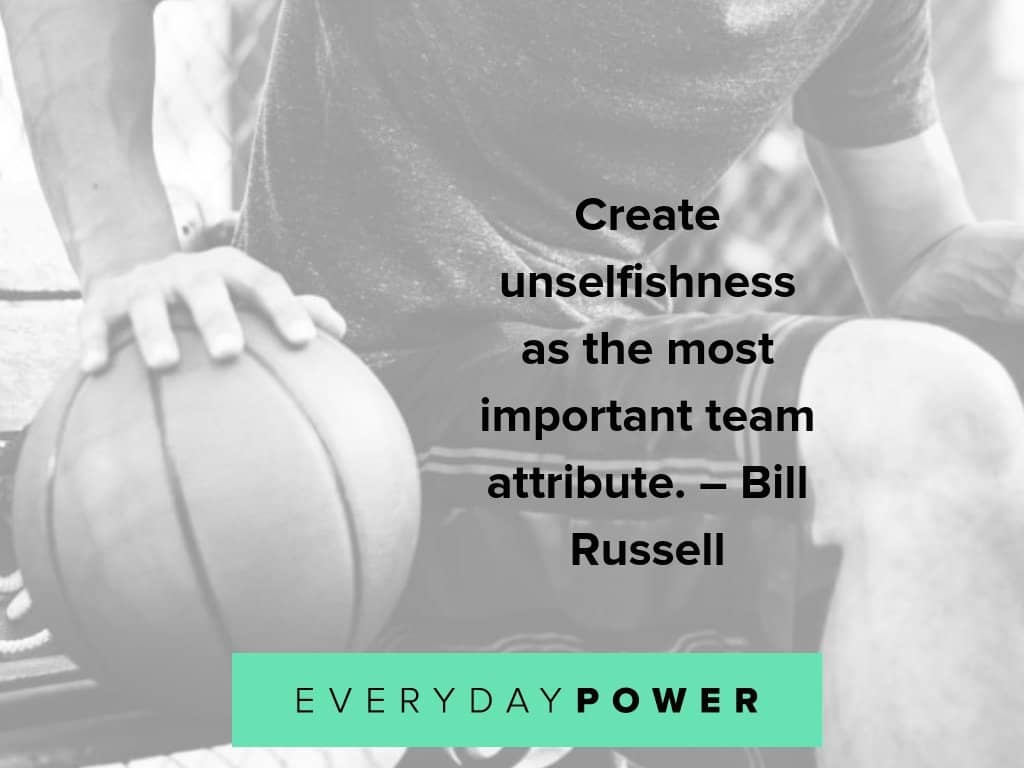 6. "You have to earn your right to win the game with effort and togetherness" – Brad Stevens
7. "All the successful teams I've ever seen have three characteristics: They play unselfish, they play together, and they play hard." – Larry Brown
8. "Teamwork is the beauty of our sport, where you have five acting as one."— Mike Krzyzewski
9. "Basketball is a team game. But that doesn't mean all five players should have the same amount of shots." – Dean Smith
10. "Some say you have to use your five best players, but I found out you win with the five that fit together best as a team." – Red Auerbach
11. "When a gifted team dedicates itself to unselfish trust and combines instinct with boldness and effort–it is ready to climb"-Pat Riley
Don't forget to also read these Pat Summitt quotes or these coaching quotes that will motivate your team to the next level.
Basketball quotes to inspire self-motivation and teamwork
12. "One player's selfish attitude can poison the locker room and make it hard, if not impossible, to establish teamwork" – Dean Smith
13. "When I lose the sense of motivation and the sense to prove something as a basketball player, it's time for me to move away from the game." – Michael Jordan
14. "Everything negative — pressure, challenges — are all an opportunity for me to rise."— Kobe Bryant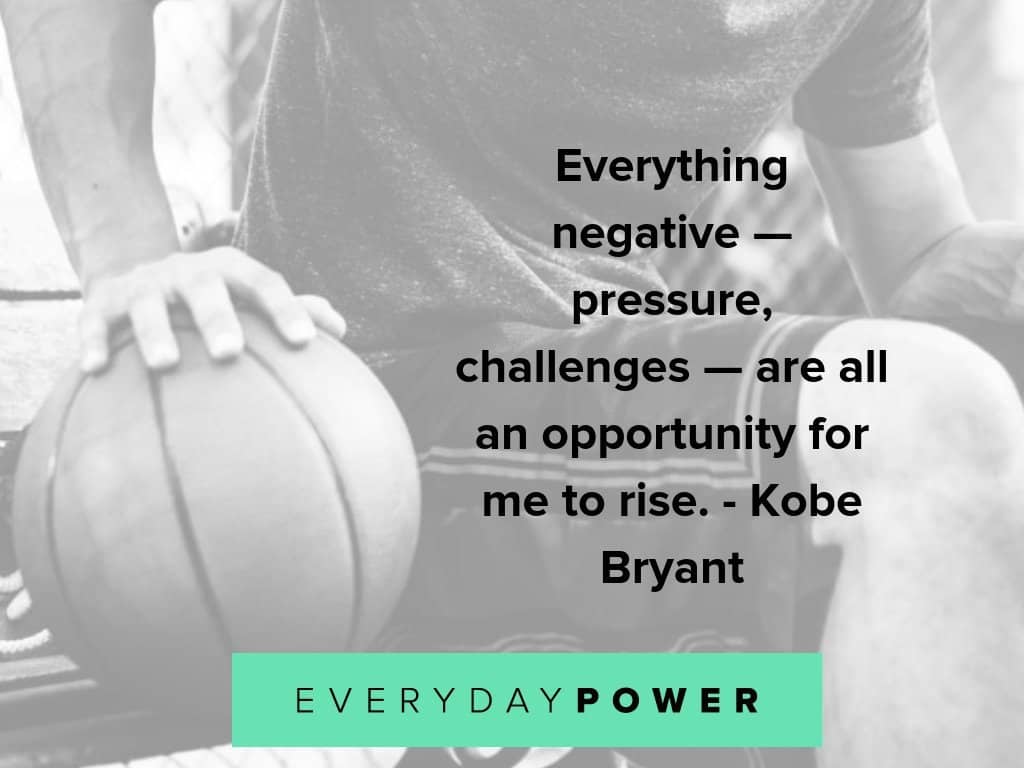 15. "I know that I'm never as good or bad as any single performance. I've never believed my critics or my worshippers, and I've always been able to leave the game at the arena." – Charles Barkley
16. "What you are as a person is far more important that what you are as a basketball player" – John Wooden
17. "You don't play against opponents, you play against the game of basketball."—Bobby Knight
18. "Great players are willing to give up their own personal achievement for the achievement of the group. It enhances everybody." – Kareem Abdul-Jabbar
19. "I don't complain about playing time. My job is to play so well that my coach can't sit me." – Shane Battier
20. "I've missed more than 9000 shots in my career. I've lost almost 300 games. 26 times, I've been trusted to take the game-winning shot and missed. I've failed over and over and over again in my life. And that is why I succeed." –Michael Jordan
Also, read these motivational quotes about golf.
Basketball quotes to encourage and inspire you to always give your best
21. "I treated it like every day was my last day with a basketball." – LeBron James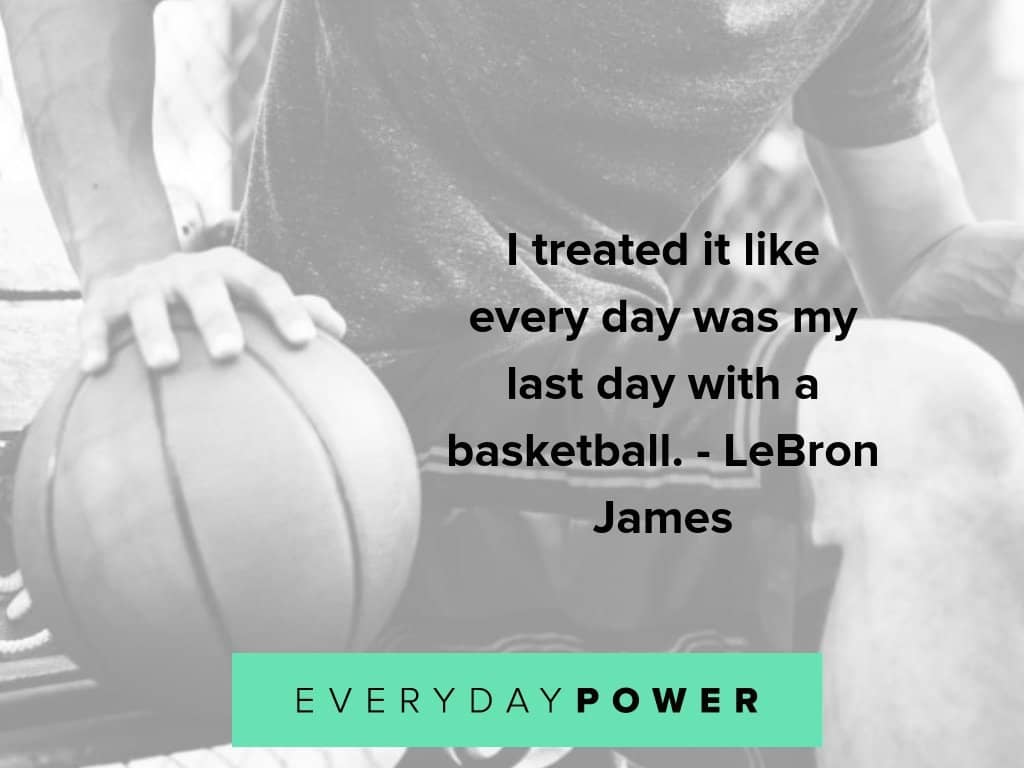 22. "Once you are labeled the best you want to stay up there, and you can't do it by loafing around. If I don't keep changing, I'm history." – Larry Bird
23. "The key is not the 'will to win'… everybody has that. It is the will to prepare to win that is important" – Bob Knight
24. "If you are afraid of failure you don't deserve to be successful!"— Charles Barkley
25. "Push yourself again and again. Don't give an inch until the final buzzer sounds." – Larry Bird
26. "Some people want it to happen, some wish it would happen, others make it happen." – Michael Jordan
27. "The strength of the team is each individual member. The strength of each member is the team."― Phil Jackson
28. "You can't win unless you learn how to lose." – Kareem Abdul-Jabbar
29. "Hard work beats talent when talent fails to work hard." – Kevin Durant
30. "Ability may get you to the top, but it takes character to keep you there.― John Wooden
You might also like these baseball quotes for the inner child.
Basketball quotes to motivate and inspire coaches and athletes
31. "The idea is not to block every shot. The idea is to make your opponent believe that you might block every shot" – Bill Russell
32. "Obstacles don't have to stop you. If you run into a wall, don't turn around and give up. Figure out how to climb it, go through it, or work around it."— Michael Jordan
33. "Without my success in basketball, I'm nothing. My family, my daughter, my teammates, my foundation, my acting career – they all depend on that success." – Ray Allen
34. "My goal is to win the next game one possession at a time. That's it. I don't have any other goals" – Brad Stevens
35. "Discover your gift, develop your gift, and then give it away every day." – Don Meyer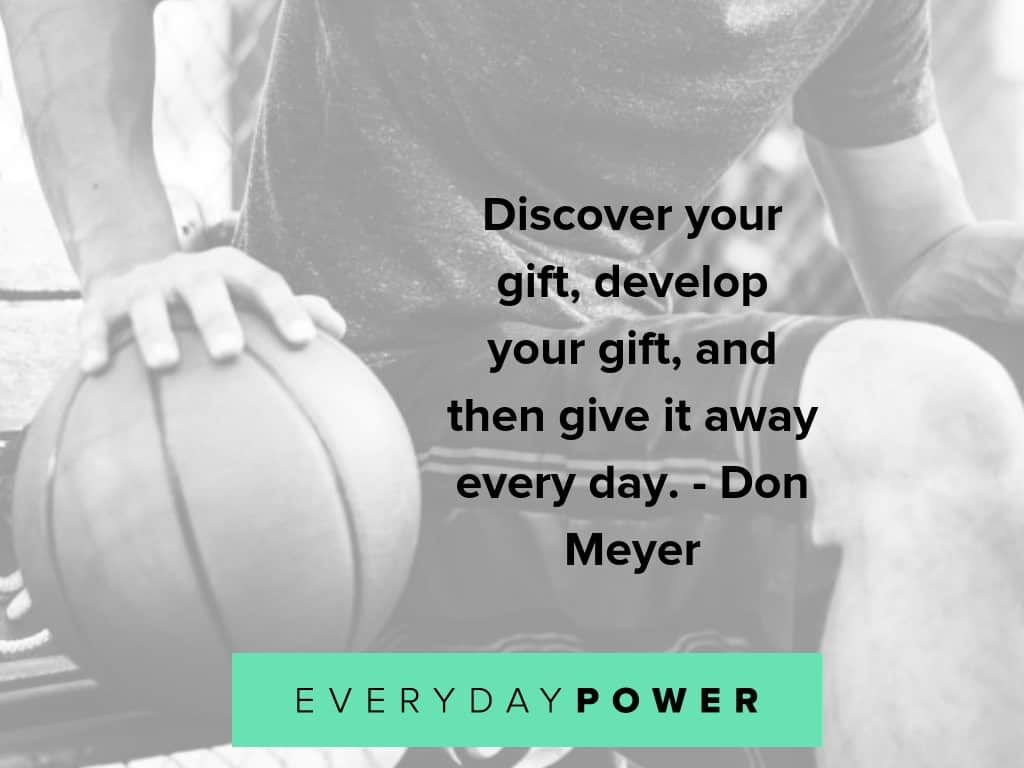 36. "The two ingredients in success in basketball are playing hard and playing intelligently." – Pete Carroll
37. "Coaching is easy. Winning is the hard part." – Elgin Baylor
38. "You can't get much done in life if you only work on the days when you feel good." – Jerry West
39. "Nothing is given. Everything is earned." – LeBron James
40. "Keep practicing. Never let anyone tell you're too small or too slow." – Chris Paul
Have you seen these motivational coach Carter quotes?
Motivational basketball quotes
41. "Create unselfishness as the most important team attribute" – Bill Russell
42. "The invention of basketball was not an accident. It was developed to meet a need. Those boys simply would not play 'Drop the Handkerchief.'— James Naismith
43. "Basketball is a lifelong game. You continue to learn from the game day in and day out, and all along the way, you get better." – Scottie Pippen
44. "You can have discipline and be demanding without being demeaning" – Don Meyer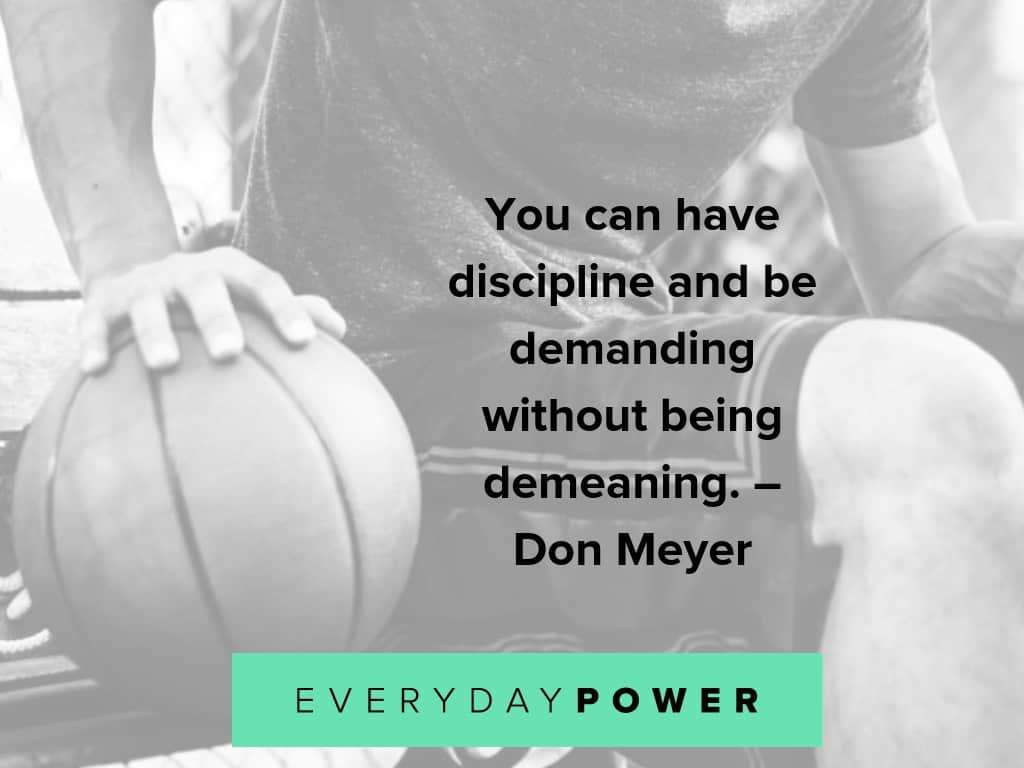 45. "Not only is there more to life than basketball, there's a lot more to basketball than basketball." – Phil Jackson
46. "Remember that basketball is a game of habits. If you make the other guy deviate from his habits, you've got him" – Bill Russell
47. "Get the fundamentals down and the level of everything you do will rise" – Michael Jordan
48. "I live my life trying not to never appear to be a small man." – Julius Erving
49. "Basketball is a beautiful game when the five players on the court play with one heartbeat." – Dean Smith
50. "Your limits are somewhere up there, waiting for you to reach beyond infinity."― Arnold Henry
If you're enjoying this article, make sure to also check out our collection of inspirational sports quotes about working towards your full potential.
Basketball quotes to inspire success
51. "I really get motivated when I have doubters." — Shaquille O'Neal
52. "The game honors toughness." – Brad Stevens
53. "There is a lot of basketball beyond our control, but a player should never let anyone try harder than he does." – Dean Smith
54. "Sometimes you will hate me because I will tell you the truth about your game. And the truth can hurt or humble you." – Doc Rivers
55. "What distinguishes a great player is his presence. When he goes on to the court, his presence dominates the atmosphere." – Bill Russell
56. "Plays are not as important as players, and players are not as important as teammates." – Don Meyer
57. "Passing is your best weapon against man to man. Dribble penetration is your best weapon against zone." – Bob Knight
58. "The highest level of achievement is attained by the teams with the best conditioned players." – Dr. Jack Ramsay
59. "Commitment separates those who live their dreams from those who live their lives regretting the opportunities they have squandered." – Bill Russell
60. "We believe in people executing their role and caring about the team more than anything individually." – Gregg Popovich
You might also like these Yogi Berra quotes on life to make you smile.
More basketball quotes
61. "To be successful you have to be selfish, or else you never achieve. And once you get to your highest level, then you have to be unselfish. Stay reachable. Stay in touch. Don't isolate." – Michael Jordan
62. "Nervous means you want to play. Scared means you don't want to play." – Sherman Alexie
63. "Being a professional is doing the things you love to do, on the days you don't feel like doing them." Julius Erving
64. "They say that nobody is perfect. Then they tell you practice makes perfect. I wish they'd make up their minds." – Wilt Chamberlain
65. "Sometimes a player's greatest challenge is coming to grips with his role on the team." – Scottie Pippen
66. "Everyone has the fire, but the champions know when to ignite the spark." – Amit Ray
67. "One man can be a crucial ingredient on a team, but one man cannot make a team." – Kareem Abdul-Jabbar
68. "Basketball is a game with winners and losers, but if you play this game with your heart, you're always a winner." – C.M.
69. "Practice hard, train hard, work hard and play harder." – Alcurtis Turner
Did you enjoy these Basketball quotes?
The dynamics in the game of basketball are very much similar to what happens in our lives. Just like in life, there are the ups and downs, the endless challenges and the endurance it takes to achieve success.
Coordination and teamwork are an essential aspect of any basketball team. Unless each member plays his/her part and contributes to the benefit of the team as a whole, it's impossible to win. Hopefully, these basketball quotes have reminded you to always contribute, share and cooperate.
Did you enjoy these basketball quotes? Which of the quotes was your favorite? We would love to hear all about it in the comment section below.
March 10, 2021 6:00 AM EST
Be the first one to leave a comment!