Marilyn Monroe Quotes About Love, Success and Relationships
Our latest collection of Marilyn Monroe quotes on Everyday Power.
Marilyn Monroe was an American actress, model, and singer who continues to fascinate the world with her beauty and talent.
Born Norma Jeane Mortenson on June 1, 1926, in Los Angeles, California, Marilyn overcame a difficult childhood to become one of the most celebrated actresses in the world.
During her short career, her films grossed over $200 before her untimely death in 1962.
Despite her death, Marilyn Monroe continues to be a major pop icon.
Here are some inspirational quotes from her on love, success, relationships and much more.
If you love this quote collection, read out our most popular quote article about short inspirational quotes for daily motivation.
If you need more inspirational quotes, check out our motivational quotes category page.
Inspirational Marilyn Monroe Quotes
1. "I am trying to find myself. Sometimes that's not easy." – Marilyn Monroe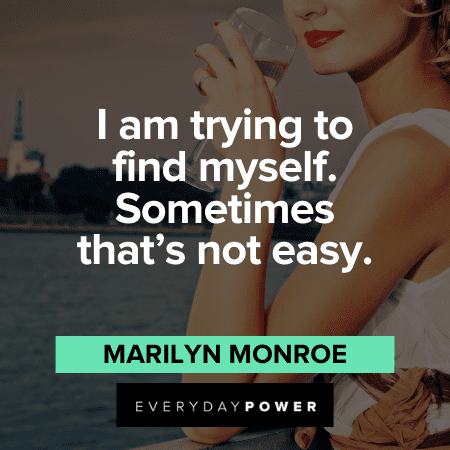 2. "It's better to be unhappy alone than unhappy with someone – so far." – Marilyn Monroe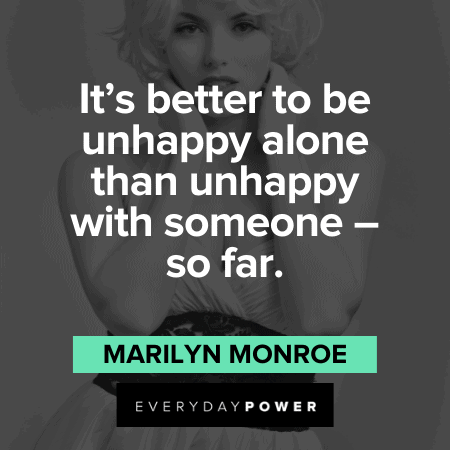 3. "We are all of us stars, and we deserve to twinkle." – Marilyn Monroe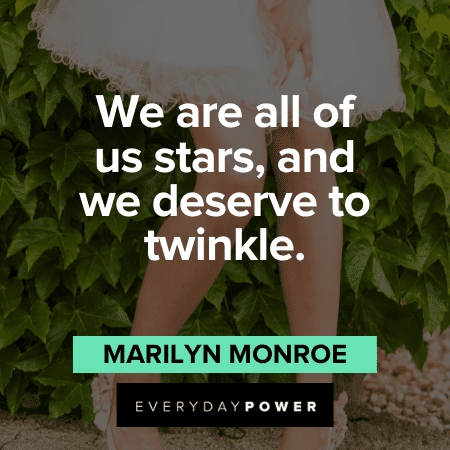 4. "If you can make a girl laugh, you can make her do anything." – Marilyn Monroe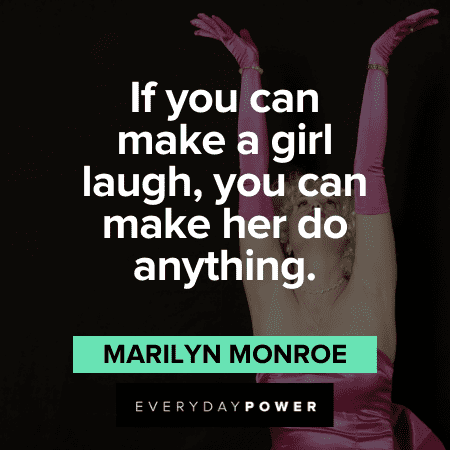 5. "I restore myself when I'm alone." – Marilyn Monroe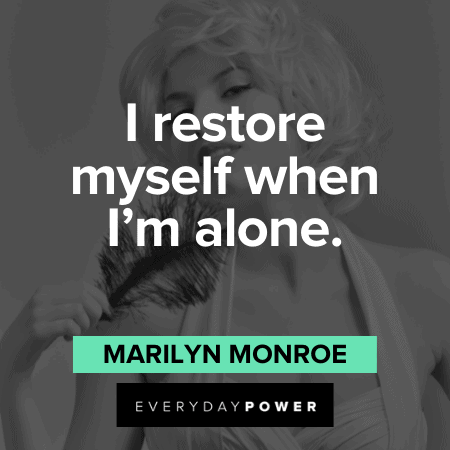 6. "Imperfection is beauty, madness is genius and it's better to be absolutely ridiculous than absolutely boring." – Marilyn Monroe
7. "I'm selfish, impatient, and a little insecure. I make mistakes, I'm out of control, and at times hard to handle. But if you can't handle me at my worst, then you sure as hell don't deserve me at my best." – Marilyn Monroe
8. The real lover is the man who can thrill you just by touching your head or smiling into your eyes – or just by staring into space.- Marilyn Monroe
You know love is real when you don't need anything extra. No fancy restaurants, no exotic vacations – just that special person in your presence. That's the simplest and purest form of love.
9. Experts on romance say for a happy marriage there has to be more than a passionate love. For a lasting union, they insist, there must be a genuine liking for each other. Which, in my book, is a good definition for friendship.- Marilyn Monroe
The best lovers are best friends. The physical attraction will come and go, be up and down. When the passion is fleeting, it's essential that the friendship remain. Or else, you've got nothing.
10. "I am good, but not an angel. I do sin, but I am not the devil. I am just a small girl in a big world trying to find someone to love." – Marilyn Monroe
11. "Give a girl the right shoes, and she can conquer the world." – Marilyn Monroe
12. "Success makes so many people hate you. I wish it wasn't that way. It would be wonderful to enjoy success without seeing envy in the eyes of those around you." – Marilyn Monroe
13. A smart girl leaves before she is left.- Marilyn Monroe
Know when you are not appreciated, and keep moving forward. "Go where you are celebrated and not tolerated."
14. A strong man doesn't have to be dominant toward a woman. He doesn't match his strength against a woman weak with love for him. He matches it against the world.- Marilyn Monroe
True love has no competition. It is never You vs. Your partner. The world is tough enough already and the last thing you need is your partner keeping you down.
15. Fear is stupid. So are regrets.- Marilyn Monroe
If there are two commitments you want to make it will be to do things in the face of fear and to learn to live with regret. We are all scared of something and we all wish we could have done certain things differently. What will always matter most, is how we move forward. How we manage the fear is much more important than the fear itself. And how we live with our choices will influence the next decision we make.
If you enjoy this article, check out our collection of Marilyn Manson quotes sharing his beliefs and opinions.
Marilyn Monroe quotes on love and life
16. "Sometimes things fall apart so that better things can fall together." – Marilyn Monroe
17. "You never know what life is like, until you have lived it." – Marilyn Monroe
18. "A woman can't be alone. She needs a man. A man and a woman support and strengthen each other. She just can't do it by herself." – Marilyn Monroe
19. "This life is what you make it. No matter what, you're going to mess up sometimes, it's a universal truth. But the good part is you get to decide how you're going to mess it up." – Marilyn Monroe
20. "I don't mind living in a man's world as long as I can be a woman in it." – Marilyn Monroe
21. "Sometimes I feel my life has been one big rejection" – Marilyn Monroe
.22. "Sometimes you just have to throw on a crown and remind them who they're dealing with." – Marilyn Monroe
23. "We should all start to live before we get old. Fear is stupid. So are regrets." – Marilyn Monroe
Marilyn Monroe quotes about lifestyle and happiness
24. "For those who are poor in happiness, each time is a first time; happiness never becomes a habit." – Marilyn Monroe
25. "Always remember to smile and look up at what you got in life." – Marilyn Monroe
If you're enjoying these quotes, make sure to read our collection of makeup quotes about the power of looking good.
Did you enjoy these Marilyn Monroe quotes?
Many people are inspired by Marilyn Monroe's story and her words on success, relationships, and views on being a woman.
Hopefully, these quotes from her have inspired you to find the shining star in your life.
Did you enjoy these Marilyn Monroe quotes?
Do you have any favorite Marilyn Monroe quotes to add to the list?
Let us know in the comments.