Miles Davis Quotes on Music, Career, and More
Miles Davis is a legendary figure in American music.
His songs have uplifted millions of people worldwide.
We have curated dozens of Miles Davis quotes to share his eventful life from his perspective.
What's your favorite Miles Davis song?
Born in 1926, Miles Davis is an American jazz trumpeter and composer.
During his five decades-long career, he constantly shaped the growth of American jazz music as we know it today.
His discography includes 51 studio albums, 57 singles, and 72 collaborations throughout his long-spanning career.
Davis is often regarded as one of the most influential and innovative musicians ever.
Below you'll find Miles Davis' views on music, career, and more in his own words.
Also check out these Louis Armstrong quotes that will help you push past your fears.
Check out our most popular quote article, a list of short inspirational quotes for daily inspiration.
Our inspirational quotes category page has all of our motivational quotes for all the different areas of life.
Miles Davis quotes on career
1. "I'm always thinking about creating. My future starts when I wake up every morning… Every day I find something creative to do with my life." – Miles Davis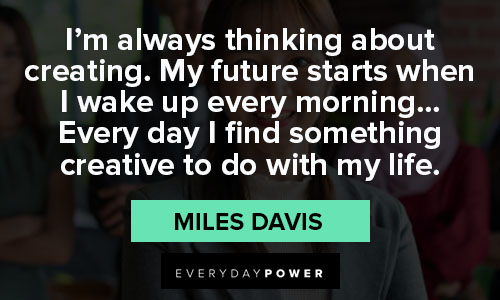 2. "When you do anything too long, you either wear it out or lose interest." – Miles Davis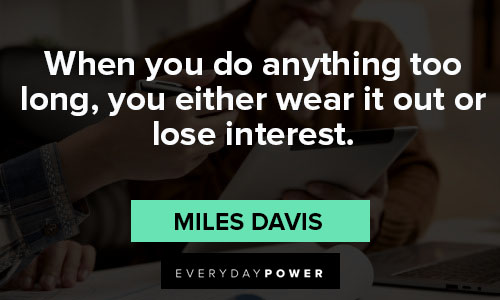 3. "A legend is an old man with a cane known for what he used to do. I'm still doing it." – Miles Davis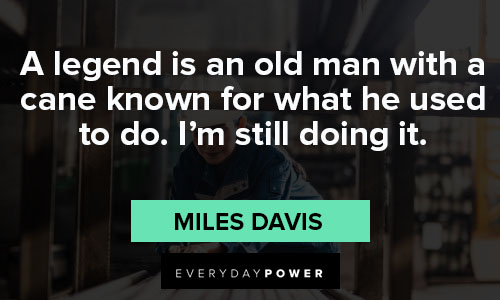 4. "When you get in front of an audience, you should try to give 'em something. After all, they're there looking at you like this. You can't go out and give 'em nothing." – Miles Davis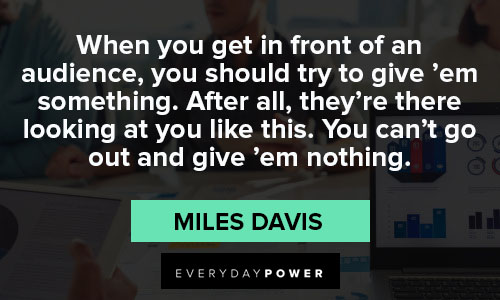 5. "If it sounds clean and slick, I've been doing it too long." – Miles Davis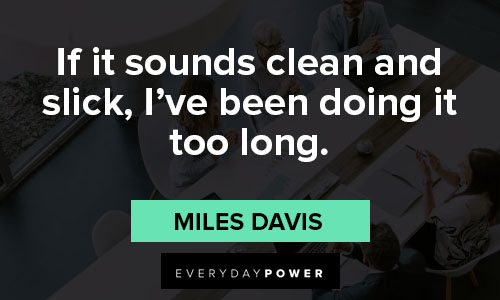 6. "I always listen to what I can leave out." – Miles Davis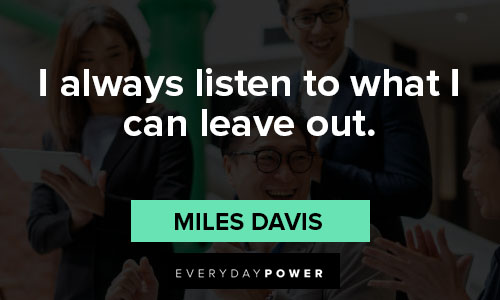 7. "If you sacrifice your art because of some woman, or some man, or for some color, or for some wealth, you can't be trusted." – Miles Davis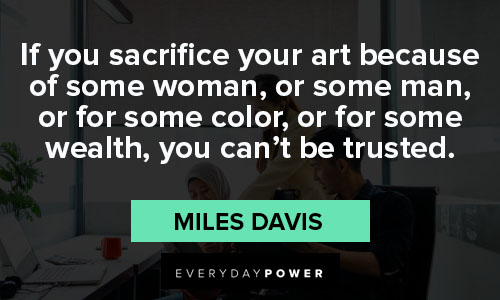 8. "If you don't know what to play, play nothing." – Miles Davis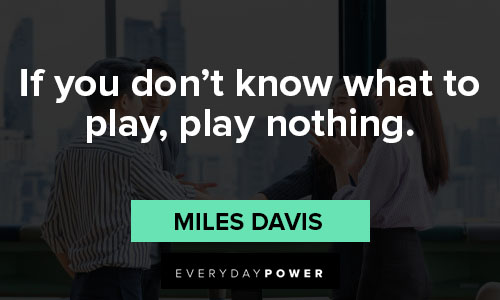 Miles Davis quotes on music
9. "In school I was the best, but the prizes went to boys with blue eyes. I made up my mind to outdo anybody white on my horn." – Miles Davis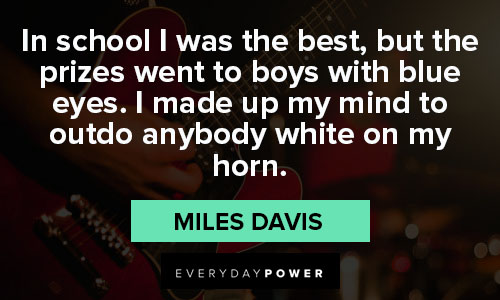 10. "I know what I've done for music, but don't call me a legend. Just call me Miles Davis." – Miles Davis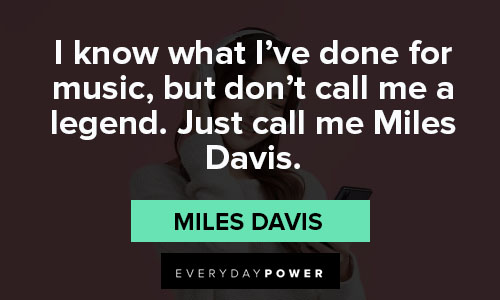 11. "When I'm playing, I'm never through. It's unfinished. I like to find a place to leave for someone else to finish it. That's where the high comes in." – Miles Davis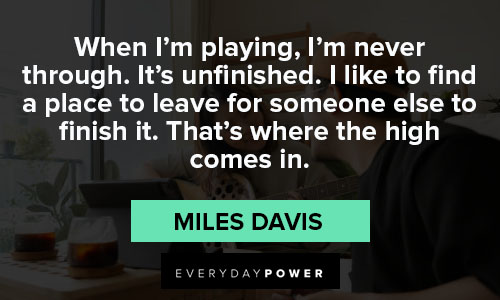 12. "If you got up on the bandstand at Minton's and couldn't play, you were not only going to be embarrassed by the people ignoring you or booing you, you might get your ass kicked." – Miles Davis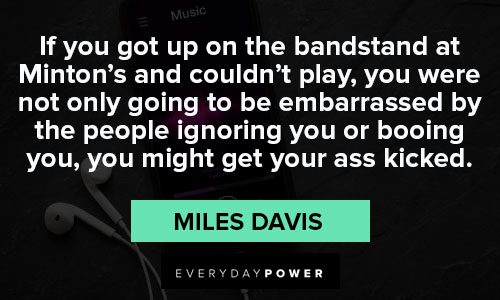 13. "Jazz is the big brother of Revolution. Revolution follows it around." – Miles Davis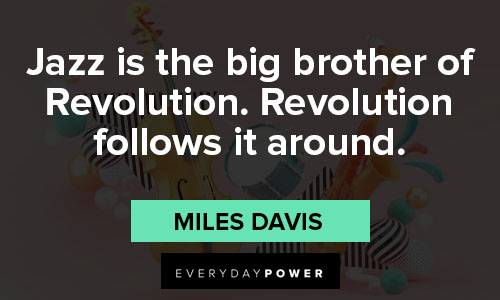 14. "You want to know how I started playing trumpet? My father bought me one, and I studied the trumpet. And everybody I heard that I liked, I picked up things from." – Miles Davis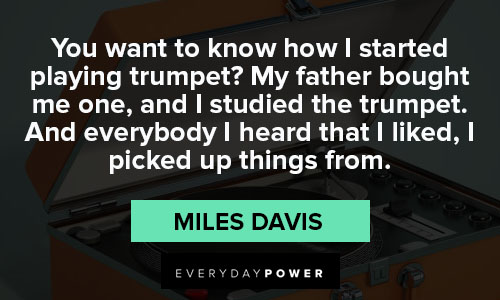 15. "For me, music and life are all about style." – Miles Davis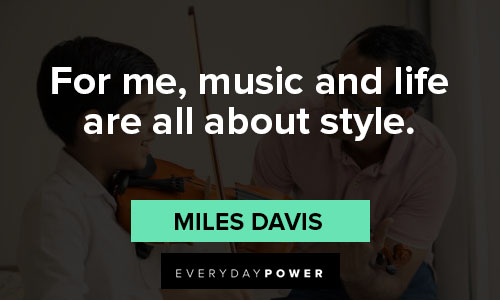 16. "It's always been a gift with me, hearing music the way I do. I don't know where it comes from, it's just there and I don't question it." – Miles Davis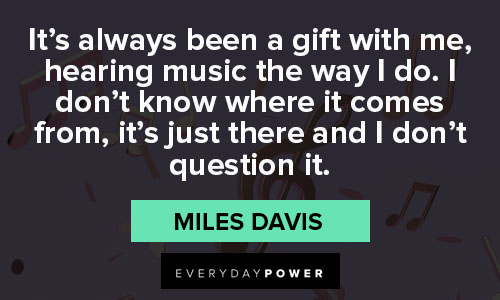 17. "Sometimes you have to play a long time to be able to play like yourself." – Miles Davis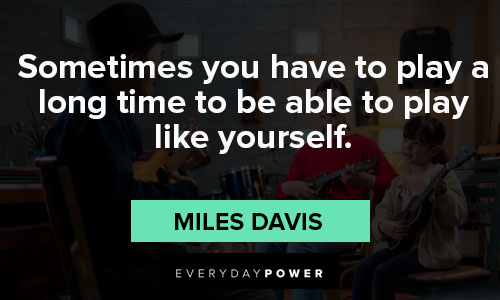 18. "The thing to judge in any jazz artist is, does the man project and does he have ideas." – Miles Davis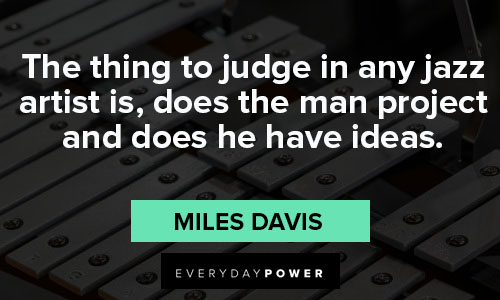 19. "Don't worry about playing a lot of notes. Just find one pretty one." – Miles Davis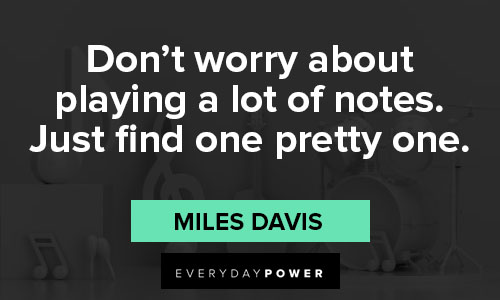 20. "Don't play what's there, play what's not there." – Miles Davis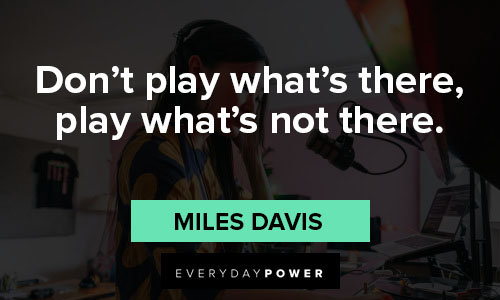 Don't forget to also read these Elvis Presley quotes.
More Miles Davis quotes about music
21. "I don't care if a dude is purple with green breath as long as he can swing." – Miles Davis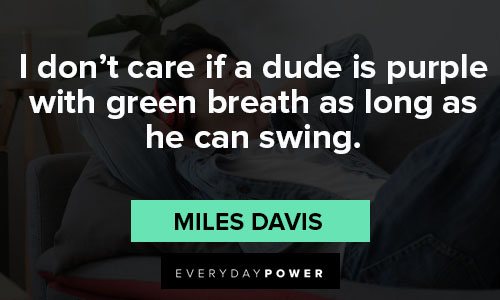 22. "Anybody can play. The note is only 20 percent. The attitude of the motherf****r who plays it is 80 percent." – Miles Davis
23. "You'd be surprised. Drummers ape each other. The way every rock n' roll record sounds like something else but not all together. Everything other drummers play, if you're playing drums, they all hear." – Miles Davis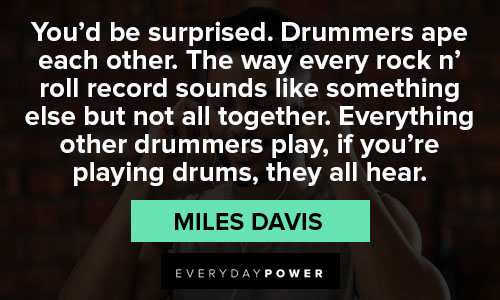 24. "I always hated categories. Always. Never thought it had any place in music." – Miles Davis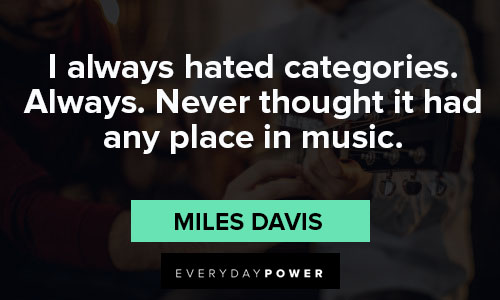 25. "You know why I quit playing ballads? Cause I love playing ballads." – Miles Davis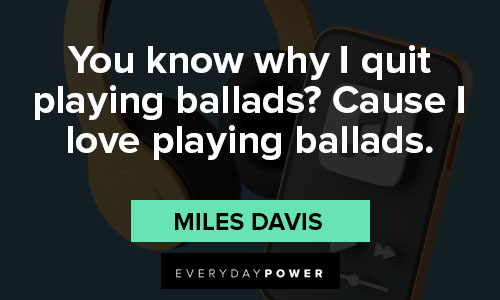 What have you learned from these Miles Davis quotes?
The imprint that Miles Davis has left on the music industry can never be erased.
Artists ranging from a variety of different genres have been inspired by Davis' music.
For example, WhoSampledWho reveals that there are 264 samples of Miles Davis' music within other songs.
Some of the many artists that have sampled Miles Davis include Outkast, Radiohead, Warren G, and Kaytranada.
Although Davis died in 1991, his legacy lives on in his amazing music and the many artists he has influenced.
Which of these Miles Davis quotes and lyrics is your favorite?
Drop your comments below!