25 Steven Universe Quotes for Cartoon-Loving Adults
These Steven Universe quotes will give you a peek into the modern cartoon that has something for all ages.
Whether you are in Kindergarten or an adult, Steven Universe is recognized as one of the coolest cartoons on television.
The show was created by Rebecca Sugar, known for being the first woman and non-binary creator for any show produced by Cartoon Network.
It's a place where the ironies of adult life are sprinkled with the curiosity of children, high-level learning, and wokeness all at the same time.
Sugar loosely based the titular character on her brother Steven, creating a unique perspective for the show.
Anyone who has seen an episode knows that times have indeed changed.
It was only a few generations ago that cartoons were filled with racist imagery, xenophobia, extreme violence, and political propaganda.
Sugar notes that she "tried to be a role model" for anyone looking to take traditional animation ideas and make them relevant to the present generation.
Steven Universe quotes from Steven
The series is about the coming-of-age of a young boy, Steven Universe, and his adventures with the Crystal Gems– a humanoid alien that protects the earth from monsters and other gem creatures.
1. "Don't forget the best part!" — Steven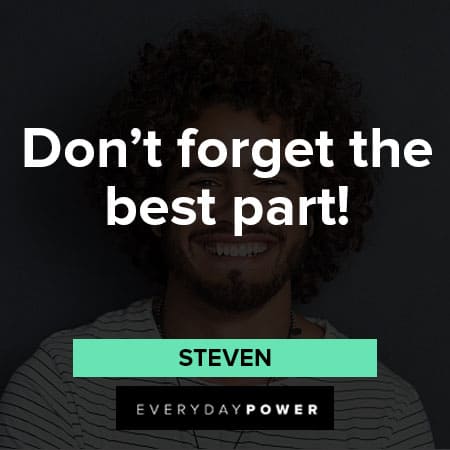 2. "All comedy is derived from fear." — Steven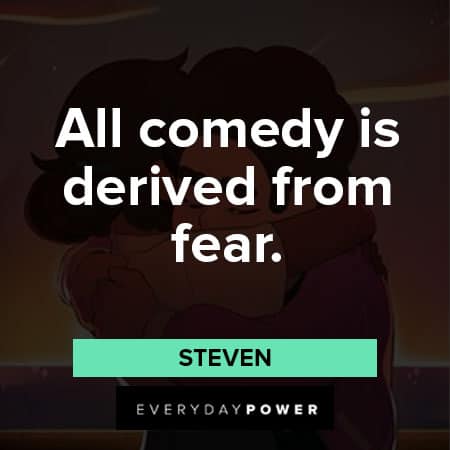 3. "Definitely…always…never do it." — Steven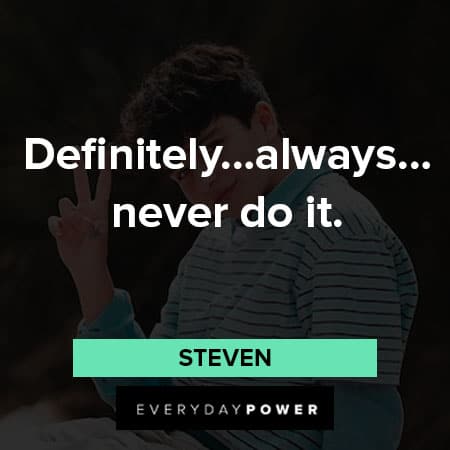 4. "Sleep is a curse… And yet a curse I need to live." — Steven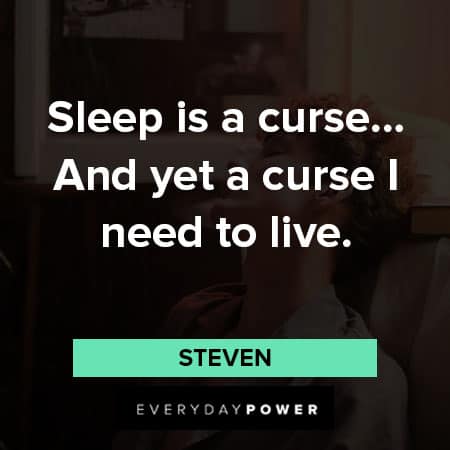 5. "Aww! You're like an angry little slice of pie!" — Steven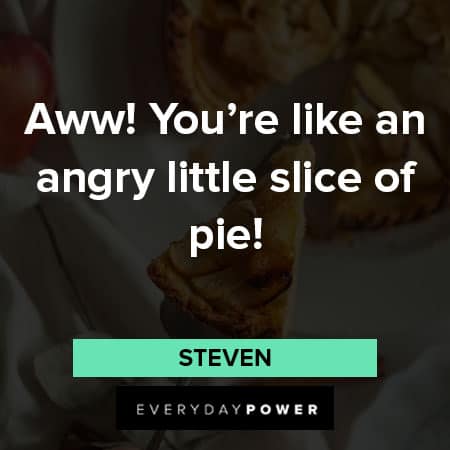 6. " It's a trap! It's an adorable trap!" — Steven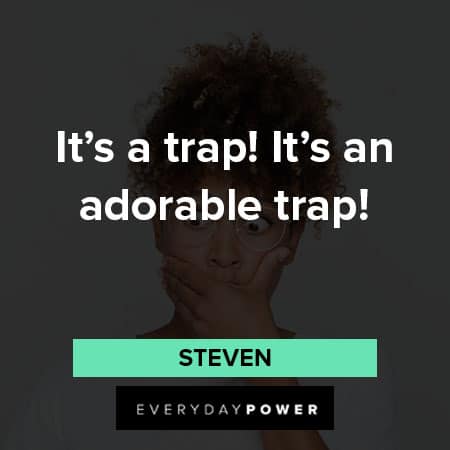 7. "I'm combining all my responsibilities into one responsibility." — Steven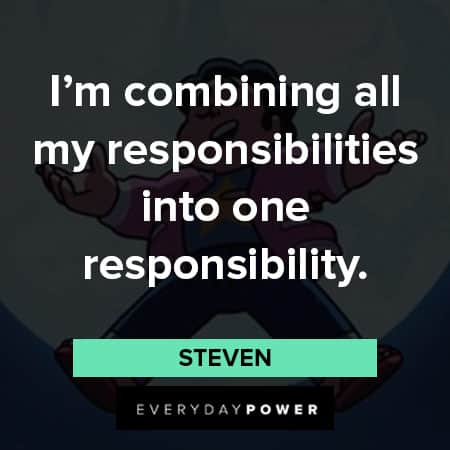 8. "But if you're the one protecting me… Then who's the one protecting YOU?" — Steven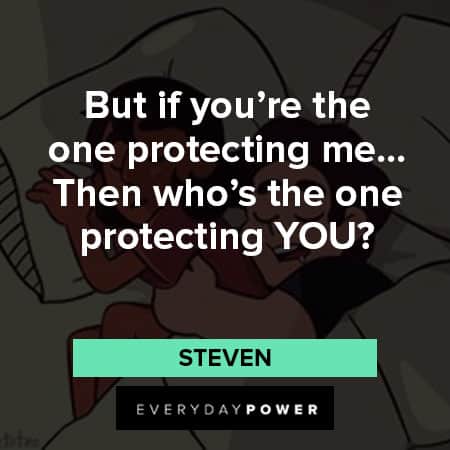 9. "Amethyst, am I the cruelest creature on the planet?" — Steven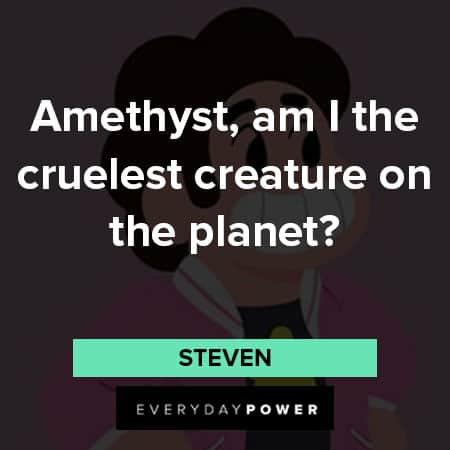 10. "I'm combining all my responsibilities into one responsibility." — Steven
More Quotes from Steven Universe
Steven himself is a half-Gem and uses his powers to fight powerful monsters and save the day.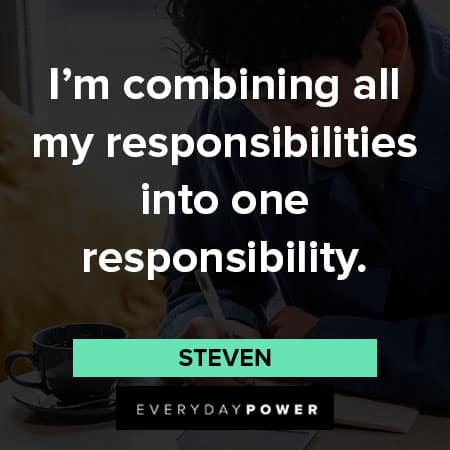 11. "We worked hard, and we deserve to take it easy for a little bit. I mean, just look at that view. It's beautiful." — Steven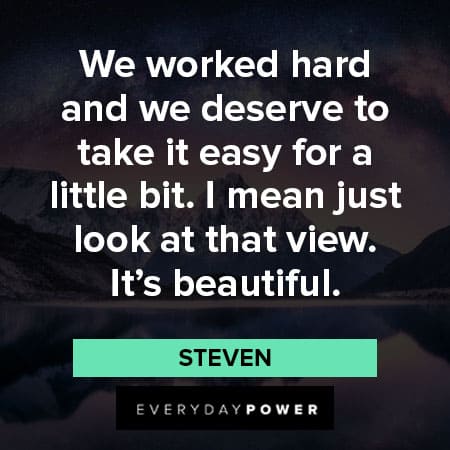 12. "Garnet learned a valuable lesson that day—that true strength is about more than just how many mountains you can punch in half." — Steven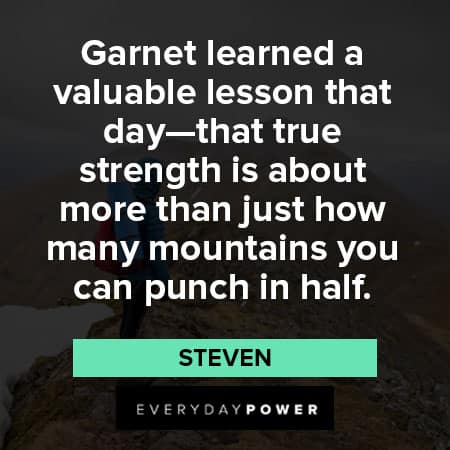 13. "There's an awful lot of awful things we could be thinking of, but for just one day, let's only think about love!" — Steven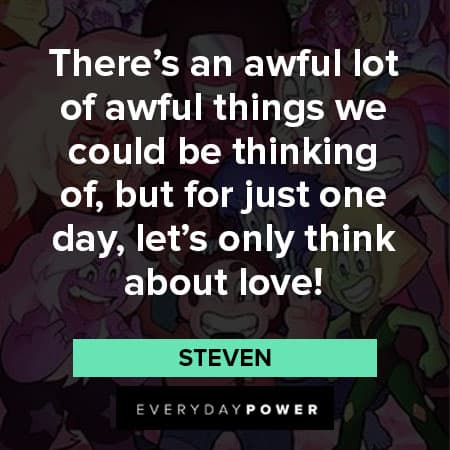 14. "Because the Earth is a place where we can be ourselves. We can live freely without having to hide who we are." — Steven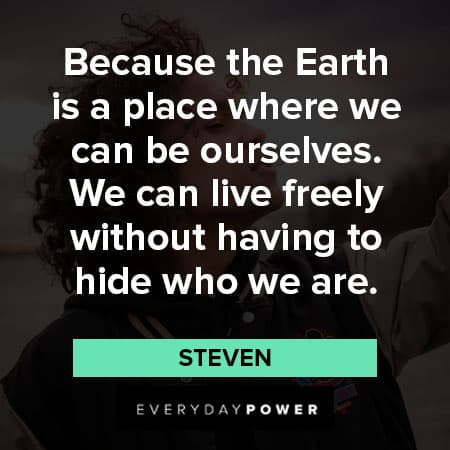 15. "Hey, hey, corruptions aren't dumb. They just think a little different, that's all." — Steven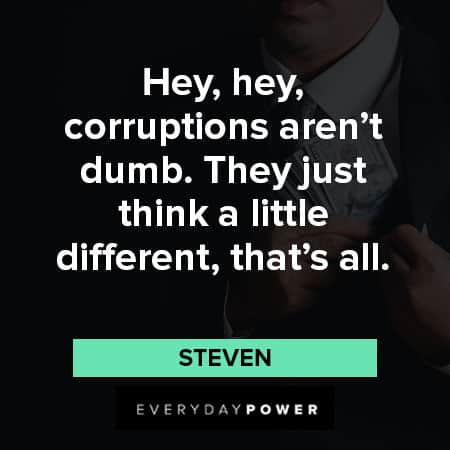 16. "Someday soon, we may be fighting some really bad guys, and when that day comes, I want to fight with you, together!" — Steven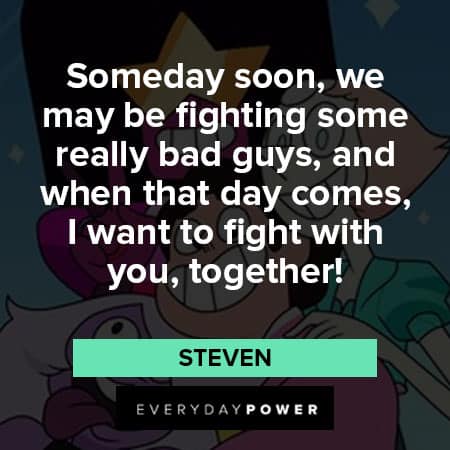 17. "Maybe when Peridot gets to Earth, she'll see how nice all the people are, and she won't want to hurt anyone." — Steven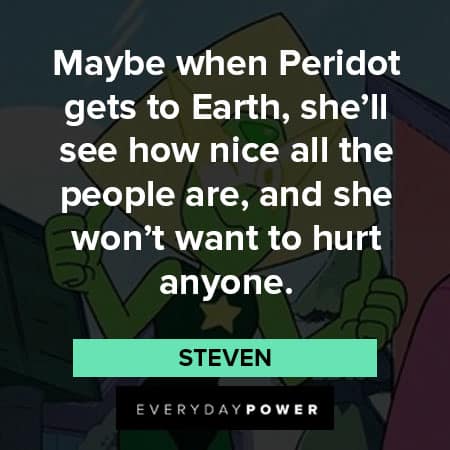 18. "You're wrong! If Pearls are really like you say they are, then Pearl isn't common at all! She trained herself to fight! She learned how to build things! And she works hard every day to be greater than she already is! That's not common; that's amazing!" — Steven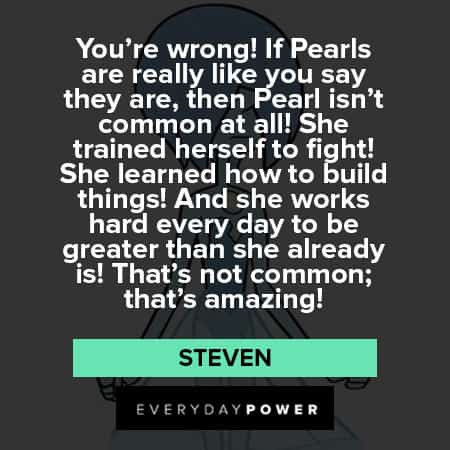 19. "Because, Dad, I can't stay a kid forever. When Connie grows up and becomes president, what is that gonna make me? First Boy?!" — Steven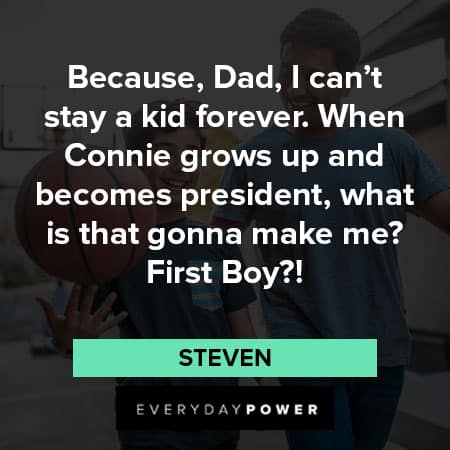 Steven Universe quotes from Pearl
20. "There are… different ways of being strong." — Pearl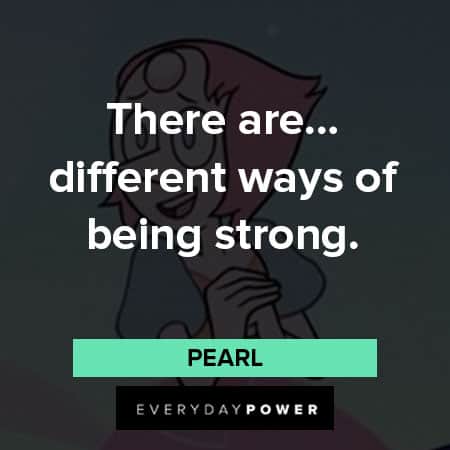 21. "Some of us are trying to protect humanity!" — Pearl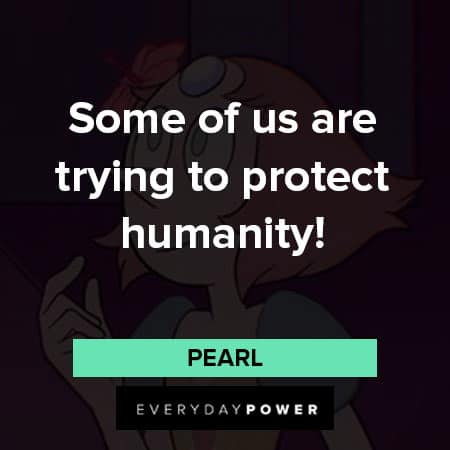 22. "I don't get tired; I get results." — Pearl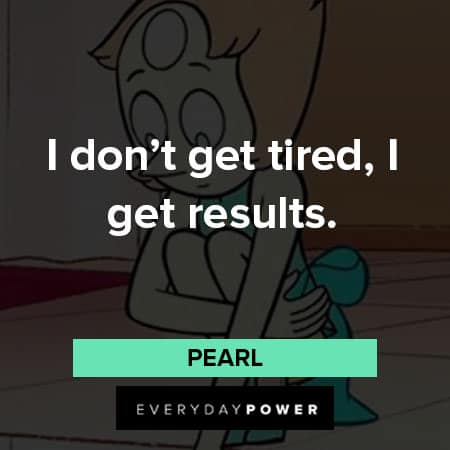 23. "Just today, you were crying about snakes. They don't have any arms!" — Pearl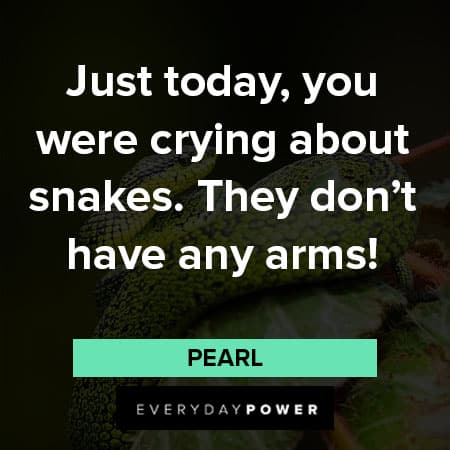 24. "Sometimes, you even sound like her. Do you remember this place? Do you have any of her memories? We were right here, over 5,000 years ago." — Pearl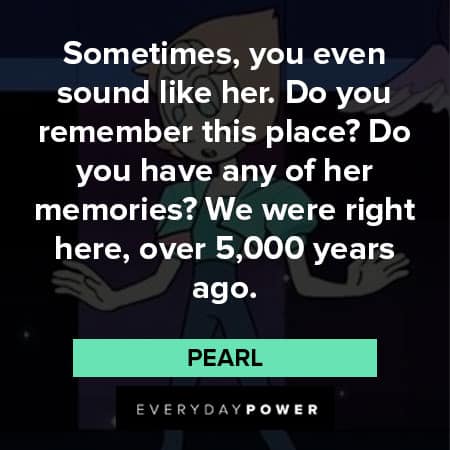 Steven Universe quotes from Amethyst
25. "I never asked to be made!" — Amethyst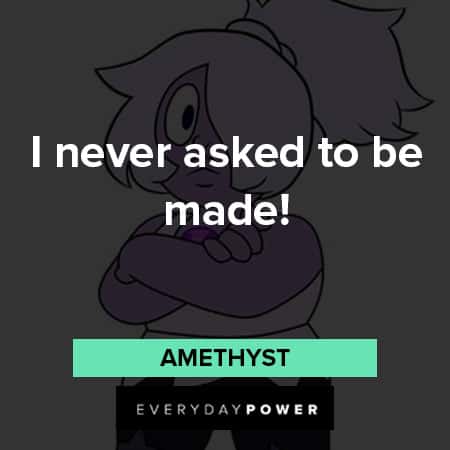 Which of these Steven Universe quotes is your favorite?
Steven Universe has earned several prestigious awards.
The show has been nominated for five Emmy awards and has won Peabody and GLAAD awards for its content, writing, soundtrack, and artwork.
It lays the foundation for a new normal of diverse voices and identities.
What makes the show so beautiful is its ability to find balance.
It is snarky but not condescending while being informative and fun at the same time.
It's amazing how they stick in little bits of knowledge and awareness for the audience, covering topics such as artificial foods, the need for diversity, the importance of inclusion, and why social-emotional learning matters.
Aside from all of the intriguing content, the show also features science and LBGTQ-related themes that have been acknowledged for their excellence.
What is your favorite thing about Steven Universe?
Is there a character you love?
Let us know in the comments, and share your favorite quote with your cartoon-loving friends.
Check out these related lifestyle articles:
Stop the Negative Effects of Social Media Today
Learn to stop the negative effects of social media. Follow these tips so you won't have to feel sad each time you open your Facebook.
46 Personal Mantras for Being a Better Person
A personal mantra can encourage you and help put your life in perspective. Sometimes, all it takes is the right words to inspire you.
Everyday Power's motivation section is all about developing the mindset to be resilient and persevere over whatever obstacles you have in your life.
4 Causes of Low Self-Esteem in Children
Low self-esteem in children leads to adults with low self-esteem.
Check out these related quote articles:
Johnny Bravo Quotes From The Cartoon Classic
If you're looking for some Johnny Bravo quotes, we've got you covered.
Family Guy Quotes That Push Comedic Boundaries
Laugh while you check out these Family Guy quotes that remind us of the importance of pushing boundaries.
Woke Quotes For Knowing Your Truth
For a deeper understanding of what it means to be woke, check out our woke quotes.
Beavis and Butt-Head Quotes To Keep You Laughing
Check out these hilarious Beavis and Butt-Head quotes for a quick laugh!