Muhammad Ali Quotes On Life, Love and Being a Champion
Call out your inner champion within with these legendary Muhammad Ali quotes.
Read these motivational Muhammad Ali quotes and sayings to bring out the inner champion within!
Harness your inner champion with these inspiring quotes that will challenge you to float like a butterfly and sting like a bee.
A true legend, this late boxer's words are still just as motivational today as they were way back then.
We widely regard Muhammed Ali as one of the greatest boxers of all time.
He was the heavyweight champion of the world 3 times and has defeated some of the best boxers in the sport's history.
He is known for his incredible speed, strength, and controversial statements.
Tell us your favorite Muhammed Ali quote in the comment section below.
What are the benefits of reading Muhammed Ali quotes?
Ali was a passionate and intelligent man that always spoke his mind and was full of wisdom.
Unlike most boxers who used their managers to talk for them, Ali wanted to be known in the media.
Ali used the media to grow his audience and his message.
He loved to throw off his opponents before even stepping into the ring.
Ali was born Cassius Marcellus Clay Jr. on January 17, 1942, in Louisville, Kentucky, and first took up boxing at age 12 after another kid stole his bike.
His amateur career went extremely well, and he dominated any tournaments he entered.
Many of his fights, such as the fights against George Foreman and Joe Frazier, are the most famous in boxing history.
Ali became the heavyweight champion of the world at the young age of 21.
While Muhammad Ali's boxing skills were incredible, he's also known for being a free spirit.
While many others fled to other countries to avoid the draft, Ali publicly denounced it.
He refused to be drafted, and as a result, was jailed for 3 years in the prime of his boxing career.
Despite the repercussions, his resistance and protest of the war showed the world how strong Ali's spirit was and inspired many.
Everyone can learn something from Muhammad Ali's quotes, like:
stand up for what you believe in
take risks and go after your dreams
dedication and discipline are important factors of success
Below is our collection of inspirational, wise, and funny Muhammad Ali quotes and sayings, collected from a variety of sources over the years.
You might also like these motivational Manny Pacquiao quotes for when you are feeling down and out.
Check out our most popular quote article, a list of short inspirational quotes for daily inspiration.
Check out our entire collection of motivational quotes here.
Muhammad Ali Quotes on Life
1. "Float like a butterfly, sting like a bee." – Muhammad Ali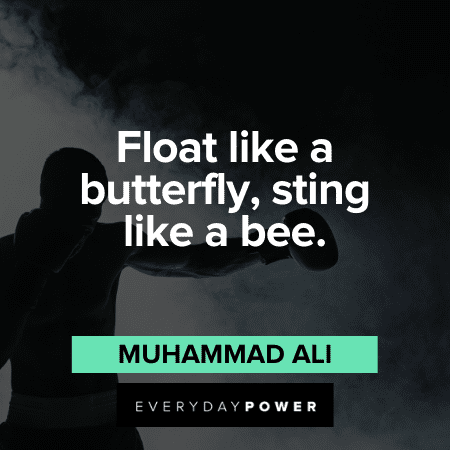 You will also enjoy our article on butterfly quotes.
2. "I don't count my sit-ups; I only start counting when it starts hurting because they're the only ones that count."  – Muhammad Ali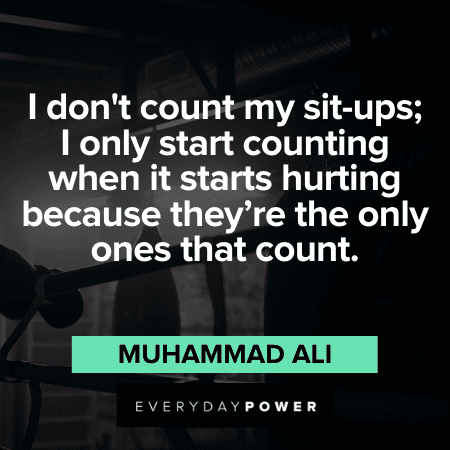 3. "I hated every minute of training, but I said, 'Don't quit. Suffer now and live the rest of your life as a champion." – Muhammad Ali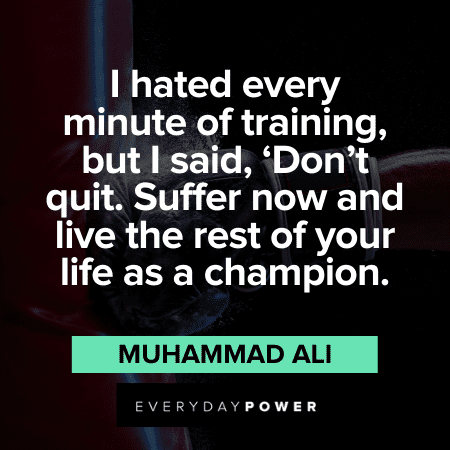 4. "It's lack of faith that makes people afraid of meeting challenges, and I believed in myself." – Muhammad Ali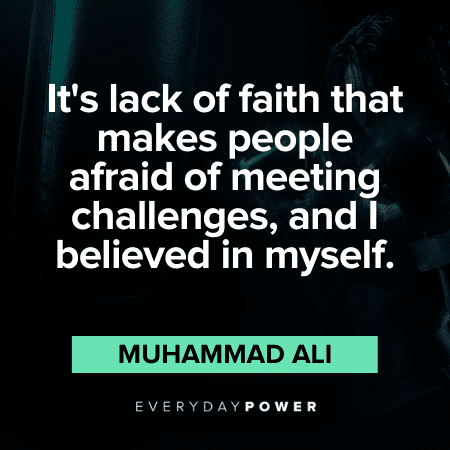 5. "He who is not courageous enough to take risks will accomplish nothing in life." – Muhammad Ali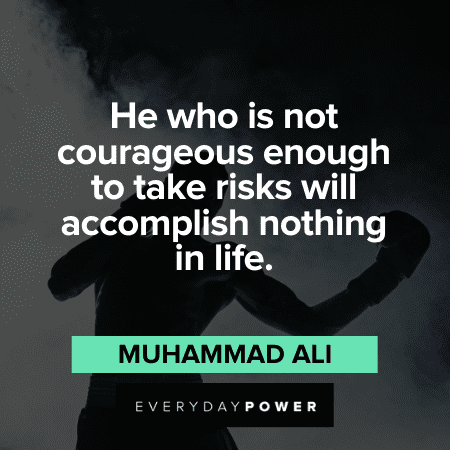 6. "The fight is won or lost far away from witnesses—behind the lines, in the gym, and out there on the road, long before I dance under those lights." – Muhammad Ali
Muhammad Ali Quotes on Being a Champion
7. "Friendship… is not something you learn in school. But if you haven't learned the meaning of friendship, you really haven't learned anything." – Muhammad Ali
8. "I know where I'm going and I know the truth, and I don't have to be what you want me to be. I'm free to be what I want." – Muhammad Ali
9. "A man who views the world the same at 50 as he did at 20 has wasted 30 years of his life." – Muhammad Ali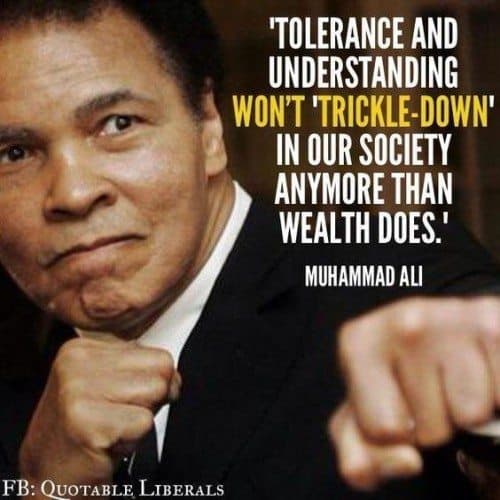 10. "Service to others is the rent you pay for your room here on earth." – Muhammad Ali
11. "It isn't the mountains ahead to climb that wear you out; it's the pebble in your shoe." – Muhammad Ali
12. "Impossible is just a big word thrown around by small men who find it easier to live in the world they've been given than to explore the power they have to change it. Impossible is not a fact. It's an opinion. Impossible is not a declaration. It's a dare. Impossible is potential. Impossible is temporary. Impossible is nothing." – Muhammad Ali
13. "I am the greatest. I said that even before I knew I was. I figured that if I said it enough, I would convince the world that I really was the greatest." – Muhammad Ali
14. "If they can make penicillin out of moldy bread, they can sure make something out of you." – Muhammad Ali
15. "Only a man who knows what it is like to be defeated can reach down to the bottom of his soul and come up with the extra ounce of power it takes to win when the match is even." – Muhammad Ali
If you're enjoying this article, make sure to check out these quotes by famous people about life, love, and success.
Muhammad Ali quotes on Islam and Love
16. "Champions aren't made in gyms. Champions are made from something they have deep inside them—a desire, a dream, a vision. They have to have last-minute stamina, they have to be a little faster, they have to have the skill and the will. But the will must be stronger than the skill." – Muhammad Ali
17. "There are no pleasures in a fight, but some of my fights have been a pleasure to win." – Muhammad Ali
18. "I've wrestled with alligators / I've tussled with a whale / I done handcuffed lightning / And throw thunder in jail." – Muhammad Ali
19. "If my mind can conceive it, and my heart can believe it—then I can achieve it." – Muhammad Ali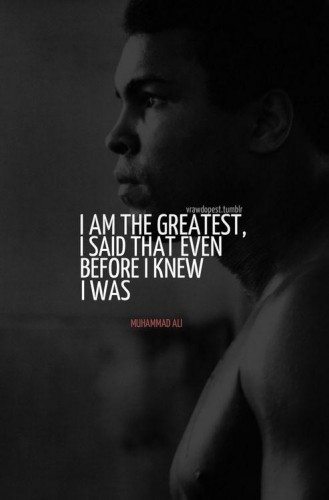 20. "Don't count the days; make the days count." – Muhammad Ali
21. "It's not bragging if you can back it up." – Muhammad Ali
22. "At home I am a nice guy: but I don't want the world to know. Humble people, I've found, don't get very far." – Muhammad Ali
23. "Float like a butterfly, sting like a bee." – Muhammad Ali
More Quotes by Muhammad Ali
24. "To be a great champion you must believe you are the best. If not pretend you are." – Muhammad Ali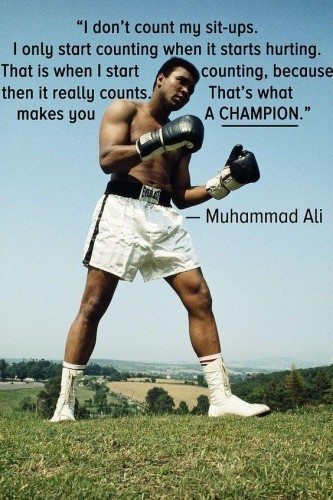 25. "What you are thinking is what you are becoming. – Muhammad Ali
Top 10 Muhammad Ali Best Knockouts
Which Muhammad Ali quotes were your favorite?
Muhammed Ali died on June 3, 2016, in Scottsdale, Arizona.
He will always be known for his rebellious nature, witty mouth, and incredible boxing ability.
Whether or not you're a boxing fan, there are lots of lessons you can learn from Muhammad Ali quotes.
He was a heavyweight both inside and outside the ring and left an indelible mark on history and culture.
Hopefully, these words from the people's champion have inspired you to be self-confident and hold true to yourself and your beliefs, regardless of circumstance.
Did you enjoy these Muhammad Ali quotes?
What other quotes by Muhammad Ali would you add to the list?
Tell us in the comment section below! #ripchamp #ali