80 Boxing Quotes to Motivate You Towards Victory
The sport of boxing has created world-renowned athletes, coaches, and commentators with vibrant personalities.
To see their perspectives on boxing, check out the boxing quotes below.
Are you a boxing fan?
The International Olympic Committee states that the "earliest evidence of boxing dates back to Egypt around 3000 BC."
In its early years, various forms of boxing surfaced throughout ancient India, Greece, and Rome.
It wasn't until the 1700s that boxing came to the United States from England and began growing in popularity.
Over the years, successful boxers such as Muhammed Ali, Mike Tyson, and Floyd Mayweather Jr. have captivated audiences with their strength, wit, and speed in the ring.
We hope you enjoy the insightful quotes below — they sure do pack a punch!
If you love this quote collection, read out our most popular quote article about short inspirational quotes for daily motivation.
If you need more inspirational quotes, check out our motivational quotes category page.
Boxing quotes about the sport
1. "Boxing is the toughest and loneliest sport in the world. You've got all the fans, lots of hangers-on jumping up and shouting different words. But when you actually go in the ring, it's a very lonely and scary place. It's just you and the other guy." – Frank Bruno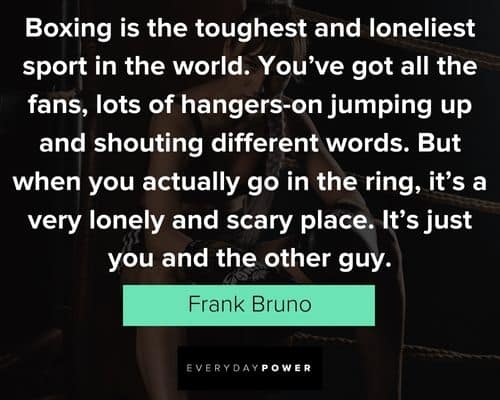 2. "Boxing is a hurt game if you can't be at your best, can't be 100 percent mentally and physically switched on to performing, to win titles, defend titles, defend yourself in the correct fashion, then I don't think you should fight." – Carl Froch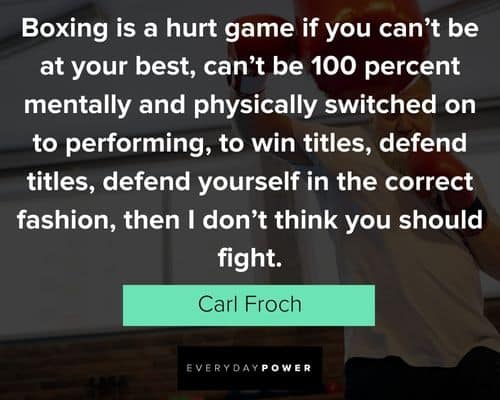 3. "Boxing brings out my aggressive instinct, not necessarily a killer instinct." – Sugar Ray Leonard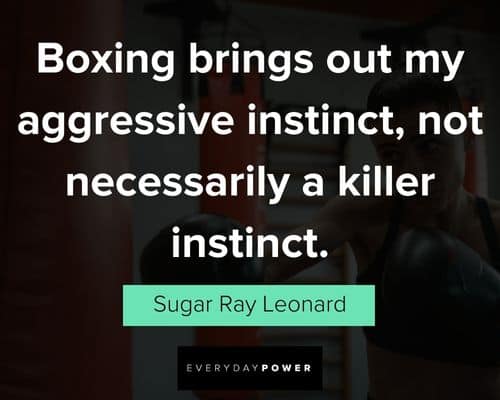 4. "To me, boxing is like a ballet, except there's no music, no choreography, and the dancers hit each other." – Jack Handey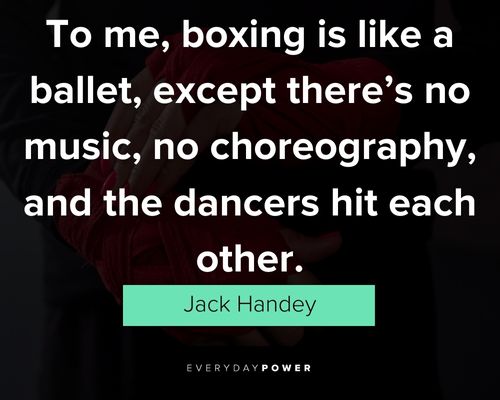 5. "Boxing is like jazz. The better it is, the less people appreciate it." – George Foreman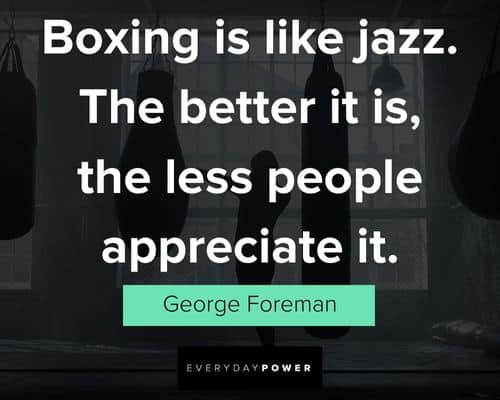 6. "Boxing is like chess. You encourage your opponent to make mistakes so you can capitalize on it. People think you get in the ring and see the red mist, but it's not about aggression. Avoiding getting knocked out is tactical." – Nicola Adams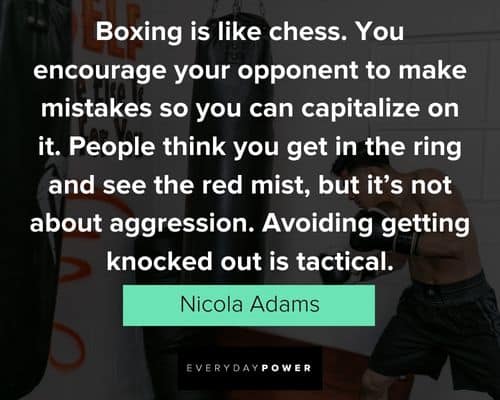 7. "Boxing is not always about standing in the middle going toe to toe. It's about poise and grace under extreme pressure." – Peter Berg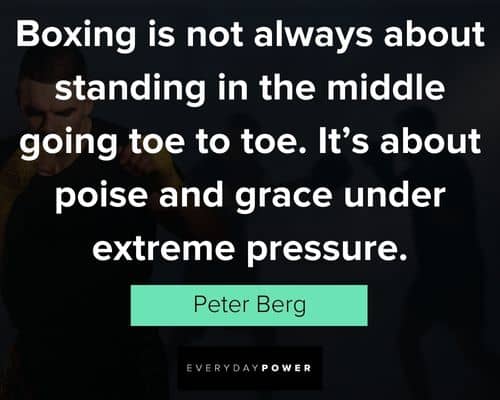 8. "Boxing is a lonely sport." – Andre Ward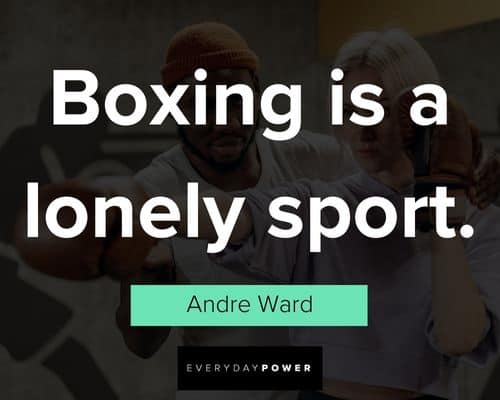 9. "Boxing's a poor man's sport. We can't afford to play golf or tennis. It is what it is. It's kept so many kids off the street. It kept me off the street." – Sugar Ray Leonard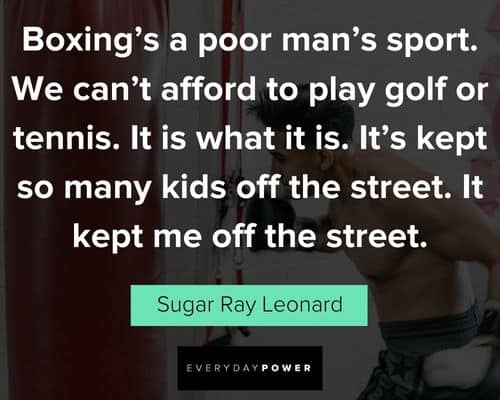 10. "If there's magic in boxing, it's the magic of fighting battles beyond endurance, beyond cracked ribs, ruptured kidneys and detached retinas. It's the magic of risking everything for a dream that nobody sees but you." – Paul Haggis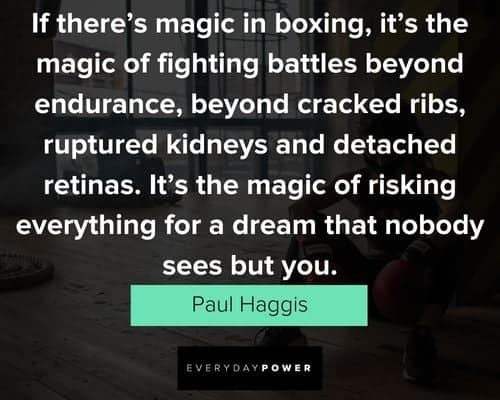 11. "Boxing is the most beautiful thing after women." – Canelo Alvarez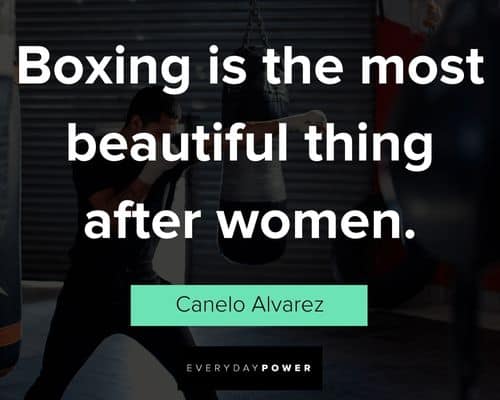 12. "Boxing is the only sport you can get your brain shook, your money took and your name in the undertaker book." – Joe Frazier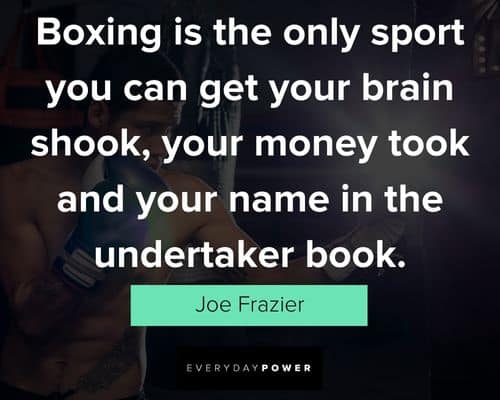 13. "Boxing, for me, it's the beginning of all sports. I'm willing to bet that the first sport was a man against another man in a fight, so I think that's something innate in all of us." – Omar Epps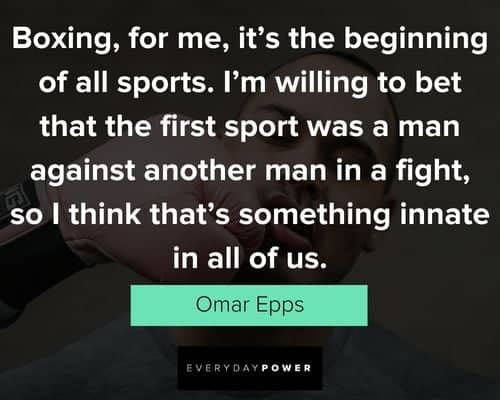 14. "Boxing is all about how cool and controlled and clear your mind is. Violence only gets in the way of you winning a fight. It's a sport that's more about the strategy than anything. You lose or you win in your head." – Edgar Ramirez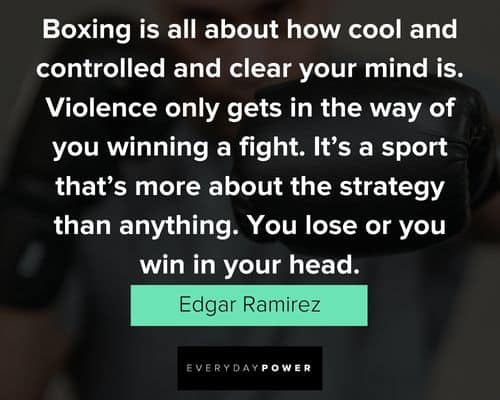 15. "Boxing is real easy. Life is much harder." – Floyd Mayweather, Jr.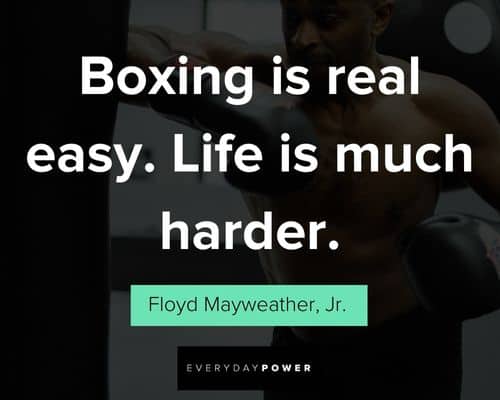 Boxing quotes about being in the ring
16. "I beat Larry Holmes and George Foreman. I whupped Mike Tyson twice. I had my ear chewed off and spat on the ground in front of me. I've seen everything it is possible to see in boxing. I know this business better than anyone. So I live and die by my own decisions." – Evander Holyfield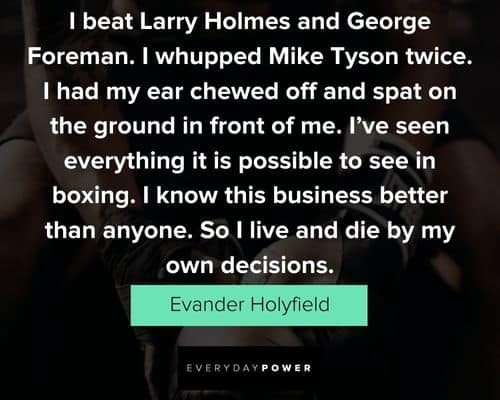 17. "I started boxing for exercise, and on the very first day, the trainer got in the ring with me and said, 'Whoever controls the breathing in the ring controls the fight.' I immediately passed out." – Garry Shandling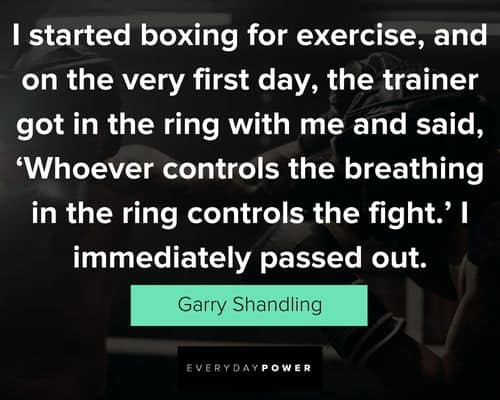 18. "All that is worth seeing in good boxing can best be witnessed in a contest with soft gloves. Every value is called out: quickness, force, precision, foresight, readiness, pluck, and endurance. With these, the rowdy and 'rough' are not satisfied." – John Boyle O'Reilly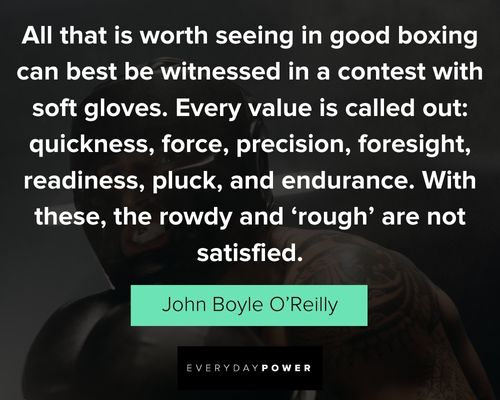 19. "In boxing, some fighters let the occasion get to them and they let their opponent get to them. With me, it's just another day at the office." – Kell Brook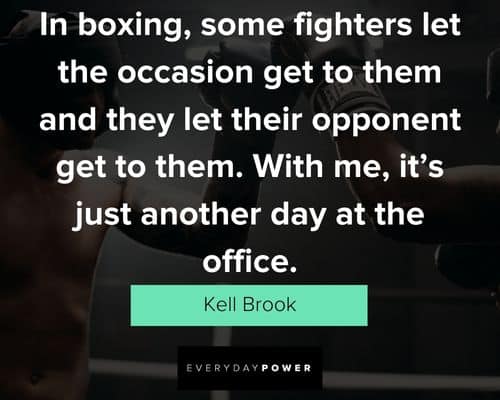 If you're enjoying these quotes, make sure to read our collection of The Office quotes from the iconic hit show.
20. "One of the hardest things you'll ever do is to box – to get into the ring and to face off with somebody whose whole goal is to knock you out, to hurt you, and to be able to fight back." – Cara Castronuova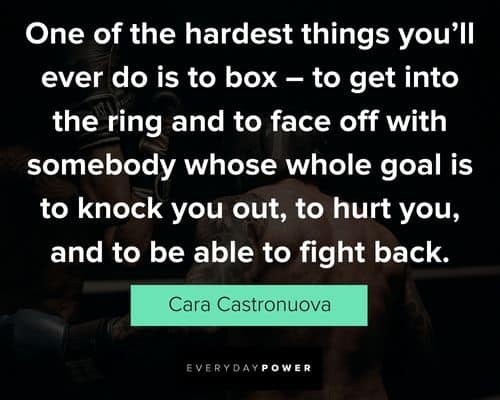 21. "In boxing, you never know who you're going to face in ring." – Manny Pacquiao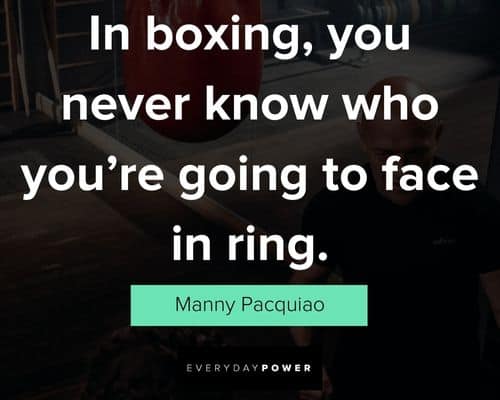 22. "My goal is not getting hit and to knock the other guy out. Some people might complain because they want to see boxers beat up on each other, but you cannot last long in professional boxing if you take a lot of punches." – Wladimir Klitschko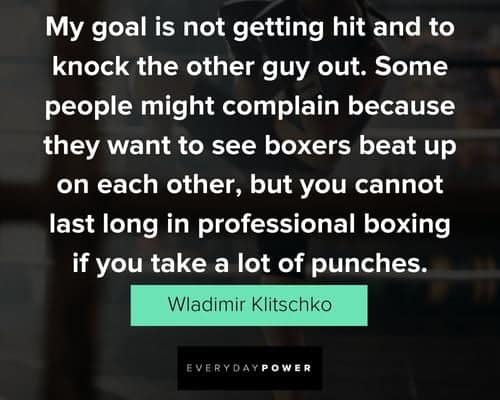 23. "If you want street fight, let's go. If you want boxing, I show you. But people think I am, like, gangster. No. Ring is different world. Very dangerous." – Gennady Golovkin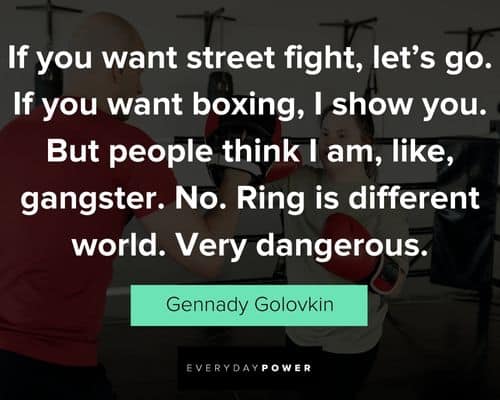 24. "A sight game is that I am hurt, but I aim to make you believe I am not even hurt, and with this confidence appearing on my face, I don't panic, otherwise your opponent will know that you are hurt. That's the whole art game in boxing." – Evander Holyfield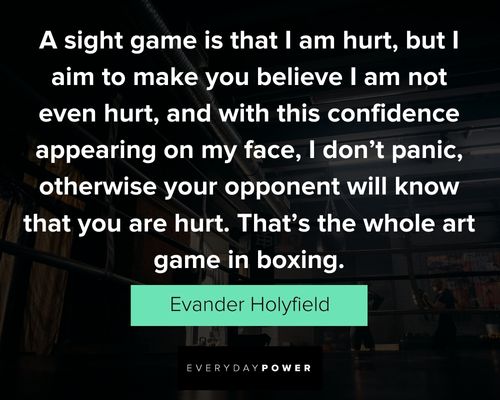 More Boxing quotes about being in the ring
25. "A good boxing competition gives one the sight of fine men in their prime, trained to the ounce, showing the highest skill, pluck and endurance in carrying out their attack and defense under strict rules of fair play and good temper." – Robert Baden-Powell
26. "A boxing ring looks different from the inside, particularly when it's shared with another man who is intent upon rendering you unconscious. There's no place to hide. Once a fighter climbs the stairs, he's roped in, unable to leave until his night's work is done." – Thomas Hauser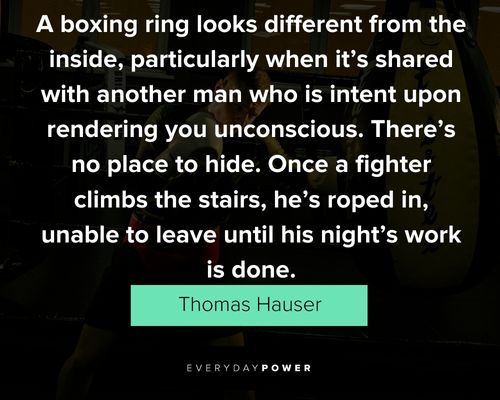 27. "Sometimes, there's a fine line between bravery and utter stupidity. The day I decided to climb into a boxing ring for a professional fight was probably on the side of stupidity." – Andrew Flintoff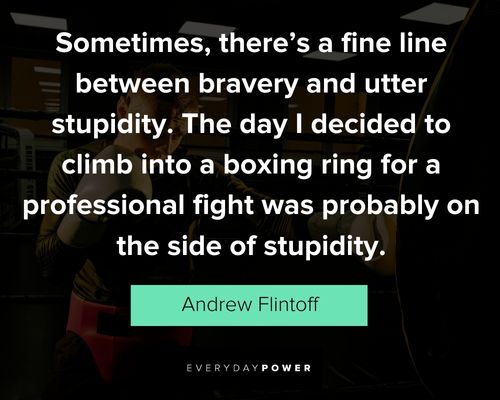 28. "Rhythm is everything in boxing. Every move you make starts with your heart, and that's in rhythm or you're in trouble." – Sugar Ray Robinson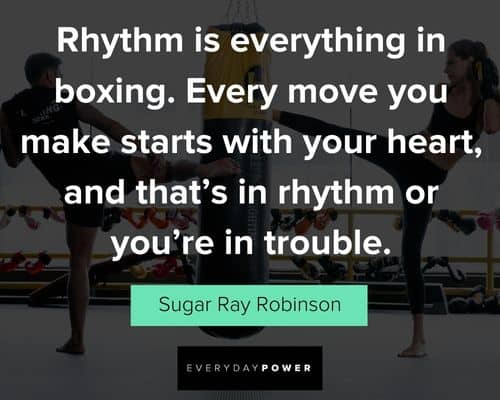 29. "That's the most beautiful thing that I like about boxing: you can take a punch. The biggest thing about taking a punch is your ego reacts and there's no better spiritual lesson than trying to not pay attention to your ego's reaction." – David O Russell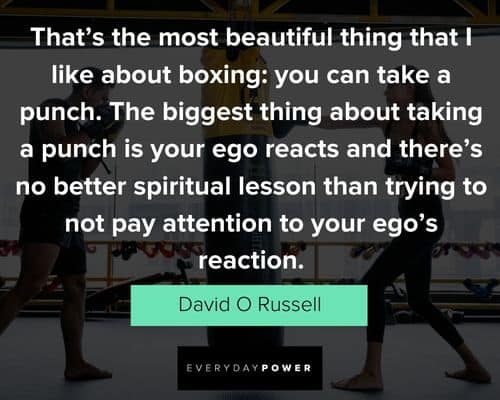 30. "A boxing match is like a cowboy movie. There's got to be good guys and there's got to be bad guys. And that's what people pay for – to see the bad guys get beat." – Sonny Liston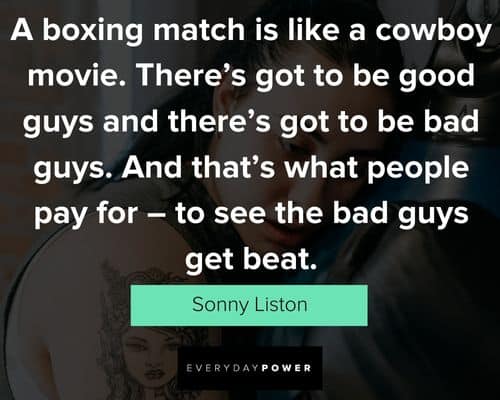 31. "The sky is the limit for me, but in boxing you have to take it one fight at a time." – Adrien Broner
32. "All of the sports have a safety net, but boxing is the only sport that has none." – Gerry Cooney
33. "Boxing is the ultimate challenge. There's nothing that can compare to testing yourself the way you do every time you step in the ring. On the downside, you meet a lot of really bad people in boxing, at all stages of your career." – Sugar Ray Leonard
34. "I'm scared every time I go into the ring, but it's how you handle it. What you have to do is plant your feet, bite down on your mouthpiece and say, 'Let's go.' " – Mike Tyson
You might also like these tough & inspirational Cus D'Amato quotes.
Boxing quotes about winning and losing
35. "Sometimes emotions can win fights. Sometimes letting your feelings out in a fight can win you the fight. When it means the world to you, it's not just a sports contest – a boxing match for money or belts." – Tyson Fury
36. "In order to be at the top and maintain your focus you have to have something that motivates you. For me, it was what I perceived as a lack of respect from the boxing world as well as the media, which made me want to work so hard and be great." – Marvin Hagler
37. "A champion is someone who gets up when he can't." – Jack Dempsey
38. "To become a champion, fight one more round." – James Corbett
39. "To be a champ you have to believe in yourself when no one else will." – Sugar Ray Robinson
40. "A champion shows who he is by what he does when he's tested. When a person gets up and says 'I can still do it', he's a champion." – Evander Holyfield
41. "Champions aren't made in the gyms. Champions are made from something they have deep inside them – a desire, a dream, a vision." – Muhammad Ali
42. "The loss just made me hungry; it made me want to go out and win another title." – Thomas Hearns
43. "The fight is won or lost far away from witnesses—behind the lines, in the gym and out there on the road, long before I dance under those lights." – Muhammad Ali
If you're enjoying these quotes, make sure to read our collection of Muhammad Ali quotes on life, love and being a champion.
44. "If you screw things up in tennis, it's 15-love. If you screw up in boxing, it's your ass." – Randall Cobb
Boxing quotes about training
45. "I hated every minute of training, but I said, 'Don't quit. Suffer now and live the rest of your life as a champion'." – Muhammad Ali
46. "Training's training; boxing's boxing. Everyone does the same kind of stuff: they spar, they train, they do whatever they do to prepare for fights." – Tyson Fury
47. "I'm training and preparing because nothing is predictable in boxing. I'm preparing for those rounds, and if it happens that I get a shot, whatever advantage I have, I will be ready for 12 rounds." – Canelo Alvarez 
48. "Boxing gyms are more than training facilities. They are sanctuaries in bad neighborhoods for troubled kids and shrines to the traditions of the sport. The gym is home. For many, it's the safest place they know." – Katherine Dunn
49. "Boxing is changing and training methods are slowly being dragged into the 21st century." – Barry McGuigan
50. "I have always adhered to two principles. The first one is to train hard and get in the best possible physical condition. The second is to forget all about the other fellow until you face him in the ring and the bell sounds for the fight." – Rocky Marciano
More uplifting boxing quotes
51. "My arms are too short to box with God." ― Johnny Cash
52. "If they can make penicillin out of moldy bread, then they can sure make something out of you." ― Muhammad Ali
53. "The same hand that can write a beautiful poem, can knock you out with one punch—that's Poetic Justice." ― "Irish" Wayne Kelly
54. "Never fight ugly people—they have nothing to Lose." ― "Irish" Wayne Kelly
55. "In life and in a boxing ring, the defeat is not declared when you fall down. It is declared only when you refuse to get up." ― Manoj Arora
56. "Being emotionally undercut by some friends, can feel like a physical uppercut to the chin, when deep down you just weren't ready for it, again." ― Curtis Tyrone Jones
57. "Take the time to train your mind." ― Floyd Mayweather
58. "Sometimes there's no way to get the upper hand without taking a few uppercuts." ― Curtis Tyrone Jones
59. "The possession of muscular strength and the courage to use it in contests with other men for physical supremacy does not necessarily imply a lack of appreciation for the finer and better things of life." ― Jack Johnson
60. "Fighters find solace in the boxing ring." ― Abhysheq Shukla
Thought-provoking and gripping boxing quotes
61. "He can have heart, he can hit harder and he can be stronger, but there's no fighter smarter than me." — Floyd Mayweather Jr.
62. "I want your heart. I want to eat his children. Praise be to Allah!" — Mike Tyson
63. "My punches are just as hard in Chicago as in New York." — Sonny Liston
Check out these Chicago quotes before you go!
64. "Sure the fight was fixed. I fixed it with a right hand." — George Foreman
65. "There are too many governing bodies. They're all corrupt. I think they have replaced the old Mobsters with the kind of 'corporate rule' of boxing." — Larry Merchant
66. "You can be free. You can be black. Look at me! I'm the Heavyweight Champion! Can't nobody stop me." — Muhammad Ali
67. "I liked that title. I didn't want to lose it to anybody, but if I had to lose it, I'm glad I lost it to you. You're a good fighter and gonna be a great champ." — Jersey Joe Walcott
68. "It's like someone jammed an electric light bulb in your face, and busted it. I thought half my head was blowed off…When he knocked me down I could have stayed there for three weeks." — James J Braddock
69. "I don't think his hands could take the abuse." — Randall "Tex" Cobbs
70. "The question isn't at what age I want to retire, it's at what income." — George Foreman
Boxing Quotes To Make Fighters Champions
71. "Bruce Lee was an artist and, like him, I try to go beyond the fundamentals of my sport. I want the public to see a knockout in the making." — Sugar Ray Leonard
72. "Boxing's not that straightforward. You can practice and practice, but the real experience will always be different. Lots of things are like that, actually." — Franny Billingsley
73. "Boxing is only done by people who do not respect human life and human dignity!" ― Mehmet Murat ildan
74. "We all have boxing gloves within trying to conquer our spirits in the ring we call our minds, Souls never get knocked out." ― Goitsemang Mvula
75. "Boxing creates fighters. This is not a place for show offs or inflated influencers." ― Abhysheq Shukla
76. "Everyone loves a good boxing story, especially God." ― Nick Cave
77. "A boxer is always armed." ― Mokokoma Mokhonoana
78. "Like a boxer in a title fight, you have to walk in that ring alone." ― Billy Joel
79. "We all fight for money, some for power, but most of all for love. But me, I fight to become a champion." ― Jonathan Anthony Burkett
80. "To be a boxer is to be within yourself, inside your thoughts and feelings." ― Brian D'Ambrosio
What's your strategy in life?
Boxing is a test of your mental and physical strength.
You must master your strategy to overcome your opponent and be reigned the champion.
Remember that implementing the strategy of a champion begins far before you "step into the ring."
Prepare your mind and body for greatness by implementing healthy habits such as getting enough sleep, exercising, and eating a balanced diet.
Study your opponent and learn their weaknesses so you can eclipse them at the right moment.
Be a lifetime learner.
When you're consistently working on your craft, you'll be ready for anything that comes your way.
If you love boxing, you will also love these Howard Cosell quotes.
Which of these boxing quotes and sayings is your favorite?
We would love to hear your thoughts.