25 Nelson Mandela Quotes On Forgiveness and Freedom
Looking for inspirational quotes by Nelson Mandela about what seems possible, obtaining mental freedom and finding forgiveness?
There is no denying that Nelson Mandela is one of the most prolific people who inspired us during our lifetime.
This is a man who stood up for what he believed in by working with words and actions, NOT violence.
He was wrongfully imprisoned and could have come out bitter and angry.
But instead, he came out grateful and empowered.
You can check out some of our gratitude quotes here.
Here are some of the best and most powerful quotes by Nelson Mandela to inspire you.
Check out our most popular quote article, a list of short inspirational quotes for daily inspiration.
Check out our inspirational quotes category page for more inspirational life quotes.
Quotes by Nelson Mandela on Forgiveness
1. "No one is born hating another person because of the color of his skin, or his background, or his religion." – Nelson Mandela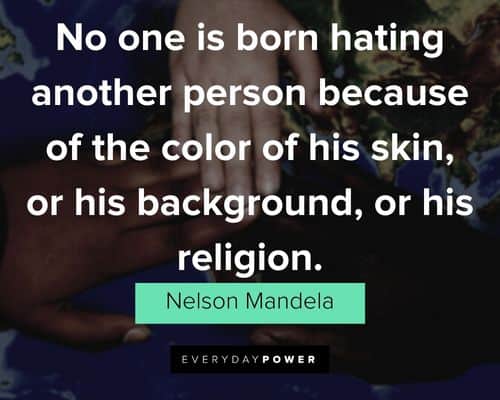 You will also enjoy our article on revenge quotes.
2. "In my country, we go to prison first and then become President." – Nelson Mandela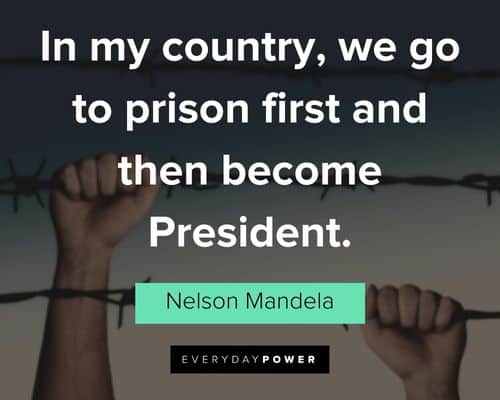 You will also enjoy our article on forgiveness quotes.
3. "The color of my skin is beautiful, like the soil of Mother Africa." – Nelson Mandela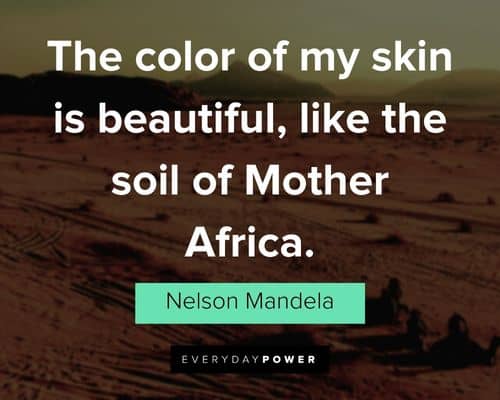 4. "I have a special attachment to the people who befriended me during times of distress." – Nelson Mandela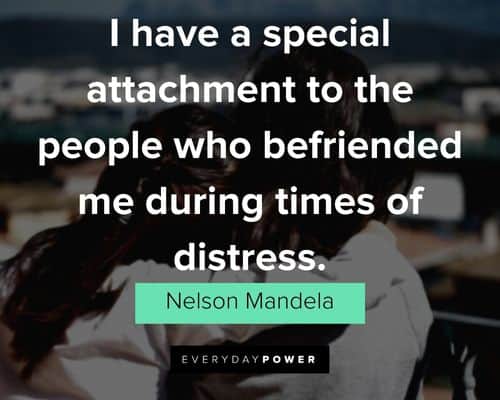 5. "I am not a saint, unless you think a saint is a sinner who keeps trying." – an 81-year-old Mandela at Houston in 1999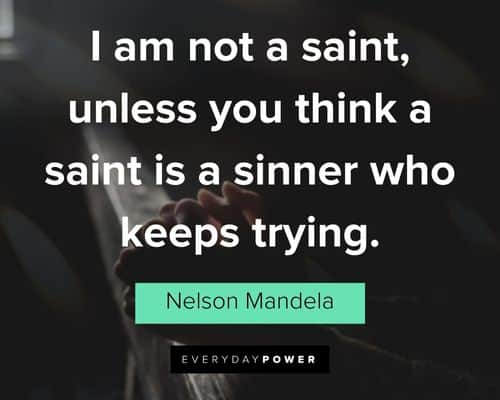 6. "You will achieve more in this world through acts of mercy than you will through acts of retribution." – Nelson Mandela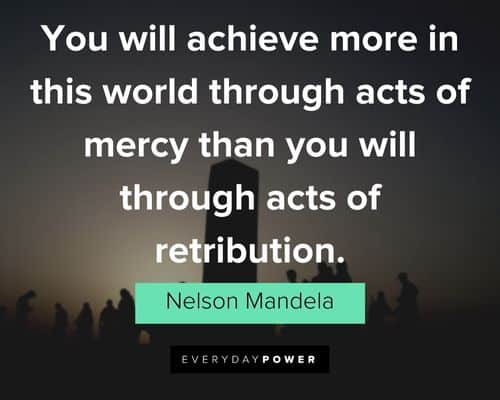 7. "A man is never more truthful than when he acknowledges himself a liar." – Nelson Mandela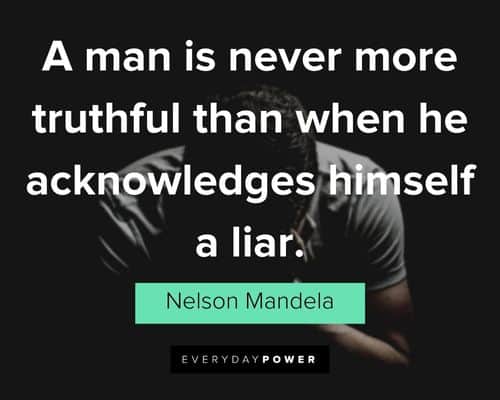 8. "Money won't create success. The freedom to make it will." – Nelson Mandela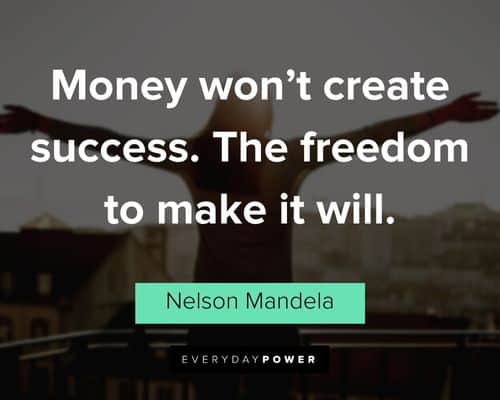 9. "Only free men can negotiate. Prisoners cannot enter into contracts." – Nelson Mandela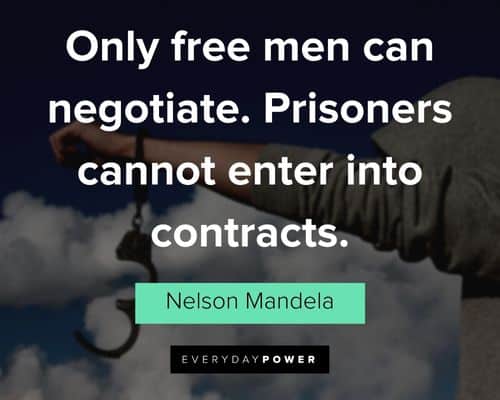 10. "It is in your hands, to make a better world for all who live in it." – Nelson Mandela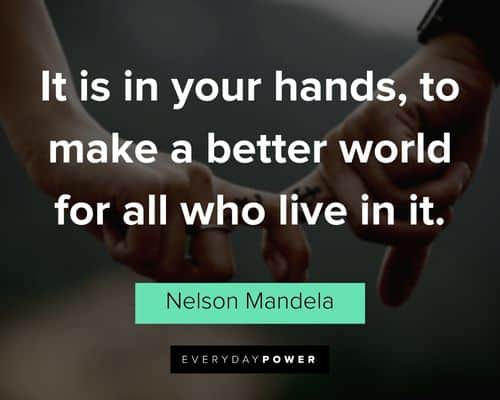 If you're enjoying these quotes, make sure to check out our collection of generosity quotes that inspire happiness.

Inspirational quotes by Nelson Mandela about love and humanity
11. "We must all strive to be inspired by a deep-seated love of our country, without regard to race, color, gender or station in life." – Nelson Mandela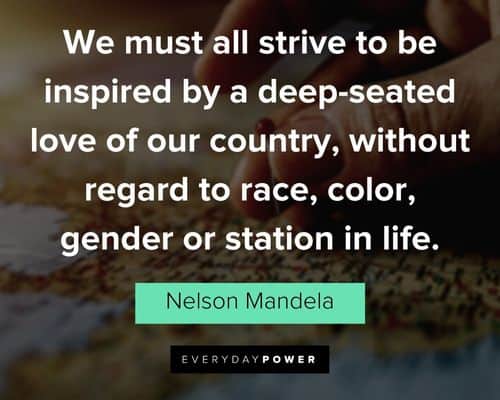 12. "There were many dark moments when my faith in humanity was sorely tested, but I would not and could not give myself up to despair." – Nelson Mandela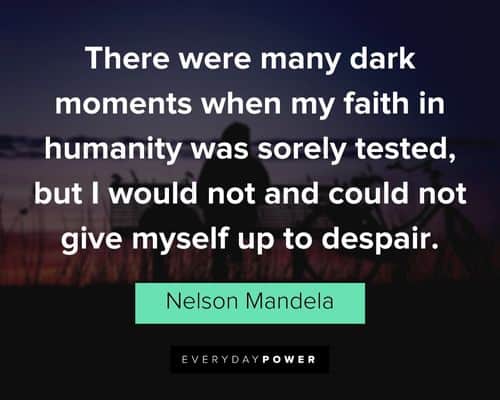 13. "We must strive to be moved by a generosity of spirit that will enable us to outgrow the hatred and conflicts of the past." – Nelson Mandela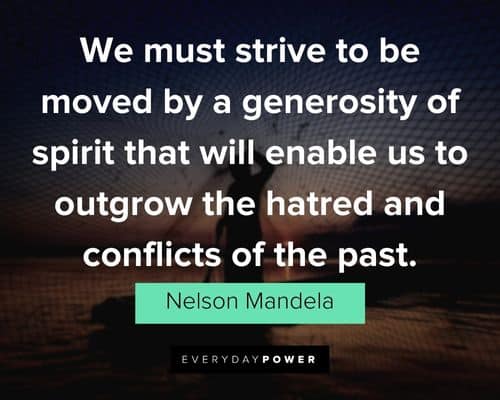 14. "They must learn to hate, and if they can learn to hate, they can be taught to love, for love comes more naturally to the human heart than its opposite" – Nelson Mandela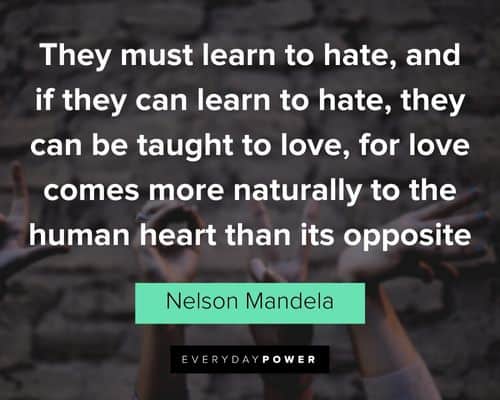 15. "The habit of attending to small things and of appreciating small courtesies is one of the important marks of a good person" – Nelson Mandela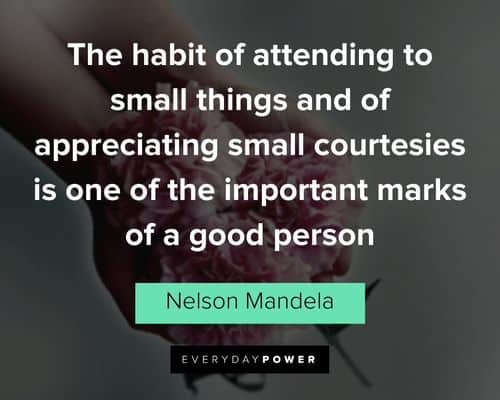 Also, read these Braveheart quotes that will inspire you to find your freedom.
Inspirational quotes by Nelson Mandela about our Youth
16. "Of course we desire education and we think it is a good thing, but you don't have to have education in order to know that you want certain fundamental rights, you have got aspirations, you have got claims." – Nelson Mandela's first ever TV interview in 1961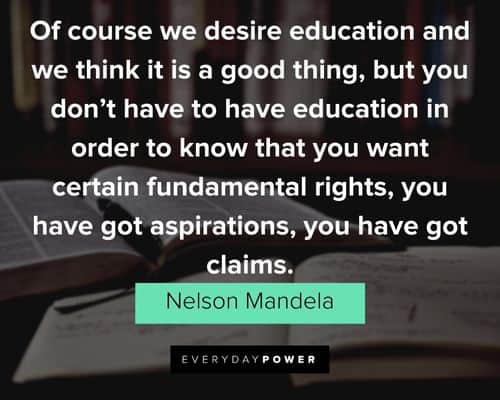 17. "History will judge us by the difference we make in the everyday lives of children" – Nelson Mandela, at a luncheon hosted by United Nations Secretary General Kofi Anan at the special session of the UN for Children, New York City May 9, 2002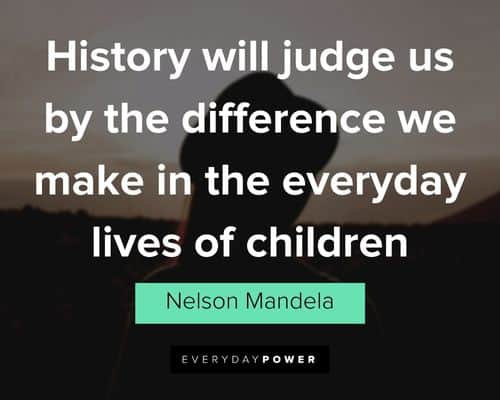 18. "It is through education that the daughter of a peasant can become a doctor, that the son of a mineworker can become the head of the mine." – Nelson Mandela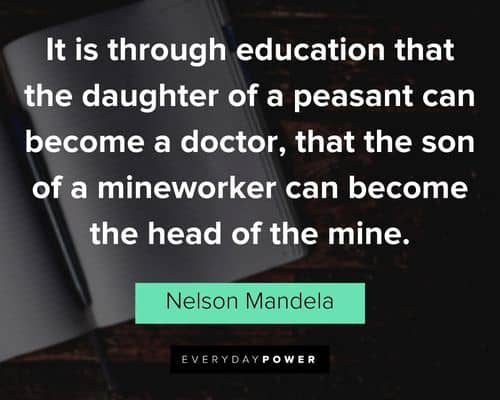 19. "I am the product of Africa and her long-cherished view of rebirth that can now be realized so that all of her children may play in the sun." – Nelson Mandela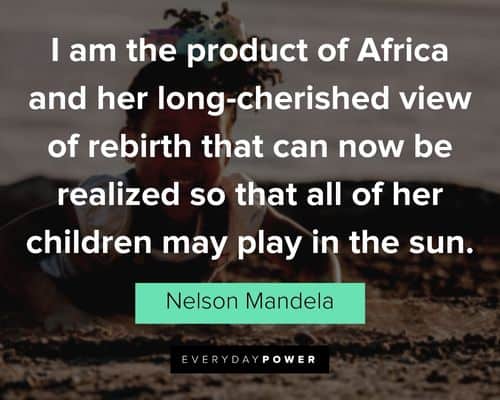 20. "There can be no keener revelation of a society's soul than the way in which it treats its children." – Nelson Mandela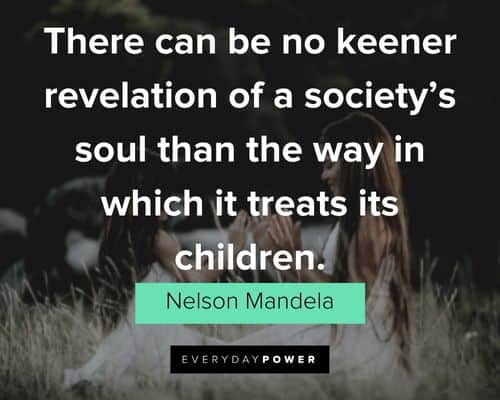 21. "The children who sleep in the streets, reduced to begging to make a living, are testimony to an unfinished job."- Nelson Mandela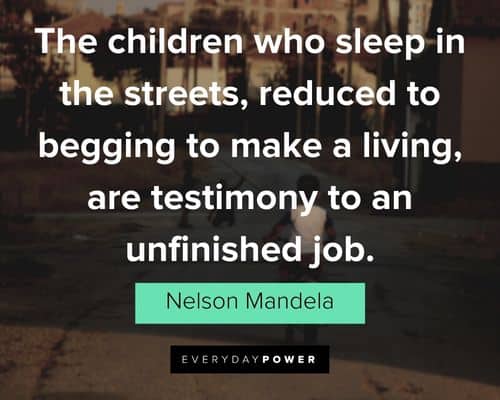 22. "I waited for over 70 years to cast my first vote. I chose to do it near the grave of John Dube, the first President of the ANC" – Nelson Mandela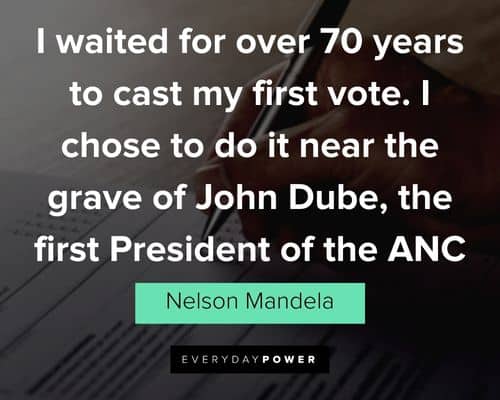 23. "As I am former prisoner number 46664, there is a special place in my heart for all those that are denied access to their basic human rights." – Nelson Mandela, closing ceremony of the XV International AIDS Conference, Bangkok, Thailand, 16 July 2004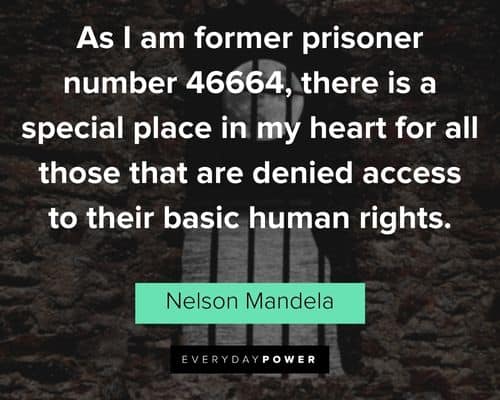 24. "It is an achievement for a man to do his duty on Earth irrespective of the consequences." – Nelson Mandela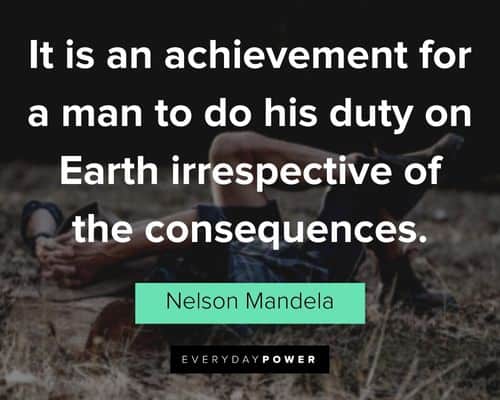 Inspirational Quotes by Nelson Mandela About Freedom
25. "It was during those long and lonely years that my hunger for the freedom of my people became a hunger for the freedom of all people." – Nelson Mandela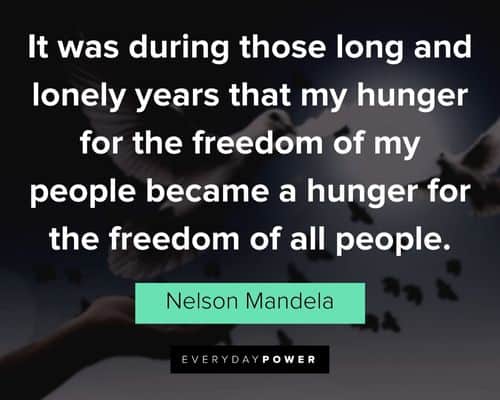 Which of these quotes by Nelson Mandela touched you most and why?
At a young age, Rolihlahla Mandela already dreamed about helping to end the struggles of his people.
His ultimate goal was equal opportunities for everyone.
He was a man not only of big aspirations, but also of wisdom, hope, and leadership.
Through this selection of the best quotes by Nelson Mandela, you would hopefully find your strength to get up and rise from your predicaments.