41 Ninja Quotes That Prove Playing Video Games is Not a Waste of Time
These Ninja quotes provide some insight into the world of gaming and shed some light on his passion for the activity.
Ninja, the video game streamer and professional gamer, might just have you rethinking telling your kids to spend less time playing video games!
He has a net worth of approximately $25 million, according to Celebrity Net Worth.
He is almost 30 years old and is beyond wealthy from playing Fortnite!
His actual name is Richard Tyler Blevins, and he began streaming videos of him taking part in several Esports teams in competitive play for Halo 3.
He knew he wanted to be a professional gamer when he graduated high school.
As of March 2021, he had the most followed Twitch channel, gaining a good portion of those followers from playing Fortnite with celebrities like Drake.
In 2018 he played a Fortnite match battle with Marshmello, and they won!
Blevins also partnered with Red Bull Esports in June 2018 and held a special Fortnite event, the Red Bull Rise Till Dawn in Chicago on July 21, 2018.
Players could challenge him in battle, and he became so popular that Epic added a "Ninja Skin" to the game.
Enjoy these Ninja quotes and sayings!
Don't forget to also check out these Matthew Gray Gubler quotes to remind you to embrace your weirdness.
If you love this quote collection, read out our most popular quote article about short inspirational quotes for daily motivation.
If you need more inspirational quotes, check out our motivational quotes category page.
Inspirational Ninja quotes for all of us
1. "The more ways you can tell a story and paint a picture, the better it is." ― Ninja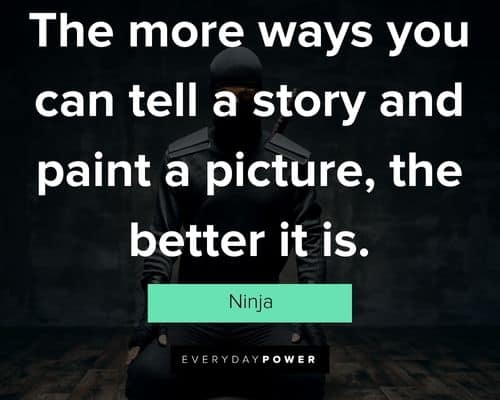 2. "You can't just drop everything and focus on playing video games for a living." ― Ninja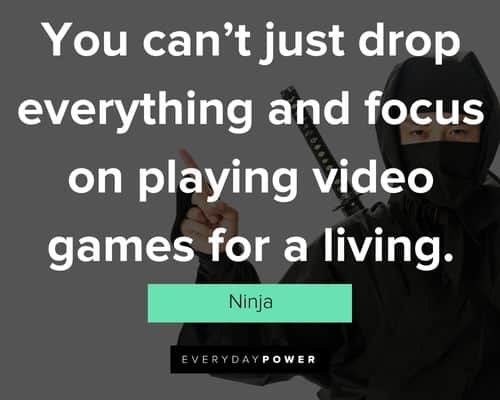 3. "So many people get content. So many people stop when they're at the top. They'll let someone take their place because they're relaxing. That's not going to happen." ― Ninja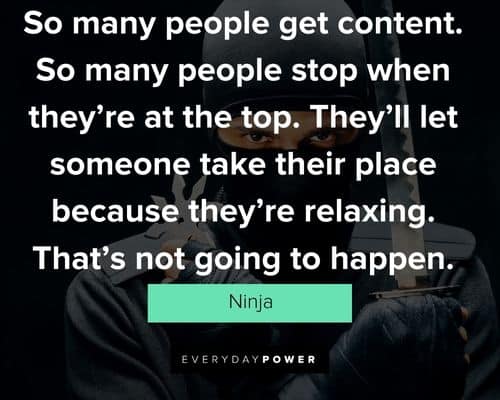 4. "There is a deeper connection with streamers and viewers than any other celebrity or influencer – I'm live 12 hours a day; that's half my day I'm sharing with millions of people." ― Ninja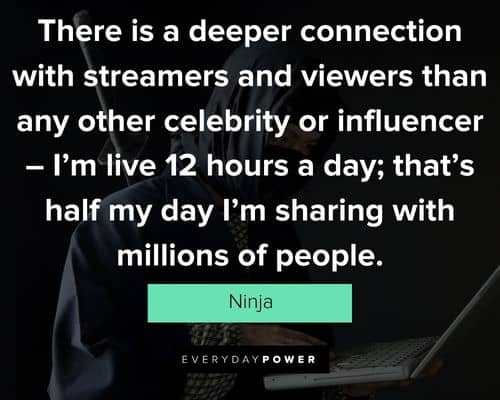 5. "I think that what streamers have is a direct connection to their audience. Imagine if LeBron James or Michael Jordan could interact directly with their audience every time they went to work." ― Ninja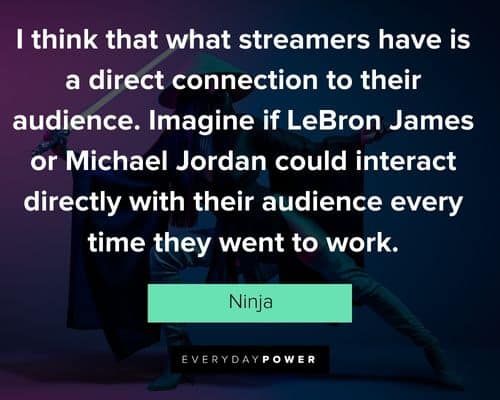 6. "People can just put their cash away and continue to make money and never give back because they just do not care, but I immediately felt obligated to use my influence for good things." ― Ninja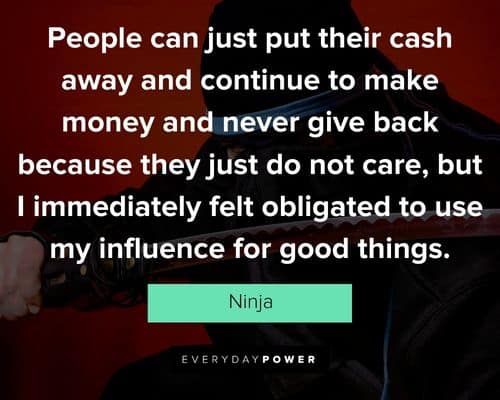 7. "TwitchCon is something that I look forward to all year because it gives me an opportunity to see what's in the pipeline and meet up with some of the best the industry has to offer, like DrLupo." ― Ninja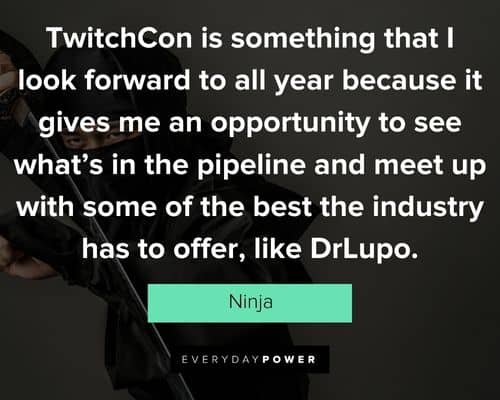 8. "People need to be true to themselves, and if entertaining and content-creating is something that does not come naturally and is really difficult, they should find something they are passionate about and love and do that instead." ― Ninja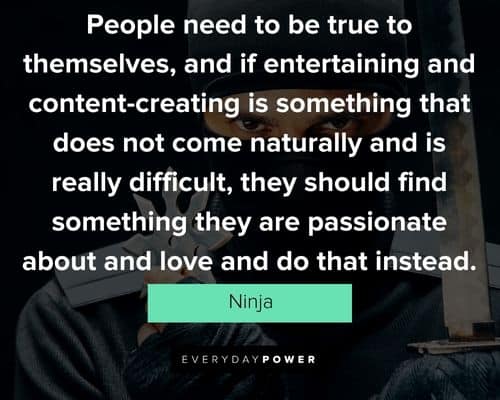 You will also enjoy our article on gamer quotes.
Ninja quotes about Fortnite
9. "I wouldn't have a career if it wasn't for the 'Fortnite' Community." ― Ninja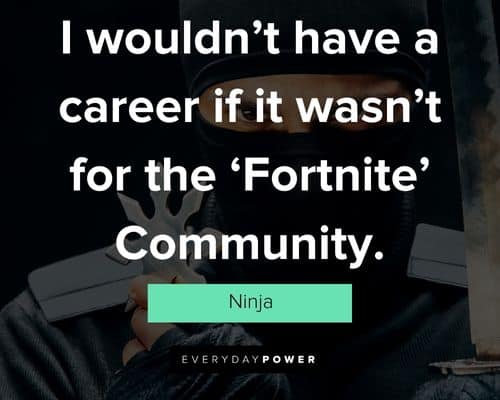 10. "Competing and streaming 'Fortnite' all night at the most iconic building in Chicago, a city close to my heart is a dream come true." ― Ninja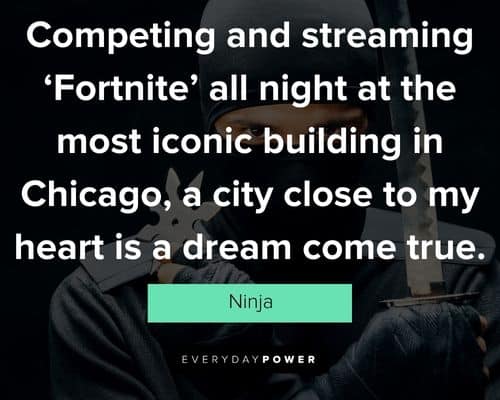 11. "You want to stop playing 'Fortnite,' man because you aren't having fun anymore? Good. Go watch someone else. Go play another game." ― Ninja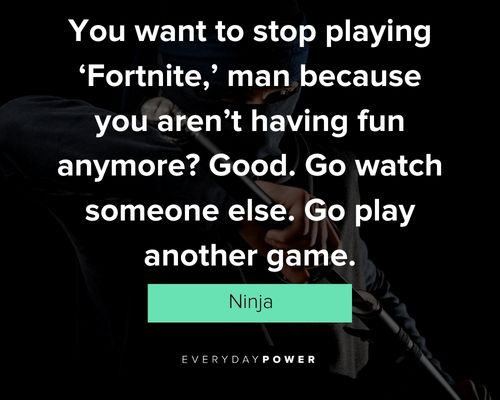 12. "'Fortnite' is cartoony, if you want to use that word, and that's going to a good turn-on for parents when they see their kids playing a game like that." ― Ninja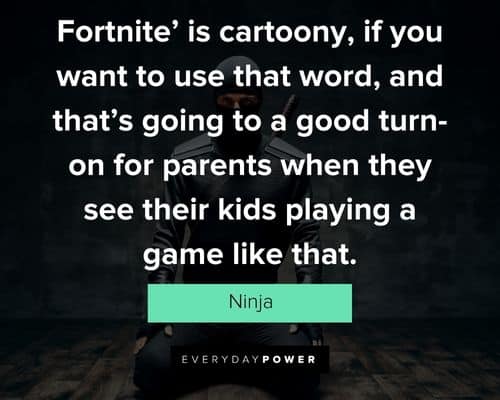 13. "'Fortnite' really is just the perfect storm of a game. You have the fact that it's free to play on almost every platform, and everything about the game is enjoyable." ― Ninja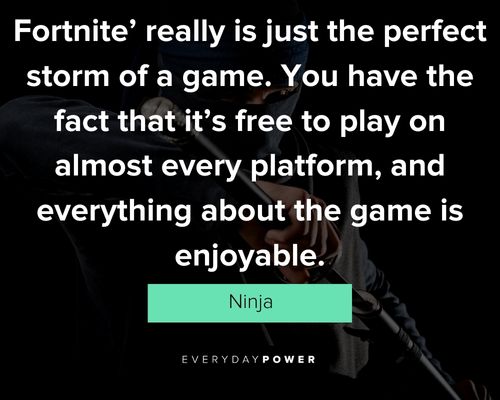 Ninja quotes about partnerships and opportunities
14. "I have an amazing partnership with Red Bull." ― Ninja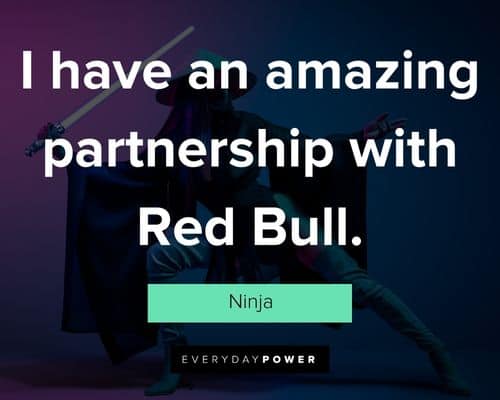 15. "I think that Amazon made an incredible play with the Twitch purchase." ― Ninja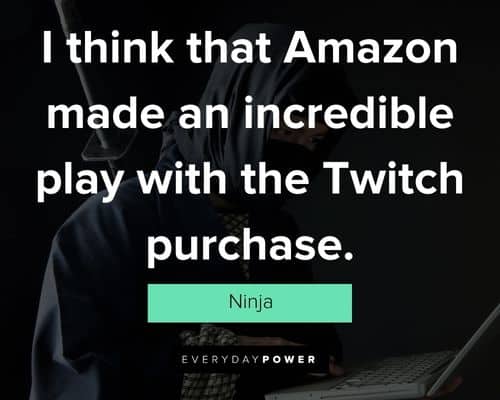 16. "Amazon creating GameOn could be a very good introduction into competitive gaming." ― Ninja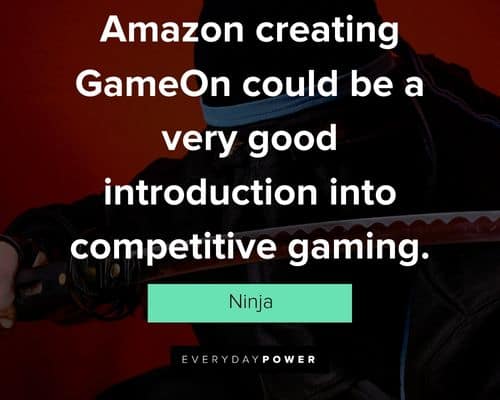 17. "I feel like Drake saw that I was up-and-coming in the gaming scene, and he thought it would be a perfect way to just tap into another source of viewers by playing with me. He also might have just wanted to game. I'm not sure." ― Ninja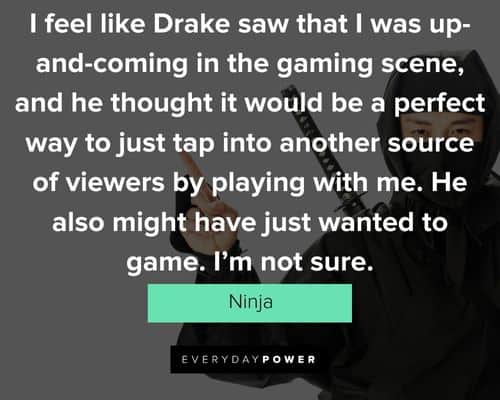 18. "I've done stuff with Bud Light, but do I want to take on a beer sponsor knowing most of my community is younger kids who can't drink? There are still a lot of people over 21 who watch. You're never going to hit your exact target audience." ― Ninja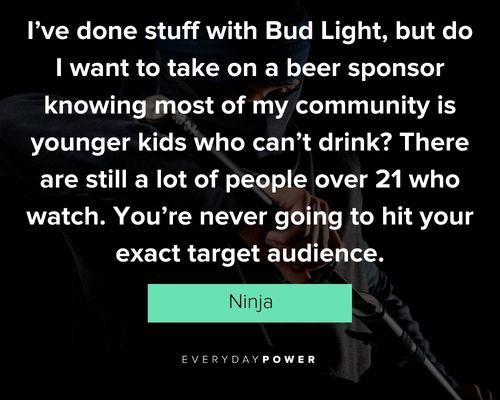 19. "I'd already been using the Uber Eats app for a long time – and it's super simple to use. That's just what I look for when I go into partnerships. If something comes to me that I've never used before for a potential partnership, then it doesn't feel real or natural. This one is a match made in heaven." ― Ninja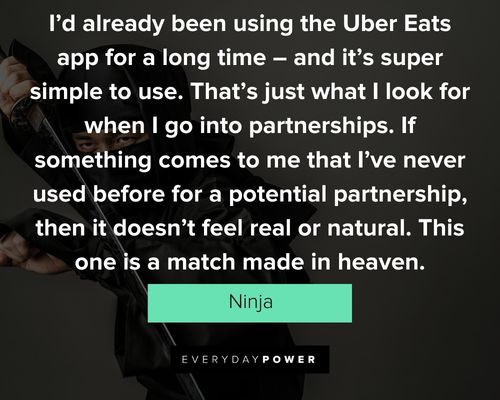 Ninja quotes about gaming and why he doesn't play with females
20. "I don't feel famous." ― Ninja
21. "I don't like to lose at all." ― Ninja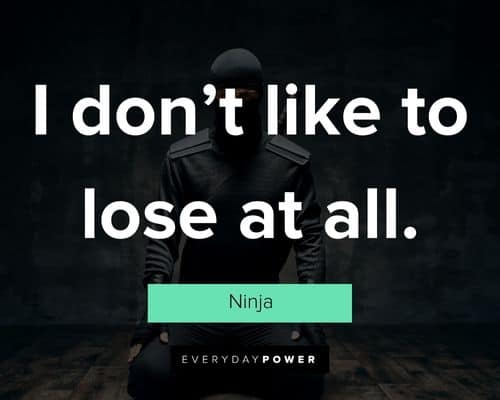 22. "I don't play with female gamers." ― Ninja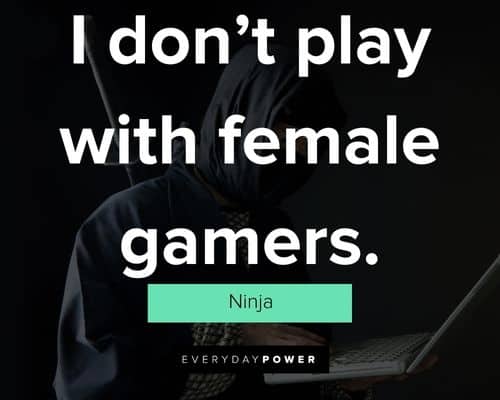 23. "I always played video games my entire life." ― Ninja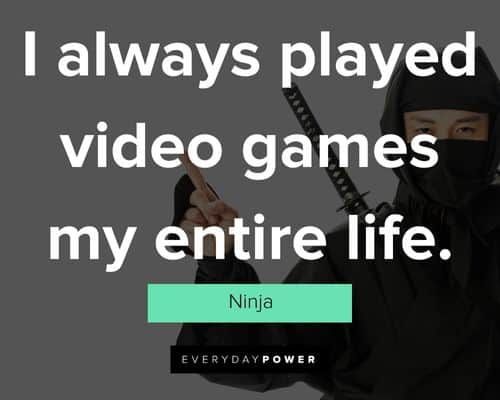 24. "I've never, never not enjoyed playing 'Halo.'" ― Ninja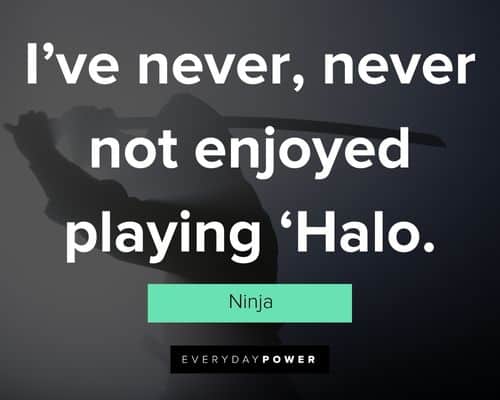 25. "It is very difficult to 'make it' as a top broadcaster or YouTuber." ― Ninja
26. "I can 100 percent compete at the top level in every game that I play." ― Ninja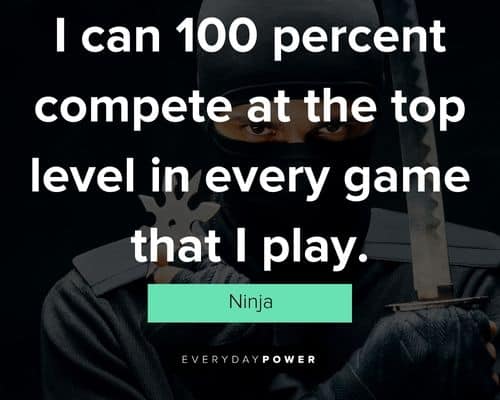 27. "Obviously, I love Sony; I love PlayStation. I've been playing them my entire life." ― Ninja
28. "I don't think anyone thought it was possible to get this big through live streaming." ― Ninja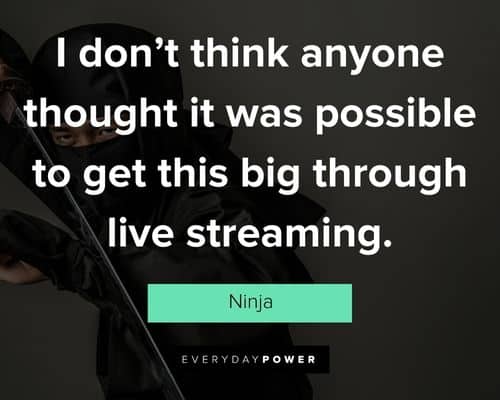 29. "I know how to put on a good show and being a top player is always a way to get fans." ― Ninja
21. "I'm confident that no matter what game comes out, I'll be able to play at a top competitive level." ― Ninja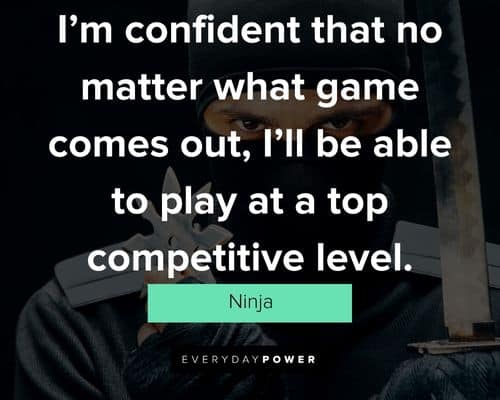 27. "Gun skill is never the main reason why someone is talented at a game. It's literally their decision-making." ― Ninja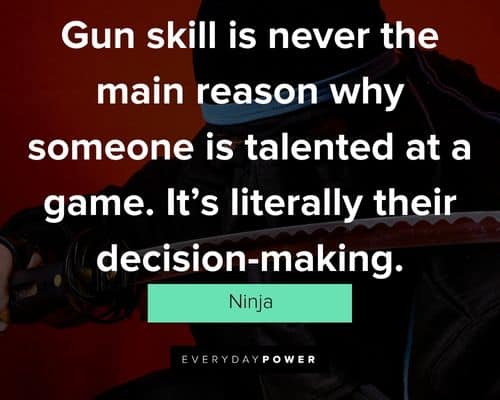 34. "I would play GameBattles matches. Anything competitive is always going to get you more viewers. When there's something on the line, it's just more exciting to watch." ― Ninja
30. "It's definitely clear when you're playing a game like 'PUBG,' there's this realistic war zone feel that they're going to get; there's a little bit of blood – no gore – and you get that 'Call of Duty' war feeling." ― Ninja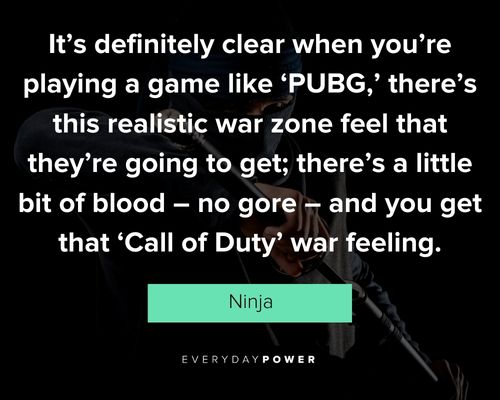 29. "If I have one conversation with one female streamer where we're playing with one another, and even if there's a hint of flirting, that is going to be taken and going to be put on every single video and be clickbait forever." ― Ninja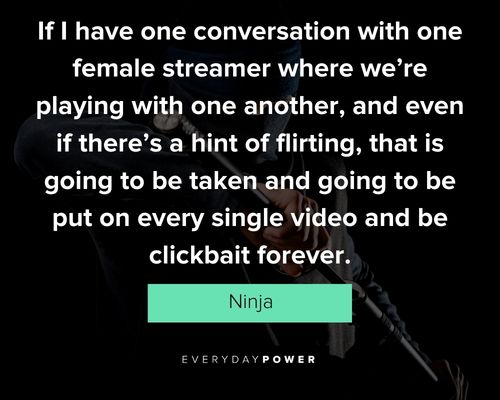 24. "There's, like, a little move back in the 'Halo' days, whenever you were getting chased if you went around a corner and the guy followed you, and you jumped over his head and, like, back smacked him. It was called like 'the ninja.'" ― Ninja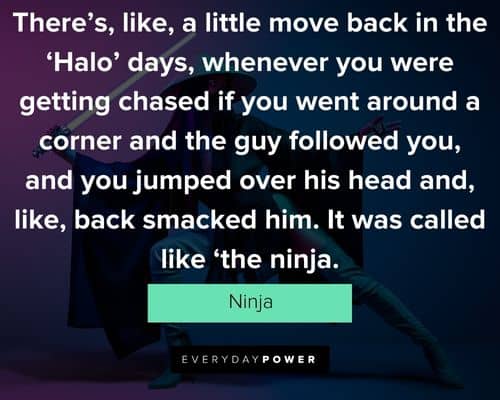 35. "When I'm not streaming, I have time to reflect on all the growth, and I don't like that. I'd rather just be home playing. I'm like, 'I haven't played a celebrity in a while. I haven't done something big in a while. Is it because I'm slowing down?'" ― Ninja
Ninja quotes about food and eating in the gaming world
36. "Sometimes I'll go for some Panda Express or a light Margherita pizza." ― Ninja
37. "It's exciting to see a brand like Hershey's is getting into the gaming world." ― Ninja
38. "I'll take a couple of breaks for some food, but other than that, that's pretty much all I do is play video games and practice with my team." ― Ninja
39. "I usually try to go for meals that aren't heavy when I'm playing for a long time. I'll try to stay away from carbing up too hard – so I avoid pastas." ― Ninja
40. "I never feel awkward, ever, when I'm eating! If someone doesn't want to watch me eat? Dude, they can leave – I gotta get my fuel. My justification is, would you rather me end my stream and come back two hours later cause I went out to eat, or just eat real quick in between a match?" ― Ninja
What did you learn from these Ninja quotes?
I'm rethinking telling my son to get off his Xbox and stop playing so much Fortnite as I write this!
I never could have imagined as a kid playing Bump N Jump that we would live in a world where professional gaming was a thing.
This just proves that not everyone's path to success must fit someone else's definition!
This man has over 24 million subscribers on YouTube (as of March 2021) and was able to sign a massive exclusivity deal with Twitch.
Gaming has become a full-on sport as proven by Blevins being the first professional Esports player to be featured on the cover of ESPN The Magazine.
He also appeared on Family Fued and The Masked Singer.
These Ninja quotes clearly illustrate that Blevins is living his best life every day, doing what he loves: playing and streaming video games.
Video games might not be your thing, but it's an excellent lesson in doing what you love and letting the money follow!
What's your biggest takeaway from these Ninja quotes and sayings?
Do you have any other favorite quotes to add?
Let us know in the comment section below.