25 Drake Quotes and Lyrics Celebrating Love and Life
These Drake quotes will motivate you to work towards your dreams.
Aubrey Drake Graham, known to the rest of the world simply as 'Drake,' is a multi-Grammy-award-winning rapper, actor, singer, songwriter, and entrepreneur.
He is best known for some of his biggest hits like "Best I Ever Had," "Successful," "Over," and "Find Your Love."
Before making it big, he was first seen on the teen drama television series Degrassi: The Next Generation.
Despite personal challenges, Drake's career has constantly been pushing forward.
In fact, he is rarely out of the spotlight.
From his humble beginnings of trying to get into the world of hip-hop, signing Lil Wayne's music label, to being the biggest winner at the Billboard Music Awards in 2017, it seems that there's no stopping Drake.
In late June 2018, he released his fifth studio album, Scorpion, which broke records and experienced unprecedented success.
It became the first album to surpass 1 billion streams in a single week and was only the fourth album ever to have seven top 10 Hot 100 hits simultaneously.
The album has 25 tracks and a runtime that reaches almost 90 minutes.
Some top tracks from the album include "Nonstop," "Emotionless," "In My Feelings," and "Don't Matter To Me."
He released his sixth album, Certified Lover Boy, in 2021. The album achieved nine top 10 hits on the Hot 100, with its lead single "Way 2 Sexy" reaching number one.
In 2022, Drake released his seventh studio album, Honestly, Nevermind, and the collaborative album, Her Loss, with 21 Savage.
Her Loss features a sole guest appearance from Travis Scott and debuted at number one on the Billboard 200.
In this regard, below are some of the best Drake quotes to inspire you to work hard toward the success you want.
And when finished, check out our collection of quotes by Eminem, too.
Check out our most popular quote article, a list of short inspirational quotes for daily inspiration.
Our inspirational quotes category page has all of our motivational quotes for all the different areas of life.
Drake quotes about self-confidence, real love, and happiness
1. "All I want to do is work. I just want to make this album as incredible as I can. That's really the best way to put it." – Drake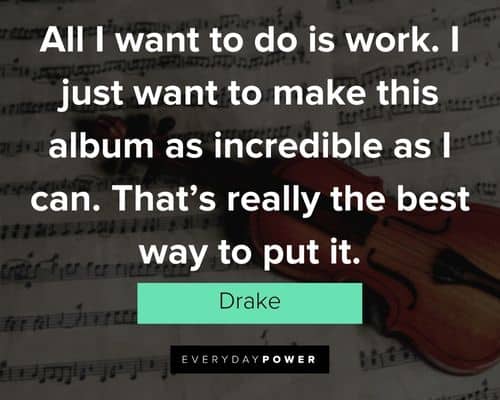 You will also enjoy our article on Boondock Saints quotes.
2. "The greatest advice that Wayne ever gave me, is actually a constant reminder, and he said 'Just be yourself. Just please be yourself. Don't go and get tattoos. You don't have to dress any different.'" – Drake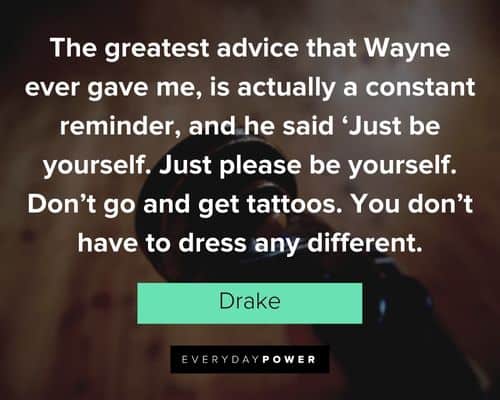 You will also enjoy our article on Lil Wayne quotes.
3. "I use my music as a method to update people on my life, I've done huge media blitz this past week but I don't really like to get in the media and talk. Because I feel like people who talk in the media only become known for that and look forward to that. I just want people to look forward to my music." – Drake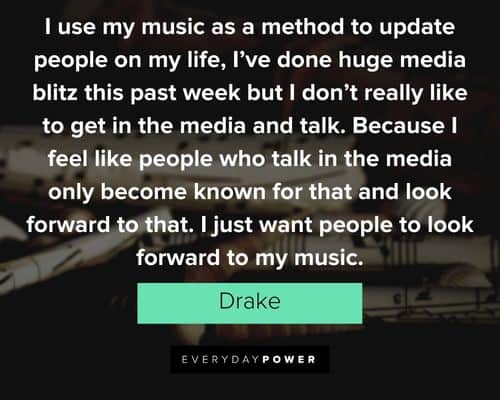 4. "I'm always going to work like I have something to prove." – Drake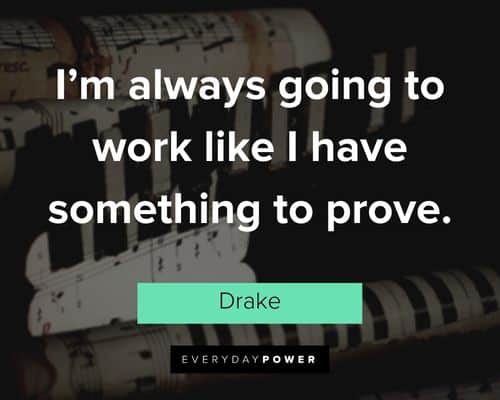 5. "Aubrey Drake Graham is a man that is constantly learning about himself, and is sharing his learning process with the world." – Drake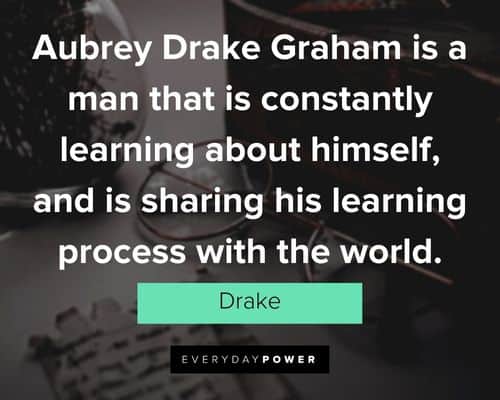 6. "It was my father who told me that there is no rapper who is singing and rapping. He told me that in order to be successful you're going to have to do something different than what everyone else is doing." – Drake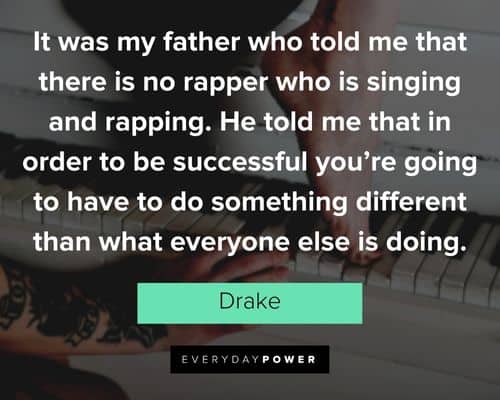 7. "Sometimes I wake up and I wonder if this is the right stuff for me to be doing, but then I take a long flight and end up in a place like London and I realize I don't give a … about what anybody has to say about me." – Drake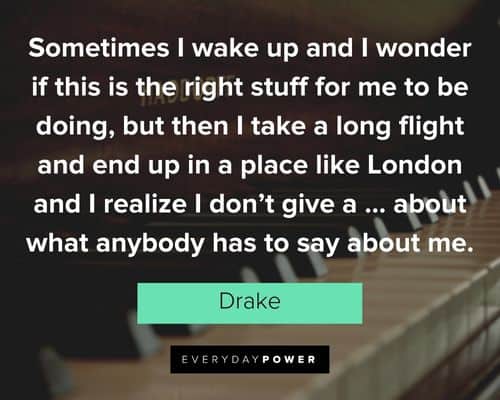 8. "Do I feel like I'm getting enough respect? No. But that's that keeps me going. When I feel like I'm getting enough respect I don't know what kind of music I'll be making." – Drake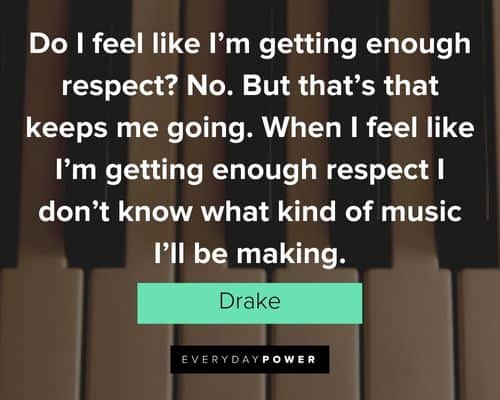 9. "I get to wake up and be myself." – Drake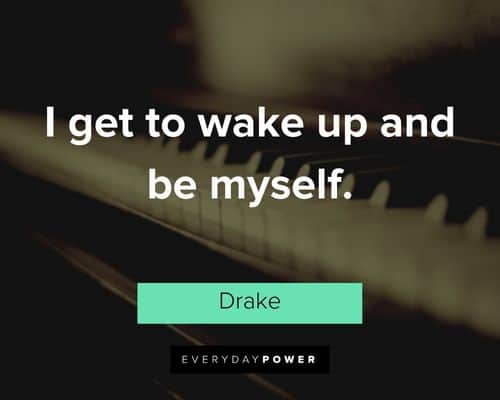 10. "I don't have relationships. I don't have a family. I work. And at this point in my life I'm happy with that. In 10 years, who knows, we might be having a different conversation." – Drake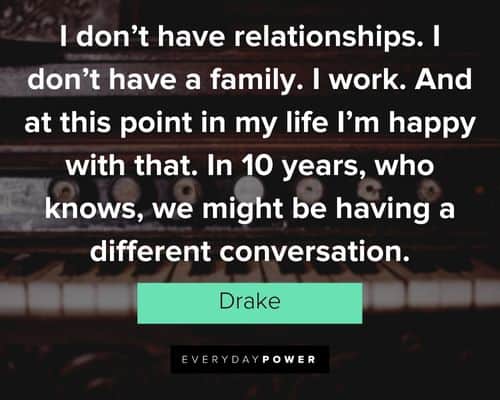 Drake Quotes that are positive and insightful
11. "I always felt like an outsider." – Drake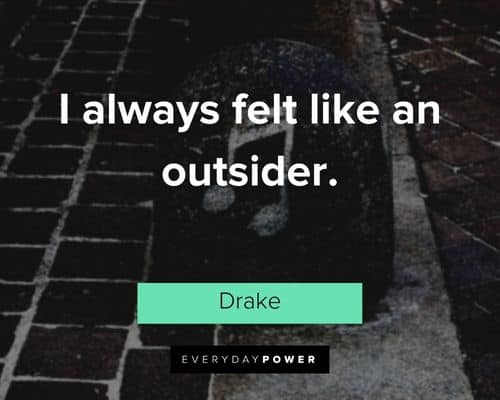 12. "I think the details of my background came after. What caught first was the music. And what became more appealing was like…'This is the guy?' I remember those moments." – Drake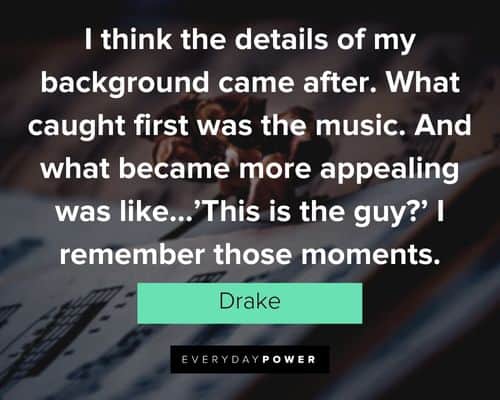 13. "If I could tell you one thing about this album it's that I'm extremely proud of it and it's an extremely concise body of work. Is it my best album? No, my best album will be my next album and I will continue to say that for the rest of my career." – Drake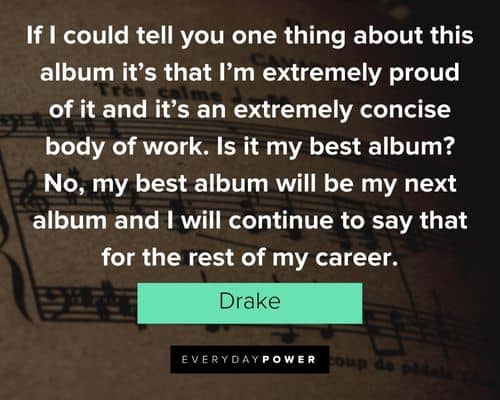 14. "I sit and eat with some of the hardest working people in the business. And I observe and I try to apply it to my own craft." – Drake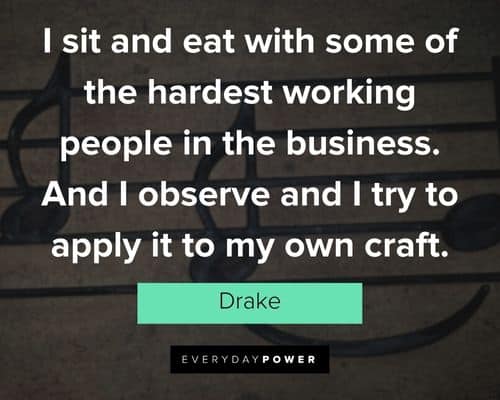 15. "I don't want to be number 2. I think that would be a weird thing to say. I want to make this city proud. That's the main reason for me." – Drake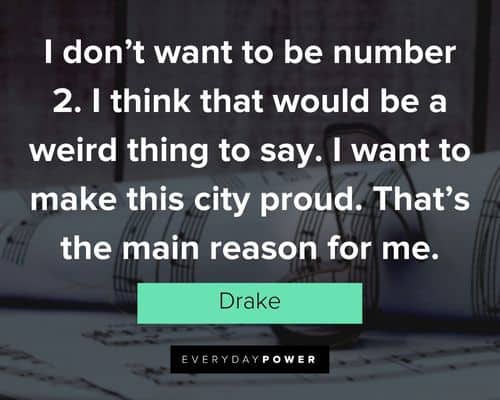 16. "I've always been observant. I watched my parents go through a lot. I guess that's why I'm this semi-emotional guy who even cares about love. Most 23 year-olds in my position would be out like her like, 'Man, I'm just doing whatever'. But because I saw my parents go through the ups and downs, I'm scared man, I don't want to be alone." – Drake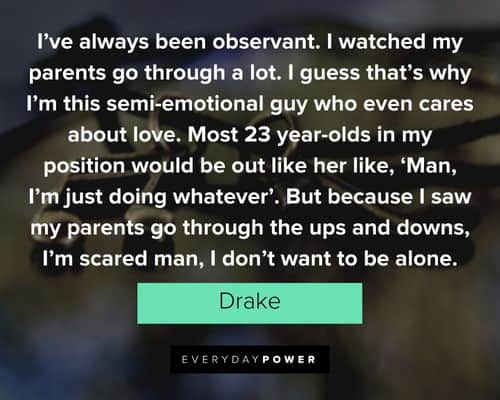 17. "As people get older you think that they don't really need you anymore. But what they're probably doing is sitting at a wall thing about life and thinking why this person hasn't called me yet." – Drake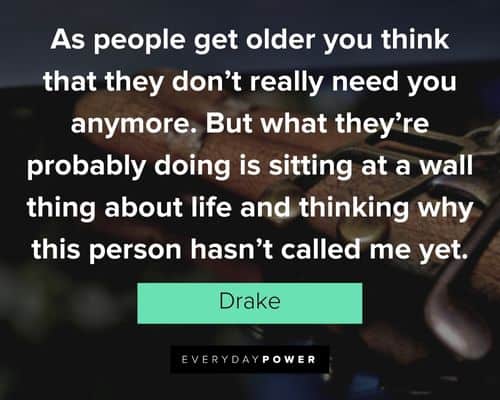 18. "I think I'm addicted to success. I've already sacrificed so much of my time that I have to push it as far as I possibly can because I've ten up a lot of years." – Drake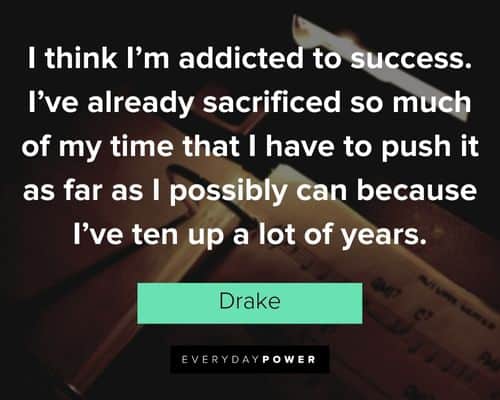 Uplifting Drake Quotes and lyrics from his newest album, Scorpion
19. "When life comes at you from all angles and sides, it really boils down to how you plan to survive." – Drake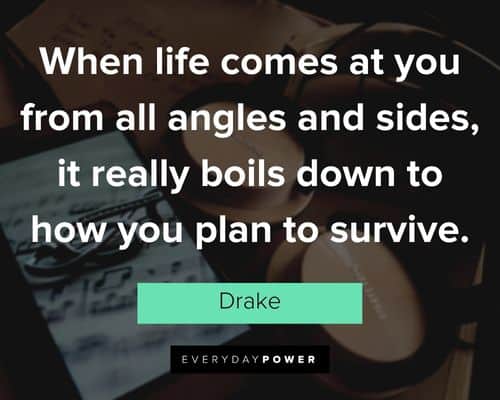 20. "The only trying that I do is me trying the hardest, the only crying I do is crying from laughing about it." – Drake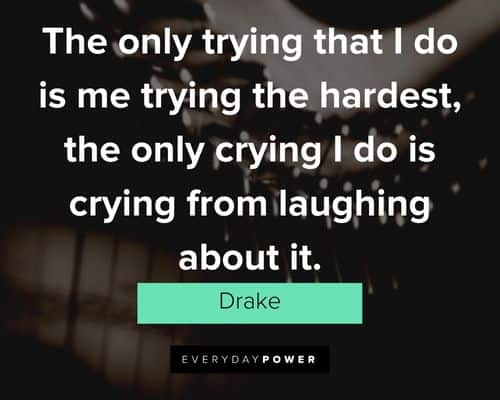 21. "They say take the good with the bad, I'll take it without" – Drake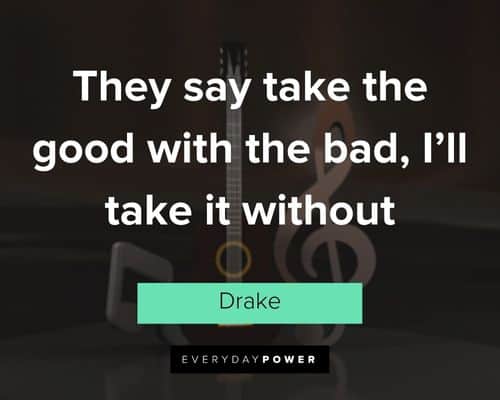 22. "I'm in control of my destiny, never in doubt" – Drake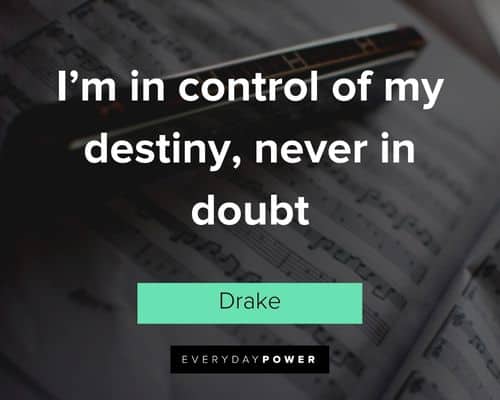 23. "I wasn't hiding my kid from the world, I was hiding the world from my kid. From empty souls who just wake up and look to debate. Until you staring at your seed, you can never relate." – Drake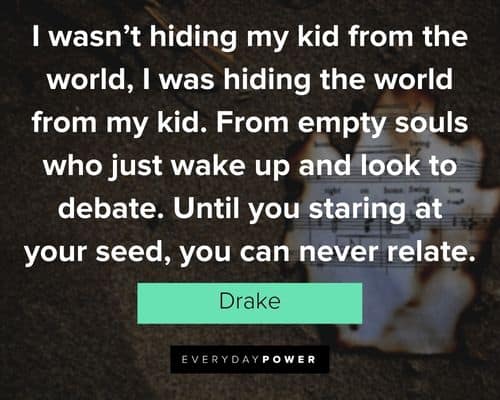 24. "You know a wise man once said nothing at all." – Drake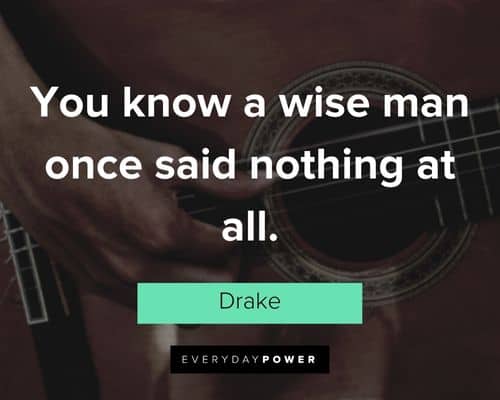 25. "I always hear people complain about the place that they live. That all the people here are fake and they got nothing to give. It's because they've been staring at somebody else's version of stuff that makes another city seem more exciting than it is." – Drake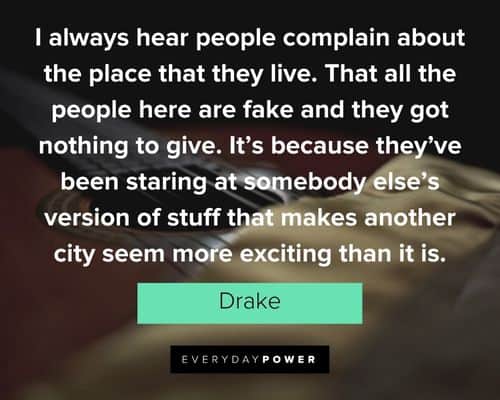 Which of these Drake quotes did you like best and why?
Drake has definitely gone far from being relatively anonymous in the United States to reaching celebrity status worldwide.
Despite his massive success, he keeps it cool and stays dedicated to his work.
Whether you're a struggling musician or a thriving entrepreneur, these Drake quotes have hopefully instilled some positive vibes your way.
Which of these Drake quotes was your favorite?
Do you have any other inspirational quotes to add?
Tell us in the comment section below.