7 Principles for Developing a Workplace Culture That Works
According to the Corporate Leadership Council:
"Engaged organizations grew profits three times faster than their competitors.
They report that highly engaged organizations have the potential to reduce staff turnover by 87 percent and improve performance by 20 percent."
Can you imagine going to a music performance (any type will do) and the musicians are not playing together?
Each is buried in their musical performance, with sound-canceling headphones on.
They are not in sync with either tempo or volume, each playing every note perfectly.
Does this sound like something you would want to spend an evening listening to?
Every day, corporations fail to compete in the marketplace and achieve their strategic goals because of poor work culture.
Creating a culture that works is a multi-step process.
These seven principles will step you through how companies can achieve balance, harmony, or a unified vision to increase their profits and engage their people.
The 7 Principles for Developing Work Culture That Works
1. Principle of Vision
As my friend Dr. Willie Jolley says:
"Without a vision, people perish; but with a vision, people flourish."
In the article "To Lead, Create a Shared Vision," (Harvard Business Review), the authors James Kouzes and Barry Posner surveyed tens of thousands of working people about what makes a good leader.
The NUMBER ONE response was honesty.
But the second might be a little surprising: the second-highest requirement of a leader is that he or she should be forward-looking, applied only to the leader role.
Just 27 percent of respondents selected it as something they want in a colleague, whereas 72 percent wanted it in a leader.
(Among respondents holding more-senior roles in organizations, the percentage was even greater, at 88 percent).
No other quality showed such a dramatic difference between leader and colleague.
Here are some questions to consider when working on your company's Vision:
Why are we doing this?
What is your company's mission?
What is important to us about this?
What will the results look like?
What outcomes do we seek?
Is this consistent with your beliefs and values?
Sometimes, it is tough to know where to begin. So here are some simple steps to get started:
Step 1: Get clear about where you're going
Step 2: Choose parameters or guidelines
Step 3: List wins and critical success factors
Step 4: Write it down
Step 5: Work on the draft and brainstorm with others (this will create buy-in)
Step 6: Rework it again
Step 7: Solicit additional feedback
Step 8: Share it
2. Principle of Values
Values offer a set of guidelines on the behaviors and mindsets needed to achieve that vision.
"Your beliefs become your thoughts, Your thoughts become your words, Your words become your actions, Your actions become your habits, Your habits become your values, Your values become your destiny." ― Mahatma Gandhi
A company's values are the core of its work culture.
While a vision articulates a company's purpose, values offer a set of guidelines on the behaviors and mindsets needed to achieve that vision.
McKinsey & Company, for example, has a clearly articulated set of values that are prominently communicated to all employees and involve how the firm vows to serve clients, treat colleagues, and uphold professional standards.
McKinsey's Values:
Adhere to the highest professional standards
Put client interests ahead of the firms.
Observe high ethical standards.
Preserve client confidence.
Maintain an independent perspective.
Manage client and firm resources cost-effectively.
Improve our clients' performance significantly.
A great exercise to perform that will help your organization clarify its values is documenting them and placing them into FOUR categories.
Then, develop a plan to address any accidental values you do NOT desire to permeate in your environment.
The four categories are:
Core Values
Aspirational Values
Permission to Play Values
Accidental Values
3. Principle of Buy-In
"People buy into the leader before they buy into the vision." – John C. Maxwell
This principle starts with the right people.
According to Harvard Business Review:
"No company can build a coherent culture without people who either share its core values or possess the willingness and ability to embrace those values.
That's why the greatest firms in the world also have some of the most stringent recruiting policies."
It starts by hiring the right people that share a company's vision from the beginning because they will have greater buy-in.
J.W. Marriott was committed to hiring people that were committed to his vision, even if they did not have a lot of hospitality industry experience.
He knew that it was more valuable for them to have buy-in because skills can be taught.
4. Principle of Stories
All organizations have a unique history – a unique story.
The ability to unearth that history and craft it into a narrative is a core element of work culture creation.
"The stories we tell literally make the world. If you want to change the world, you need to change your story. This truth applies both to individuals and institutions." – Michael Margolis
There are key elements to a story that have been used in all kinds of mediums.
When delivering a story with maximum impact, the classic Freytag's pyramid elements can be employed.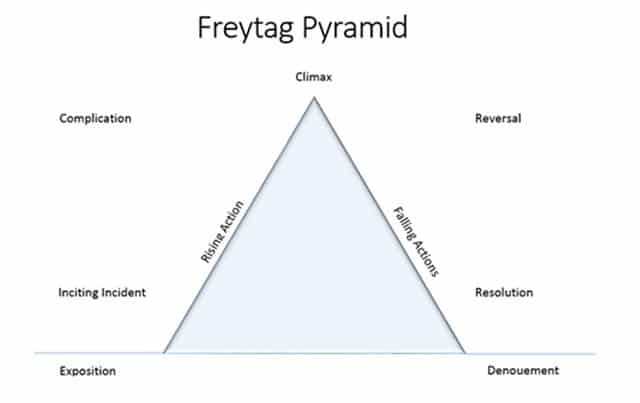 Does the story have to be long to have an impact?
Consider many of the moving advertisements you see on television.
Many of the most powerful ones have animals, and there is no dialogue.
Budweiser commercials often use these stories with their Clydesdale horses as the central characters.
Coke used short-moving stories for years during the holidays with their polar bear campaigns.
Quick, easy to understand, but when inserted into Freytag's Pyramid, all of the elements are present.
5. Principle of Best Practices
Values are of little importance unless they are enshrined in a company's practices.
"Innovation and best practices can be sown throughout an organization – but only when they fall on fertile ground." – Marcus Buckingham
What are best practices?
A simple definition is any method or technique that shows results superior to those achieved by other methods and is then used as a benchmark.
Why do best practices work, and what can they do for companies?
Best practices will align with your strategy.
They help to reduce costs.
They improve productivity.
They promote timely execution when utilized correctly.
They provide for better decision-making.
Best practices evolve and change over time.
So an organization must keep its eye on the prize and make sure its practices are truly the best and up-to-date.
Organizations need to develop a strategy and specific dates for the follow-up to ensure that it is implemented in their work culture.
6. Principle of Environment
Develop an environment where the firm members can connect throughout the day and interact in informal, unplanned ways.
There are numerous answers to each of these questions, but one clear answer is that place shapes work culture.
"You can't just give someone a creativity injection. You have to create an environment for curiosity and a way to encourage people and get the best out of them." – Ken Robinson
The environment of an organization must represent the beliefs of that organization.
If the company is behind clean energy, it may have solar panels, gardens, and recycling bins on its roof.
If a company supports families, it may have an on-site daycare and special family leave initiatives.
If health is important, an organization may have an onsite gym, a nurse or nutritionist, or even an exercise program, like morning yoga.
The environment should enable an organization to practice what it preaches.
7. Principle of Execution
People respect what you inspect.
Team members commit to the team – NOT to the leader – and they hold each other accountable."
"Success doesn't necessarily come from breakthrough innovation but from flawless execution. A great strategy alone won't win a game or a battle; the win comes from basic blocking and tackling." – Naveen Jain
The most notable book on strategy execution is "Execution: The Discipline of Getting Things Done," by Larry Bossidy and Ram Charan.
Bossidy, a retired CEO, and Charan, a renowned management consultant, make a case for execution as a discipline or as a "systematic way of exposing reality and acting on it."
They explain that "the heart of execution lies in three core processes":
People
Strategy
Operations
We have discussed elements of these processes throughout the article.
However, execution is the big show.
It is what happens when all the other six principles come together.
The more people are aligned and in sync with one another, the better the execution.
For a more in-depth discussion of these seven principles, check out the book, "Culture Is The Bass: 7 Principles For Developing A Culture That Works" on Amazon.