Ruby Bridges Quotes Celebrating the Impact Young People Can Make
These Ruby Bridges quotes will remind you that children and young people can teach us to be courageous and to stand up against injustice.
Ruby Bridges is an American civil rights activist who is best known for becoming the first African-American child to attend an all-white public elementary school in the American South.
Ruby was only six years old when she enrolled at the all-white William Frantz Elementary School on November 14, 1960.
Because of threats and violence against her, she was escorted to class by her mother and U.S. marshals.
Her courageousness advanced the cause of civil rights and inspired future generations.
In 1964, Ruby became the subject of a painting, The Problem We All Live With, by Norman Rockwell.
The painting is considered an iconic image of the Civil Rights Movement in the United States.
It depicts Ruby on her way to William Frantz Elementary School (being escorted by four large white men) during the New Orleans school desegregation crisis.
Born on September 8, 1954 in Tylertown, Mississippi, Ruby was the oldest of five children and she spent much of her childhood time taking care of her younger siblings.
When she was four years old, Ruby's parents moved their family to New Orleans, Louisiana in search of a better life in a bigger city.
In early 1960, Ruby was one of only six African-American students in New Orleans to pass a test determining whether or not she could attend a white school.
Fearing for his daughter's safety, her father was hesitant to let her attend the all-white William Frantz Elementary School, a few blocks from their home.
However, her mother, believing that Ruby would get a better education at a white school, convinced him to let her enroll.
Ruby's first few weeks at Frantz School were not easy ones as she was confronted with blatant racism (see racism quotes).
Besides, her family suffered for their courage.
Her father lost his job, grocery stores refused to sell to them, and her grandparents were evicted from the farm where they had lived for over 25 years.
But despite having to endure the difficult experience of being ostracized, Ruby remained strong and managed to overcome her obstacles.
She finished grade school, graduated from a desegregated high school, and became a travel agent.
A lifelong activist for racial equality, Ruby has remained committed to the fight against racism and prejudice.
In 1999, she formed the Ruby Bridges Foundation to promote tolerance and create change through education.
Nobody can deny Ruby's heroism.
Her contribution to society lives on.
In honor of a true American heroine, below is our collection of powerful and inspirational Ruby Bridges quotes.
For more inspiration, don't forget to also check out our compilation of the best Bessie Coleman quotes that will empower you.
If you love this quote collection, read out our most popular quote article about short inspirational quotes for daily motivation.
If you need more inspirational quotes, check out our motivational quotes category page.
Ruby Bridges quotes celebrating the impact young people can make
1. "I now know that experience comes to us for a purpose, and if we follow the guidance of the spirit within us, we will probably find that the purpose is a good one." – Ruby Bridges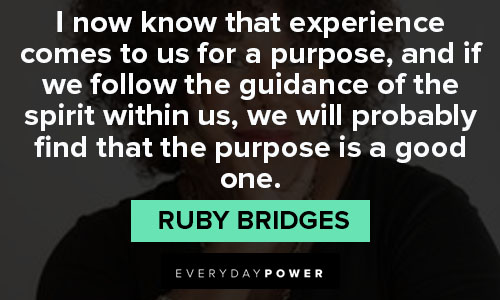 2. "My message is really that racism has no place in the hearts and minds of our children." – Ruby Bridges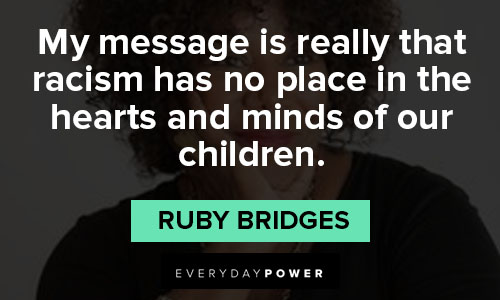 3. "Don't follow the path. Go where there is no path and start a trail" – Ruby Bridges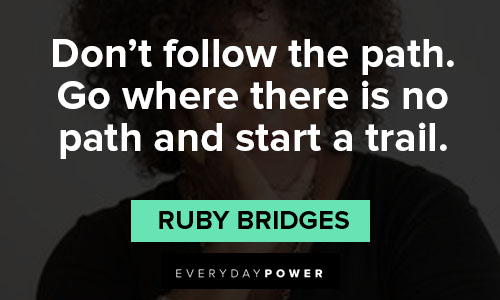 4. "Kids know nothing about racism. They're taught that by adults." – Ruby Bridges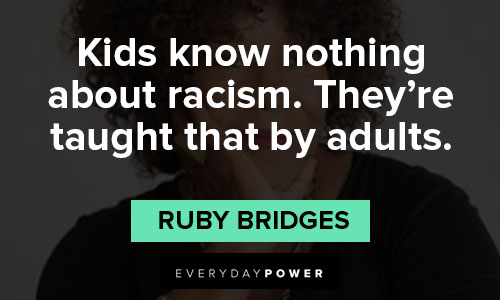 5. "Each and every one of us is born with a clean heart. Our babies know nothing about hate or racism. But soon they begin to learn – and only from us. We keep racism alive. We pass it on to our children. We owe it to our children to help them keep their clean start."– Ruby Bridges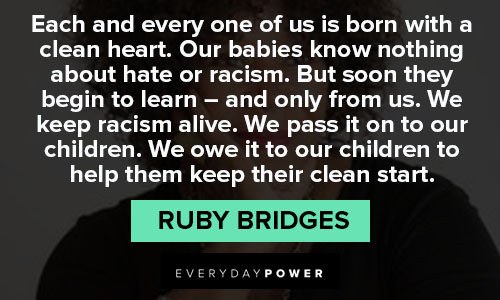 Did you enjoy these Ruby Bridges quotes?
Ruby Bridges paved the way for continued civil rights action when she became the first black child to integrate an all-white Southern elementary school.
Besides, her bravery inspired a Disney TV movie as well as the children's book The Ruby Bridges Story by Robert Coles.
Ruby is a true American heroine.
She has demonstrated the value of education to countless others and proven that young people have the power to effect positive change.
Hopefully, the above quotes will inspire you to make a better world.
Did you enjoy these Ruby Bridges quotes?
Which of the quotes was your favorite?
Let us know in the comment section below.
Also, don't forget to share and inspire others.