145 Intention Quotes to Inspire Positive Energy
These inspirational intention quotes will encourage you to take action and reach your goals.
Setting an intention for yourself each and every day should be a part of your morning routine.
To reach your goals in life, it is important to take risks, love without condition, and keep your goals in mind.
These intention quotes will inspire you to channel your positive energy into action.
The power of intention and hard work should not be underestimated.
If you're an ambitious person with big dreams, start setting a daily intention for yourself.
How do you express your intentions and set achievable daily goals?
The intentions you set for yourself will be personal and unique.
Read this collection of intention quotes for inspiration on how to chase your dreams.
If you live with intention and put positive energy into the universe, anything is possible.
Share these inspirational quotes with your loved ones to boost their motivation.
Intention quotes to inspire positive energy
1. "Our intention creates our reality." — Wayne Dyer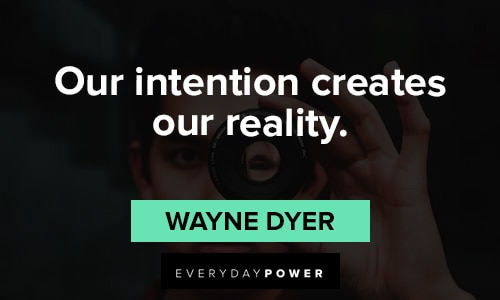 2. "The smallest deed is better than the greatest intention." — John Burroughs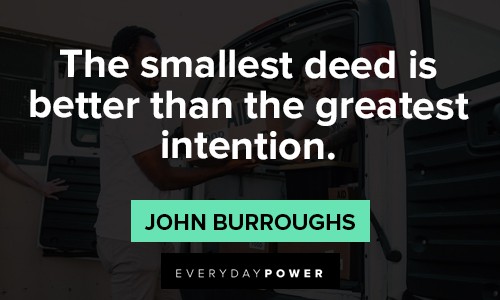 3. "Honor thy error as a hidden intention." — Brian Eno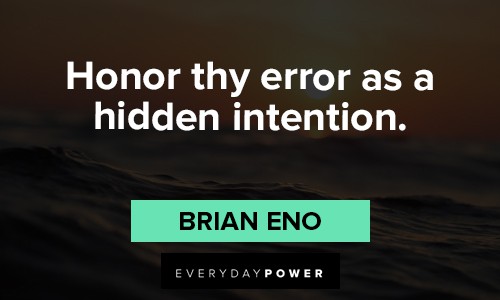 4. "All that counts in life is intention." — Andrea Bocelli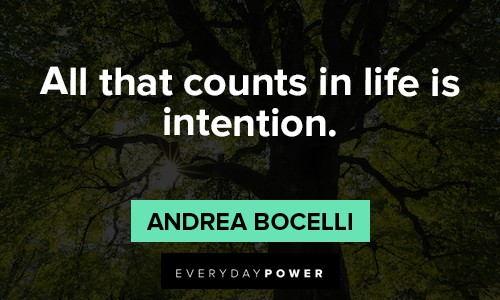 5. "I have no intention of making small bets." — Masayoshi Son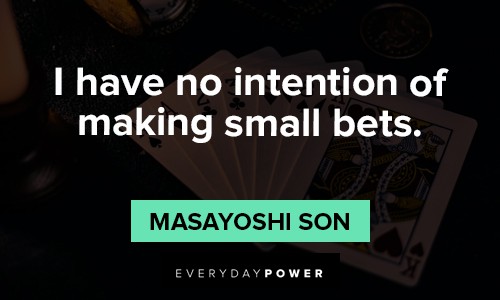 6. "Sometimes, some things have to settle, and you have to think about the intention of it." — Edgar Wright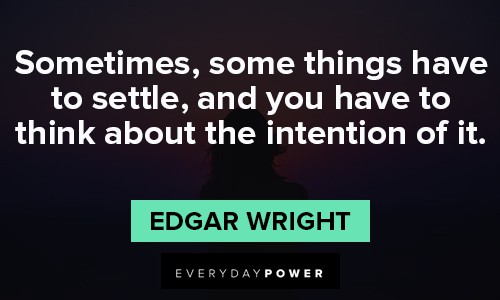 7. "The world is awaiting your gift – all you have to do is show up with the right intention!" — Lewis Howes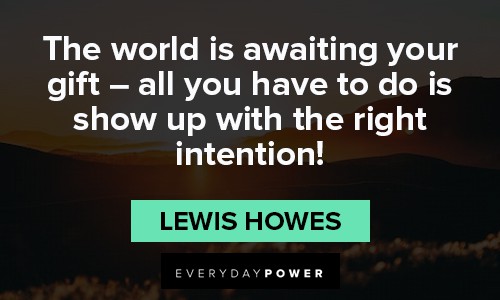 8. "We either live with intention or exist by default." — Kristin Armstrong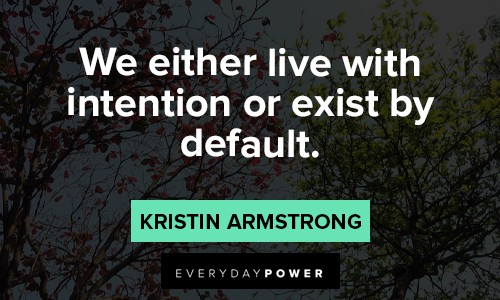 9. "I think people generally have a good heart and the intention to help." — Vincent Kompany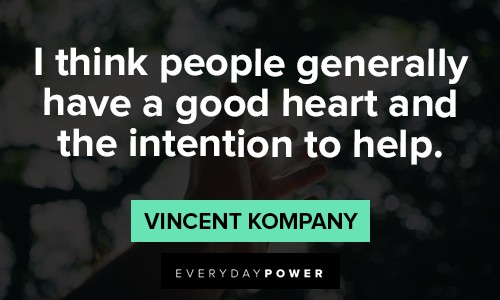 10. "A gift consists not in what is done or given, but in the intention of the giver or doer." — Lucius Annaeus Seneca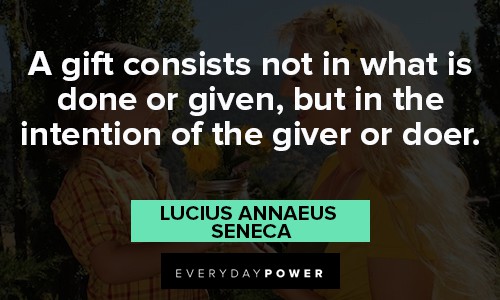 Intention quotes that will motivate you to chase your dreams
11. "I don't have any control over what actually happens except for that I have full control over my will for myself, my intention, and why I'm there. That's all that matters." — SZA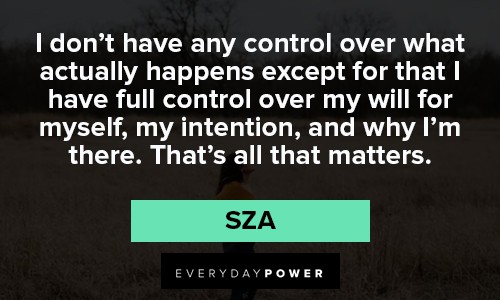 12. "There are many ways to push for much-needed reforms. One way is to make a donation. It doesn't matter much whether you contribute publicly or in a private way – either way is good. What matters is your true intention." — Lee Min-ho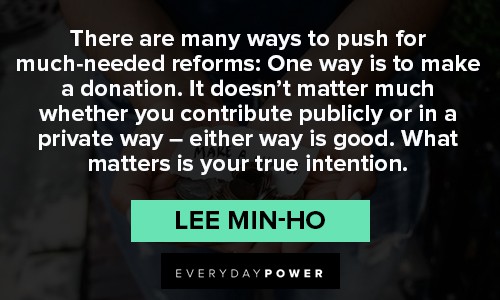 13. "Time heals everything. Time corrects everything. Time is the solution to every problem, I believe. A lot of things can happen with time. All that has to be there is the intention." — Mehcad Brooks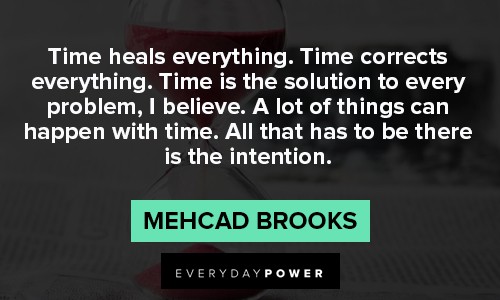 14. "The truth doesn't lie. It's up in your face. It's in your conscience. It challenges your very being with the intention of cleaning you of sin and its influence." — Monica Johnson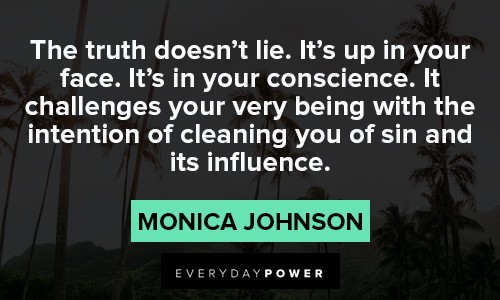 15. "As any of us approaches middle age, we inevitably come up against our limitations: the realization that certain dearly-held fantasies may not be realized; that circumstances have thwarted us; that even with intention and will, we may not be able to set our ship back on the course we'd planned." — Claire Messud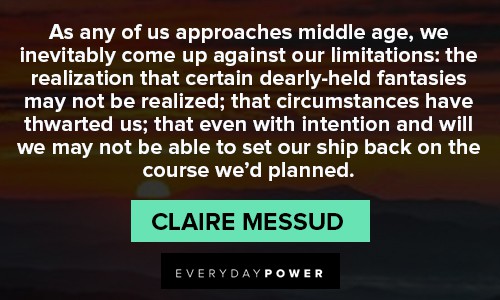 16. "Letters are something from you. It's a different kind of intention than writing an e-mail." — Keanu Reeves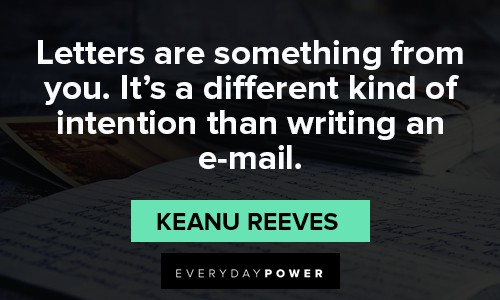 17. "Critique, feedback, reaction to one's work or the way they have presented it, regardless of intention, is a gift." — Mark Brand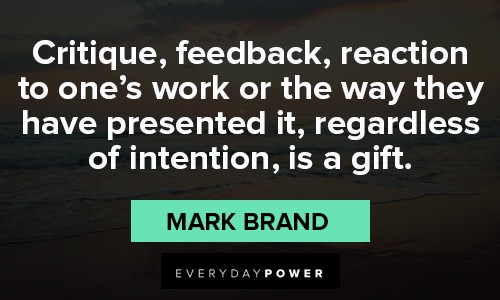 18. "Our intentions may be very good, but because the intelligence is limited, the action may turn out to be a mistake – a mistake, but not necessarily a sin, for sin comes out of a wrong intention." — E. Stanley Jones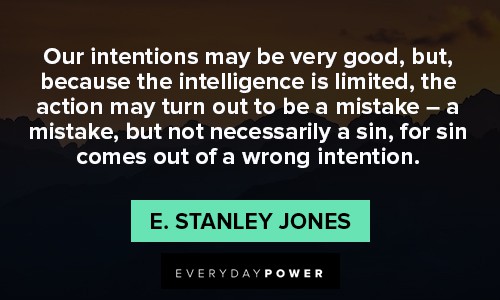 19. "Technology is only an enabler, which can help achieve the intention of the person who is using it." — Jane Chen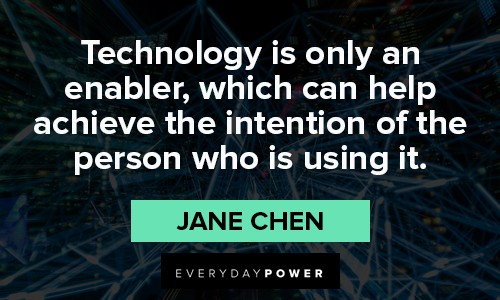 20. "My intention was to create something that people loved to look at, and they could find inspiration from, and that was it." — Chiara Ferragni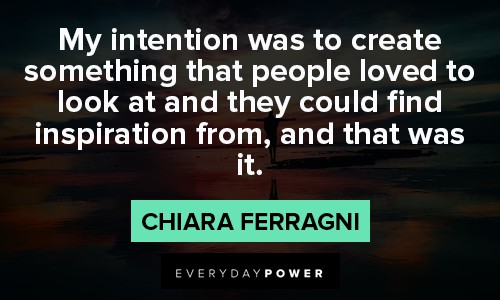 Intention quotes to help you reach your goals
21. "As long as your intention is pure, and you know what you're in it for, then you're alright. And I'm in it because I enjoy it. I take it seriously… real seriously. I mean I could sit and talk all day about the music." — Trey Anastasio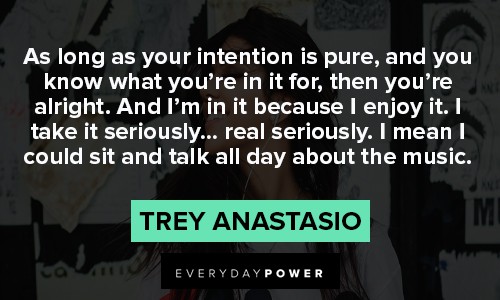 22. "Make-believe colors the past with innocent distortion, and it swirls ahead of us in a thousand ways in science, in politics, in every bold intention." — Shirley Temple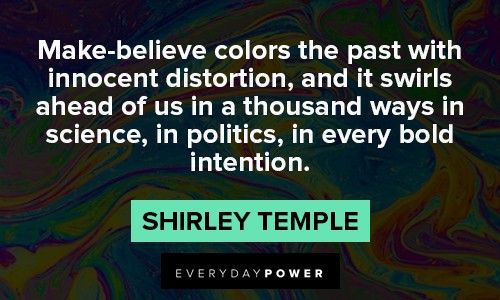 23. "Let us not become so intense in our zeal to do good by winning arguments or by our pure intention in disputing doctrine that we go beyond good sense and manners, thereby promoting contention, or say and do imprudent things, invoke cynicism, or ridicule with flippancy." — James E. Faust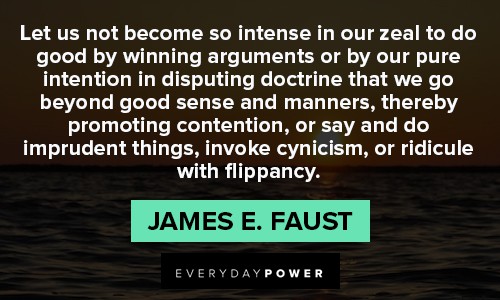 24. "In centering prayer, the sacred word is not the object of the attention but rather the expression of the intention of the will." — Thomas Keating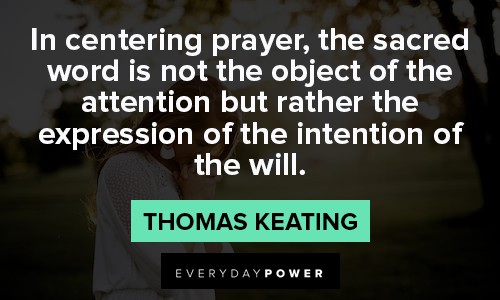 25. "This is how to avoid re-creating painful situations: Take the time to discover your real intention before you act. If it is to change someone or the world so that you will feel safe or better about yourself, don't act on it, because it is an intention of fear and can create only painful consequences." — Gary Zukav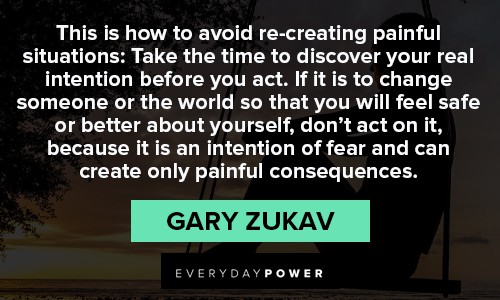 26. "I truly believe the intention of creating positive change is so important to the collective consciousness. When you have a group of people that have the intention and the capacity, talent, and intelligence to actualize those intentions, then you have something really powerful." — Jimmy Chin
27. "I will say that a lot of art, some of the best art, has very powerful and meaningful messages behind it, and the more you read the stuff on the walls, the more you learn the artist's intention, and you have a totally new point of view of what it's about." — Abbi Jacobson
28. "I'm a big fan of intention. That's because I have learned first-hand the power of setting my intention on my goal and making all decisions based off of that intention." — Lewis Howes
29. "I'm very sensitive to the English language. I studied the dictionary obsessively when I was a kid and collected old dictionaries. Words, I think, are very powerful, and they convey an intention." — Drew Barrymore
30. "The intention and outcome of vulnerability is trust, intimacy, and connection. The outcome of oversharing is distrust, disconnection – and usually a little judgment." — Brené Brown
Intention quotes to boost your motivation
31. "If the myth of pure evil is that evil is committed with the intention of causing harm and an absence of moral considerations, then it applies to very few acts of so-called 'pure evil' because most evildoers believe what they are doing is forgivable or justifiable." — Steven Pinker
32. "There's no way to become great overnight, but in the marathon of success, it takes a lot of intention to see you through each day of the journey." — Lewis Howes
33. "What is important is to have a positive intent right from the start, and positive intent doesn't always mean looking for the big shots. Positive intention when it comes to defending a ball or looking for a single." — MS Dhoni
34. "It is not good enough for things to be planned – they still have to be done; for the intention to become a reality, energy has to be launched into operation." — Walt Kelly
35. "Are you motivated? Are you coherent? Is your intention aligned? Are your feet, tongue, heart, and wallet congruent? That intention shines through." — Peter Guber
36. "A purpose, an intention, a design, strikes everywhere even the careless, the most stupid thinker." — David Hume
37. "When you know your intention, you are in a position to choose the consequences that you will create for yourself. When you choose an intention that creates consequences for which you are willing to be responsible, that is a responsible choice." — Gary Zukav
38. "My intention was always to share my experience and my gifts on the largest stage possible." — Jonathan Majors
39. "Intention is very important in sound, in listening. When I married my wife, I promised her I would listen to her every day as if for the first time. Now that's something I fall short of on a daily basis." — Julian Treasure
40. "We all have to be dishes on a plate eventually, with the way we are marketed, but I have no intention of being a cheap Chinese all-you-can-eat buffet." — Mika
Thought-provoking intention quotes
41. "It is my intention to present – through the medium of photography – intuitive observations of the natural world which may have meaning to the spectators." — Ansel Adams
42. "Whoever benefits his enemy with straightforward intention that man's enemies will soon fold their hands in devotion." — Henry Wadsworth Longfellow
43. "In this era, soul is not a sound or a color: it's an intention." — India Arie
44. "In today's roller-coaster economy, hyper-competitive, fear-based, flat and global world, convincing anyone to do anything at any time requires getting their attention, creating their intention and turning it to action." — Peter Guber
45. "A lie does not consist in the indirect position of words, but in the desire and intention, by false speaking, to deceive and injure your neighbor." — Jonathan Swift
46. "I think comedy and horror are very similar in that there's a very direct intention. So you're trying to be funny, or you're trying to be creepy, and that literalness – I take to that." — Evan Peters
47. "If everyone is to be made responsible for everything they do, you must extend responsibility beyond the level of conscious intention." — William S. Burroughs
48. "Doing my art came out of something very solitary and something that I had no intention of showing anybody, and yet once people saw pieces in my house, it became really clear that there was a great demand for my art." — Paul Stanley
49. "The intention to live as long as possible isn't one of the mind's best intentions because quantity isn't the same as quality." — Deepak Chopra
50. "Mindfulness has helped me succeed in almost every dimension of my life. By stopping regularly to look inward and become aware of my mental state, I stay connected to the source of my actions and thoughts and can guide them with considerably more intention." — Dustin Moskovitz
Intention quotes to inspire you today
51. "Focus on an ocean of positives, not a puddle of negatives." — Kevin Ansbro
52. "Any day above ground is a good day. Before you complain about anything, be thankful for your life and the things that are still going well." — Germany Kent
53. "Gratefulness helps us in focusing on the positive things in our lives rather than on the negative ones." — Pooja Agnihotri
54. "Your inner thoughts aren't truly hidden. Their essence reflects in your energy. Energy speaks what you don't." — Drishti Bablani
55. "Positive thoughts, words, and actions create positive feelings. Positive feelings generate positive energy." — Nozer Kanga
56. "What one does is what counts. Not what one had the intention of doing." — Pablo Picasso
57. "Intention is one of the most powerful forces there is. What you mean when you do a thing will always determine the outcome. The law creates the world." — Brenna Yovanoff
58. "All great acts are ruled by intention. What you mean is what you get." — Brenna Yovanoff
59. "Powerful words come with powerful intent. Where you have passion, strength, courage, and determination, you can accomplish anything!" — K.L. Toth
60. "The best way to ensure you achieve the greatest satisfaction out of life is to behave intentionally." — Deborah Day
Other quotes and sayings about your intentions
61. "Every journey begins with the first step of articulating the intention, and then becoming the intention." — Bryant McGill
62. "The heart always knows our true intentions. Too bad so many people don't follow theirs." ― Charles F Glassman
63. "Guard your time fiercely. Be generous with it, but be intentional about it." — David duChemin
64. "When your heart is pure and filled with good intentions, you don't have to prove it to anyone. Your actions will do that." ― Charles F Glassman
65. "Bad decisions made with good intentions are still bad decisions." — James C. Collins
66. "It is the intention, not the action that defines the result." ― Meir Ezra
67. "Words are less important than intentions, and if your intention is to be supportive, silence is rarely the way to go." ― Dolly Chugh
68. "A good intention requires the support of a good action in order to translate into a positive outcome!" ― Trishna Damodar
69. "Your dream is only possible through a clear intention and patience." ― Bryant McGill
70. "Challenge anything that could step into your plans with the intention of acting as a resistance towards your fulfillment." ― Israelmore Ayivor
Intention Quotes To Help You Fulfill Life's Intention
71. "The only thing that matters is our actions, the intentions of our heart." ― Chris Manion
72. "We all have a purpose in life, and when you find yours, you will recognize it." ― Catherine Pulsifer
73. "Intention is paramount." ― Arno Burnier
74. "Plans are only good intentions unless they immediately degenerate into hard work." ― Peter Drucker
75. "Change is inevitable. Growth is intentional." ― Glenda Cloud
76. "Your good intentions will never overshadow your deeds." ― Bruce M. Morgan
77. "We know that no one ever seizes power with the intention of relinquishing it." ― George Orwell
78. "I must accommodate my history to the hour: I may presently change, not only by fortune but also by intention." ― Michel de Montaigne
79. "Forgetting our intentions is the most frequent of all acts of stupidity." ― Friedrich Nietzsche
80. "War, no matter what our intentions may be, brings suffering and tragedy." ― Barack Obama
Intention Quotes To Fulfill Your Life Purpose
81. "You can set your intention to better understand your soul, your spirit, through daily practices like prayer, yoga and meditation, etc." — Rob Bell
82. "State intentions every day. Create action plans to achieve your intention." — Mallika Chopra
83. "Whatever you put attention on will start manifesting in your life. Intention, attention, manifestation; that is how the universe works." — Sri Sri Ravi Shankar
84. "Integrity is when your good intentions meet your actions – on a consistent basis." — Amy Chan
85. "I myself am made entirely of flaws, stitched together with good intentions." — Augusten Burroughs
86. "Own your words. Your words are the maps to your intentions." — Chris Brogan
87. "Good intentions are not enough; commitment and sacrifice are necessary." — Laurence Boldt
88. "Be mindful of intention. Intention is the seed that creates our future." — Jack Kornfield
89. "Just make sure your intentions are not pretensions." — Emil Ludwig
90. "Inspiration gives you a desire. Decision makes it an intention. Action makes it real." — Joe Vitale
Intention Quotes To Make You Genuine About Your Desires
91. "Holding your intention clearly in your mind, step into your bath and savor the sensations of it. Really enjoy it." ― Lune Innate
92. "By choosing intentions that come from love instead of intentions that come from fear, you create joyful karma instead of painful karma." ― Gary Zukav
93. "And true growth is always at the spiritual level, not the material level–so the intentions are often connected to spirituality." ― Dianne Martin
94. "For some intentions, you may not be sure what you can do to make them happen. That's okay. Just having intention is the first and most important step." ― Mallika Chopra
95. "The hardest task of a girl's life is to prove to a man that his intentions are really serious." ― Evan Esar
96. "Set an intention to be aware of your emotional state, and acknowledge that your feelings will come up as a means of your subconscious mind communicating with your conscious mind." ― Lune Innate
97. "Every experience, and every change in your experience, reflects an intention. An intention is not only a desire. It is the use of your will." ― Gary Zukav
98. "Take notice of your intentions, and you will bring more love and harmonious, productive environment for yourself and for those around you." ― Dianne Martin
99. "Intentions are what you want deep down inside and include who you want to be, who you want to be around, how you want to feel, and you want to be treated." ― Mallika Chopra
100. "Ideas, imagination, and good intentions are necessary, but without action, they are nothing." ― James Frey
Best good intentions quotes
The best good intentions quotes are ones that make you think about the nature of intentions.
101. "Good intentions are not good at all." ― Fritz Chery
102. "Kindly intentioned, but not considerate." ― Marilynne Robinson
103. "God save us from people who mean well." ― Vikram Seth 
104. "No good would come of all these fine intentions." ― Iris Murdoch
105. "If your intentions are good, nothing bad can happen." ― Debasish Mridha
106. "And habits are hell's own substitute for good intentions." — Dorothy Dunnett
107. "One kind deed is more beautiful than a thousand good intentions." ― Matshona Dhliwayo
108. "Good intentions are not the whole story. You must also pay attention." ― George Hammond
109. "Uncomfortable thoughts must be got rid of by good intentions for the future." ― George Eliot
110. "How good would a Good Samaritan be, if a Good Samaritan would only intend to do good?" ― John Janzen
Good intentions quotes about other people
Read these good intentions quotes about other people to align yourself with only the best intentions. 
111. "Your good intentions will never overshadow your deeds." ― Bruce M. Morgan
112. "Well-meaning people are sometimes the most dangerous." ― Angela N. Blount
113. "The smallest act of kindness is worth more than the greatest intention." — Khalil Gibran
114. "I think every human being has good intentions in one aspect of life and some in every." — Mats Wilander
115. "It's exhausting, tiptoeing around someone who barges into your life with good intentions." ― Gretta Mulrooney
116. "Not everyone has good intentions. Trust no one until Discernment and Time have whetted their words and actions." ― Reena Doss
117. "Pity is the feeling of well-intentioned people who are unable to act… It is those who are able to carry out their good intentions who deserve praise." ― Pramoedya Ananta Toer
118. "It's a sad truth that in life, the people who hurt us the most are also the people who love us the most, and that they often do so with the best of intentions." ― Sean Norris
119. "Good intentions aren't enough. People have good intentions when they set a goal to do something, but then they miss a deadline or other milestone." — Harvey Mackay
120. "People with good intentions tended not to question themselves. And people who didn't question themselves, in the scientific world and beyond, were the ones to watch out for." ― Shanthi Sekaran
Wise good intentions quotes about life
Expand your knowledge with these wise good intentions quotes about life.
121. "Intentions always look better on paper than in reality." — Angie Thomas, The Hate U Give
122. "Plans are only good intentions unless they immediately degenerate into hard work." — Peter Drucker
123. "Concentrated power is not rendered harmless by the good intentions of those who create it." — Milton Friedman
124. "The problem is that no matter how good your intentions, eventually you want to kill someone yourself." ― Kenneth Cain
125. "A good intention is like an idea that you keep to yourself. If you don't do something with it, it's like it never existed." ― Frank Sonnenberg
126. "Good intentions that are not clothed in reason lead to greater disasters than those actions built on ill will or stupidity." ― Henning Mankell
127. "Approach people with good intentions and love, there is nothing more precious in this world than time, good intentions, and love." ― Santosh Kumar
128. "The healthy should be reminded that we are all dying because it is through our own reminder of mortality that we accelerate our good intentions, into actions people can see." ― Shannon L. Alder
129. "Not all of our heartless plans work as we intend; nor do all of our good intentions. We are where we are, and we can rarely predict where we will go, no matter how firm our beliefs." ― Michelle Sagara West
130. "Without action, the best intentions in the world are nothing more than that: intentions." — Jordan Belfort, The Wolf of Wall Street
You might also enjoy these Heartless Quotes For Those Who Are Heartless.
Quotes about the evil of good intentions
Ensure you understand the flip side of these quotes about the evil of good intentions.
131. "Most of the evil in this world is done by people with good intentions." ― T. S. Eliot
132. "A good intention, with a bad approach, often leads to a poor result." ― Thomas Edison
133. "So many financial dreams are thwarted by the failure to act upon good intentions." — Suze Orman
134. "Good intentions never change anything. They only become a deeper and deeper rut." — Joyce Meyer
135. "I think every religion is founded with good intentions, but with any good thing, there's a negative use for it." — Daniel Caesar
136. "Your intentions will be good. Without consideration and forethought, however, your actions could still be evil." — Michael A. Stackpole
137. "However, it's usually random acts of good intent, like this one, which get you into the worst trouble in the long run." — Andrew James Pritchard
138. "With the best of intentions you toss me a lifeline. Failing to see how a piece of rope will do me any good, I ignore it and drown." ― Richelle E. Goodrich
139. "Manipulation, fueled with good intent, can be a blessing. But when used wickedly, it is the beginning of a magician's karmic calamity." ― T.F. Hodge
140. "The evil that is in the world comes out of ignorance, and good intentions may do as much harm as malevolence, if they lack understanding." — Albert Camus
Quotes about the roads paved with good intentions
These quotes about the roads paved with good intentions will help you keep your intentions on the right path.
141. "Hell is paved with good intentions." ― Samuel Johnson
142. "The steep descent into Hell is always paved with good intentions." — Bianca Scardoni, Invidious
143 "But remember that good intentions pave many roads. Not all of them lead to hell." ― Neal Shusterman
144. "The road to powerful magical items is paved with good intentions and hideous deathtraps." ― Jeff Mach
145. "Hell isn't merely paved with good intentions; it's walled and roofed with them. Yes, and furnished too." — Aldous Huxley
What are your favorite positive intention quotes on action and energy?
Successful people often set intentions and goals for themselves.
Setting an intention is essential whether you're looking to advance in the workplace, in your yoga practice, in your relationship, or on a spiritual journey.
Personal growth is possible for anyone who takes their development seriously.
These quotes on intention and action have, hopefully, motivated you to reach your goals.
The best morning routines for success will include time to journal, meditate, and setting intentions for the day.
When you channel your positive energy into your work, you will see incredible results.
Intentions are encouraged during spiritual yoga sessions and corporate work meetings.
Setting goals for yourself is the secret to success in any setting.
These intention quotes will motivate you to chase your dreams.
What are your favorite quotes on intention and action?
Let us know in the comment section below.