Dwayne 'The Rock' Johnson quotes about depression, success, and love
Listen to article
4 minutes
It might be hard to believe that Dwayne 'The Rock' Johnson had his own struggle with depression.
In his teens, he and his family went through hard times just to afford the basics.
He watched as his mother attempt suicide at 15.
His own depression would come thereafter, through a series of heartbreaking failures.
It took him and his mother years, but they were able to heal.
The Rock is hopeful that others would find their own inner strength and beat depression, as well.
For him, the important thing is that people don't feel alone.
In case you missed his story, check out these The Rock quotes on depression and success.
Check out our most popular quote article, a list of short inspirational quotes for daily inspiration.
If you enjoy this collection, check out our inspirational quotes category page.
The Rock quotes about depression
1. "I found that, with depression, one of the most important things you could realize is that you're not alone." – Dwayne Johnson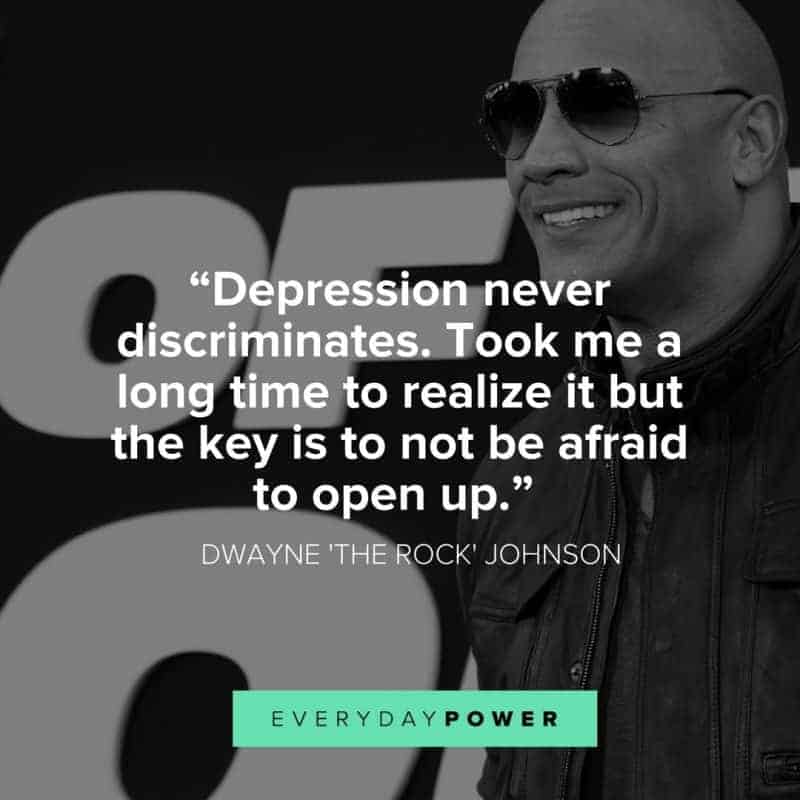 You will also enjoy our article on biker quotes.
2. "I like to use the hard times of the past to motivate me today." – Dwayne Johnson
You will also enjoy our article on anxiety quotes.
3. "There was no injury. It's just, 'That's it. You're not good enough.' That was very sobering." – Dwayne Johnson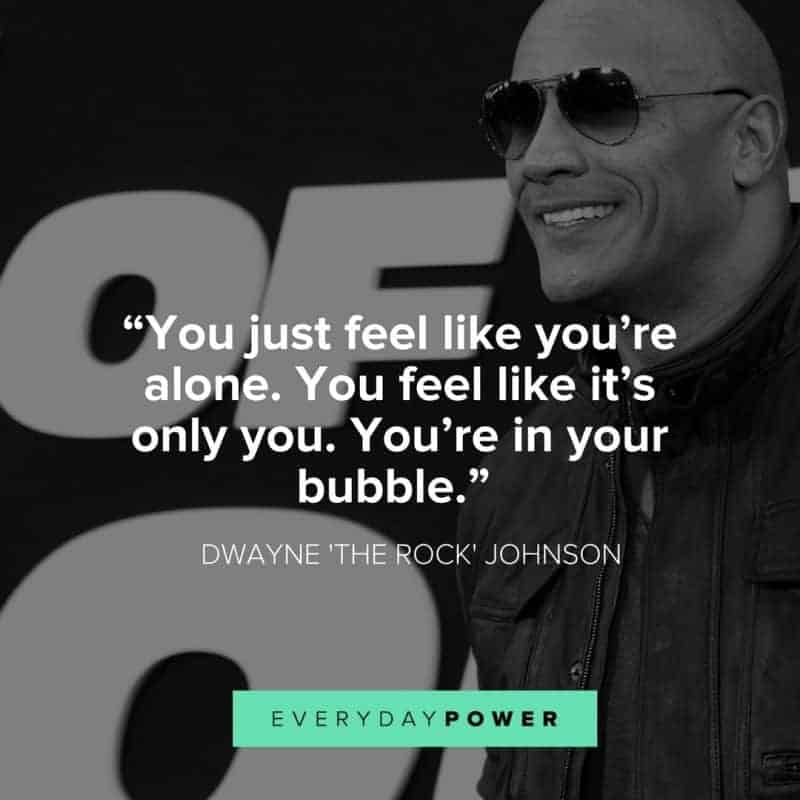 4. "I didn't want to do a thing. I didn't want to go anywhere. I was crying constantly. Eventually you reach a point where you are all cried out." – Dwayne Johnson
5. "Depression never discriminates. Took me a long time to realize it but the key is to not be afraid to open up." – Dwayne Johnson
If you're enjoying these quotes, you'll love our collection of powerful depression quotes that will provide perspective.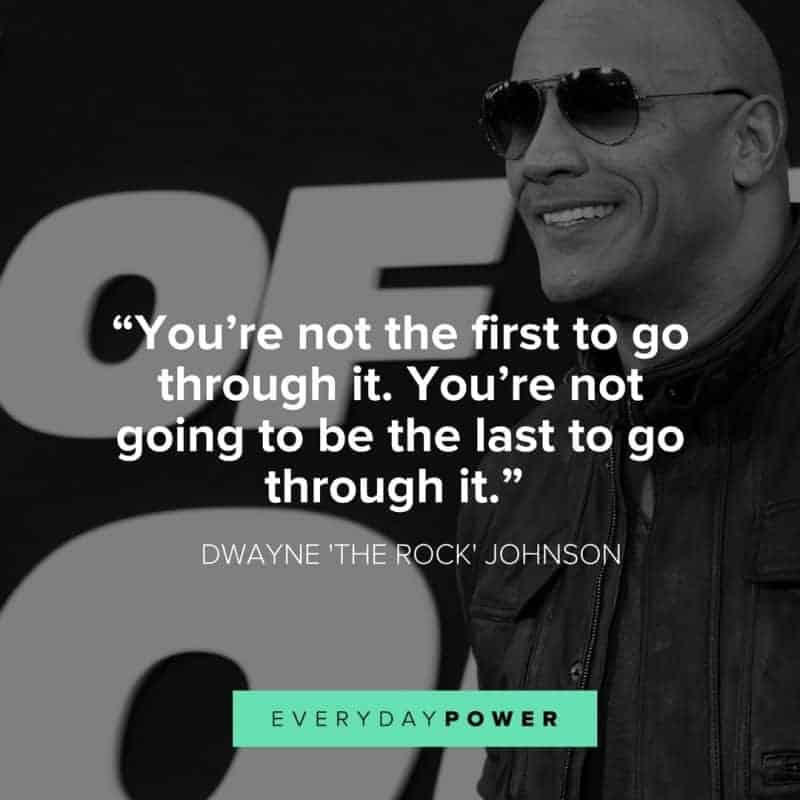 6. "I wish I had someone at that time who could just pull me aside and say, 'Hey, it's gonna be OK. It'll be OK.'" – Dwayne Johnson
7. "You just feel like you're alone. You feel like it's only you. You're in your bubble." – Dwayne Johnson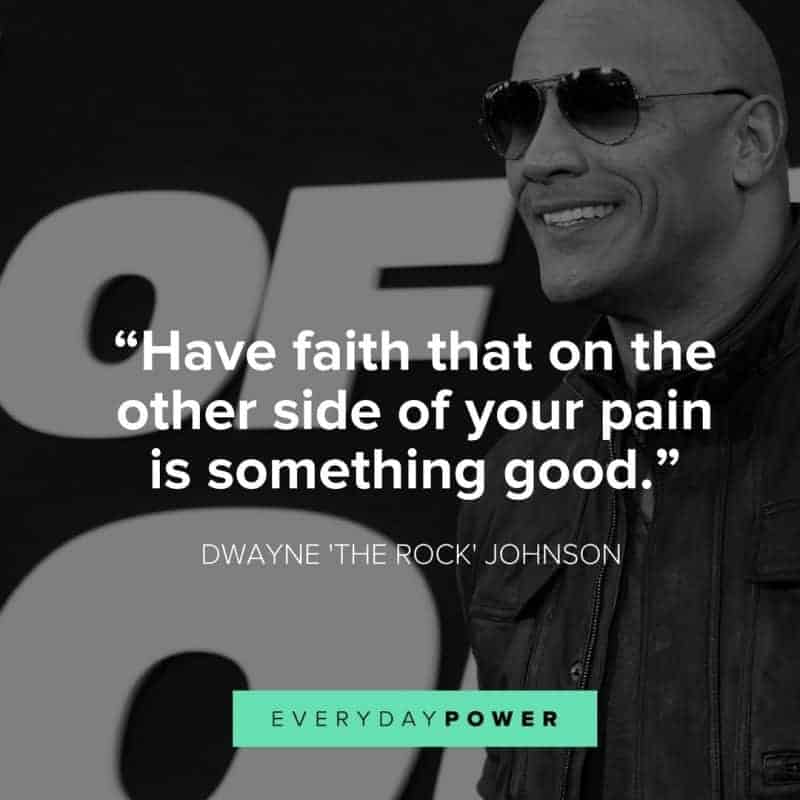 8. "The dreams I had, they were dashed. There is no more football. My relationship was crushed. That was my absolute worst time." – Dwayne Johnson
9. "You're not the first to go through it. You're not going to be the last to go through it." – Dwayne Johnson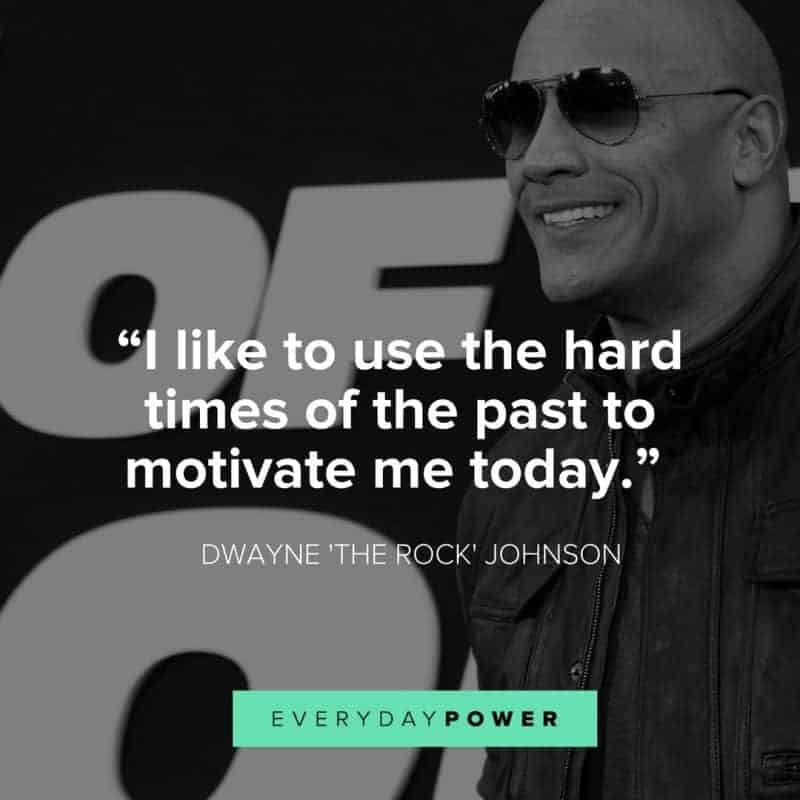 10. "Hold on to that fundamental quality of faith. Have faith that on the other side of your pain is something good." – Dwayne Johnson
The Rock quotes on life, love, and making it happen
11. "The road to success and greatness is always paved with consistent hard work. Outwork your competitors, be authentic, and above all else, chase your greatness." – Dwayne Johnson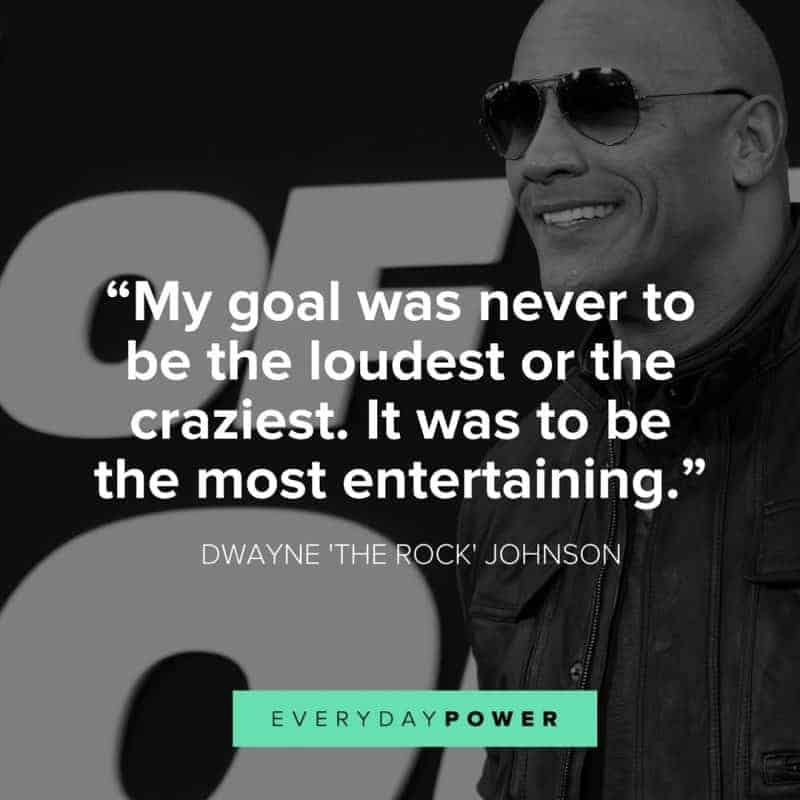 12. "My goal was never to be the loudest or the craziest. It was to be the most entertaining." – Dwayne Johnson
13. "Success isn't overnight. It's when everyday you get a little better than the day before. It all adds up." – Dwayne Johnson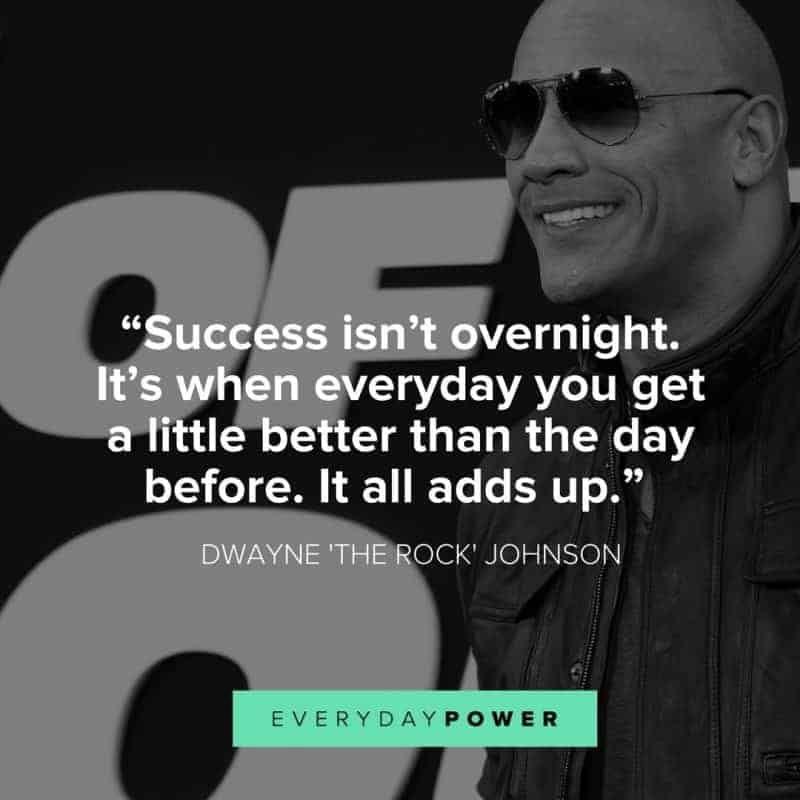 14. "Wake up determined. Go to bed satisfied." – Dwayne Johnson
15. "Success isn't always about 'Greatness', it's about consistency. Consistent, hard work gains success. Greatness will come." – Dwayne Johnson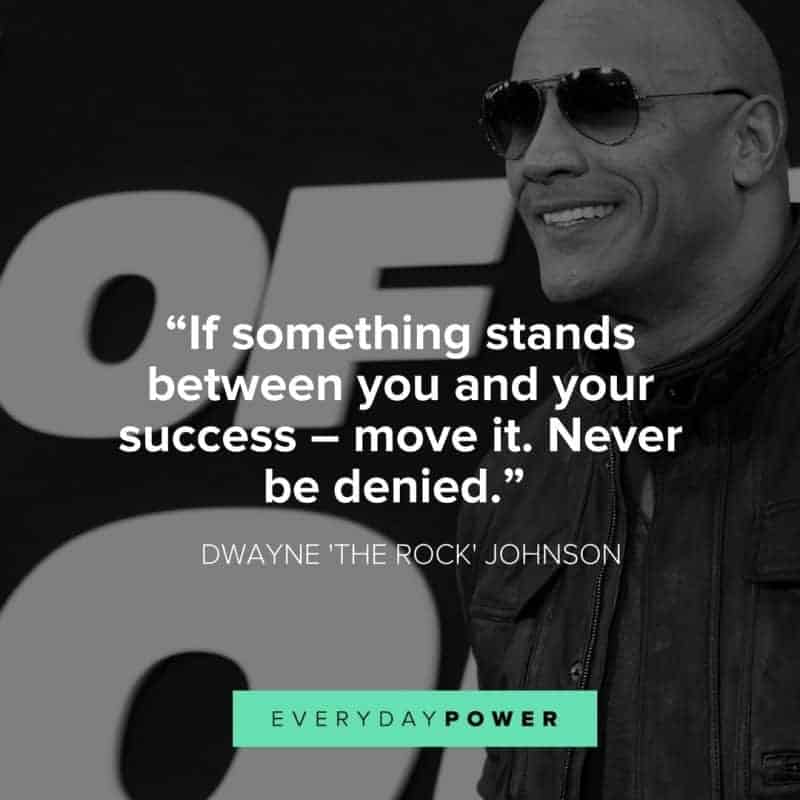 16. "If something stands between you and your success – move it. Never be denied." – Dwayne Johnson
17. "Think back 5 years ago. Think of where you're at today. Think ahead 5 years and what you want to accomplish. Be unstoppable." – Dwayne Johnson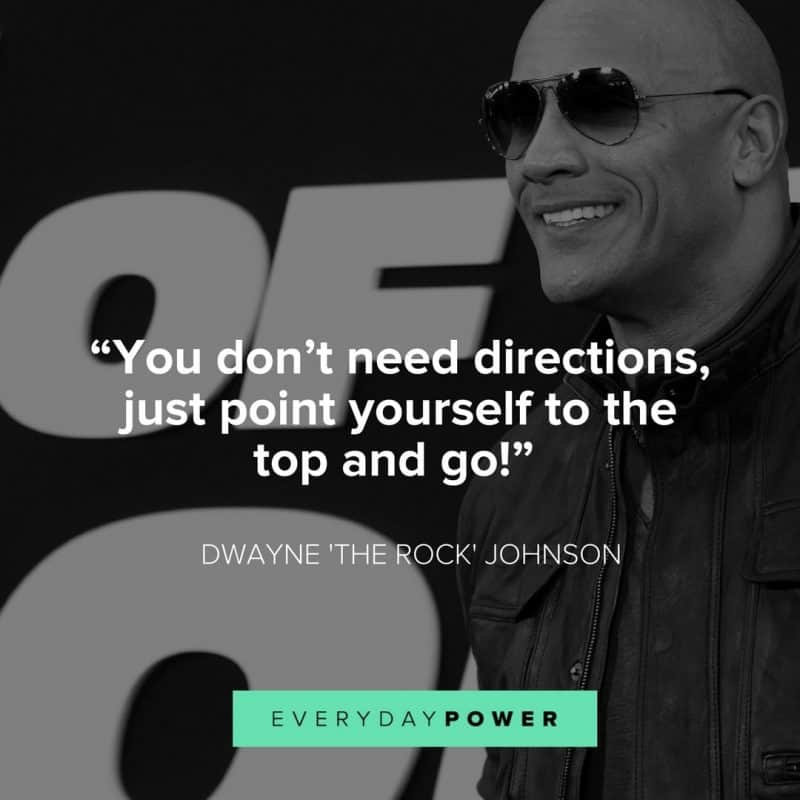 18. "You don't need directions, just point yourself to the top and go!" – Dwayne Johnson
19. "My philosophy is, it's always very rewarding when you can make an audience laugh. I don't mind making fun of myself. I like self-deprecating comedy. But I'd like you to laugh with me occasionally, too." – Dwayne Johnson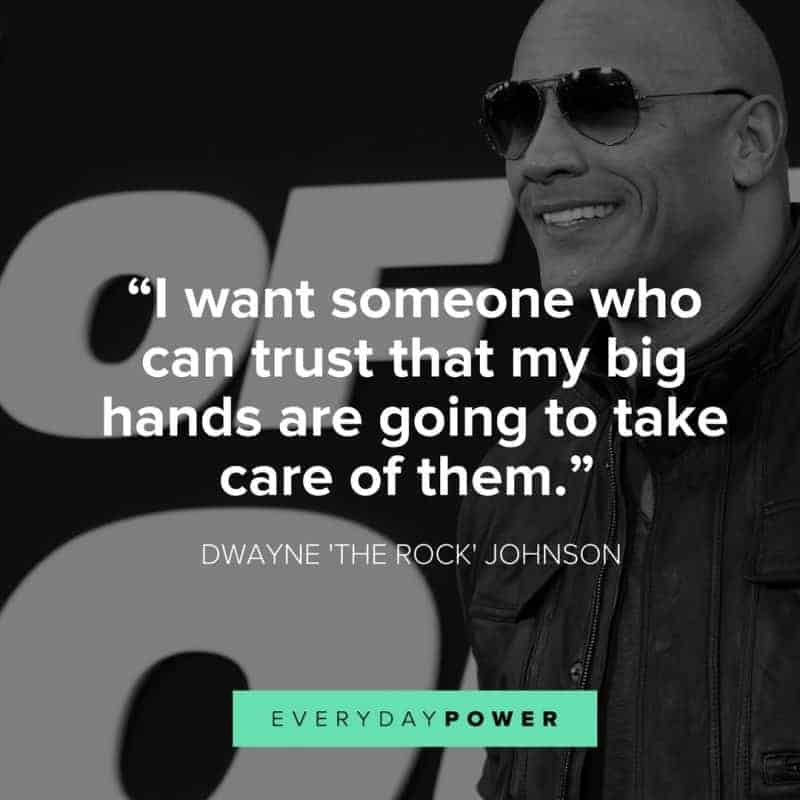 20. "I want someone who can trust that my big hands are going to take care of them." – Dwayne Johnson
The Rock quotes on striving for success
21. "The first step to achieving your goal, is to take a moment to respect your goal. Know what it means to you to achieve it." – Dwayne Johnson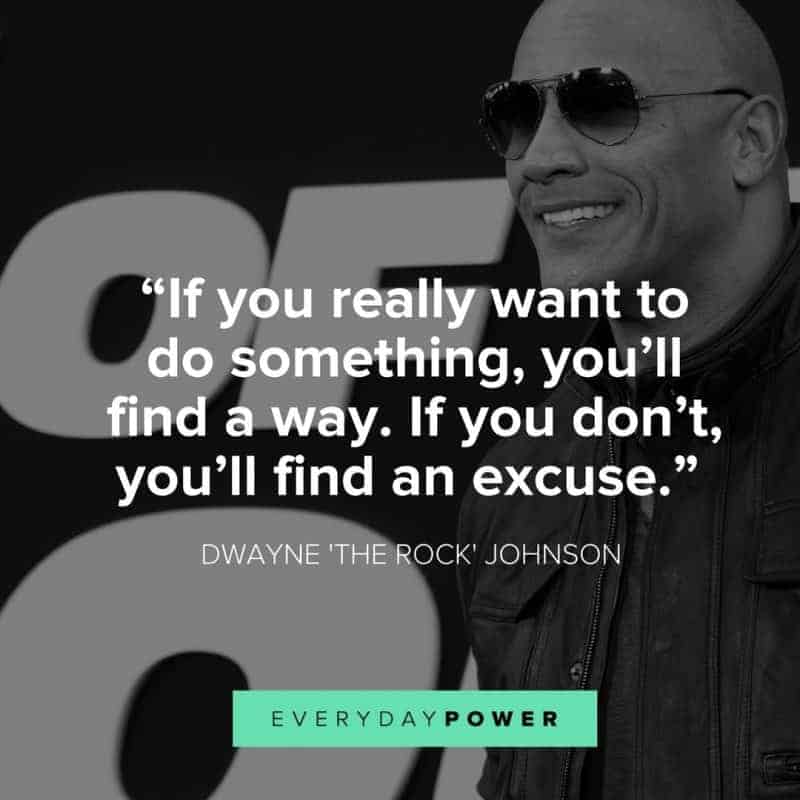 22. "If you really want to do something, you'll find a way. If you don't, you'll find an excuse." – Dwayne Johnson
23. "I grew up where, when a door closed, a window didn't open. The only thing I had was cracks. I'd do everything to get through those cracks – scratch, claw, bite, push, bleed. Now the opportunity is here. The door is wide open, and it's as big as a garage." – Dwayne Johnson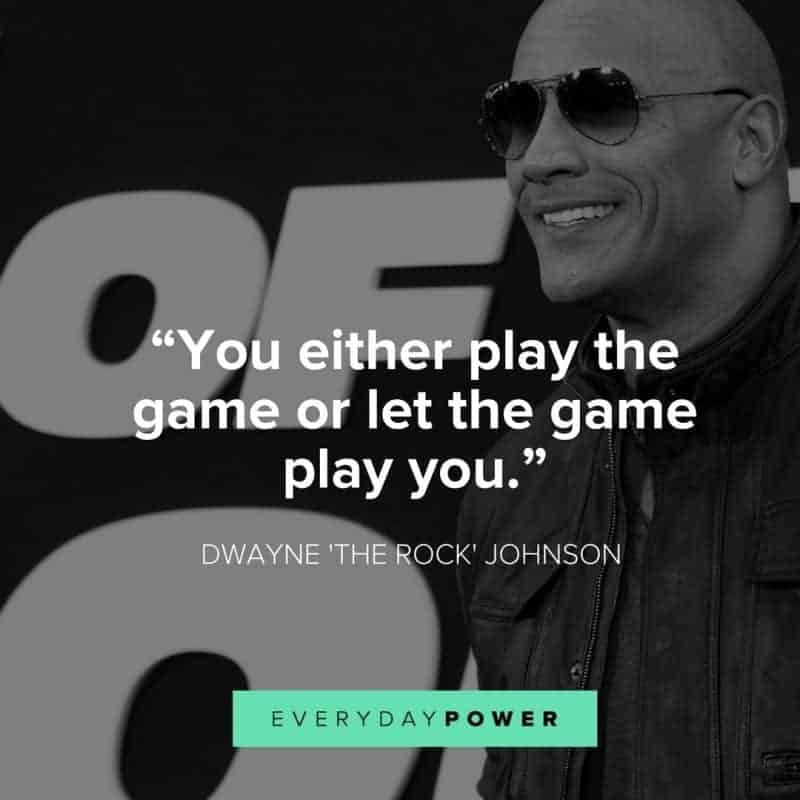 24. "You either play the game or let the game play you." – Dwayne Johnson
25. "It's not about the car your drive. It's about the size of your arm hanging out of the window." – Dwayne Johnson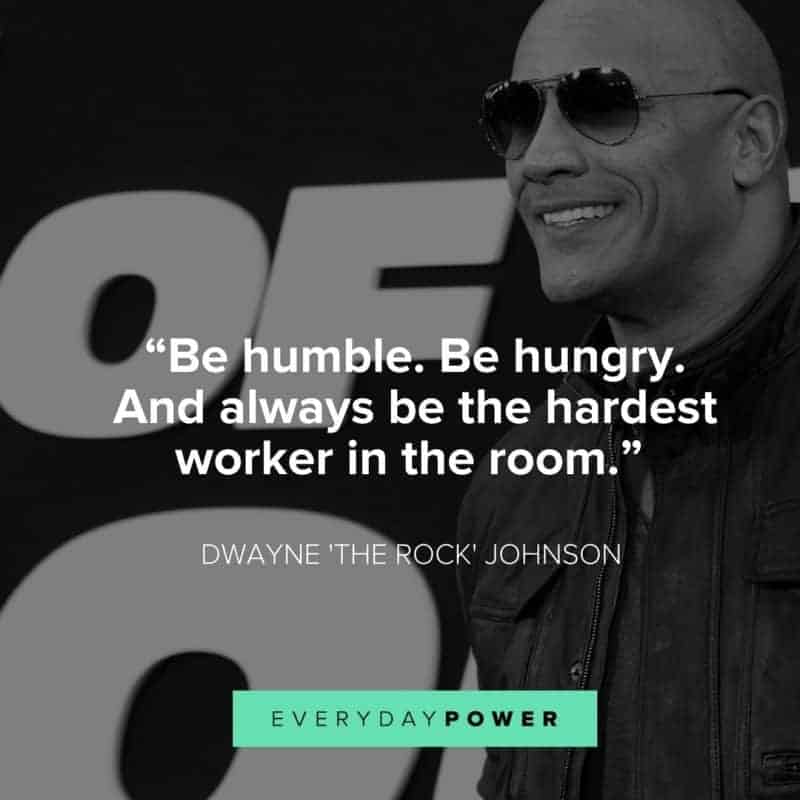 26. "One of the most important things you can accomplish is just being yourself." – Dwayne Johnson
27. "Be humble. Be hungry. And always be the hardest worker in the room." – Dwayne Johnson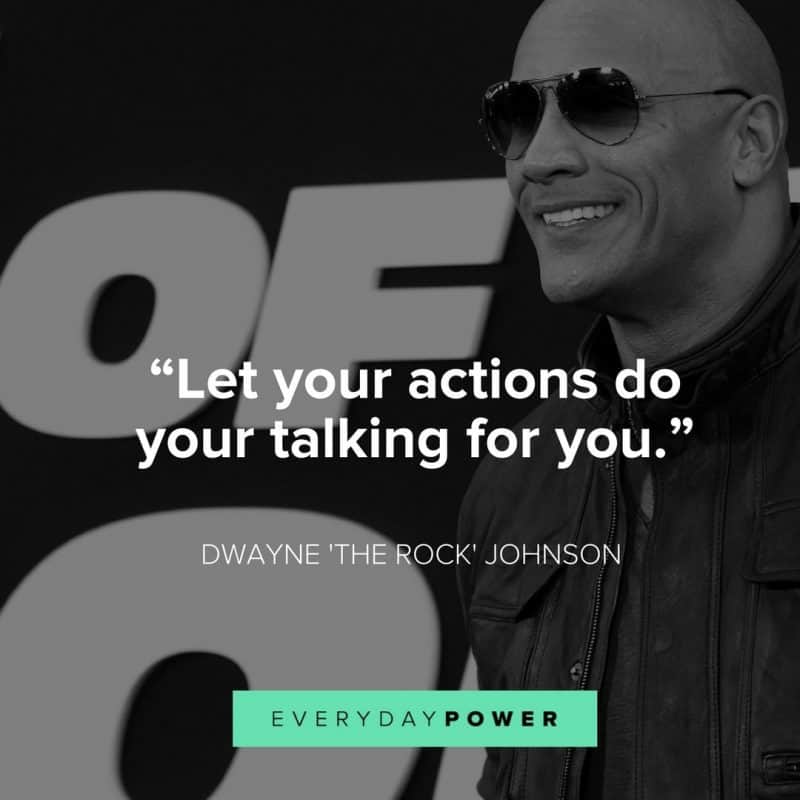 28. "Let your actions do your talking for you." – Dwayne Johnson
29. "With drive and a bit of talent, you can move mountains." – Dwayne Johnson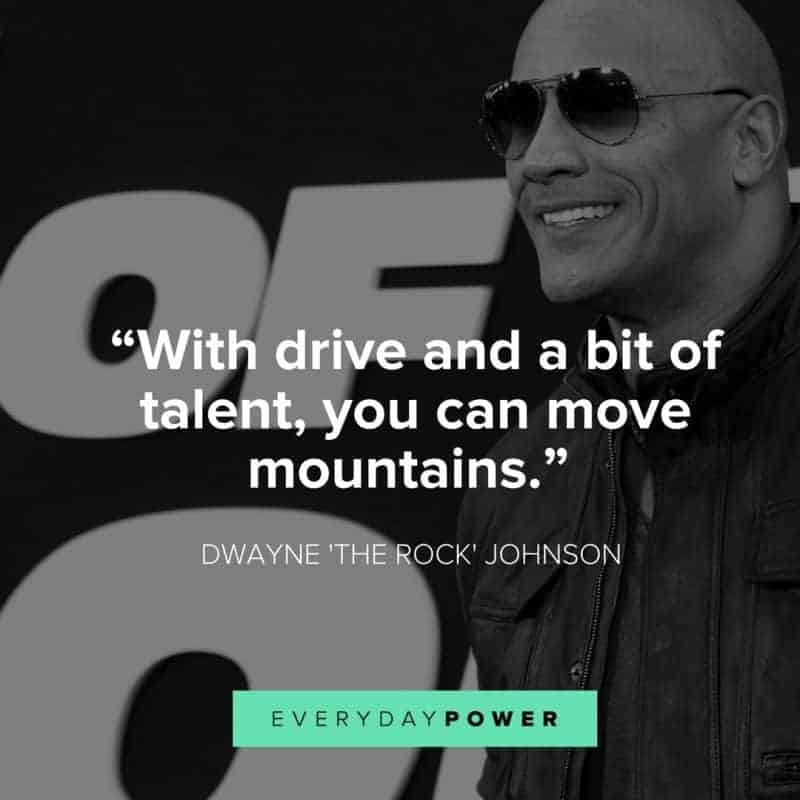 Other inspirational The Rock quotes
30. "Growing up I had nothing for such a long time. Someone told me a long time ago and I've never forgotten it, 'Once you've ever been hungry, really, really hungry, then you'll never, ever be full.' So I'll always be hungry in some way, driven and motivated to get what I want." – Dwayne Johnson
31. "For me, training is my meditation, my yoga, hiking, biking all rolled into one. Wake up early in the morning, generally around 4 o'clock, and I'll do my cardio on an empty stomach. Stretch, have a big breakfast, and then I'll go train." – Dwayne Johnson
32. "Life is anything but predictable." – Dwayne Johnson
33. "Check your ego at the door. The ego can be the great success inhibitor. It can kill opportunities, and it can kill success." – Dwayne Johnson
34. "Attitude and enthusiasm play a big part in my life. I get excited about the things that inspire me. I also believe in laughing and having a good time." – Dwayne Johnson
35. "Around every corner, always protect the engine that powers you." – Dwayne Johnson
Did these 'The Rock' quotes touch a nerve with you?
Although Dwayne Johnson battled with depression for years, it's only recently that he was able to open up about it.
He shared his experience mostly to help others feel that there's someone out there who understands.
According to data from the Substance Abuse and Mental Health Services Administration (SAMHSA), 16.2 million adults in the United States experienced at least one main depressive episode in 2016.
Raising awareness on this issue will hopefully let people come together – so no one would need to suffer in silence.
**If you, or someone you know, may need help, please contact the US Suicide Hotline at 1-800-784-2433, OR the 24/7 National Suicide Prevention Lifeline at 1-800-273-8255.**
February 24, 2021 6:00 AM EST