The Best My Girl Quotes from the 90's Classic
These My Girl quotes will remind you of your favorite scenes from the movie.
Share your favorites in the comments below.
My Girl is a classic American coming-of-age comedy-drama movie set in 1972.
The film is about the story of Vada Sultenfuss, a young tomboy living in Madison, Pennsylvania.
It revolves around the friendship of Vada and her best friend, Thomas, who is just about her age.
Vada found true friendship in Thomas and learned innocent love at a young age.
Vada and Thomas share a deep bond through their young and innocent minds.
They share their deepest thoughts and are happy together exploring their childhood.
This film is a reminder of the uncertainties of tomorrow.
These My Girl quotes will indeed trigger some bittersweet memories from the film.
Don't forget to also check out these Never Have I Ever quotes from the coming-of-age series.
Also, check out our most popular quote article, a list of short inspirational quotes for daily wisdom.
See the rest of our quote database for even more inspirational ideas and thoughts.
My Girl quotes from Vada
1. "Get outta here! And don't come back for five to seven days!" — Vada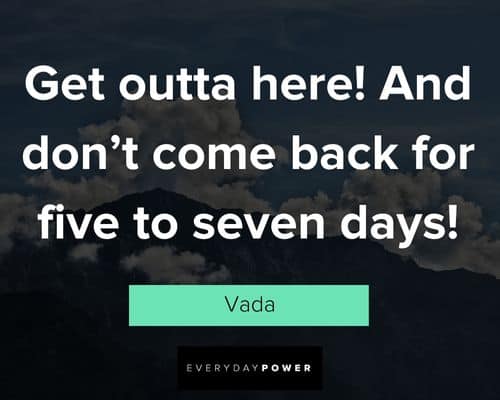 You will also enjoy our article on quotes for girls.
2. "Life isn't just death. Don't ignore the living." — Vada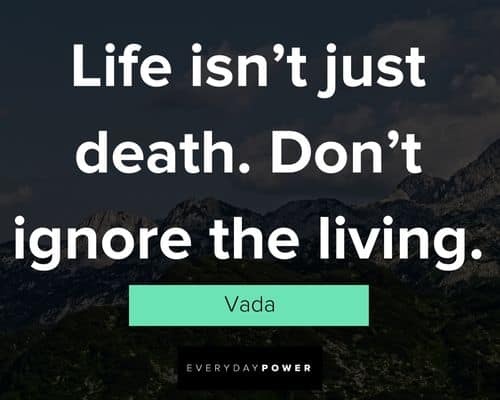 You will also enjoy our article on Coming to America quotes.
3. "My fears and secrets: I'm afraid I killed my mother." — Vada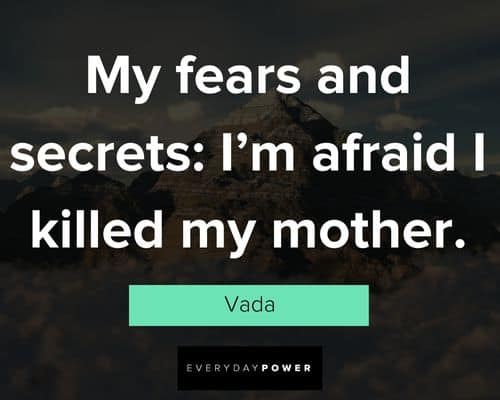 4. "I used to like to play with my Ken and Barbie Dolls. Ken was my favorite. Then one Christmas I got them a camper and all they wanted to do was hang out in it by themselves. So I wasn't too upset when they took that wrong turn and went over the cliff." — Vada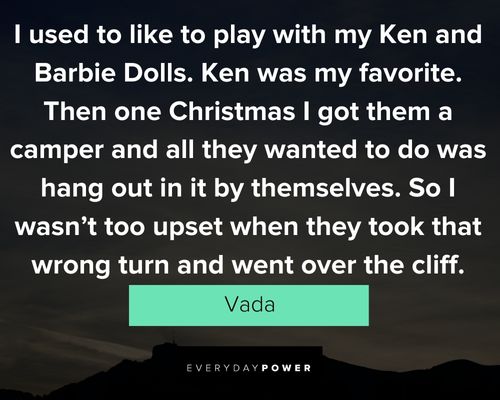 5. "Where are his glasses? He can't see without his glasses!" — Vada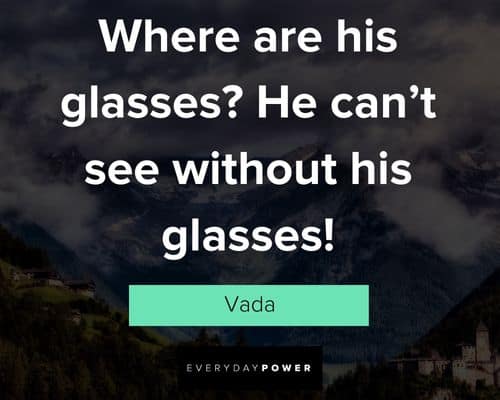 6. "Mrs. Sennett, don't worry, Thomas J. will be all right. My mother will take care of him." — Vada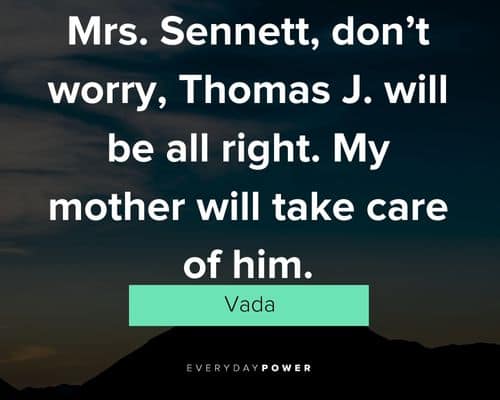 7. "I was born jaundiced. Once I sat on a toilet seat at a truck stop and caught hemorrhoids. And I've learned to live with this chicken bone that's been lodged in my throat for the past three years. So I knew Dad would be devastated when he learned of my latest affliction." — Vada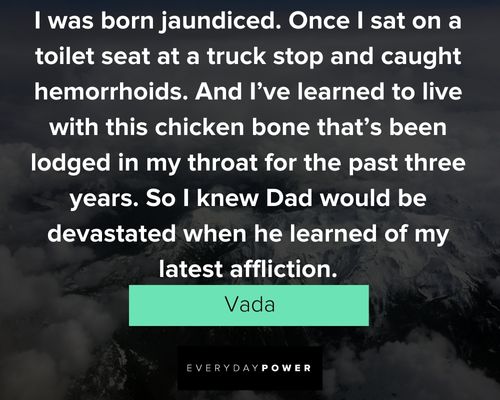 8. "I think… everybody gets their own white horse and all they do is ride them and eat marshmallows all day. And everybody's best friends with everybody else. When you play sports, there's no teams, so nobody gets picked last." — Vada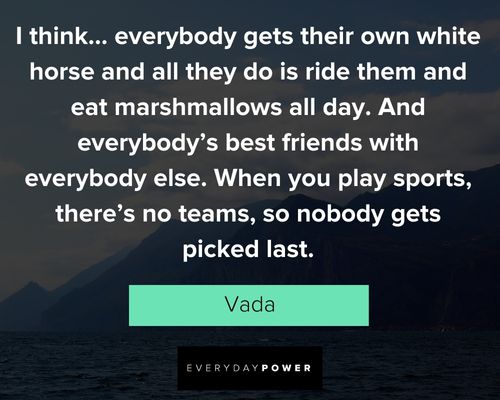 9. "I only surround myself with people who I find intellectually stimulating." — Vada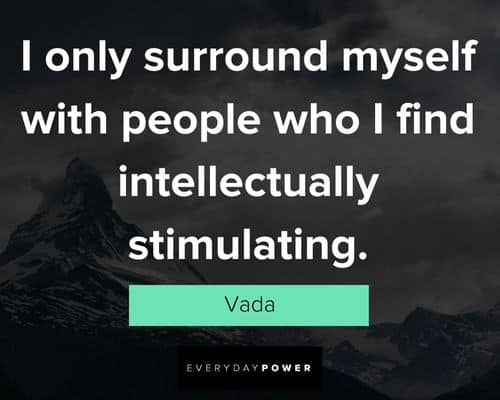 10. "'Ode to Ice Cream' by Vada Sultenfuss. I like ice cream a whole lot/It tastes good on days that are hot/On a cone or in a dish/This will be my only wish/Vanilla, chocolate, rocky road/Even with pie, a la mode." — Vada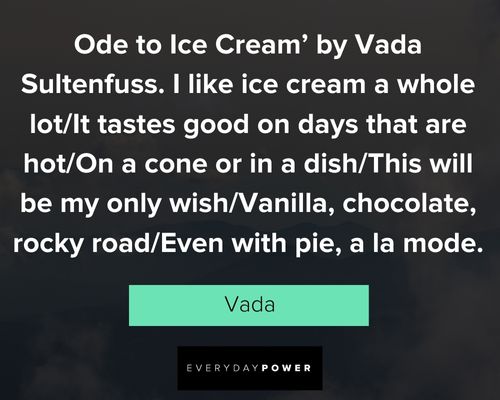 11. "Things are much better now. I finally swallowed that chicken bone, Judy and I will in the same homeroom and the Repulican Party just re-nominated Mr. Nixon." — Vada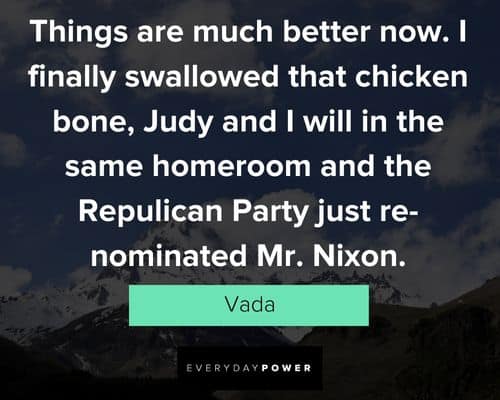 12. "Nephritis is a kidney disease, you don't get it from eating hot dogs." — Vada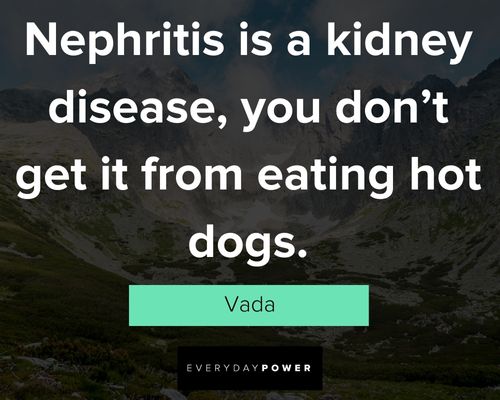 My Girl quotes from conversations between Vada and Thomas
13. Vada: "Say something, it's too quiet."
Thomas J. Sennett: "Umm, Ummmmm…"
Vada: "Just hurry."
Thomas J. Sennett: "I pledge allegiance to the flag of the United States of America…"
14. Thomas J. Sennett: "Vada?"
Vada: "Yeah?"
15. Thomas J. Sennett: "Would you think of me?"
Vada: "For what?"
Thomas J. Sennett: "Well, if you don't get to marry Mr. Bixler."
Vada: "I guess."
16. Vada: "Pacifist!"
Thomas J. Sennett: "Am not!"
17. Vada: "Bedwetter!"
Thomas J. Sennett: "I stopped that!"
18. Thomas J. Sennett: "But what if you're afraid to ride horses?"
Vada: "Doesn't matter 'cause they're not regular horses. They've got wings. And it's no big deal if you fall 'cause you'll just land in a cloud."
19. Thomas J. Sennett: "I'm gonna drive us to Liverpool."
Shelly: "Liverpool?"
Vada: "Big Ringo fan."
20. Vada: "Why do you think people want to get married?"
Thomas J. Sennett: "When you get older, you just have to."
21. Vada: "I'm gonna marry Mr. Bixler."
Thomas J. Sennett: "You can't marry a teacher, it's against the law."
Vada: "It is not."
Thomas J. Sennett: "Yes, it is 'cuz then he'll give you all A's and it won't be fair."
Vada: "Not true."
22. Vada: "Have you ever kissed anyone?"
Thomas J. Sennett: "Like they do on TV?"
Vada: "Hm-mm."
Thomas J. Sennett: "No."
Vada: "Well maybe we should, just to see what's the big deal."
23. Thomas J. Sennett: "So, what'd he say was wrong with you?"
Vada: "This whole medical profession is a crock."
24. Vada: "I'm running away."
Thomas J. Sennett: "Where are you running to?"
Vada: "California. I'm going to Hollywood to live with the Brady Bunch."
Thomas J. Sennett: "I want to live with them, too."
Vada: "No, you can't. They have enough kids. You'll have to live with the Partridge Family."
My Girl quotes from Shelly
25. "She won't come out. It's been a whole day. You have to do something, Harry." — Shelly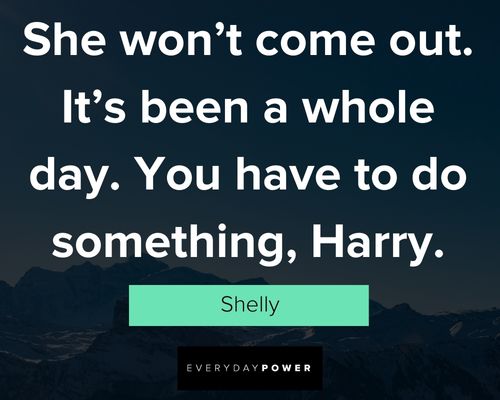 Which of these My Girl quotes is your favorite?
This film received tons of praise and revenue at the box office because of its unique and direct build-up to the film's climax.
The portrayal of genuine friendship and childhood innocence of Vada and Thomas captivated the hearts of many audiences worldwide.
Thomas suffered a tragic and untimely death in the film due to an allergic reaction to a bee sting while searching for Vada's lost ring.
This event devastated Vada and the people dear to Thomas.
However, in the end, Vada begins to accept things that will shape her life forever.
This film will always remind us that life is temporary, and we should cherish every chance we have to show our affection for people who are important to us.
Share these My Girl quotes and sayings with your friends for a quick throwback.