Virgil Abloh Quotes From the American Clothing Designer
Check out these Virgil Abloh quotes to learn more about this talented designer who lived too short a life.
Virgil Abloh was an American fashion designer who lived from 1980 to 2021.
He got his start in designing clothes in 2009 when he was interning at Fendi, an Italian luxury fashion house.
Fendi is where Abloh met musician Kanye West, and they began to collaborate soon after.
Abloh's mother was a seamstress who taught Abloh to sew when he was a child.
Abloh also had a love for architecture, which helped him when designing clothes.
He graduated from the University of Wisconsin-Madison with a Bachelor of Science degree in civil engineering in 2002.
Abloh got his Master of Architecture degree in 2006 at the Illinois Institute of Technology.
These Virgil Abloh quotes will show you how much can be accomplished in a short period of time.
If you enjoy this article, check out our most popular quote article, a list of short inspirational quotes for daily motivation.
Browse our entire collection of inspirational quotes for more motivating ideas and concepts.
Virgil Abloh Quotes On Constantly Moving Forward
Virgil Abloh did not become successful by sitting on his couch. He was a man that was constantly in motion and making things happen as evidenced by the quotes below.
1. "I started off as a kid who didn't care what my education was." – Virgil Abloh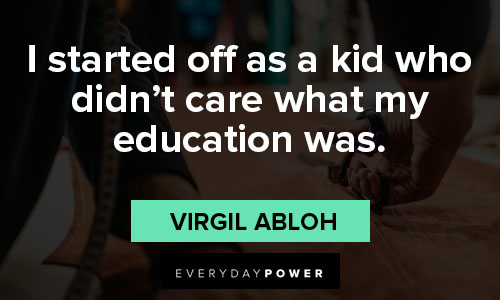 You will also enjoy our article on fashion quotes.
2. "I like to look at fashion and relate it to the time when it was happening." – Virgil Abloh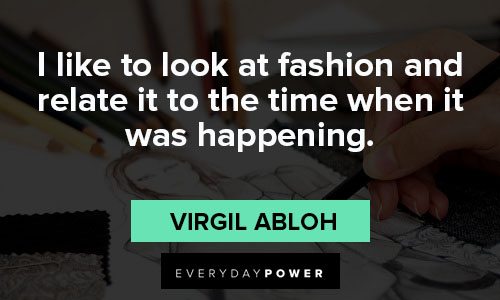 3. "I always live in multiple places. I'm never in the same city for seven days." – Virgil Abloh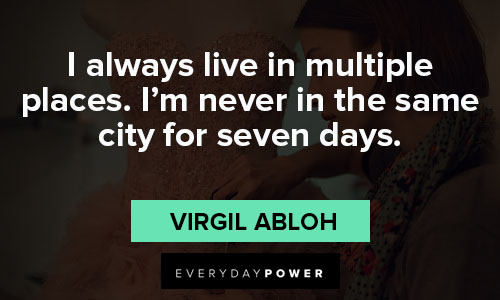 4. "As a young designer in tune with culture, I'm interested in the lifeline of trends." – Virgil Abloh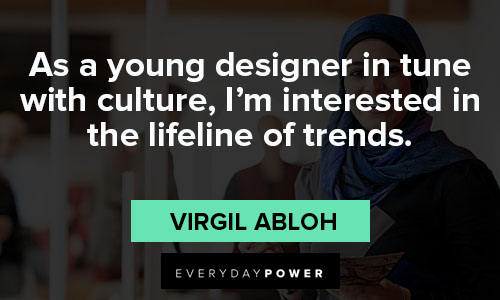 5. "I can come up with 30 T-shirt designs in a day, but it's just about where to slot each of them. That's streetwear to me." – Virgil Abloh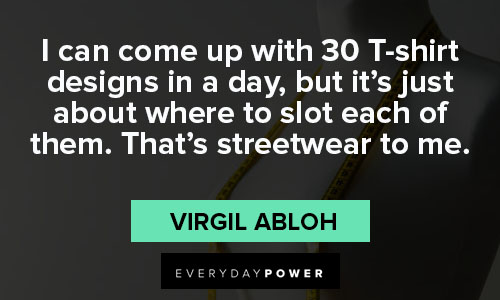 6. "There's no line between a designer and consumer." – Virgil Abloh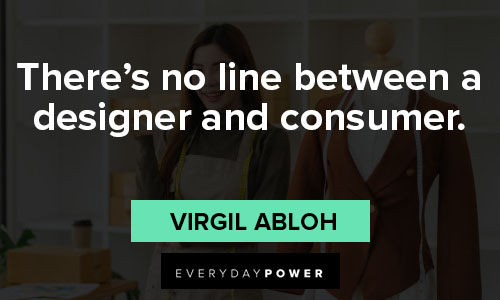 7. "Ironic things are interesting." – Virgil Abloh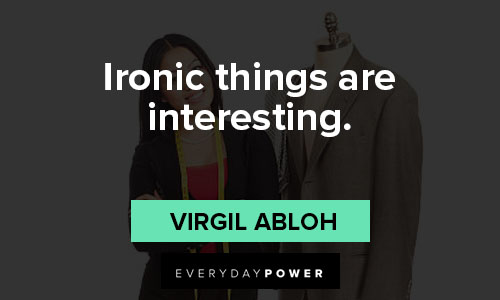 8. "Big teams are absolutely vital if you want to achieve certain results when you're working on larger scales, both in terms of physical size and productive quantities." – Virgil Abloh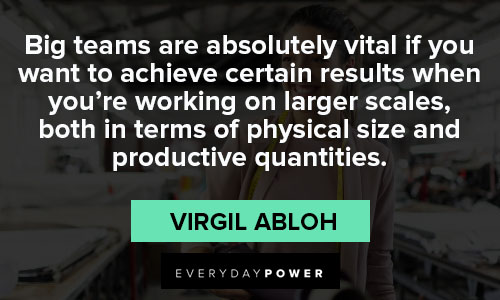 9. "I have this overriding principle that streetwear could end up like disco: that it will be perceived well at the time but doesn't age well at all." – Virgil Abloh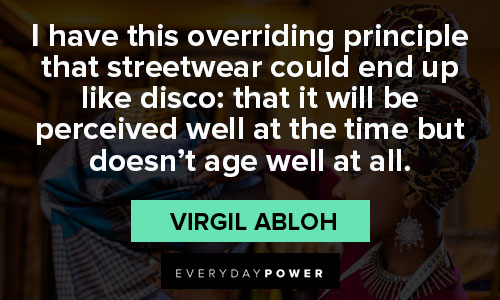 10. "Every idea that comes to mind I execute, or I look for outlets to put out ideas." – Virgil Abloh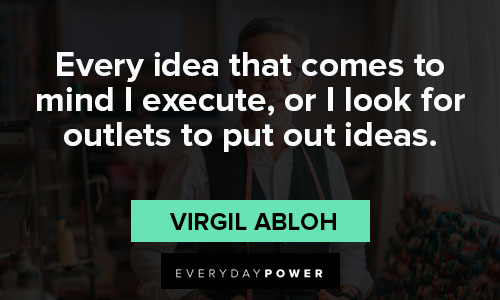 Virgil Abloh Quotes On His Personal Life
What the public sees is not all that makes a person. Check out these quotes below to get to know who Virgil Abloh was on a more personal level.
11. "All I do all day is think of ideas and implement them. That's an industry, you know. I'm trying to make art on a commercial scale." – Virgil Abloh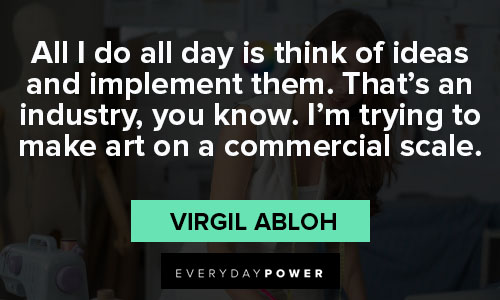 12. "I oftentimes say that I design my collections off my phone. I'm in a group chat with my team in Milan. I don't really have an assistant. It's a modern way of working. I don't know if it's sustainable, but it's how I do it." – Virgil Abloh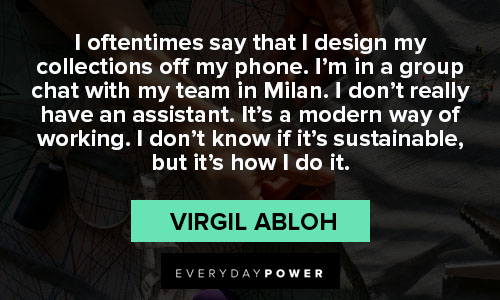 13. "DJing is like a great tasteful art form." – Virgil Abloh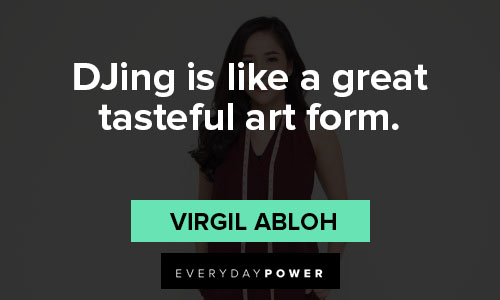 14. "Creative director' is a catch-all phrase for giving ideas. To me, it obviously means more than that. It's like being a counselor." – Virgil Abloh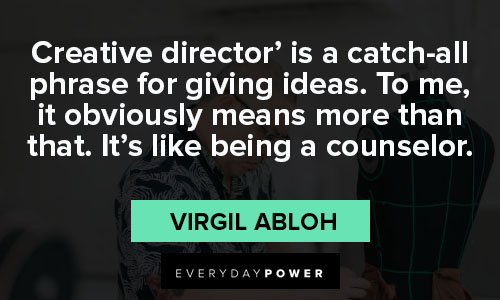 15. "I think my original ambition was to be an artist." – Virgil Abloh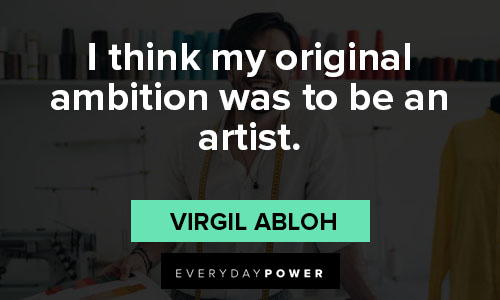 16. "I'm mostly into buying art from friends. I like to keep it vague – just whatever I find intriguing." – Virgil Abloh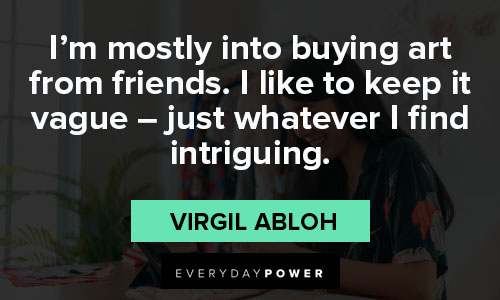 17. "Whenever I'm doing a collection, I'm inspired by the world around us." – Virgil Abloh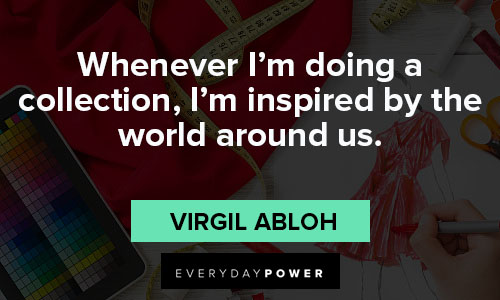 18. "I don't know where my parents got my name. I'm sure they saw it in a movie, maybe." – Virgil Abloh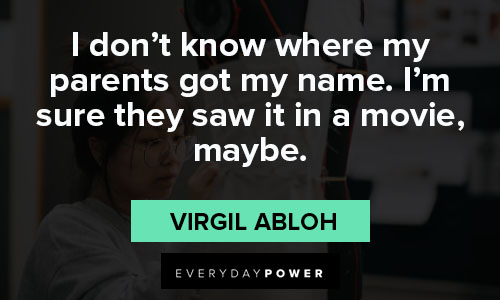 19. "The blue-collar culture, it's not really a buttoned-up aesthetic. It's a heavy-labor thing because you're, like, sweating." – Virgil Abloh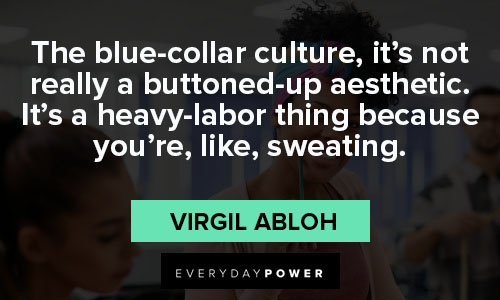 20. "I don't play golf." – Virgil Abloh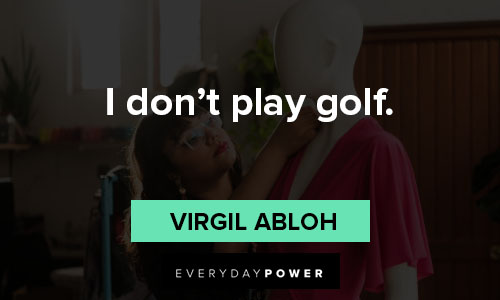 The Virgil Abloh Quotes And The Informing Below Show That Virgil Abloh Was A Versatile Man
Abloh founded his own clothing brand, Off-White, in 2013.
Off-White was a finalist for the LVMH Prize and surpassed Gucci in sales by the end of 2018.
However, Abloh did not just work in clothing design.
He also partnered up with the IKEA furniture store to design furniture.
Abloh also had a love for music, as well as art.
In late 2021, Abloh passed away after a battle with a rare form of cancer called cardiac angiosarcoma.
Abloh did not announce his cancer diagnosis or battle with it, so the public was unaware for quite some time.
His funeral was held on December 6, 2021.
The Virgil Abloh quotes show that if we are driven we can accomplish a lot in a short period of time.
What are some things you have accomplished or want to accomplish in your lifetime?
Share the post with your friends and leave comments below to keep the conversation going.