30 Diwali Quotes To Discover Your Inner Light
These Diwali quotes will help you understand this religious festival a little more or share in your joy of celebrating it.
Leave us a comment in the section below with your thoughts on Diwali.
Diwali is one of the major religious festivals in Hinduism, Jainism, and Sikhism.
Diwali is also sometimes spelled Divali.
The festival of light lasts for five days, from the 13th day of the dark half of the lunar month Ashvina to the second day of the light half of the lunar month Karttika.
For those of us who are familiar with the Gregorian calendar, this means the dates usually fall in late October and November.
Diwali is derived from the Sanskrit term dipavali which means "row of lights."
Depending on the region and tradition, there are a few variations in how people celebrate Diwali.
However, the festival generally symbolizes the victory of light over darkness.
This explains why most Hindus light diyas (small lamps filled with oil) on the night of the new moon.
This custom is thought to invite the presence of Lakshmi, the goddess of wealth.
Keep reading these Diwali quotes to learn more about different ways to celebrate.
Even if you don't celebrate Diwali, these quotes can still give you a positive view on living your life in the light.
Check out our most popular quote article, a list of short inspirational quotes for daily inspiration.
Check out our entire collection of motivational quotes here.
Diwali quotes about light
1. "Diwali is a festival of light and hope, not of pollution and death." ― Abhijit Naskar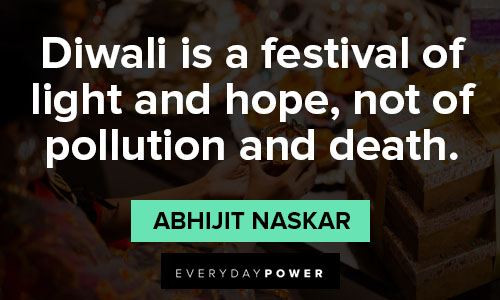 You will also enjoy our article on light quotes.
2. "You cannot celebrate the festival of light before combating the darkness within." ― Kapil Raj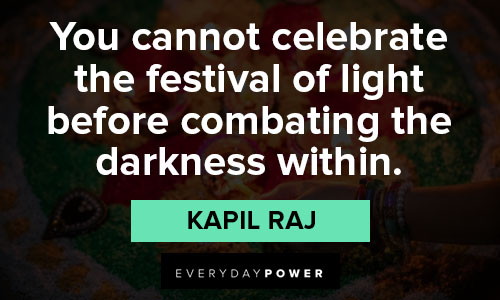 3. "May the diyas light lead you onto the road of growth and prosperity. Happy Diwali!" — Unknown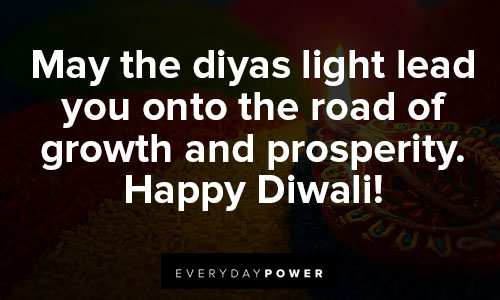 4. "This Diwali illuminates your life with lights and colors. Have a Safe and Green Diwali!!!" — Unknown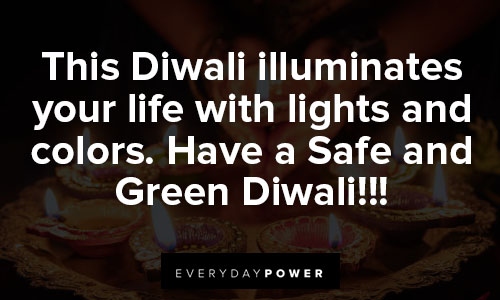 5. "May the lamps of Diwali brighten your life and Rangoli add more hues to your life. Have a Happy Diwali!" — Unknown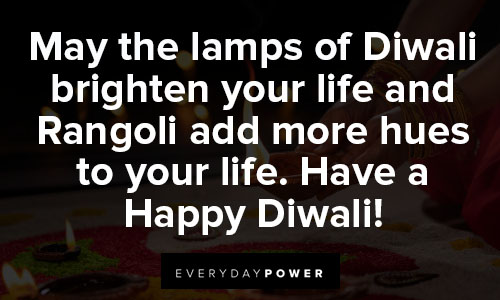 6. "May The Divine Light Of Diwali Spread Into Your Life Peace, Prosperity, Happiness, And Good Health…. Happy Diwali!!" — Unknown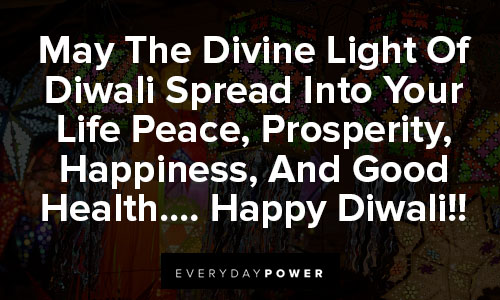 7. "This Diwali; empower someone to enjoy the Festival of Lights, by making their life bright." ― Vikrmn: CA Vikram Verma, Yog To Yoga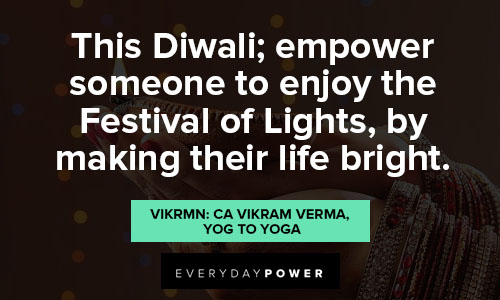 8. "Let's celebrate the festival in the true sense by spreading joy and light up the world of others. Have a happy, safe and blessed Diwali!" — Unknown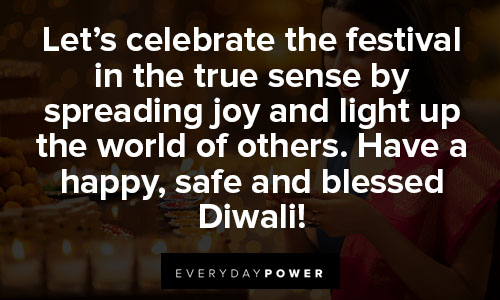 9. "Diwali (Lakshmi Pujan/Amavasya) is the darkest night of the year. And our ancestors have taught us to overcome darkness with light." ― Harihar D. Naik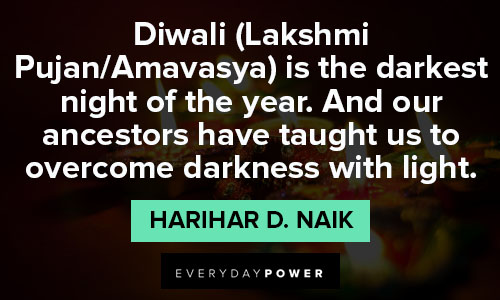 10. "Diwali is not just a festival but a way of celebrating the true homecoming, welcoming your true-self to your mind, body and soul." ― Vikrmn: CA Vikram Verma, Yog To Yoga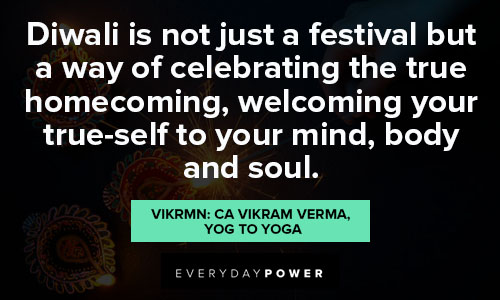 Diwali quotes about goals and the upcoming year
11. "Diwali is about setting goals, not accumulating gold." ― Tapan Ghosh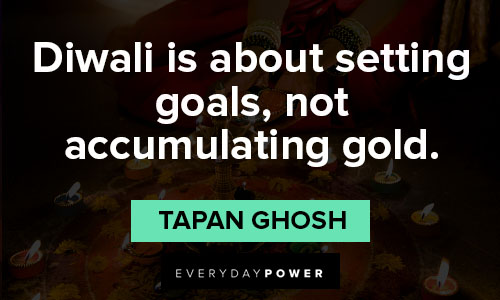 12. "Let this diwali burn all your bad times and enter you in good times." — Unknown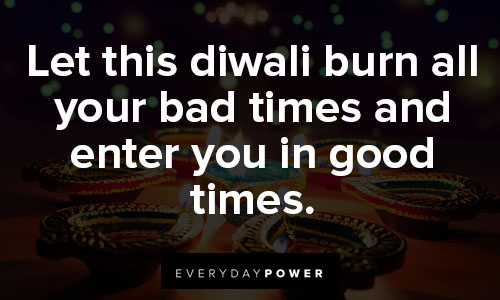 13. "Hoping your Diwali brings health, wealth, and happiness for the upcoming year." — Unknown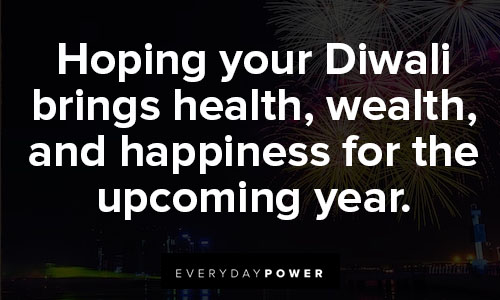 14. "Wishing the goodness of this festive season dwells within you and stays throughout the year. Happy Diwali!" — Unknown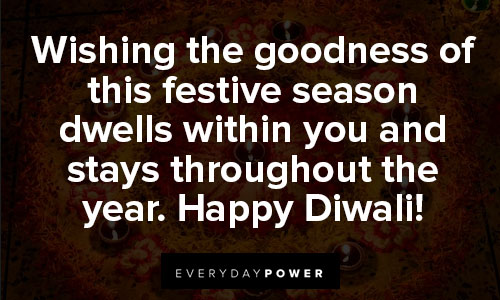 15. "Another year will be over, another year will come. I hope and pray that the lights of Diwali illuminate the new chapter of your life. Happy Diwali!" — Unknown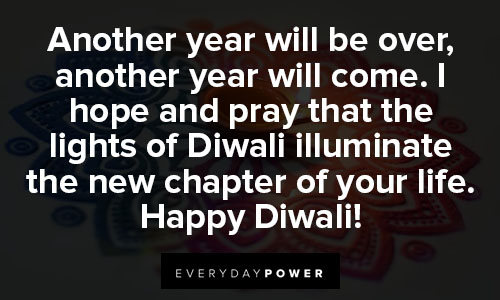 16. "Diwali is here – the gracious festival celebrating victory, of myth and mystery; the festival that signals triumph over tragedy. May it Bestow all with Love and Happiness!" — Unknown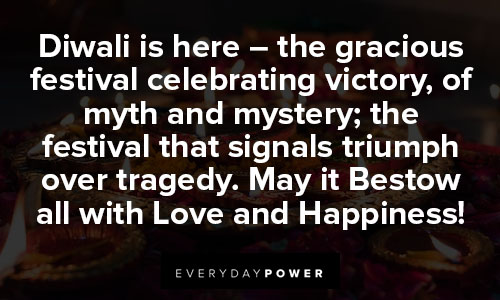 17. "May the warmth and splendor that are a part of this auspicious occasion, fill your life with happiness and bright cheer, and bring to you joy and prosperity, for the whole year." — Unknown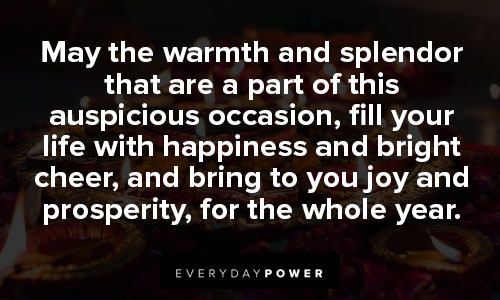 18. "May the joy, cheer, delight and cheerfulness of this heavenly festival surround you forever. May the happiness that this season brings brighten your life and, hope the year brings you luck and fulfills all your dearest dreams!" — Unknown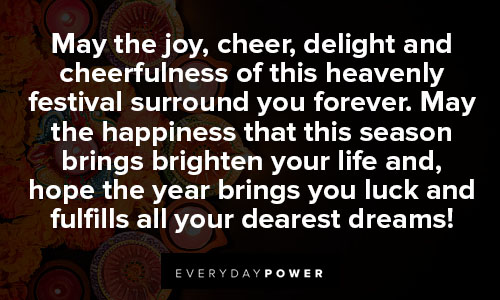 19. "May these rich blessings be your due, a wealth of friendships, old and new. Some service rendered, some solace given, and gentle peace with god and heaven. Heartfelt wishes for you and your family on the eve of Diwali." — Unknown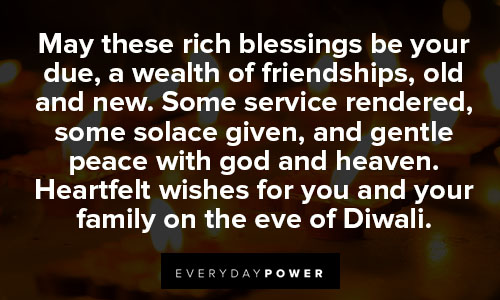 20. "May the festival of lights be the harbinger of joy and prosperity. As the holy occasion of Diwali is here and the atmosphere is filled with the spirit of mirth and love, here's hoping this festival of beauty brings your way, bright sparkles of contentment, that stay with you through the days ahead." — Unknown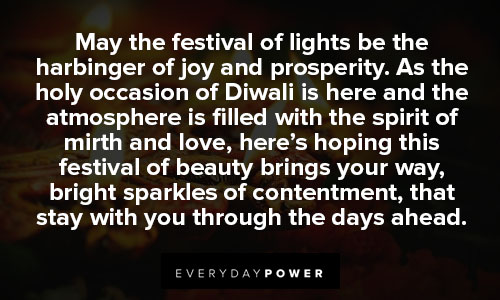 Diwali quotes about heart and soul and how the holiday is celebrated
21. "Diwali is celebrating with diyas, lighting up in heart too, for inner illumination." ― Vikrmn: CA Vikram Verma, Yog To Yoga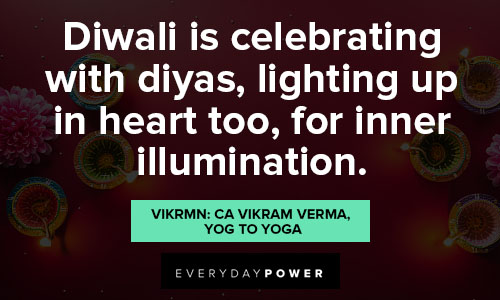 22. "This Diwali welcome the thoughts, rich in peace, to your abode called heart." ― Vikrmn: CA Vikram Verma, Yog To Yoga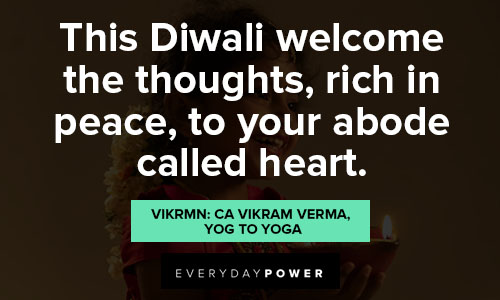 23. "A joyful day for minds and hearts and souls; Laughter and smiles for many days; Let there be triumph in every way." — Unknown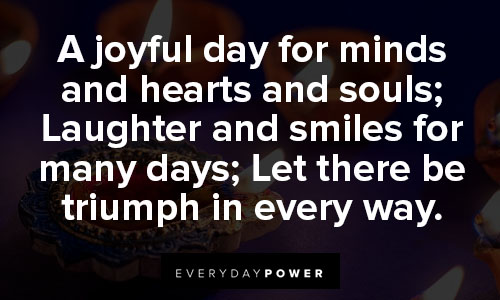 24. "If you don't put out your best dress, eat lots of sweets, enjoy the view, then what's even the point of celebrating the Diwali?" ― Sarvesh Jain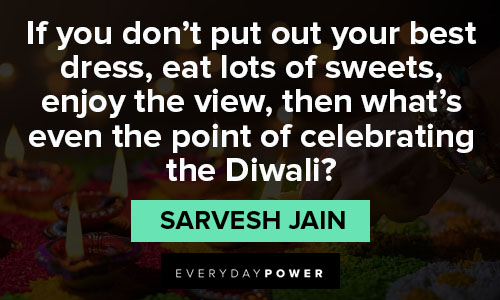 25. "Diwali—A festival full of sweet memories, sky full of fireworks, mouth full of sweets, house full of diyas and heart full of enjoyment." — Unknown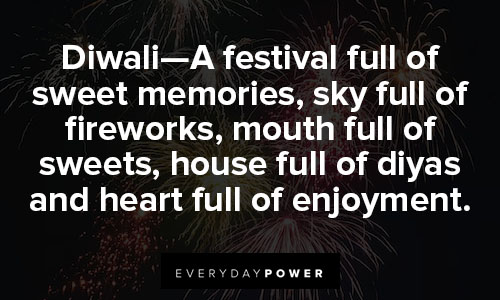 26. "Paying respects to the gods, and decorating for them the Thali, this is what the occasion is all about, this is the spirit of Deepavali." — Unknown
27. "Let us keep Diwali holding it close to our hearts for its meaning never ends and its spirit is the warmth and joy of remembering friends." — Unknown
28. "Happy Diwali. May your life turn up to be Lit every day." ― DJ Kyos
29. "Diwali – The gorgeous festival of snacks and sweets everyone enjoying a royal feast; when old and young with delight meet and with love and affection do all hearts beat." — Unknown
30. "Candles to enjoy life; Decorations to light life; Presents to share success; Firecrackers to burn evils; Sweets to sweeten success; And Worship to thank God! Diwali Wishes from Heart." — Unknown
What is Diwali?
Regardless of the tradition and customs practiced, there is a common theme among them.
In Bengal, they worship the goddess Kali.
Kali is the Hindu Goddess of Time, Change, Creation, Destruction, and Power.
In North India, the festival also celebrates the royal homecoming of Rama, the Hindu deity that embodies chivalry and virtue.
Along with Sita, Lakshmana, and Hanuman, Rama returned to the city of Ayodhya after defeating Ravana, the 10-headed king of the demons.
In South India, the festival marks Krishna's defeat of the demon Narakasura.
Others celebrate Diwali as a commemoration of the marriage of Lakshmi and Vishnu.
Some observers celebrate the birthday of Lakshmi during Diwali.
These stories mark overcoming challenges or change.
Even celebrating a birthday is about moving from one year to another that will hopefully be better than the last.
Lighting the way from one part of life to another.
What does Diwali mean to you? Let us know in the comment section below.