Good Energy Quotes For Staying Positive Even When It's Challenging
August 29, 2022 6:00 AM EST
These good energy quotes will help explain some of the benefits of staying positive, sharing your positive energy with others (or keeping yours safe from those with negative energy), and even help you figure out some of the physical aspects of good energy.
I remember being a little kid and watching Peter Pan listening to Tinkerbell explain that in order to fly you just needed happy thoughts (well, and a little pixie dust).
Then, as I got older, it seemed like positive thoughts and good energy were the answer for just about everything, but what does positive or good energy even mean?
How do you maintain good energy in the face of bad things?
Most people think that positive energy just means thinking good thoughts.
However, it is much more than that.
You can't just think happy thoughts and start flying around.
This is real life after all, and sometimes it is ugly and messy.
Fostering a mindset of positive energy means knowing that things will happen that are not great, but that the outcome will have some favorable outcome in the end.
It doesn't mean you have to be glad even when some terrible thing happened to you, but you have to have a belief that you can come out the other side positively.
These good energy quotes talk a lot about the power of positivity on your soul and psyche, but keep reading to the end for ways you can help build your own positivity mindset!
Check out our most popular quote article, a list of short inspirational quotes for daily inspiration.
If you enjoy this collection, check out our inspirational quotes category page.
Spiritual good energy quotes that will bring some positivity to your soul and psyche
1. "I'm into crystals and good energy and harnessing more. It's just like prayer. It helps you be grateful, think about good things, and keep that positive energy around you." ― Kali Uchis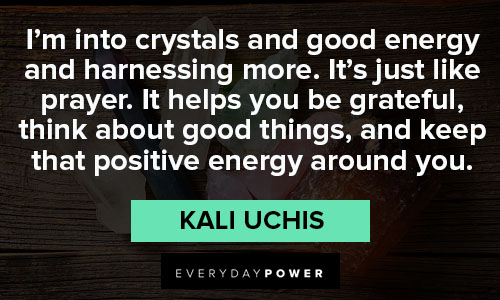 You will also enjoy our article on Tinker Bell quotes.
2. "I collect crystals and gemstones, and I've been collecting them since I was a little girl. They give me positive energy and strength. They make me feel connected to the earth. I cherish them." ― Isabel Lucas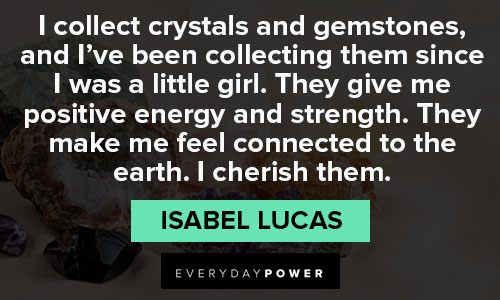 You will also enjoy our article on positive energy quotes.
3. "I write in my study, where I also have my prayer altar. I believe that keeps me focused and gives me positive energy and reminds me that I'm merely the instrument of greater creative forces." ― Chitra Banerjee Divakaruni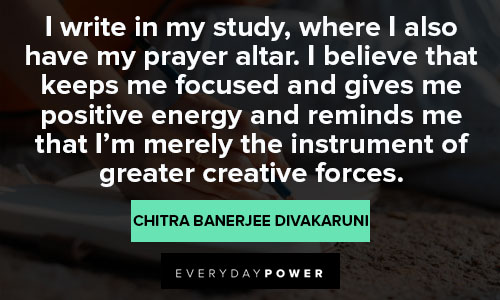 4. "I'm a very spiritual guy. I'm a firm believer of positive energy." ― Daniel Jacobs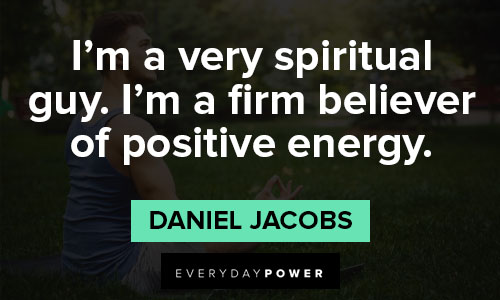 You will also enjoy our article on positive attitude quotes.
5. "Always beware of the people you allow in your energy space. Some might contaminate your energy to a point of no return. Meditate, stay prayed up." ― Mitta Xinindlu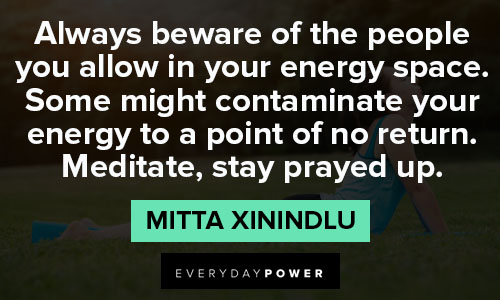 6. "Positive thoughts, words, and actions create positive feelings. Positive feelings generate positive energy." ― Nozer Kanga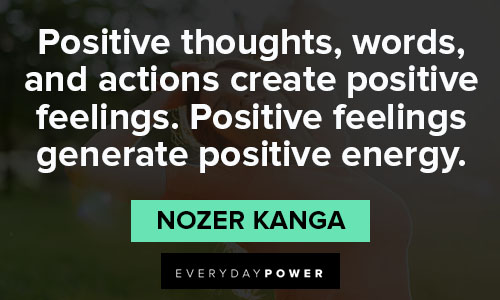 7. "We have to water the right seeds. If we do that, we can shift our habit energy—that negative loop that contributes to our suffering into mindfulness." ― Karen Rinaldi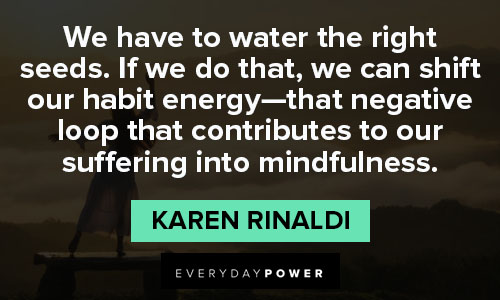 8. "I do believe we're all connected. I do believe in positive energy. I do believe in the power of prayer. I do believe in putting good out into the world. And I believe in taking care of each other." ― Harvey Fierstein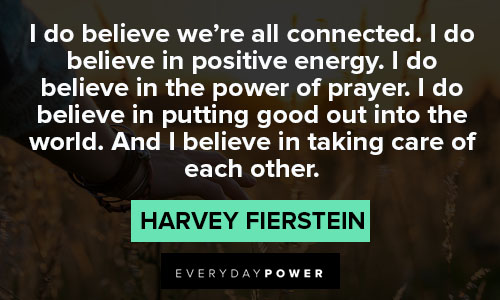 9. "Stay positive, all other choices are pointless punishments to your psyche." ― Joe Peterson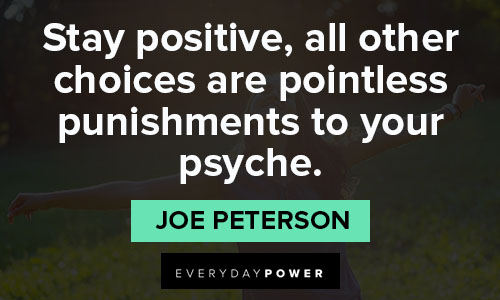 10. "When you use life's curveballs to create positive energy, you cultivate a Don't Die® spirit that powers you through moment by moment so that you live your life to the fullest until the very end." ― Andrea Goeglein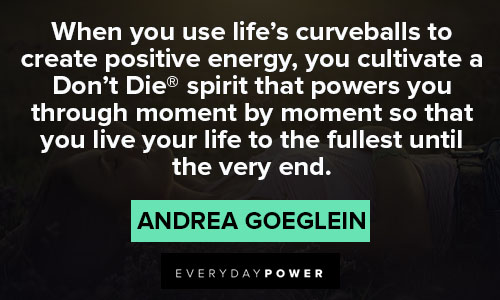 Good energy quotes and positive sayings to promote peace, love, and joy
11. "The basis for all human relationships and where we derive our greatest strength and power, trust is single-handedly the most powerful source of positive energy and, once in place, unlocks a freedom and peace to explore." ― Angela Ahrendts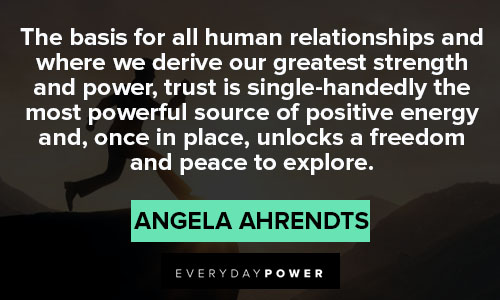 12. "We can bring positive energy into our daily lives by smiling more, talking to strangers in line, replacing handshakes with hugs, and calling our friends just to tell them we love them." ― Brandon Jenner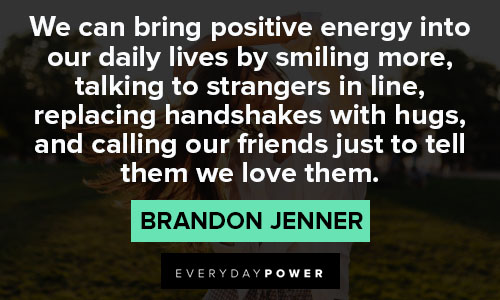 13. "Sometimes a good love song can change the world and create positive energy more than any political song can." ― Serj Tankian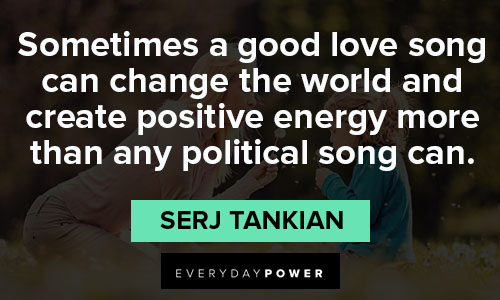 14. "I've read that the ancient Chinese art of Feng Shui can bring a sense of peace, well-being, and positive energy to a home – same as beer." ― W. Bruce Cameron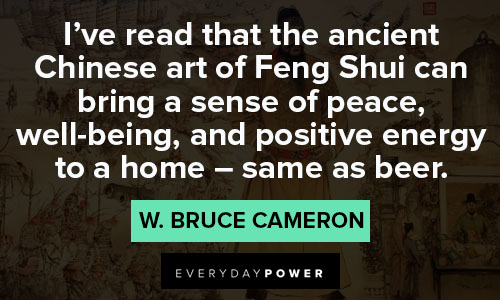 15. "Right after any kind of procedure you want to be surrounded by love and you need good healing vibes and positive energy around you." ― Camille Grammer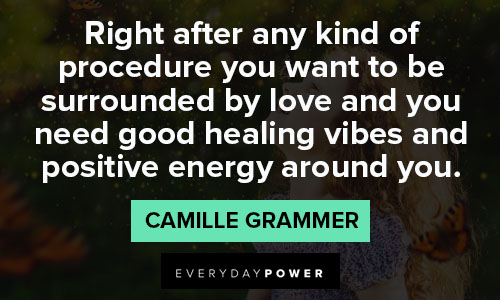 16. "For me, a good body is a combination of peaceful mind, positive energy, and physical exercise." ― Shriya Saran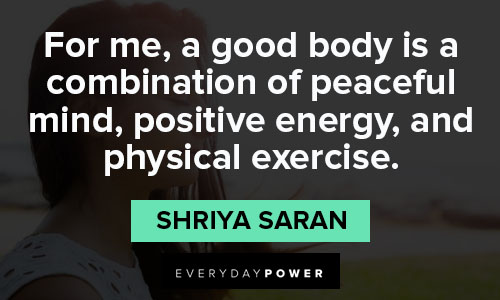 17. "Your words can be constructive or destructive. Love is a positive energy that grows when it is filled up with sweet words, and that keeps love fresh, and alive. If there are destructive words, love will go dry and finally die." ― Ehsan Sehgal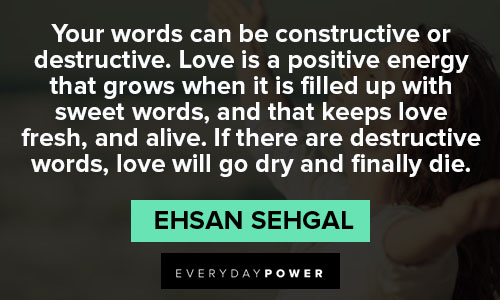 18. "The positive energy and love we give to others, heals our own wounds." ― Angie Karan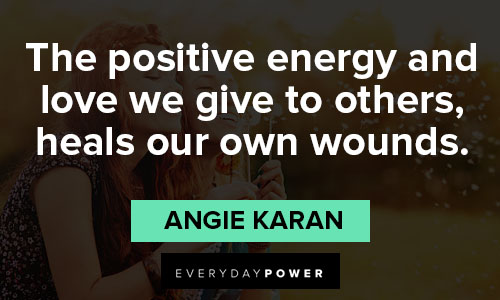 19. "Love gives sacred energy." ― Lailah Gifty Akita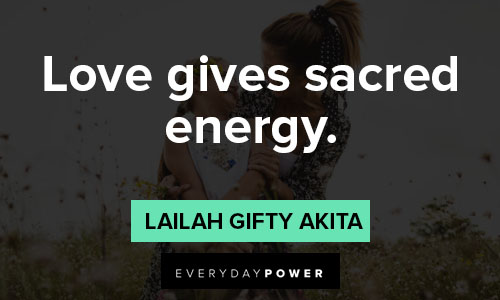 20. "You must maintain a state of happiness, a state of joy to let the positive thoughts emanate from your mind.. If you are in a state of joy, your thoughts emanate positive energy, and you can influence others without much effort." ― Girdhar Joshi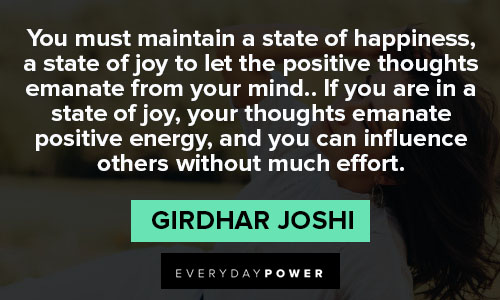 Powerful good energy quotes for positive motivation
21. "I believe in throwing a lot of positive energy in the universe and hope for the best." ― Vaani Kapoor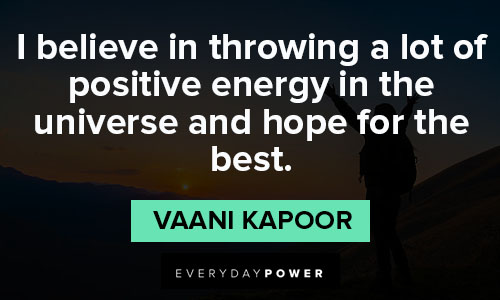 22. "Positive energy knows no boundaries. If everyone were to spread positive energy on the Internet, the world would be a much better place." ― Lu Wei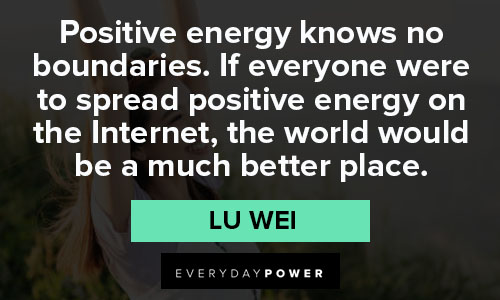 23. "Positive energy is meant to give people confidence and hope, encourage people to love their country, society, and life, as well as to pursue nice things. Everything we do is ultimately for the sake of spreading positive energy." ― Lu Wei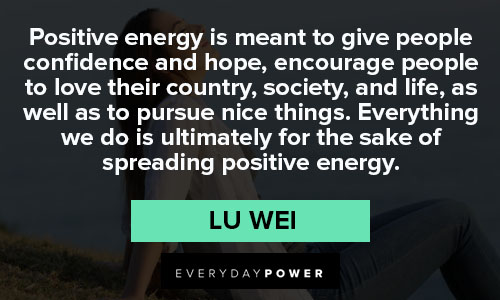 24. "We want to give people positive energy, and we also want to comfort people." ― Nayeon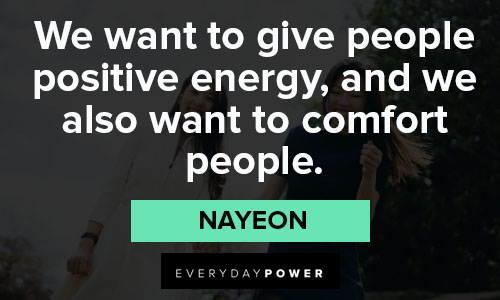 25. "Energy is contagious, positive and negative alike. I will forever be mindful of what and who I am allowing into my space." ― Alex Elle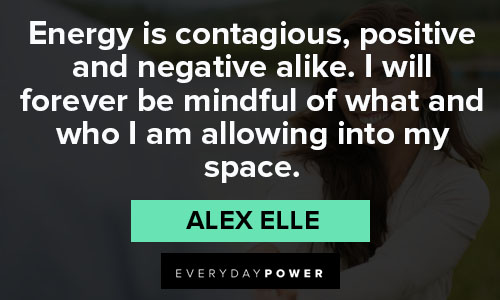 26. "Be a positive energy trampoline—absorb what you need and rebound more back." ― Dave Carolan
27. "If you want to attract positive things into your life, then begin now by spreading positive energy about." ― Lynda Field
28. "You draw to you the people and events which resonate with the energy that you are radiating. You attract what you are, so be your best." ― Lynda Field
29. "Your inner thoughts aren't truly hidden. Their essence reflects in your energy. Energy speaks what you don't." ― Drishti Bablani
30. "The reason I'm being positive is to make everyone around me to get the positive energy." ― Sivaprakash Sidhu
Inspirational good energy quotes about the benefits of positivity
31. "When you show deep empathy toward others, their defensive energy goes down, and positive energy replaces it. That's when you can get more creative in solving problems." ― Stephen Covey
32. "People dwell so much on the little things, but why should they hold you back when you have the big things to look forward to? By exuding positive energy when dealing with your problems, you will exude it in your being in general. Treat yourself with love and you will exude love to others." ― Hayley Hasselhoff
33. "My mom and grandma always told me: if you don't have anything nice to say, don't say anything at all. It's something everyone needs to be more conscious about. Putting more positive energy out into the world would be so beneficial." ― Madison Keys
34. "I've learned a lot, been a sponge, and just continued to take criticism in stride in good positive energy." ― Danny Green
35. "Energy flows where attention goes." ― James Redfield
36. "Focus on an ocean of positives, not a puddle of negatives." ― Kevin Ansbro
37. "A daily dosage of positive energy so corrosive that it wears out every negative doubt as the gap between the dream & reality closes." ― Curtis Tyrone Jones
38. "Reinforce your positive thoughts and Redirect to the substantial energy of your frustration." ― Napz Cherub Pellazo
39. "We need positive energy in everything in life, at home, at school, at work, and everywhere. Positive energy spreads happiness, makes our duties less hard, and helps us achieve more.
In the face of life challenges and hardships, we need positive energy to keep going, and we need people with positive energy to help those around them stand on their feet and overcome their difficulties." ― Noora Ahmed Alsuwaidi
40. "I believe that positive energy and optimism help us to take up any challenge in life and to succeed in even the most difficult tasks. I also believe that positive energy is contagious: we can transmit it to others." ― Mohammed bin Rashid Al Maktoum
Pinterest and Instagram worthy good energy quotes
41. "My style motto is pretty classic: you give off a positive energy when you wear what you're most comfortable in." ― Petra Collins
42. "I think fitness is important. I think a healthy lifestyle is important. I think putting positive energy out there is important and just staying connected with the people." ― LL Cool J
43. "True health infuses positive energy in the mind, body, and spirit; it is a main focus in my life." ― Maximillian Degenerez
44. "I am a positive thinker. You have to have this positive energy to get somewhere." ― Philip Green
45. "People like to be around those who give off positive energy." ― Erin Heatherton
46. "I'm very conscious of my body, and how I take care of it. I like clean foods, drink a lot of water, and soak up much sunlight and positive energy as I can." ― Princess Nokia
47. "If you're not positive energy, you're negative energy." ― Mark Cuban
48. "The worst times can be the best if you think with positive energy." ― Domenico Dolce
49. "Smile is the only way when your face makes curve upwards. So keep smiling & let's spread positive energy in and surround." ― Krvishal
50 "Determination is a treasure of positive energy and secret of success." ― Kishore Bansal
Good Energy Quotes To Keep Going No Matter What
51. "We must accept finite disappointment, but we must never lose infinite hope." – Martin Luther King, Jr.
52. "A problem is a chance for you to do your best." — Duke Ellington
53. "Hope is important because it can make the present moment less difficult to bear. If we believe that tomorrow will be better, we can bear a hardship today." — Thich Nhat Hanh
54. "It is only in our darkest hours that we may discover the true strength of the brilliant light within ourselves that can never, ever, be dimmed." — Doe Zantamata
55. "Learn how to be happy with what you have while you pursue all that you want." — Jim Rohn
56. "I will love the light for it shows me the way, yet I will endure the darkness for it shows me the stars." — Og Mandino
57. "If you want to find the secrets of the universe, think in terms of energy, frequency and vibration." ― Nikola Tesla
58. "The energy of the mind is the essence of life." — Aristotle
59. "You can have everything you want if you can put your heart and soul into everything you do." ― Roy T. Bennett
60. "There is strange comfort in knowing that no matter what happens today, the Sun will rise again tomorrow." ― Aaron Lauritsen
Good Energy Quotes For Positive Progress
61. "Put good energy out. Get good energy back." — Lawrence Tierney
62. "If you want to be happy, set a goal that commands your thoughts, liberates your energy, and inspires your hopes." — Andrew Carnegie
63. "Concentrate your energy and hoard your strength." — Sun Tzu
64. "Give your dreams all you've got, and you'll be amazed at the energy that comes out of you." — William James
65. "Energy and persistence conquer all things." — Benjamin Franklin
66. "Goals help you channel your energy into action." — Les Brown
67. "I see the energy of young people as a real force for positive change." — Rosa Parks
68. "A leader has the vision and conviction that a dream can be achieved. He inspires the power and energy to get it done." — Ralph Nader
69. "Love is the energy of life." — Robert Browning
70. "A man cannot have the energy to produce good art without having the energy to wish to pass beyond it." — Gilbert K. Chesterton
What did you learn from these good energy quotes?
There is much more to positive energy than just finding the perfect quote for that Instagram post (but hopefully some of these good energy quotes will work for that).
Building positive energy is a mindset that takes a little practice, but here are a few things you can do to get your mind right!
Enjoy nature, breathe deeply, and taking a walk are all physical ways to connect with the surrounding positivity.
Walking can calm you down because it tells your nerve cells in the brain to relax the senses.
Deep breathing makes sure you are getting enough oxygen.
Most people in Western cultures do not breathe right!
We are missing a chance to expel toxins and gain mental clarity, all of which make it easier to think positively.
Try to stay optimistic and look for the silver lining.
Yelling at the universe about "how things can not get any worse," is not the same thing as figuring out what would be worse and being grateful for something in the situation you are facing.
Even if that something is that, it could have been even worse and was not.
Sometimes laughter really is the best medicine.
We just got back from vacation and had to call the plumber, fix the AC in our car, and part of the side of my house fell off (like the little easement where a gutter would be).
Then today, I tried to use my Instant Pot and a few of the outlets in the kitchen aren't working.
I messaged my sisters and told them that if I wasn't laughing about it, I would be crying.
But really, the laughing is better.
Laughter strengthens your immune system, can boost your mood, lessen pain, and minimize the physical effects of stress.
How do you keep your positivity up and share good energy with those around you?
Do you have any other good energy quotes and sayings to add?
Let us know in the comment section below.