Coronavirus Quotes About the Pandemic's Impact
The COVID-19 pandemic has changed the lives of millions of people worldwide.
To take a closer look at its impact, check out our coronavirus quotes below.
How has coronavirus affected your daily life?
John Hopkins University reports that over 43 million people have contracted COVID-19 around the world.
The sudden onset of this global pandemic has disrupted the way we live, work, and play.
Loved ones have been separated from one another.
Public events have been canceled.
Businesses have shut down.
Many are struggling to adjust to this new normal.
In our quotes, we highlight the immediate and long-term impact of the COVID-19 pandemic, social distancing, and ways to find hope amidst rough times.
Learn more in our curated list of quotes is below.
If you like this article, we suggest you explore our most popular quotes article, a list of short inspirational quotes for daily encouragement.
Look through our complete collection of inspirational quotes here.
Coronavirus quotes about its impact
1. "Coronavirus may well represent the biggest health crisis any of us experience in our lifetimes." – Liz Truss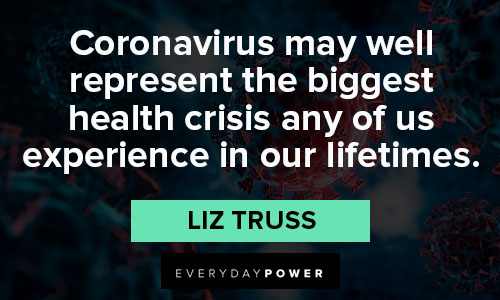 You will also enjoy our article on mask quotes.
2. "Humanity's inclination to be kind during the coronavirus crisis is an unprecedented, uplifting demonstration of solidarity." – Caroline Lucas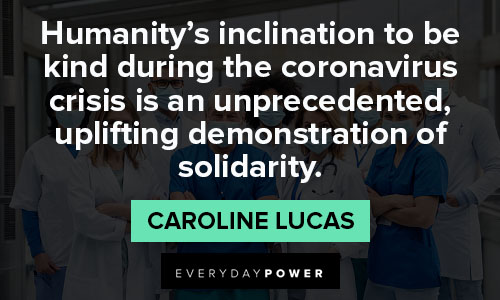 3. "To effectively fight the coronavirus crisis, we have to make sure that every person has access to quality, affordable health coverage." – Sharice Davids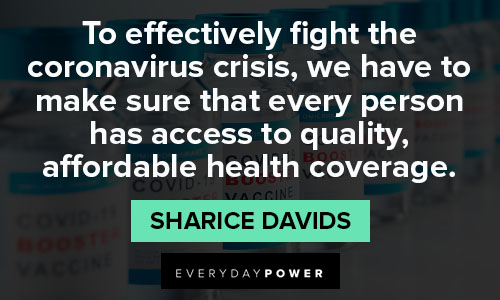 4. "When the physical threat of coronavirus subsides, as it surely will, we must address the impact to our mental health." – Luciana Berger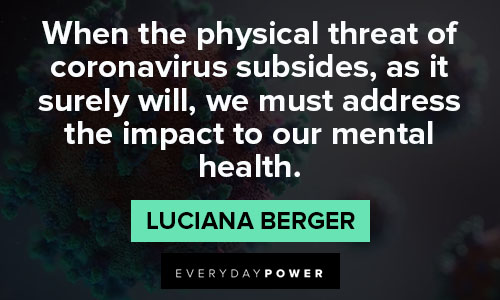 5. "COVID-19 has upended our economy." – Jaime Harrison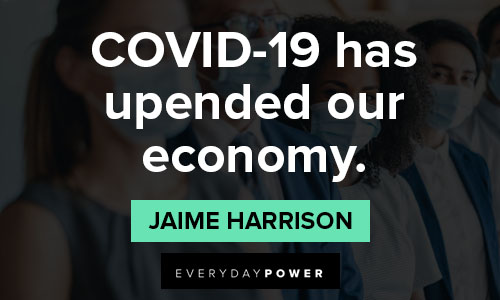 6. "Coronavirus is constantly attacking society's vulnerable classes and spaces. We must shake off the fantasy that we can go back to the past we were accustomed to." – Park Won-soon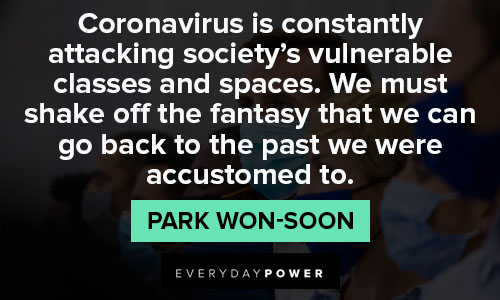 7. "Coronavirus has exposed for all what many of us already knew – some of our most important workers have barely enough to live on, and millions are condemned to financial insecurity, inequality and food poverty." – Caroline Lucas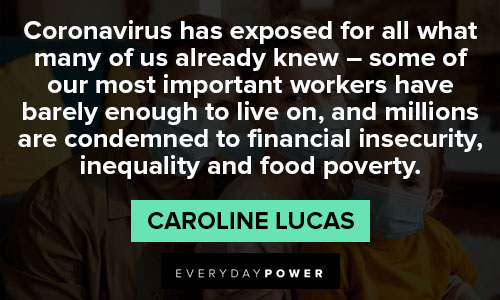 8. "COVID-19 is a national crisis, and we need a national response to address it." – Sara Gideon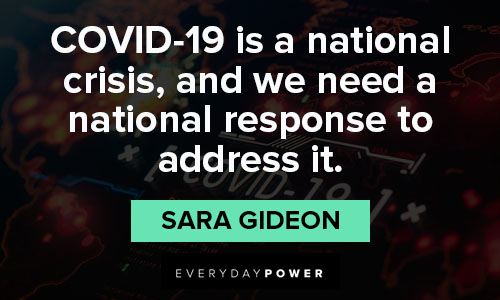 9. "One thing about COVID-19 is clear: We don't fully understand its severity and transmission. At various turns, we've both underestimated and overestimated the virus." – Scott Gottlieb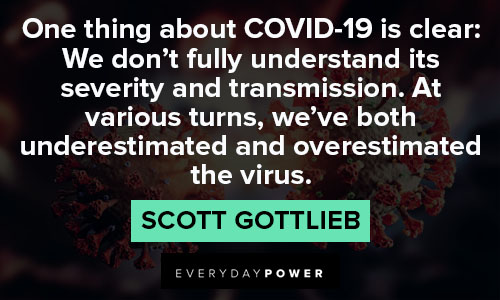 10. "The financial hardships caused by COVID-19 puts some renters and homeowners at risk of becoming homeless, which could mean a greater risk of contracting and spreading the coronavirus for families." – Cindy Hyde-Smith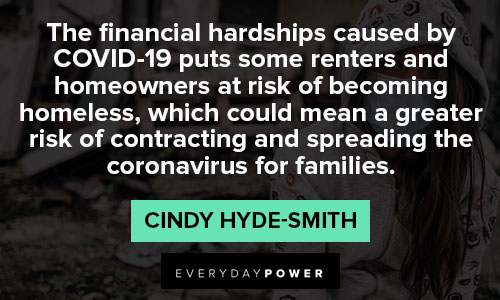 You might also like these popular pandemic quotes related to COVID-19
Coronavirus quotes about social distancing and being alone
11. "Social distancing does not mean isolation. Call and video chat with friends and loved ones." – Cindy Hyde-Smith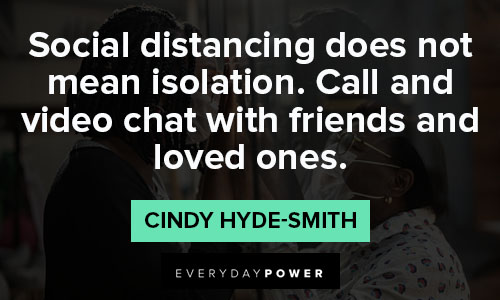 12. "I think it's very healthy to spend time alone. You need to know how to be alone and not be defined by another person." – Oscar Wilde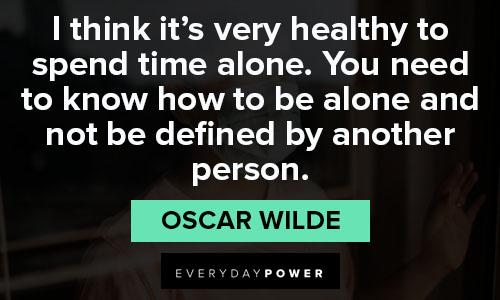 13. "Don't think of introversion as something that needs to be cured… Spend your free time the way you like, not the way you think you're supposed to." – Susan Cain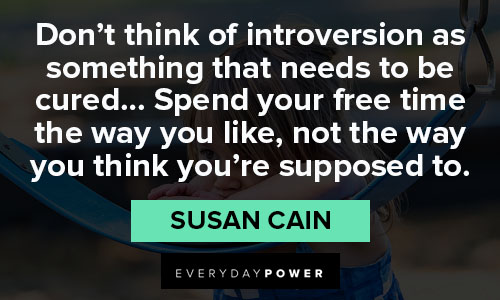 14. "It is better to be alone than in bad company." – George Washington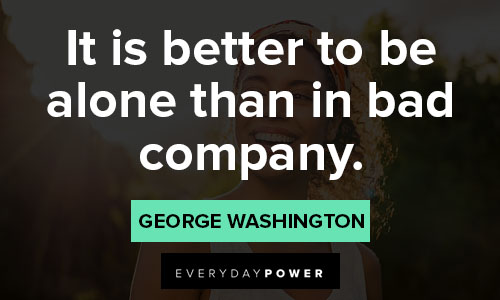 15. "In solitude the mind gains strength and learns to lean upon itself." – Laurence Sterne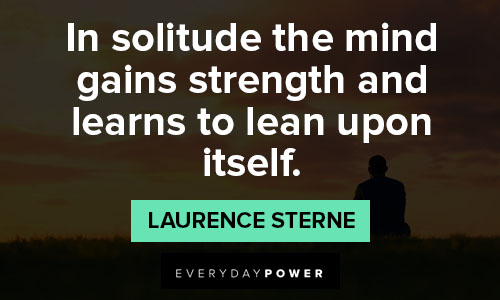 16. "Unless we find a vaccine, non-pharmaceutical interventions like social distancing are going to be part of our lives in the near future. They might not be full lockdown or shelter-in-place but we will have to adapt our lives to targeted quarantines of individuals or places." — Esteban Moro Egido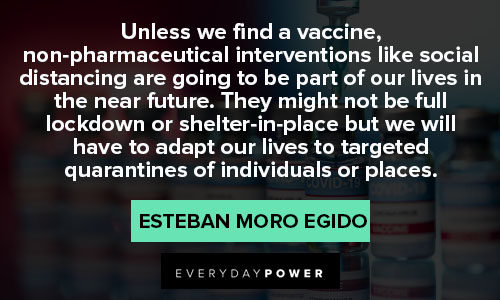 17. "Pray that your loneliness may spur you into finding something to live for, great enough to die for." – Dag Hammarskjold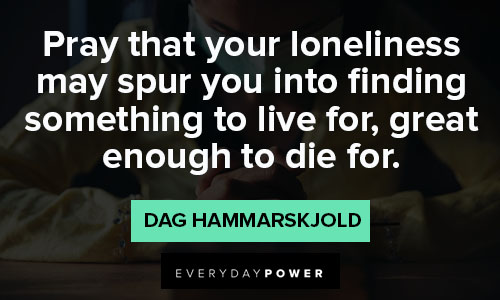 18. "The best part about being alone is that you really don't have to answer to anybody. You do what you want." – Justin Timberlake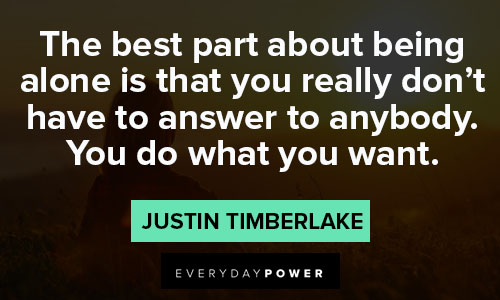 19. "Home is a shelter from storms—all sorts of storms." – William J. Bennett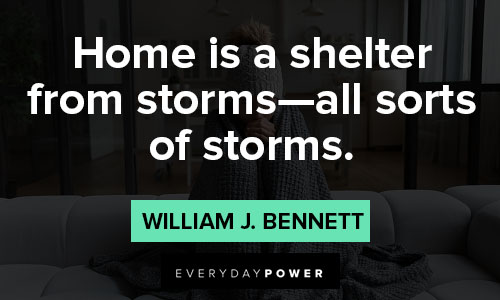 20. "What a lovely surprise to finally discover how unlonely being alone can be." – Ellen Burstyn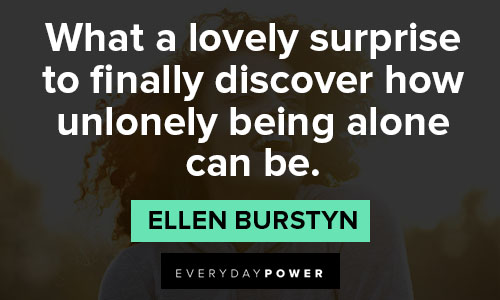 21. "You only grow when you are alone." – Paul Newman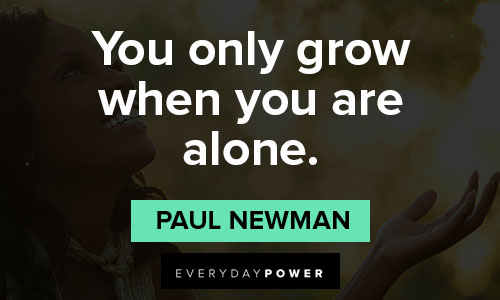 Coronavirus quotes about hope while depressed or anxious
22. "It is extremely important … that we acknowledge that this uncertainty is stressful. And in fact, this anxiety is appropriate under the circumstances. This is a normal reaction to our new normal." — Roxane Cohen Silver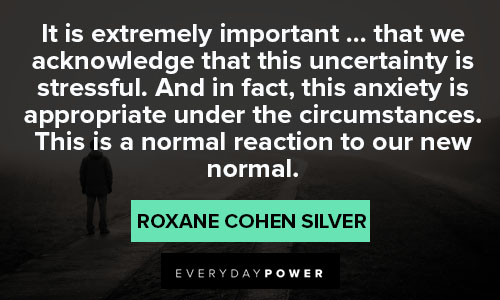 23. "Remember the blue sky. It may at times be obscured by clouds, but it is always there." – Andy Puddicombe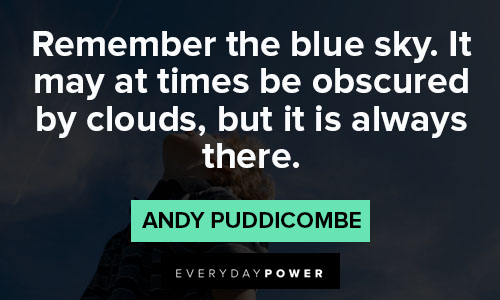 If you're enjoying these quotes, make sure to read our collection of blue quotes about the power of colors.
24. "Research demonstrates that how we appraise or interpret a situation can influence our physiological response. So one potential option is to shift our mindset. Instead of interpreting the situation as being cut off from others, we can focus on doing this to protect those that we love." — Julianne Holt-Lunstad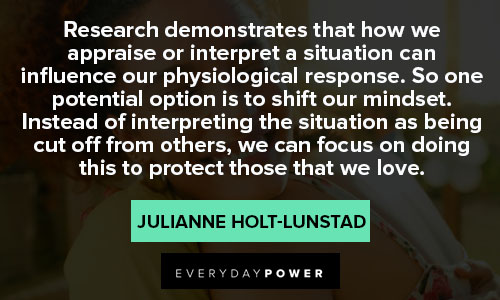 25. "There is hope, even when your brain tells you there isn't." – John Green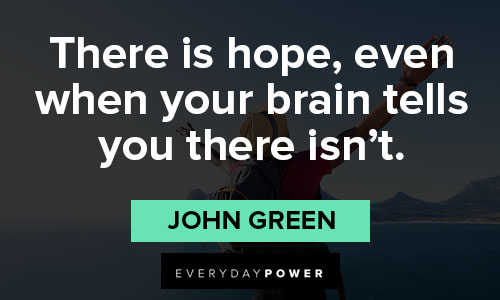 26. "Mental pain is less dramatic than physical pain, but it is more common and also more hard to bear. The frequent attempt to conceal mental pain increases the burden: it is easier to say "My tooth is aching" than to say "My heart is broken."― C.S. Lewis
27. "You say you're 'depressed' — all I see is resilience. You are allowed to feel messed up and inside out. It doesn't mean you're defective — it just means you're human." ― David Mitchell
If you're enjoying these quotes, you'll love our collection of powerful depression quotes that will provide perspective.
28. "Even if happiness forgets you a little bit, never completely forget about it." – Jacques Prevert
29. "Sometimes your joy is the source of your smile, but sometimes your smile can be the source of your joy." – Thich Nhat Hanh
30. "Sadness flies away on the wings of time." – Jean de La Fontaine
31. "But I know, somehow, that only when it is dark enough can you see the stars." – Martin Luther King, Jr.
32. "There is some good in this world, and it's worth fighting for." – J.R.R. Tolkien
33. "There are far, far better things ahead than anything we leave behind." – C.S. Lewis
Coronavirus quotes about working from home
34. "Coronavirus has completely changed how people think about where or how you should work." – Eric Yuan
35. "Don't work from bed. You want your bed to be a place of peace and calm, not work stress." – Liz Grossman Kitoyi
36. "To be able to work at home successfully takes all of the following: motivation, perseverance, work, good habits, no excuses, balance, accountability, and action." – Byron Pulsifer
37. "Do the hard jobs first. The easy jobs will take care of themselves." – Dale Carnegie
38. "Identify which part of the day you feel most confident and energized, and use this time to work on the tasks that require the most concentration." – Ted Robbins
39. "Not everyone has an office, so it's all right [to work at] your dining room table or couch. My advice is to … try and create some space between the places you are working and the places you are relaxing, even if it feels a little silly to be on two different sides of the couch." – Hailley Griffis
40. "If you want to improve your focus now, you should choose the places where you work or study. Avoid places that have a lot of tempting distractions." – John Morgan
41. "Successfully working from home is a skill, just like programming, designing or writing. It takes time and commitment to develop that skill." – Alex Turnbull
Coronavirus quotes about pandemics
42. "If we can provide even a few months of early warning for just one pandemic, the benefits will outweigh all the time and energy we're devoting. Imagine preventing health crises, not just responding to them." – Nathan Wolfe
43. "Masks. Test Supplies. Ventilators. Gloves. Gowns. These are the most critical tools that our doctors, nurses and other first responders on the front line of the coronavirus pandemic need to continue their tireless work and save lives." – Sharice Davids
44. "Access to humanitarian assistance and information are all the more important during the Covid-19 pandemic." – Morgan Ortagus
45. "Without equity, pandemic battles will fail. Viruses will simply recirculate, and perhaps undergo mutations or changes that render vaccines useless, passing through the unprotected populations of the planet." – Laurie Garrett
46. "If a severe pandemic materializes, all of society could pay a heavy price for decades of failing to create a rational system of health care that works for all of us." – Irwin Redlener
47. "Confronting a dangerous pandemic requires containing spread wherever it is reasonably possible. Sensible measures such as universal masking, testing and widespread and rapid contact tracing can help. The best way to protect the vulnerable is to try to protect everyone." – Scott Gottlieb
48. "For a pandemic of moderate severity, this is one of our greatest challenges: helping people to understand when they do not need to worry, and when they do need to seek urgent care." – Margaret Chan
49. "It is the poets, artists, and musicians that will carry us through the pandemic attacks into a new reality. They are the ones who tell us how to navigate, breathe, feel, think, enjoy, and fully live our lives." ― Erik Pevernagie
50. "In every community, there are a number of social super spreaders among us. Long suspected and emphatically confirmed by our data, these people are who- through dint of their job, or lifestyle or perhaps even genetic makeup- would be more dangerous in the instance of a pandemic than the average person." – Hannah Fry
Funny Coronavirus Quotes About The Horrible Pandemic
51. "Covid left my life in tatters and my emotions in solitude." ― Anthony T. Hincks
52. "COVID-19 generally spares those under forty-five years of age." ― Steven Magee
53. "No mask no entry, but when you get inside you can remove your mask, you are a #COVIDIOT. There is no doubt about it." ― Olawale Daniel
54. "Coronavirus has rewired my brain. Now I have to relearn how to live." ― Qamar Rafiq
55. "The only thing Covid-19 shares with false rumors is the speed with which it spreads. And that must have misled people in the beginning, who treated it like a rumor." ― Nkwachukwu Ogbuagu
56. "I have had Coronavirus. I have experienced a lot. When you have it, apart from having died a few times while there was a tiny breath of hell in you, you become just born again. You're like a new-born baby, helpless and reliant on those around it for everything." ― Nkwachukwu Ogbuagu
57. "If Covid19 makes you hateful towards China, remember this, when you hate a nation, you hate a people and when you hate a people, you lose the right to be called human." ― Abhijit Naskar
58. "A bicycle shortage occurred during the COVID-19 pandemic." ― Steven Magee
59. "Covid Pandemic circus is on. It is unlimited. It is borderless. It is free. It must be fun living in a circus that never stops performing." ― Qamar Rafiq
60. "The COVID-19 vaccine was an essential requirement for my compromised immune system." ― Steven Magee
You might also like these vaccine quotes celebrating the power of science and medicine
Coronavirus Quotes to Stay United in the Face of Adversity
61. "COVID-19 created social distance and united hearts. It shook people up to see what matters most in life and reminded us that God is still in control." ― Farshad Asl
62. "Right now the first and foremost priority of the entire humankind must be to plank the curve through self-isolation." ― Abhijit Naskar
63. "Even with all that is happening on the world stage at present, we should not forget the origins of the coronavirus." ― Anthony T. Hincks
64. "From a research and discovery viewpoint, I will do whatever it takes to prevent Long COVID from becoming the second pandemic." ― Steven Magee
65. "Most people with COVID-19 pick up some damage from it. It may not be apparent, but it is there." ― Steven Magee
66. "Covid makes me suffer in isolation." ― Anthony T. Hincks
67. "O Coronavirus, I wash my hands off you!" ― Nkwachukwu Ogbuagu
68. "COVID-19 is the nightmare of life insurance companies." ― Steven Magee
69. "Coronavirus also introduces us to a completely new world of life, to move on from our struggles and enjoy Next Level of Life." ― Srinivas Mishra
70. "After it emerged that COVID-19 was predominantly killing the elderly, I decided to maintain the body chemistry of younger person to protect myself." ― Steven Magee
How are you protecting yourself from COVID-19?
CDC recommends wearing a mask to protect yourself and reduce the spread of coronavirus.
Read CDC's tips on choosing a mask to find one that protects you the most.
Social distancing is also believed to be the "best way to reduce the spread of coronavirus disease 2019 (COVID-19)", according to the CDC.
Remain 6 feet, or two arm's length, away from people who aren't in your household.
CDC also recommends you wash your hands often and for at least 20 seconds.
If you can't wash your hands, use a hand sanitizer that has at least 60% alcohol.
At times, things may seem bleak.
But remember that there is a light at the end of the tunnel.
We will get through this.
Which of these Coronavirus quotes and sayings resonated with you?
Let us know your thoughts in the comments section below.