Charles K. Kao Quotes from the Father of Fiber Optics
Check out these Charles K. Kao quotes from a genius that is responsible for the availability of a lot of our day to day activities.
Charles K. Kao is the physicist and electrical engineer responsible for the use of fiber optic telecommunication.
His work helped pioneer the foundation of the internet evolution.
Kao was born in 1933 and passed away in 2018.
Charles K. Kao was born in Shanghai but eventually relocated to England, earning his Ph.D. at the University of London in 1965 in electrical engineering.
Kao discovered ways to combine lasers and glass fibers to digitally transmit data in the 1960s while working for Standard Telecommunication Laboratories.
This is the groundwork the internet was built on.
His work gained him the titles of "father of fiber optics" and "godfather of broadband" along with "father of fiber optic communications."
Check out the Charles K. Kao quotes to see learn more about the man that helped change how modern life is lived.
If you love this quote collection, read out our most popular quote article about short inspirational quotes for daily motivation.
If you need more inspirational quotes, check out our motivational quotes category page.
Charles K. Kao Quotes On His Education And Young Years
Charles K. Kao was an amazing man that helped pave the way for the internet that we all enjoy today! To see more about this amazing man check out the quotes below.
1. "When information is infinite, individual pieces of information are worth nothing." – Charles K. Kao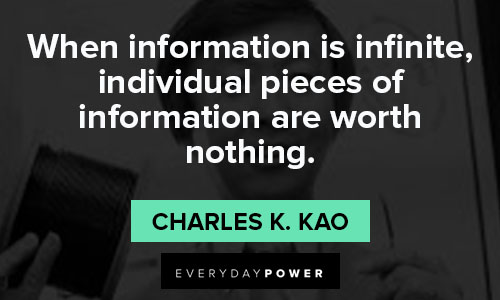 You will also enjoy our article on Max Planck quotes.
2. "When you are young, you are fervent about the things you believe in." – Charles K. Kao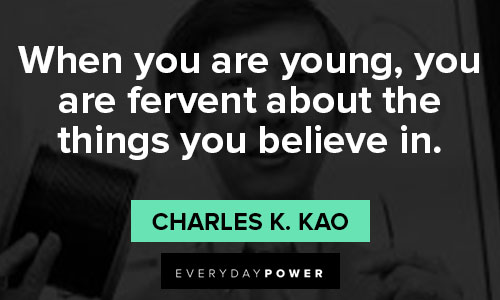 3. "Because of the earlier loss of the two elder siblings, my brother and I lived a very pampered and protected life. Nursemaids kept constant watch." – Charles K. Kao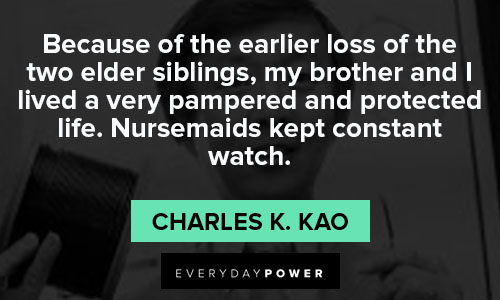 4. "Search and search again as a way to discover new facts." – Charles K. Kao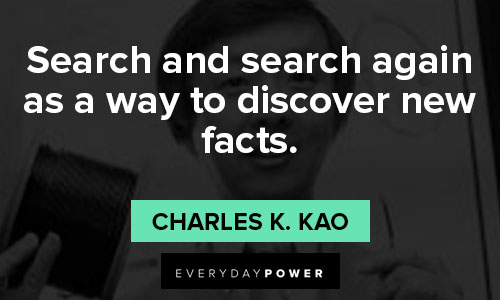 5. "If you really look at it, I was trying to sell a dream… There was very little I could put in concrete to tell these people it was really real." – Charles K. Kao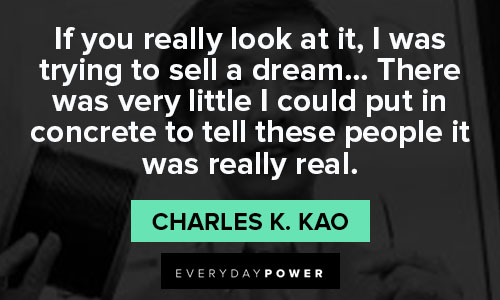 6. "Maybe it was the home tutoring, or the late start to formal schooling, or an overly cautious and protective upbringing, but in any case, I never became a talkative person. As an adult, I am not always comfortable in social gatherings with small talk." – Charles K. Kao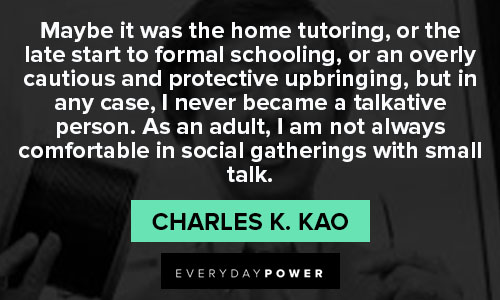 7. "The introduction of optical fiber systems will revolutionize the communications network. " – Charles K. Kao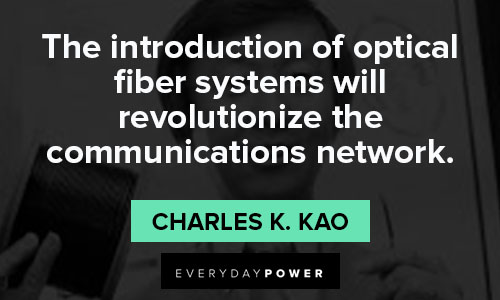 8. "The primary school I attended in Shanghai was a very liberal one, established by scholars who had returned from an education in France. The children of leading families were enrolled there, including the son of a well-known man believed to be a top gangster of the underworld." – Charles K. Kao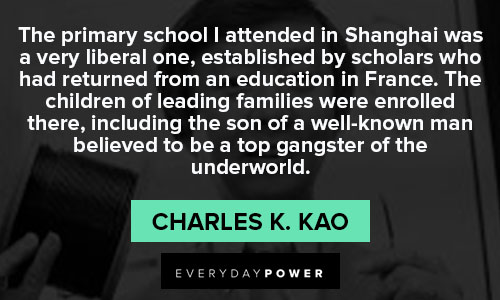 9. "Ideas do not always come in a flash but by diligent trial-and-error experiments that take time and thought." – Charles K. Kao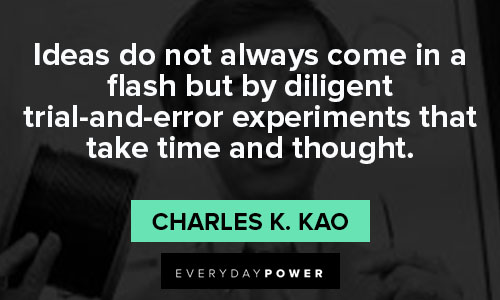 10. "The low transmission loss and the large bandwidth capability of the fiber systems allow signals to be transmitted for establishing communications contracts over large distances with few or no provisions of intermediate amplification." – Charles K. Kao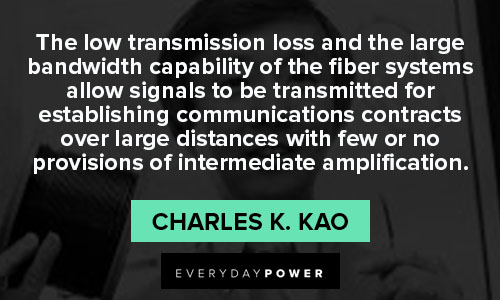 Charles K. Kao Was A Humble Man That Accomplished Many Things
Charles K Kao's work brought him worldwide recognition.
He received multiple awards, including the Noble Prize in Physics, Japan International Award, Bell Award, Grand Bauhinia Medal, Prince Philip Medal, and many others.
In addition, he received honorary degrees from universities around the world.
Queen Elizabeth II also knighted him.
Kao was featured in many publications throughout the years.
He also had multiple buildings named. There was also a minor planet called Kao in 1996.
Kao passed away in 2018 after suffering from Alzheimer's disease beginning in 2004.
Before his death, his wife wanted to raise awareness for Alzheimer's and help others with the disease.
Consequently, together they founded the Charles K. Kao Foundation for Alzheimer's disease.
As we see from the Charles K. Kao quotes, Mr. Kao was an amazing man and the world lost a genius when he passed away.
Have you had to deal with losing someone that had a huge impact either on the world or to you personally?
Share with your friends and leave comments below to keep the conversation going.