Angela Merkel Quotes on Leadership, Culture, and Climate Change
Angela Dorothea Merkel is a remarkable woman.
Born in Hamburg in July, 1954, she is Germany's first female Chancellor, and the leader of the Christian Democratic Union (CDU) political party.
Although she faces numerous challenges in her leadership (among them, the migrant crisis), she continues to advocate for cooperation and sustainable solutions for the European Union (EU).
In 2015, she was named 'Person of the Year' by TIME magazine.
Who knew that a little girl who grew up in a 'walled fortress' would one day, become the most powerful woman in the world?
Like German fairytales, hers is laced with plenty of obstacles, fateful encounters, and lessons learned.
A woman, a world leader, and an advocate for climate change resolutions, she continues to inspire not only young girls, but people throughout the world.
Many can learn from her steadfast views and strong character.
Without further ado, here are a few of the most memorable Angela Merkel quotes on politics, leadership, and the future of Europe.
Also check out these political quotes that show all perspectives.
Check out our most popular quote article, a list of short inspirational quotes for daily inspiration.
If you enjoy this collection, check out our inspirational quotes category page.
Inspirational Angela Merkel Quotes
1. "Yes, now little girls in Germany know they can become a hairdresser, or chancellor. Let's see." – Angela Merkel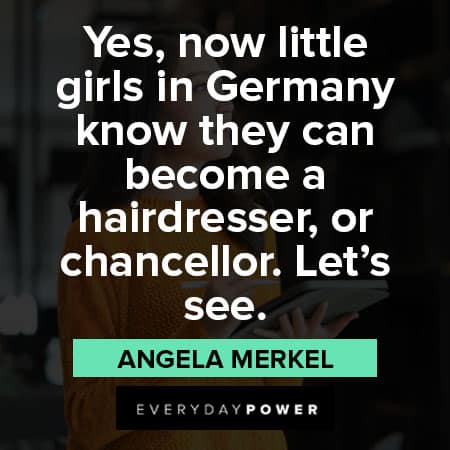 2. "Every person who comes is a human being and has the right to be treated as such." – Angela Merkel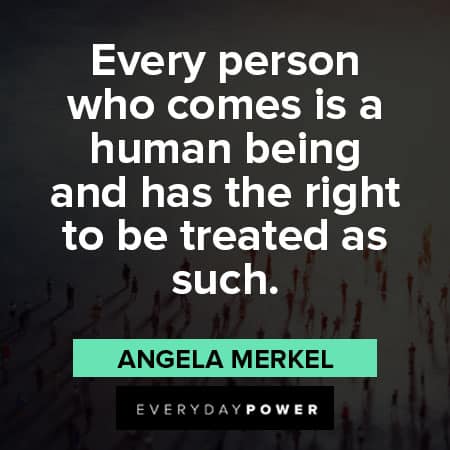 3. "In terms of substance and organisation, we are very well prepared." – Angela Merkel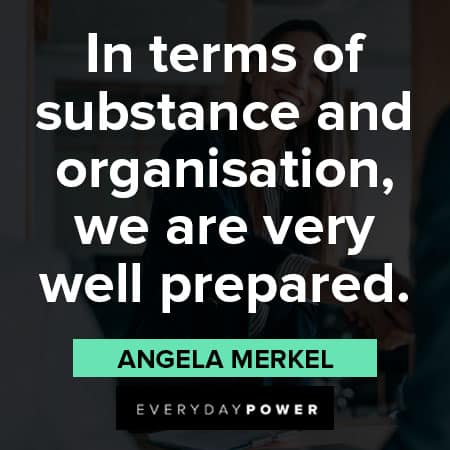 4. "A good compromise is one where everybody makes a contribution." – Angela Merkel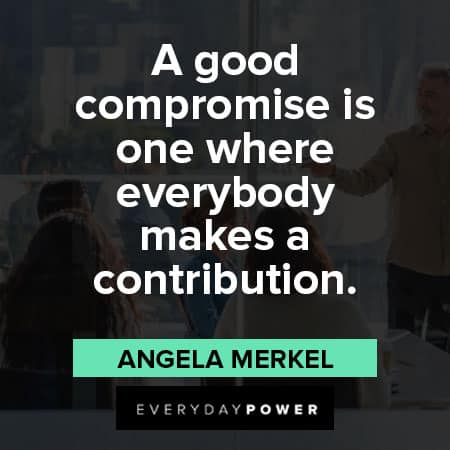 5. "For me, it is always important that I go through all the possible options for a decision." – Angela Merkel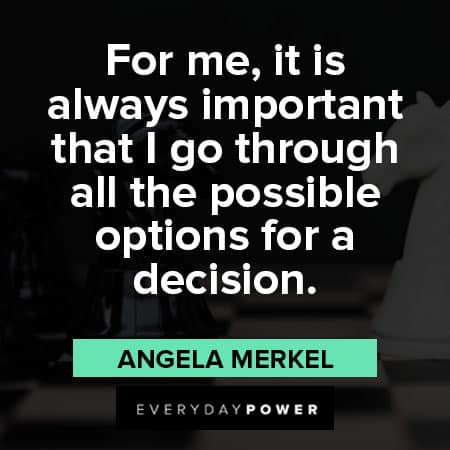 6. "The willingness to learn new skills is very high." – Angela Merkel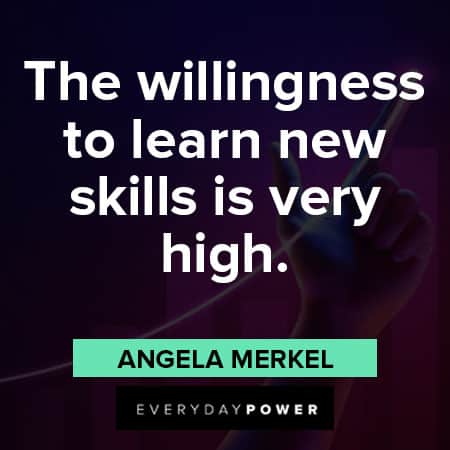 7. "We are responsible for each other. I am trying to convince doubters. There is still work to do." – Angela Merkel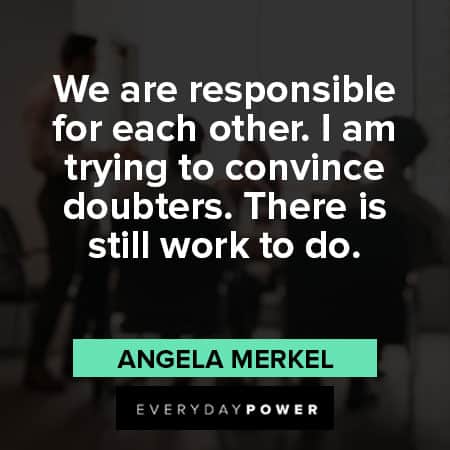 8. "We expect the people who come to us to stick to our laws." – Angela Merkel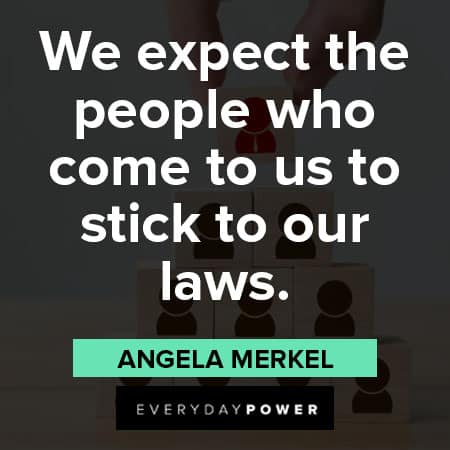 9. "It's much, much better to talk to one another than about one another." – Angela Merkel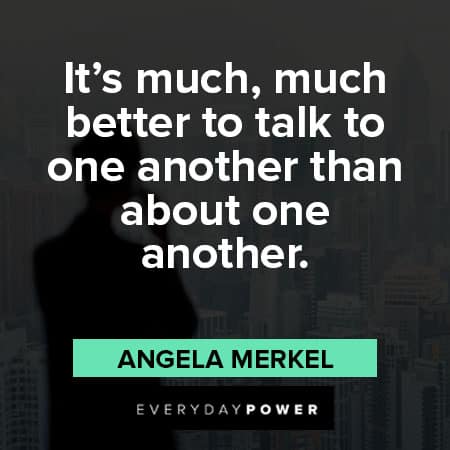 10. "I take my share of the responsibility that lies with me as party chairwoman and chancellor." – Angela Merkel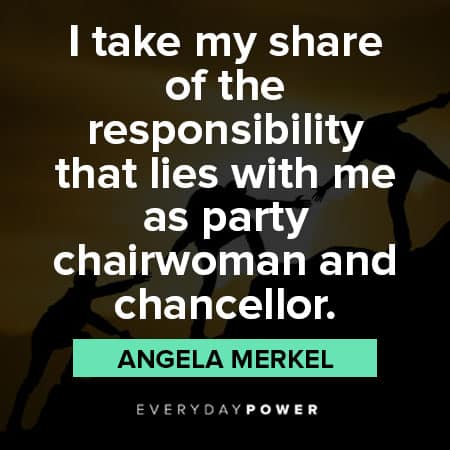 Angela Merkel Quotes and Sayings about Politics
11. "We had done too little in the past, that is why we took in refugees – because it was the right thing to do." – Angela Merkel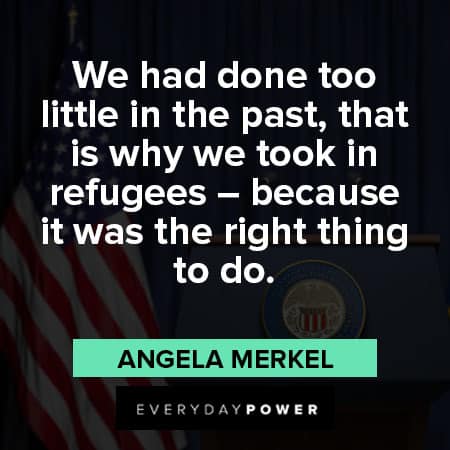 12. "It's not just about big words in such a declaration, it's about the fact that you can say after one, two, three or five years: We have achieved, what we've written down." – Angela Merkel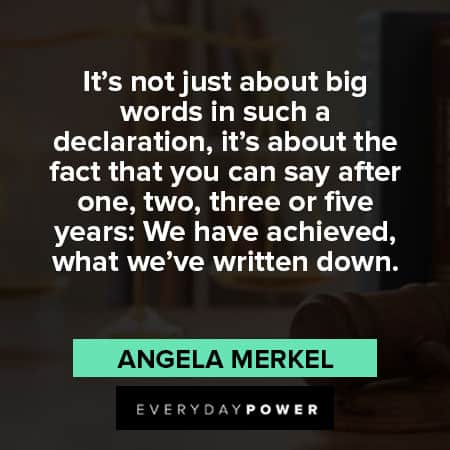 13. "We do not want isolation. We want open trade and to fight against protectionism. This will be a tough issue within the G20 negotiations, but when working on a political document, it would of course be a great support for us if the economies in all G20 countries supported it." – Angela Merkel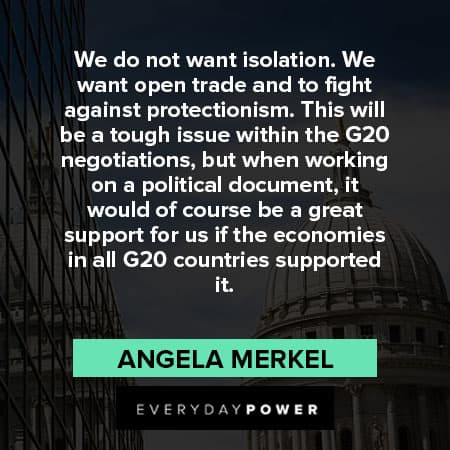 14. "Whoever decides to dedicate their life to politics knows that earning money isn't the top priority." – Angela Merkel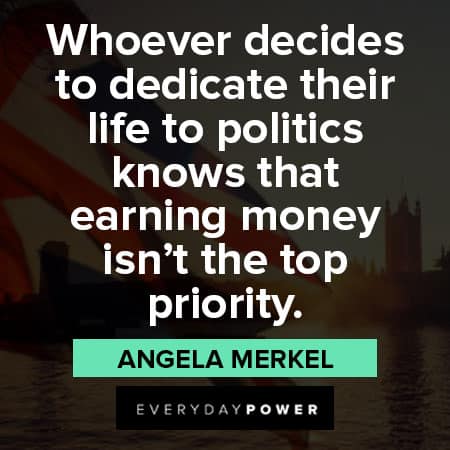 15. "The strongest response to terrorists is to carry on living our lives and our values as we have until now – self-confident and free, considerate and engaged. We Europeans will show our free life is stronger than any terror." – Angela Merkel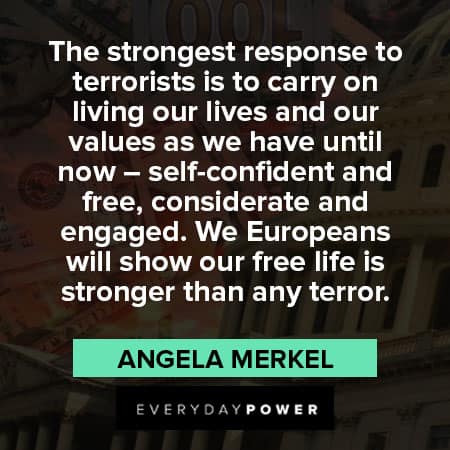 16. "Well, people are different. Sometimes, it's difficult to find compromises, but that's what we've been elected for. If everything just went like that without a problem, well, you don't need politicians to do these jobs. I am very glad to note that apparently the perspective on that has changed a little bit at least in Germany, too." – Angela Merkel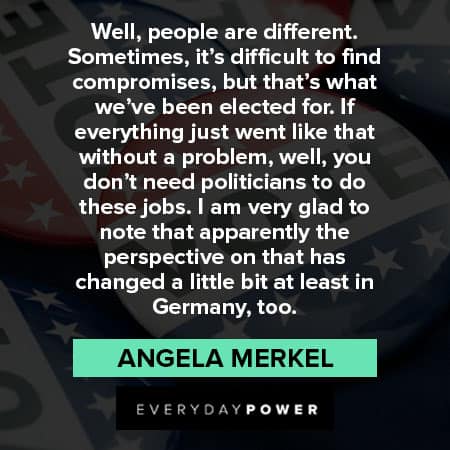 17. "Maybe I've just become more hardened. The exposure to so many extreme situations tends to harden a person. You have to develop survival strategies." – Angela Merkel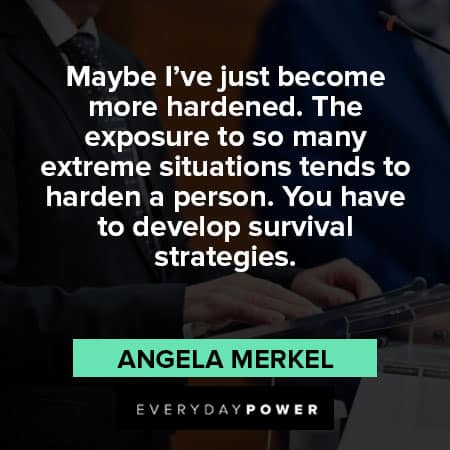 18. "If Europe fails on the question of refugees, then it won't be the Europe we wished for. If we now have to start apologizing for showing a friendly face in response to emergency situations, then that's not my country. We will cope." – Angela Merkel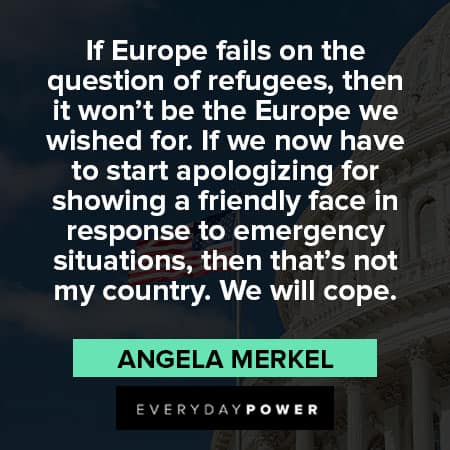 19. "You could certainly say that I've never underestimated myself, there's nothing wrong with being ambitious." – Angela Merkel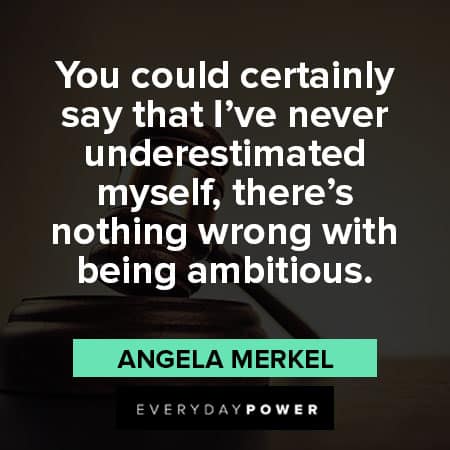 20. "So, one has to try to find compromises with mutual respect, but also with a clear opinion. That's politics – always looking to find a common way forward." – Angela Merkel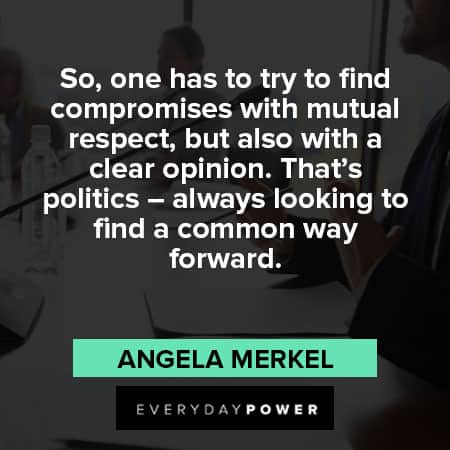 Angela Merkel Quotes on Climate Change and the Future of EU
21. "The entire discussion about climate was very difficult, if not to say very dissatisfying. There are no indications whether the United States will stay in the Paris Agreement or not." – Angela Merkel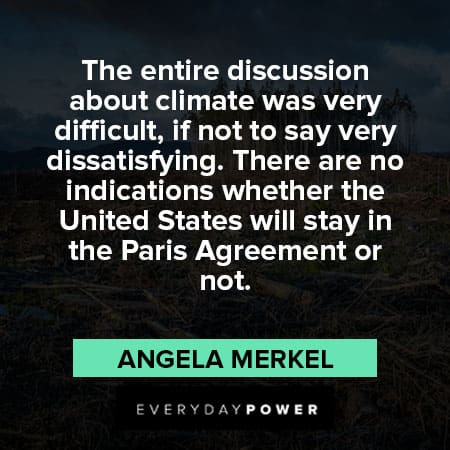 22. Of course, I will then say that I believe that climate change is absolutely caused by people. We want to see how the positions develop. – Angela Merkel
23. "Climate negotiations with American presidents … were not easy in the past." – Angela Merkel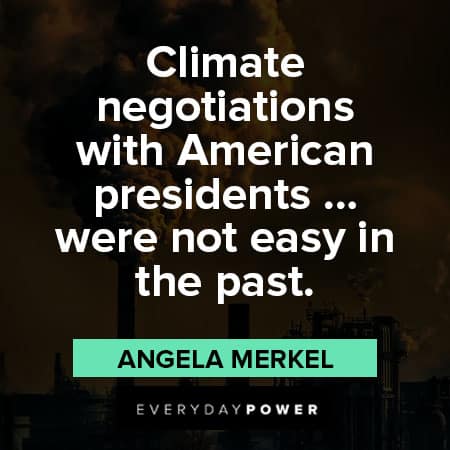 24. "Climate change knows no borders. It will not stop before the Pacific islands and the whole of the international community here has to shoulder a responsibility to bring about a sustainable development." – Angela Merkel, Berlinglobal.org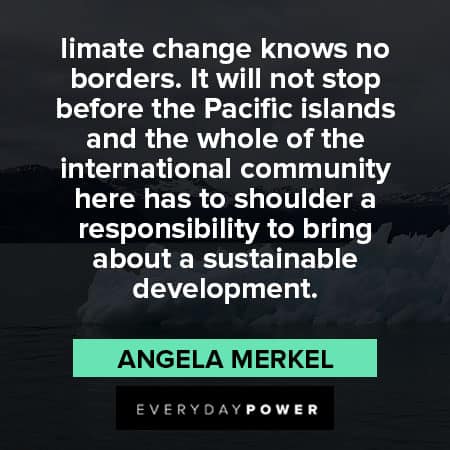 If you're enjoying these quotes, you'll love our collection of climate change quotes to inspire you to take action.
25. "I will not let anyone tell me we must spend more money. This crisis did not come about because we issued too little money but because we created economic growth with too much money and it was not sustainable growth." – Angela Merkel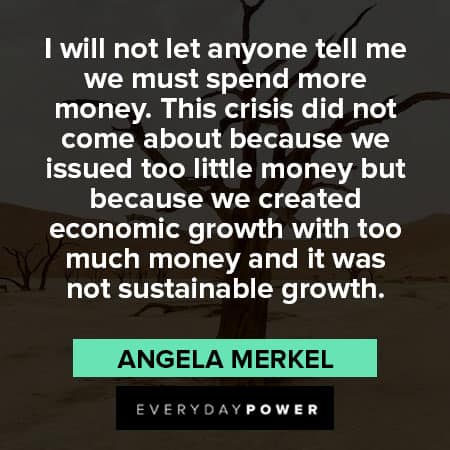 26. "In order to maintain Europe in the long term, but above all to strengthen Europe in the long term, we must preserve and defend the achievements of European integration." – Angela Merkel
27. "We need long-term horizons and companies that invest in the future. It is important that electric mobility is ready for the market as quickly as possible. This should be a lesson for technology policy. We don't want to experience that again. If we are involved in research and in prototypes, there is a better chance of bringing the production of the next generation of cells to Europe or to Germany." – Angela Merkel
28. "We don't want the clocks to go back on Sunday; we want the clocks to be put forward." – Angela Merkel
Other insightful Angela Merkel Quotes
29. "Whoever decides to leave that family cannot expect all obligations to be omitted while keeping its privileges." – Angela Merkel
30. "As the head of the government, it is my responsibility to make the overriding political goals and relationships more clear. Part of the reason the public didn't understand some of the reforms enacted during the past legislative period was that there was far too much talk about the details, while the general picture often remained invisible." – Angela Merkel
31. "I want us to be a secure, prosperous, tolerant country–a magnet for international talent and a home to the pioneers and innovators who will shape the world ahead." – Angela Merkel
32. "Will we be able to continue working well together or will we all fall back into our individual roles? I call on us, and I hope we will find a common position on this, let's make the world better together and then things will get better for every single one of us." – Angela Merkel
33. "We must have the courage to accept that some countries can move forward a little more quickly than others." – Angela Merkel
34. "I have asked a lot of you because the times have asked a lot of us – I am well aware of that. And I cannot promise you that there will be fewer demands in the future, because we must do what the times demand of us." – Angela Merkel
Which of these Angela Merkel quotes struck you most and why?
A woman of science and politics, her leadership is not flawless – but she always accepts responsibility.
Something that ALL world leaders should do.
Whether you admire her for her democratic stance OR her never-ending quest to reduce greenhouse-gas emissions, you can't deny that Angela Merkel had made her mark on the world.
Feel free to share your thoughts with us below.
If you have more inspirational quotes that you'd like to impart, don't hesitate to write them down, too.
Please don't forget to Like and Share us on social media!