Arthur Ashe quotes about Life, Sports, and Success
Our latest collection of inspirational Arthur Ashe quotes about life and success.
Born Arthur Robert Ashe Jr. on July 10, 1943, to Arthur Ashe Sr. and Mattie Cunningham in Richmond, Virginia, Arthur Ashe would go on to become the first black American to be ranked No. 1 in the world in the men's singles at Wimbledon and the U.S. Open.
Arthur's childhood was marked by hardship.
You might also enjoy these related articles:
At only six years old, his mother passed away, and his father became strict because he feared his sons would become wayward children without their mother.
A year after Arthur's mother died, he discovered tennis.
Arthur Ashe's tennis career
Under the direction of Dr. Robert Walter Johnson Jr., a tennis coach who was well-known in the black tennis community from Lynchburg, Virginia, Ashe excelled in tennis.
He reached the junior national championships in his first tournament.
And won the junior national title in 1960 and 1961.
He was ranked the fifth-best junior player in the country, and he accepted a scholarship to the University of California, Los Angeles, where he earned a degree in business administration.
He became the first African American to be recruited by the U.S. Davis Cup team in 1963, and in 1968, he shocked the world by winning the U.S.
Open title, making him the first (and to this day, the only) male African-American player to do so.
Two years later, he also obtained the Australian title.
In 1975, he became the first African-American male to win Wimbledon.
The same year, he became ranked number one in the world.
Ten years later, he would become the first black U.S. player inducted into the International Tennis Hall of Fame.
Remember to read these inspirational Wayne Gretzky quotes that transcend hockey.
Check out our most popular quote article, a list of short inspirational quotes for daily inspiration.
Check out our inspirational quotes category page for more inspirational life quotes.
Arthur Ashe quotes about life and success
1. "Start where you are. Use what you have. Do what you can." – Arthur Ashe
You will also enjoy our article on hockey quotes.
2. "One important key to success is self-confidence. An important key to self confidence is preparation." – Arthur Ashe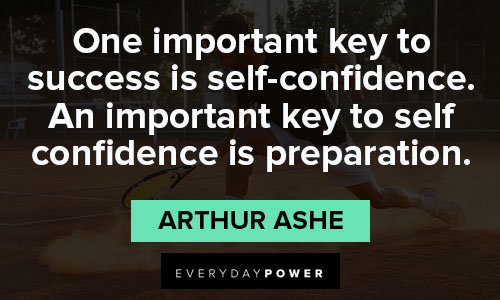 3. "If you're paid before you walk on the court, what's the point in playing as if your life depended on it?" – Arthur Ashe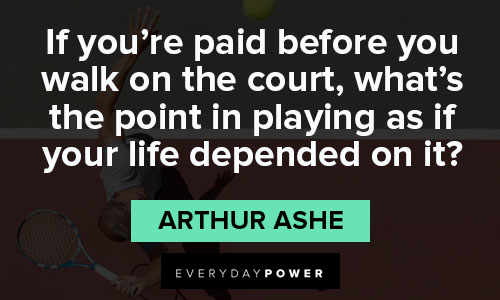 4. "I guess I started too early because I just thought it was something fun to do." – Arthur Ashe
5. "From what we get, we can make a living. What we give; however, makes a life." – Arthur Ashe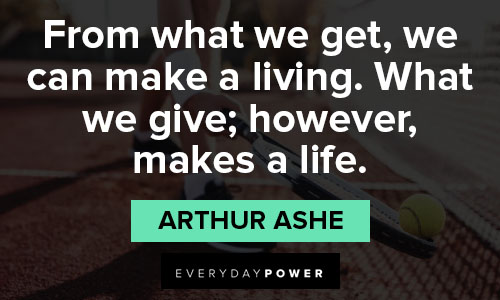 6. "True heroism is remarkably sober, very undramatic. It is not the urge to surpass all others at whatever cost, but the urge to serve others at whatever cost." – Arthur Ashe
7. "When bright young minds can't afford college, America pays the price." – Arthur Ashe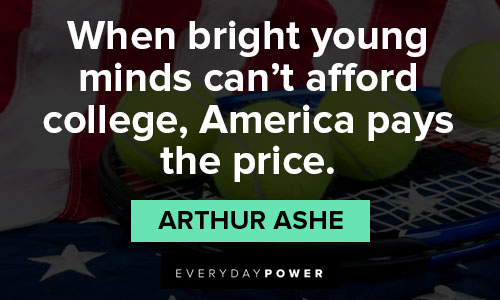 Arthur Ashe quotes about sports and success
8. "If I were to say, "God, why me?" about the bad things, then I should have said, "God, why me?" about the good things that happened in my life." – Arthur Ashe
9. "My potential is more than can be expressed within the bounds of my race or ethnic identity." – Arthur Ashe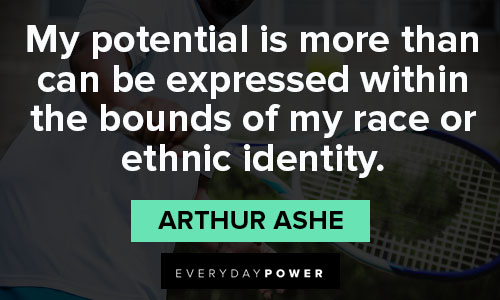 10. "Success is a journey, not a destination. The doing is often more important than the outcome." – Arthur Ashe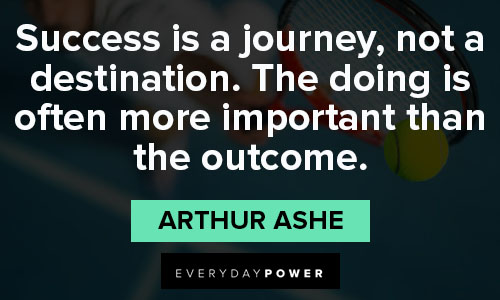 11. "From what we get, we can make a living; what we give, however, makes a life." – Arthur Ashe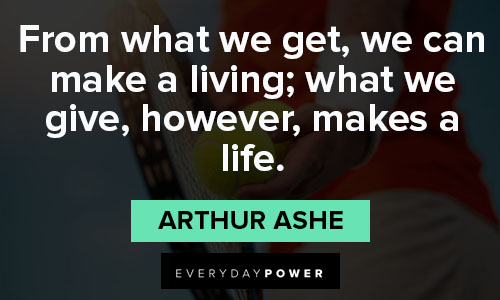 12. "Drummed into me, above all, by my dad, by the whole family, was that without your good name, you would be nothing." – Arthur Ashe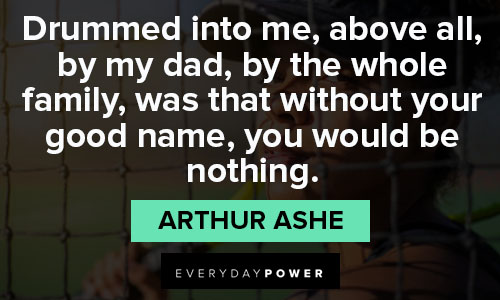 13. "Clothes and manners do not make the man, but where he is made they greatly improve his appearance." – Arthur Ashe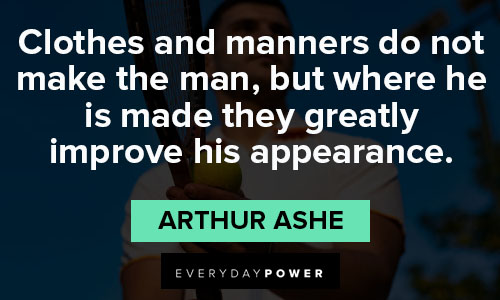 14. "I wish more of us could understand that our increasing isolation, no matter how much it seems to express pride and self-affirmation, is not the answer to our problems." – Arthur Ashe
Arthur Ashe quotes about friendship and life
15. "We must reach out our hand in friendship both to those who would befriend us and those who would be our enemy. We must believe in the power of education." – Arthur Ashe
16. "I may not be walking with you all the way, or even much of the way, as I walk with you now. Don't be angry with me if I am not there in person, alive and well, when you need me. I would like nothing more than to be with you always." – Arthur Ashe
17. "Regardless of how you feel inside, always try to look like a winner. Even if you are behind, a sustained look of control and confidence can give you a mental edge that results in victory." – Arthur Ashe
18. "You've got to get to the stage in life where going for it is more important than winning or losing." – Arthur Ashe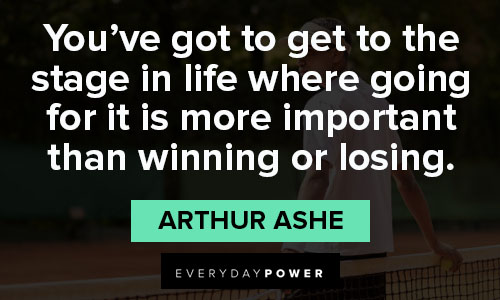 19. "The ideal attitude is to be physically loose and mentally tight." – Arthur Ashe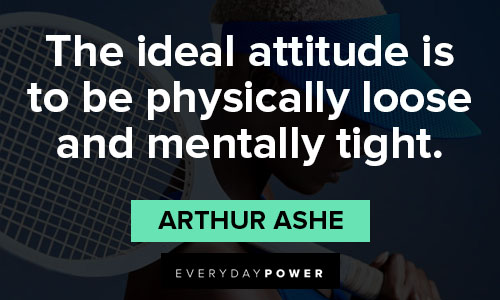 20. "You learn about equality in history and civics, but you find out life is not really like that." – Arthur Ashe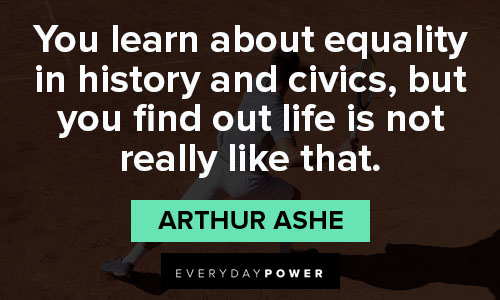 Arthur Ashe quotes about mindset and tennis
21. "There is a syndrome in sports called "paralysis by analysis." – Arthur Ashe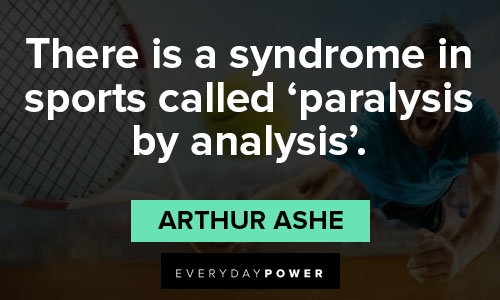 22. "A wise person decides slowly but abides by these decisions." – Arthur Ashe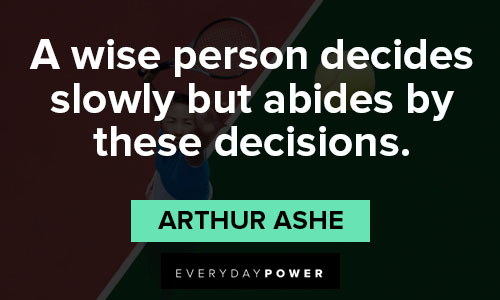 23. "I accepted the fact that as much as I want to lead others, and love to be around other people, in some essential way, I am something of a loner." – Arthur Ashe
24. "I don't care who you are, you're going to choke in certain matches. You get to a point where your legs don't move, and you can't take a deep breath. You start to hit the ball about a yard wide, instead of inches." – Arthur Ashe
25. "I don't want to be remembered for my tennis accomplishments." – Arthur Ashe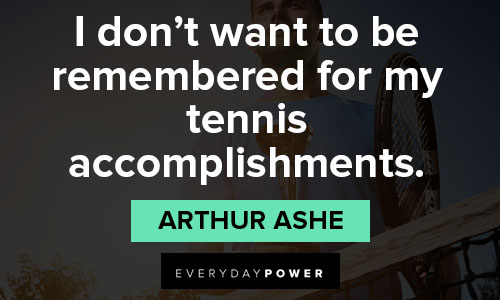 Which of these Arthur Ashe quotes is your favorite?
In 1979, he retired after a heart attack.
He contracted AIDS in 1988 and only told the public in 1992.
He died from AIDS-related pneumonia on February 6, 1993.
Arthur Ashe is inspirational because he never let prejudice or personal tragedy stop him from working hard and climbing the tennis ranks until he hit number one.
Do you have any other inspirational quotes to add?
Let us know in the comment section below.