45 Damian Lillard Quotes on Basketball, Music, & Life
These Damian Lillard quotes show that he's a multi-talented individual.
Which talent are you most impressed with?
Let us know in the comments.
The legendary basketball icon plays for the Portland Trail Blazers of the NBA and is known as one of the best players to represent the team.
Lillard started a humble career in basketball.
He played for the Weber State Wildcats where he eventually earned third-team All-American honors in 2012.
His distinct playing skills in the court caught the eyes of Portland and made him the 6th pick in the NBA draft.
Since then, Lillard's career is considered as high-flying, gaining four NBA All-Star selections.
Because of his success, fans highly regard these Damian Lillard quotes.
Don't forget to also check out these basketball quotes from players and coaches celebrating teamwork.
If you like this article, we suggest you explore our most popular quotes article, a list of short inspirational quotes for daily encouragement.
Check out more inspirational quotes on our motivational quotes category page.
Damian Lillard quotes on basketball
1. "I grew up a Warriors fan." ― Damian Lillard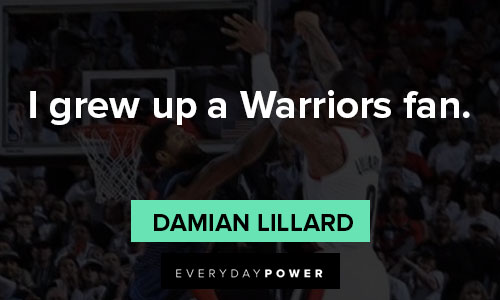 2. "Obviously I loved Ed. One of my best friends in the league, favorite teammates I've played with. That's a loss for our team." ― Damian Lillard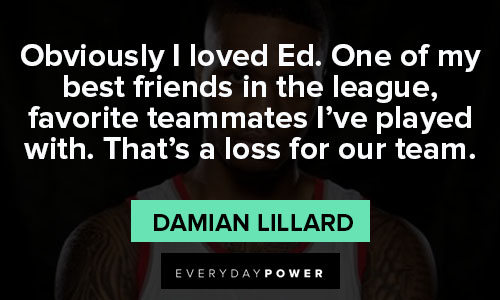 3. "I'm loyal to Portland. I want to play my whole career here, but at any moment, they can decide we want somebody else." ― Damian Lillard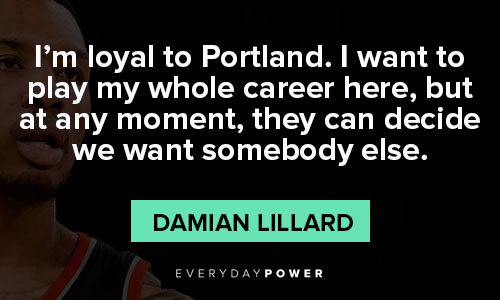 4. "I'm straight up with y'all. I'm not unhappy. I love where I live, I love the organization, I love our coaching staff, I love who I am." ― Damian Lillard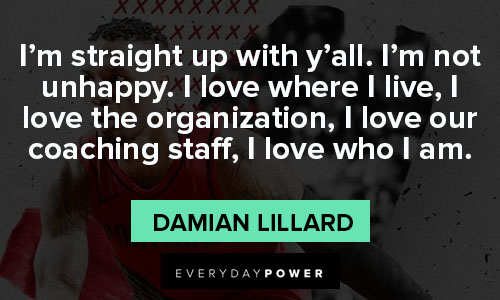 5. "It's nothing for us to be ashamed of, I thought we played a really good game. I don't think the score said the way the game went." ― Damian Lillard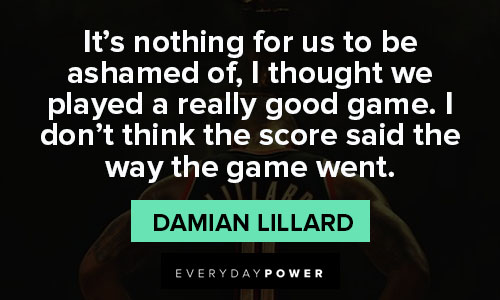 6. "All of those things that we did to give ourselves a chance to win were huge, and my part in it, I think, was probably my most important performance." ― Damian Lillard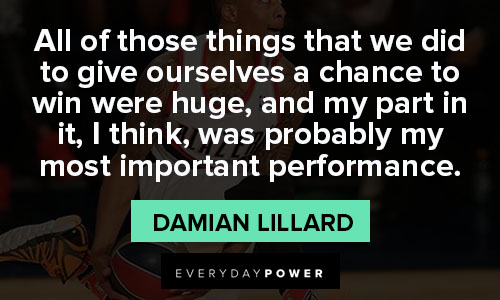 7. "We get paid a lot of money to play a game. Don't get me wrong ― there are challenges. But to call it pressure is almost an insult to regular people." ― Damian Lillard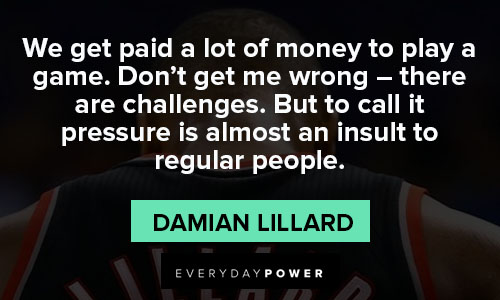 8. "Everybody picked their effort up and played with more energy in the second half, had we done that in the first half, it probably would have been a different result." ― Damian Lillard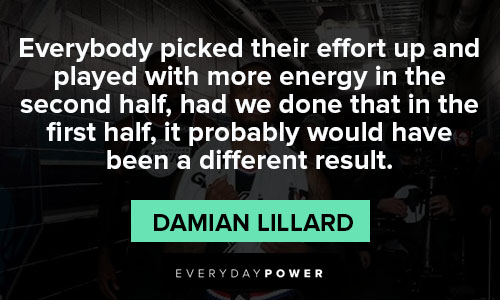 9. "You have to go win the game, (The Nets) made a push, and they took the lead. At that point, everything is out the window. Players gotta go win it; players gotta play. And we did that." ―Damian Lillard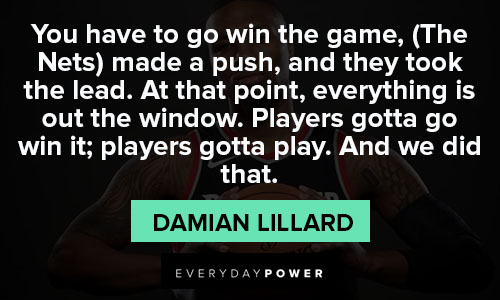 10. "It is impressive and I think it impressive for any team, to go out on the road and to win on someone else's floor is tough. Anything can go wrong on the road. We have grown so much." ― Damian Lillard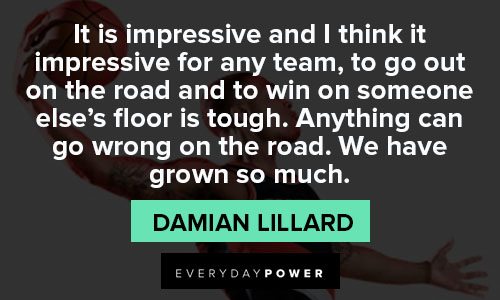 11. "I think over the course of the series, at least after Game 1, I just haven't seen the ball go in consistently enough, my job is to stay aggressive, keep doing what I do, and tonight, shots fell." ― Damian Lillard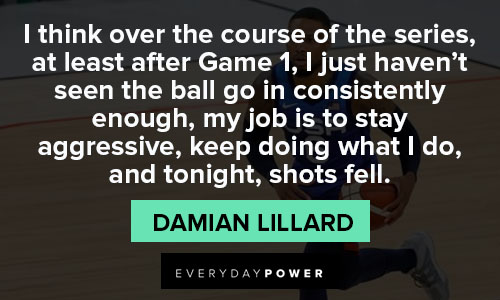 12. "Pressure, nah, this is just playing ball. Pressure is the homeless man, who doesn't know where his next meal is coming from. Pressure is the single mom, who is trying to scuffle and pay her rent." ― Damian Lillard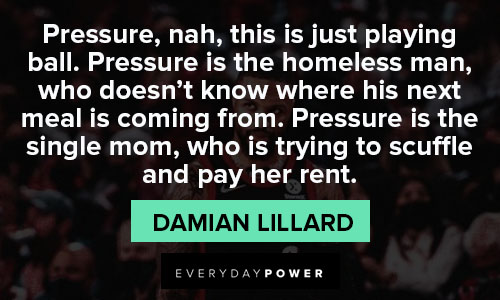 13. "Tried to get a little bit of space. … Andre Iguodala grabbed my arm and I lost the ball a bit, there was a lot of contact, but obviously, the ref is not going to decide the game or jump in at that point. So… good defensive play." ― Damian Lillard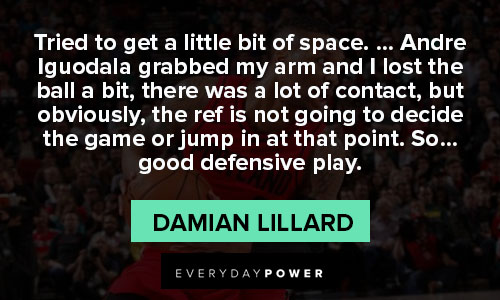 14. "For me it's just amazing that I grew up watching Tim Duncan and KG and Kobe and Paul Pierce, Allen Iverson and all those guys and now it's like, 'Man, I can't believe they actually got old.' It's like they actually walked away. It's crazy to think about, but the game has to keep moving." ― Damian Lillard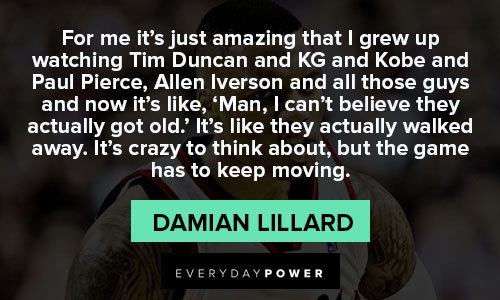 Damian Lillard quotes about Life
15. "I read, I watch a lot of movies, I'm constantly living, so I'm constantly having more to say." ― Damian Lillard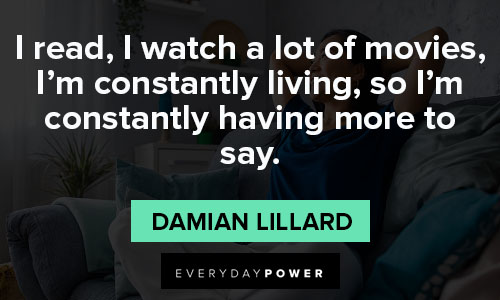 16. "I know, personally, people said a lot about what kind of defender I was. So I wanted to get better at it." ― Damian Lillard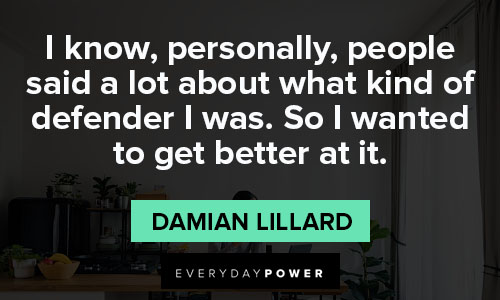 17. "We know how it feels to win again, now we can just kind of move on from that and stay focused on this series." ― Damian Lillard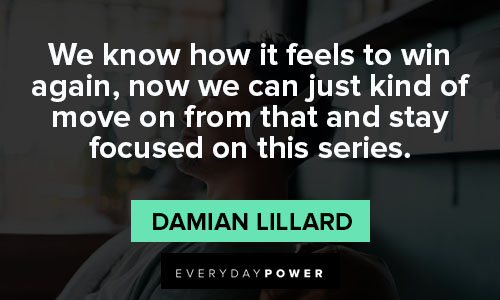 18. "That's part of what makes it special, I'm from here, I could walk home from here if I wanted to, that tells you how close it is." ― Damian Lillard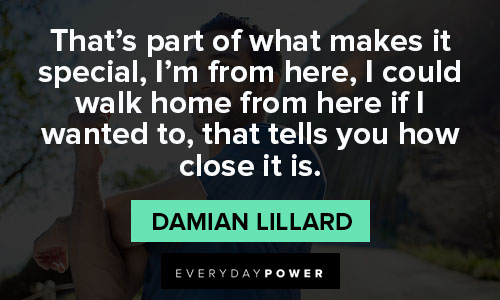 Damian Lillard quotes on music
19. "I like '1989,' the whole album. 'Welcome to New York,' 'Blank Space.' 'Bad Blood' – all of it!" ― Damian Lillard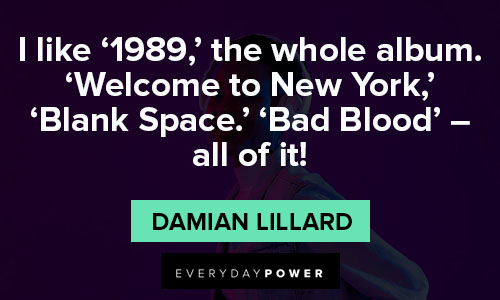 20. "I love music. In a lot of my downtime, I spend time listening to other people's music or other people's rhymes and writing my own." ― Damian Lillard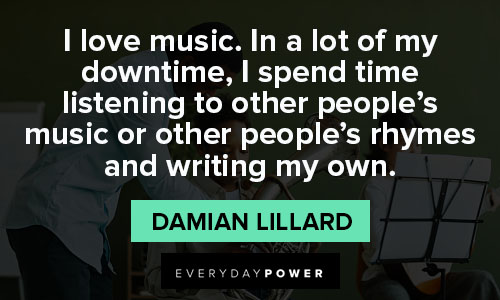 21. "When I get done playing basketball, I'm definitely not going to be a rapper. I'm not going to be an old person who is focused on being a rapper." ― Damian Lillard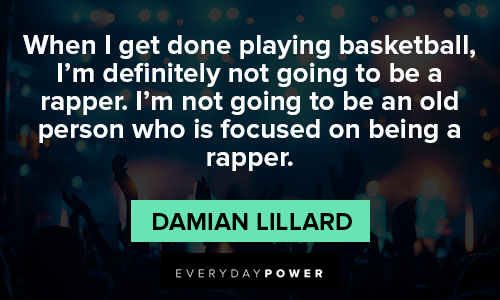 22. "I want to have hit records, but I'm not searching to say, 'All right, I need this to be in the club. I need this, that.' I'm just making quality music." ― Damian Lillard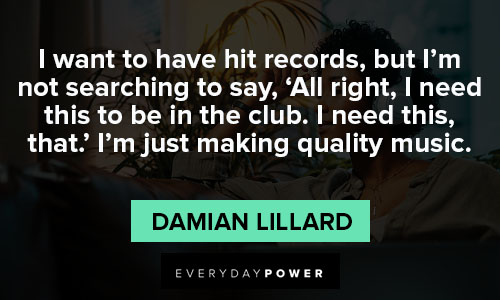 23. "I started rapping towards the end of middle school. In high school, with a lot of my friends, we would make beats and just start rapping—beating on the wall, beating on the table and freestyling." ― Damian Lillard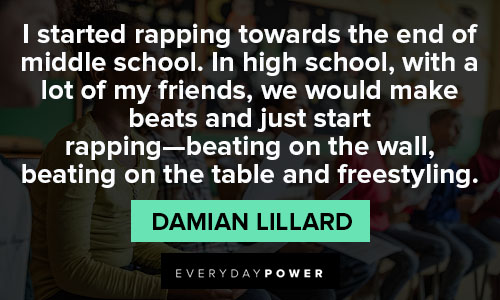 24. "When you listen to my music, you're going to know that you're getting the real me, my real thoughts and feelings… I want people to be like, 'Oh, he's fresh out with his music for it to be this good.'" ― Damian Lillard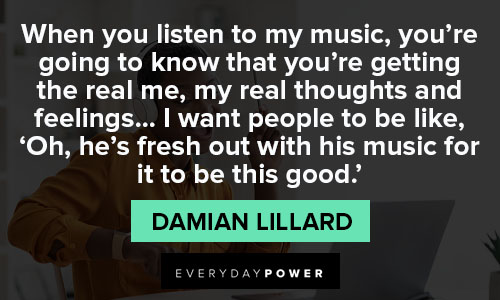 25. "I'm rapping, I'm hooping, I'm on a max-contract, I got a big shoe deal. Everything is good now. So of course, the support is going to be there, the love is going to be there, but what's going to happen when it changes or when I'm on the back-end of my career or when I ain't on TV all the time?" ― Damian Lillard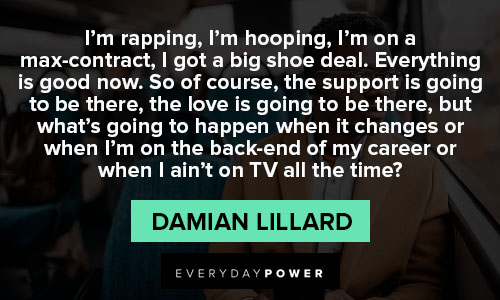 26. "I feel like when it comes to rap—like, real rap music—and knowing the pioneers of rap, I feel like there's no competition for me in the NBA. Other guys can rap, but they're not as invested or as deep into actual music as I am and always have been. I think that might be what the difference is. I'm more wanting to be an artist." ― Damian Lillard
Inspirational Damian Lillard quotes about work and success
27. "Sometimes, it's just your turn to go through hard times." ― Damian Lillard
28. "Injuries are a part of the game. Every athlete knows that." ― Damian Lillard
29. "I'm here to be a leader and show younger people the way." ― Damian Lillard
30. "Anytime odds get stacked up against me, I feel like it's in me to beat it." ― Damian Lillard
31. "I just want to keep working hard, stay humble, and keep trying to win games." ― Damian Lillard
32. "If you want to look good in front of thousands, you have to out work thousands in front of nobody." ― Damian Lillard
33. "If your dreams don't match your actions, you can either change your dreams or change your actions." ― Damian Lillard
34. "Visionary means being able to see a place for something that can be impactful before it's right in front of you." ― Damian Lillard
Other Damian Lillard quotes
35. "I've never had issues with stardom." ― Damian Lillard
36. "Put some respect on my f*cking name!" ― Damian Lillard
37. "I always enjoy when CJ gets rolling because it's not just the fact that he's doing it for our team; it's the way it looks. Smooth. Crossovers. Crafty. Tough shots." ― Damian Lillard
38. "I want to see things work out for everybody… so it's a burden I place on myself to make sure that we are performing at a certain level, that we get certain things done." ― Damian Lillard
39. "I always talk about, like, with end-of-game situations, making and missing big shots, I know I can shoulder that. I can live with having the success of the playoffs and having a huge failure. I know I can deal with it." ― Damian Lillard
40. "A lot of people kind of… conform. I don't want it to sound like I'm saying don't care about championships. That's not my point. But what I'm saying is a lot of people give in to the pressure of, 'I didn't have this; I didn't have rings.'" ― Damian Lillard
41. "I thought his flow and his swag was better than Tupac's, but I thought Tupac's passion and ability to relate to the average person was better than Biggie, and I thought Nas was kind of like both, with a lot substance going but a lot of swag." ― Damian Lillard
42. "I don't want him to hurt himself. I don't want him to choke on something. You're just so concerned for them, and it hurts you. It's so alarming, man. I feel it for the people around me, but it's deeper for my son. Only a parent would understand." ― Damian Lillard
43. "Some shots, for me, are a good shot even if it's forced. The way it might look to a person watching, they might look at it like, 'That's a tough shot.' But for me, it's not a tough decision. I'm committed to those shots, and I spend time working on them." ― Damian Lillard
44. "It's basically a game where only one team is going to make it out, it's your last opportunity to play, so facing elimination is what it is to me, and that's going to be my approach, just like it was tonight. The only thing is that it's going to be on the road. It's for our season. All the marbles." ― Damian Lillard
45. "I'm vegan now. I've been vegan for a month. Wanting to eat cleaner. Also, I was trying to play lighter this year, be easier on my joints and on my feet. Getting older and you don't want to let that age sneak up on you where you just get in the habit of eating whatever you want to eat because I know I'm gonna burn it off when it's time to play. So just creating better habits. I feel much better. I thought it was all hype. I thought people just said it just because it was a healthier food but I can feel it. I can definitely feel it." ― Damian Lillard
What did you learn from these Damian Lillard quotes?
Truly, Lillard uses his talents and skills for good.
He focuses on one thing and gives his all to become great.
This is what he also does for his music career.
With his perseverance, we will not be surprised if one day Lillard will be one of the most famous rappers in the U.S.
His hard work, determination, and consistency will definitely bring him there anytime soon.
For now, let us all be inspired and motivated to excel in whatever field we are into with these life-changing Damian Lillard quotes and sayings.