50 Dove Cameron Quotes to Brighten Your Day
Need relatable quotes on love, relationships, and being a teenager?
The below Dove Cameron quotes dive into it all.
What's your favorite TV show/movie starring Dove Cameron?
Born in 1996, Dove Cameron is an American actress and singer most well-known for her roles in Disney Channel programming.
Her most popular roles are the title characters in the Disney Channel sitcom Liz and Maddie and as Maleficent's daughter Mal in the Disney Channel original movie series Descendents.
Dove Cameron has a bubbly, positive personality and isn't afraid to be honest with her fans, as revealed in the featured quotes.
Check out the quotes below to learn about Dove Cameron's perspective on life.
And after you're done, don't forget to also read our collection of inspiring quotes from Quentin Tarantino that will inspire you to succeed as a filmmaker, writer, or all-around creative.
Check out our most popular quote article, a list of short inspirational quotes for daily inspiration.
Check out our entire collection of motivational quotes here.
Dove Cameron quotes on relationships
1. "I firmly believe there are no bad people." – Dove Cameron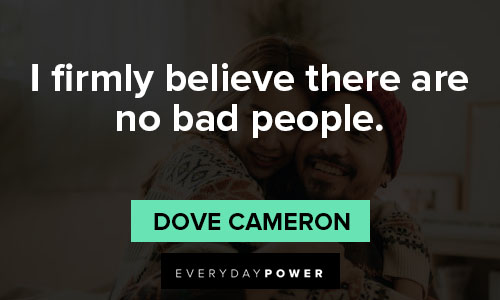 You will also enjoy our article on Godfather quotes.
2. "This may be a bit of a broad statement, but I don't think there's anyone that I've met that I haven't created a bit of a deep relationship with. It's a really lovely thing to create a relation with people that might not anticipate that closeness. And that's kind of the light of my life, getting to be close to people." – Dove Cameron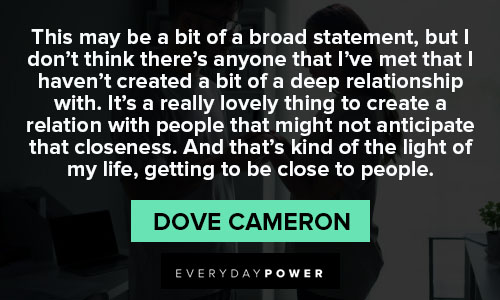 You will also enjoy our article on maleficent quotes.
Relatable Dove Cameron quotes
3. "I can't make eye contact when people sing 'Happy Birthday' to me." – Dove Cameron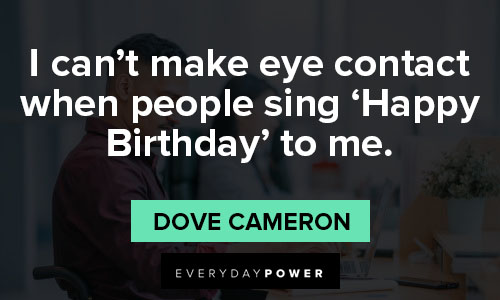 4. "Laziness in my biggest pet peeve of all time. Get up, make a plan, do the work, and love yourself, people!" – Dove Cameron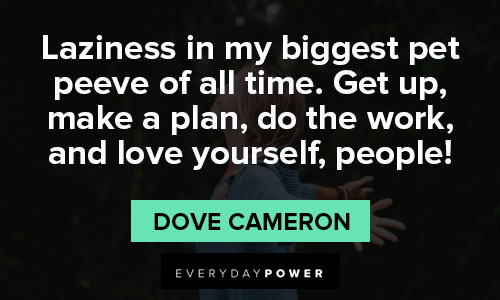 5. "I have always felt like I was just sort of waiting to catch up to the rest of myself." – Dove Cameron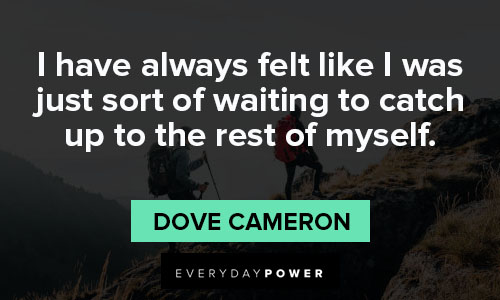 6. "There's no one who, at some point, hasn't had the feeling their life is on the rails and they can't do anything about it." – Dove Cameron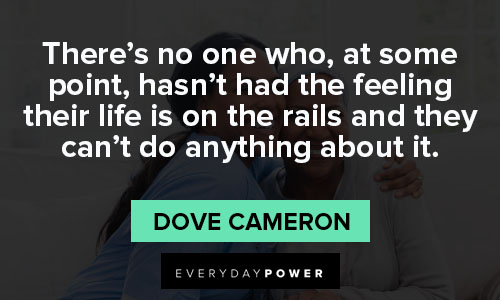 7. "I feel all of a sudden like I've come down to reality. I feel more grounded and human than ever." – Dove Cameron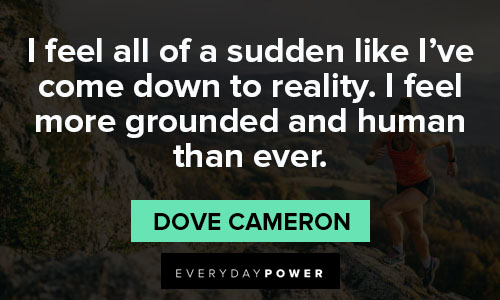 8. "I would call myself incredibly anxious, and I have dealt with depression. And I do have episodes of absolutely what feels like mania or something that is like I'm all of a sudden in the pits of despair. I can't get myself out. I'm on the floor and I'm crying." – Dove Cameron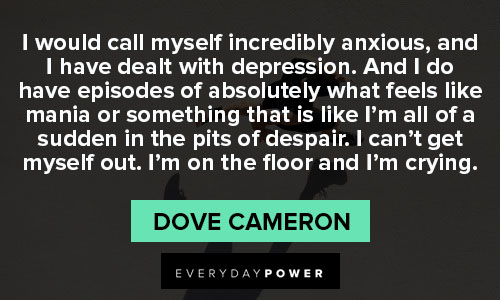 Dove Cameron quotes on love
9. "Everything is just so much more romantic and real when it's yours and it's private." – Dove Cameron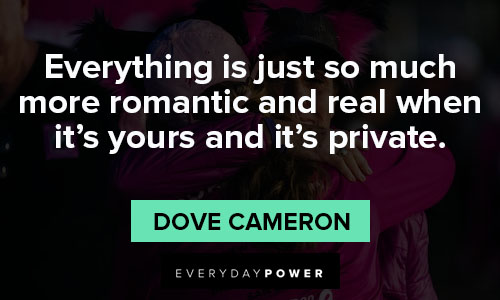 10. "Choose love over judgment and watch your life improve immediately." – Dove Cameron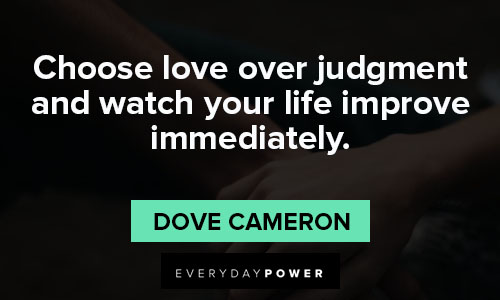 11. "I have a lot of affection to give, and sometimes I'm a little overbearing." – Dove Cameron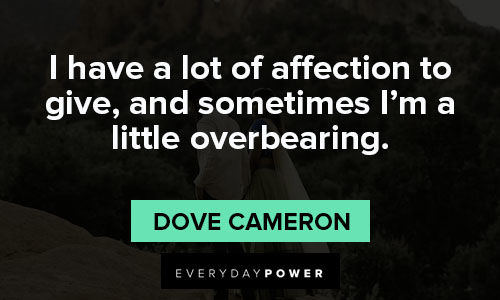 12. "He's a pure soul. A well-intended, completely innocent source of care and generosity, humility and never-ending patience. I've never experienced an equality like we have, a real admission of who and what we are together and the guttural knowing that this is right." – Dove Cameron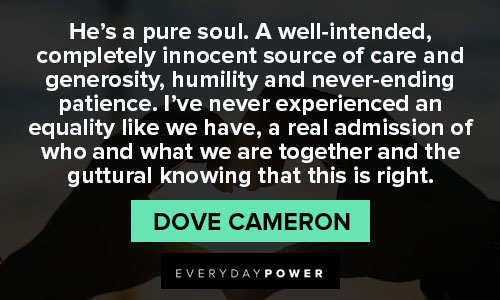 Dove Cameron quotes about her career
13. "I honestly think what skyrocketed me into professionalism was learning how to play two people and still live through the day." – Dove Cameron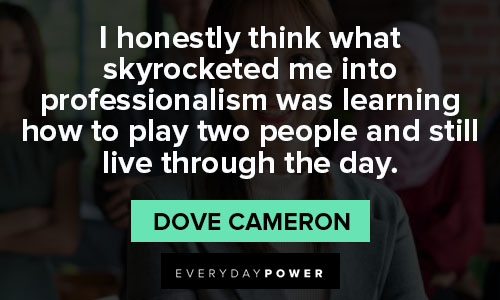 14. "My version of a good role model is everything that I have strived to become over the years, as I have a deep desire to live an honest life and give relentlessly and openly to people who look up to me." – Dove Cameron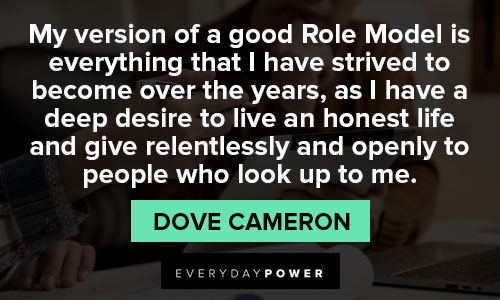 15. "I was from a tiny little island, which I always say is one corn field away from a horror film: it was, like, isolated, and everybody knew everybody, and you go to school with the grandkids of the grandparents that your grandparents went to school with." – Dove Cameron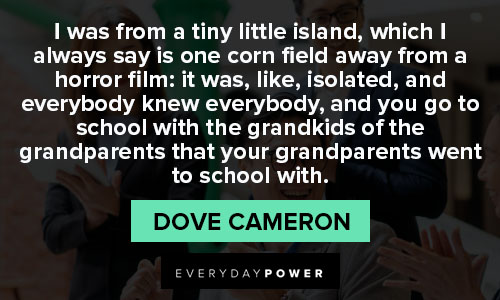 16. "As an actor, you are either emulating someone else, or some version of yourself." – Dove Cameron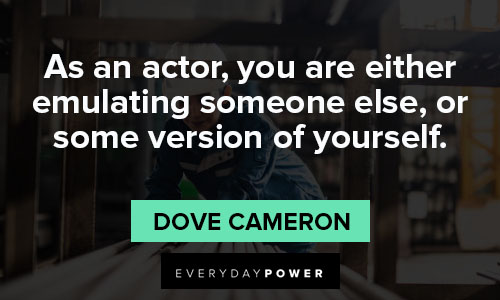 17. "My absolute favorite thing about working on 'Liv and Maddie' is my cast and crew. The people that I spend almost every hour of every day with. Your cast has great influence over the quality of your life, and I've been blessed with not just a cast, but a family." – Dove Cameron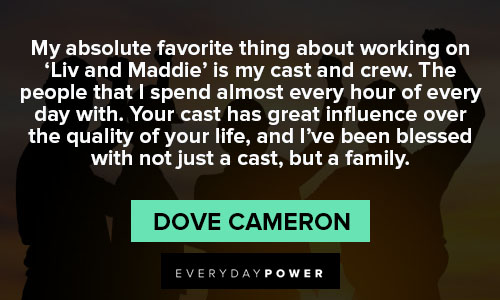 18. "I actually started snowboarding when I was 7 years old, so I felt very comfortable auditioning for a snowboarding movie, and I thought that would give me some leg up." – Dove Cameron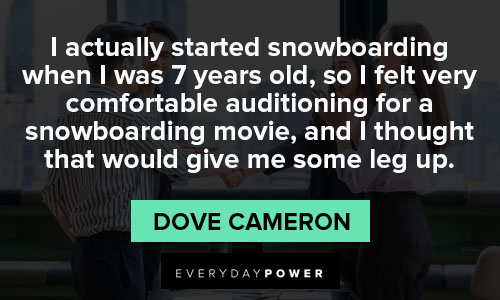 19. "Singing has been a passion of mine, equal to or greater than acting, ever since I was very small." – Dove Cameron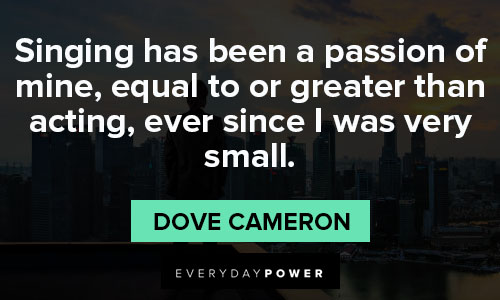 20. "When I'm acting, I just come up with people I've known, and I stick with it." – Dove Cameron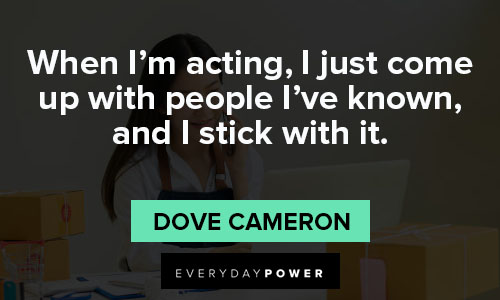 21. "Every single character I've ever played has a little bit of me in them just because every single human in the world has a little bit of everything in them." – Dove Cameron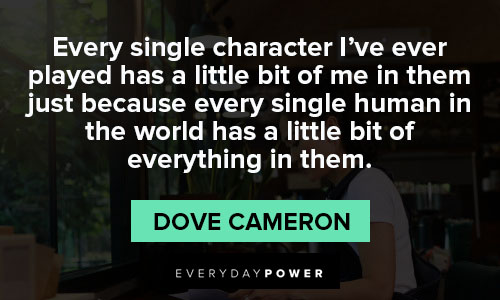 22. "Shooting everything twice and going through the emotions of two different humans was crazy for me at 16. In terms of my career, that was something that really, really formed me." – Dove Cameron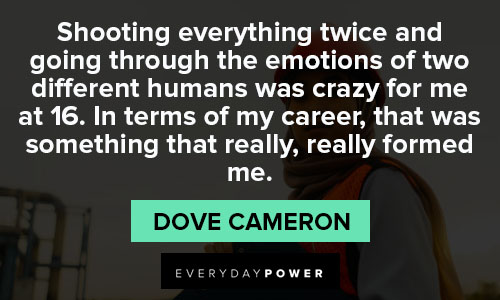 Don't forget to also read these inspirational quotes from Halsey.
More Dove Cameron quotes about her career
23. "Broadway was always sort of my trajectory before I found film and television – that would be really tremendous." – Dove Cameron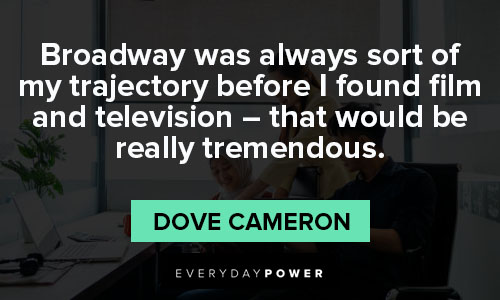 24. "There is nothing like the buzz of singing one of your songs during a show and hearing your fans singing with you." – Dove Cameron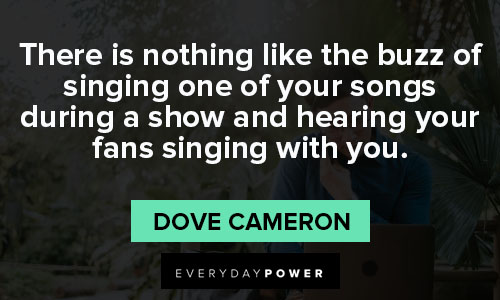 25. "I skipped ninth grade. I went from eighth to tenth, and then I graduated a year early to start working, and it was a big blessing for me because I was not a school person, although I really do miss having that kind of environment." – Dove Cameron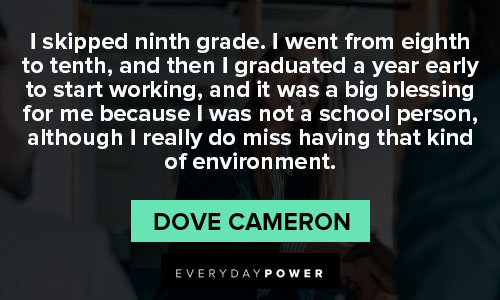 26. "At school, I felt out of place. I was bullied. I would think, 'These kids don't like me, they don't accept me,' but I felt like in the entertainment industry, I would fit in." – Dove Cameron
27. "I have always had a highly stylized, romantic and dramatic taste in production, whether it was super minimal, or creatively placed bells and whistles, I love music that doesn't sound like the rest." – Dove Cameron
28. "I've been writing music all my life. My mom is a poet, and my dad was a pianist, so music and writing was always a part of the deal." – Dove Cameron
29. "I have some loose goals, some direction, definitely lots of love and feeling for both music and film, as mediums and art are ways to further connect with myself and my life. Whatever comes, comes — and wherever I find myself, I'm there." – Dove Cameron
30. "At the end of the day, I don't do anything unless I love it." – Dove Cameron
31. "I don't ever want to do anything just to stay busy or have a press release. I have to fight that fear lizard-brain that tells me to just do what people expect of me. It's a weird, scary thing to live by your reward system alone, but I think it's one of those things that eventually pays off and creates a much richer life." – Dove Cameron
32. "I plan on doing it all. I plan on doing Broadway, film, television, music, all of it. My career is kind of all over the place but that's how I want it. I'm not cut out for Hollywood the way it was handed to me." – Dove Cameron
Inspirational Dove Cameron quotes
33. "Never underestimate the power of an open and vulnerable heart." – Dove Cameron
34. "Turn your fear into excitement." – Dove Cameron
35. "Your magic is yours and no matter how long you let someone hold it they can't ever take it from you." – Dove Cameron
36. "The less seriously you take your life the happier you will be." – Dove Cameron
37. "Human beings are stronger together. Relying on someone else is not a sign of weakness; it shows strength that you're able to accept that you need help." – Dove Cameron
38. "Sure, they can take your binder, but they can't take whatever special thing you have inside you." – Dove Cameron
39. "I personally believe in progress. I think one of the most debilitating and harming things you can do to a child is to keep them in the dark." – Dove Cameron
40. "Fear is another reason to try harder." – Dove Cameron
41. "As long as you are your own mother, healer, and best friend, you will always know what you need. Sometimes it just takes a while to become yourself." – Dove Cameron
42. "It's an unfortunate truth that nobody can do for you what you can do for you." – Dove Cameron
43. "If you think about the people trying to hurt you, rather than just trying to hurt them back, you can understand it has nothing to do with you." – Dove Cameron
Dove Cameron quotes on being a teenager
44. "I think girls especially get so caught up in thinking like, 'Oh I have to be prim or proper or fun and sunshiny' when, like, you can be literally anything. You can be mannish; you can do whatever, and it's acceptable." – Dove Cameron
45. "It's hard to be a teenager. It's lonely, and you feel like no one understands you. I think that's natural, and my mother let me have the space to feel that way." – Dove Cameron
46. "I think that every human – and this is something, you know, like, your years from 14 to, like, 23 are kind of, like, super, super existential, and you're figuring out life." – Dove Cameron
47. "When you're 10, 11, 12, and you're watching your idols, you feel like you know them. I found more in common with these people when they talked in interviews than I did with my classmates." – Dove Cameron
48. "Your average teenager can't relate to a girl who casts magic spells. But she does understand someone who is torn about her upbringing and the situation in her life." – Dove Cameron
If you're enjoying these quotes, make sure to read our collection of teenager quotes about navigating this period of life.
49. "I was scared when I was younger to talk about certain topics because there are a lot of people in this industry that tell you not to speak about a lot of things. I think so much normalcy would come from demystifying a lot in our own personal lives for younger people to look at." – Dove Cameron
50. "I would tell my younger self to love herself. Being 17 was the worst. I wish I could go back and nurture the broken baby bird I was when I was 17." – Dove Cameron
What's your favorite song by Dove Cameron?
Dove Cameron worked tirelessly during her formative years, slowly figuring out the person she was meant to be, just as we all are.
She doesn't let her reputation as a "Disney kid" get in the way of her maintaining honesty with her fans and supporters at all times.
Through her acting as well as her music, she connects with millions of fans across the world because she isn't afraid to be her true self.
Take inspiration from Dove Cameron's words by understanding the importance of embracing your true self.
Those are often the first steps of finding your passion and, in turn, becoming successful in your own right.
Did we miss an inspirational Dove Cameron quote?
Leave us a comment down below and let your thoughts known.