Elie Wiesel Quotes Celebrating the Human Spirit
Sometimes we need motivation in the form of inspirational words, and these Elie Wiesel quotes are exactly what you need to read today.
Elie Wiesel was a Jewish-American author, professor, activist, and one of the most famous Holocaust survivors.
His best known book, "Night," describes his experiences surviving the concentration camps of World War II.
Wiesel is one of the heroic figures of the tumultuous 20th century.
He left an indelible mark with his relentless effort to help mold a world that learns from its mistakes.
His experiences in the Nazi camps inspired him to travel the world as an author and witness — speaking out against injustices.
He went on to become an internationally acclaimed writer and recipient of the Nobel Prize for Peace.
Life is precious and should never be taken for granted, and these Elie Wiesel quotes about the strength of the human spirit will uplift your soul.
Wiesel's words were memorable and his impact was significant.
He reminds us that life can go on no matter what bad situations you experience.
Living doesn't always come easy.
You have to endure some form of hardship at some point in your life.
But in your greatest struggles, you will discover a strength you didn't know you had.
To help remind you of your inner strength, below is our collection of inspirational, powerful, and enlightening Elie Wiesel quotes, collected from a variety of sources over the years.
Also check out these quotes from Viktor Frankl on life, suffering and success.
Check out our most popular quote article, a list of short inspirational quotes for daily inspiration.
Explore our complete collection of motivational quotes here.
Elie Wiesel quotes celebrating the human spirit

1. "I speak from experience that even in darkness, it is possible to create light and encourage compassion. There it is: I still believe in man in spite of man." ― Elie Wiesel

2. "I pray to the God within me that He will give me the strength to ask Him the right questions." ― Elie Wiesel

3. "I believe in God–in spite of God! I believe in Mankind–in spite of Mankind! I believe in the Future–in spite of the Past!" ― Elie Wiesel

4. "Friendship marks a life even more deeply than love. Love risks degenerating into obsession, friendship is never anything but sharing." ― Elie Wiesel

5. "Words can sometimes, in moments of grace, attain the quality of deeds." ― Elie Wiesel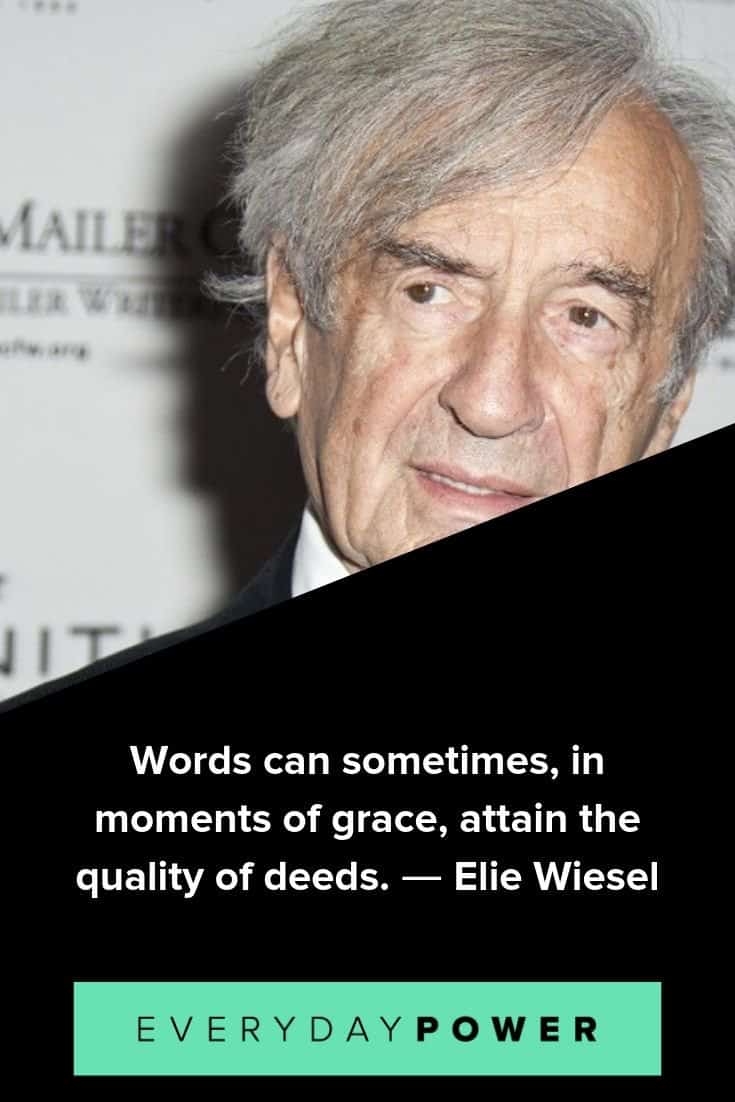 6. "I swore never to be silent whenever and wherever human beings endure suffering and humiliation. We must always take sides." ― Elie Wiesel

7. "A man who is fighting for the future of mankind is not waiting for torture, he's waiting for — the Revolution." ― Elie Wiesel

8. "When a person doesn't have gratitude, something is missing in his or her humanity. A person can almost be defined by his or her attitude toward gratitude." ― Elie Wiesel

9. "Look, whatever you do in life, remember, think higher and feel deeper. It cannot be bad if you do that." ― Elie Wiesel

10. "Someone who hates one group will end up hating everyone – and, ultimately, hating himself or herself." ― Elie Wiesel
If you enjoy this article, check out our collection of Hannah Arendt quotes about humanity and power.
Elie Wiesel quotes that will make you see the good that's still out there

11. "The witness has forced himself to testify. For the youth of today, for the children who will be born tomorrow. He does not want his past to become their future." ― Elie Wiesel

12. "For the good of all, I say: Be careful, the brutality of the world must not be more powerful or attractive than love and friendship." ― Elie Wiesel
13. "Man carries his fiercest enemy within himself. Hell isn't others. It's ourselves. Hell is the burning fever that makes you feel cold." ― Elie Wiesel

14. "Human suffering anywhere concerns men and women everywhere." ― Elie Wiesel

15. "Wherever men and women are persecuted because of their race, religion, or political views, that place must — at that moment — become the center of the universe." ― Elie Wiesel

16. "There are victories of the soul and spirit. Sometimes, even if you lose, you win. " ― Elie Wiesel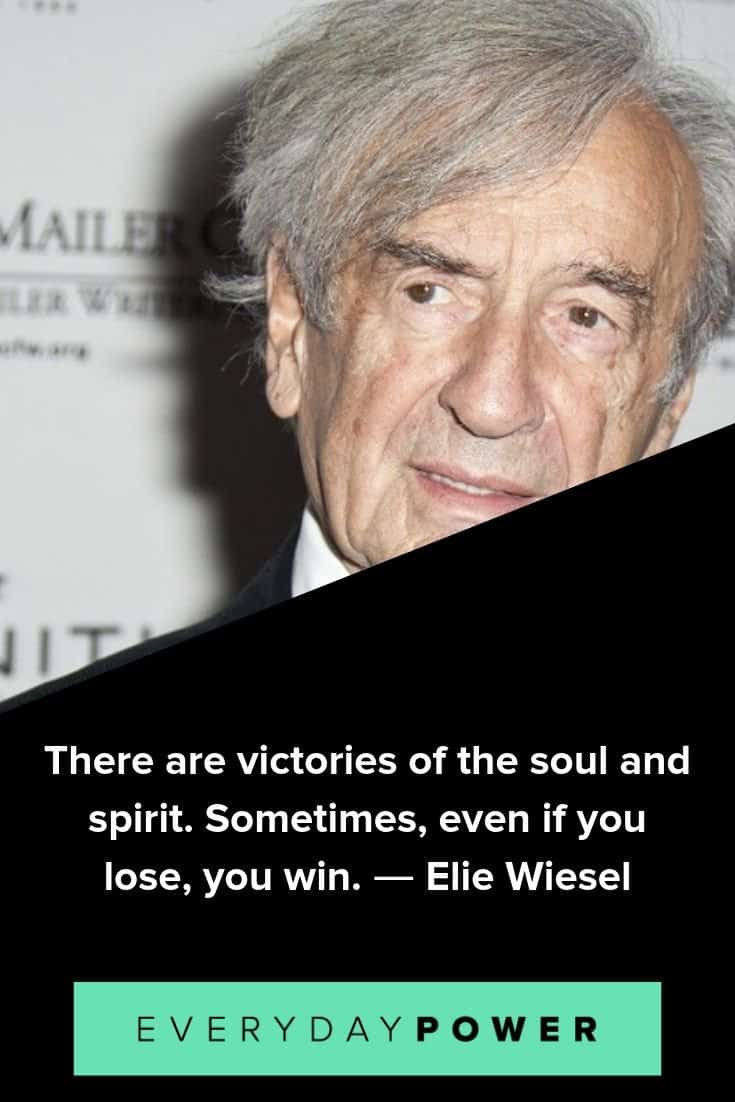 17. "For in the end, it is all about memory, its sources and its magnitude, and, of course, its consequences." ― Elie Wiesel

18. "Suffering pulls us farther away from other human beings. It builds a wall made of cries and contempt to separate us." ― Elie Wiesel

19. "Have faith in life, a thousand times faith. By driving out despair, you will move away from death." ― Elie Wiesel

20. "Just as man cannot live without dreams, he cannot live without hope. If dreams reflect the past, hope summons the future." ― Elie Wiesel
You might also like these famous Holocaust quotes for remembering.
Elie Wiesel quotes on being vigilant toward evil

21. "To forget would be not only dangerous but offensive; to forget the dead would be akin to killing them a second time. SOMETIMES" ― Elie Wiesel

22. "Ultimately, the only power to which man should aspire is that which he exercises over himself." ― Elie Wiesel

23. "No human race is superior; no religious faith is inferior. All collective judgments are wrong. Only racists make them" ― Elie Wiesel

24. "Indifference to me, is the epitome of all evil." ― Elie Wiesel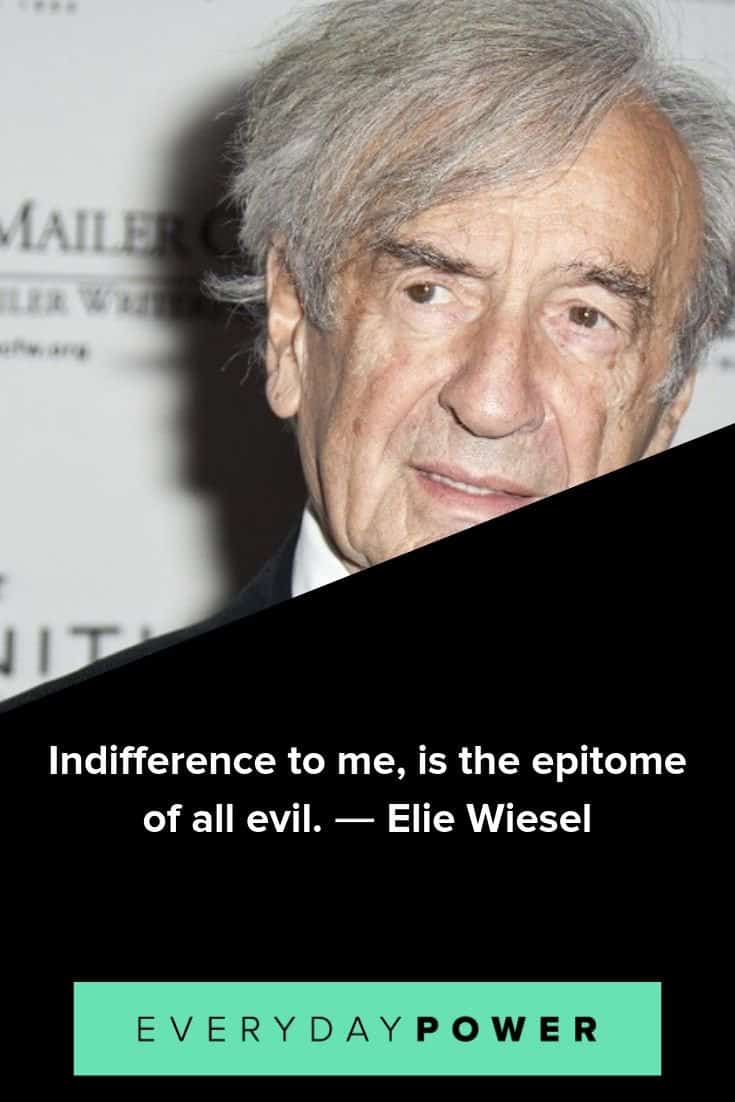 25. "We are all brothers and we are all suffering the same fate. The same smoke floats over all our heads. Help one another. It is the only way to survive." ― Elie Wiesel
Which of these Elie Wiesel quotes was your favorite?
Elie Wiesel survived concentration camps of World War II to become a Nobel Laureate, activist and defender of human rights.
He rose above his earthly existence to become a symbol, an inspiration and an idea.
Wiesel spoke out for those who were hated and persecuted, and dedicated his life to making sure the world learns from its mistakes.
We hope his words have inspired you to help transform humanity rather than to reject it.
Did you enjoy these Elie Wiesel quotes?
Which of the quotes was your favorite?
Let us know in the comment section below.
Also, don't forget to share with your friends and followers.