Fruit Quotes About Nature's Candy
It is summer, and that means it's the season of watermelon, peaches, and strawberries!
All the good stuff! And if you are a person who updates their life on Instagram, these fruit quotes will help you caption that perfect photo of you on the beach with a peach daiquiri.
Or maybe that great shot of everyone at a family reunion eating some delicious melon!
You may also enjoy our article on:
Of course, fruit can have a serious side, and the biblical quotes below that use fruit as a metaphor prove that.
Then there is the 'lighter' side of fruit, which you can see with the funny fruit quotes.
We can also use fruit as a metaphor for life, which many famous people have done, like Shakespeare and Stephen King.
The fruit quotes about life will help you see life from a new perspective and help you get through some challenging times.
Aside from all that, there are some actual benefits to eating fruit, which you can discover if you keep reading!
Don't forget to also check out these beautiful flower quotes
If you enjoy this article, check out our most popular quote article, a list of short inspirational quotes for daily motivation.
If you want more motivational quotes, check out our motivational quotes category page.
Fruit quotes and sayings on life lessons
1. "Knowledge is knowing a tomato is a fruit; wisdom is not putting it in a fruit salad." — Miles Kington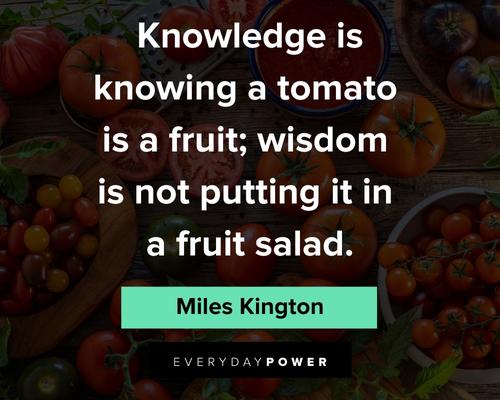 You will also enjoy our article on healthy eating quotes.
2. "Fruit… it's just God showing off… Look at all the colors I know!" — Dylan Moran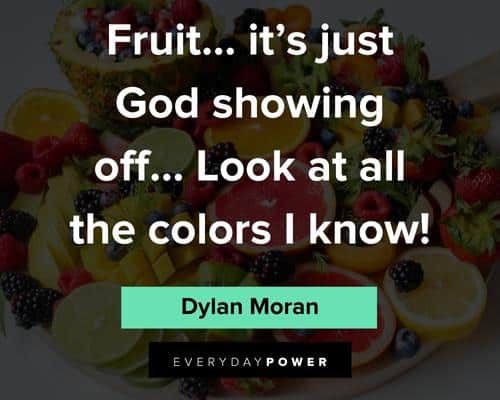 You will also enjoy our article on cherry quotes.
3. "Every time you eat a fruit for the first time that year you need to make a wish." ― André Aciman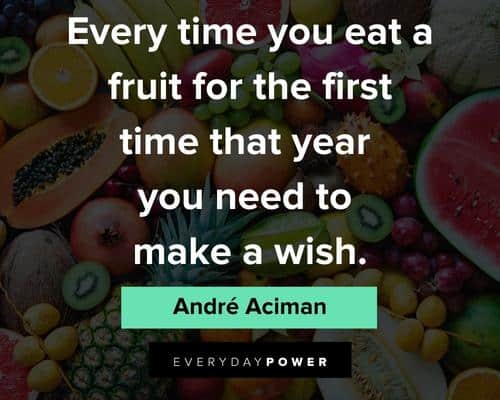 You will also enjoy our article on orange quotes.
4. "Time flies like an arrow – but fruit flies like a banana." — Terry Wogan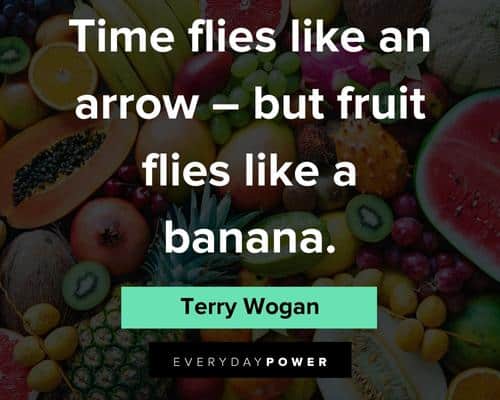 You will also enjoy our article on farmer quotes.
5. "A life without love is like a tree without fruit." — Stephen King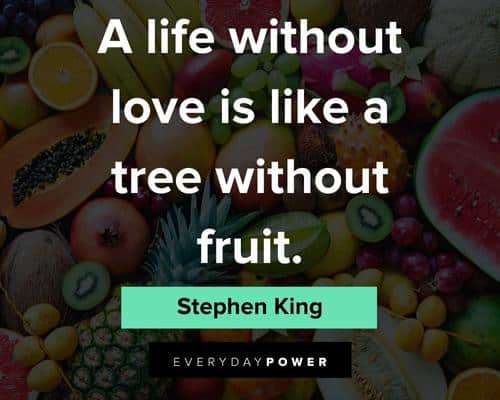 You will also enjoy our article on peach quotes.
6. "A basket of ripe fruit is holier than any prayer book." — Marty Rubin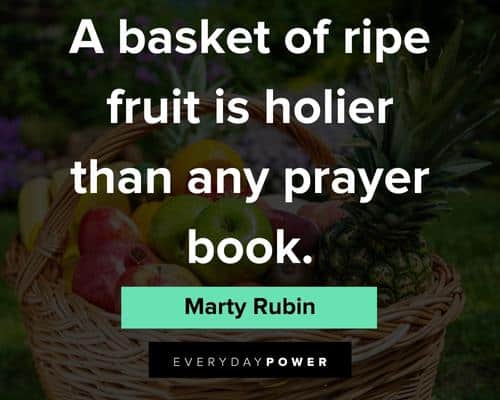 You will also enjoy our article on lemon quotes.
7. "Forbidden fruit tastes sweet, but its aftertaste is bitter." — John F. Kennedy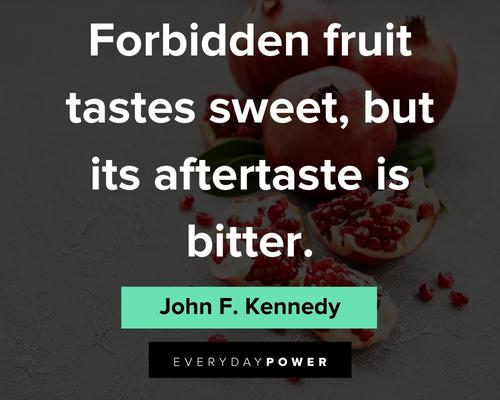 You will also enjoy our article on karma quotes.
8. "The weakest kind of fruit drops earliest to the ground." — William Shakespeare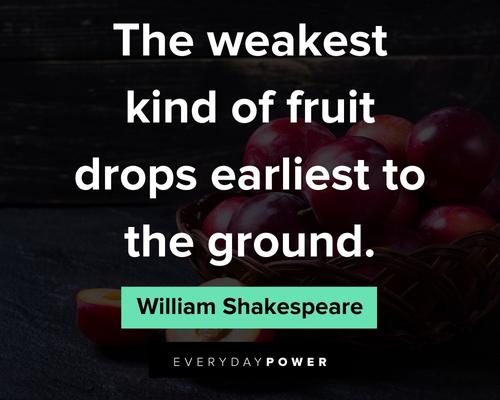 You will also enjoy our article on fruits basket quotes.
9. "All fruit grows through abiding, not striving." — Bill Johnson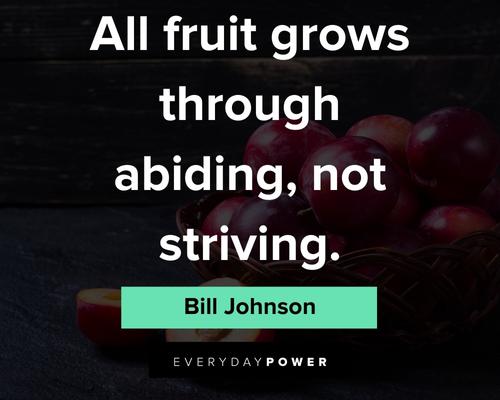 You will also enjoy our article on rumi quotes.
10. "There is no fruit which is not bitter before it is ripe." — Publilius Syrus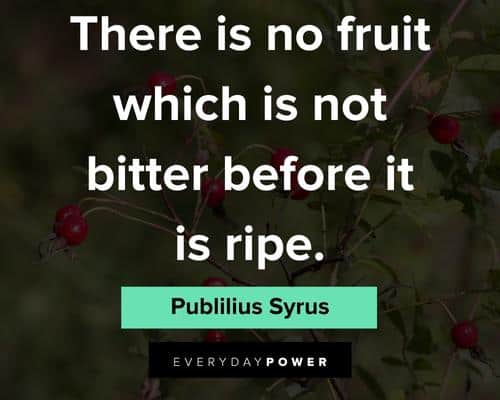 You will also enjoy our article on candy quotes.
Fruit quotes from the Bible
11. "But the fruit of the Spirit is love, joy, peace, forbearance, kindness, goodness, faithfulness." — Galatians 5:22
You will also enjoy our article on sunflower quotes.
12. "Produce fruit in keeping with repentance." — Matthew 3:8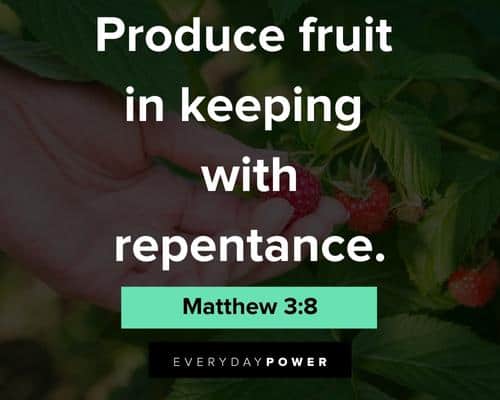 13. "Through Jesus, therefore, let us continually offer to God a sacrifice of praise—the fruit of lips that openly profess his name." — Hebrews 13:15
You will also enjoy our article on family quotes and sayings.
14. "I am the vine; you are the branches. If you remain in me and I in you, you will bear much fruit; apart from me, you can do nothing." — John 15:5
You will also enjoy our article on native american quotes.
15. "You did not choose me, but I chose you and appointed you so that you might go and bear fruit—fruit that will last—and so that whatever you ask in my name the Father will give you." — John 15:16
16. "So, my brothers and sisters, you also died to the law through the body of Christ, that you might belong to another, to him who was raised from the dead, in order that we might bear fruit for God." — Romans 7:4
17. "The ax is already at the root of the trees, and every tree that does not produce good fruit will be cut down and thrown into the fire." — Matthew 3:10
18. "But the wisdom that comes from heaven is first of all pure; then peace-loving, considerate, submissive, full of mercy and good fruit, impartial and sincere." — James 3:17
19. "So that you may live a life worthy of the Lord and please him in every way: bearing fruit in every good work, growing in the knowledge of God." — Colossians 1:10
20. "Moreover, we will bring to the storerooms of the house of our God, to the priests, the first of our ground meal, of our grain offerings, of the fruit of all our trees and of our new wine and olive oil. And we will bring a tithe of our crops to the Levites, for it is the Levites who collect the tithes in all the towns where we work." — Nehemiah 10:37
Witty and funny fruit quotes
Here is our juicy selection of punny, witty, and downright silly fruit-related quotes that will tickle your funny bone.
21. "Most fruits, if left alone on a tree, eventually do ripen, especially if they're not being yelled at." — Firoozeh Dumas
22. "A fruit is a vegetable with looks and money. Plus, if you let fruit rot, it turns into wine, something Brussel sprouts never do." — P. J. O'Rourke
23. "A tomato may be a fruit, but it is a singular fruit. A savory fruit. A fruit that has ambitions far beyond the ambitions of other fruits." ― E. Lockhart
24. "There is far too much common nonsense, and not nearly enough uncommon sense about fruit." ― Mango Wodzak
25. "I like fruit baskets because it gives you the ability to mail someone a piece of fruit without appearing insane. Like, if someone just mailed you an apple you'd be like… Huh? What the hell is this? But if it's in a fruit basket, you're like… this is nice!" — Demetri Martin
26. "Taste every fruit of every tree in the garden at least once. It is an insult to creation not to experience it fully. Temperance is wickedness." — Stephen Fry
27. "Fine fruit is the flower of commodities. It is the most perfect union of the useful and the beautiful that the earth knows. Trees full of soft foliage; blossoms fresh with spring bounty; and, finally, fruit, rich, bloom-dusted, melting, and luscious." — Andrew Jackson Downing
28. "Even the bitterest fruit has sugar in it." ― Terry O'Neal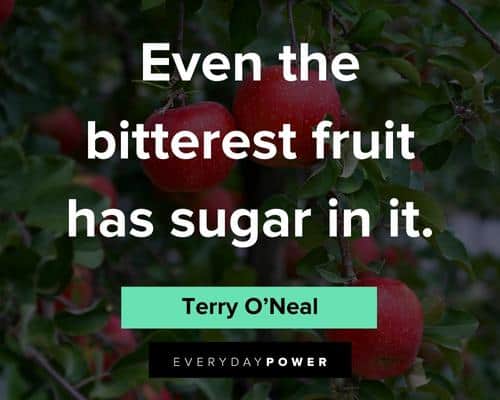 29. "The fruit of your own hard work is the sweetest." — Deepika Padukone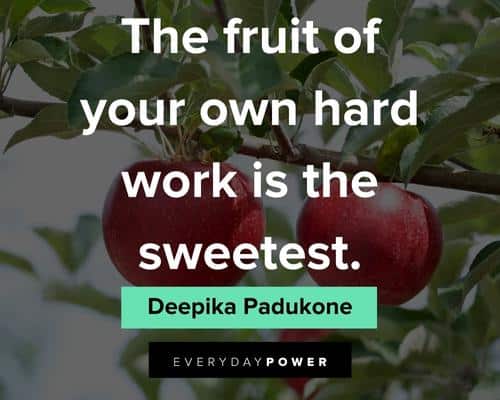 Fruit quotes for a healthy lifestyle
30. "Adopting a new healthier lifestyle can involve changing diet to include more fresh fruit and vegetables as well as increasing levels of exercise." — Linford Christie
31. "To me, breakfast is my most important meal. It's often the meal you play a game on. I make sure I have oatmeal, milk, and fruit. It's the fuel you use to hopefully do your best, so eating right is a big part of being a professional athlete. I wish I paid more attention to it earlier in my life." — Andrew Luck
32. "I feel better all day if I start off by eating healthy. Breakfast is simple: multigrain toast with natural peanut butter, oatmeal, yogurt, fruit, or healthy cereal." — Natalie Morales
33. "Berries are the healthiest fruit, offering potential protection against cancer and heart disease, boosting the immune system, and acting as a guard for the liver and brain." — Michael Greger
34. "After a workout, you definitely have to have a protein shake. I drink my six-pound whey protein all the time, too. I throw some fruit in there – strawberries, blueberries – with some peanut butter and banana, and it gives you all the recovery you need from a hard day of lifting and running." — Rob Gronkowski
35. "My diet is mostly chicken and fish. I make sure I get a lot of vegetables, a lot of fruit. I am a big fruit man; I am a vegetable man, anyway. And I also get a lot of rest. That's the key: I may be up early, but I'm in bed early too." — Magic Johnson
36. "Apples, grapes… any kind of fruit gives me the energy I need to get through my busy day." — Kristin Chenoweth
37. "I eat vegetarian at home, so I always have yogurt and milk, eggs, whole wheat bread, whole grains. Lots of vegetables and fruit. Cereals and oatmeal. That type of thing." — Maye Musk
38. "Sometimes you've just got to grab an apple – or grapes, or strawberries. Something that's healthy but maybe a little bit more adventurous, if you can see fruit as adventurous." — LL Cool J
39. "During difficult times, it's best to cut down on sweets like cookies, cake, and candy. Satisfy your sweet tooth with fruit to help prevent blood sugar dips and spikes." — Karen Salmansohn
40. "A table, a chair, a bowl of fruit, and a violin; what else does a man need to be happy?" — Albert Einstein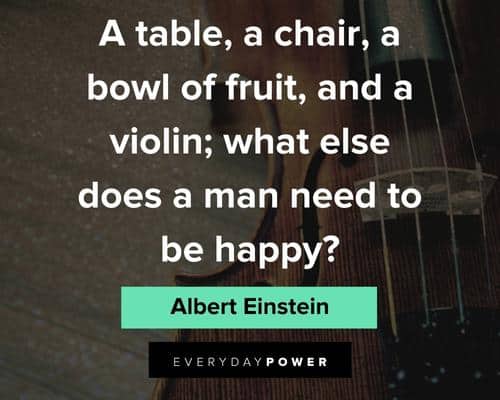 More fruit quotes that are full of wisdom
41. "Autumn is the mellower season, and what we lose in flowers we more than gain in fruits." ― Samuel Butler
42. "We were planting seeds of change, the fruit of which we might never see. We had to be patient." ― Michelle Obama
43. "What is happening to me happens to all fruits that grow ripe.
It is the honey in my veins that makes my blood thicker, and my soul quieter."
― Friedrich Nietzsche
44. "If you really want to eat, keep climbing. The fruits are on the top of the tree. Stretch your hands and keep stretching them. Success is on the top, keep going." ― Israelmore Ayivor
45. "Beware of those who are bitter, for they will never allow you to enjoy your fruit." ― Suzy Kassem
46. "It's the action, not the fruit of the action, that's important. You have to do the right thing. It may not be in your power, may not be in your time, that there'll be any fruit. But that doesn't mean you stop doing the right thing. You may never know what results come from your action. But if you do nothing, there will be no result." ― Mahatma Gandhi
47. "I don't think I'll ever grow old and say, "What was I thinking eating all those fruits and vegetables?" ― Nancy S. Mure
48. "Introverts are like the stars in star apples. They don't feel the need to reveal themselves, except someone rips them open." ― Michael Bassey Johnson
49. "A family of grapefruits will always be surrounded by bitterness." ― Anthony T. Hincks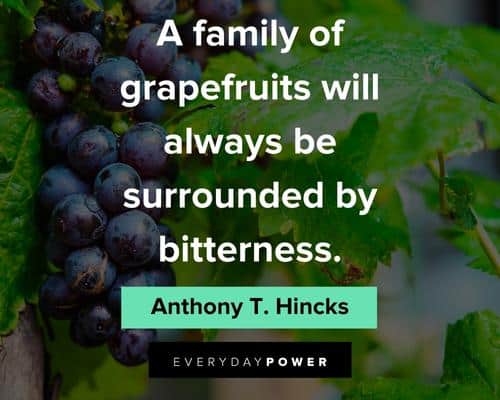 50. "The joy of research is picking the fruits of discovery." ― Steven Magee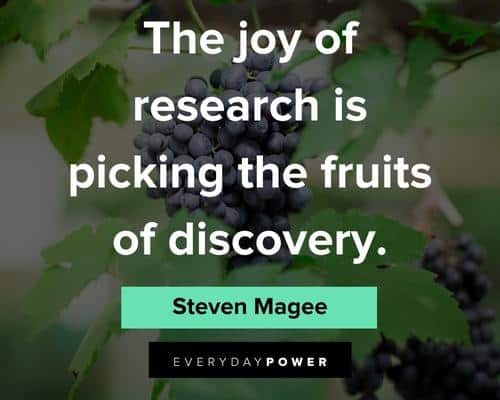 Cute fruit quotes for those sweet Instagram moments
51. "Be like a pineapple. Stand tall, be sweet, and always wear a crown." — Unknown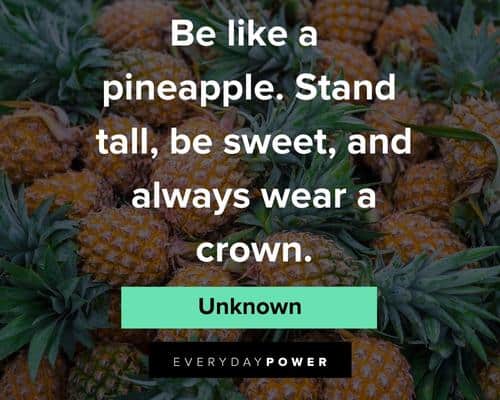 52. "I love you berry much!" — Unknown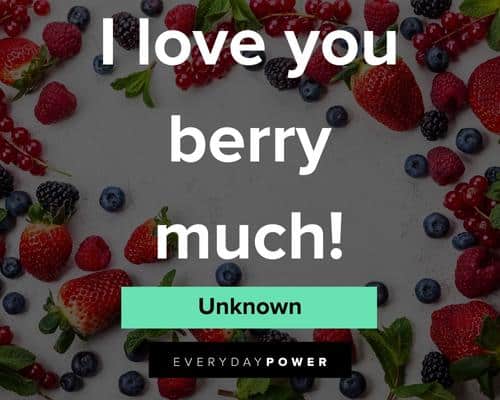 53. "Fruit is nature's candy." — Unknown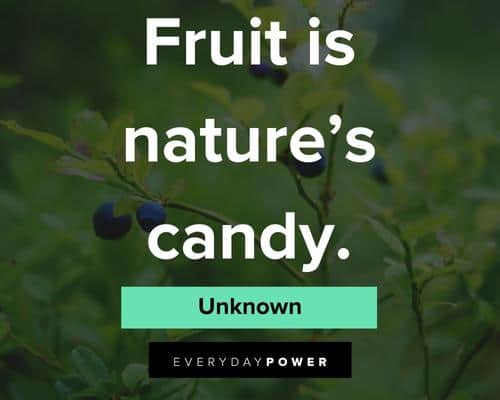 54. "Sun, sand, and a pineapple in hand." — Unknown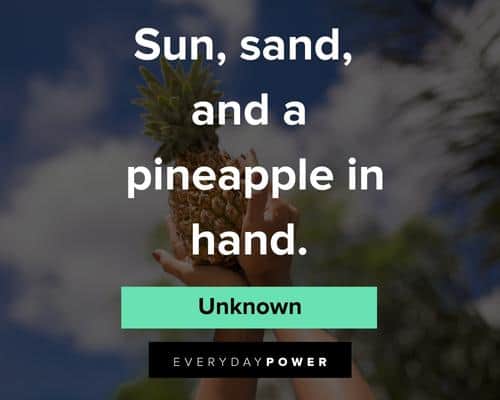 55. "Feelin' coco-nutty." — Unknown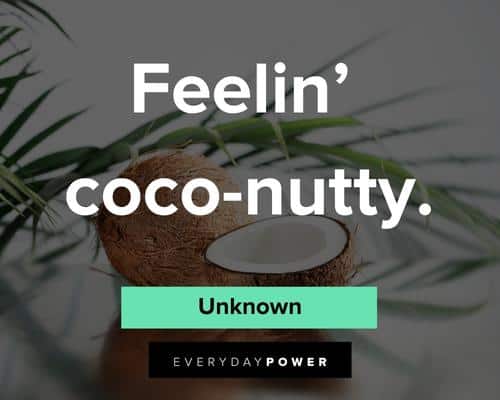 56. "Peace, love, and pineapples." — Unknown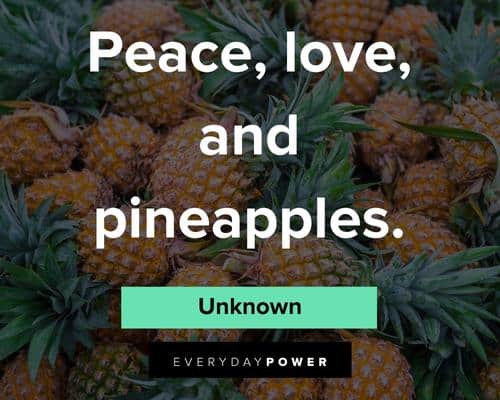 57. "You're one in a melon." — Unknown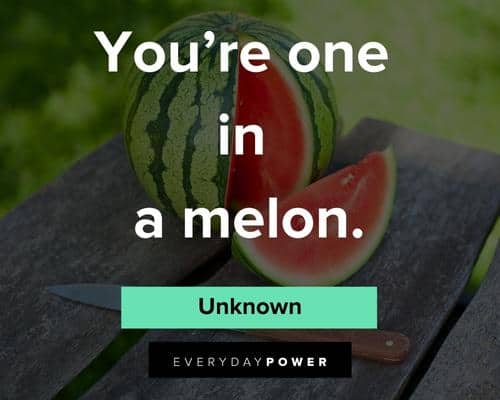 58. "Life is like a watermelon, sweet, but you have to spit out the seeds." — Unknown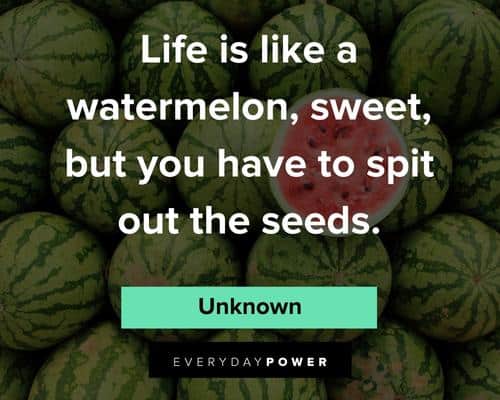 59. "Squeeze the day." — Unknown
60. "Practice what you peach." — Unknown
Fruit Quotes To Make You Crave For More
61. "Don't swear off all the fruits just because you ate one bad apple." ― Tiffanie DeBartolo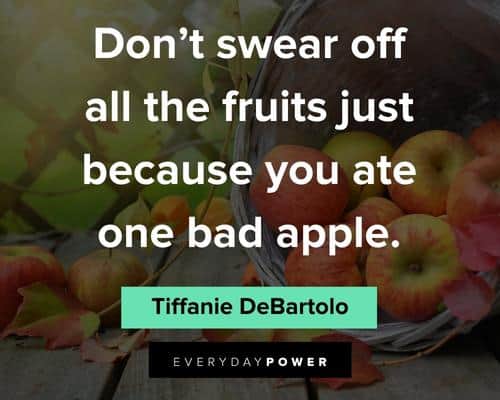 62. "Let us draw a lesson from nature, which always works in short ways. When the fruit is ripe, it falls." ― Ralph Waldo Emerson
63. "Fruit force is never half so sweet / As that comes quite in season." ― Caroline Anne Southey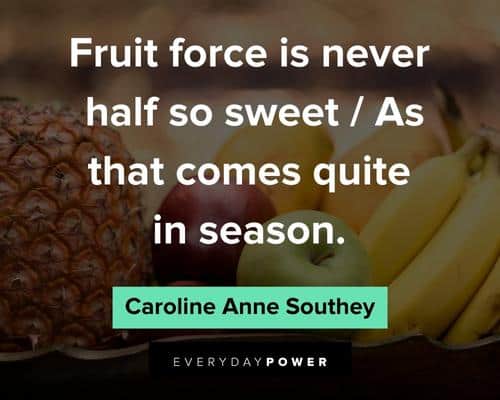 64. "I eat a variety of foods like vegetables, fruit and beef for protein and iron." ― Sasha Cohen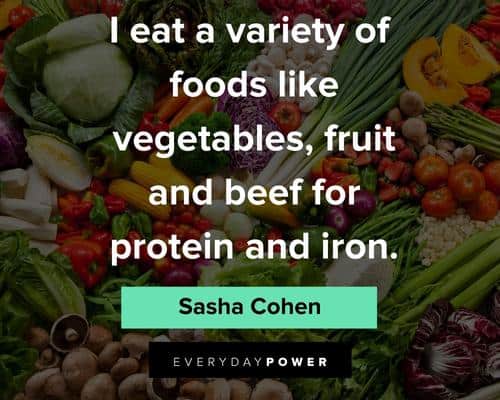 65. "Too late for fruit, too soon for flowers." ― Walter de La Mare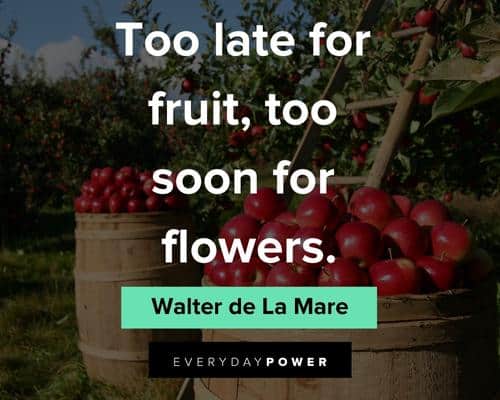 66. "There is ripe fruit over your head." ― Henry David Thoreau
67. "I think speeches and fruit should always be fresh." ― Nikki Giovanni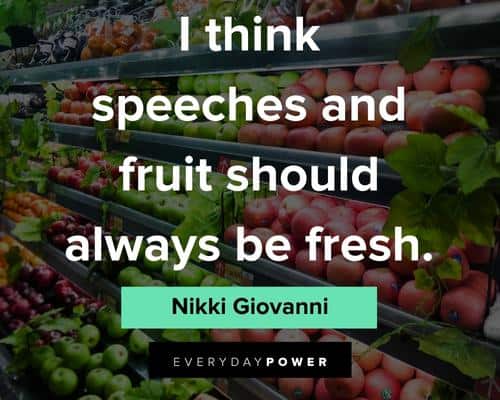 68. "I like to drink young wines, wines which are robust and have a lot of forward fruit to them." ― Thomas Keller
69. "The mangosteen, queen of the tropical fruit." ― David Fairchild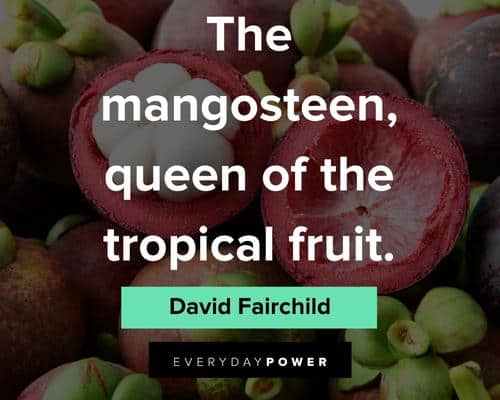 70. "There are only ten minutes in the life of a pear when it is perfect to eat." ― Ralph Waldo Emerson
Fruit Quotes To Encourage You To Peel Your Favourite Fruit
71. "When one has tasted watermelon, he knows what the angels eat." — Mark Twain
72. "Watermelon it's a good fruit. You eat, you drink, you wash your face." — Enrico Caruso
73. "Pineapples are one of nature's medicines." ― Steven Magee
74. "'Know what I love?' I said. 'All those different textures. The smooth bananas, the stringy pineapple, and crunchy pecans. Nothing like it.'" — James Villas
75. "I always have bananas with me for energy." — Samantha Bond
76. "An apple is an excellent thing — until you have tried a peach." — George du Maurier
77. "I like strawberries, kiwis, and oranges." — Tierra Whack
78. "I always like to start my morning with a good amount of fruit. I really like pineapple, particularly because of the enzymes that it has." — Cynthia Nixon
79. "Don't underestimate the humble watermelon. It contains Vitamin A which is essential for healthy eyes and boosts immunity." — Gordon Rock
80. "I just wanna taste it, I just wanna taste it, watermelon sugar high. Tastes like strawberries on a summer evening." — Harry Styles
Which of these fruit quotes is your favorite?
Eating fruit is good for our bodies for a few reasons.
They are packed with vitamins and minerals, and high in fiber.
They also have antioxidants and flavonoids.
A diet high in fruit can reduce the risks of developing cancer, diabetes, heart disease, and inflammation.
Are some fruits better than others?
Berries and apples are the healthiest fruit choices, so that adage, "An apple a day, keeps the doctor away," might hold some weight!
Watermelon, oranges, and guava are great healthy fruit choices too.
Adding lemon to your water can help prevent kidney stones.
So, next time you are craving something sweet and juicy, you can have that piece of fruit with no guilt.
It only tastes bad for you!
However, bananas are not a great choice if you are trying to eat low carb.
Avocados and grapes are high in calories, too, but if you are going to consume some extra calories choose those over sweet snacks!
Let us know what your favorite fruit is in the comment section below!
Don't forget to also share with us any other inspirational fruit quotes and sayings you might have.