George Bernard Shaw Quotes on Life, Love, and Change
These George Bernard Shaw quotes from the playwright reference all the things that make us humans.
You can share your favorites that didn't make the list in the comment section below.
He was born on July 26, 1856, in Dublin, Ireland.
Under his mother's guidance and regular visits to the National Gallery of Ireland, his exploration of the arts began extremely early in his life.
By 1876, Shaw had become a writer.
But he struggled financially—so much so that his mother was essentially supporting him while he worked on his first novels in the British Museum Reading Room.
Despite the time he spent writing, publishers widely rejected his manuscripts, and they became dismal failures.
Because of this, Shaw turned to politics and the activities of the British intelligentsia.
He even joined and became actively involved in the Fabian Society—a socialist group whose goal was to transform England through a more vibrant political and intellectual base.
Shaw also began writing book reviews, as well as art, music, and theater criticism.
He was even brought on to the Sunday Review as its theater critic in 1895.
At this point, he finally found his creative writing calling: writing plays.
Looking for witty and funny George Bernard Shaw quotes?
His most famous play, 'Pygmalion' was even adapted to the big screen and for Broadway, eventually earning him an Academy Award.
By then, George Bernard Shaw has already established himself as a literary giant.
Whether you need something clever, or a truthful reminder in the form of a humorous statement, let these George Bernard Shaw quotes pick you up.
If you like this article, we suggest you explore our most popular quotes article, a list of short inspirational quotes for daily encouragement.
Look through our complete collection of inspirational quotes here.
The best George Bernard Shaw quotes on communication, love, and change
1. "If you cannot get rid of the family skeleton, you may as well make it dance." – George Bernard Shaw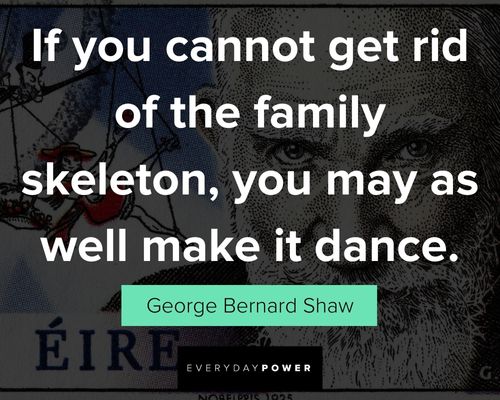 2. "You use a glass mirror to see your face; you use works of art to see your soul." – George Bernard Shaw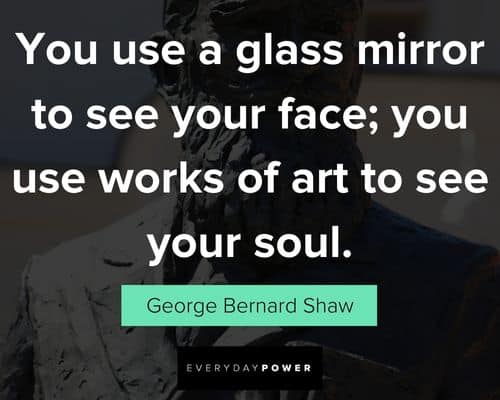 3. "[The] power of accurate observation…is commonly called cynicism by those who have not got it." – George Bernard Shaw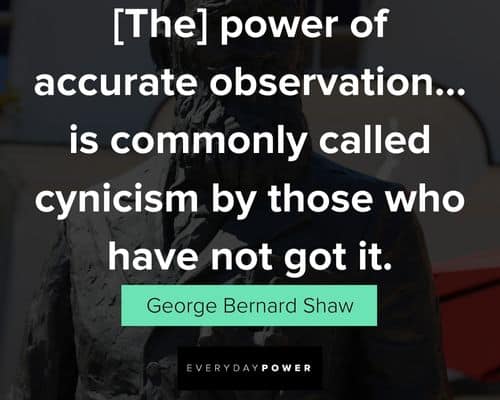 4. "The unconscious self is the real genius. Your breathing goes wrong the moment your conscious self meddles with it." – George Bernard Shaw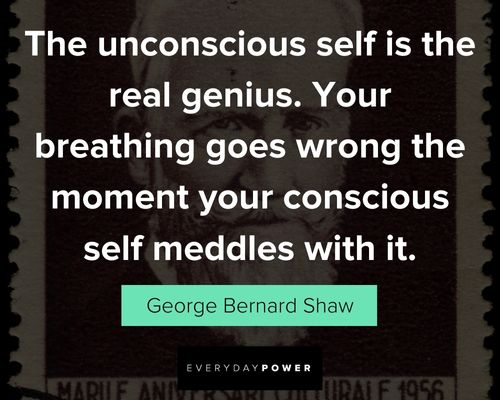 5. "There are no secrets better kept than the secrets everybody guesses." – George Bernard Shaw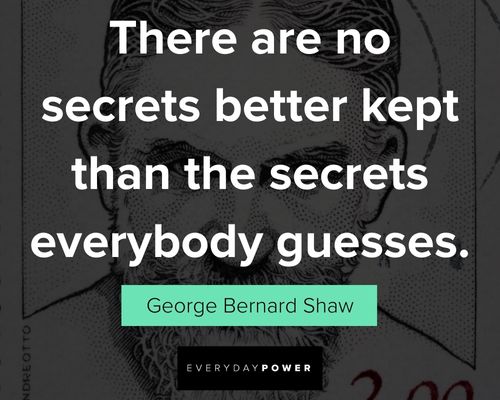 6. "We learn from experience that men never learn anything from experience." – George Bernard Shaw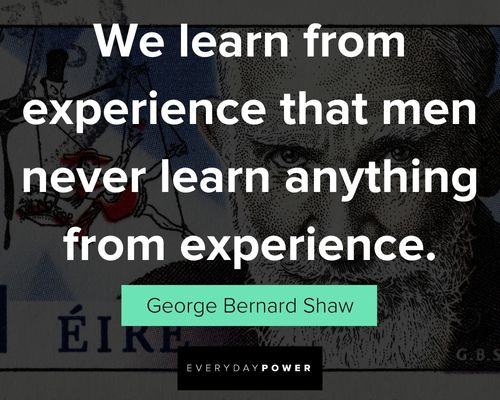 7. "Do not do unto others as you would that they should do unto you. Their tastes may not be the same." – George Bernard Shaw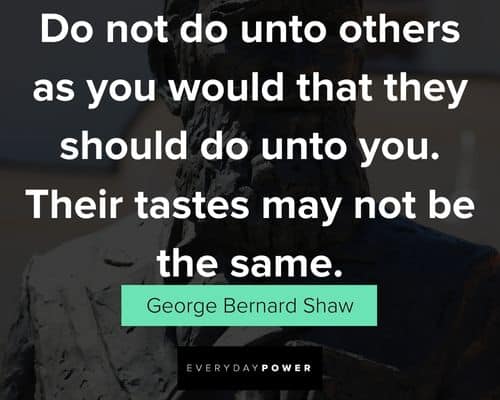 8. "He knows nothing; and he thinks he knows everything. That points clearly to a political career." – George Bernard Shaw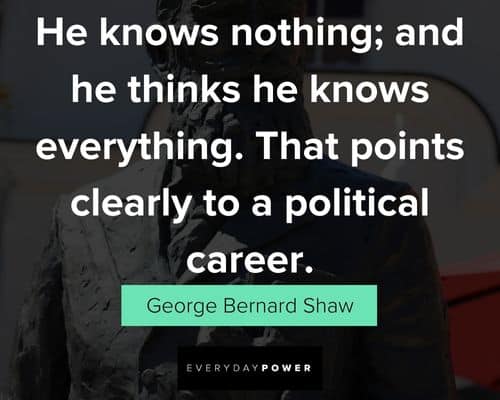 9. "The liar's punishment is, not in the least that he is not believed, but that he cannot believe anyone else." – George Bernard Shaw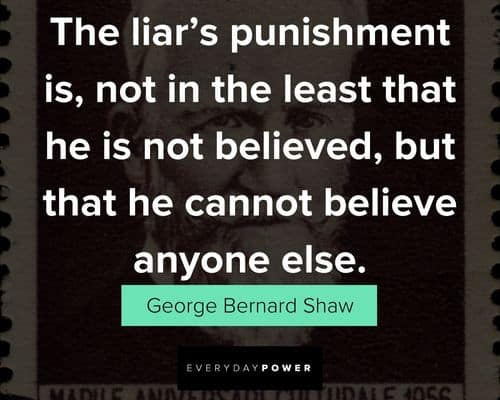 10. "My way of joking is to tell the truth. It's the funniest joke in the world." – George Bernard Shaw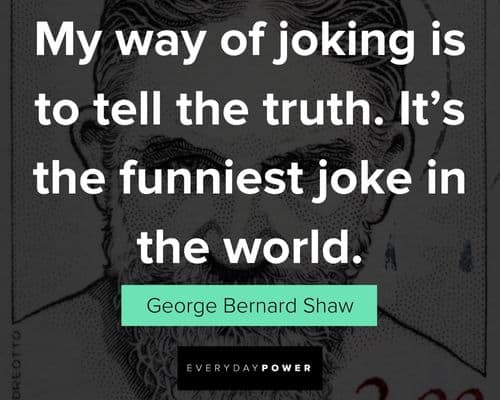 Sayings and quotes by George Bernard Shaw about life and work
11. "As long as I have a want, I have a reason for living. Satisfaction is death." – George Bernard Shaw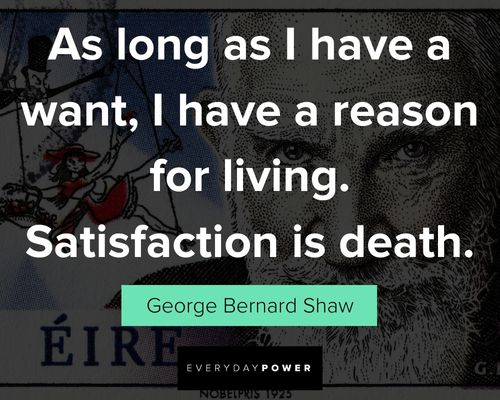 12. "The first prison I ever saw had inscribed on it 'cease to do evil: learn to do well'; but as the inscription was on the outside, the prisoners could not read it." – George Bernard Shaw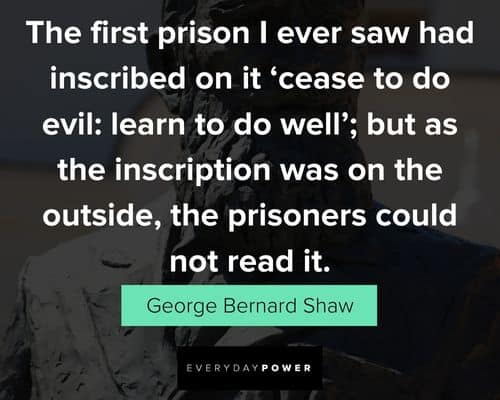 13. "Those who cannot change their minds cannot change anything." – George Bernard Shaw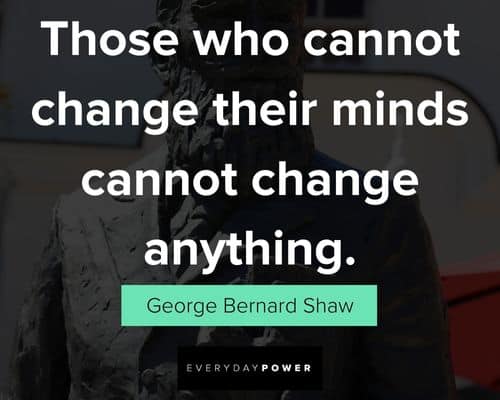 14. "A day's work is a day's work, neither more nor less, and the man who does it needs a day's sustenance, a night's repose and due leisure, whether he be painter or ploughman." – George Bernard Shaw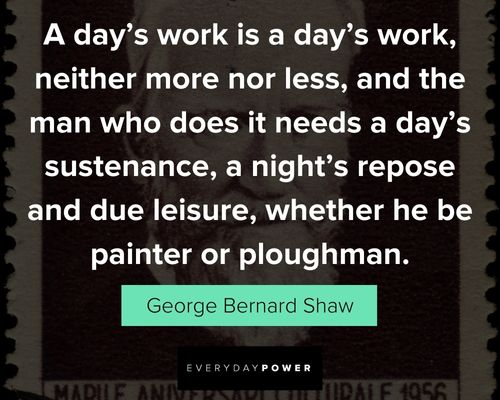 15. "A fashion is nothing, but an induced epidemic." – George Bernard Shaw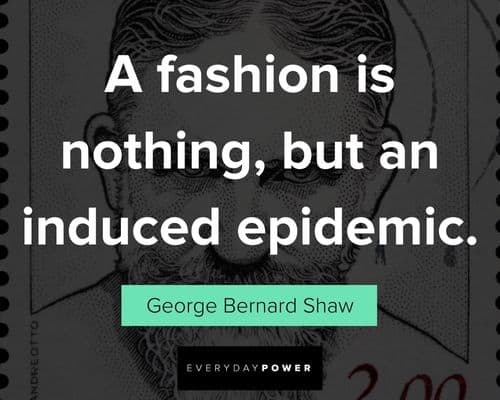 16. "A fool's brain digests philosophy into folly, science into superstition, and art into pedantry. Hence University education." – George Bernard Shaw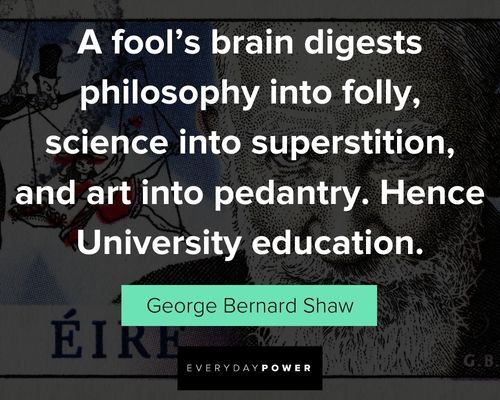 17. "A life spent making mistakes is not only more honorable, but more useful than a life spent doing nothing." – George Bernard Shaw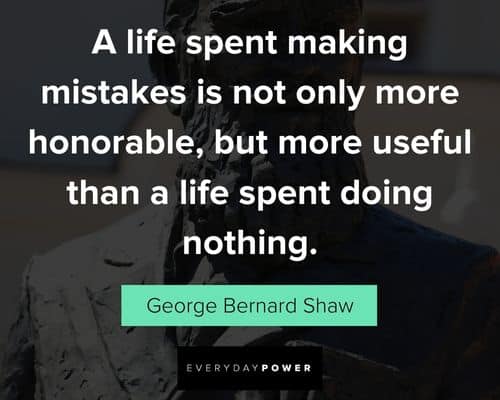 18. "A lifetime of happiness! No man alive could bear it; it would be hell on earth." – George Bernard Shaw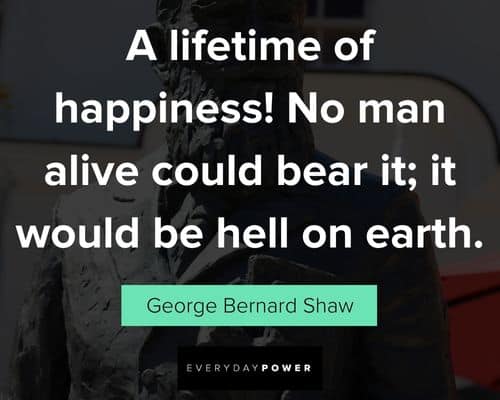 19. "Americans adore me and will go on adoring me until I say something nice about them." – George Bernard Shaw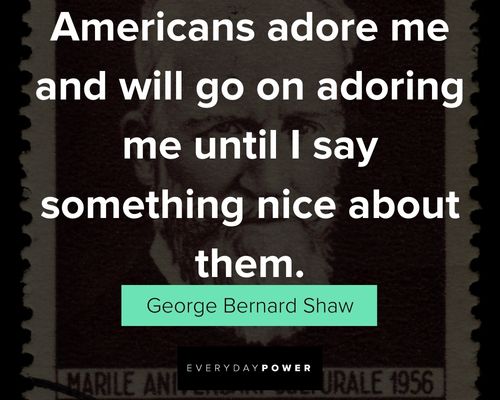 20. "An American has no sense of privacy. He does not know what it means. There is no such thing in the country." – George Bernard Shaw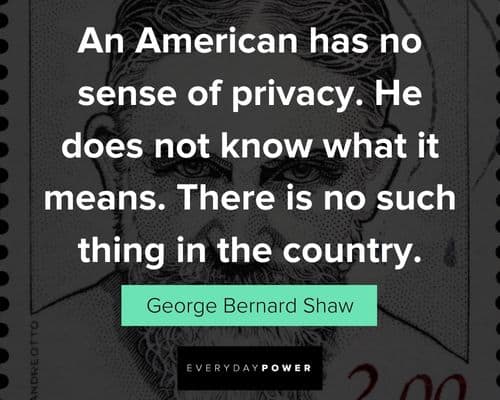 George Bernard Shaw quotes about politics and history
21. "Criminals do not die by the hands of the law. They die by the hands of other men." – George Bernard Shaw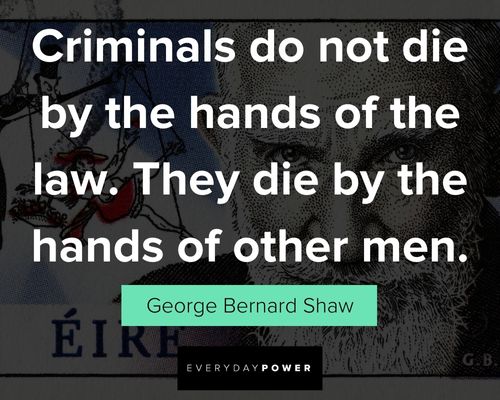 22. "Democracy is a device that ensures we shall be governed no better than we deserve." – George Bernard Shaw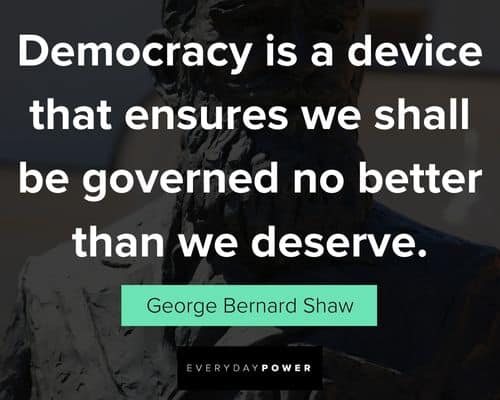 23. "England and America are two countries separated by a common language." – George Bernard Shaw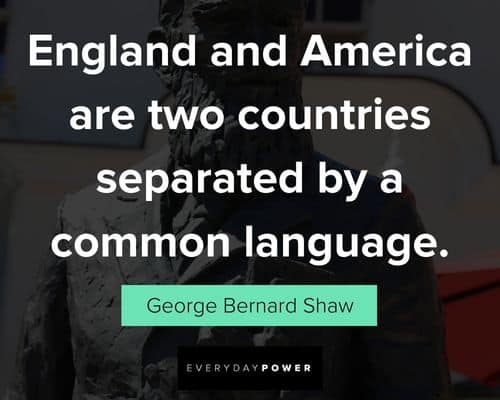 24. "Everything happens to everybody sooner or later if there is time enough." – George Bernard Shaw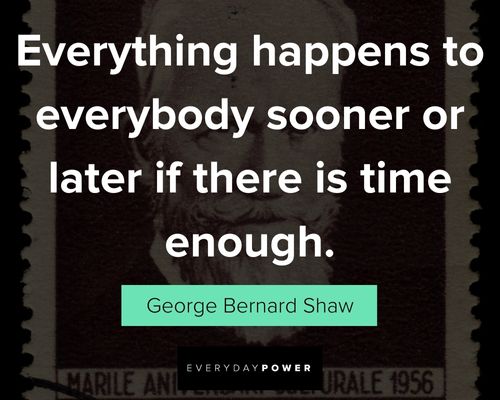 25. "Few people think more than two or three times a year; I have made an international reputation for myself by thinking once or twice a week." – George Bernard Shaw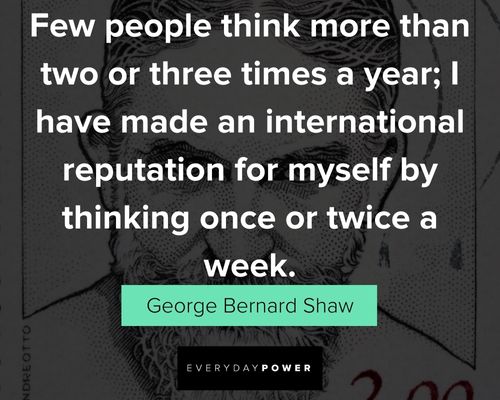 Did you enjoy these George Bernard Shaw quotes?
His plays were always filled with his signature wit and social criticism.
However, his influence extended beyond his works.
He eventually became highly recognized and even won a Nobel Prize in Literature in 1925.
George Bernard Shaw was an extremely inspirational writer and historical figure because no matter how many times he failed at writing, he kept trying until he found success.
He stayed with his passion until he died in 1950 at 94—when he was working on yet another play.
That is dedication right there!