Gilmore Girls Quotes for the Biggest Fans
Need a little dose of your favorite characters?
These Gilmore Girls quotes will help.
If you're a huge fan of the show Gilmore Girls, you don't need any type of explanation.
Feel free to jump right into some of your favorite quotes.
Gilmore Girls is a comedy-drama that ran in the early 2000s.
There were seven seasons, but fans would have loved for the show to never end.
It's about a single mom and her daughter.
It covers real-life topics.
But what people love about it is the quick-witted and snarky humor that it offers.
The two main characters are quick talkers and full of great lines as you'll see in these Gilmore Girls quotes.
Don't forget to also check out these Caddyshack quotes from the hilarious sports comedy.
Check out our most popular quote article, a list of short inspirational quotes for daily inspiration.
If you enjoy this collection, check out our inspirational quotes category page.
Gilmore Girls quotes by Rory
1. "I cannot do this alone, I need my mommy and I don't care who knows it!" – Rory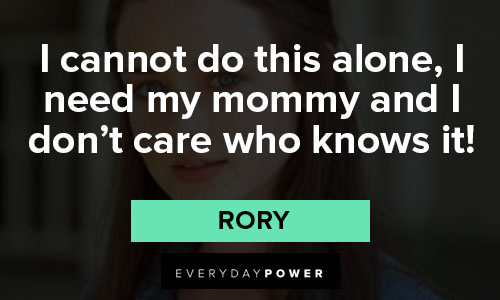 2. "I just take a book with me everywhere. It's a habit." – Rory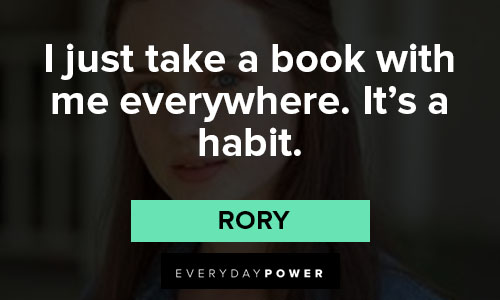 3. "One of those moments that everything is so perfect and so wonderful that you almost feel sad because nothing can ever be this good again." – Rory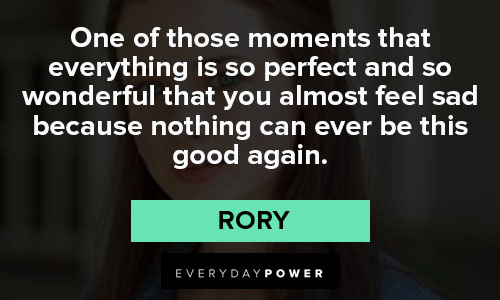 4. "Nothing excites me before 11:00." – Rory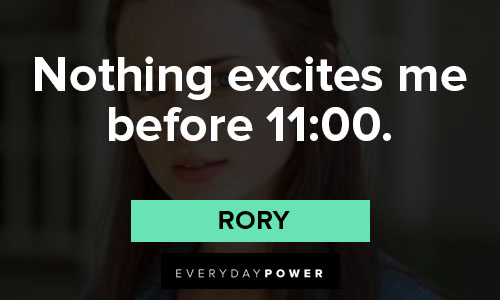 5. "My sock drawer could be a better mother than Courtney Love." – Rory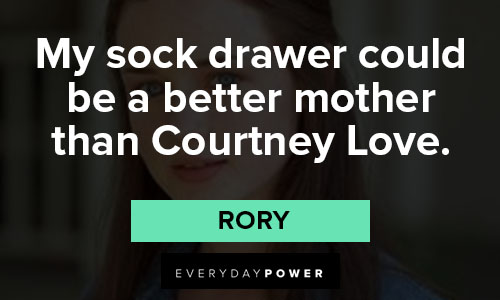 You will also enjoy our article on funny yearbook quotes.
6. "I need that outfit. it gives me confidence." – Rory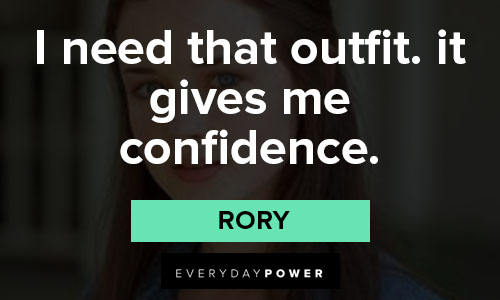 7. "Well, that's better than a bun in your oven." – Rory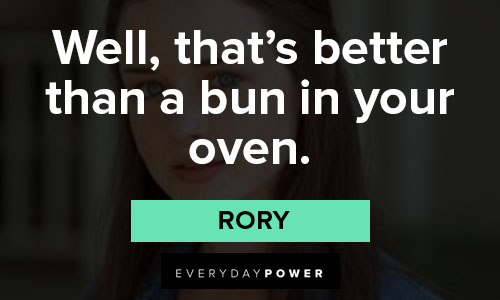 8. "I live in two worlds, one is a world of books." – Rory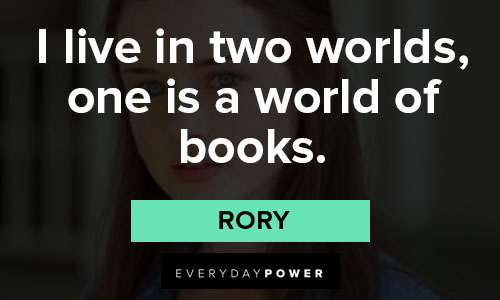 9. "I'm going to a serious school now, I need serious paper." – Rory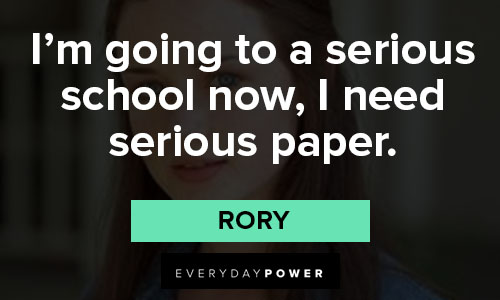 10. "Because I love you, you idiot!!" – Rory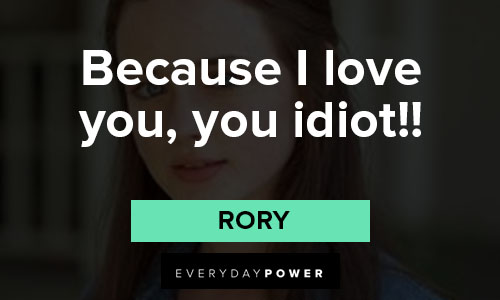 11. "I'm gonna have to quit drinking coffee. And I love coffee. I really love coffee." – Rory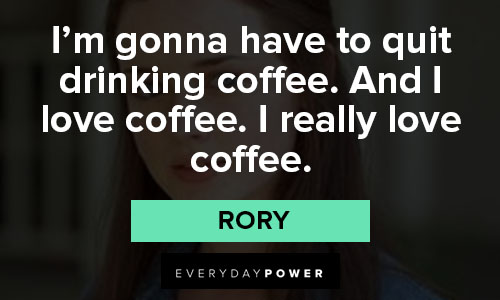 12. "Every relationship is just a big honking leap of faith." – Rory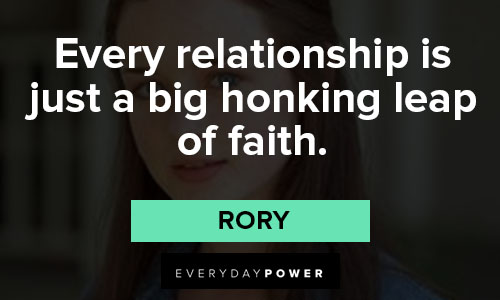 13. "I feel like this is my time to be rootless and just see where life takes me, and travel wherever there's a story to write." – Rory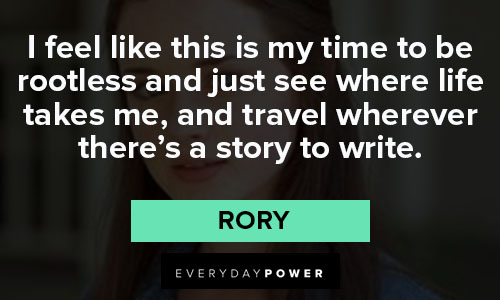 14. "Oh, I found that if I focus too much on one subject, I start to get a little punchy." – Rory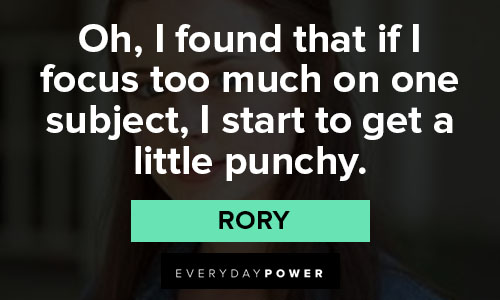 15. "You never socialized me properly, I should hate you right now. Do something to make me hate you." – Rory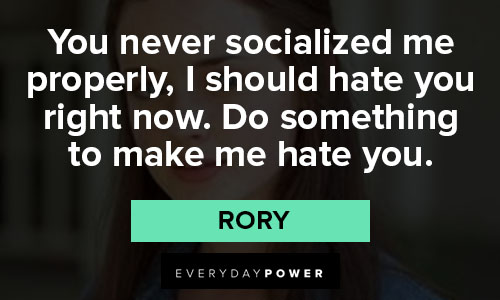 If you enjoyed this collection of quotes, check out our coffee quotes for our high energy coffee lovers out there.
Gilmore Girls quotes by Lorelai
16. "Life's been pretty good to you. It was your turn for a few curveballs. Peeks and valley's, kid." – Lorelai
17. "Well, you know my babbling capabilities are infinite." – Lorelai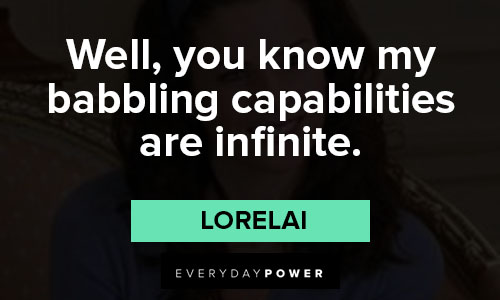 18. "When I have made one zillion dollars from my rocket gum invention you will eat those words! Or rather you will chew those words and blow a bubble with them." – Lorelai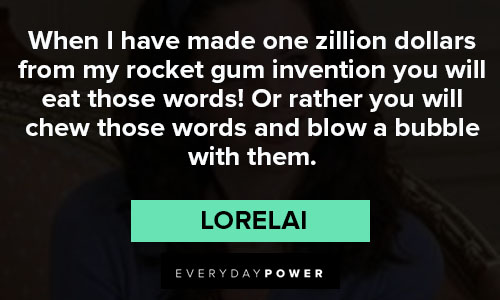 19. "I thought I knew exactly what I wanted, where I was going, what I was doing and why I was going. But lately, things seem hazier." – Lorelai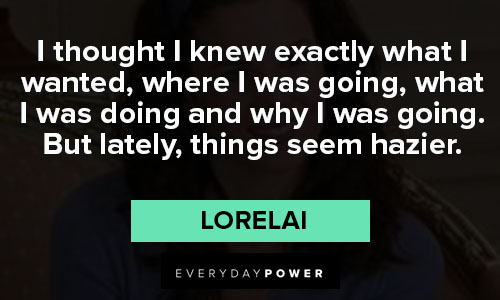 20. "There's plenty to do tonight that we can be mortified about tomorrow." – Lorelai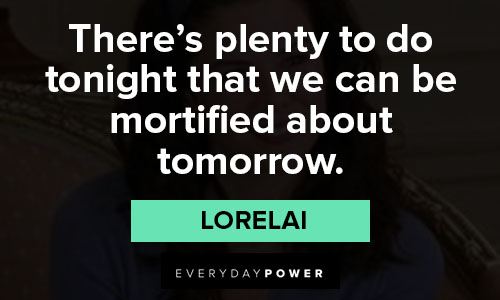 21. "Hey, I have a New Year's resolution for you: Become more cynical and self-absorbed." – Lorelai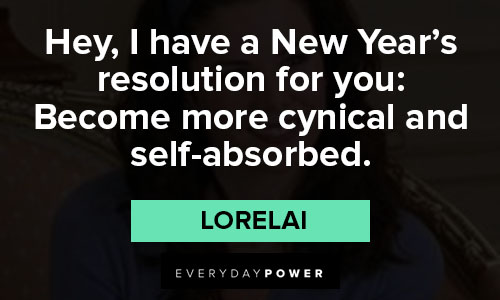 22. "I can be flexible, as long as everything is exactly the way I want it." – Lorelai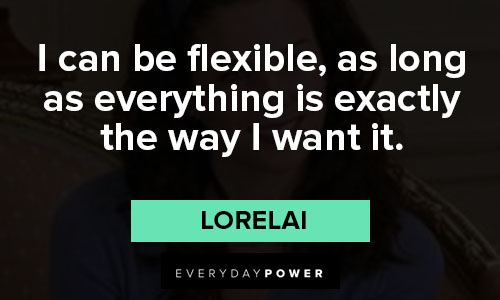 23. "He's like a superhero, but his power is that you can't remember him no matter how much time you spend with him. Kind of like every Marvel movie ever." – Lorelai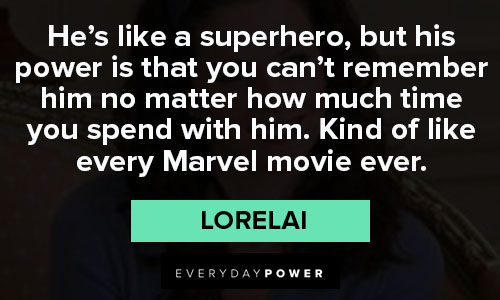 24. "Reality has no place in our world." – Lorelai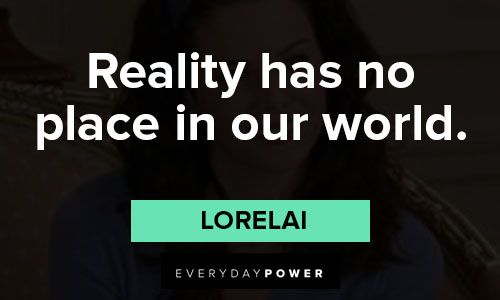 25. "I need caffeine. Whatever form you've got, I haven't had any all day. I'll drink it, shoot it, eat it, snort it, whatever form it's in, gimme." – Lorelai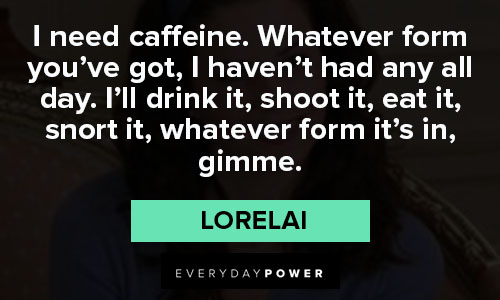 Did you enjoy these Gilmore Girls quotes?
If you were a fan of the show when it was first airing, these Gilmore Girls quotes probably have you ready to binge the show again.
If you've never watched it before you might be finding yourself somewhat intrigued by the lines above.
People have found that the show is something that people from multiple generations can connect with and enjoy.
Lorelai and her daughter Rory interact more like friends than in your typical mother-daughter relationship.
If you have a little downtime and need something to do, start at the beginning with Season 1 and work your way through the show getting to know and enjoy the characters as you go.
Which of these Gilmore Girls quotes and sayings is your favorite?
Which other shows do you want to see featured on Everyday Power?
Let us know in the comment section below.