25 Bad Bunny Quotes About Music, Life, and Upbringing
Here for Bad Bunny quotes?
You're in luck because we've compiled 25 of the best quotes and sayings from Bad Bunny.
Born as Benito Antonio Martínez Ocasio in San Juan Puerto Rico, Bad Bunny is a Latin trap and reggaeton singer and songwriter.
Arguably the best trap artist of this generation, Bad Bunny also dabbles in other music genres like hip-hop, soul, rock and soul.
Singing at the age of 5 and writing songs by 13, this trail-blazing artist was an early starter in the world of music.
Bad Bunny's major influences were Vico C, Daddy Yankee, Mark Anthony and Héctor Lavoe.
He went to The University of Puerto Rico at Arecibo and studied audiovisual communication.
But Bad Bunny eventually dropped out to further concentrate on his musical career.
To pay for his expenses, he worked as a grocery store bagger by day while creating his own music by night and uploading it to SoundCloud.
After hearing Bad Bunny's song, "Diles," DJ Luian was impressed and signed him to his music label in 2016.
"Soy Peor" was Bad Bunny's breakthrough single, issued in December 2016 and peaked at #22 on the Hot Latin Songs chart.
He also started collaborating with other renowned musicians like Karol G, Cardi B, Drake, etc, and soon became the successful, multi-award-winning artist he is today.
Below are some Bad Bunny quotes if you want more insight into his passion for music and life.
If you enjoy this article, check out our most popular quote article, a list of short inspirational quotes for daily motivation.
If you want more motivational quotes, check out our motivational quotes category page.
Bad Bunny quotes about music and life
1. "Money does not change people, people change." – Bad Bunny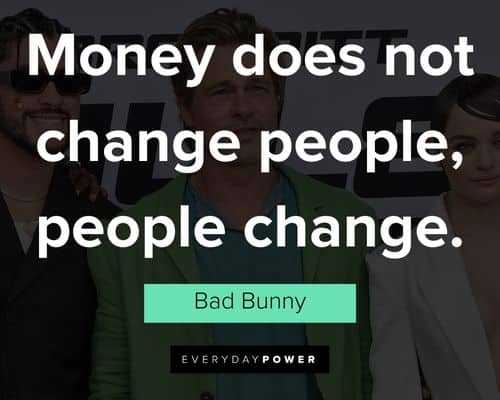 2. "You don't have the same mentality as you did five years ago – even one year. People are always changing, and I believe that everyone deserves the space to change and for people to recognize their change." – Bad Bunny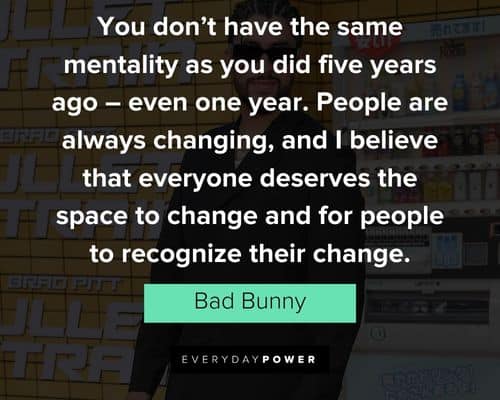 3. "For years, decades, the system has taught us to stay quiet. They've made us believe that those who take to the streets to speak up are crazy, criminals, troublemakers." – Bad Bunny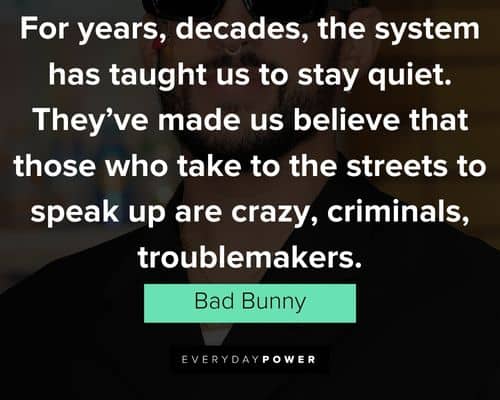 You will also enjoy our article on Latin quotes.
4. "I think that by staying true to myself and making music from my heart, the blessings come." – Bad Bunny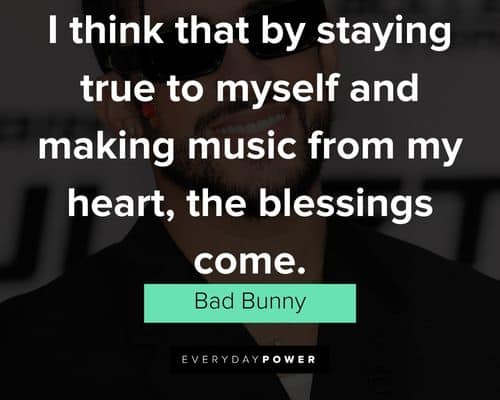 5. "We need to try to unite audiences, unite countries, join musical tastes, unite people." – Bad Bunny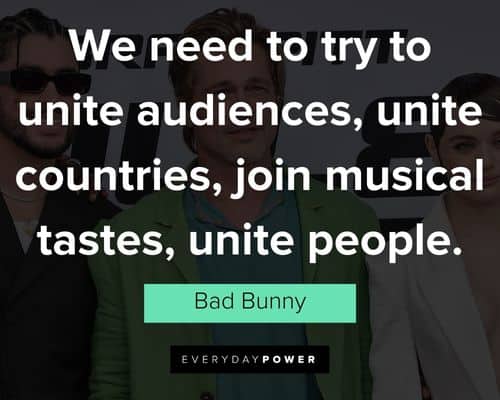 6. "I don't want to be fake. I'm just being me. And I have the power to break stereotypes and whatever useless rules that society puts on us." – Bad Bunny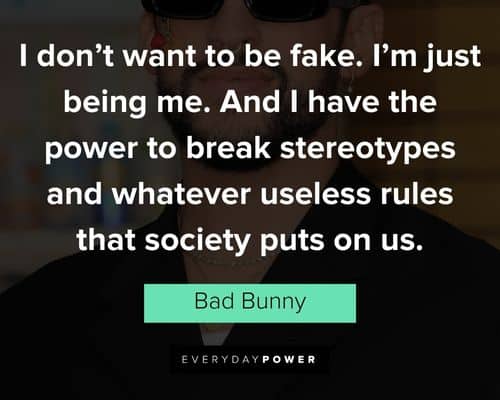 7. "If I have a platform and a voice, I should use it for my people." – Bad Bunny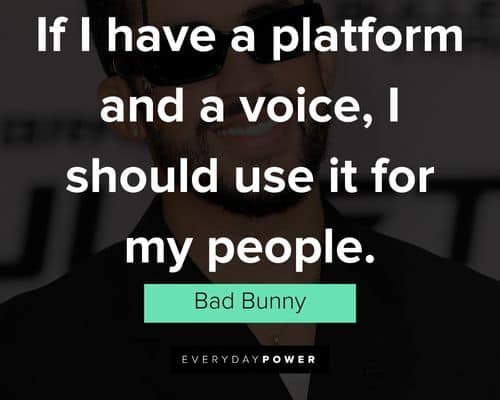 8. "Music has the power to inspire the world." – Bad Bunny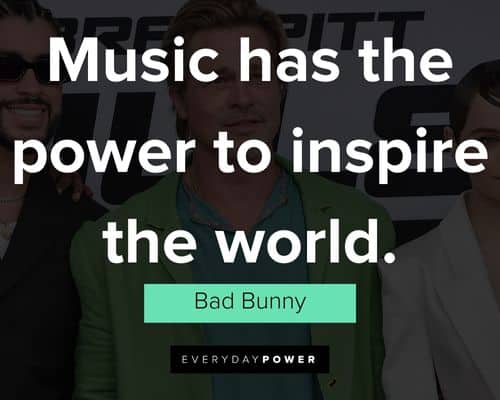 9. "When I came into this industry, I was never afraid to be myself." – Bad Bunny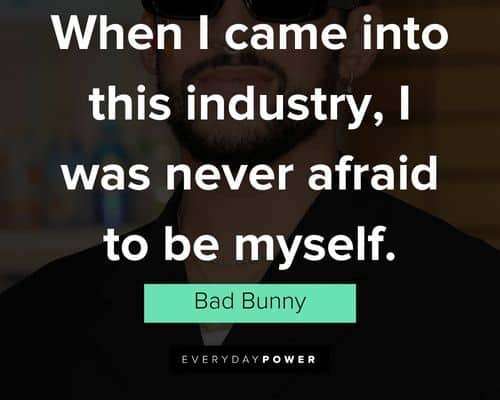 10. "When I write, it's like choosing which shoes I'm going to put on. More often than not, my lyrics are personal – but I sometimes have to put myself in other people's shoes." – Bad Bunny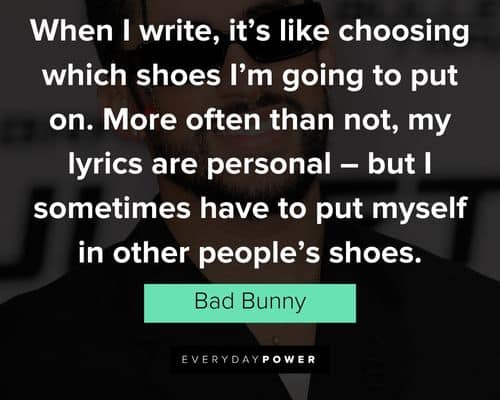 Inspiring Bad Bunny quotes
11. "My goal in music is to create nostalgic moments." – Bad Bunny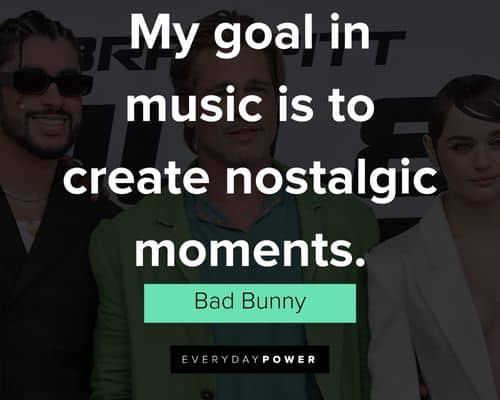 12. "If tomorrow I want to release a rock album or I want to release a bachata album, nobody can tell me anything – why can't I?" – Bad Bunny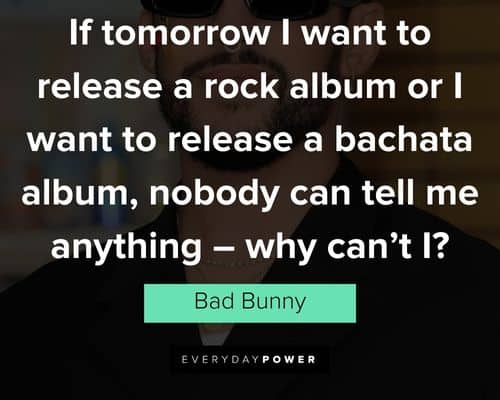 13. "Everyone has their style and your style explains a lot about who you are – you feel me? I've had style since childhood, so I like to dress how I feel. But maybe I get carried away by some trends." – Bad Bunny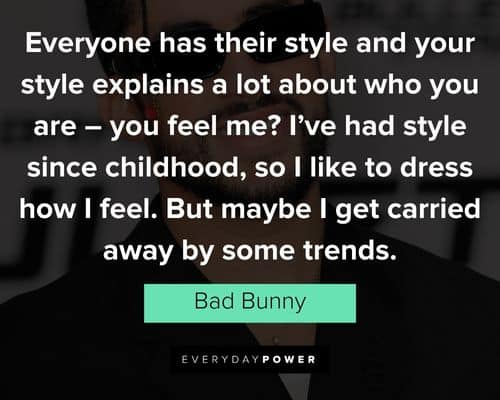 14. "The only difference between Benito and Bad Bunny is 16 million followers on Instagram. And the money that Bad Bunny has in the bank. Benito had, like, $7. The numbers are different, but I'm still the same. Even my insecurities remain the same." – Bad Bunny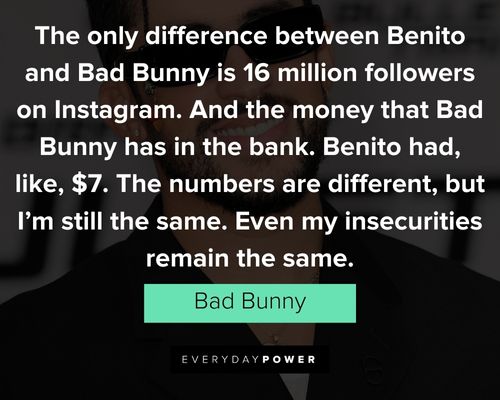 15. "If a small-town boy like me who bagged groceries was able to make his dreams come true, you can too." – Bad Bunny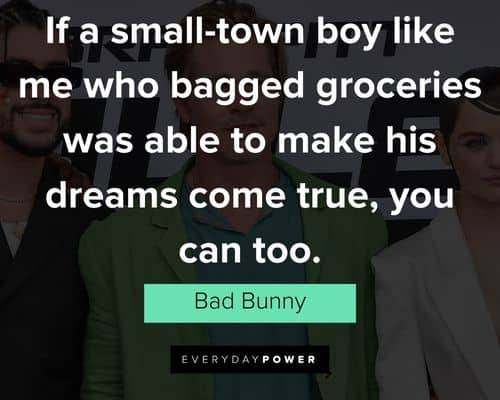 16. "I can simply tell you that since I was a kid, I didn't like to look like anyone else." – Bad Bunny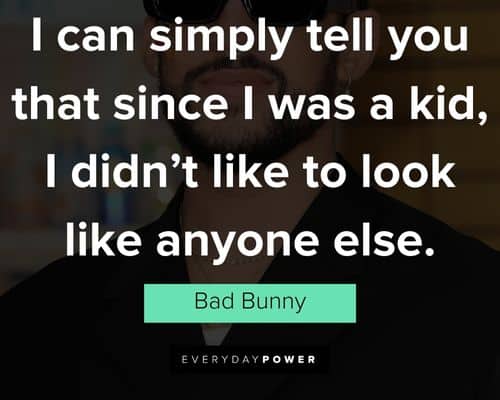 17. "I've always been surrounded by many great people and professors, but my family, especially my mom who was a teacher, was the person who encouraged me to study and pushed me to continue. When we're young, we don't understand why our parents bug us so much with school and doing homework, but it's a blessing to have that support at home." – Bad Bunny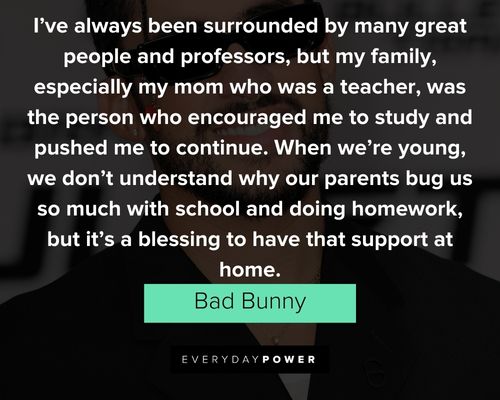 18. "Since childhood, I've been a clown. I've always liked being very funny or trying to make people laugh. It's my original self." – Bad Bunny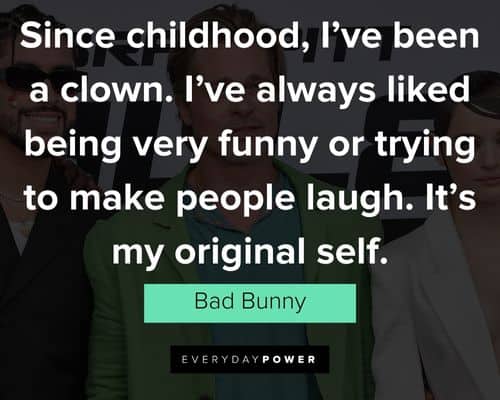 19. "I grew up in a rural area called Vega Baja and I'm the first of so many talented people in this area to make it out. I take great pride to represent where I come from and I am able to show my fans, and everyone who listens and watches me, that anything is possible." – Bad Bunny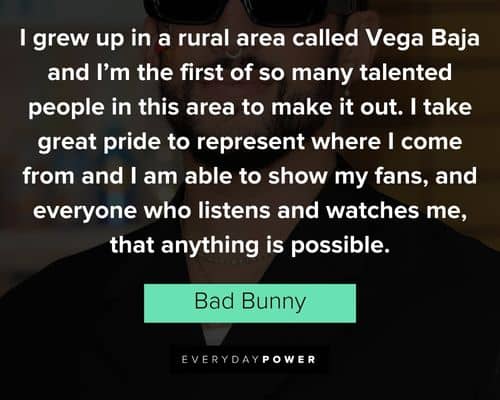 20. "I always like to create things that get attention. It used to be a problem when I wasn't famous. Now, I can do whatever I want and people have to accept it." – Bad Bunny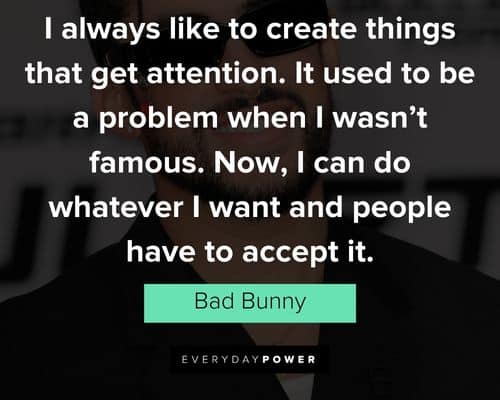 Other interesting Bad Bunny quotes
21. "When I was at school, I used to stay on a balcony singing and people would stand around listening." – Bad Bunny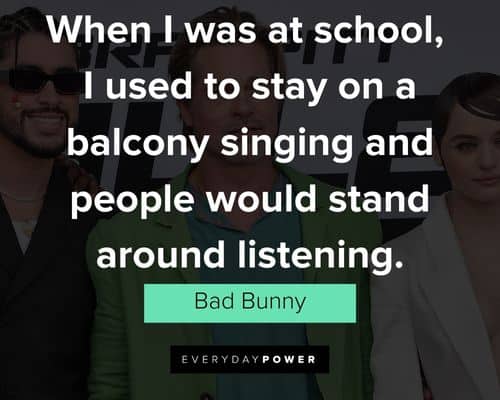 22. "To all the musicians, to the Academy, with all due respect, reggaeton is part of our Latin culture. And it's representing as much as any other genre at the worldwide level." – Bad Bunny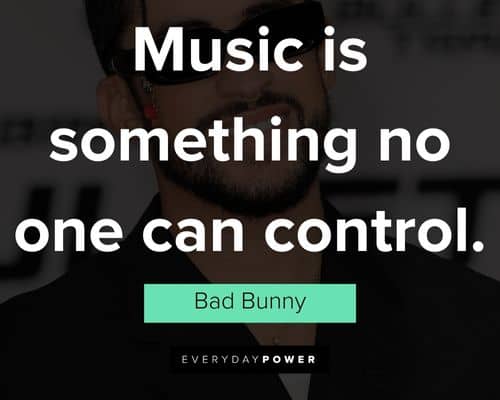 23. "Music is something no one can control." – Bad Bunny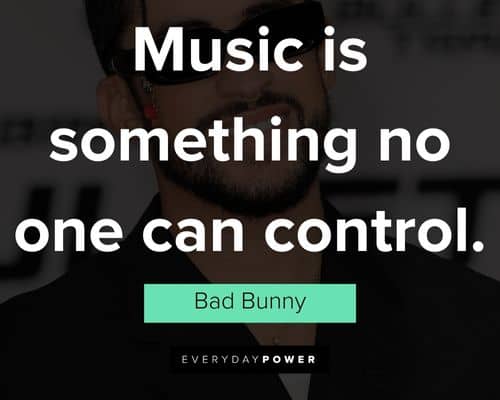 24. "The fame isn't important to me. It's a blessing to have. Having so many people that support me, that love me and listen to my music, is beautiful." – Bad Bunny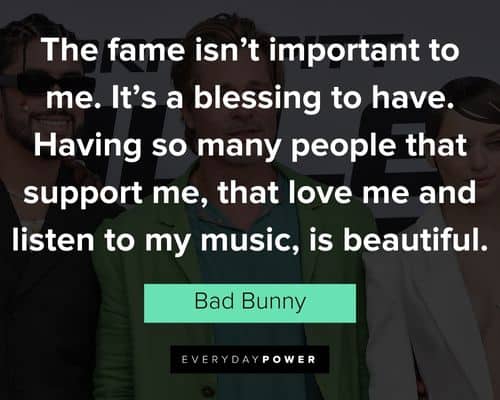 25. "A good song never gets old." – Bad Bunny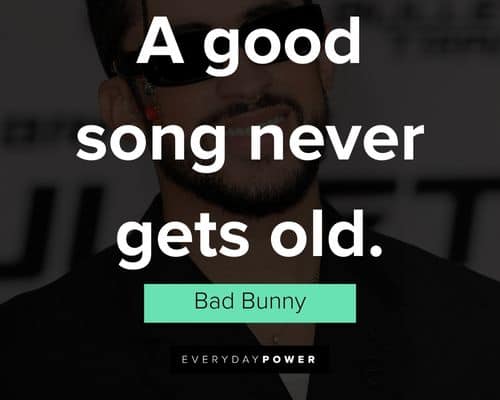 How did these Bad Bunny quotes and lines inspire you?
If you enjoyed these quotes from Bad Bunny, you'll definitely love these Pitbull quotes and our collection of best rap quotes.
In 2020, Bad Bunny and his album "YHLQMDLG" respectively won Spotify's most-streamed artist and most-streamed album globally.
This was also the first time ever a non-English language music artist topped the year-end list.
Fun fact:
Did you know that his stage name, "Bad Bunny," was from a grumpy childhood photo of him wearing a bunny suit?
He then created a Twitter account using Bad Bunny and the rest was history.
Which of these Bad Bunny quotes is your favorite or do you have anything to add to the list?
Let us know in the comments below!