25 Hawkeye Quotes from the New Mini-Series
If you're missing the original Avengers, you'll love these Hawkeye quotes.
Share what you loved about the mini-series in the comments below.
Clint Barton is the fictional character more popularly known by his Avenger name, Hawkeye.
Fans of the Marvel Cinematic Universe loved him in the comics and he became a fan favorite in the movies as well.
Disney+ recently aired Hawkeye which is a mini-series taking place after the Avengers: Endgame.
It references the past story and old characters along with introducing other comic originals and new characters that we're likely to see in future movies and mini-series including Kate Bishop, King Pin, and Maya Lopez who is also known as Echo.
If you can't get enough of the mini-series, check out these Hawkeye quotes.
Don't forget to also check out these Avengers quotes from the MCU.
Check out our most popular quote article, a list of short inspirational quotes for daily inspiration.
Check out our inspirational quotes category page for more inspirational life quotes.
Hawkeye quotes from Clint Barton
1. "You're gonna be alive because of me." — Clint Barton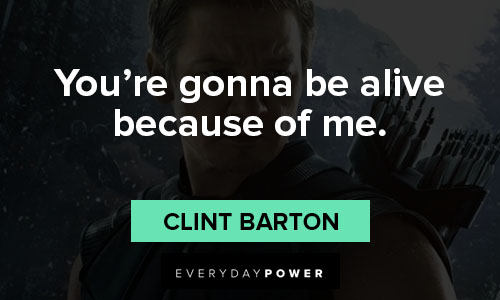 2. "You want to be a superhero? You put your life in danger." — Clint Barton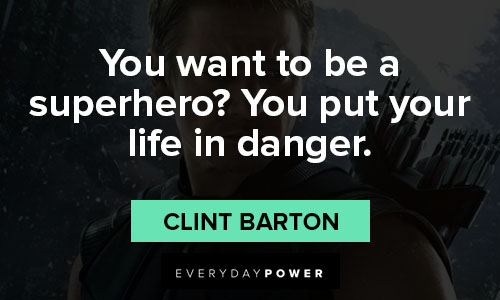 You will also enjoy our article on Wandavision quotes.
3. "When you do what I do for a living, it's just a game of managing loss." — Clint Barton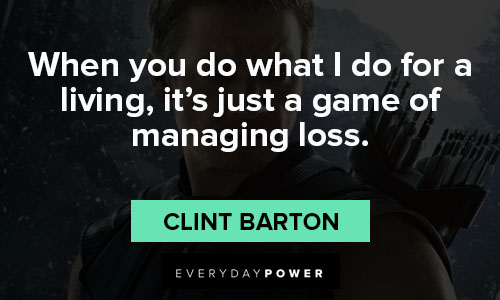 4. "The past has caught up with me." — Clint Barton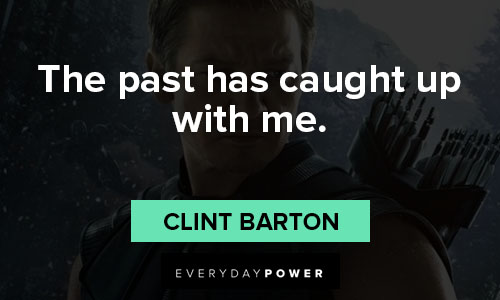 5. "Planning's not really my thing." — Clint Barton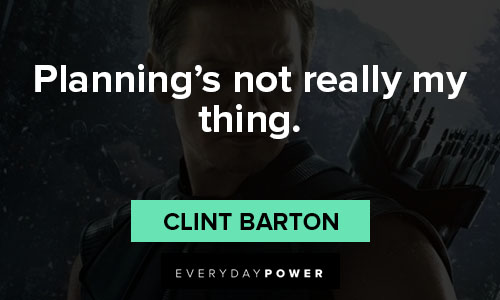 6. "The person that wore this suit made a whole lot of enemies." — Clint Barton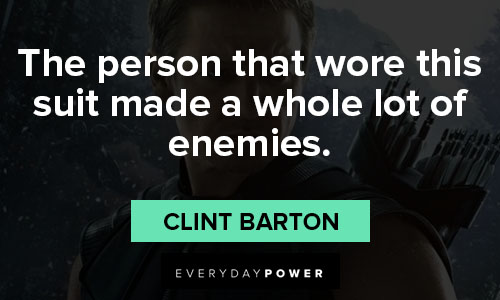 7. "It's been less than 24 hours, you've been on the news twice. Impressive. Told you that suit was bad news." — Clint Barton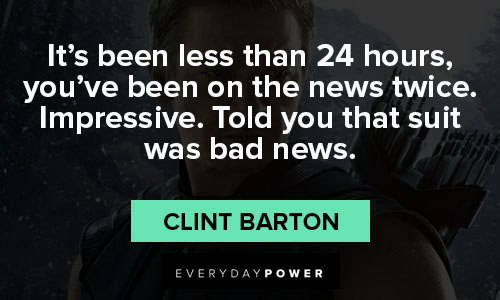 8. "No, no, it's nothing. I'll be home for Christmas, I promise." — Clint Barton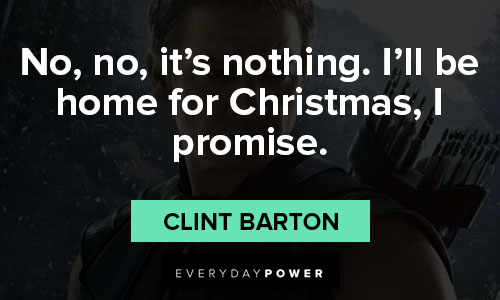 9. "I'm not smashing a '72 Challenger. Come on!" — Clint Barton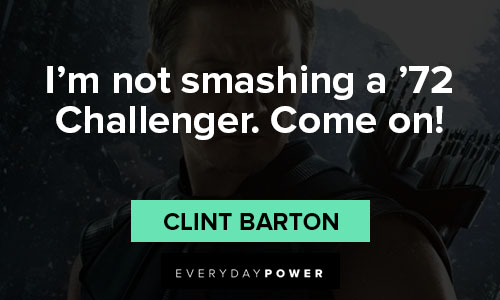 10. "It comes with a price. This life you wanna live. To really help people. I mean, try to help people, anyway. Comes with a lot of sacrifices. And some things you'll lose forever." — Clint Barton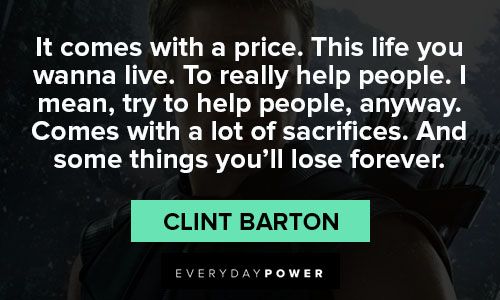 11. "There are several reasons why I'd never wear a flashy costume. My job is to be, number one, a ghost. Number two, my wife would divorce me if I put something like this on. And number three, I'm not a role model." — Clint Barton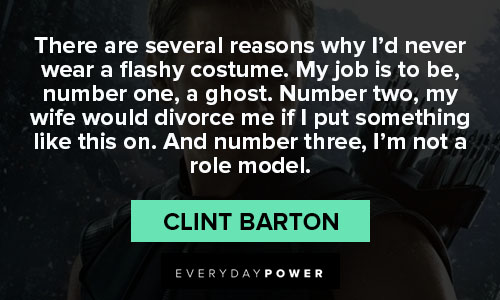 12. "We're going to harness that overconfidence of yours." — Clint Barton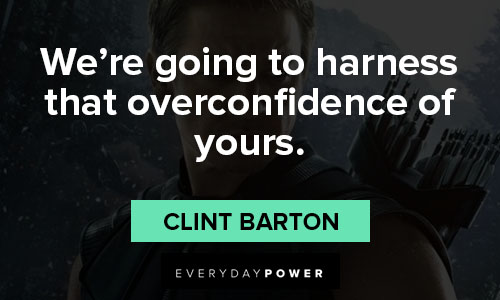 13. "Since when did everybody start saying, "I love you," to everybody all the time?" — Clint Barton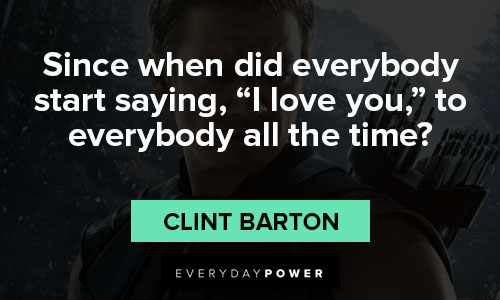 14. "I know what happens. I was there. You know who wasn't there? It's that guy. Ant-Man." — Clint Barton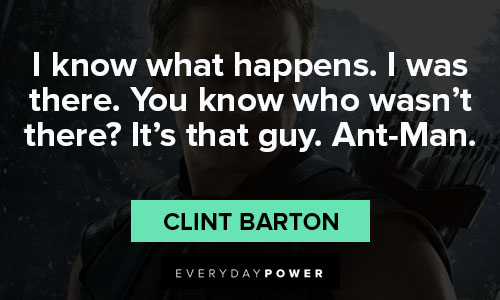 15. "I have no idea what you're saying, just gonna assume you're on board." — Clint Barton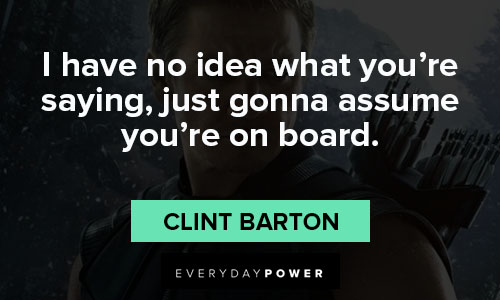 16. "Can I speak to your manager? This is like talking to furniture." — Clint Barton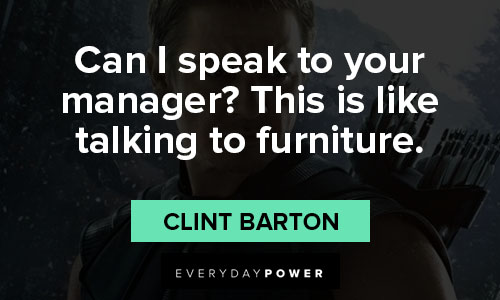 17. "The whole things a problem that I'm going to solve today so I can go home to my family." — Clint Barton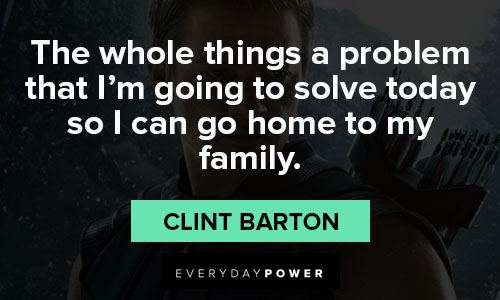 18. "Everybody dealt with the Blip in their own way. I continued doing what I was trained to do. Hurting people. Investigating first, but in the end, my job has always been to hurt people." — Clint Barton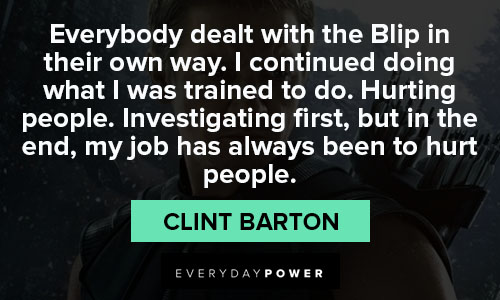 Hawkeye quotes from Kate Bishop
19. "You cook, you're attentive, you're wealthy. You're almost too good to be true." — Kate Bishop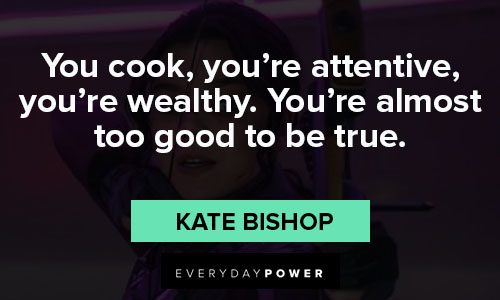 20. "We're saving the holidays." — Kate Bishop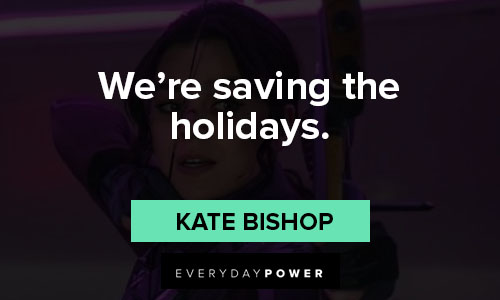 21. "All surprises are unexpected." — Kate Bishop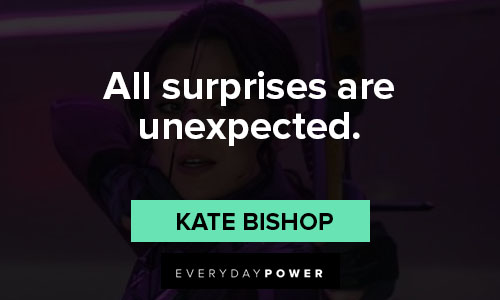 22. "Some people have actually called me the world's greatest archer." — Kate Bishop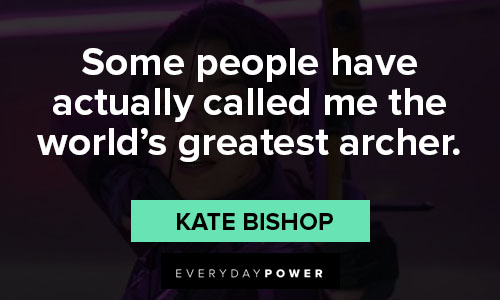 23. "Your problem is branding." — Kate Bishop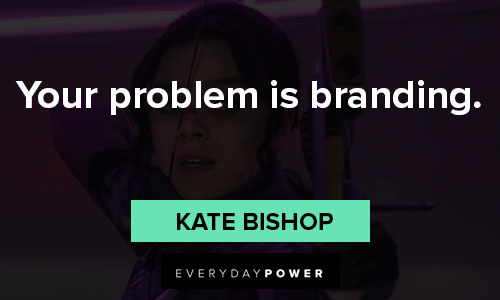 24. "If all trick arrows were boomerangs, then we'd have them all." — Kate Bishop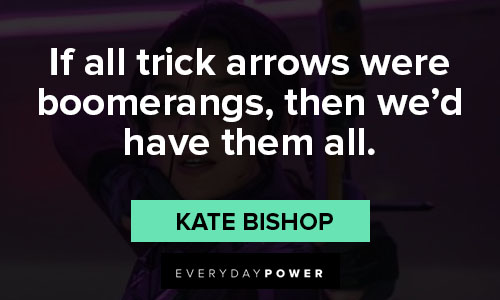 25. "I need a bow and arrow." — Kate Bishop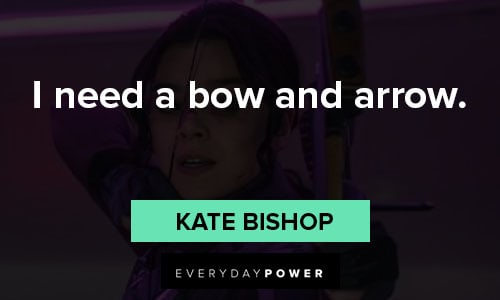 Which of these Hawkeye quotes is your favorite?
Much like the other mini-series such as Wandavision and Loki, Hawkeye leaves as many questions as it gave answers.
Fans were quick to follow along with the story and speculate on what we can expect next from the MCU.
Some believe that there will be a second season of the show, but this is purely speculation.
Others believe we will see Kate Bishop take over the role of Hawkeye in future movies as the Young Avengers step into the roles of the originals.
If you're a fan of the MCU, you can read these Hawkeye quotes and sayings over and share them with your friends as we wait to see what's coming next.