60 Jamaica Quotes Celebrating the Culture, History and Legacy
These Jamaica quotes about the storied island will help you better understand the importance of one of the world's most influential nations.
Jamaica is home to people from all over the world.
Arawak people known as Tainos were the first people to inhabit Jamaica.
They called it Xaymaca (land of wood and water) and had already produced complex culture 7000 years ago in 5000 BC.
Over time, waves of other groups from South America would migrate to the island later on.
Closer to our modern era, these original inhabitants would be mixed in with an array of different peoples from across the globe, making for a rich and complex history.
Jamaica is one of the world's most significant creators of culture, with a global impact on every continent.
Across the globe, people know and love Jamaican music, food, art, dancing and spiritual practices.
Check out these quotes that celebrate the majesty and wonder of Jamaica.
Don't forget to also check out these Puerto Rico quotes that honor a proud legacy.
Also, check out our most popular quote article, a list of short inspirational quotes for daily wisdom.
See the rest of our quote database for even more inspirational ideas and thoughts.
Jamaica quotes on roots and home
1. "I can't really live outside Jamaica. I can be away, but only for a while."- Usain Bolt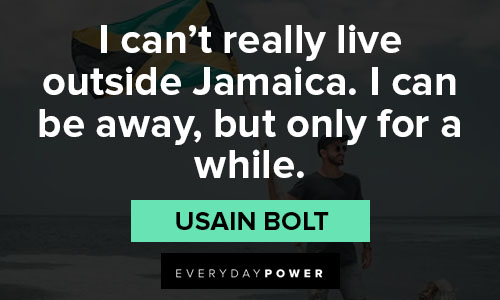 You will also enjoy our article on bob marley quotes.
2. "Being in Jamaica, I feel comfortable there."- Shelly-Ann Fraser-Pryce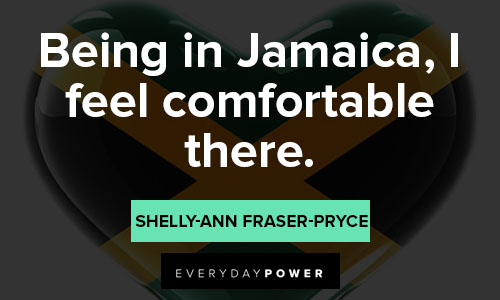 You will also enjoy our article on culture quotes.
3. "The music that I represent and helped to create and establish was born in Jamaica." – Jimmy Cliff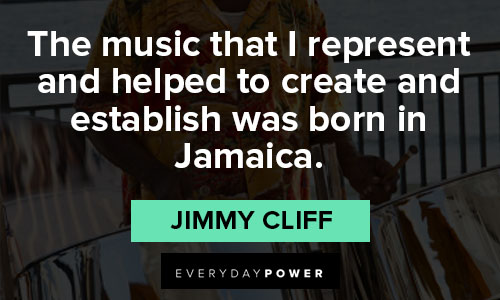 4. "I grew up with coconuts as the main flavor in food in Jamaica. It's part of our culture."- Ziggy Marley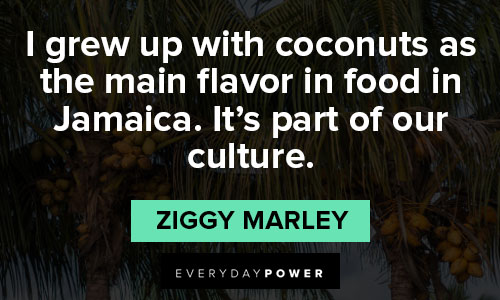 5. "Jamaica full of ghetto, but boy, I tell you: me never see it like that."- Damian Marley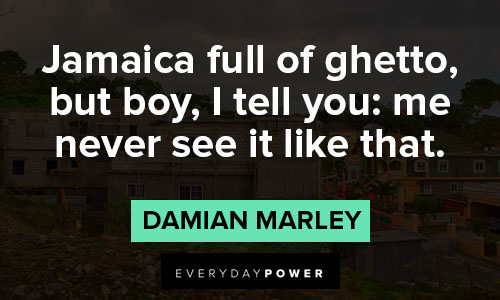 6. "By the time my first album was out, I had been out in Jamaica three or four years, but I had hits out at that time that were bona fide hits." – Sean Paul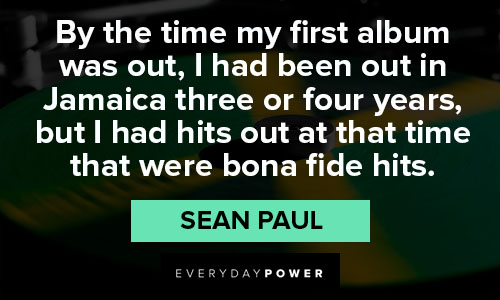 7. "Jamaica has a lot of foods that give you energy and strength, as well as being very nice to eat." – Rita Marley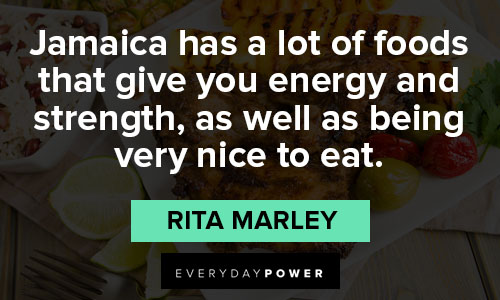 8. "My parents are from Jamaica, and I love reggae music." – Stephan James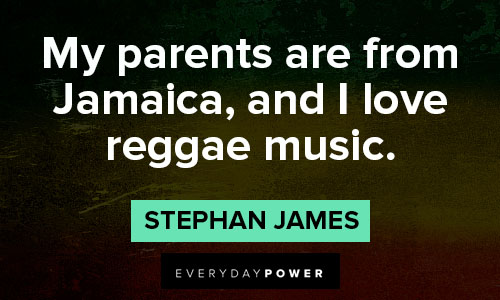 9. "I left Jamaica for a while because as an artist I need to experience different things, see the world, have different energies. Living in one place is not good for me." – Ziggy Marley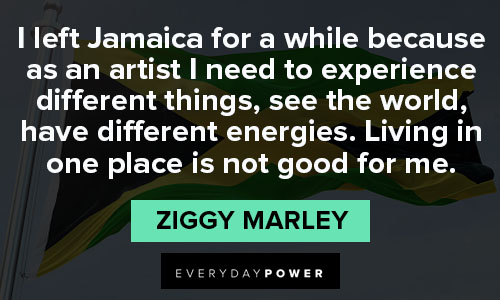 10. "When you're in Jamaica, unless you're in a tourist spot, you don't hear Bob Marley; you mostly hear dance hall music." – Michael Franti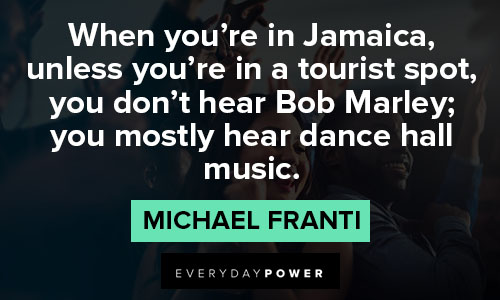 11. "I was brought up in Jamaica when people had to occupy themselves and entertain each other." – Lady Colin Campbell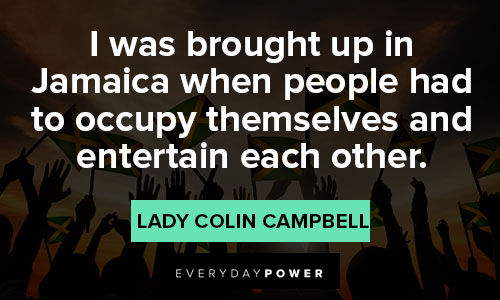 12. "I definitely know I'm going to be working a lot more with my foundation when it comes to developing the kids in Jamaica." – Usain Bolt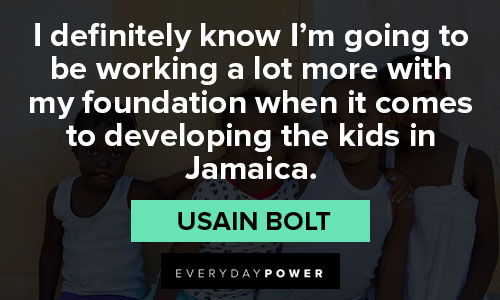 13. "I grew up in a middle-class family in Jamaica, I had no self-worth issues whatsoever."-John Barnes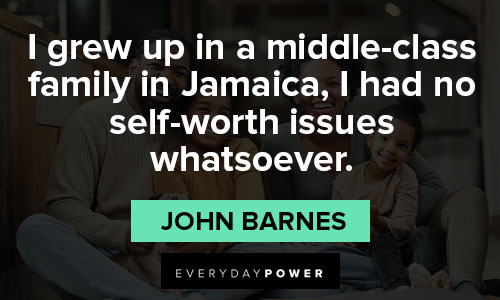 More Jamaica quotes on roots and home
14. "I live in Kingston. When I tell people I live in Kingston, they start fearing for my life. People ask me if I have Internet in Jamaica. Like, seriously?" – Shaggy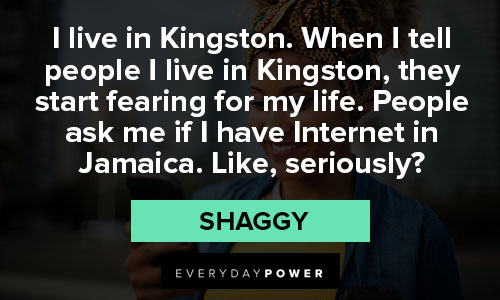 15. "I'm not an American, Do they count the votes in America? I haven't voted in Jamaica either." – Ziggy Marley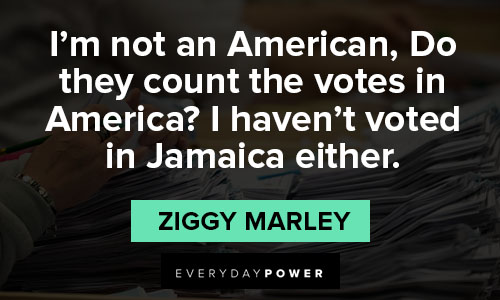 16. "Gays and lesbians should have the same rights as anybody else, and when they're in Jamaica, they do have the same rights." – Shaggy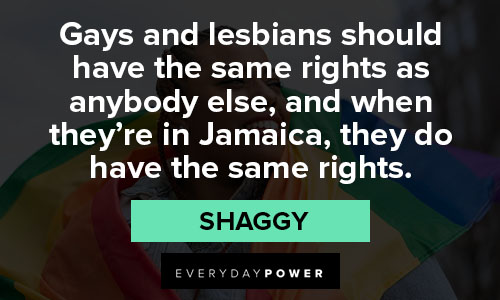 17. "Being born in Jamaica, race was never an issue. It was always about the type of person I wanted to be, not the colour of my skin." – Tessanne Chin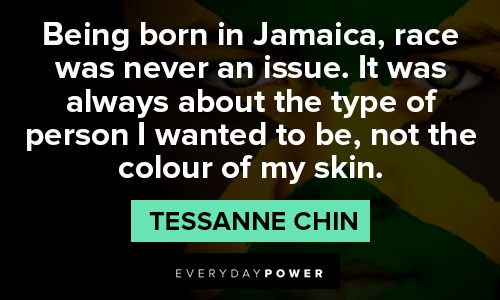 18. "In Jamaica, you're never very far away from people who don't have very much, and in Wilmette, pretty much everybody had a lot." – Peter Blair Henry
19. "I've opened up more by traveling outside Jamaica. It helps me to grow as a person to be outside of my element; to be on my own in a strange place meeting people." – Ziggy Marley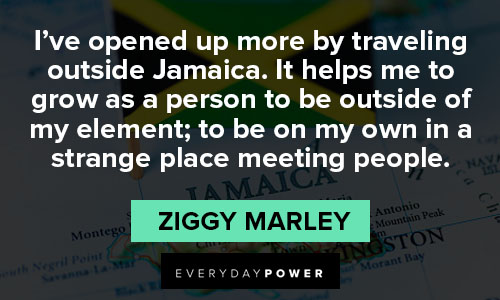 20. "Even if I wasn't in music, even if my father was a carpenter, some guy in Jamaica would go 'You're just like Bob. You're just like your father.' That happens in Jamaica all the time." – Ziggy Marley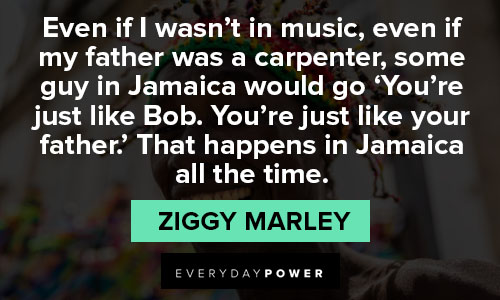 21. "Because I come from a place like Jamaica, which is a small, open economy, I viscerally get the importance of the global economy." – Peter Blair Henry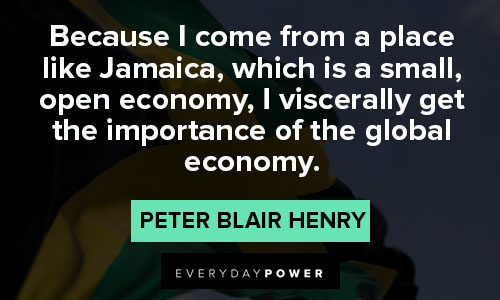 22. "I'm the blackest member of my family. You know, these mixed families produce children of all colors, and in Jamaica, the question of exactly what shade you were, in colonial Jamaica, that was the most important question. Because you could read off class and education and status from that. I was aware and conscious of that from the very beginning." – Stuart Hall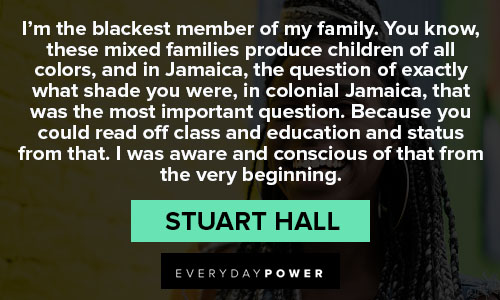 23. "When you're growing up in Jamaica and you don't have much, and then you gain more and more… you can now share the more that you have with the people that have less because you know what less is like." – Rohan Marley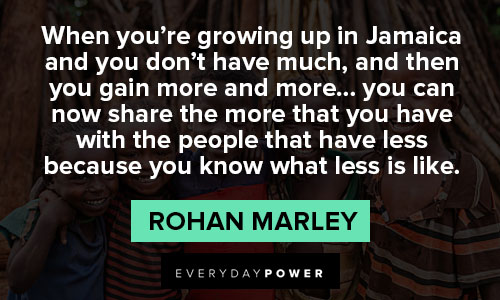 24. "I think that anybody, once we leave Jamaica, automatically, any citizen becomes an ambassador for the flag, for Jamaica. It's a country that's so rich in culture. We even have a bobsled team, and we ain't even got snow. We do everything in extreme." – Shaggy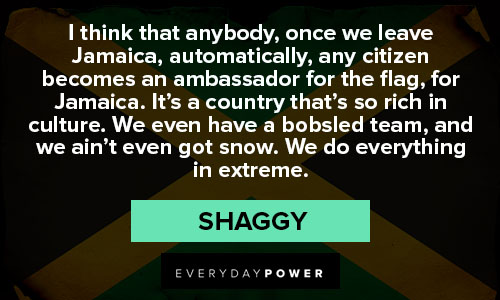 25. "My parents immigrated to this country from Jamaica with no more than a fifth-grade education." – Wayne Messam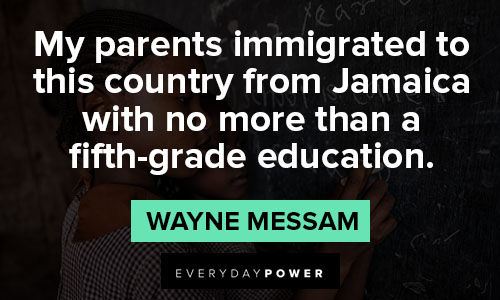 Jamaica quotes on working in the country
26. Doing business in Jamaica is not easy, but it is rewarding"- Michael Lee-Chin
27. "Jamaica has problems; America has problems; everywhere has problems." – Ziggy Marley
28. "Last time I was in Jamaica I financed a teacher to teach in an orphanage." – Ziggy Marley
29. "I wouldn't have become an engineer, I wouldn't have done what I did, had a hand not been held out to me. I have to remember who helped me when I needed help. The people of Jamaica helped me. I can't forget that. I would be ungrateful if I forgot." – Michael Lee-Chin
30. "The thing about places like Trinidad and Jamaica is that they can be very musically insular. There isn't much space for kids making hip-hop, electronic music, or hybrid genres." – Jillionaire
Jamaica Quotes on Visiting
31. "Out of all the places in the world, Jamaica is my favorite place." – Eve
32. "Twenty or 30 years from now, I'm going to be on a beach in Jamaica." – Idris Elba
33. "When people come to Jamaica, we don't want them to think about the problems of Jamaica. So let them come be in their paradise." – Ziggy Marley
34. "I think Jamaica would thrive if we promote agriculture as a way to bring people here." – Chris Blackwell
35. "I've been in Africa, America, moving around a lot. It's helped me to open up my mind. I was born in Jamaica; I've lived all my life there and got all I could from Jamaica. But I needed to be somewhere else to grow." – Ziggy Marley
36. "I want to go to Jamaica, actually. My whole family's from there, so I'd like to go there." – Astro
37. "Reggae was always playing at home in East Ham when I was growing up. Loud music would be coming from the bedroom, and downstairs all you'd hear was the bass. My uncles had sound systems and we used to go to Jamaica a lot as a family." – Kano
38. "You can tap into culture by exploring what's grown or produced in the region, like going into the Blue Mountains in Jamaica to visit a coffee plantation or a rum distillery in Barbados." – Katie Lee
39. "In Jamaica, the music is recorded for the sound system, not the iPod. It's about experiencing music together, with other people." – Michael Franti
40. "I feel really strongly about immigration because my mom is… from Jamaica. She still has a green card here." – Ayesha Curry
41. "When you come to Jamaica, there's a handful of things you simply have to try that's right on the top of the list, and I think jerk chicken definitely has to be number one." – Ainsley Harriott
42. "The Caribbean is such a rich place, and Jamaica, personally, is one of my favorite places in the world. I've been lucky to, on various projects, to have spent a lot of time down there." – Cheo Hodari Coker
Jamaica quotes about life
43. "We're not big on irony in Jamaica, sarcasm and double-talk. We tend to say things plainly, sometimes to the point of boredom." – Marlon James
44. "Even with my family, I feel sort of 'other.' I'm the only one of my siblings who wasn't born in Jamaica. For a long time, I didn't feel very connected to Jamaican culture, but because I was raised so heavily with that cultural influence, I realized that my inner monologue is a Jamaican woman." – Jodie Turner-Smith
45. "I love running in nature. I don't like running on the streets, I don't like running in the city, I don't like running on the concrete. I love running in nature, so Jamaica provides a lot of that for me." – Ziggy Marley
Jamaica quotes about its world impact
46. "Sometimes I'm in Boston or Washington or Chicago and think I'm in Jamaica because I hear more reggae on the radio in these places than in Kingston!" – Rita Marley
47. "I've never shied away from country. 'Karma Chameleon' verges on country. Reggae and country are very closely linked. If you go to Jamaica, you hear a lot of country music. There's a correlation." – Boy George
48. "I'm a huge Bob Marley fan; I remember going to Jamaica for the first time when I was a kid and I got so obsessed with the steel drums." – Matthew Morrison
49. "When you see a Jamaica video, it's always the hood. Everybody in the video's got guns, and the world looks at it like that's what Jamaica's about. And it affects the economics of the music." – Shaggy
50. "In Jamaica, them always have throwback riddims, recycled old beats, and the hardcore reggae scene is always present. You have faster stuff like the more commercialized stuff, but you always have that segment of music that is always from the core, from the original root of it." – Damian Marley
Jamaica Quotes To Inspire Your Next Trip
51. "I never did feel any pressure in Jamaica. You just someone, not nobody big." ― Ziggy Marley
52. "Jamaica is so musical, diverse and so extreme, from people singing in the streets to dancing." ― Kreesha Turner
53. "Jamaican music can be aggressive, soulful, smooth and exciting all at once – just like hip-hop. At the same time, there's nothing like Jamaica in the United States. Jamaica is its own thing." ― Nas
54. "Growing up in Jamaica, the Pentecostal church wasn't that fiery thing you might think. It was very British, very proper. Hymns. No dancing. Very quiet. Very fundamental." ― Grace Jones
55. I went to Jamaica for six months, and in Jamaica there was a lot of stillness." ― Lauryn Hill
56. "You know people exaggerate that all is wild in Jamaica. I think that sometimes people fire a shot to try to make you nervous. They are not trying to hurt you." ― Michael Manley
57. "Jamaica has the best coffee, the best sugar, the best ginger and some of the best cocoa in the world." ― Chris Blackwell
58. "Countries like Jamaica do not have a random program, so they can go months without being tested. I'm not saying anyone is on anything, but everyone needs to be on a level playing field." ― Carl Lewis
59. "My timing's a little off. But I'm about to get hotter than Jamaica in the middle of August." ― David Ortiz
60. "Jamaica is an island that is filled with so much culture." ― Kreesha Turner
What did you learn from these Jamaica quotes?
Did you have a favorite quote about Jamaica?
Even though it is a small country in size, Jamaica is a giant in terms of world influence.
Jamaica is deeper than beautiful sunsets and a deep appreciation for cannabis.
If you have ever danced or sung along to reggae, ska, or dancehall music you can thank Jamaica.
If you have ever enjoyed rum punch or a delicious ital plate lunch, you can thank Jamaica.
Known for much more than Bob Marley, Usain Bolt and the Olympic Bobsled Team, Jamaica is a special example of how people can overcome challenging situations.
Jamaica has a special history that includes Native Tainos, Africans, Maroons, Colonizers, Immigrants, and Rastafarians created a synergy, resulting in a country that has survived famines, hurricanes, genocide, extinction, social unrest, and political transformation.
If you have ever felt inspired to rise up from oppression or become sovereign, you can learn something from the powerful examples of revolutionaries like Paul Bogle and Queen Nanny.
What's your biggest takeaway from these Jamaica quotes and sayings?
Do you have any other favorite quotes to add? Let us know in the comment section below.