Sweet Tooth Quotes from Season 1
If you're a fan of fantasy, these Sweet Tooth quotes are for you.
Share your favorite in the comments.
Sweet Tooth is a Netflix series that is based on a comic book by Jeff Lemire.
There has only been one season of the series so far, but much to fans' delight it has been renewed for a second season.
Sweet Tooth is an American fantasy drama.
It follows the story of what happens after society falls because of a pandemic caused by a disease called the Sick.
Much of the population is gone but in addition, there are starting to be babies born as hybrids that are a mix of human and animal.
If you've never watched the series, see what you think of these Sweet Tooth quotes below.
Don't forget to also check out these Lovecraft Country quotes from the dark fantasy series.
Check out our most popular quote article, a list of short inspirational quotes for daily inspiration.
Explore our complete collection of motivational quotes here.
Sweet Tooth quotes from Tommy Jepperd
1. "Don't ask questions you don't want the answers to." — Tommy Jepperd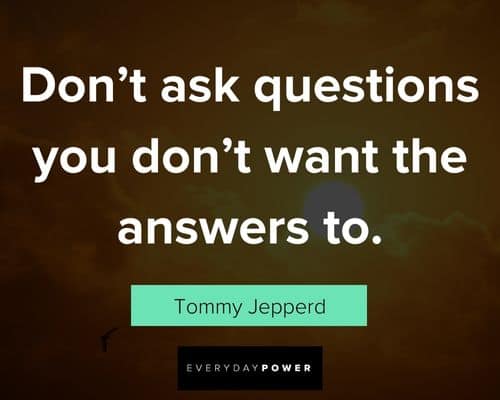 2. "They don't make them bigger than me." — Tommy Jepperd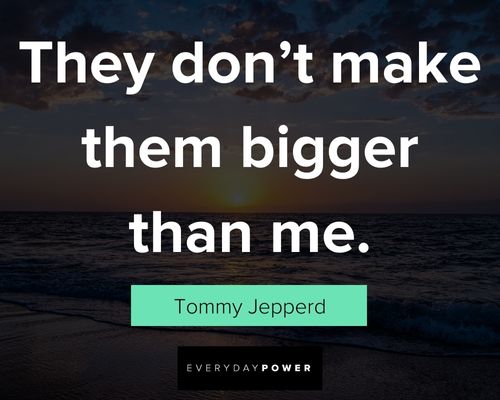 3. "It doesn't matter what I believe. That little dude's got hope coming out of every pore." — Tommy Jepperd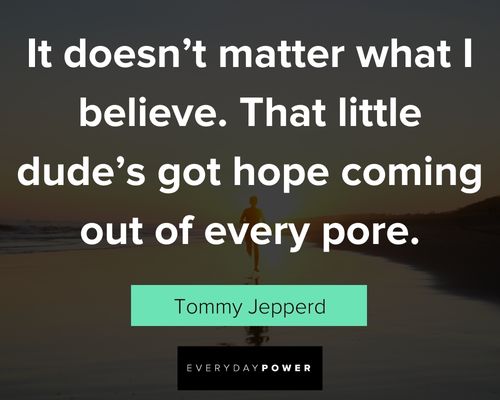 You will also enjoy our article on Tommy Boy quotes.
4. "I hurt a lot of people, Little Man. Usually on purpose. But sometimes I don't mean to hurt them. Sometimes I just make bad decisions. But you know what? I think you're one of the good ones." — Tommy Jepperd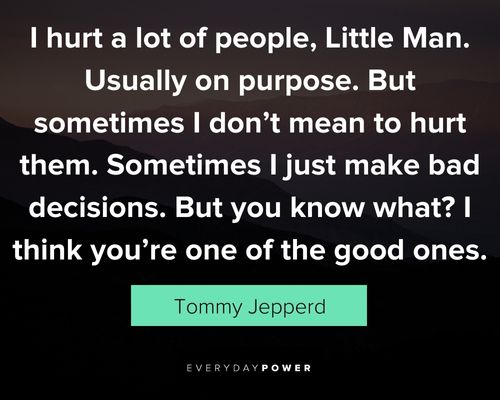 5. "I don't live anywhere. But I do hide things where I can. It's a good habit." — Tommy Jepperd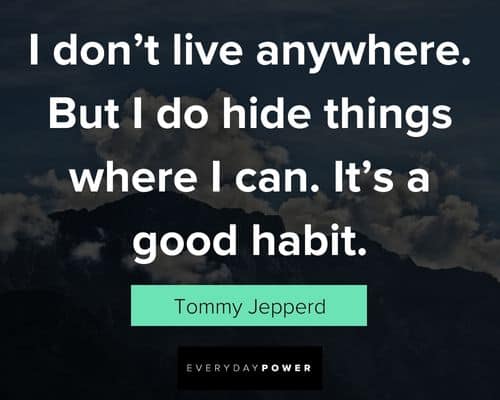 6. "Guys like me aren't good for kids like you." — Tommy Jepperd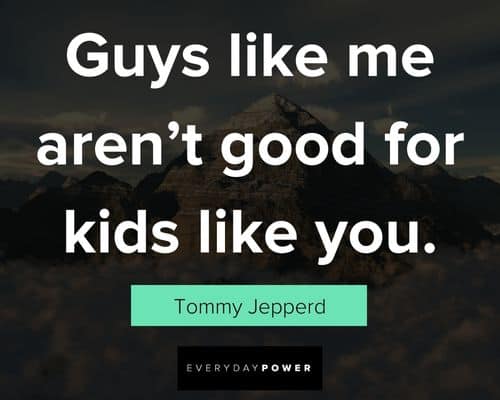 7. "I eat a lot of Wheaties." — Tommy Jepperd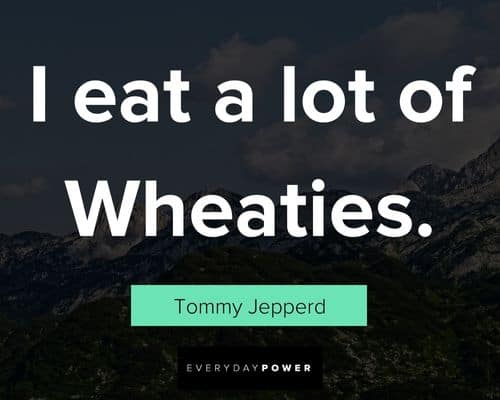 8. "I don't know kid. Some people are just born lucky." — Tommy Jepperd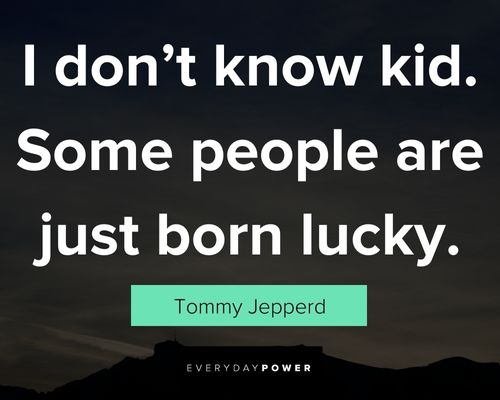 Sweet Tooth quotes from The Narrator
9. "It's a difficult thing, letting go. It's tough to say goodbye. But the thing we don't always realize, when we let go of something, it opens up a little space to grow. It shows us who we are, what we're capable of. We find out what really matters, and who we really were, all along." — The Narrator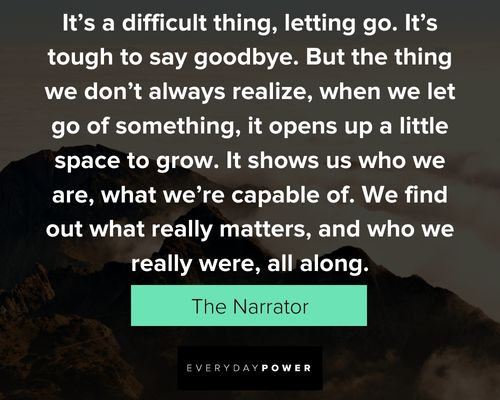 10. "The past is a funny thing. We like to hold onto it so tight. But sometimes it's better to let go. Sometimes we just gotta move on." — The Narrator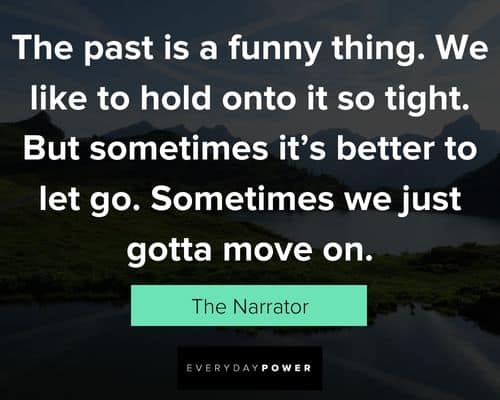 11. "In life, you're always searching for answers. Where do you come from? Where do you belong? But most importantly, why are you here? For some, these answers come quite easily. For others, they have to search the ends of the Earth to find them." — The Narrator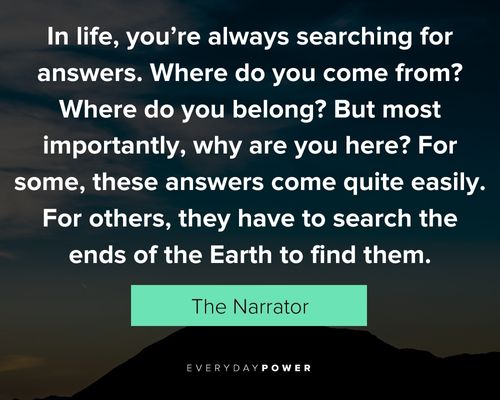 12. "When the answers you've been searching for are finally revealed, so is your purpose. But sometimes the truth hurts. And sometimes those answers leave us more in the dark than ever." — The Narrator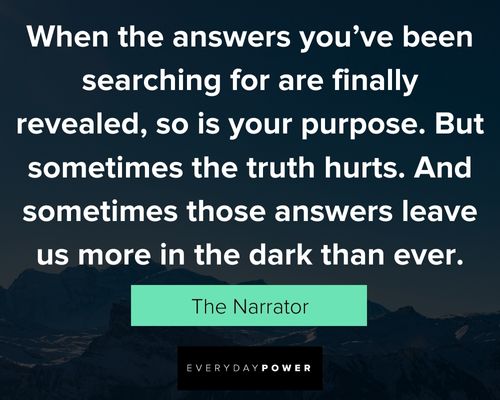 13. "We're looking for family from the moment we're born. Turns out, we just never know where we're going to find it." — The Narrator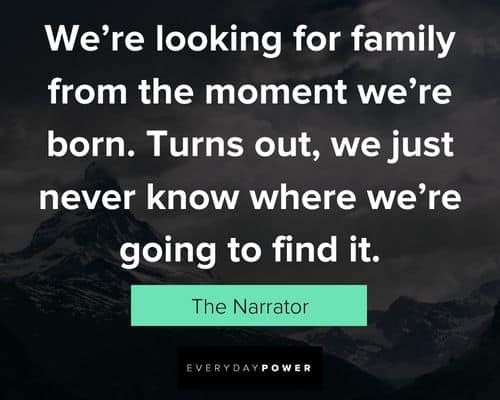 14. "And sometimes our families end up looking nothing like we thought they would. And sometimes, we do things for family that we never thought we could. Because family is always worth it." — The Narrator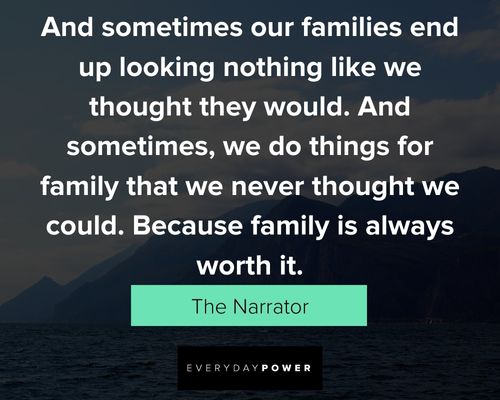 15. "If we can see past the fear, we find out what really matters. And we learn that sometimes, the things that set us apart can also bring us together. Because family is what we make it. Each one of us. Together." — The Narrator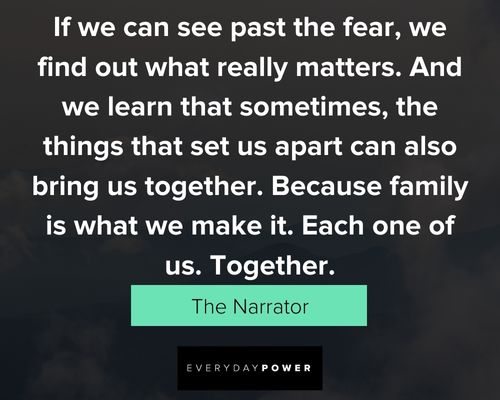 16. "Great leaders are created in the most unexpected of places. Some are born to follow, and some are born to lead." — The Narrator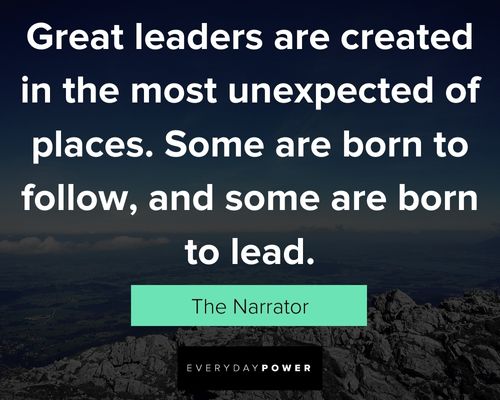 17. "The Great Crumble happened slowly at first. But the cracks had been forming for some time." — The Narrator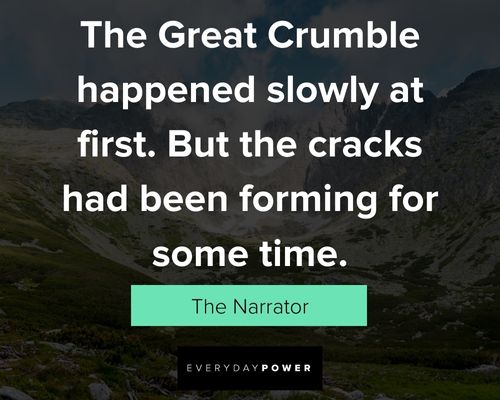 18. "And sometimes, well, sometimes the past won't let go of us." — The Narrator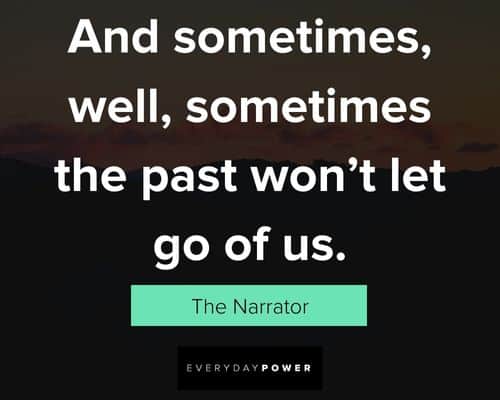 Sweet Tooth quotes from Richard Fox
19. "Sometimes it's okay to bend the truth if it helps someone you love." — Richard Fox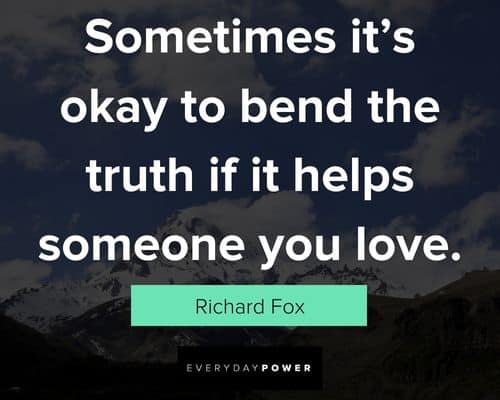 20. "We don't always know what's right, that's part of growing up." — Richard Fox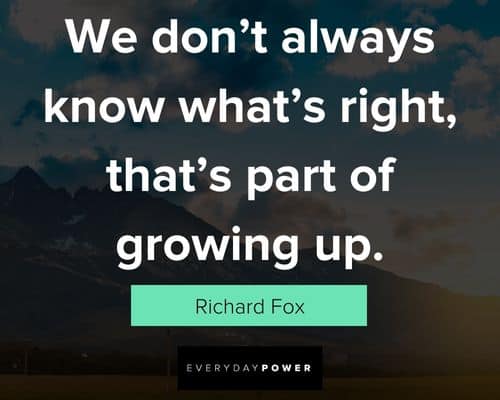 21. "I'm the luckiest dad in the world. You know why? Because I got to spend the last nine years with a very, very special boy. You. In a world we got to build together, I couldn't ask for anything else." — Richard Fox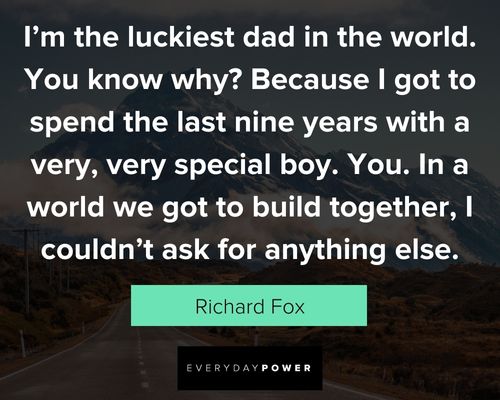 Sweet Tooth quotes from Gus
22. "I don't want to be special. I want to be like everyone else." — Gus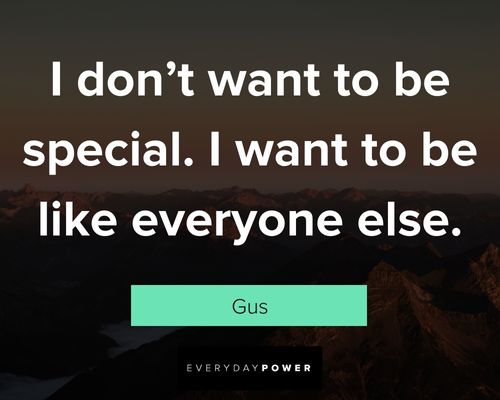 23. "There are no kids like me. I'm the only one left." — Gus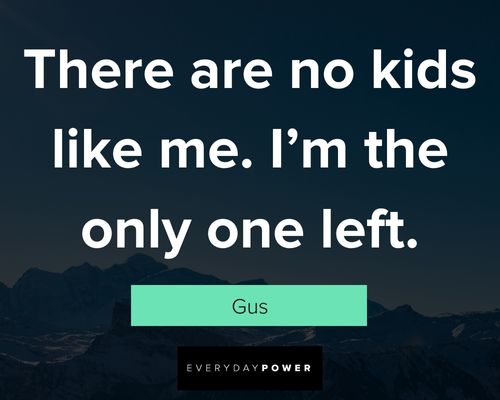 24. "I don't trust you! You don't tell me everything. You think I'm too little!" — Gus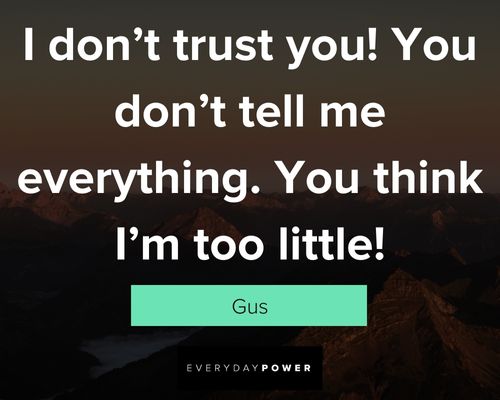 Sweet Tooth quotes from Rebecca 'Bear' Walker
25. "There's nothing worse than not knowing. That never goes away." — Rebecca 'Bear' Walker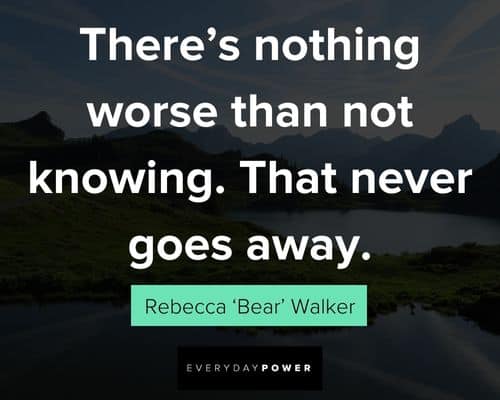 Which of these Sweet Tooth quotes is your favorite?
The show follows two different storylines.
The first is that of Gus, who is a hybrid deer/human.
When his father dies, Gus sets out for Colorado to try to find his mother.
However, there are humans who hunt hybrids because they feel they are responsible for the Sick.
Gus runs into trouble along the way and connects with Tommy Jepperd who helps him.
During the show, you also follow Dr. Aditya Singh who is working with his wife to try to cure the Sick.
There is also a woman named Aimee who has a place called The Preserve which is meant as a sanctuary for hybrids.
If you're intrigued, make sure you check out season 1 before the next season comes out and you can enjoy these Sweet Tooth quotes and sayings anytime.