Brother and Sister Quotes Celebrating Unbreakable Bonds
These brother and sister quote collection will help you appreciate your siblings.
A sister brother relationship is one of the most beautiful bonds in life. Although our parents and our spouses are so significant in our lives, siblings have a profound importance in their own right.
In all areas of our lives, whether you are going through a difficult time or a happy patch, our brothers and sisters will play a major role in keeping us grounded.
They will always be there with you to face whatever life sends, teach you, and do all they can to keep you safe and sound.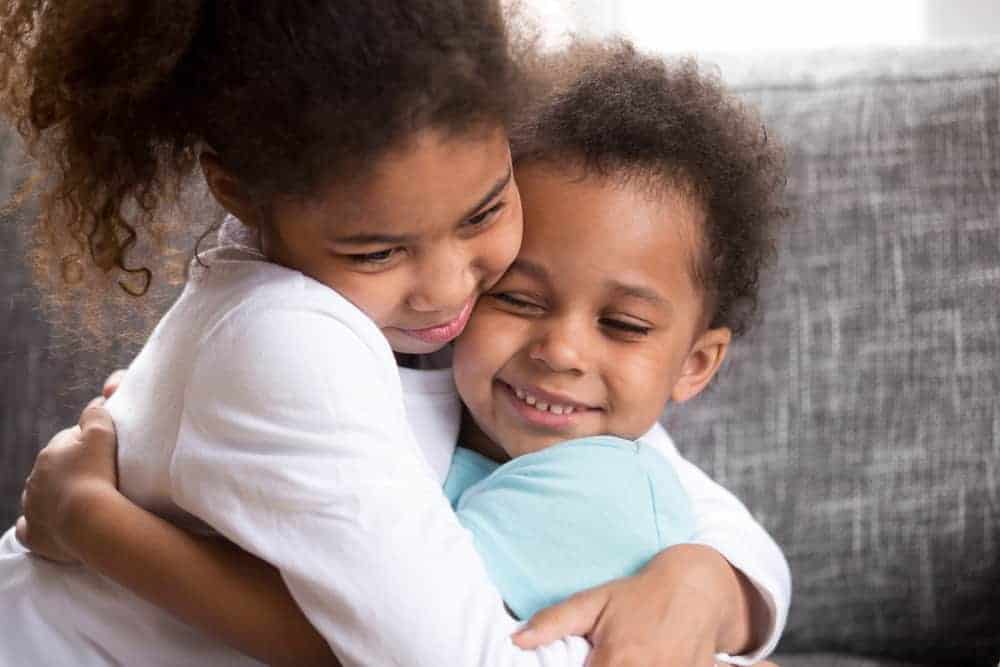 Siblings have an enormous impact on our lives. Sometimes we may take them for granted, however, they shape our lives and character tremendously.
The bond with your brothers and sisters is important not only in childhood but over the course of your lifetime. For some of us, "siblings may be the only people we'll ever know who truly qualify as partners for life."
To celebrate this unbreakable bond, below is our collection of inspirational, sweet, and beautiful brother and sister quotes, brother and sister sayings, and brother and sister proverbs, collected from a variety of sources over the years.
Don't forget to also read these hilarious sister quotes celebrating unconditional love.
Brother and sister quotes celebrating unbreakable bonds

1. "A sister is a gift to the heart, a friend to the spirit, a golden thread to the meaning of life." – Isadora James

2. "Sisters and brothers just happen, we don't get to choose them, but they become one of our most cherish relationships." ― Wes Adamson

3. "When sisters stand shoulder to shoulder, who stands a chance against us?" – Pam Brown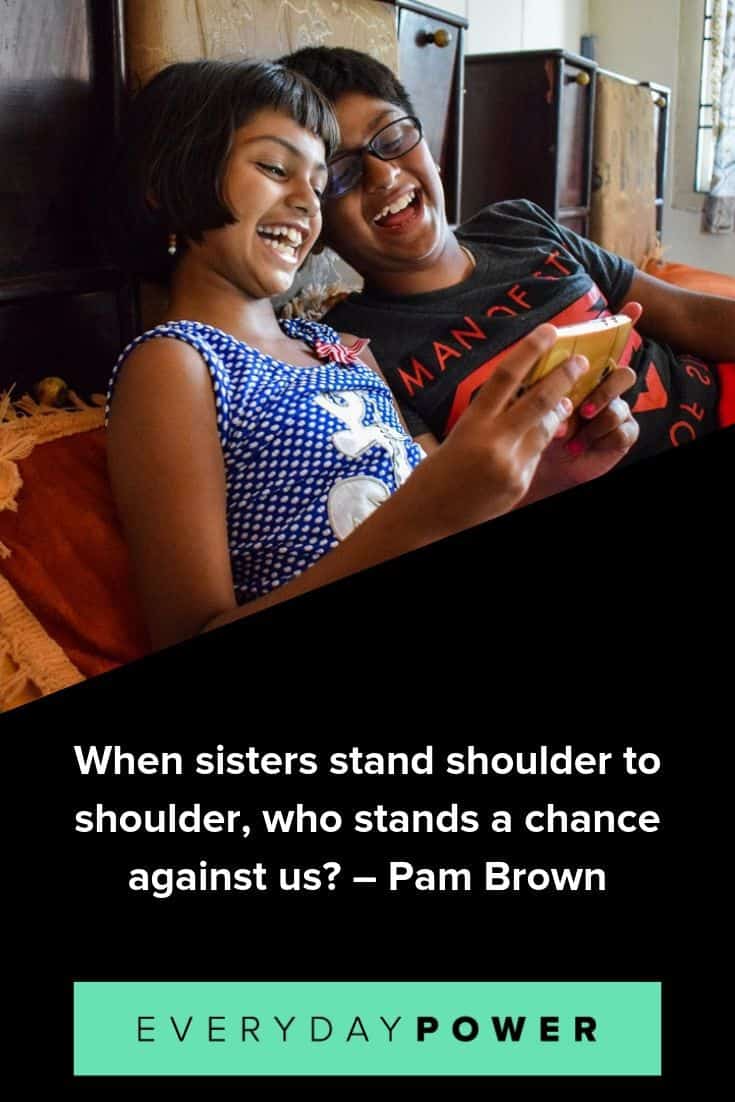 4. "I, who have no sisters or brothers, look with some degree of innocent envy on those who may be said to be born to friends." – James Boswell

5. "Brother and sister, together as friends, ready to face whatever life sends. Joy and laughter or tears and strife, holding hands tightly as we dance through life." – Suzie Huitt

6. "Growing up, I had a very normal relationship with my brother and sister. But, over time, they became my best friends, and now I hang out with them all the time. I'm very close to them." – Logan Lerman

7. "The highlight of my childhood was making my brother laugh so hard that food came out of his nose." – Garrison Keillor

8. "I have a wonderful shelter, which is my family. I have a wonderful relationship with my brother and sister; this makes me feel that I know always where I belong." – Jose Carreras

9. "To have a loving relationship with a sister is not simply to have a buddy or a confident — it is to have a soulmate for life." – Victoria Secunda
If you're enjoying these quotes, make sure to read our collection of relationship quotes celebrating real love.

10. "Having a sister is like having a best friend you can't get rid of. You know whatever you do, they'll still be there." – Amy Li
Brother and sister quotes celebrating unconditional love
11. "What brothers say to tease their sisters has nothing to do with what they really think of them." – Esther M. Friesner
12. "If you have a brother or sister, tell them you love them every day – that's the most beautiful thing. I told my sister how much I loved her every day. That's the only reason I'm OK right now." – Amaury Nolasco

13. "You may be as different as the sun and the moon, but the same blood flows through both your hearts. You need her, as she needs you." – George R.R. Martin

14. "Siblings that say they never fight are most definitely hiding something." — Lemony Snicket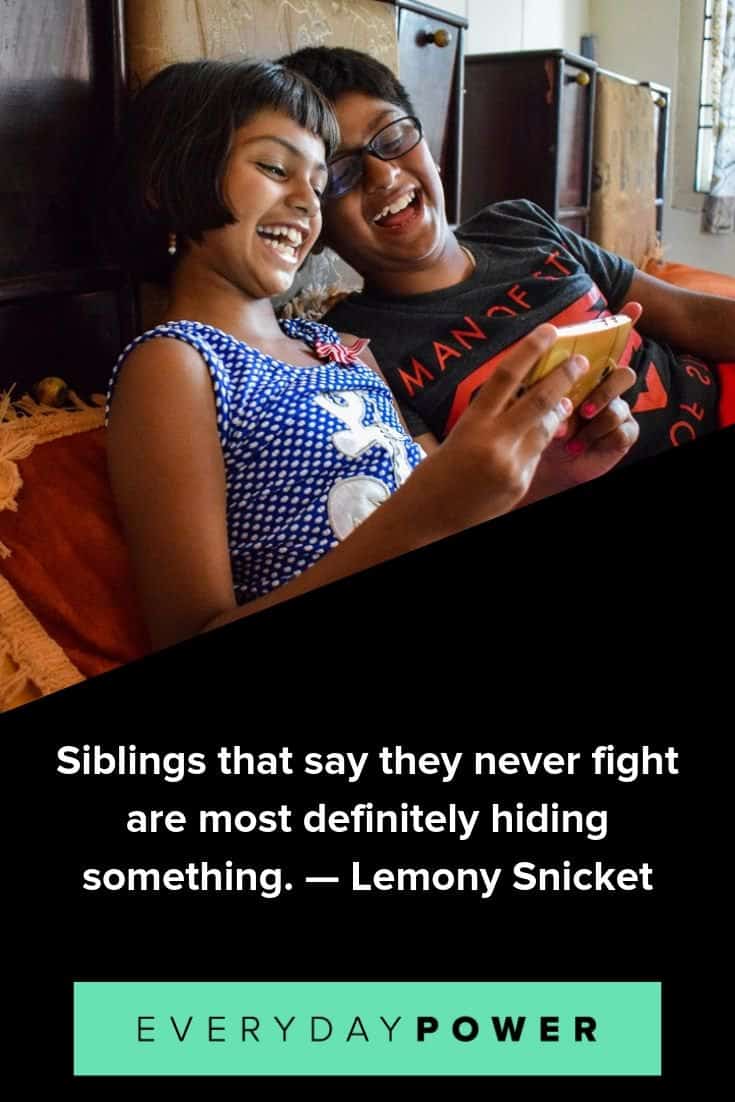 15. "My sister and I are so close that we finish each other's sentences and often wonder who's memories belong to whom." – Shannon Celebi

16. "A friend forgives quicker than an enemy, and family forgives quicker than a friend." – Amit Kalantri

17. "Sisters annoy, interfere, criticize. Indulge in monumental sulks, in huffs, in snide remarks. Borrow. Break. Monopolize the bathroom. Are always underfoot. But if catastrophe should strike, sisters are there. Defending you against all comers." – Pam Brown

18. "Brothers and sisters are as close as hands and feet." – Vietnamese Proverb

19. "Your parents leave you too soon and your kids and spouse come along late, but your siblings know you when you are in your most inchoate form." – Jeffrey Kluger

20. "We didn't even realize we were making memories, we just knew we were having fun." – Winnie the Pooh
Also check out these inspirational brotherhood quotes about the beauty family and friendship.
Brother and sister quotes to help you appreciate your siblings

21. "Our brothers and sisters are there with us from the dawn of our personal stories to the inevitable dusk." – Susan Scarf Merrell

22. "Having lots of siblings is like having built-in best friends." – Kim Kardashian

23. "There is a destiny which makes us brothers; none goes his way alone. All that we send into the lives of others comes back into our own." – Edwin Markham

24. "Siblings: As we grew up, my brothers acted like they didn't care, but I always knew they looked out for me and were there!" – Catherine Pulsifer
If you're enjoying these quotes, make sure to read our collection of sibling quotes to cherish your BFF by blood!
25. "After a girl is grown, her little brothers – now her protectors – seem like big brothers." – Terri Guillemets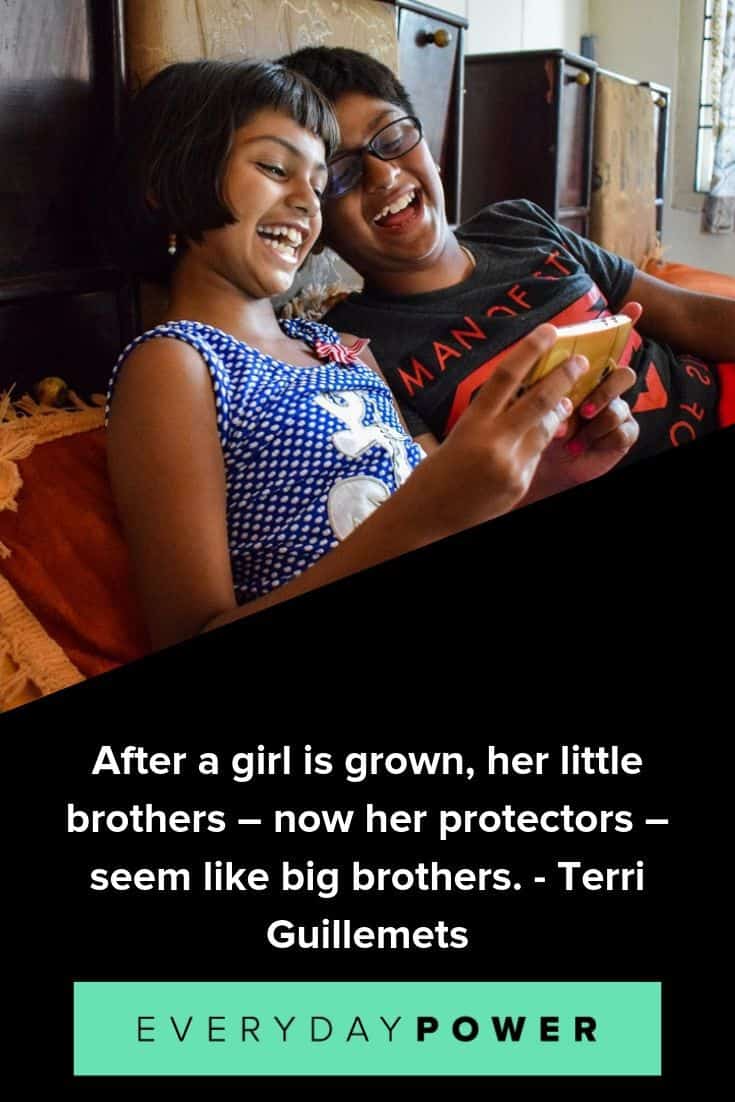 26. "Girls will be your friends – they'll act like it anyway. But just remember, some come, some go. The ones that stay with you through everything – they're your true best friends." – Marilyn Monroe

27. "If your sister is in a tearing hurry to go out and cannot catch your eye, she's wearing your best sweater." – Pam Brown

28. "The best thing about having four big brothers is you always have someone to do something for you." — Chloe Moretz

29. "If thy brother wrongs thee, remember not so much his wrong-doing, but more than ever that he is thy brother." Epictetus
30. "A sister can be seen as someone who is both ourselves and very much not ourselves – a special kind of double." – Toni Morrison
You might also like these proud cousin quotes that perfectly describe your bond.
Brother and sister quotes celebrating a long-lasting bond
31. "I know it's a cliché, but the whole family is just whacked. I mean, we're all out of our minds. They're the funniest, most eccentric bizarre people I've ever met, my siblings." – Dana Carvey

32. "Siblings are the people we practice on, the people who teach us about fairness and cooperation and kindness and caring quite often the hard way." — Pamela Dugdale

33. "There is no love like the love for a brother. There is no love like the love from a brother." – Astrid Alauda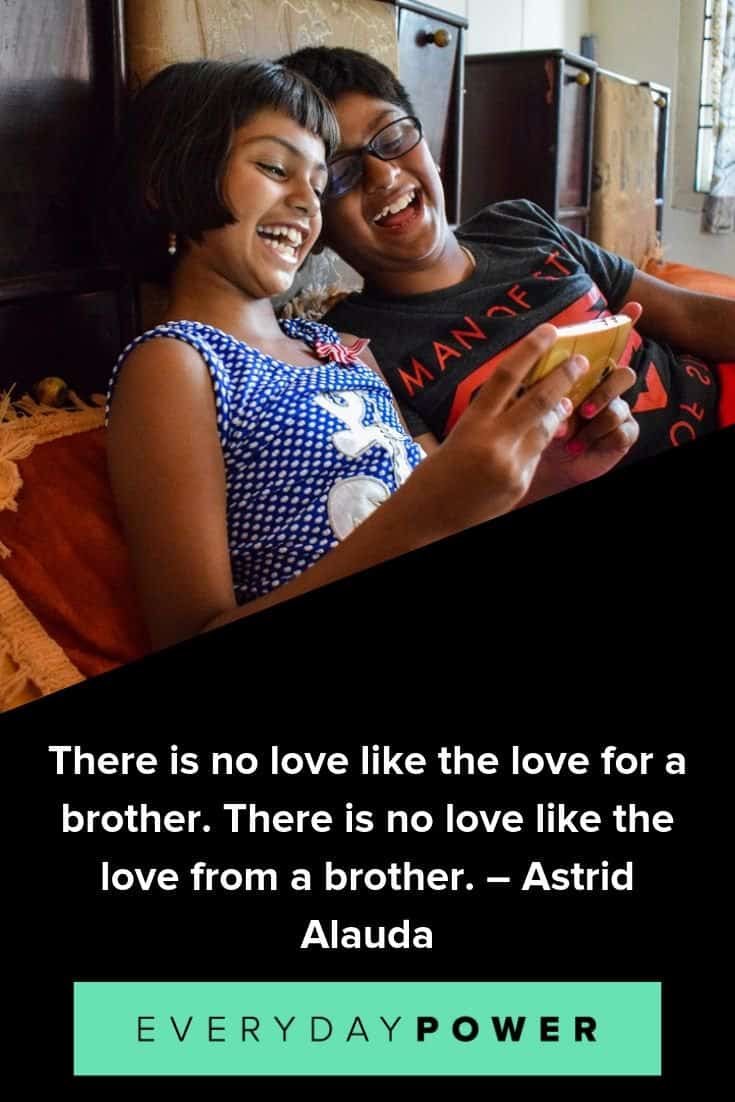 34. "He is my most beloved friend and my bitterest rival, my confidant and my betrayer, my sustainer and my dependent, and scariest of all, my equal." – Gregg Levoy

35. "We may look old and wish to the outside world, but to each other, we are still in junior school." – Charlotte Gray

36. "We hang out, we help one another, we tell one another our worst fears and biggest secrets, and then just like real sisters, we listen and don't judge." – Adriana Trigiani
37. "Siblings are branches of a tree some stay close some go in different directions they fruit, grow bigger till they die and fall." – The Omani Shed

38. "We will find true peace only when we learn to see that there is no difference among ourselves, realize that we are different manifestations of one, and we love each other as brother and sister." ― Debasish Mridha

39. "Sisterly love is, of all sentiments, the most abstract. Nature does not grant it any functions." – Ugo Betti

40. "Brothers don't necessarily have to say anything to each other – they can sit in a room and be together and just be completely comfortable with each other." – Leonardo DiCaprio
Don't forget to also read these sisterhood quotes to share with your tribe
More brother and sister quotes to celebrate an enduring relationship
41. "I think people that have a brother or sister don't realize how lucky they are. Sure, they fight a lot, but to know that there's always somebody there, somebody that's family." – Trey Parker

42. "I have siblings. And there are certain things I know that I can push their buttons. And they know they have certain things where they can push mine." – Catherine Zeta-Jones

43. "Half the time when brothers wrestle, it's just an excuse to hug each other." – James Patterson

44. "A sister is someone who owns part of what you own: a house, perhaps, or a less tangible legacy, like memories of your childhood and the experience of your family." – Deborah Tannen

45. "Brothers and sisters separated by distance joined by love." – Chuck Danes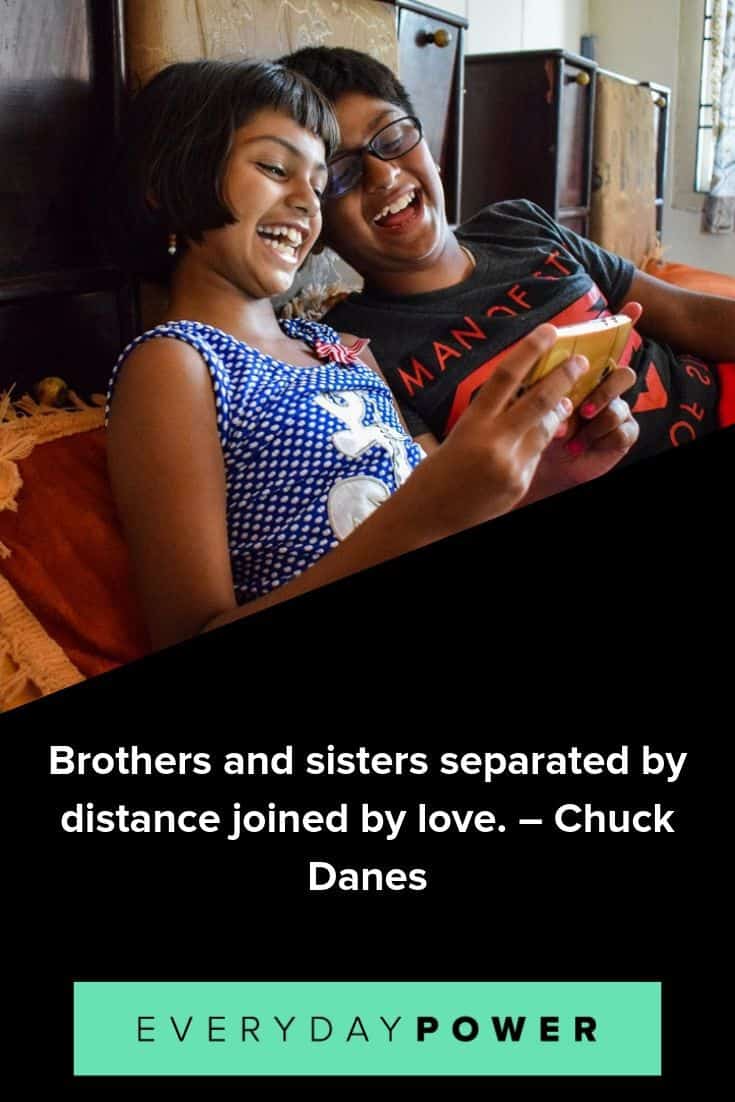 46. "What sets sisters apart from brothers and also from friends is a very intimate mashing of heart, soul and the mystical cords of memory." – Carol Saline
47. "Look how good and how pleasant it is when brothers live together in unity!" – Psalm 133:1

48. "One can be a brother only in something. Where there is no tie that binds men, men are not united but merely lined up." – Antoine de Saint-Exupery

49. "Sometimes being a brother is even better than being a superhero." – Marc Brown

50. "We came into the world like brother and brother; And now let's go hand in hand, not one before another." – William Shakespeare
Which of these brother and sister quotes was your favorite?
The relationship with your siblings is one of the most important in life. Though things may change as you grow older, never let time weaken this unconditional love.
You have a special bond with your siblings because you share the same family, the same home and the same childhood.
Even as you move on with each other's lives, your brothers and sisters remain a reminder of those happy and carefree days. Hopefully, the quotes above have inspired you to nourish that bond.
Did you enjoy these brother and sister quotes? Which of the quotes was your favorite? Tell us in the comment section below. We would love to hear all about it.
May 5, 2019 7:45 AM EST
Be the first one to leave a comment!