25 Kate Spade Quotes on Style and Curiosity
August 10, 2022 5:00 AM EST
Listen to article
4 minutes
These Kate Spade fashion quotes will boost your confidence and self-esteem.
Kate Spade was a fashion designer and the founder of the beautiful brand Kate Spade New York.
This collection of Kate Spade quotes highlights her visionary talent, eye for beauty, and unique perspective on life.
She was an ambitious entrepreneur with a successful company and a globally recognized brand.
These inspirational quotes from Kate Spade will motivate you to follow your own dreams and pursue your goals.
The luxury brand Kate Spade New York is mostly known for its handbags, but they offer a wide range of merchandise.
Other popular Kate Spade products include glasses, jewelry, bedding, wallpaper, perfumes, and more.
These Kate Spade quotes on style will give you a deeper understanding of her collection.
The next time you're going shopping, keep these quotes in mind and check out some items from her brand.
Don't forget to also check out these fashion quotes celebrating design and your favorite designers.
If you like this article, we suggest you explore our most popular quotes article, a list of short inspirational quotes for daily encouragement.
Read more related content on our inspirational quotes category page.
Kate Spade quotes that will motivate you to follow your own dreams
1. "I love beauty." ― Kate Spade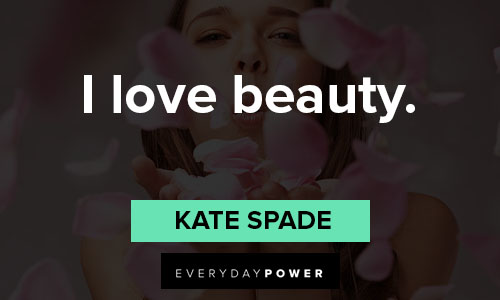 You will also enjoy our article on elephant quotes.
2. "She is quick and curious and playful and strong." ― Kate Spade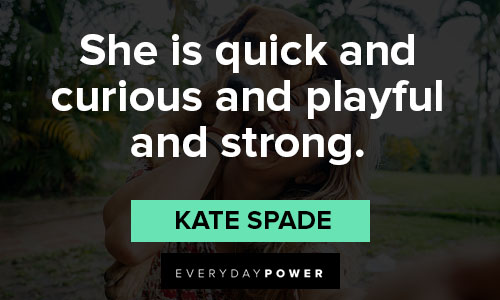 3. "You can never be overdressed or overeducated." ― Kate Spade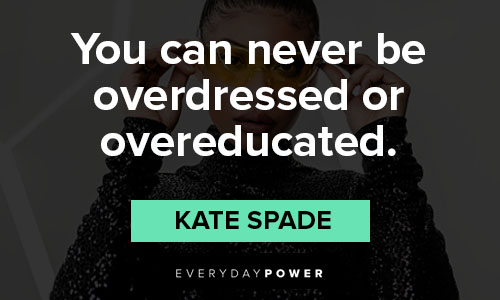 4. "I find color optimistic and enthusiastic, and I adore it." ― Kate Spade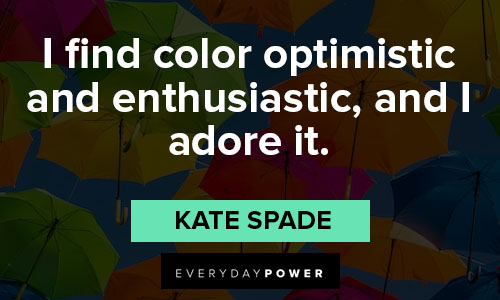 5. "Playing dress-up begins at age five and never truly ends." ― Kate Spade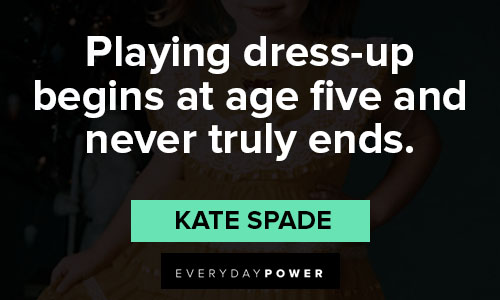 6. "She makes the day brighter, she leaves a little sparkle wherever she goes." ― Kate Spade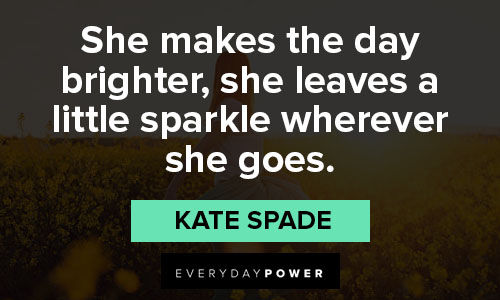 7. "If you're as honest and fair as you can be, not only in business but in life, things will work out." ― Kate Spade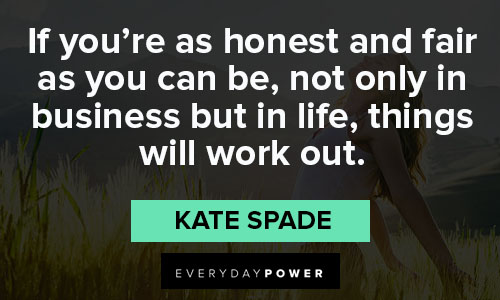 8. "I hope that people remember me not just as a good businesswoman but as a great friend – and a heck of a lot of fun." ― Kate Spade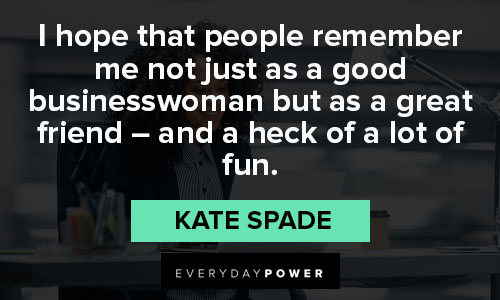 9. "When you're trying to be a parent and a businessperson at the same time, that is the most stressful thing you could do." ― Kate Spade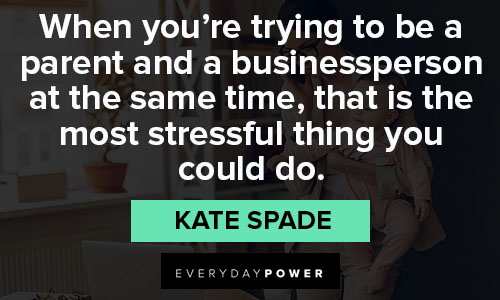 10. "I don't think that fashion is something people encourage in a lot of schools, but I think they should — it's all about personal expression." ― Kate Spade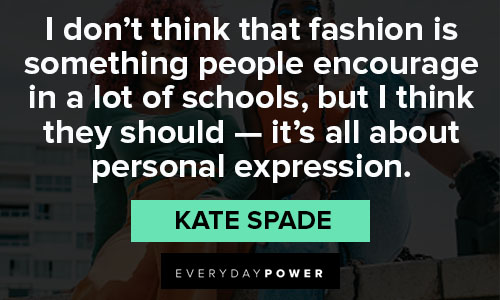 Kate Spade quotes to boost your confidence
11. "I do things that I actually love and understand." ― Kate Spade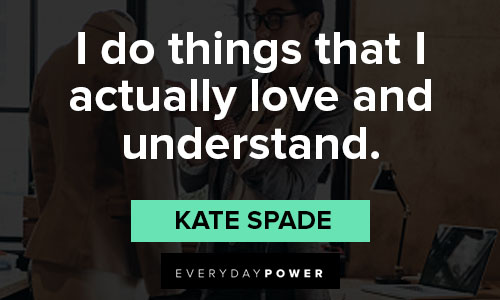 12. "Think, travel, celebrate, charm, decorate, dress, live – colorfully." ― Kate Spade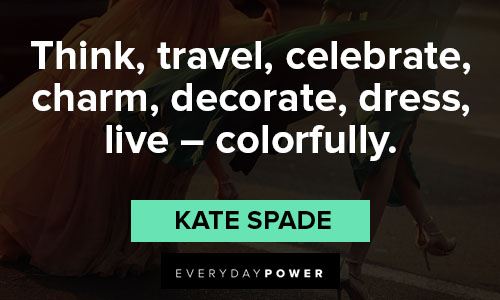 13. "Everyone loves to get a letter. I love sending them. I love getting them." ― Kate Spade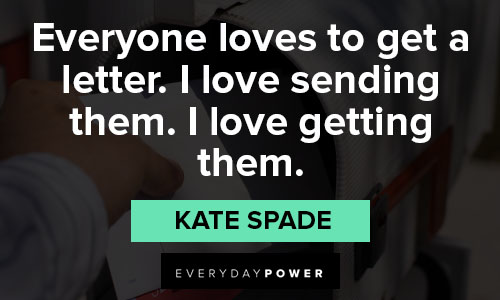 14. "The best thing about being a business owner is that you get to run your own schedule." ― Kate Spade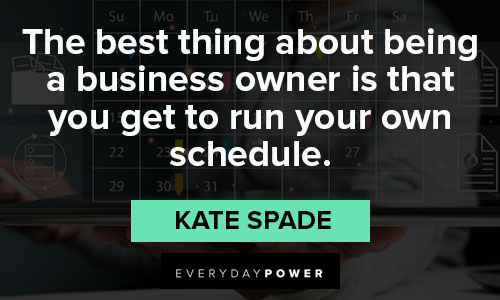 15. "I buy so much fake jewelry, it's funny. It's not real. I don't wear real diamonds or anything." ― Kate Spade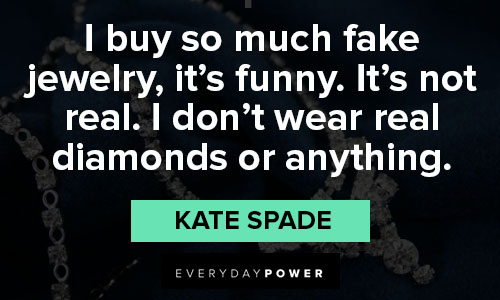 16. "Style is the sum of so many things – beginning with a sense of who you are and having self-confidence." ― Kate Spade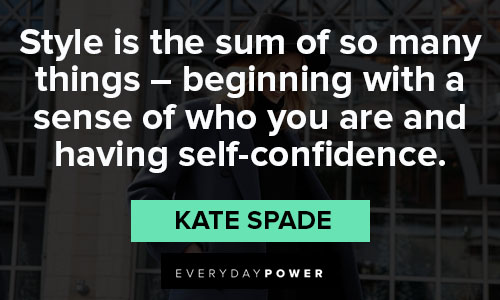 17. "Being a mother adds an enormous amount of stress to your life. You need to make sure you're there for everything." ― Kate Spade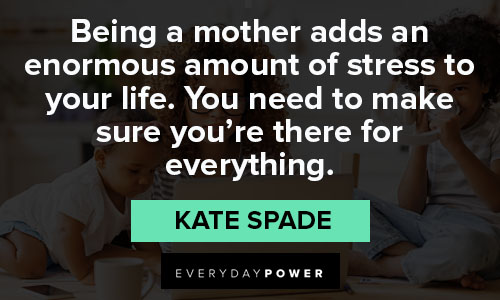 18. "I like my stationery to be funnier, like, 'Here's my note, and it's an elephant with a lady smoking a cigarette on top.'" ― Kate Spade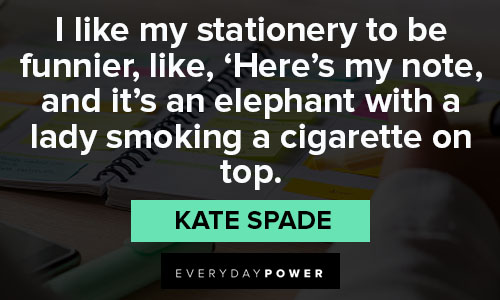 19. "I was preppy, then suddenly switched around age 14. I asked my mother to go to this vintage store, and she let me buy a leopard swing coat, pink cigarette pants, and lime-green gloves." ― Kate Spade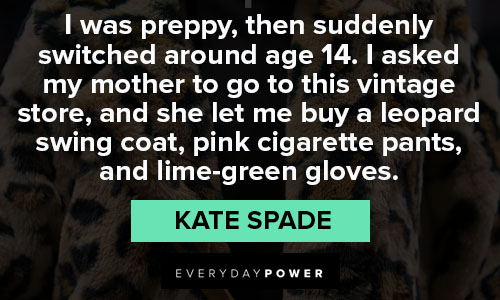 20. "Our family has dinner together every night – you can tell that my daughter wants to run. After dinner, I go up to my room and immediately put on my pajamas. I mean, immediately. I read some things that I haven't read yet, and I jump into bed." ― Kate Spade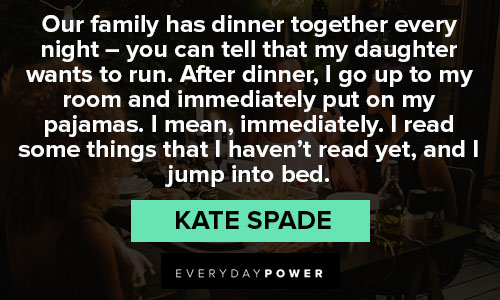 Kate Spade quotes that will make your day
21. "Surround yourself with the things you love. Discard the rest." ― Kate Spade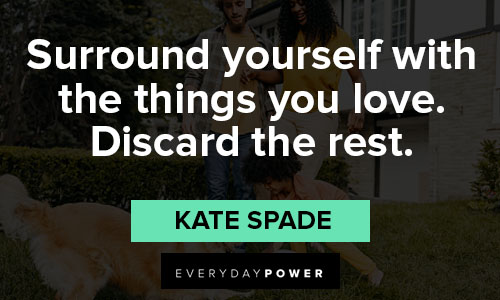 22. "I love lamps. I can't stand overhead lighting. I have to have everything on a dimmer." ― Kate Spade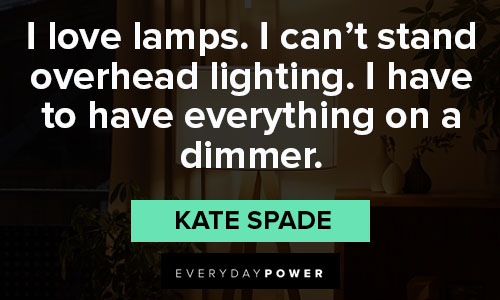 23. "Students were pulled aside to spend more time in art class, and I wasn't one of them." ― Kate Spade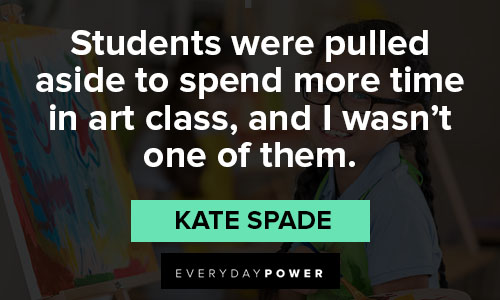 24. "Starting at 11, I was a movie-theater popcorn girl, a babysitter, a sales clerk – in the Midwest, they start them early!" ― Kate Spade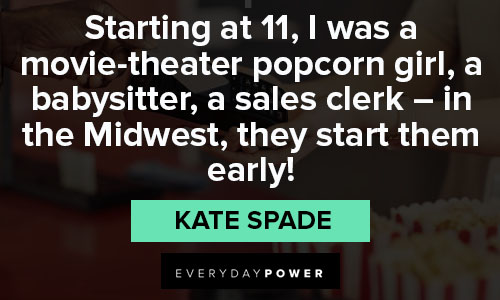 25. "I think the details and the quality are so important that it has to have an emotional tug. Even if it's the simplest shoe, it has to have something that says, 'Oh, I have to have you.'" ― Kate Spade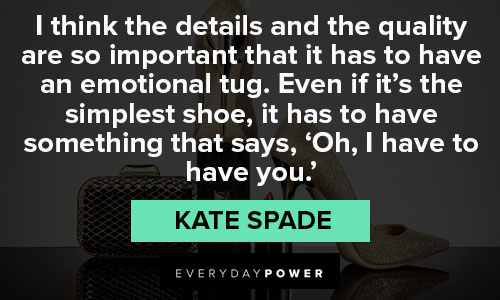 What are your favorite Kate Spade quotes on fashion and style?
Kate Spade was a creative genius who was able to bring so much beauty to the world during her time on earth.
Whether you're interested in Kate Spade wallpaper or handbags, there's no denying the luxurious quality of merchandise from Kate Spade New York.
If you're interested in fashion and the latest style trends, you'll love this collection of the best Kate Spade quotes.
As a successful fashion designer, Kate Spade accomplished so much in her life.
Do you have ambitious goals or entrepreneurial dreams?
These inspirational quotes will guide you on your journey to greatness.
Whenever you need encouragement or motivation, read these Kate Spade sayings and trust that you are capable of amazing things.
What are your favorite Kate Spade fashion quotes and sayings that inspire you to live boldly?
Let us know in the comment section below.