Quotes on Second Chances in Life, Love and More
These second chances quotes will inspire you to take life by the horns and give that goal another go.
Tell us your favorite second-chance quotes in the comment section below.
Humans are… well, only human.
We may not get everything right the first time, second, third time, or even the hundredth time.
But that's why having a second chance at something is important.
What are the benefits of reading these quotes about second chances?
All of us have made mistakes in our lives, but if all were lost, we'd have no motivation to try anything again.
While you are never required to give a person another chance, just think of the times when life or other people gave you a second chance.
These second chance quotes will help you:
Gain a new perspective on your mistakes
Decide when to give others the grace of a second chance
Understand more about we learn and grow
Perhaps these second chances quotes will motivate you to keep trying at that goal you have, the love you lost, or the opportunities you missed out on.
Or maybe they will inspire you to move on to the next stage in your life!
Quotes on second chances in life
1. "If you ever get a second chance in life for something, you've got to go all the way." — Lance Armstrong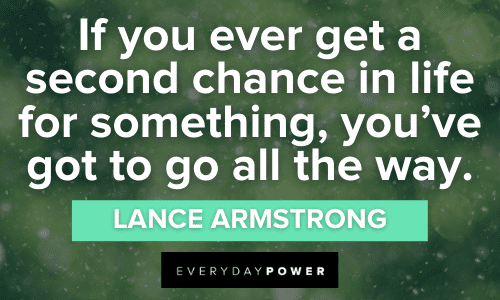 2. "God always offers us a second chance in life." — Paulo Coelho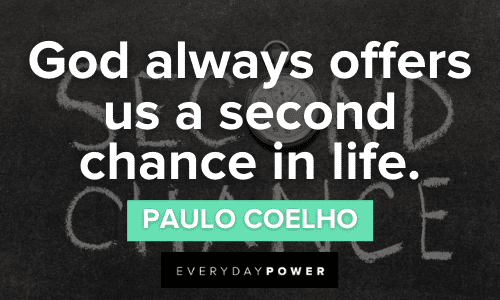 3. "If you are still breathing, you have a second chance." — Oprah Winfrey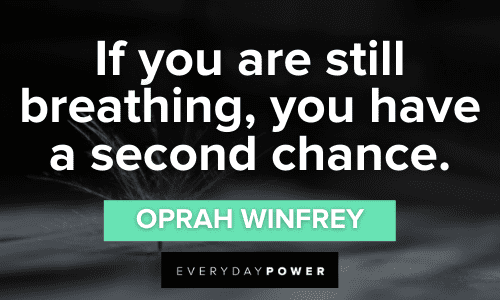 4. "All discarded lovers should be given a second chance, but with somebody else." — Mae West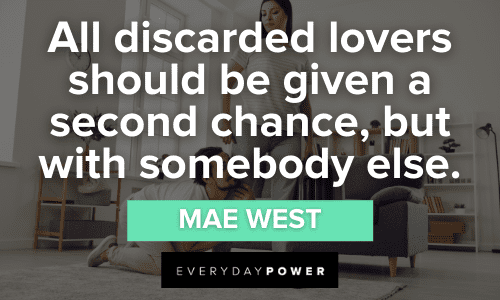 5. "We all have big changes in our lives that are more or less a second chance." — Harrison Ford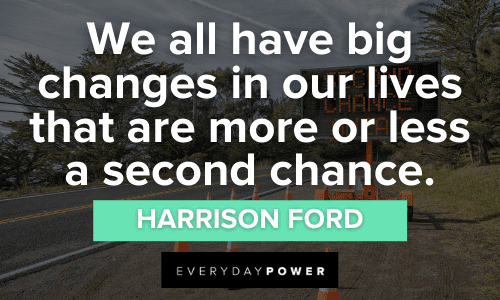 6. "I believe in second chances, but I don't believe in third or fourth chances." — Selena Gomez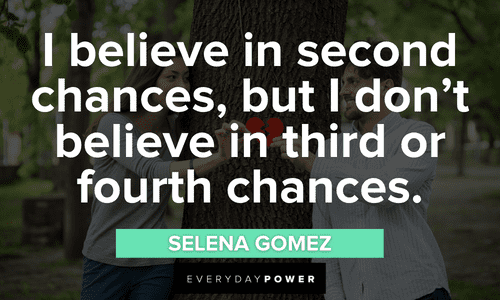 7. "That is what life is about. We do not get redos, but we do get second chances." — Jeffrey Fry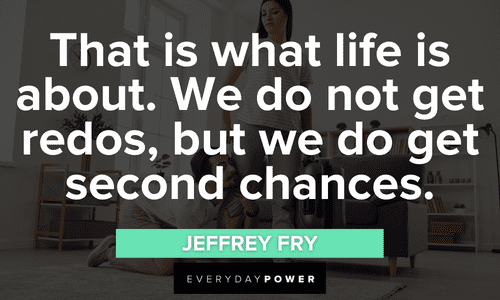 8. "When God gives you a second chance, it's not something you take for granted." — Lane Kiffin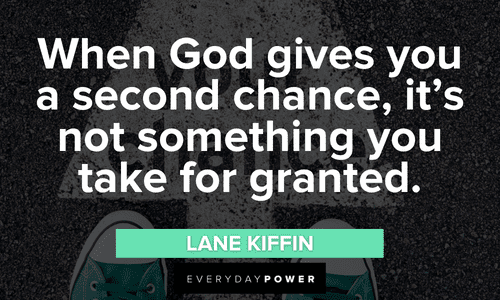 9. "We all deserve second chances, but not for the same mistake." — Thabiso Owethu Xabanisa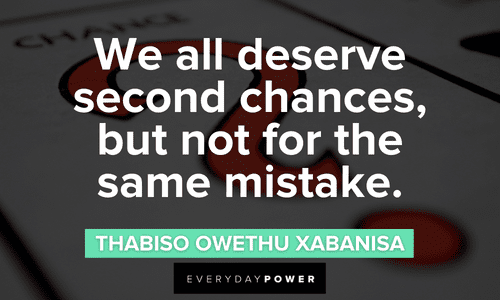 10. "Every second chance I have witnessed or experienced is a momentary miracle." – Holly Elissa Bruno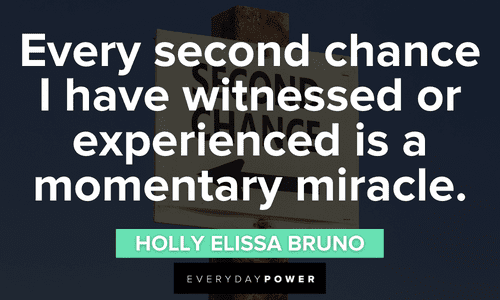 Second chances quotes about love
11. "In the shaping of a life, chance and the ability to respond to chance are everything." – Eric Hoffer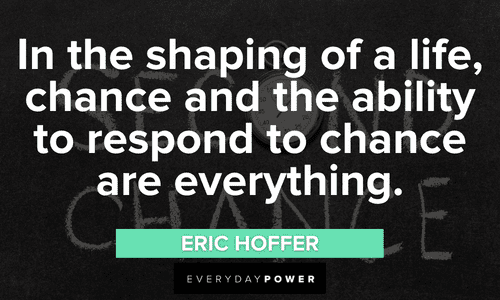 12. "I want the world to know that everybody deserves a second chance." – El Debarge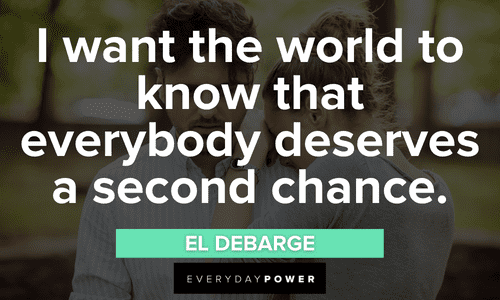 13. "Take forgiveness slowly. Don't blame yourself for being slow. Peace will come." – Yoko Ono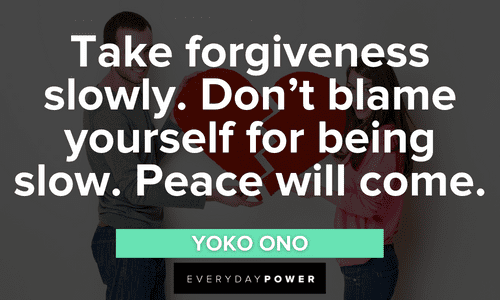 14. "A man deserves a second chance, but keep an eye on him." – John Wayne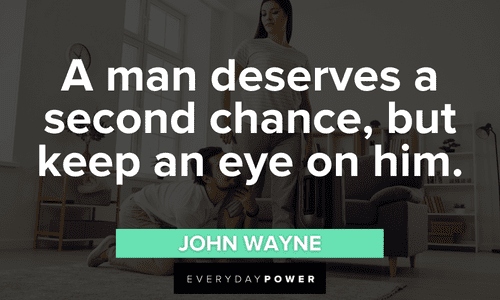 15. "To understand everything is to forgive everything." – Osho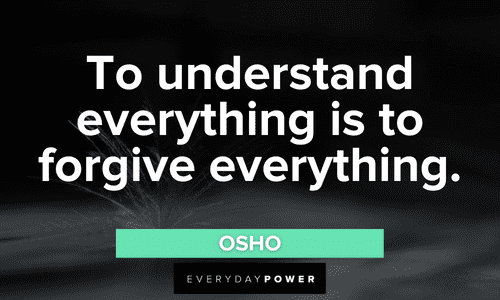 16. "Every moment of your life is a second chance." – Rick Price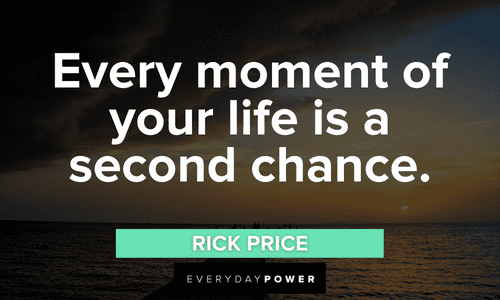 17. "Everyone needs a second chance. Some of us need a third or fourth chance." – Catherine DePasquale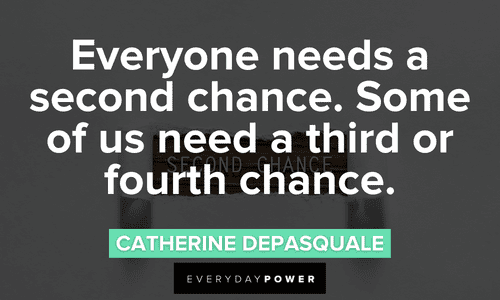 18. "Second chances appear like a gift left at our doorstep." – Holly Elissa Bruno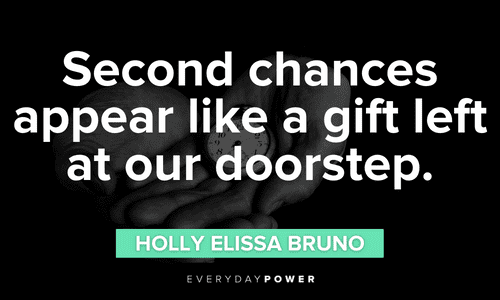 19. "No one can claim perfection, that's why everyone needs a second chance ad infinitum." – Bangambiki Habyarimana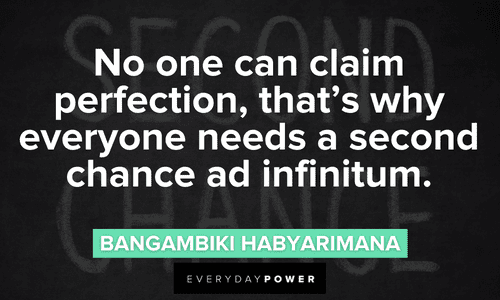 Quotes on second chances and opportunities
20. "Success lies in one's ability to learn from mistakes." ― Dr. Prem Jagyasi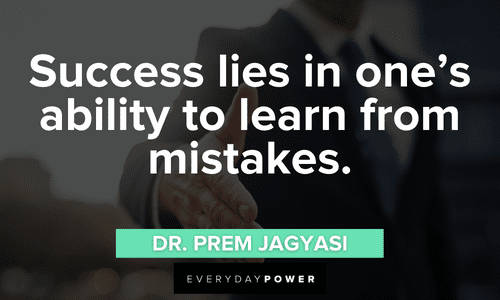 21. "Never confuse a single defeat with a final defeat." — F. Scott Fitzgerald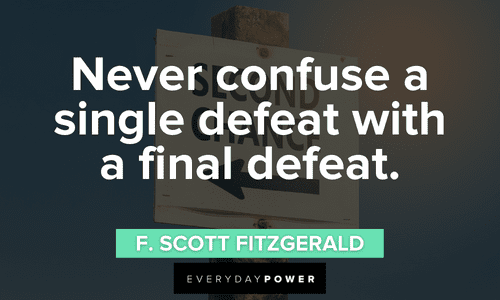 22. "A second chance doesn't mean anything if you didn't learn from your first." — Anurag Prakash Ray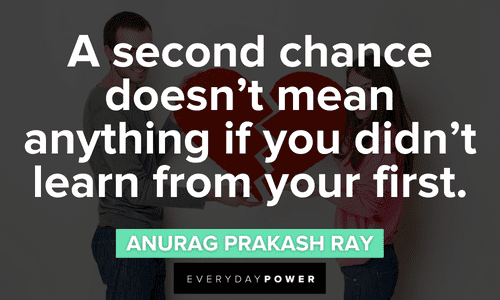 23. "Having a second chance makes you want to work even harder." — Tia Mowry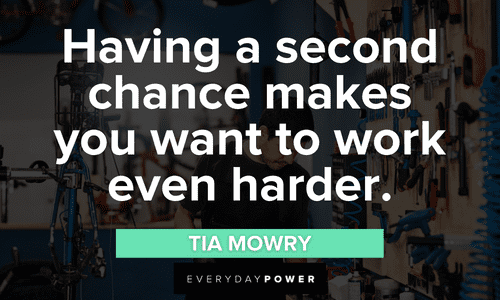 24. "Opportunities multiply as they are seized." — Sun Tzu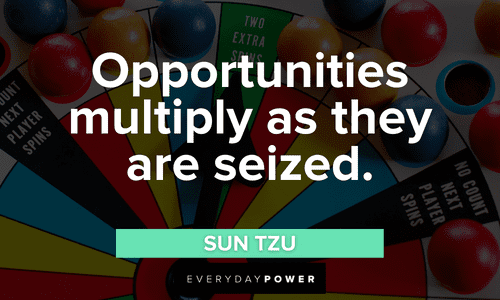 25. "I was dying but suddenly had a second chance at living." – Shelley Fabares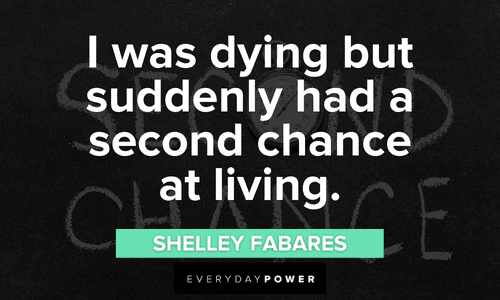 26. "I mean, we all need a second chance sometimes." – Joel Osteen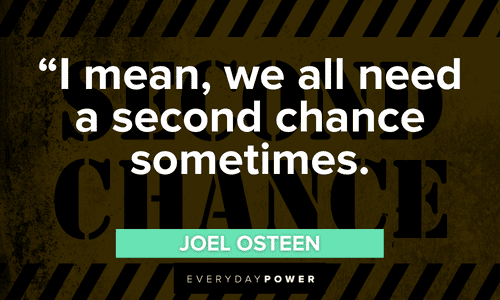 27. "We all make mistakes, everybody should be given a second chance." — Lailah Gifty Akita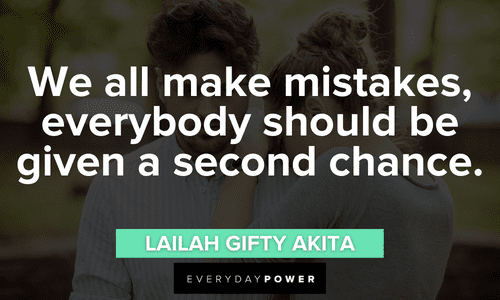 28. "If somebody is gracious enough to give me a second chance, I won't need a third." — Pete Rose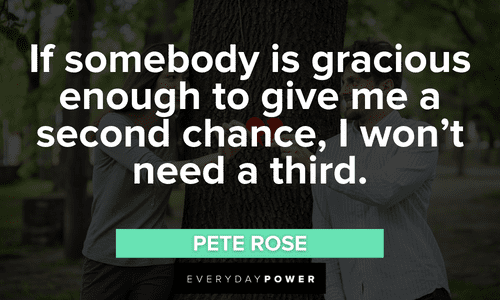 29. "Sometimes goodbye is a second chance." — Shinedown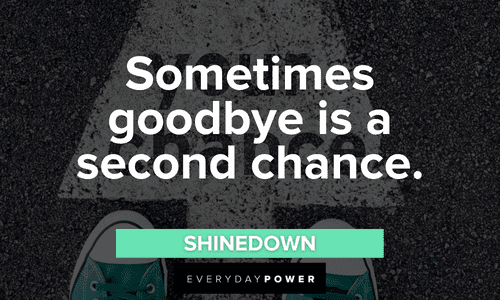 30. "I did then what I knew how to do. Now that I know better, I do better." — Maya Angelou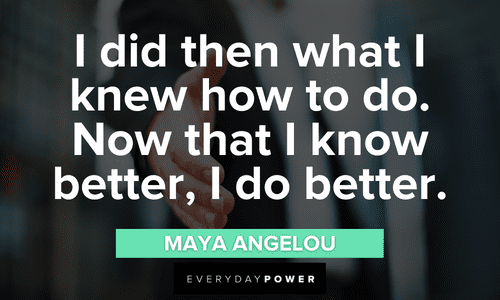 If you're enjoying these quotes, read our collection of Maya Angelou quotes celebrating success, love & life.
Second chances quotes that will inspire you to take life by the horns
31. "Miracles were just second chances if you really thought about it — second chances when all hope was lost." — Kaya Mclaren
32. "Choosing to be open to as many second chances as your heart can bear changes everything." – Holly Elissa Bruno
33. "Not everyone gets a second chance. If you do get one, take advantage of it because it's a gift, and it may be something better than you had before!" — Nishan Panwar
34. "This has been my life. I have found it worth living, and would gladly live it again if the second chance were offered me." — Burtrand Russell
35. "If there's even a slight chance at getting something that will make you happy, risk it. Life's too short and happiness is too rare." — A. R. Lucas
36. "I will forever believe in second chances and forgiveness, because if it weren't for those two things I would and should be dead." — Dedrick D. L. Pitter
37. "Because when you finally find the one against all odds, you give him your best and let the magic of the world carry the rest." ― E. Mellyberry
38. "Everyone has a past. I have mine, you have yours, and we have ours. No matter what it takes, I will prove to you that our past, no matter how hurtful, didn't ruin the future we could have." — Melissa Foster
39. "They say everyone needs a second chance. I am willing to give you one provided you are ready to accept it." — Nidhi Saini
40. "People do make mistakes and I think they should be punished. But they should be forgiven and given the opportunity for a second chance. We are human beings." — David Millar
Second chances quotes on learning from the past
41. "Once you stop being in love with someone completely, that's when you should check out of the relationship…But when you fall in love with someone a second time it means that you're seeing them with a fresh pair of eyes. You're re-remembering all the things that turned you on to them in the first place." — Madison Moore
42. "Because fate has a funny way of mending things back together. I mean you are here and I am here, and we'll find each other again, that is, if that's the way it's supposed to be. so if you believe I believe." — R.M Drake
If you're enjoying these quotes, make sure to read our collection of fate quotes that will remind you to take each day one at a time.
43. "I've learned that making a 'living' is not the same thing as making a life. I've learned that life sometimes gives you a second chance. I've learned that you shouldn't go through life with a catcher's mitt on both hands; you need to be able to throw some things back." — Maya Angelou
44. "Let tomorrow be your second chance to prove that you are better than today and yesterday." — Ritu Ghatourey
45. "A second chance doesn't mean you're in the clear. In many ways, it is the more difficult thing. Because a second chance means that you have to try harder. You must rise to the challenge without the blind optimism of ignorance." — Ling Ma
46. "If you have made mistakes, even serious ones, there is always another chance for you. What we call failure is not the falling down but the staying down." — Mary Pickford
47. "Sometimes life gives you a second chance, or even two! Not always, but sometimes. It's what you do with those second chances that counts." — Dave Wilson
48. "Though no one can go back and make a brand new start, anyone can start from now and make a brand new ending." — Carl Bard
49. "Whatever problems we had back then don't exist anymore. It's why we have this second chance, and we can't throw it away." — Michelle Maddow
50. "There is no going back in life, no return, no second chance. I cannot call back the spoken word or the accomplished deed." ― Daphne Du Maurier
More second chances quotes and sayings
51. "I've been with my husband for seven years. With my husband and my son, I get my second chance in life to be loved and be happy." — Tonya Harding
If you're enjoying these quotes, make sure to read our collection of husband quotes to make him feel appreciated.
52. "Thank God you are still alive for many have died and are dying as I speak. You still have the opportunity to change and make things right whilst those that have died wish for that second chance." — Alexander Serebryakov
53. "But if something was really important, fate made sure it somehow came back to you and gave you another chance… Events conspired to bring you back to where you'd been. It was what you did then that made all the difference: it was all about potential." — Sarah Dessen
54. "Sometimes you don't get a second chance. You need to take a chance when you have the opportunity. Always." – Gavin MacLeod
55. "First impression must be impressive because there's not a second chance for making a first impression." – Vincent Okay Nwachukwu
56. "If love finds you again, don't fight it. Don't let grief hold you back. Love is a risk. There are no guarantees. But, in the end, it is always, always worth it." – J.L. Berg
57. "There is always at least one person wondering if someone who has never loved them still loves them." – Mokokoma Mokhonoana
58. "I can't tell whether a revived man would appreciate his second chance or yearn for the stolen serenity." – Ahmed Mostafa
59. "If you fail today there is always tomorrow to try again. You always have that second chance tomorrow." – Avina Celeste
60. "Life is giving us a second chance to right our wrongs. But we can't if we don't start with the truth." – Zøe Haslie
Second chances quotes for relationships
61. "Take chances, make mistakes. That's how you grow. Pain nourishes your courage. You have to fail in order to practice being brave." — Mary Tyler Moore
62. "I know people will call me stupid for this. But Love, I can still see the truth in your lonely eyes. I can see the long lost stars in the corner of your eyes – you know that the stars are my weakness. I see the boundless hopes of wanting me back into your life and that's why I'm coming back to you." — Martin Manuel
63. "Sometimes things make more sense the second time around. People change, you change and the universe changes, if we keep ourselves confined to first chances only, we will truly miss out on some of the most beautiful things in life." — Rania Naim
64. "Did you ever wish that you had a second chance to meet someone again for the first time?" – Faraaz Kazi
65. "To take that second chance, we need to notice where we are and be open to the possibility of growing." – Holly Elissa Bruno
66. "Never be afraid to start over, it's a new chance to rebuild what you want. You're fortunate if you're given a second chance." – Malika Nura
67. "You don't get a second chance to get it right the first time."― Howard Dwayne Livingston
68. "Second chances do come your way. Like trains, they arrive and depart regularly. Recognizing the ones that matter is the trick." — Jill A. Davis
69. "Sometimes in life you're not always given a second chance, but if you do, take advantage of it, and go out with a bang!" — Aquaria
70. "There's nothing as exciting as a comeback – seeing someone with dreams, watching them fail, and then getting a second chance." — Rachel Griffiths
If you're enjoying these quotes, make sure to read our collection of comeback quotes to help you bounce back.
Quotes About Second Chances in Life
71. "Every second a seeker can start over, For his life's mistakes Are initial drafts And not the final version."- Sri Chinmoy
72. "Life always offers us a second chance. It's called tomorrow. So don't give up against adverse circumstances and keep fighting." – Anurag Prakash Ray
73. "We can't run out of second chances…only time." – Robin Jones Gunn
74. "Every second we have a second chance to do something we haven't done yet. That's why it's called a second and not a first." – Robert J. Braathe
75. "I don't buy the idea of a second chance. With hope, we make a lot of chances." – Toba Beta
76. "When you are on your last straw, that means you have one more opportunity, use it to not give up doing good." ― Hannah Garrison
77. "Don't think there are no second chances. Life always offers you a second chance… It's called "tomorrow'." — Nicholas Sparks
78. "Sometimes you were handed a second chance, and all you had to do was close your eyes and step into it."- Jean Oram
79. "It has been said that sometimes the greatest hope in our lives is just a second chance to do what we should have done right in the first place." – Richard Paul Evans
80. "There is always a chance for a new beginning." – Catherine DePasquale
Making the Most out of Second Chances Quotes
81. "In case you never get a second chance? Don't be afraid!" – C. JoyBell C.
82. "It's hard to remember that this day will never come again. That the time is now and the place is here and that there are no second chances at a single moment." – Jeanette Winterson
83. "Children are our second chance to have a great parent-child relationship." – Laura Schlessinger
84. "It's so different when you get a second chance to come back out and do your thing – you're more humble, you appreciate it more, you know what not to do this second time around." – Da Brat
85. "If children who commit crimes are not given the opportunity of a second chance, they may die in prison for acts made before having developed the cognitive and emotional skills needed to make informed and smart decisions and choices." – Alan K. Simpson
86. "There are times when you should never give a cheater a second chance, but there also are exceptions." – Ruth Westheimer
87. "I'm going to write a book, continue acting, continue motivational speaking and just share with people who I am and what I've learned in my second chance of life and pass it on to people in their first chance of life." – J. R. Martinez
88. "There are few things as powerful as the joy of someone who got a second chance and found their purpose." – Kim Reynolds
89. "We will never, ever weaken our resolve to be tough on the worst offenders. But we will responsibly take steps to assist our friends and neighbors who deserve a second chance to contribute to our society." – Michelle Lujan Grisham
90. "Live as if you were living a second time, and as though you had acted wrongly the first time." – Viktor E. Frankl
Second chance quotes on why getting it right the first time is better
91. "Fiction gives us the second chances that life denies us." – Paul Theroux
92. "Sometimes there is no next time, no time-outs, no second chances. Sometimes it's now or never." – Alan Bennett
93. "Opportunities are like sunrises. If you wait too long, you miss them." – William Arthur Ward
94. "There are no second chances in life, except to feel remorse." – Carlos Ruiz Zafon
95. "No second chance?" A wry smile twisted Carrick's lips. "There might have been, had I not waited so long to take it." – Nora Roberts
96. "There's no second chance on stage, and I was trained to make the most of my first chance." – Kate Smith
97. "Sometimes in life, there are no second chances." – L.Joe
98. "I had my chance.' He said it, retiring from a lifetime of wanting. 'I had my chance, and sometimes in life, there are no second chances. You look at what you have, not what you miss, and you move forward." – Jamie Ford
99. "We have this one life to offer; there is no second chance." – Jen Hatmaker
100. "No second chances in the land of a thousand dances, the valley of ten million insanities." – Ry Cooder
Quotes about second chances and forgiveness
101. "We must develop and maintain the capacity to forgive. He who is devoid of the power to forgive is devoid of the power to love." – Martin Luther King Jr.
102. "The practice of forgiveness is our most important contribution to the healing of the world."― Marianne Williamson
103. "The weak can never forgive. Forgiveness is the attribute of the strong."
― Mahatma Gandhi
104. "A broken friendship that is mended through forgiveness can be even stronger than it once was."― Stephen Richards
105. "To err is human, to forgive, divine."― Alexander Pope
106. "Forgiveness means it finally becomes unimportant that you hit back."― Anne Lamott
107. "Forgiveness is the fragrance that the violet sheds on the heel that has crushed it."― Mark Twain
108. "We don't forgive people because they deserve it. We forgive them because they need it—because we need it."― Bree Despain
109. "I have always found that mercy bears richer fruits than strict justice."― Abraham Lincoln
110. "Forgiveness is the only way to reverse the irreversible flow of history."― Hannah Arendt
What did you learn from these quotes on second chances?
Most of us improve ourselves because of the mistakes we've made in life.
If we are never given a second chance to prove ourselves, then in some ways, that makes life not worth living.
Sure, not everything has to be forgiven all the time.
But we can always learn to start new no matter what has happened until that point.
Throughout life, we should always reflect on our mistakes and think about ways we can improve.
Then we can use those experiences to embrace opportunities and make positive changes for the future.
These quotes on second chances will hopefully inspire you to take life by the horns and give that "thing" another go!
What's your biggest takeaway from these second chance quotes?
Do you have any other inspirational quotes to add?
Let us know in the comment section.
September 18, 2022 5:00 AM EST