Kylo Ren Quotes to Relive the Trilogy
Sometimes the bad guy isn't really that bad, as you'll see in these Kylo Ren quotes.
If you are a Star Wars fan, then you are familiar with Kylo Ren.
From the lineage of Darth Vader rises the new-era bad guy that must battle not only the good guys but also the good vs. evil inside of him.
Kylo Ren is the child of original Star Wars trilogy characters Han Solo and Princess Leia Organa Skywalker and is initially trained as a Jedi by his uncle Luke Skywalker.
He cements his legacy not only through his action scenes but also through his classic quotes.
Enjoy getting to know Kylo Ren in "The Force Awakens," "The Last Jedi," or "The Rise of Skywalker."
The trilogy gives Kylo Ren a chance to come full circle, and you will enjoy watching his character arc throughout these three movies.
Ren was created by Lawrence Kasdan, J. J. Abrams, and Michael Arndt. He first appeared in The Force Awakens (2015), where he is portrayed by actor Adam Driver.
Driver was praised for his performance and won the Saturn Award for Best Supporting Actor, becoming the first Star Wars actor since Alec Guinness to win the award.
If you enjoy this article, check out our most popular quote article, a list of short inspirational quotes for daily motivation.
If you want more motivational quotes, check out our motivational quotes category page.
Kylo Ren Quotes on good vs. evil
1. "I Feel It Again. The Pull To The Light." – Kylo Ren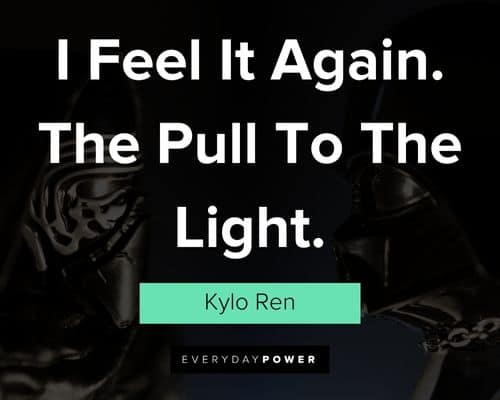 You will also enjoy our article on Luke Skywalker quotes.
2. "I've Given Everything To You…To The Dark Side." – Kylo Ren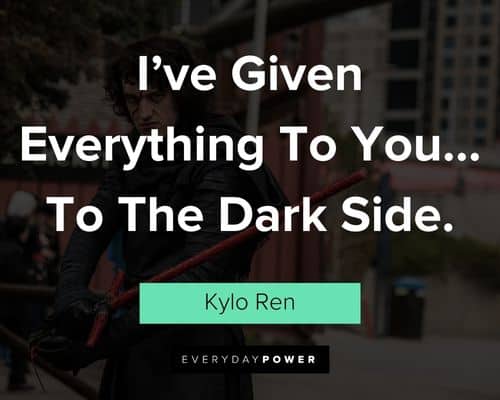 You will also enjoy our article on star wars quotes.
3. "I killed Han Solo. When the moment came, I didn't hesitate!" – Kylo Ren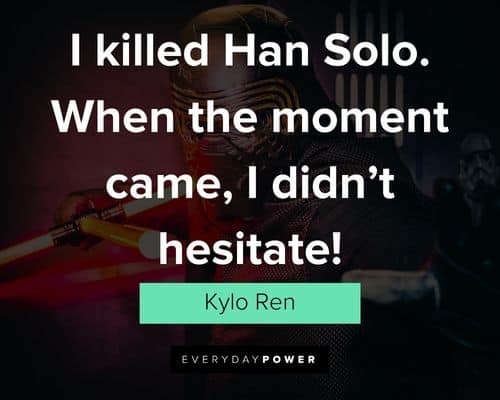 4. "By the grace of your training I will not be seduced." – Kylo Ren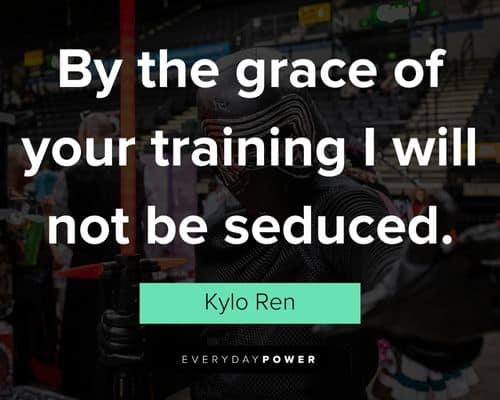 5. "Forgive me. I feel it again… The pull to the light… Supreme Leader senses it. Show me again… The power of the darkness… And I'll let nothing stand in our way… Show me… Grandfather… and I will finish… what you started." – Kylo Ren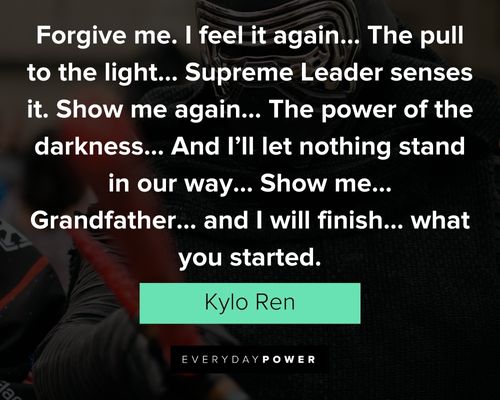 6. "The Supreme Leader is dead!" – Kylo Ren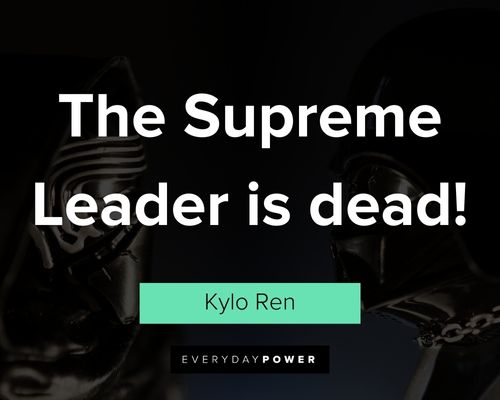 7. "I'll show you the Dark Side." – Kylo Ren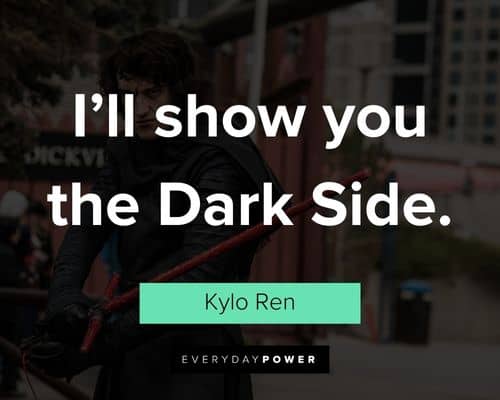 8. "I'm immune to the light." – Kylo Ren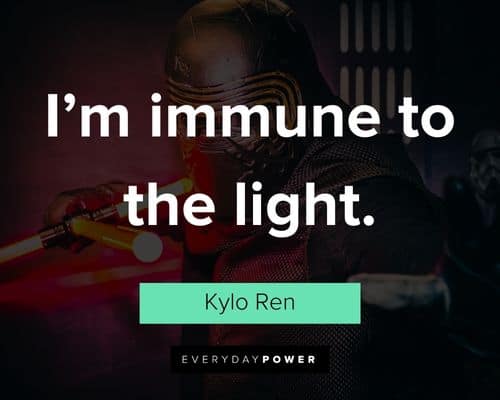 9. "Supreme Leader senses it. Show me again. The power of the darkness." – Kylo Ren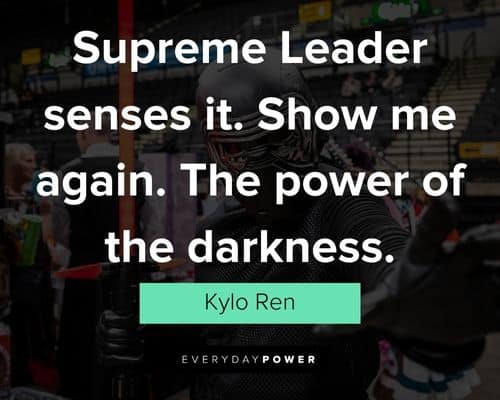 10. "I know what I have to do." – Kylo Ren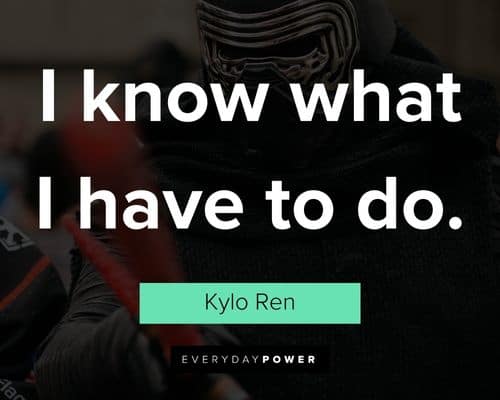 11. "I killed Snoke. I'll kill you." – Kylo Ren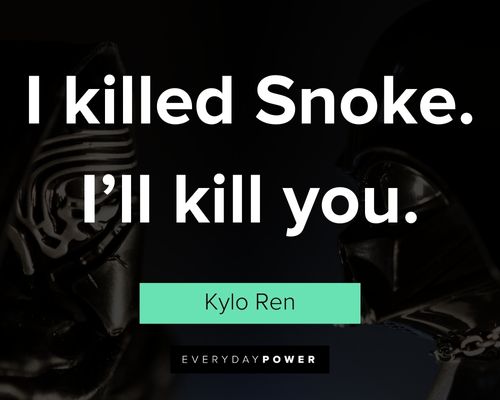 You will also enjoy our article on Master Oogway quotes.
Kylo Ren quotes talking to or referencing Rey
12. "Don't Be Afraid. I Feel It, Too." – Kylo Ren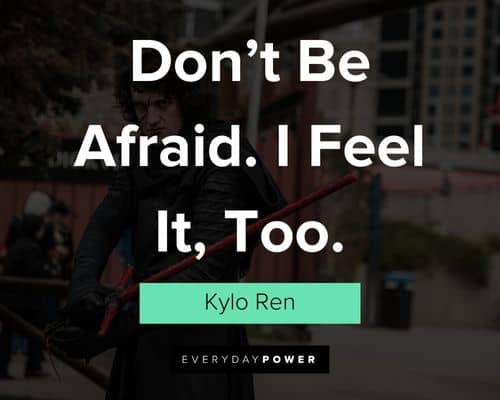 13. "You Can't Go Back To Her Now. Just Like I Can't." – Kylo Ren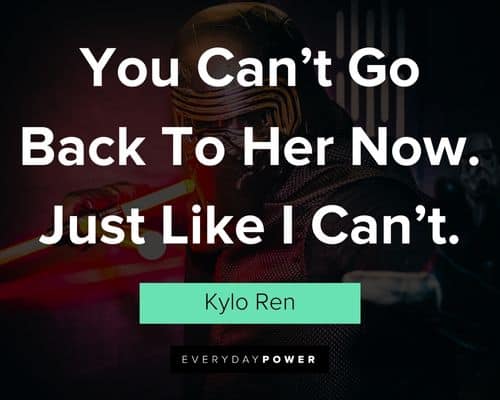 14. "You're Nothing. But Not To Me" – Kylo Ren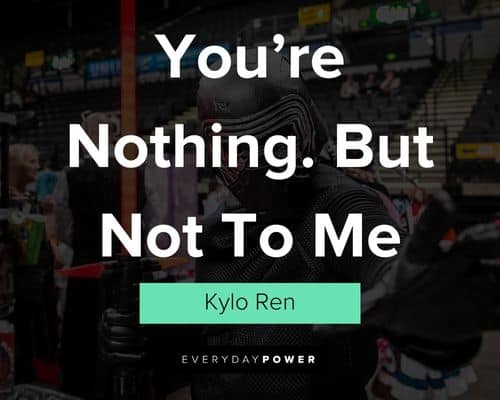 15. "You Can't Hide, Rey. Not From Me." – Kylo Ren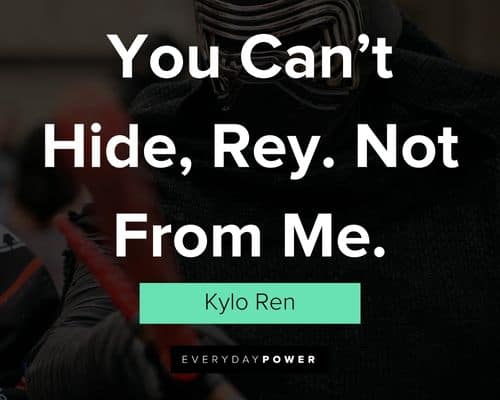 16. "Let The Past Die. Kill It If You Have To. It's The Only Way To Become What You Were Meant To Be." – Kylo Ren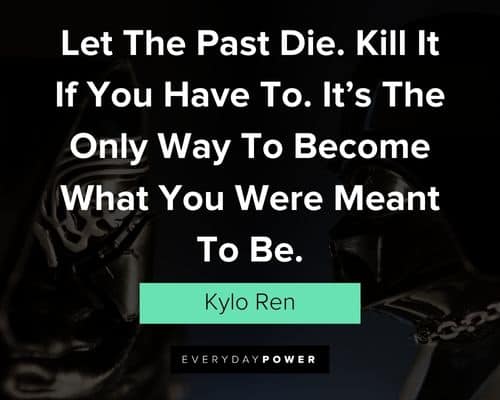 17. "You know I can take whatever I want?" – Kylo Ren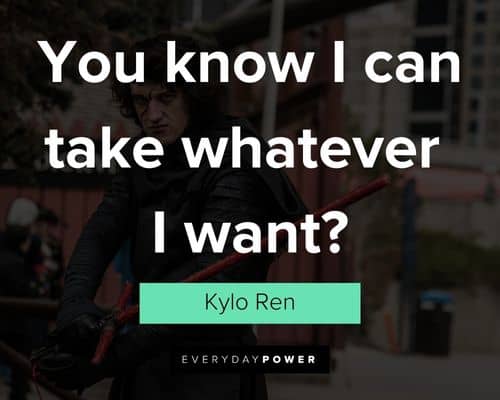 18. "Do you know the truth about your parents? Or have you always known? You've just hidden it away. Say it." – Kylo Ren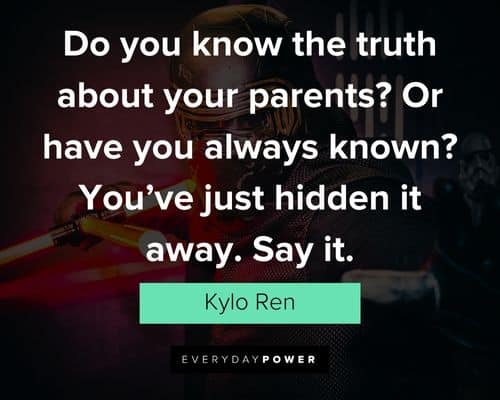 19. "They were filthy junk traders. Sold you off for drinking money. They're dead in a pauper's grave in the Jakku desert. You come from nothing." – Kylo Ren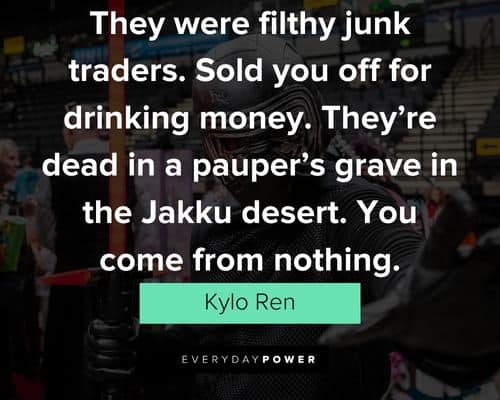 20. "I saw something too. I know when the time comes, you'll be the one to turn. You'll stand with me, Rey. I saw who your parents are." – Kylo Ren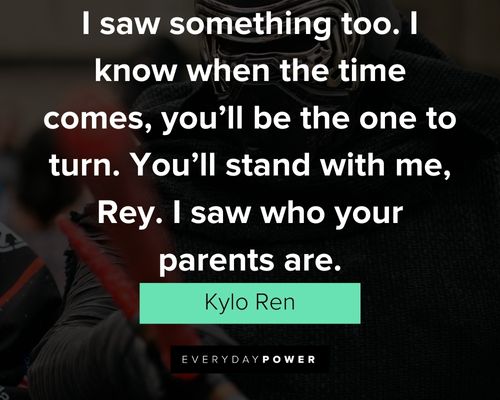 21. "You need a teacher. I can show you the ways of the Force." – Kylo Ren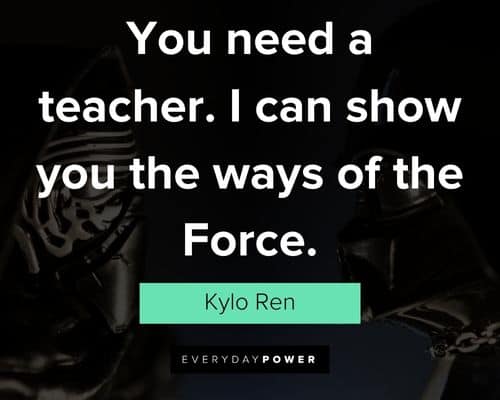 22. "You're so lonely… So afraid to leave… At night, desperate to sleep… You imagine an ocean… I see it… I see the island… And Han Solo… You feel like he's the father you never had. He would have disappointed you." – Kylo Ren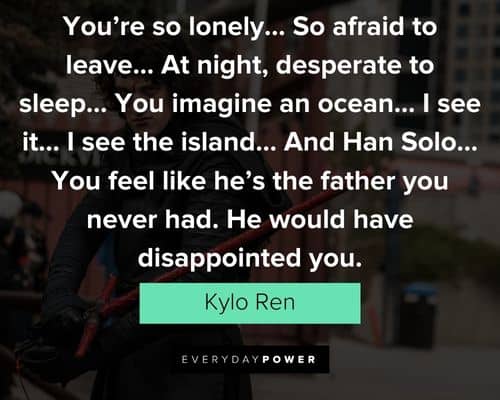 23. "Do you mean the murderers, traitors and thieves you call friends? You'll be relieved to hear I have no idea. [pause] You still want to kill me." – Kylo Ren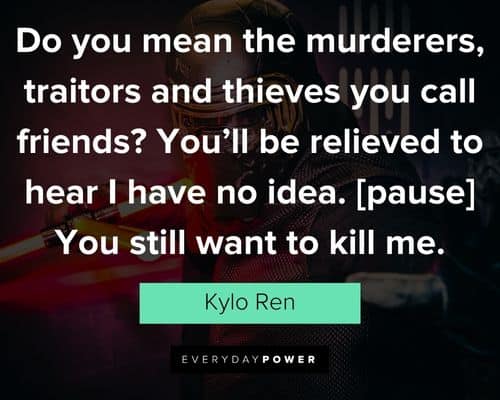 24. "It's carrying a section of a navigational chart. And we have the rest. Recovered from the archives of the Empire, but we need the last piece. And, somehow, you convinced the droid to show it to you. You. A scavenger." – Kylo Ren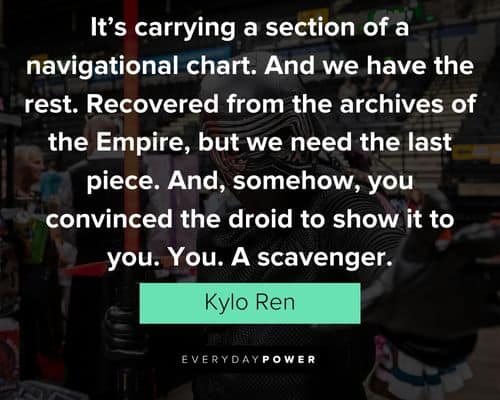 25. "It's just us now. Han Solo can't save you." – Kylo Ren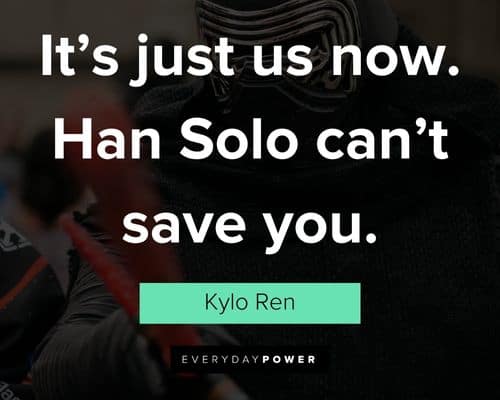 Did you enjoy these Kylo Ren quotes?
Now that you have had the chance to get to know Kylo Ren better, you can understand why he is such a compelling character.
Not only is his character great, but he also gets to interact with other great characters such as Luke Skywalker, Han Solo, Rey, Finn, Poe, and more.
When you get a chance to watch all of the movies, do you find yourself pulling for the bad guy sometimes?
As a bad guy, does Kylo Ren measure up to his predecessor, Darth Vader?
I think you will be pleasantly surprised by this character.
Once you start this trilogy, get ready to be so excited that you end up binge-watching all three episodes!
Did you enjoy these Kylo Ren quotes and lines?
Which of the quotes is your favorite?
Tell us in the comment section below.