50 Letter Board Quotes to Match Your Mood
These letter board quotes will help you find the next great saying for your letter board.
Old fashioned felt letter boards have taken the world by storm! If you've spent any time at all on Instagram, you're sure to have noticed images that use a felt board to communicate a message.
People are using felt boards for birth announcements, to show the age of their children, for business purposes, and even just to entertain.
But while these boards are fun to read, it can be tricky to keep coming up with the next great saying to use on yours. If you're feeling stuck, these letter board quotes may help.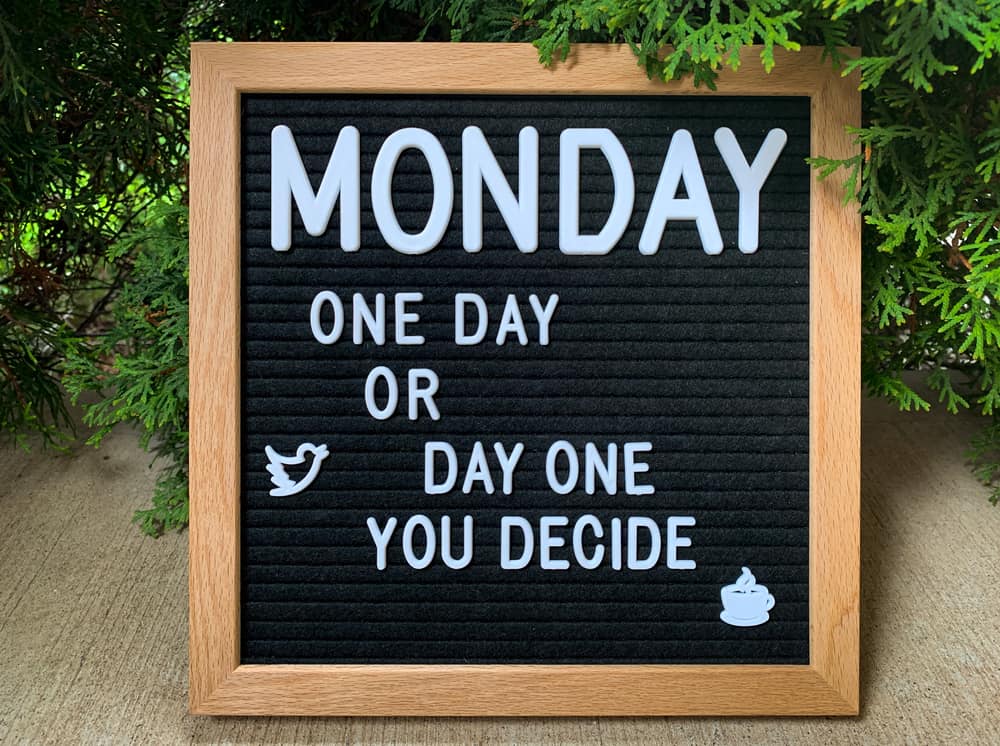 Lazy Day Letter Board Quotes
1. "Today I will be as useless as the "g" in lasagne."
2. "I can't believe I forgot to go to the gym today. That's 7 years in a row now."
3. "The first five days after the weekend are the hardest."
4. "The only marathon I run is 6 seasons on Netflix in a weekend."
5. "I really need a day between every day to recover from the day before and prepare for the day coming."
6. "That awkward moment when you're not sure if you have free time or you're forgetting everything you should be doing."
7. "That's enough todaying for today."
Motivational Letter Board Quotes
8. "The only time I set the bar low is for limbo." – Michael Scott
9. "If speaking kindly to plants helps them grow… imagine what being kind to humans can do."
10. "It's a good day to have a good day."
11. "Never let anyone treat you like a yellow starburst. You are a pink starburst."
12. "Wake up. Be kind. Be amazing. Be grateful. Repeat."
13. "Count your rainbows, not your storms."
#Adulting Letter Board Quotes
14. "My favorite childhood memory is not paying bills."
15. "Daily affirmation: Drink some coffee and just pretend you know what you're doing."
16. "One day you're young and the next you have a favorite grocery store."
17. "I wish everything was as easy as getting fat."
18. "I want to pause adulting and lower the difficulty."
19. "Being an adult is like folding a fitted sheet. No one really knows how."
20. "Pulled an all-dayer today. It was rough."
21. "Well… my mom was right about everything."
22. "I'm done adulting. Let's be mermaids."
23. "I'm ride or die, till about 9 pm or so."
24. "So it turns out that being an adult is mostly just googling how to do stuff."
Letter Board Quotes About Food and Health
25. "How do I like my eggs? Um… in a cake."
26. "Give up carbs? Over my bread body."
27. "Apparently you can't use 'beef stew' as a password… it's not stroganoff."
28. "In queso emergency…"
29. "Inhale tacos, exhale negativity."
30. "I wish everything was as easy as getting fat."
31. "My muffin top is not a pumpkin roll."
32. "My head says 'gym' but my heart says 'tacos'."
33. "I miss the 90s when bread was still good for you, and no one knew what kale was."
34. "Did you say exercise or extra fries?"
Funny Letter Board Quotes
35. "Some days I amaze myself. Other days I put my phone in the freezer."
36. "If it requires fake smiling, I'm not going."
37. "I meant to behave but there were too many other options."
38. "I'm getting tired of babysitting my parent's grandkids."
39. "I am unable to quit as I am currently too legit."
40. "Surely not everyone was kung fu fighting."
41. "The house was clean yesterday. Sorry, you missed it."
42. "I don't even believe myself when I say I'll be ready in 5 minutes."
Inspirational Letter Board Quotes
43. "Do more things that make you forget to check your phone."
44. "Life does not have to be perfect to be wonderful."
45. "If you cannot do great things, do small things in a great way."
46. "Good people bring out the good in people."
47. "It's okay if you fall apart sometimes. Tacos do and we still love them."
48. "In a world where you can be anything, be kind."
49. "Have courage and be kind."
50. "Don't count the days, make the days count."
Which of these letter board quotes is your favorite?
These letter board quotes are just the tip of the iceberg. There is pretty much an endless number of ways that you can use your felt letter board.
Whether you want to use it for motivation and inspiration for yourself, to connect with your business clients, or to make people smile, letter boards are a fun way to do it.
You can look for seasonal messages, inspiration quotes, or sassy and clever play-on-words. You can also make it fun by challenging other people to come up with original messages to put on your letter board as well. Or you can print and cut out the ones above and select a message at random. And don't forget to switch it up as soon as it starts to feel old.
Did you enjoy reading these letter board quotes and sayings? Which of the quotes is your favorite? Let us know in the comment section below.
April 6, 2021 7:00 AM EST
Be the first one to leave a comment!