Mae West Quotes on Men, Marriage, and More
Mae West was a legendary actress, singer, and playwright who spent seven decades in the spotlight.
To dive into her unique perspective, check out the Mae West quotes below.
What do you know about Mae West?
Her professional career began as a Vaudeville performer at age 14.
She spent years as a Vaudeville performer and then moved onto Broadway, participating in plays throughout the 1910s to the early 1930s.
In 1932, she landed her first role in a feature film: Paramount Pictures' Night After Night.
Throughout her long-term career, she acted in 12 different films.
West was also a popular rock n' roll singer as well as an established playwright.
Want to learn more about the life of Mae West?
Read the quotes below.
Don't forget to also check out these Jhene Aiko quotes on creativity, self care and more.
Check out our most popular quote article, a list of short inspirational quotes for daily inspiration.
Check out our entire collection of motivational quotes here.
Powerful Mae West quotes
1. "I believe that it's better to be looked over than it is to be overlooked." – Mae West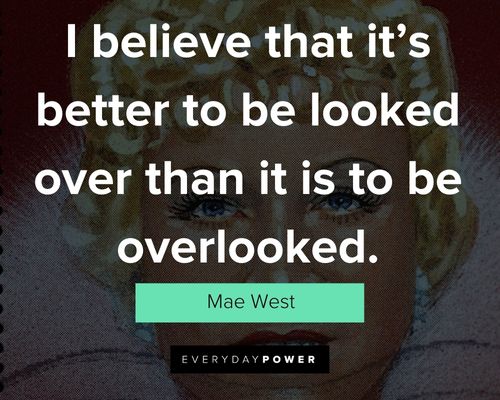 2. "Those who are easily shocked should be shocked more often." ― Mae West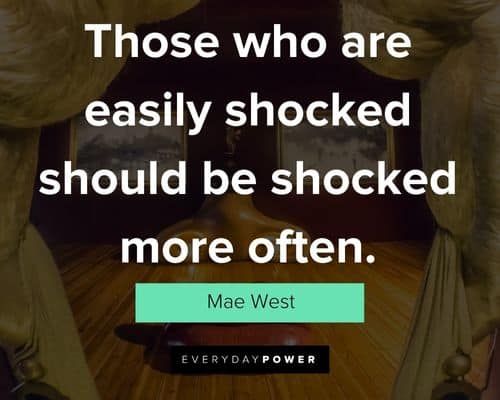 You will also enjoy our article on marriage quotes.
3. "He who hesitates is a damned fool." – Mae West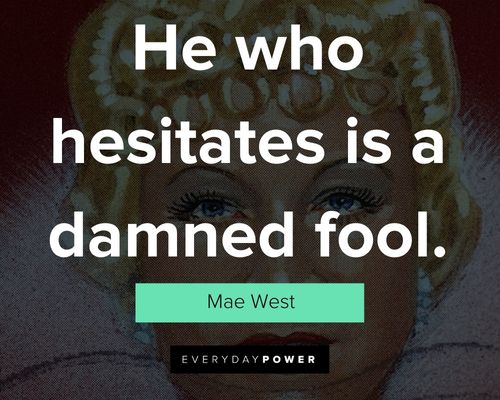 4. "Personality is the glitter that sends your little gleam across the footlights and the orchestra pit into that big black space where the audience is." – Mae West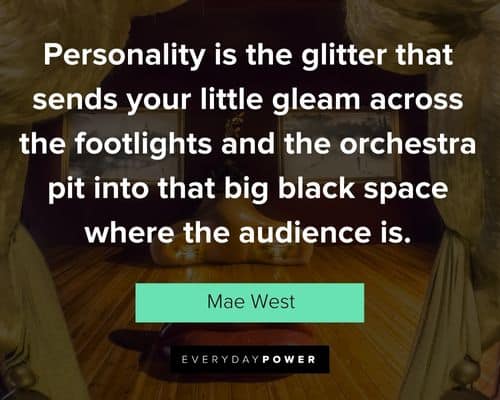 5. "It ain't no sin if you crack a few laws now and then, just so long as you don't break any." – Mae West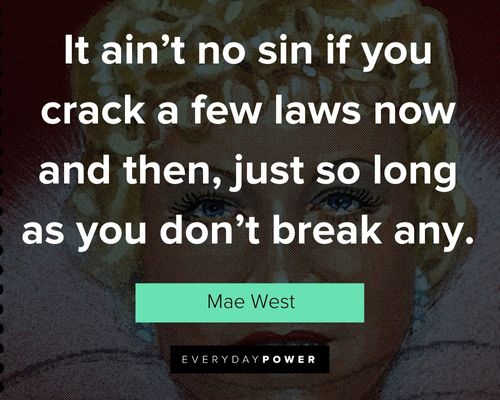 6. "Love thy neighbor – and if he happens to be tall, debonair and devastating, it will be that much easier." – Mae West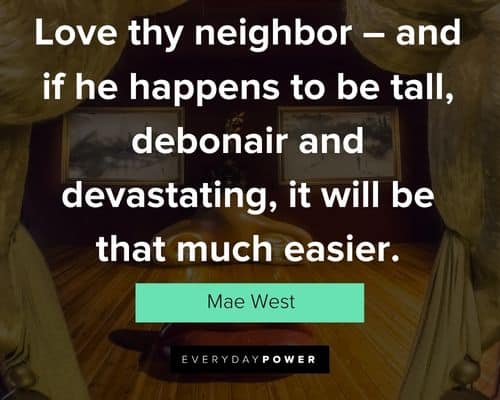 7. "You only live once, but if you do it right, once is enough." ― Mae West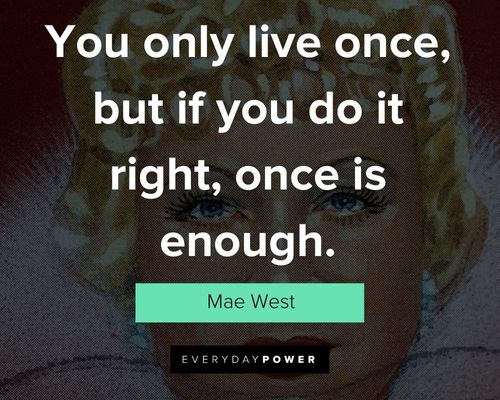 8. "Virtue has its own reward, but no sale at the box office." – Mae West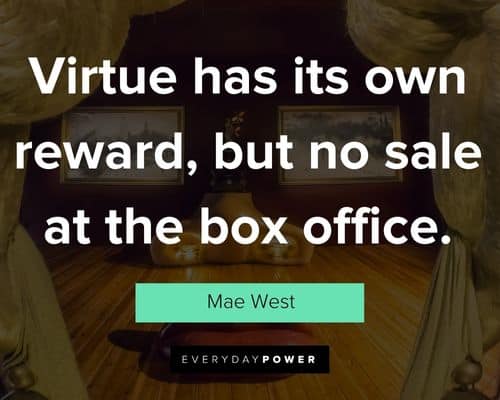 9. "Keep a diary, and someday it'll keep you." – Mae West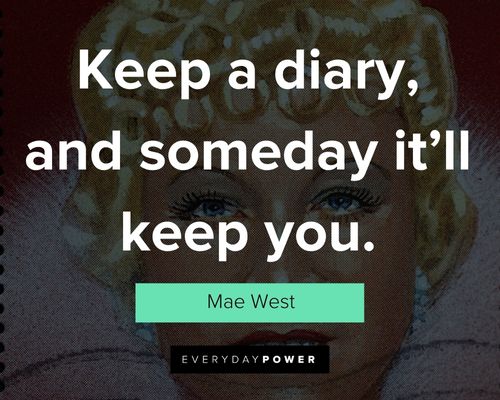 10. "Anything worth doing is worth doing slowly." – Mae West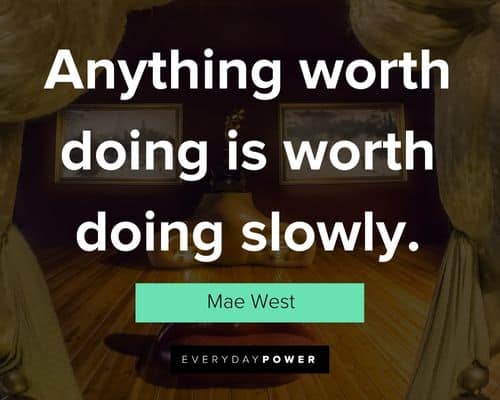 11. "You are never too old to become younger!" ― Mae West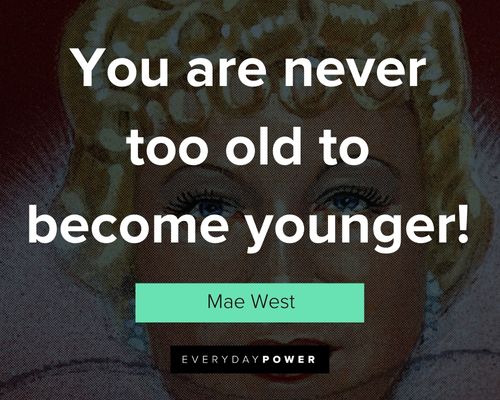 12. "Everyone has the right to run his own life- even if you're heading for a crash. What I'm against is blind flying." ― Mae West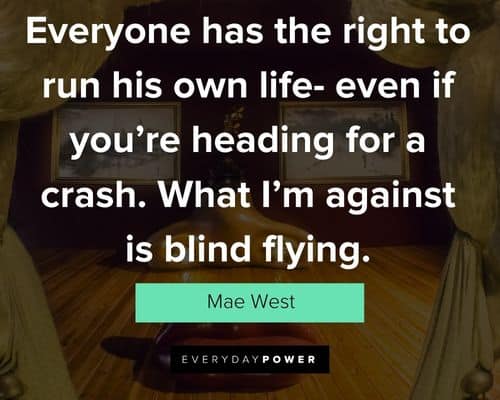 13. "Cultivate your curves – they may be dangerous but they won't be avoided." – Mae West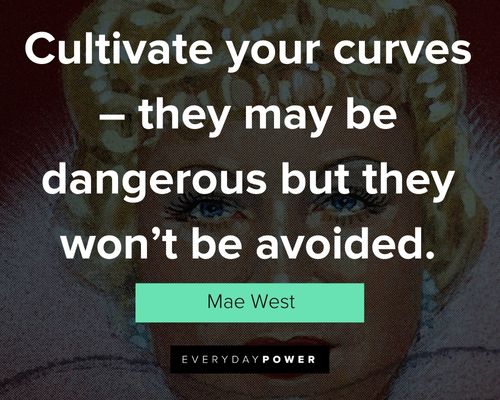 Relatable Mae West quotes
14. "I generally avoid temptation unless I can't resist it." – Mae West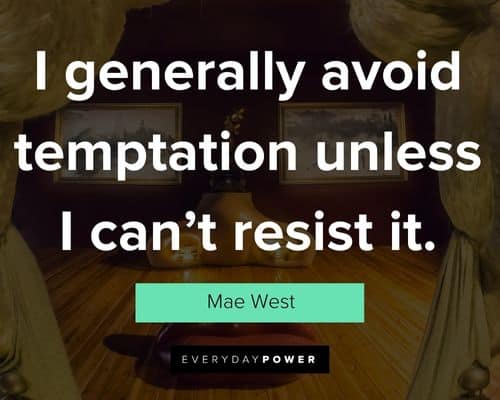 15. "To err is human, but it feels divine." – Mae West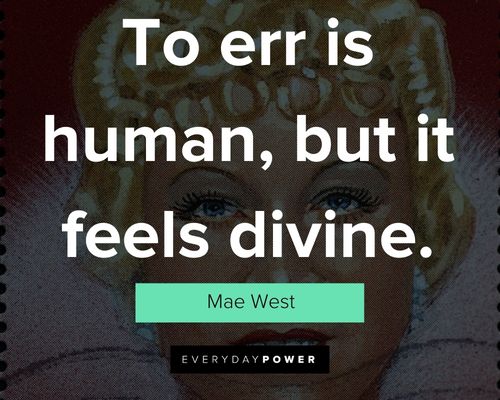 16. "Between two evils, I always pick the one I never tried before." – Mae West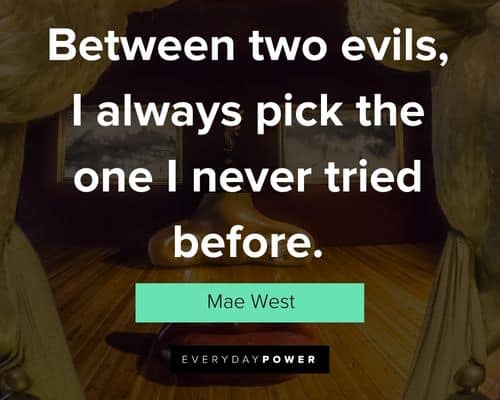 17. "I'm no model lady. A model's just an imitation of the real thing." ― Mae West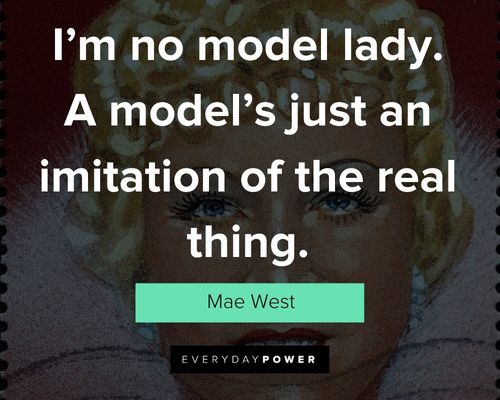 18. "I'll try anything once, twice if I like it, three times to make sure." ― Mae West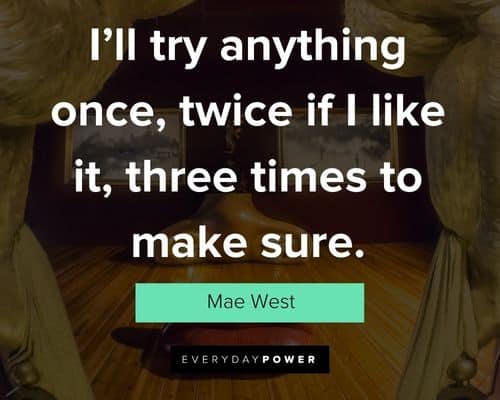 19. "Too much of a good thing can be wonderful." – Mae West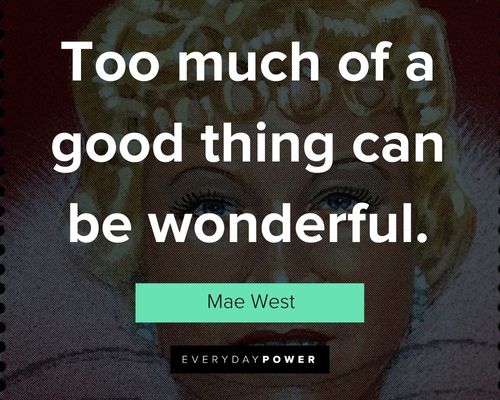 20. "I only have 'yes' men around me. Who needs 'no' men?" – Mae West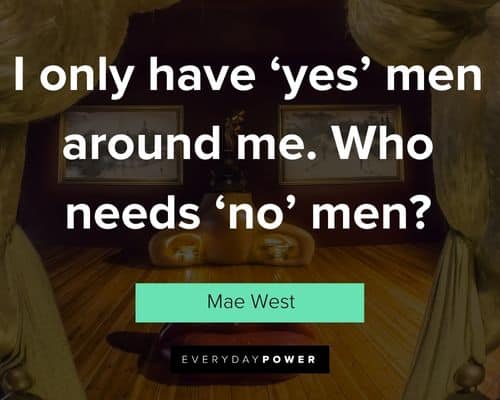 21. "I never loved another person the way I loved myself." – Mae West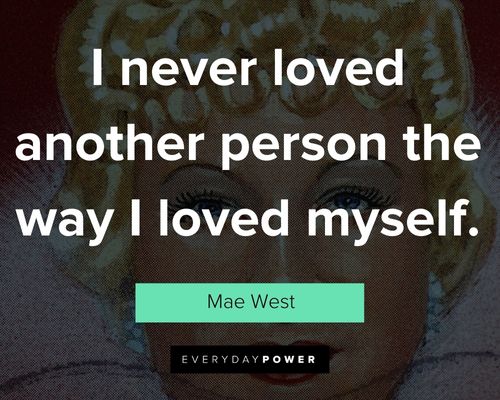 22. "It's hard to be funny when you have to be clean." – Mae West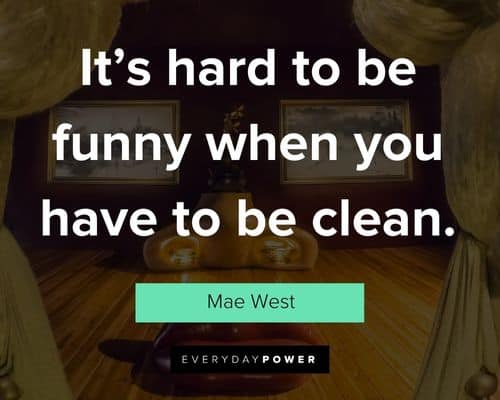 23. "I only read biographies, metaphysics and psychology. I can dream up my own fiction." ― Mae West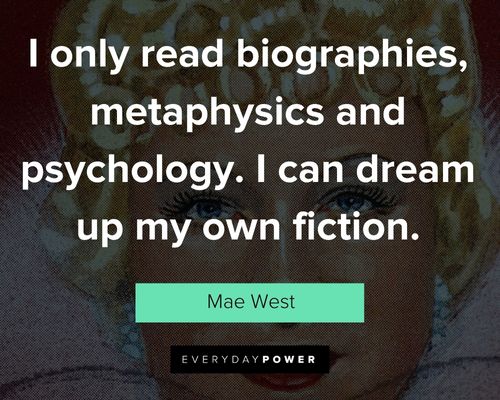 24. "I never worry about diets. The only carrots that interest me are the number you get in a diamond." – Mae West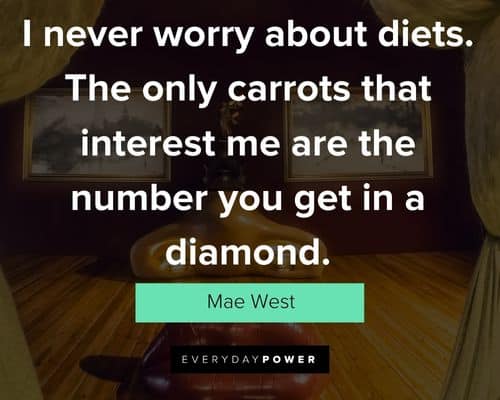 25. "The score never interested me, only the game." – Mae West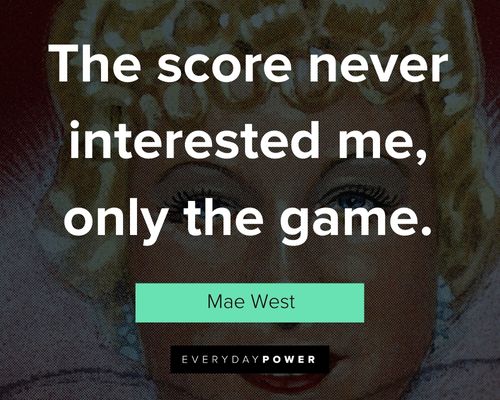 If you're enjoying these quotes, you'll love our collection of boyfriend quotes that will give you butterflies.
Have you ever struggled to censor yourself?
Mae West often dealt with censorship throughout her professional career from the film industry.
As an actress and playwright, she was well-known for her edgy and sexually suggested dialogue.
Her most distinguishable factors were heavily censored by The Motion Picture Production Code.
With the Production Code constantly disrupting her vision, West became so frustrated that she took a 27-year break from the film industry.
The concept of censorship is still a frequent discussion throughout our society, especially surrounding free speech.
Despite who may be trying to censor you, we're here to remind you that your ideas are valuable and your voice matters.
Which of these Mae West quotes and sayings?
Who should we feature next on Everyday Power?
Tell us your thoughts below!